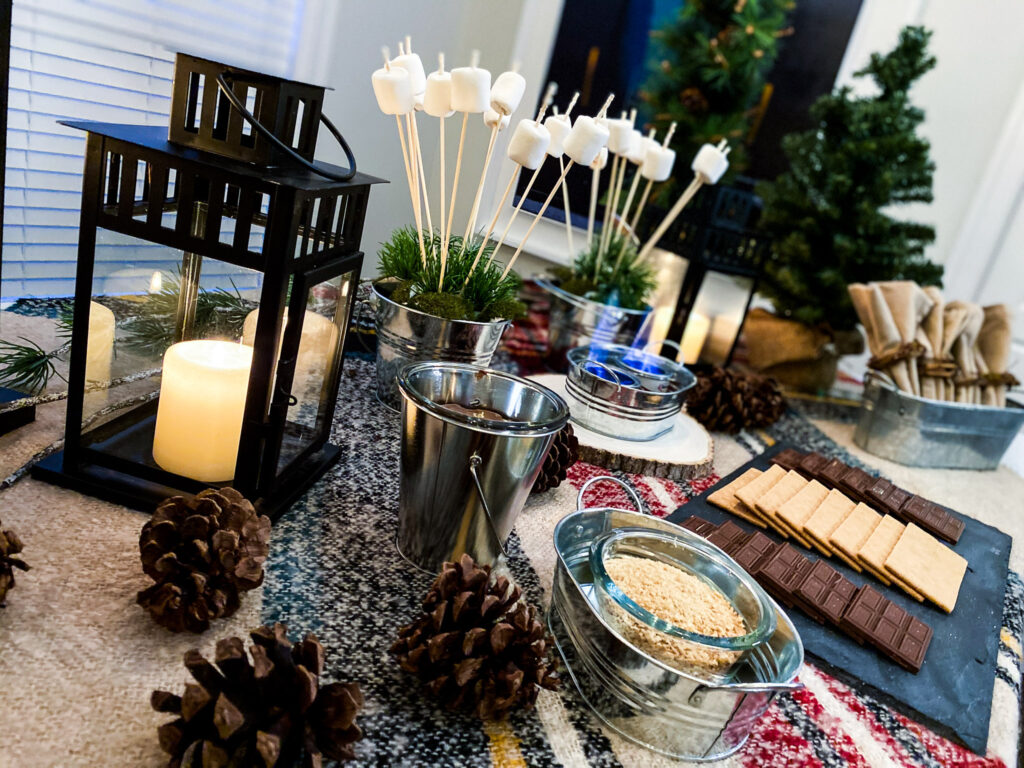 These indoor campfire party ideas are the perfect way to bring the great outdoors, well indoors! And we created this magic in honor of Something on a Stick Day, March 28!
There is nothing quite like those first chilly spring nights around the firepit or the first camping trip of the season. The crackle and pops of the logs on the fire, coupled with the promise of warmer days ahead. Early spring evenings outdoors are simply the best. As the signs say, "Life may be better around the fire pit," but sometimes, it's just too chilly in the early spring to enjoy the evening!
Never fear, we've come up with a great way to still share in some of that outdoor fun … inside. For Something on a Stick Day, we're sharing ourindoor campfire ideas (and it even includes s'mores).
CREATE A MEMORABLE, INDOOR SPRING NIGHT, WITH THESE THREE INDOOR CAMPFIRE PARTY IDEAS:
1. SET UP YOUR CAMPSITE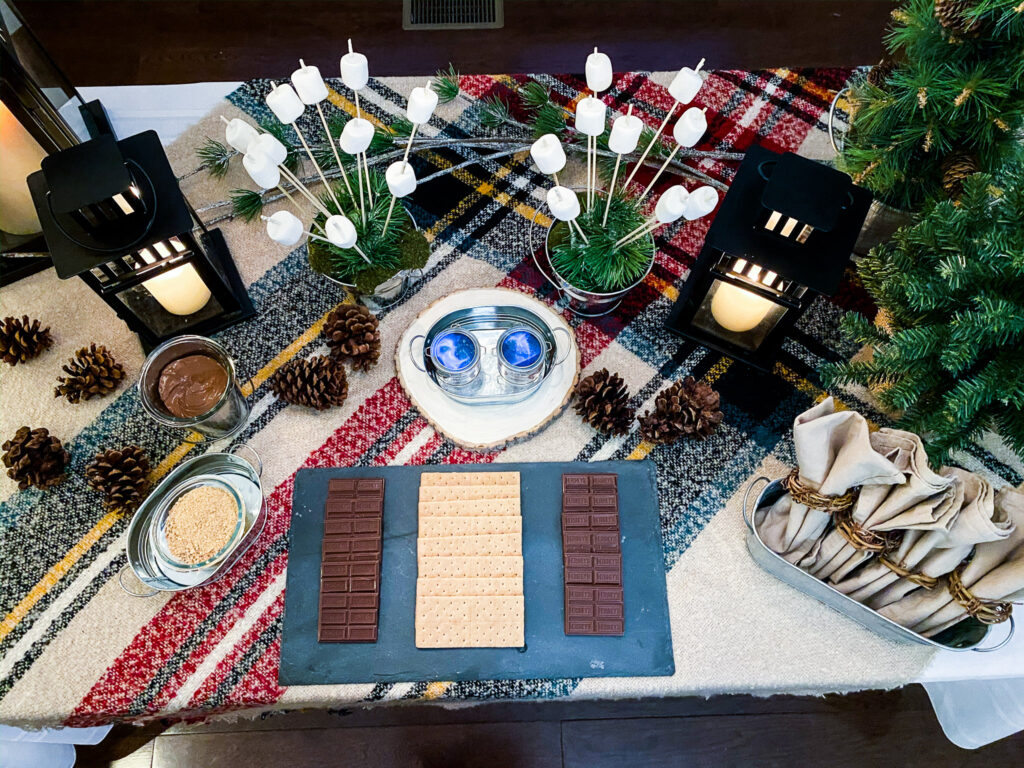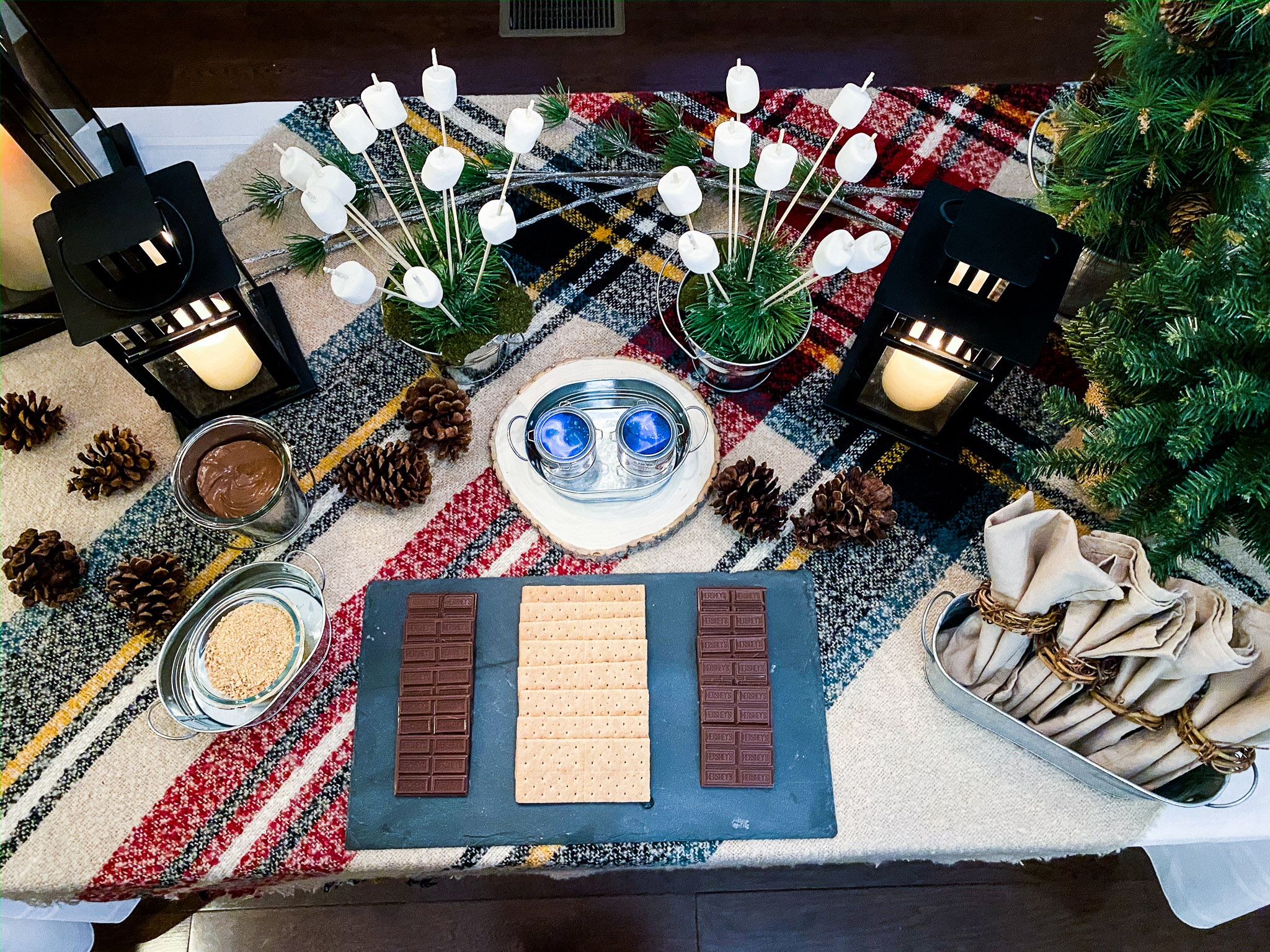 Be creative! After all, this is indoor, outdoor camping … we're inventing this concept as we go along. I gathered décor items from around our home, as well as my closet, to set the scene. This cute plaid table topper is actually a blanket scarf from one of my favorite local boutiques. The colors, reminiscent of a classic Coleman camping lantern, are simply perfect for this theme. In addition, I raided our Christmas and fall decorations to make the tablescape extra cozy. Repurposed miniature Christmas trees, cute galvanized buckets, large pinecones and whimsical marshmallow "bouquets" helped to complete the outdoorsy tabletop scene. Marshmallow "bouquets" add height, as well as serve a practical purpose, to the table.
2. GATHER AROUND THE CAMPFIRE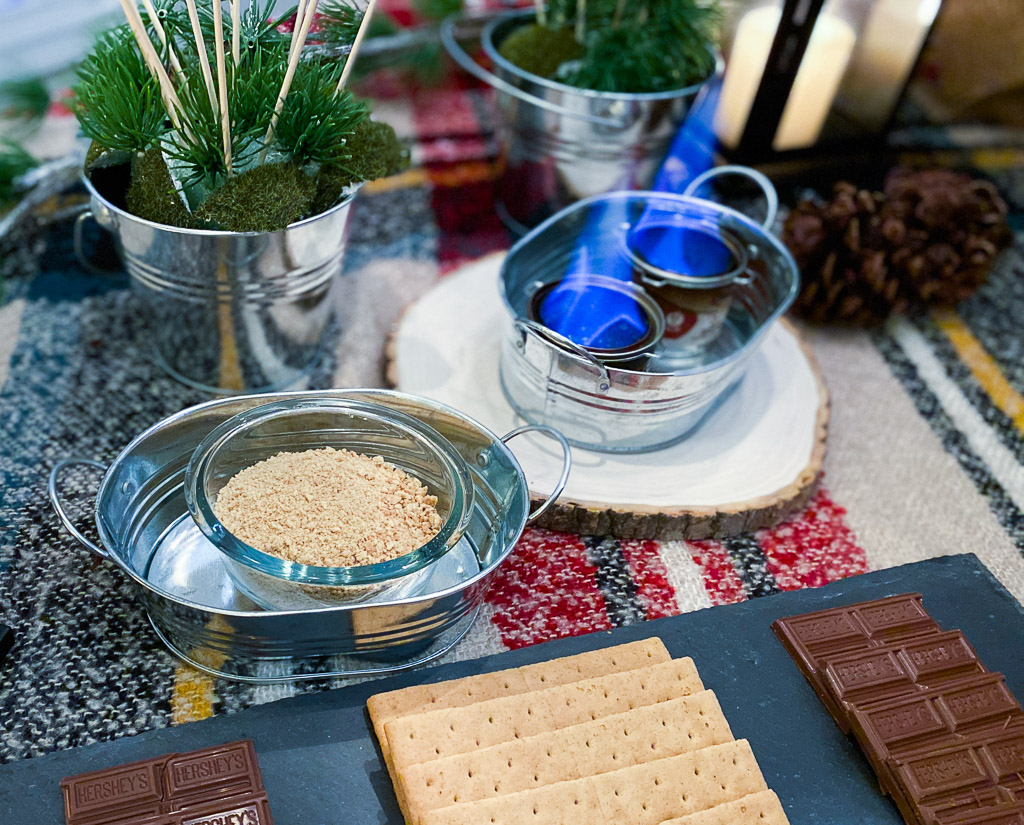 At the center of our table is the "campfire," the Sterno 20261 S'mores Heat can. This is a safe and clean-burning fuel made from renewable sources and non-toxic ingredients. It specifically formulated for cooking.
Please note: traditional Sterno heat cans cannot be used for this purpose, as they are NOT safe for this use. We placed the S'more heat cans on a natural wood slice to add to the table's rustic feel.
Since this is an interactive buffet, I've broken up the chocolate and graham crackers into individual servings for our campers. Tonight, we're going traditional with the classic Hershey milk chocolate bar. There are endless options to choose from including dark chocolate, chocolate with almonds, or even white chocolate. Mix it up with your family's favorites and make it your own!
In addition, to the usual S'mores, we put an adults only, deconstructed version on our menu. This boozy s'mores fondue is perfect for mom and dad to share, after your little happy campers have gone to bed. Obviously, you can omit the whiskey to make it kid friendly … but we sure didn't!
3. MAKE A BOOZY S'MORES FONDUE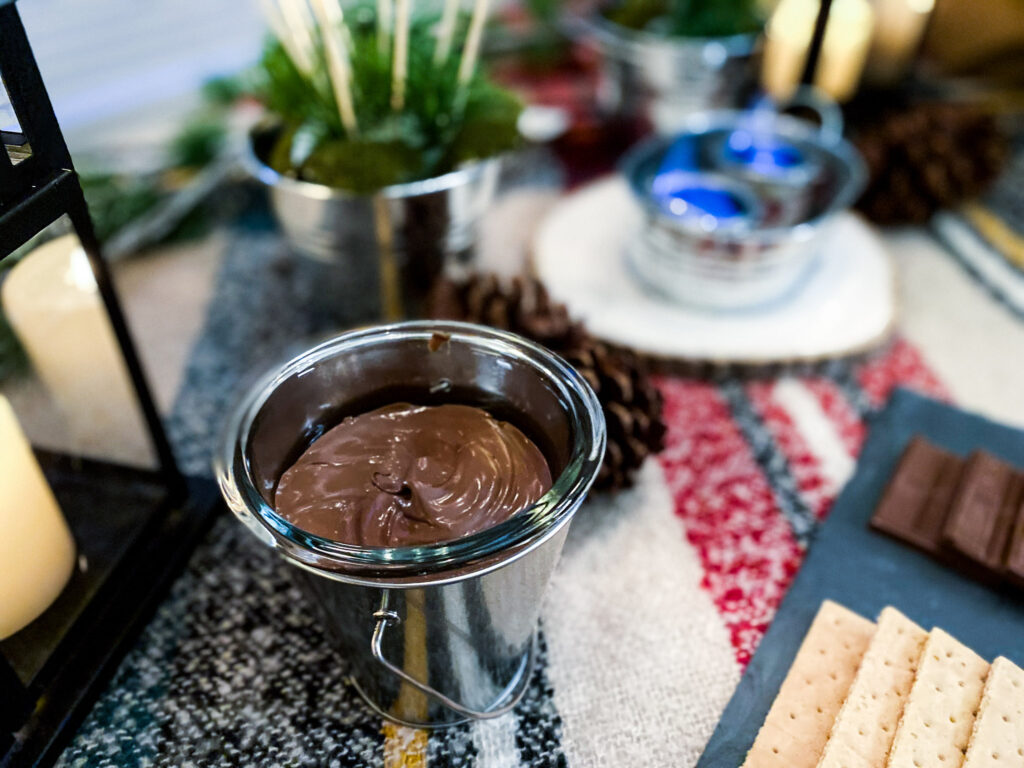 2 cups chopped quality dark chocolate
1/3 cup whipping cream
1/4 cup whiskey
1 cup graham cracker crumbs
Large marshmallows, for toasting
Heat a double boiler (you can also place a metal bowl over a sauce pan filled with water) over medium-low heat. Add the chocolate and cream, and stir until melted. Stir in the whiskey. Pour the chocolate sauce into a bowl. Place the graham cracker crumbs in a small bowl. (Recipe courtesy: Cooking Channel).
Oh so good and oh so cute! We served the Boozy S'mores fondue in a glass custard dish, placed inside an adorable galvanized pail!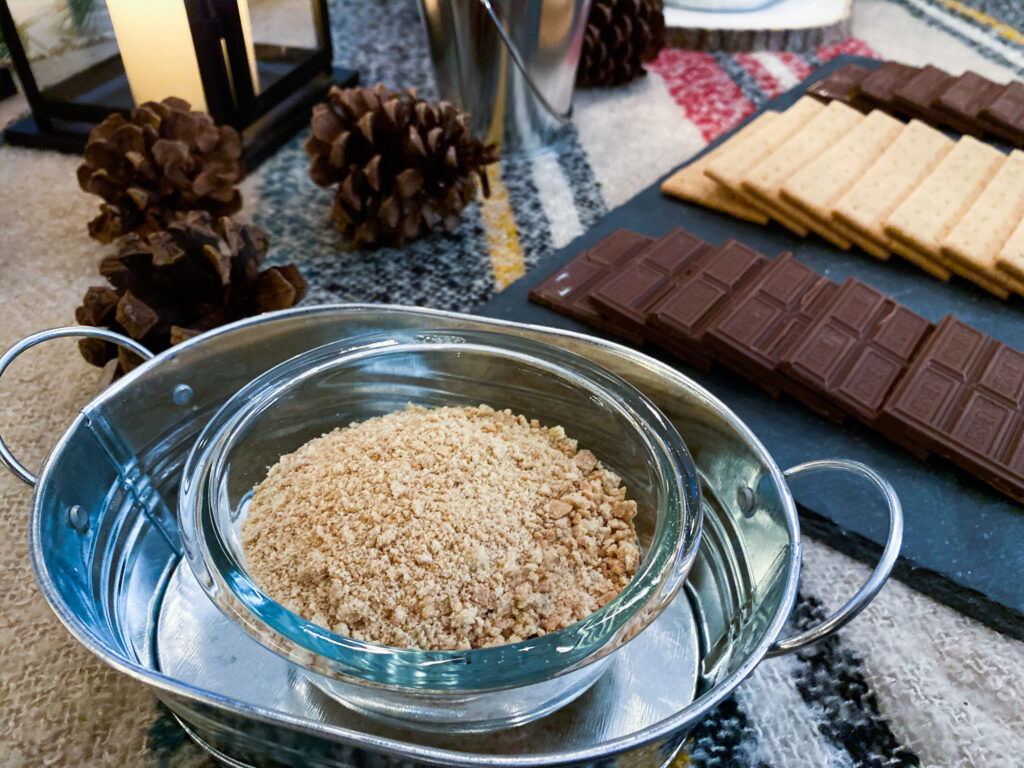 To get this finely crushed mix, place whole graham crackers in a Zip-loc bag and roll with a rolling pin. It makes it easy to pour into a serving dish, without making a mess.
Toast the marshmallows over the flame. Dip the marshmallows into the chocolate sauce, and then into the graham cracker crumbs. Enjoy!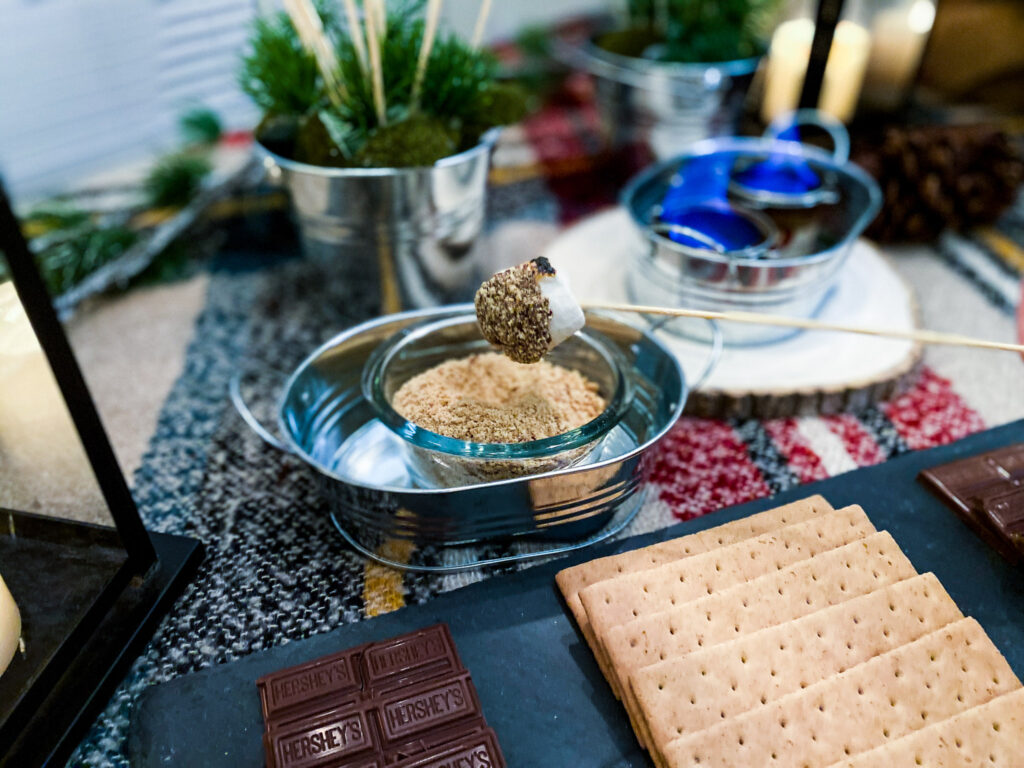 3. SING THE NIGHT AWAY
One thing we've learned from years of event planning is that great music sets the mood. The guitar is the classic campfire instrument of choice. While you may not have a guitar handy or someone who knows how to play it, you've likely got a way to create a playlist. Here are some classic campfire songs you'll want to be sure to include on your mix:
American Pie (Don McClean)
Sweet Caroline (Neil Diamond)
Danny's Song (Loggins and Messina)
Good/Riddance/Time of Your Life (Green Day)
If I had a Million Dollars (Barenaked Ladies)
Wonderwall (Oasis)
Every Rose Has Its Thorn (Poison)
Brown Eyed Girl (Van Morrison)
Free Fallin' (Tom Petty)
Stand By Me (Ben E. King)
THIS IDEA IS GREAT FOR:
A birthday party for an outdoorsy type
A bar or bah mitzvah theme
A fun addition to a game night
A unique wedding dessert bar idea
Looking for more fun party themes? Check out this 70s Inspired Fondue Dinner! How will you #MakeEveryDayandEvent? Tell us below!