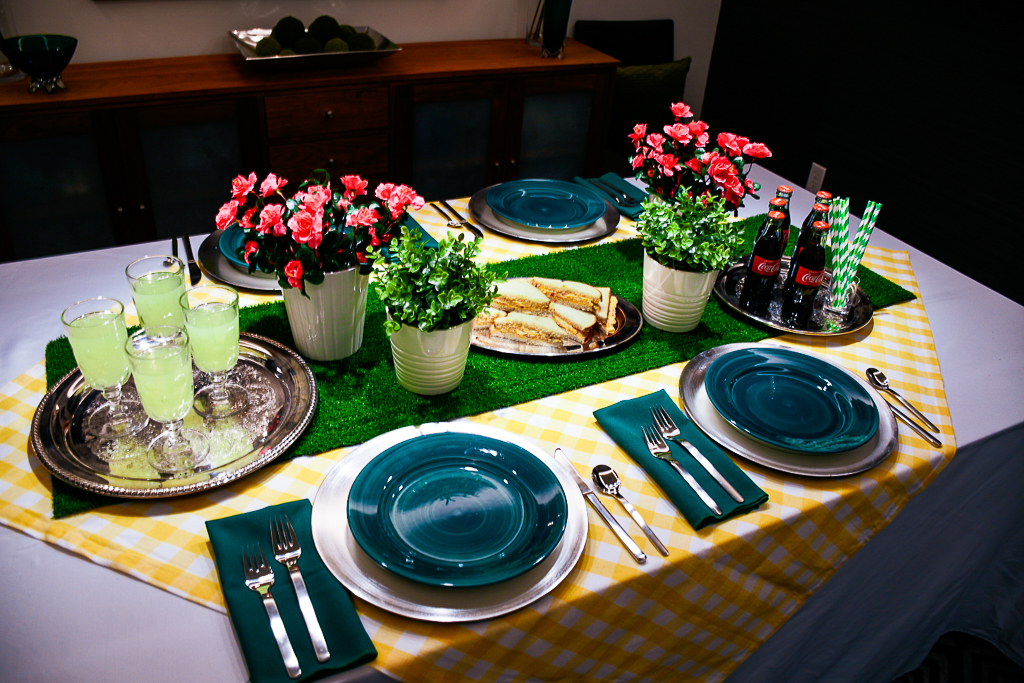 We're sharing some adorable and easy Masters Tournament Party ideas! There really is no other golf tournament quite like the Masters. From the winner's green jacket to the blooming pink azaleas, and, of course, the pimento cheese sandwiches, the tournament is certainly an event to be celebrated. And it's incredibly rich in tradition. Masters Sunday is the perfect time to pull together a cute and clever tablescape for a fun little soiree! It's also a great opportunity to make the official signature cocktail of the Masters, the Azalea. And, of course, you can't have a Masters party without the pimento cheese sandwiches. Here are five easy Masters Tournament Party ideas that you're sure to want to steal: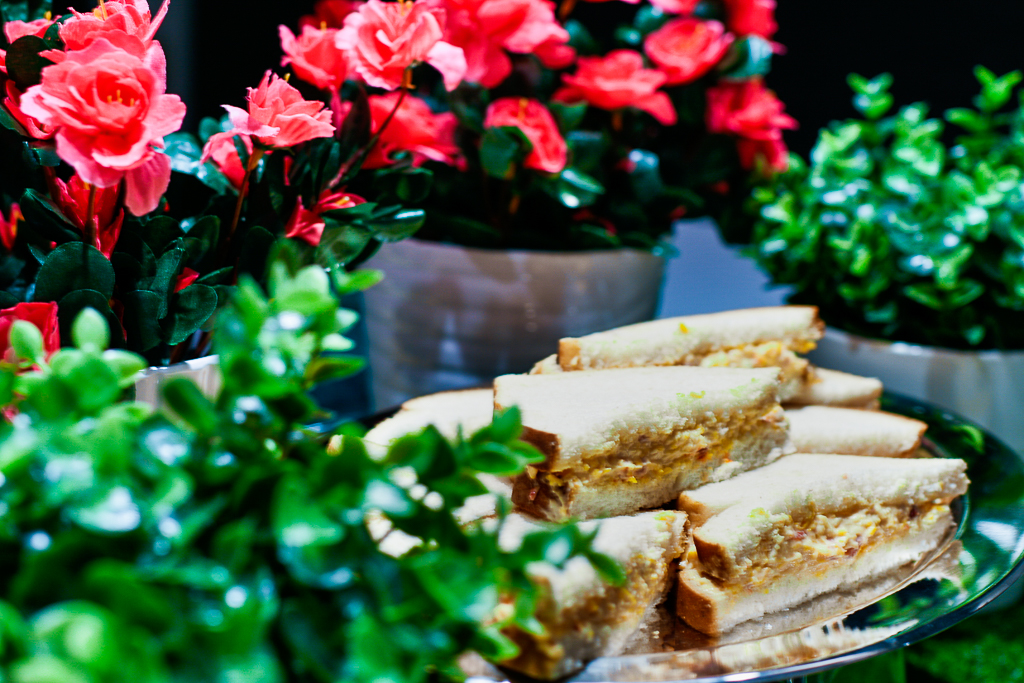 1. BRING ON THE AZALEAS!
The Azaleas on the grounds of Augusta National are almost as much of the show as the golf during the Masters. There's no reason to worry if these traditional shrubs of the Masters are not be in bloom in your area. You can still incorporate these showy blooms into your tablescape. I found these realistic faux Azaleas (which are better than real because they're reusable) on Amazon.
I then placed them them in round, high-gloss white pots for a chic look.
I also pulled out these faux Boxwood greens. I find myself using these great fake greens a lot. The dark green of the Boxwoods really makes the deep pink of the Azaleas pop. I love a good, inexpensive and easy-to-make centerpiece!
2. A YELLOW AND GREEN COLOR PALETTE IS KEY …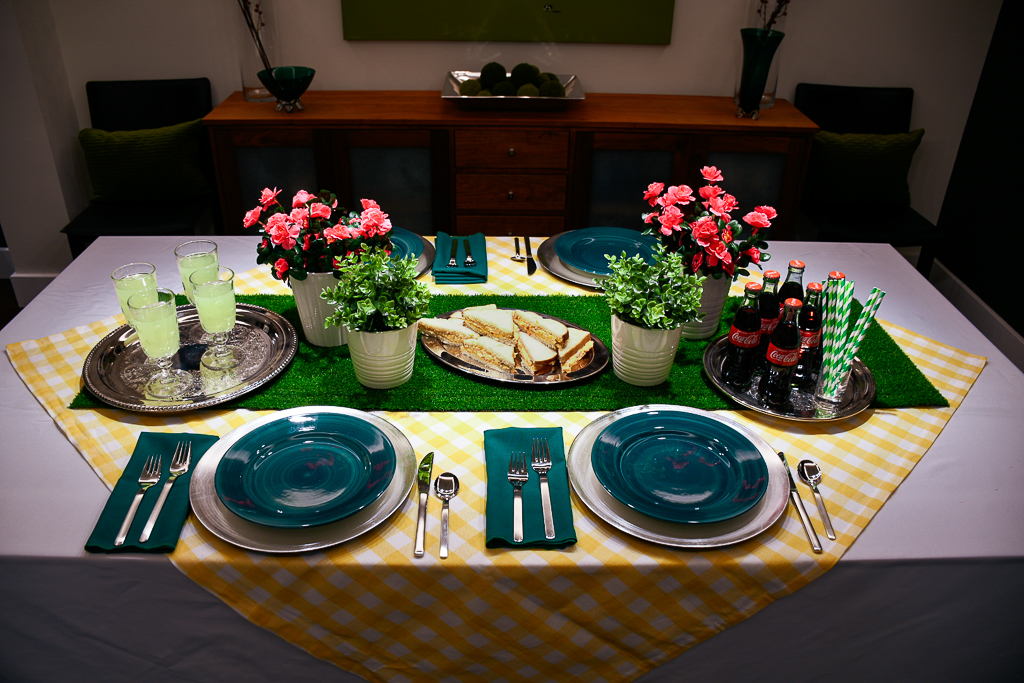 One thing I love about the Masters is the classic design of the logo, which hasn't really changed in years. That's the true test of great design. So for this Masters party, yellow and green decor items are a must! Here are a few of the pieces I pulled together to achieve this look:
Yellow Buffalo Check Table Topper — Layering linens is one of my favorite tricks. It adds depth and interest to the table. Plus, it's really cost effective.
Artificial Grass Table Runner — This was perfect to mimic the turf of the course and looks adorable down the center of the table.
Silver Serving Pieces — Elevate your brunch a bit! I love breaking out these silver trays which were passed down to me from my mom. They not only remind me of her, they also add a bit of elegance to the tablescape. If you don't have family pieces, you can pick up silver trays like these for a song at most thrift stores or at estate sales. I love their opulence. And despite popular opinion, they are easy to clean and polish. I've found there's nothing better than good, old-fashioned Wright's silver polish — just like your grandma used to use!
Hunter Green Napkins — I love using napkins that coordinate with, but don't necessarily match, my base linens. This is especially true for brunch. It gives the table a more casual vibe. These hunter green napkins work perfectly with the topper to incorporate the colors of the Masters.
Silver Chargers — there is nothing easier to dress up a table than using a simple charger. These silver chargers are a great value. I find myself using them time and time again, and they certainly were perfect for this tablescape.
3. AZALEA COCKTAIL, CUTE DRINKS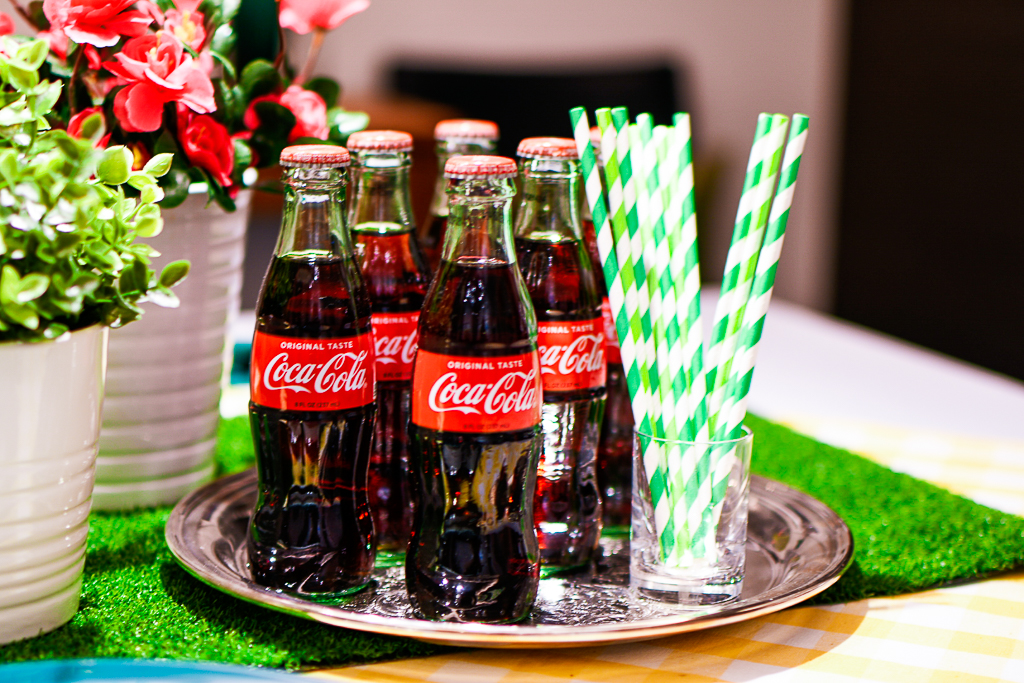 You can't have a party themed around an event held in Georgia without serving some cute Cokes. I also love the addition of these green striped straws!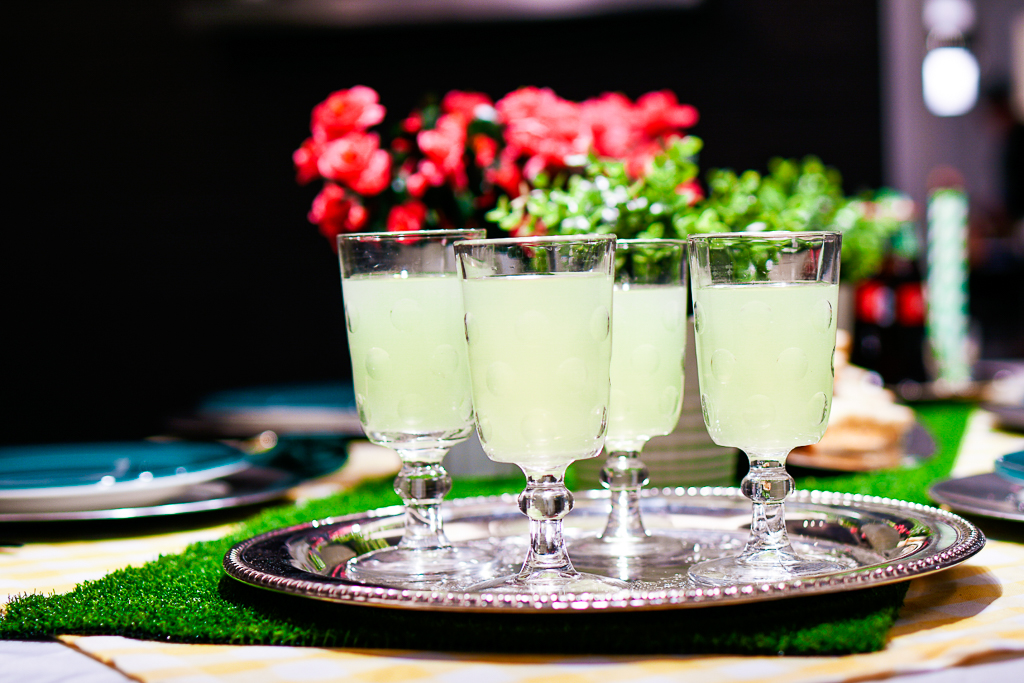 The simple addition of a silver tray underneath these drinks elevates their style. Again, it's an easy touch that adds a lot of elegance to the table and makes guests feel special. I chose lemonade for this tray, but you may want to check out our recipes for Golfers' Ice Tea, the Arnold Palmer and the John Daly.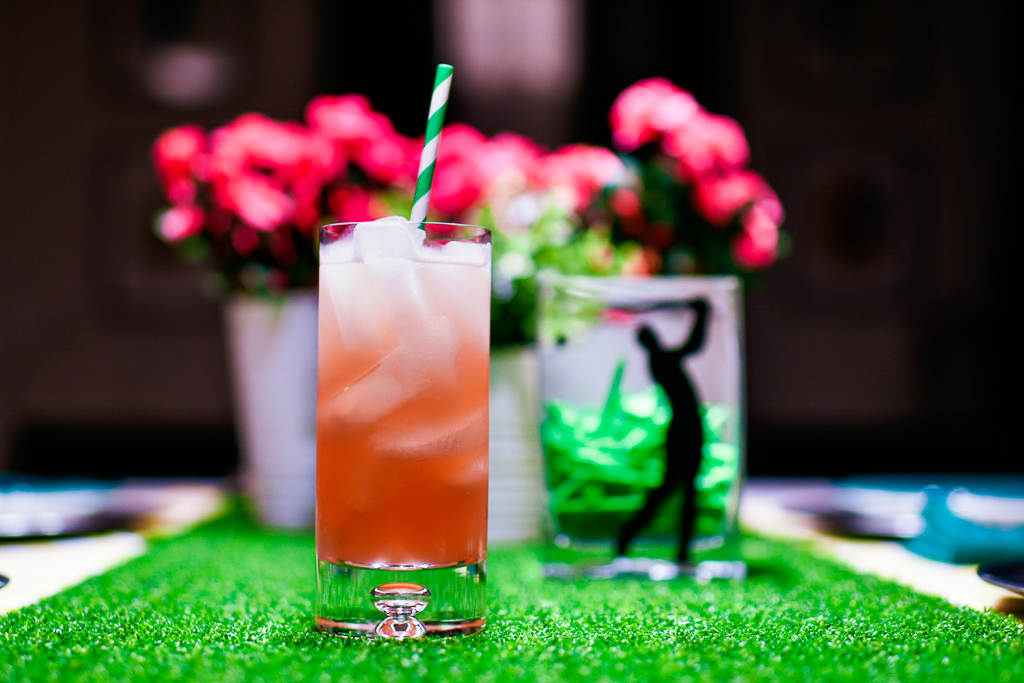 4. THE PERFECT AFTERNOON COCKTAIL
For those who may want something a bit stronger, this beautiful cocktail is perfect for your Masters themed party. It's called the Azalea and is the official signature cocktail of the Masters. We show you step by step how to craft this libation. Cheers!
5. PIMENTO CHEESE SANDWICHES
In addition to typical brunch fare, no Masters party is complete without a Pimento Cheese Sandwich. This recipe is the best one we've found to recreate this quintessential Masters fare. Cut into quarters, the sandwiches are a perfect appetizer portion. And, truth be told, the pimento cheese spread is a great dip by itself. The recipe is super easy to make, which is always a plus!