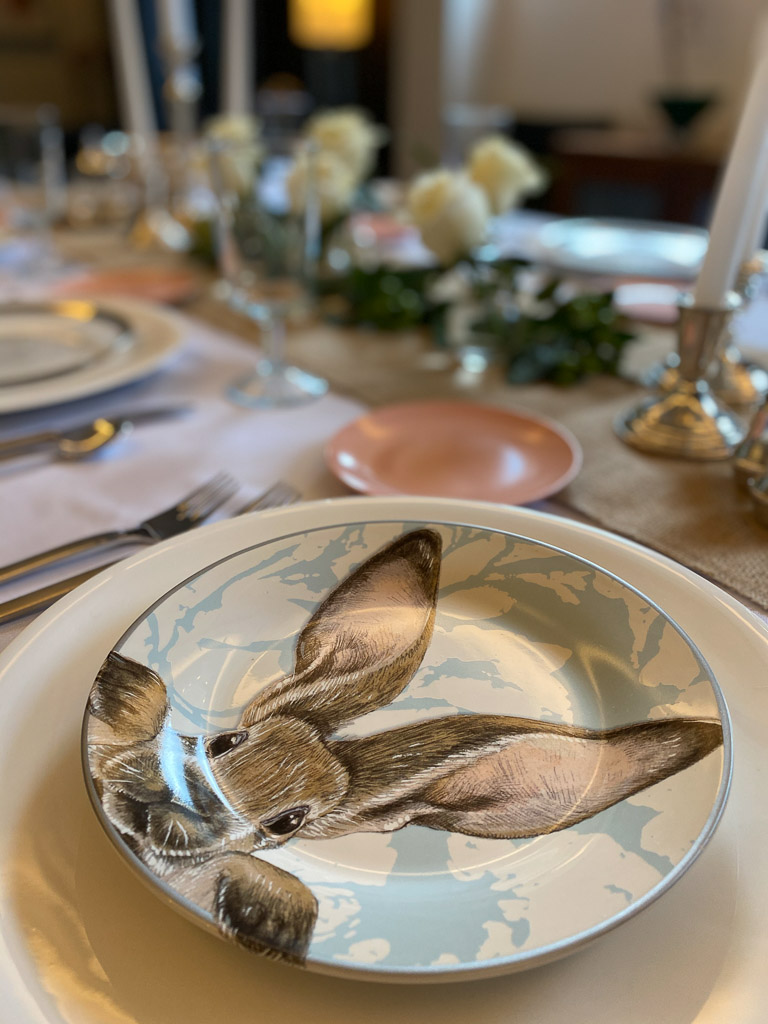 It's the perfect Easter tablescape ideas for brunch! Simple, classic and full of family memories. You have to admit … there really is no better holiday than Easter. The pressure is off! No gifts to buy (the bunny brings the baskets, right), no reason to worry about the weather, travel is minimal and spring is in the air! Plus, everyone loves brunch … right? I love setting the table for Easter brunch. And with a few simple pieces, including some that are heirlooms, I'll show you how I pulled together the perfect Easter tablescape ideas for brunch, step by step.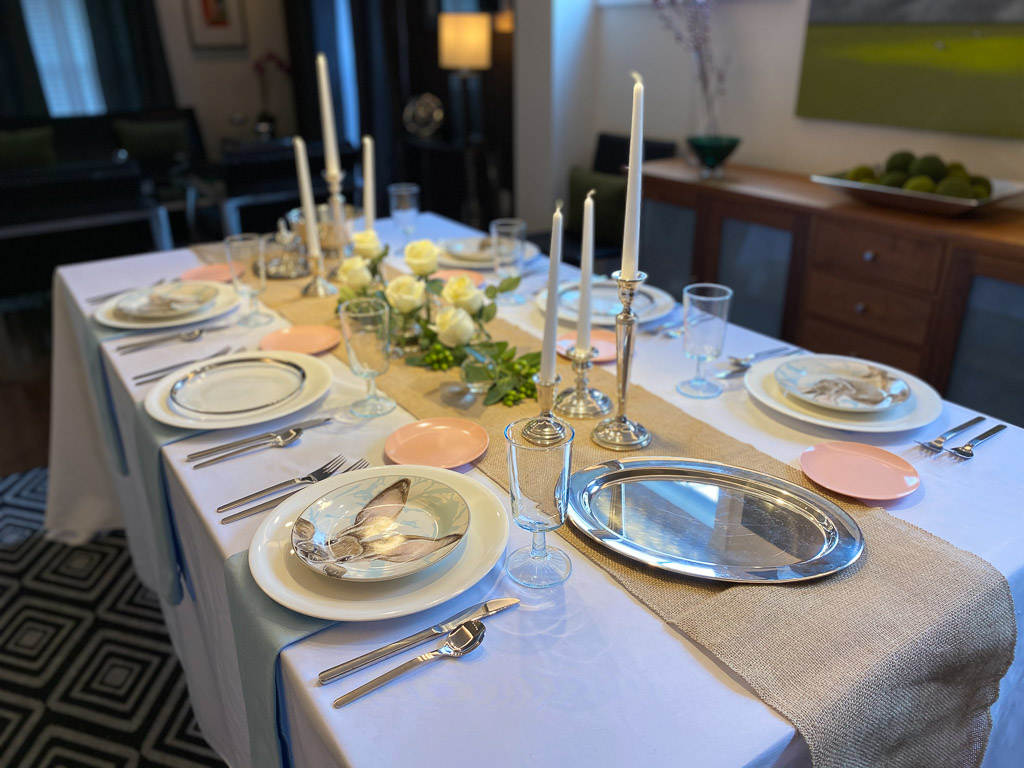 Easter brunch is the perfect combination of formal and casual entertaining. And when I set out to pull this tablescape together, I wanted it to reflect that sentiment. The juxtaposition of pairing more formal pieces, such as silver candlesticks, with coarse textures such as burlap, creates an unconventional and unusal combination that works perfectly together.
1. ADD FAMILY HEIRLOOMS TO THE TABLE …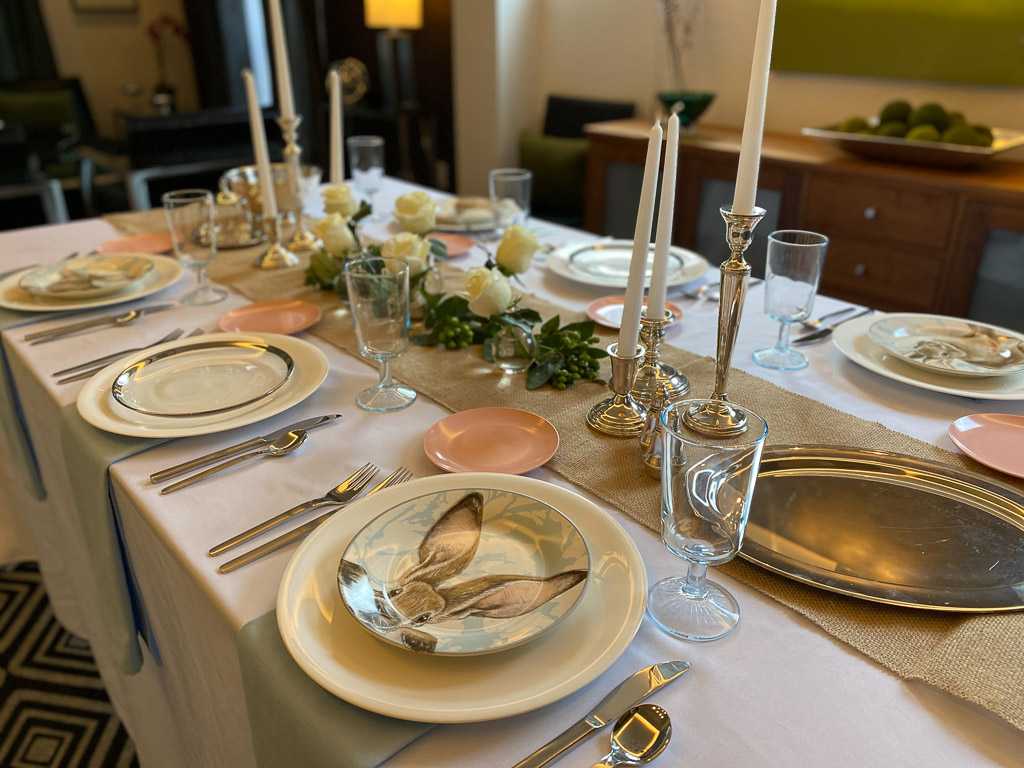 The swankiness of these heirloom silver pieces and white roses is off set with the down-to-earth informality of a burlap table runner. The combination creates an Easter table top that is both elegant and inviting for a family brunch.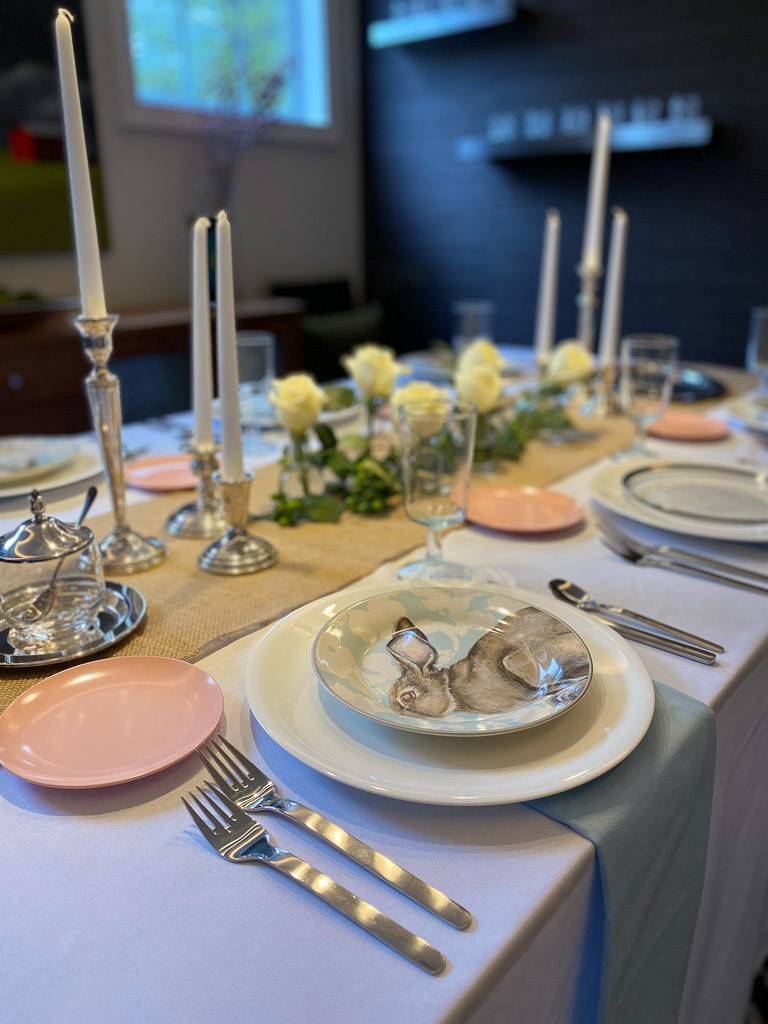 These silver candlesticks and serving accessories that have been passed down from generation to generation in my family make this table not only beautiful, but also sentimental. And yes, they did need a good polish when I pulled them out from my sideboard. But the effort was well worth it.
2. WITH THE OLD, ADD IN THE NEW …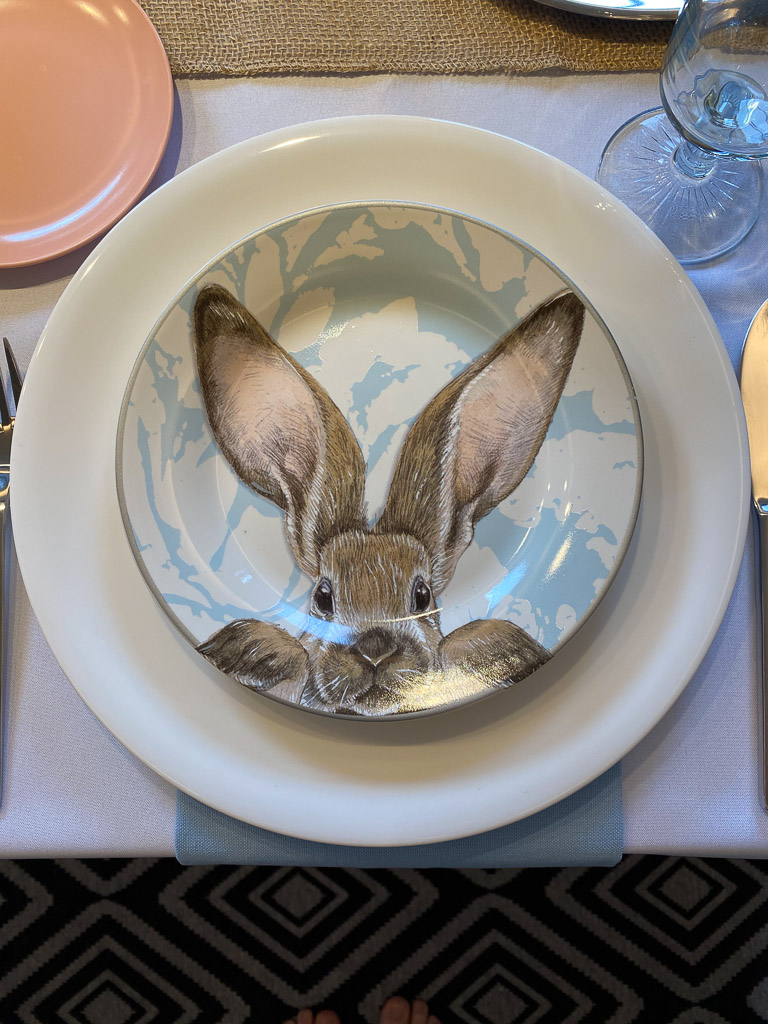 I absolutely adore these Damask bunny salad plates which I picked up last year from Williams-Sonoma. The elegant silver rim ties the entire table together. They are the perfect Easter touch.
3. DON'T OVERTHINK THE CENTERPIECE …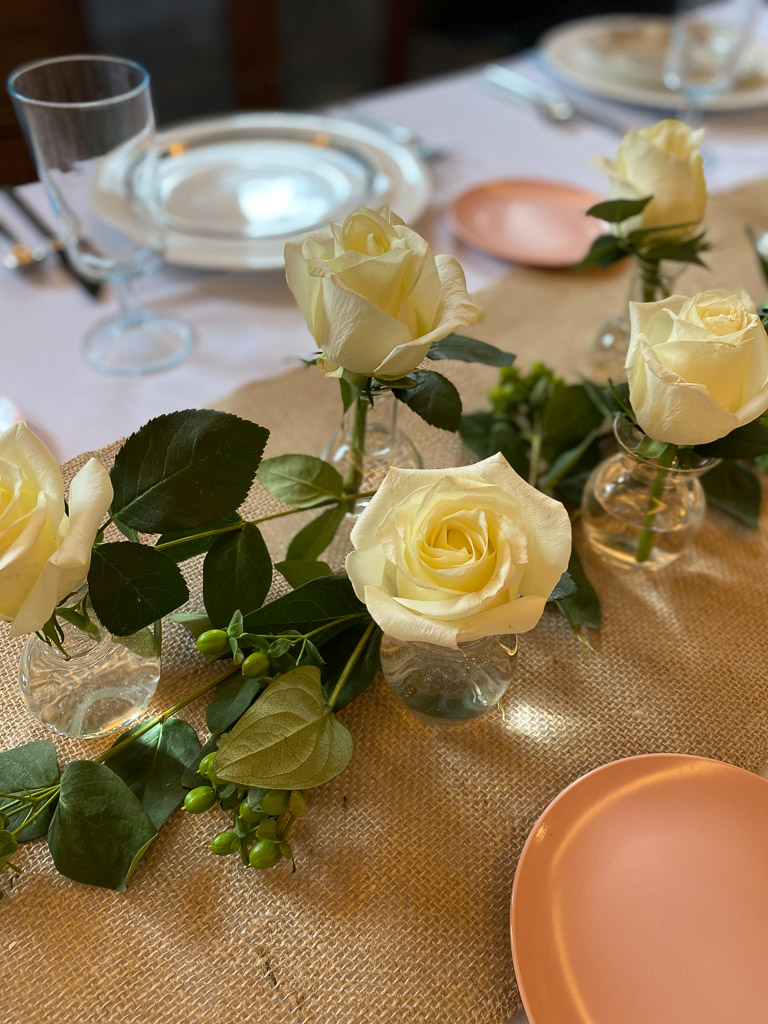 An easy to make and simple centerpiece, consisting of short clear vases, white roses and greenery, creates a focal point on the burlap table runner. It's a sophisticated touch, that was easy to achieve. You don't need to spend hours creating a centerpiece. These bud vases make an elegant arrangement easy.
4. DON'T MATCH, COORDINATE!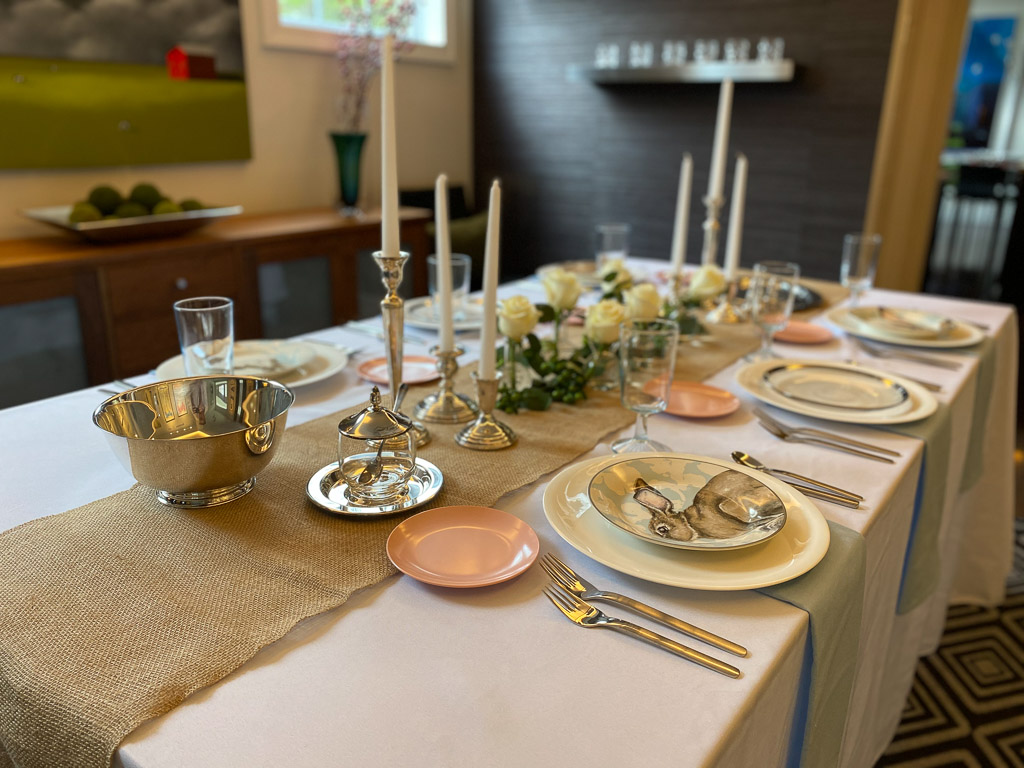 As with any good design, sometimes you need a pop of color. These vintage pink bread and butter plates add a bit of whimsy to the table and bring out the pick in the bunnies' ears. Your tabletop décor doesn't all have to match. In fact it shouldn't! Just chose pieces that coordinate! You'll be delighted with the results!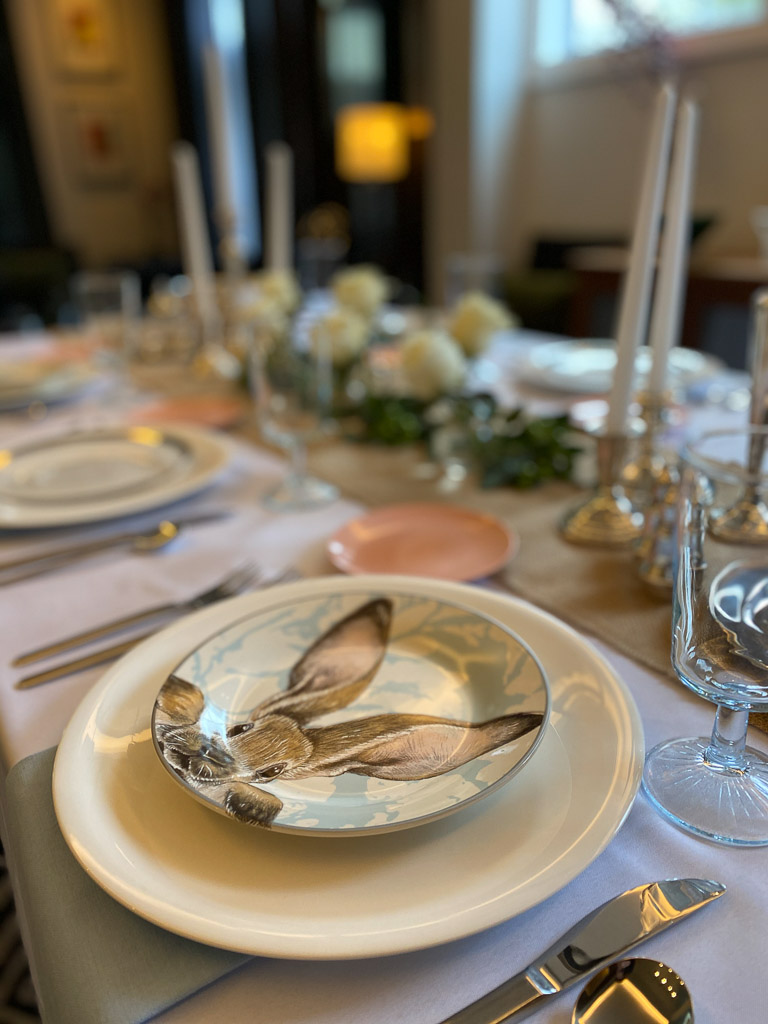 Did you try this idea? Share it on Instagram with the hashtag #makeeverydayanevent and tag @makeeverydayanevent! Looking for more great Easter entertaining ideas? Check out One Table, Three Ways — Easter!