FIVE HALLOWEEN TRICK OR TREAT TABLE IDEAS YOU'LL LOVE!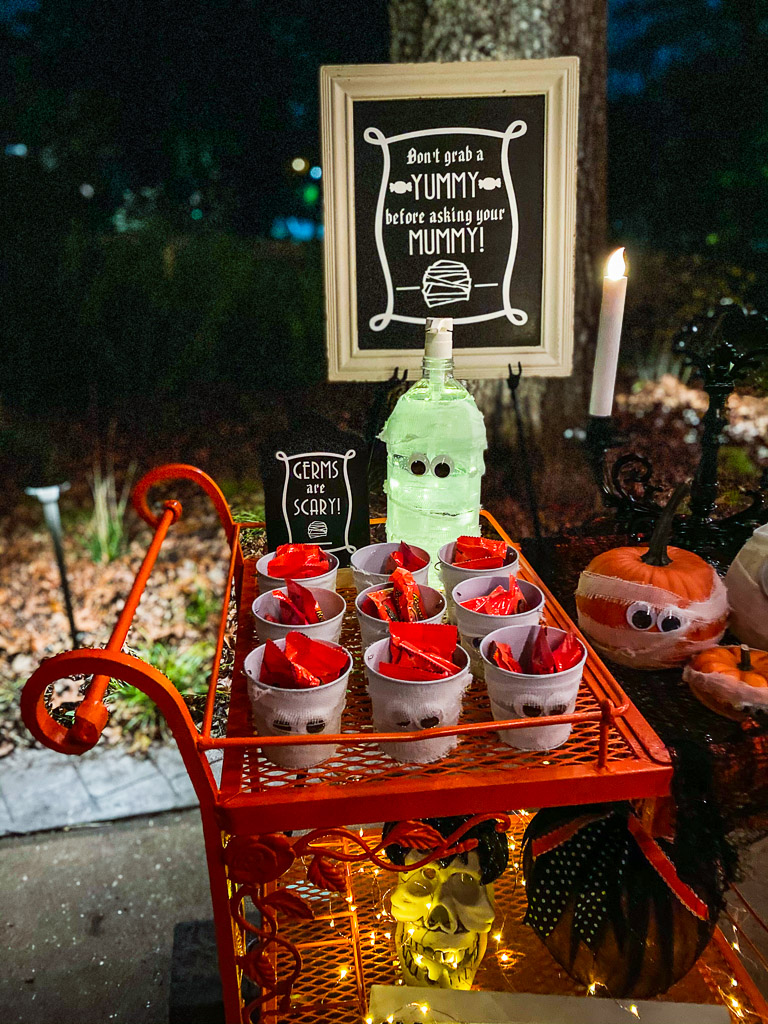 These five Halloween trick or treat table ideas will help you create the perfect socially distant Halloween way to give out candy in 2021.
An adorable driveway trick or treat table is one of the best socially distant trick or treat ideas we've come across.
Last year it was all about the candy chute.
While a fun concept, it sounded complicated. And slow.
They were a better idea than a reality.
Don't worry … we've got one of the best contactless trick or treating ideas for you!
Here are five great Halloween trick or treat table ideas to help you pull together a truly spooktacular trick or treat driveway table for Halloween.
It's one of the best ideas for giving out candy in 2021.
And no candy chute is needed!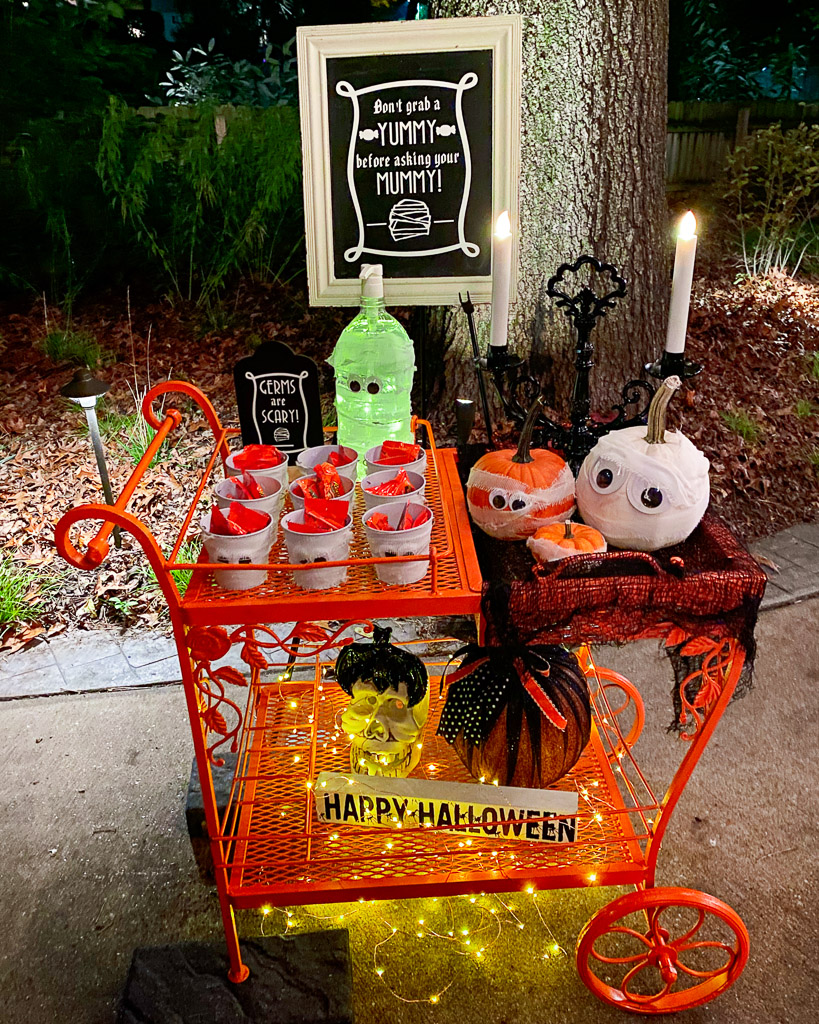 1. MAKE YOUR HALLOWEEN TRICK OR TREAT TABLE EASY TO ACCESS
On Halloween night, my favorite trick or treaters are often the littlest ones.
Their costumes are adorable and they have a twinkle in their eye that makes the night even more magical …
Although Halloween is truly a fun occasion for kids of all ages.
When setting up your treat table, choose a location that is easily accessible for everyone.
You don't want anyone tripping over branches or scaling a hill and potentially hurting themselves.
Think about the height, depth and width of your display.
Choose a table, bench or cart that will create a flat, easy-to-reach surface for all of the goblins and ghouls that will be visiting.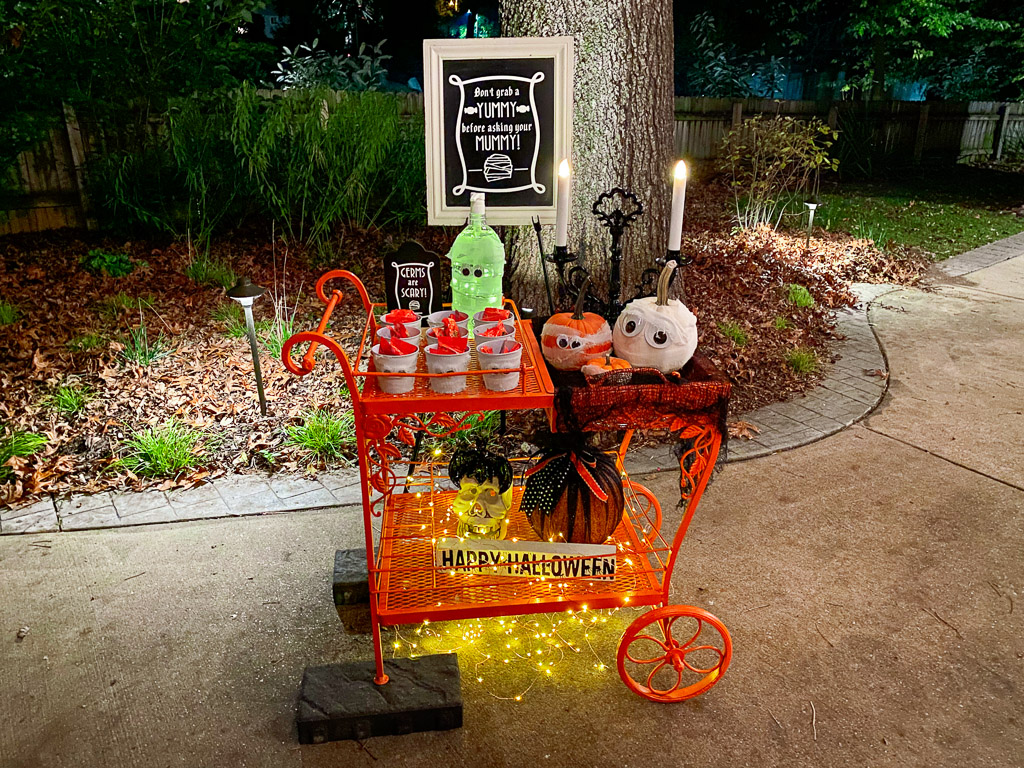 This garden cart was the perfect choice.
It's a piece we found over the summer and cleaned it up.
It was a super easy DIY project that was a great addition to our backyard in the warmer weather.
And now, it's even better repurposed as a Trick or Treat driveway table.
Goblins and ghouls can just grab treats from the cart, which is one of the safe and creative ways to trick or treat during COVID.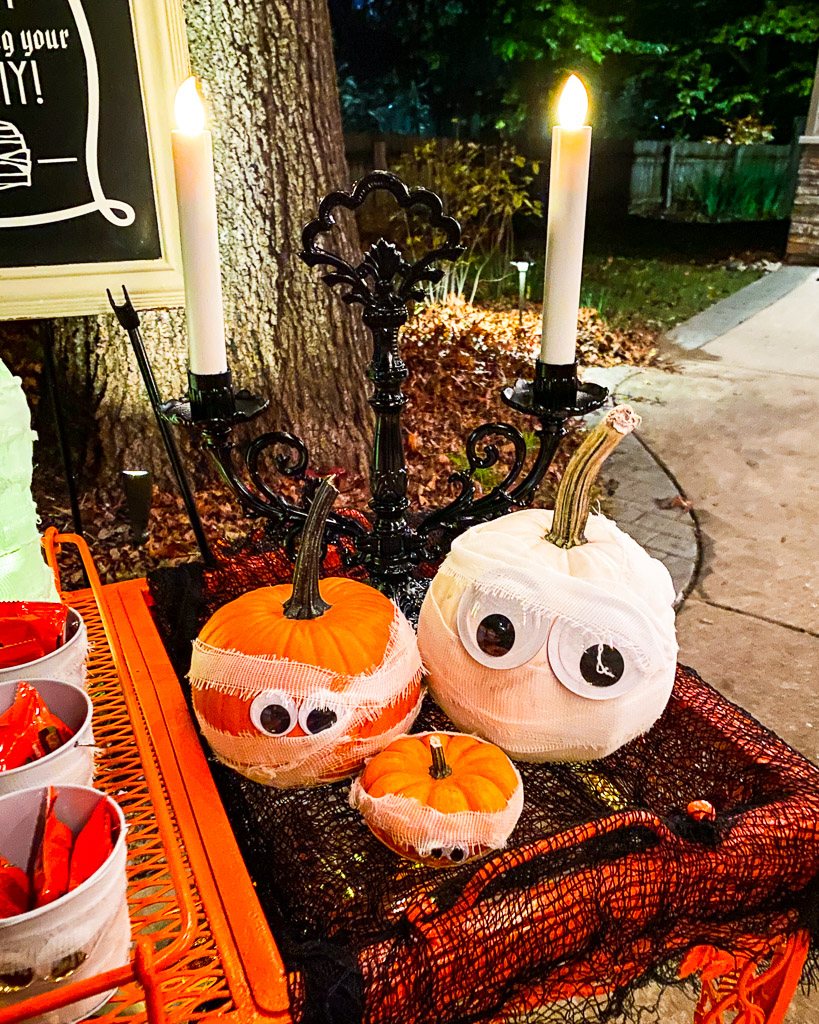 2. NO OPEN FLAMES OR CORDS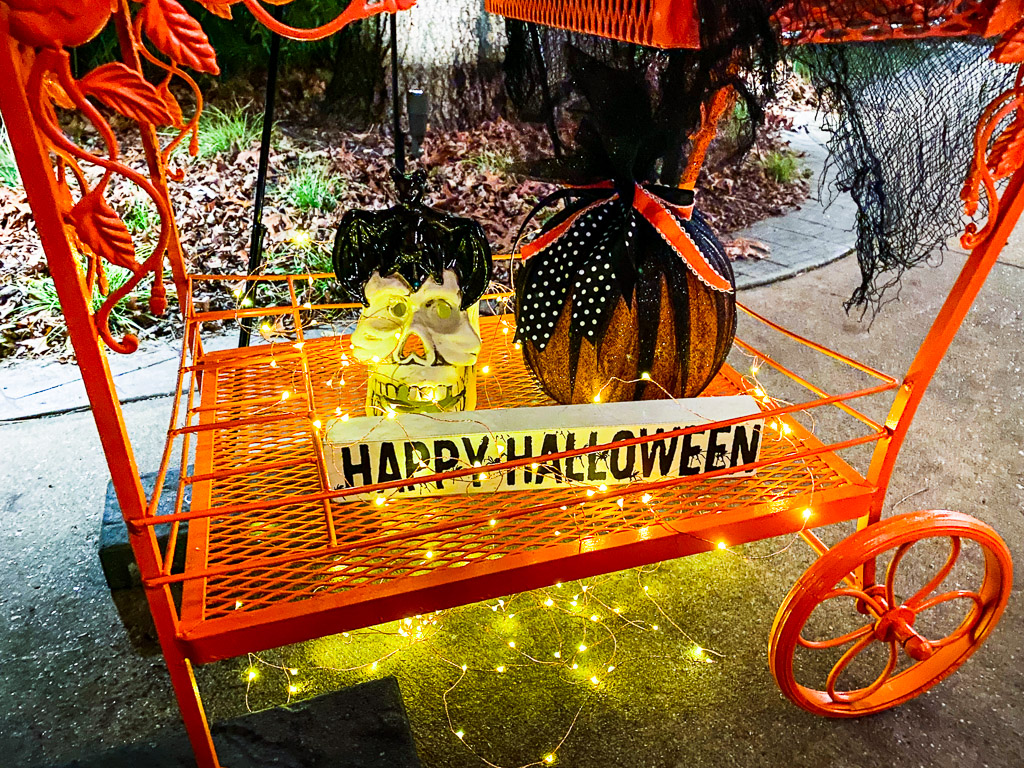 Halloween is all about the eerie and spooky décor.
One of the easiest ways to achieve this ambience is through candlelight.
But costumes, many of which have loose, draping fabric or cardboard parts, are another key element of the evening.
And regardless of the pandemic, kids will be excited as they approach your home. Y
ou do not want to put anyone in harm's way.
The safest bet … ? Avoid any open flames around your treat table or electric lights that require extension cords. Y
ou can still use fun décor elements such lighted jack-o'-lanterns, votives and lanterns, just illuminate them using these safer choices instead:
LED tapers
LED pillars
LED votive lights
Battery operated fairy lights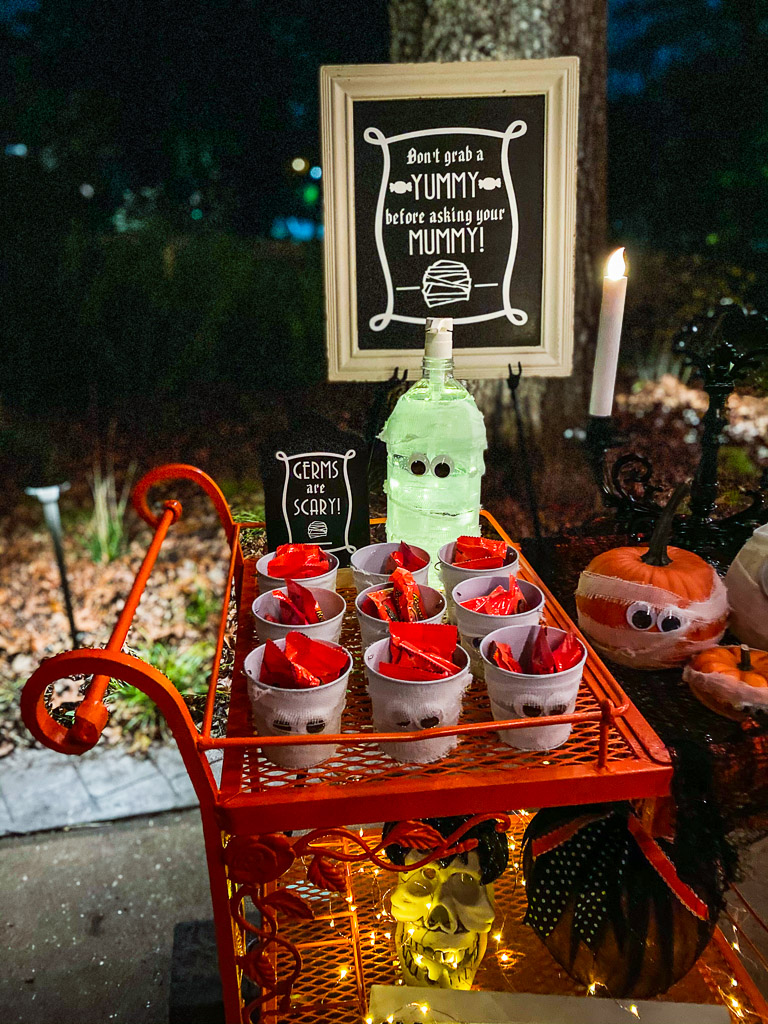 3. KEEP GLASS AWAY
Similar to flames and cords, glass can also pose a safety threat for your trick or treating guests, so it's best to just avoid it.
This includes ceramic and glass bowls, cylinder vases, glass stands, and apothecary jars, among others.
These items are great for indoor use when things are supervised (and well lighted!).
But for this outdoor, contactless setting, they could be hazardous.
To safely parcel out treats, we crafted these adorable mummies from mini metal pails.
They are perfect to hold a few pieces of candy and make it super easy for trick or treaters to just grab and go!
4. GERMS ARE SCARY …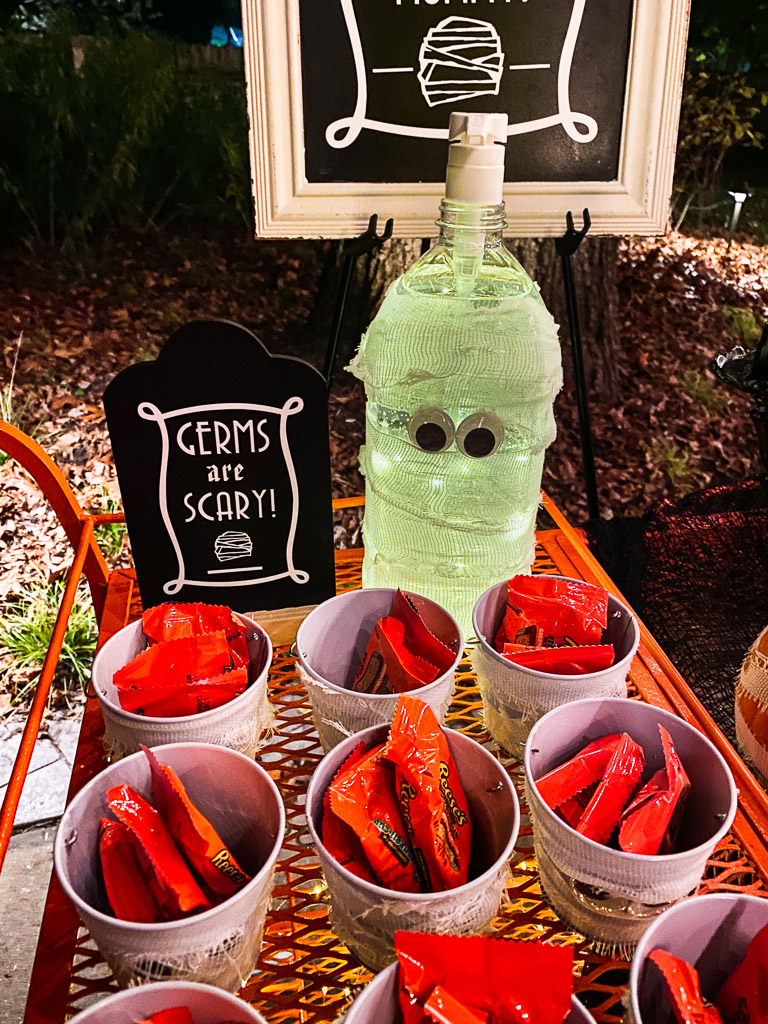 Consider adding hand sanitizer to your table.
We found a jumbo bottle of sanitizer on Amazon. And to make it fun, we decorated it to fit with our Mummy theme.
But what really makes it stand out … even in the dark?
These mini fairy lights that I submerged into the bottle!
So cute!
No one will be able to resist keeping it clean and safe!
Here are additional safety guidelines from the CDC regarding Halloween.
5. TRANSFORM ITEMS YOU MAY ALREADY HAVE
Halloween can quickly get expensive, especially if you live in an area where you might have a lot of trick or treaters.
When your pulling together trick or treat table ideas, think about saving some money by transforming décor items you may already have.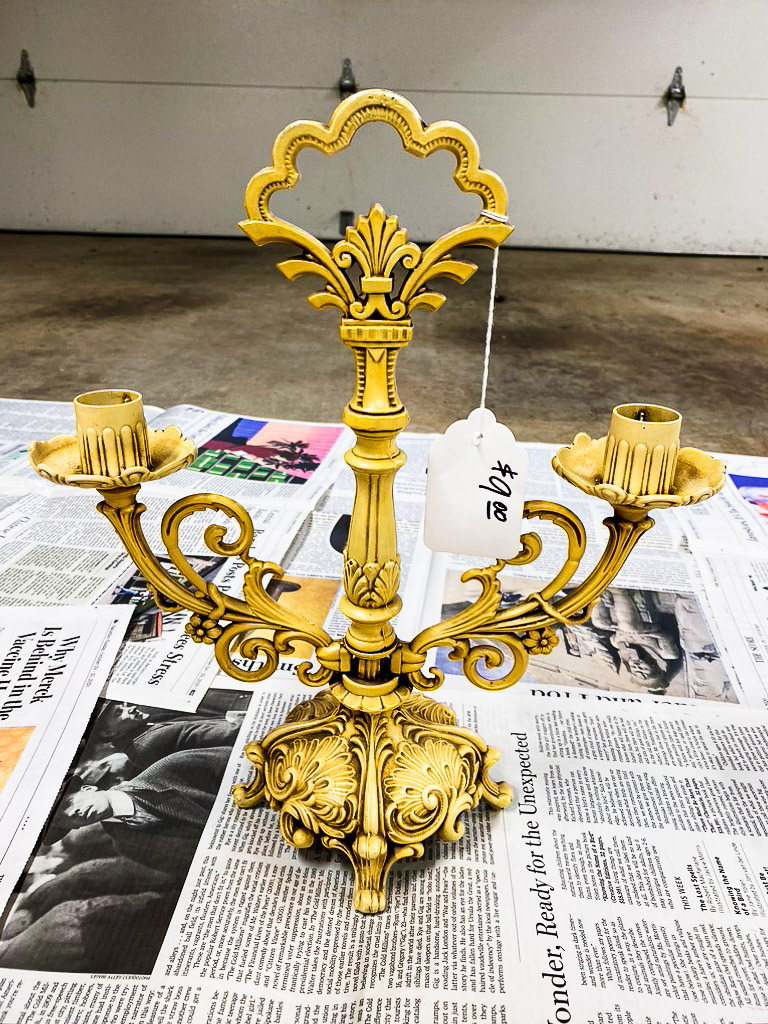 The black candelabra we used is a perfect example.
This piece was part of a neighborhood estate sale that I picked up last year, on half-price day nonetheless!
A quick coat of black Rustoleum paint transformed this within minutes.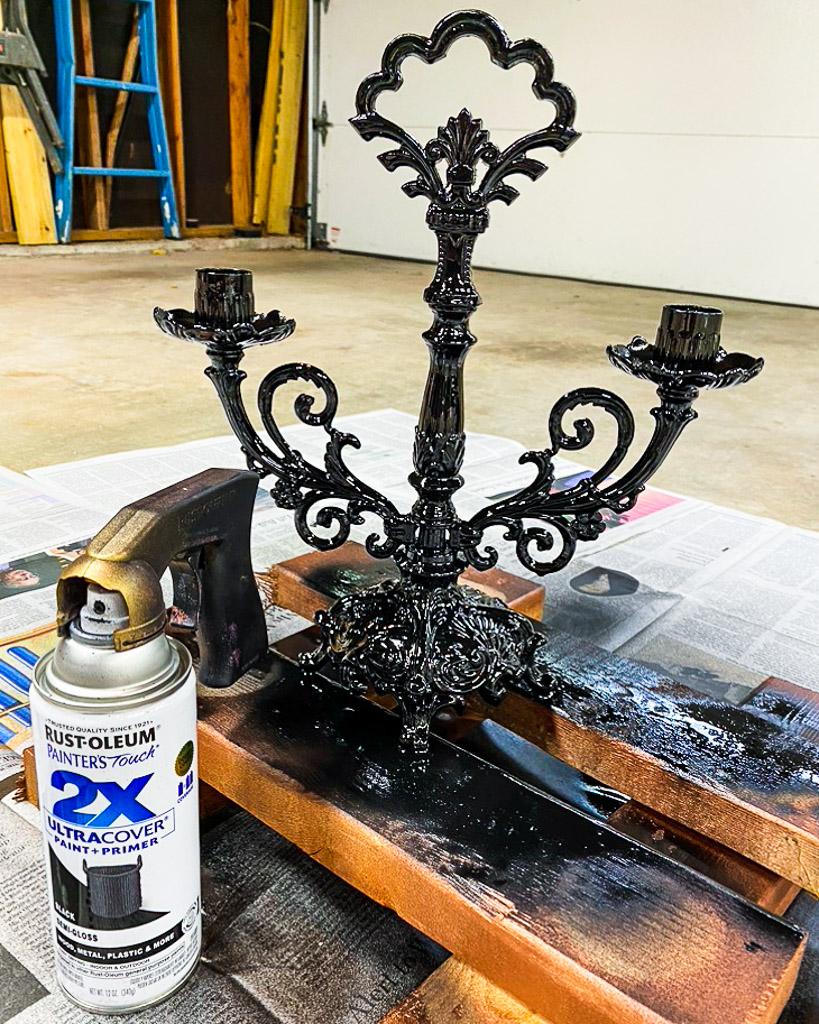 Another hack?
I have reused this chalkboard from I picked up at Michaels about four years ago, literally dozens of times.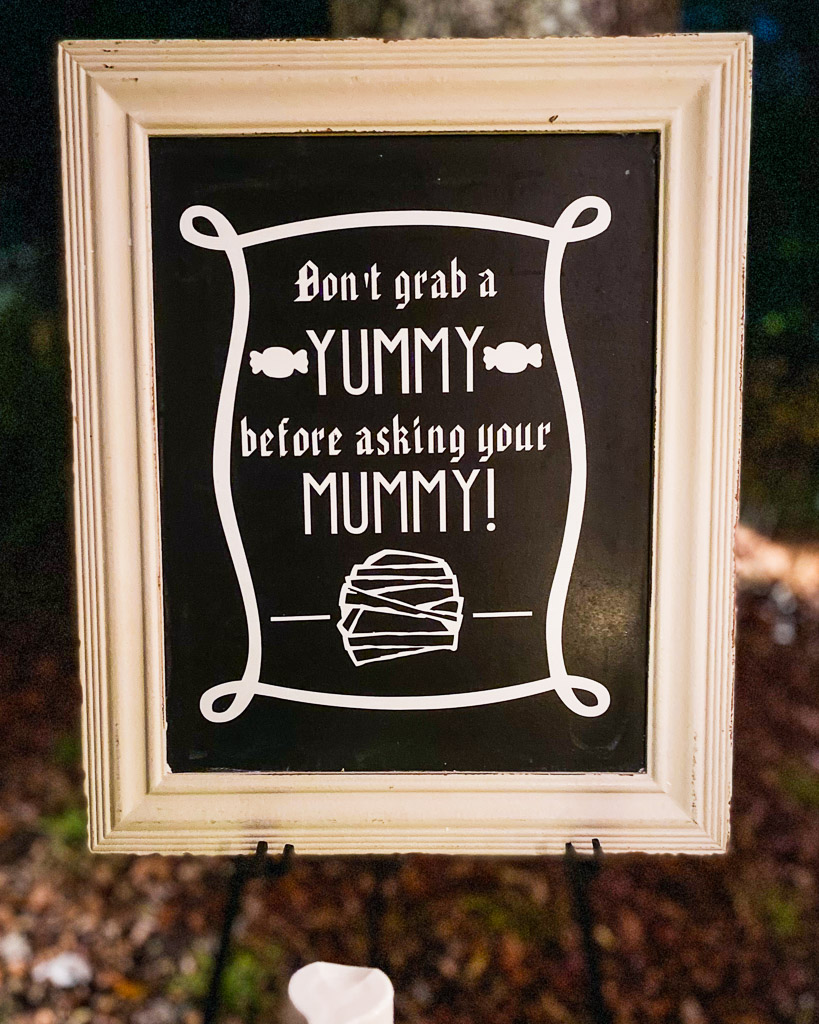 For these trick or treat table ideas, I knew I wanted a fun, cute sign that fit with our theme.
But I was worried chalk might fade or rub off.
The solution: this fun design was easy to make on my Cricut maker, with removable vinyl.
I was so happy with how it turned out, I decided to make another sign for the hand sanitizer.
This smaller, chalk sign from Michael's was the exact perfect size.
It even included the stand.
I am sure I will find multiple future uses for it!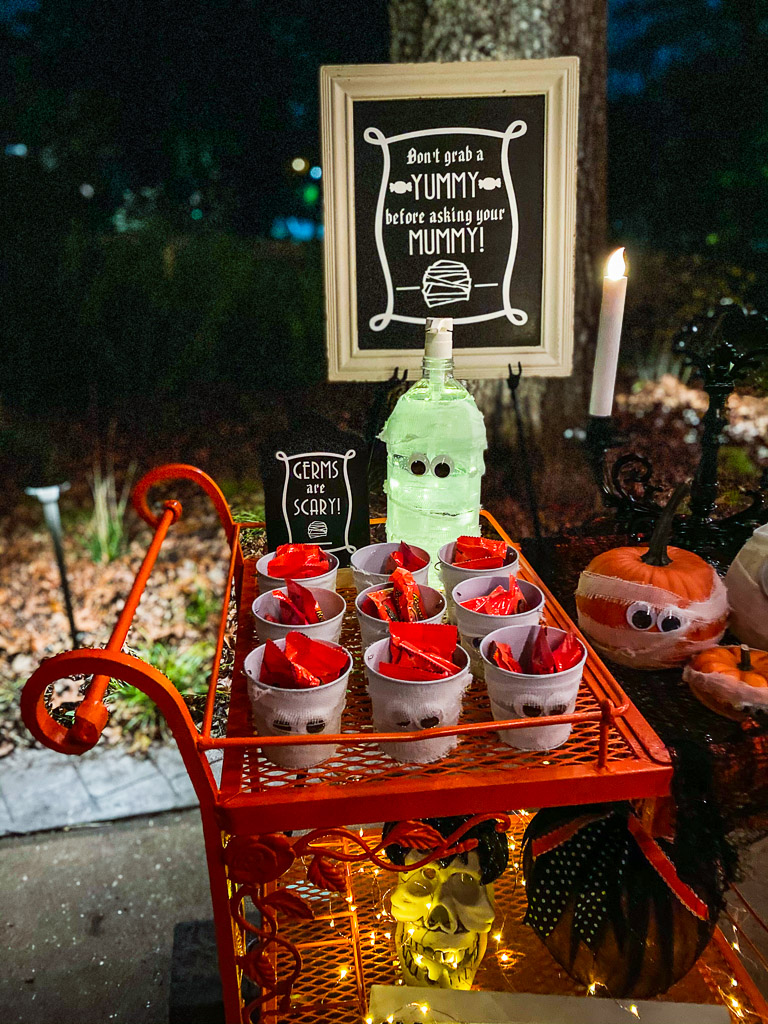 For more ideas on how you can transform your home for Halloween, check out One Table, Three Ways: So Many Halloween Ideas.
Did you try this idea? Share it on Instagram with the hashtag #makeeverydayanevent and tag @makeeverydayanevent.
If you have any questions or suggestions, contact us or leave a comment!
Follow us on social media! You can find us on Instagram, Pinterest, and Facebook.