EASY LOBSTER PARTY DECORATIONS YOUR GUESTS WILL LOVE!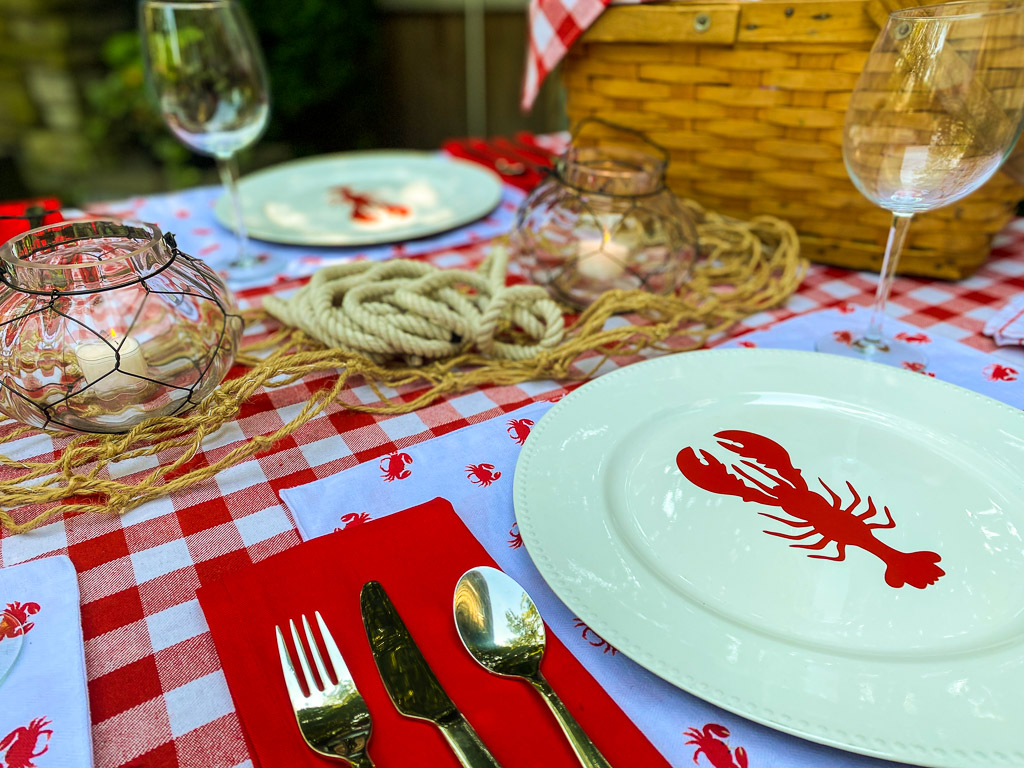 These lobster party decorations are simply adorable!
And they're easy to pull together.
Your guests will love sitting down to this lobster themed party.
Our lobster party decorations featured festive red and white table décor, cute lobster-themed chargers, great wine, and the very best lobster rolls in the U.S., ordered directly from McCloon's.
It was really a great way to spend a relaxing, late-summer afternoon.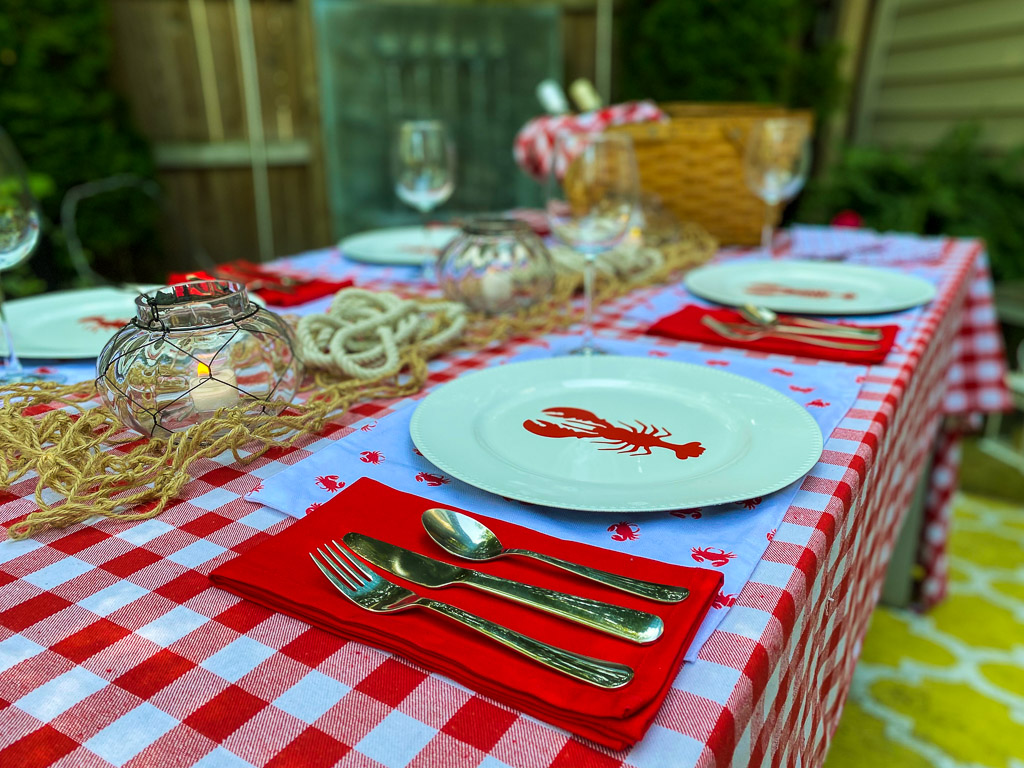 We show you how we pulled these lobster party decorations together, step by step.
This fun celebration was created in honor of National Lobster Day. So that begs the question …
WHEN IS NATIONAL LOBSTER DAY?
We're not sure why, but National Lobster Day is a little bit controversial.
There are actually two dates on which the event is celebrated.
One is June 15 and the other is September 25.
We prefer the September date, which just so happens to be right around our wedding anniversary!
Why?
Because Lobster Day reminds me of one of my favorite episodes of Friends … the one where Phoebe declares Rachel is "Ross' lobster" because lobsters mate for life.
So perfect for our anniversary weekend and so cute!
Just like these lobster party ideas!
CLASSIC, CASUAL STYLE IS KEY TO THESE LOBSTER PARTY DECORATIONS …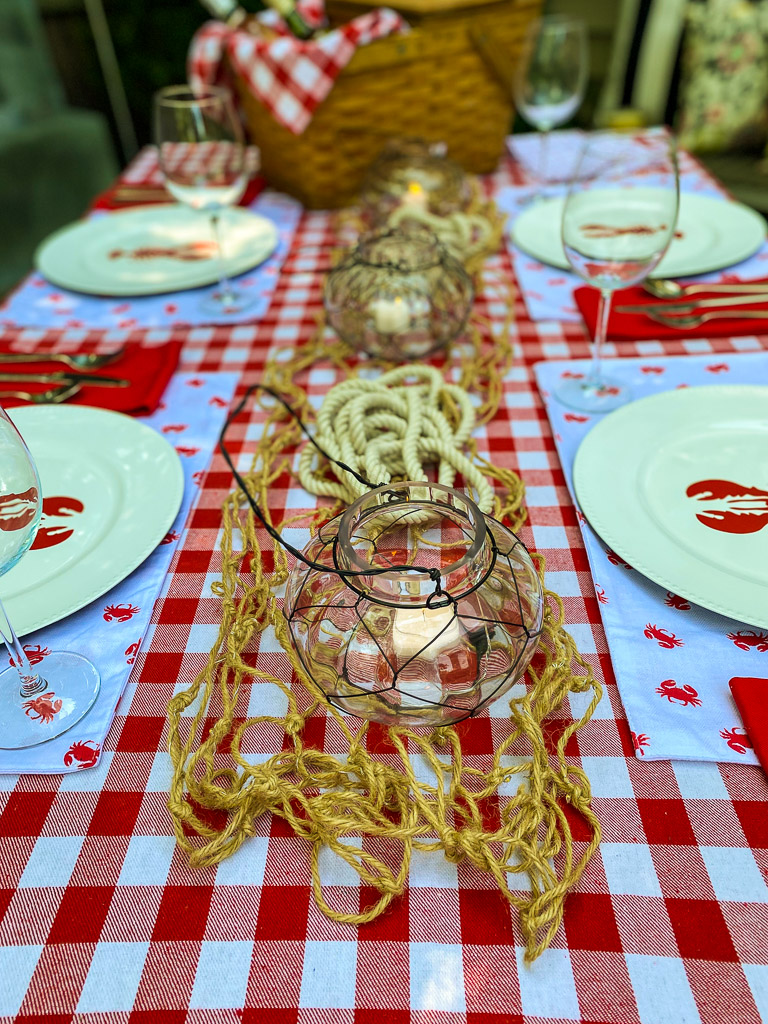 When pulling together these fun lobster dinner ideas, I was drawn to this red and white check tablecloth.
It just seemed like the obvious choice for the table setting and created a casual, picnic vibe.
It also coordinated with some fun, nautical themed décor items to really create the right, festive mood for a memorable affair.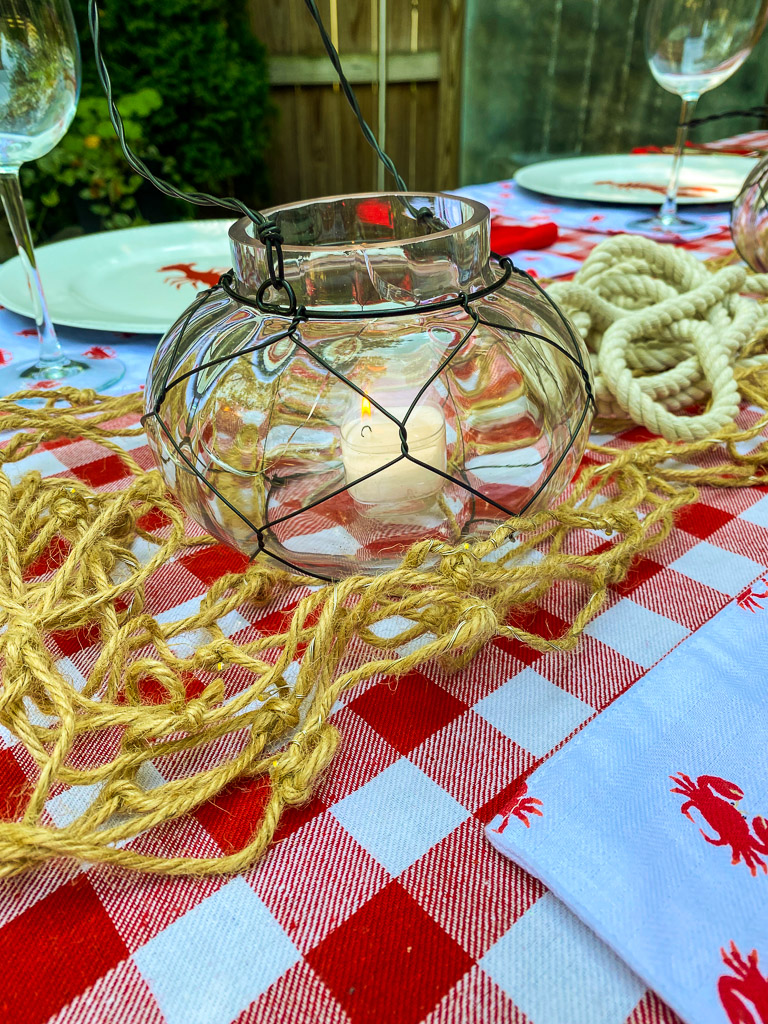 SPECIAL TOUCHES MAKE ALL THE DIFFERENCE WITH THESE LOBSTER PARTY DECORATIONS …
A lighted fishnet made the perfect table runner.
A grouping of three glass lanterns placed right down the middle of the table, looked great as well.
Nautical roping artistically coiled on each side of the table was also a perfect touch.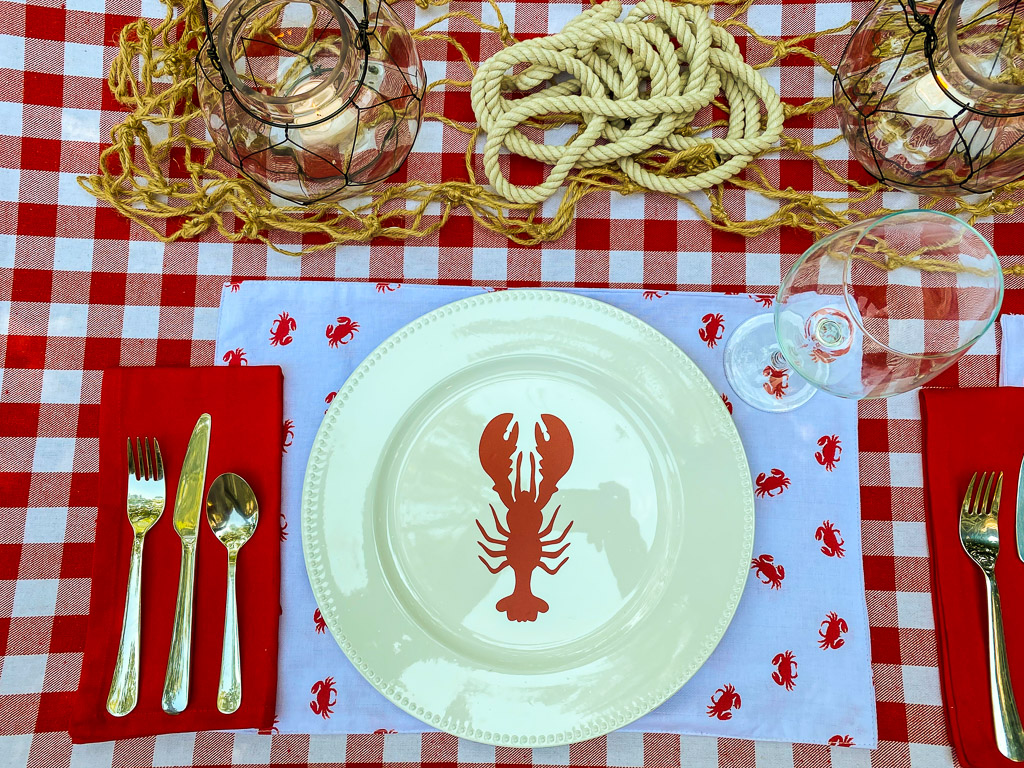 A wooden picnic basket made carrying the items to and from the table a breeze.
And it certainly added to the tabletop's casual and cheerful mood!
But the real stars of this table setting were the white lobster chargers.
Crafting them was super easy, using my Cricut maker.
After finalizing my project in Design Space, I simply applied the cutout red vinyl onto white chargers.
In fact, I used red removable vinyl so I can utilize the chargers again on another fun occasion.
THESE LOBSTER ROLLS ARE SO GOOD (AND SO EASY) …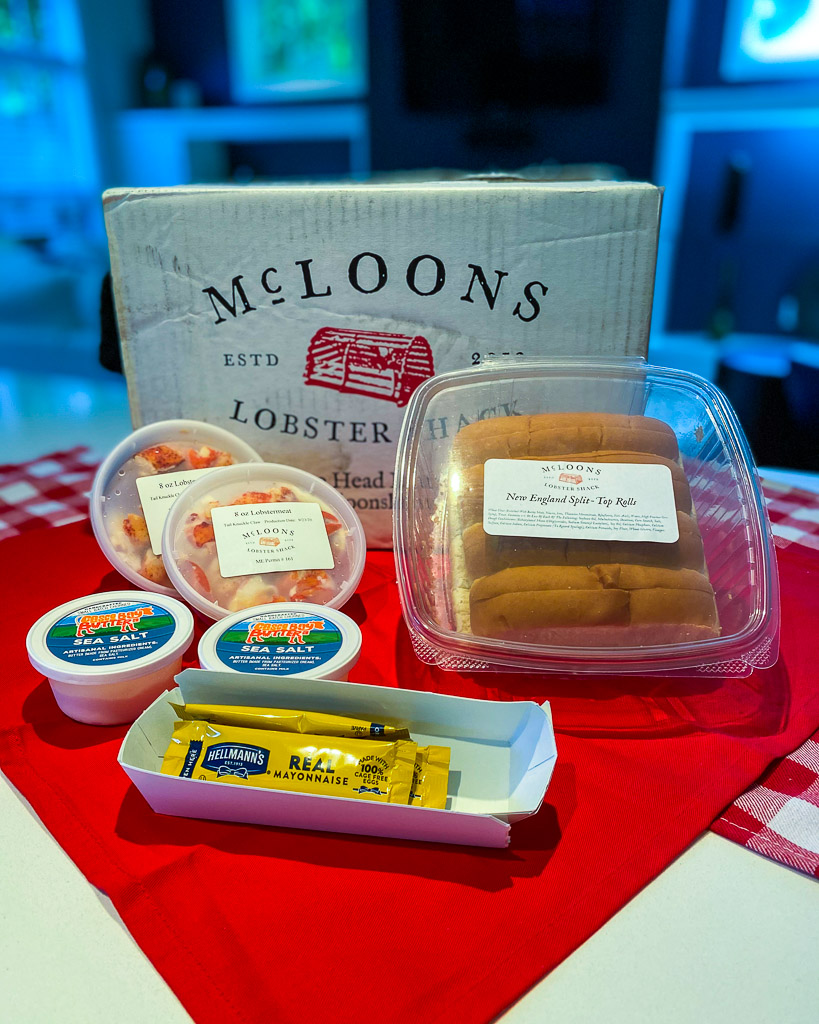 By far, the best part of this lobster party menu were the lobster rolls we ordered from McCloon's.
Named the number one lobster roll in Maine by Yankee Magazine, we knew we were in for a real treat.
And, boy, we were right.
Ordering the rolls was as simple as it gets from Goldbelly.
If you haven't discovered this on-line retailer, you're going to thank us!
Goldbelly delivers your favorite, local comfort food directly to you, throughout the U.S.
It's been a great way to splurge a bit and allow you to feel like you're traveling to one of your favorite spots in the country … without ever leaving home.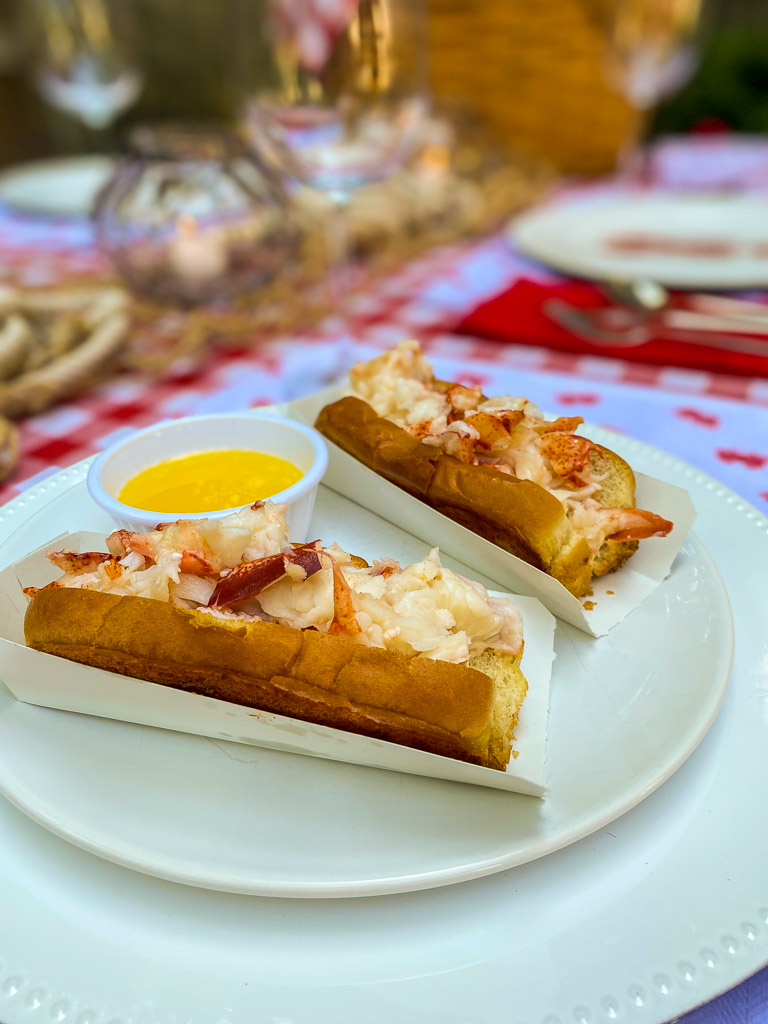 We ordered the Maine Lobster Roll Kit from McCloon's.
It contained everything we needed to make four lobster rolls including:
One pound of lobster tail, knuckle and claw meat
Four New England style split top rolls
Casco Bay Artisan Sea Salt Butter
Mayonnaise
And even paper roll sleeves!
The package arrived on-time and all of the ingredients were as fresh as they could be.
The preparation instructions were easy and simply to follow.
We could not have been more thrilled!
MAKE IT A FUN OCCASION!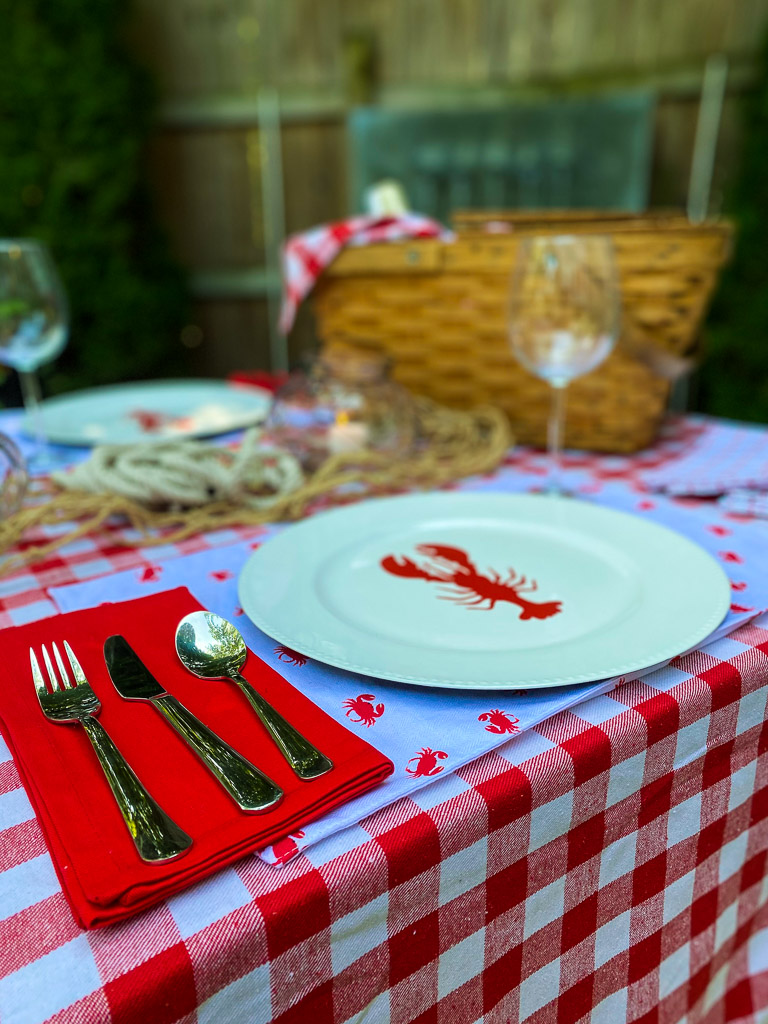 Since Lobster Day is at the end of September, the warm summer days are fading.
We decided to make this a lingering afternoon lunch, by enjoying with a nice glass of wine (or two!) with this fantastic fare.
And why not?
The time we spend together making memories is truly what life is all about!
And a great way to kick off our anniversary!
Work can wait!
Let's carve out some time today to Make Every Day an Event!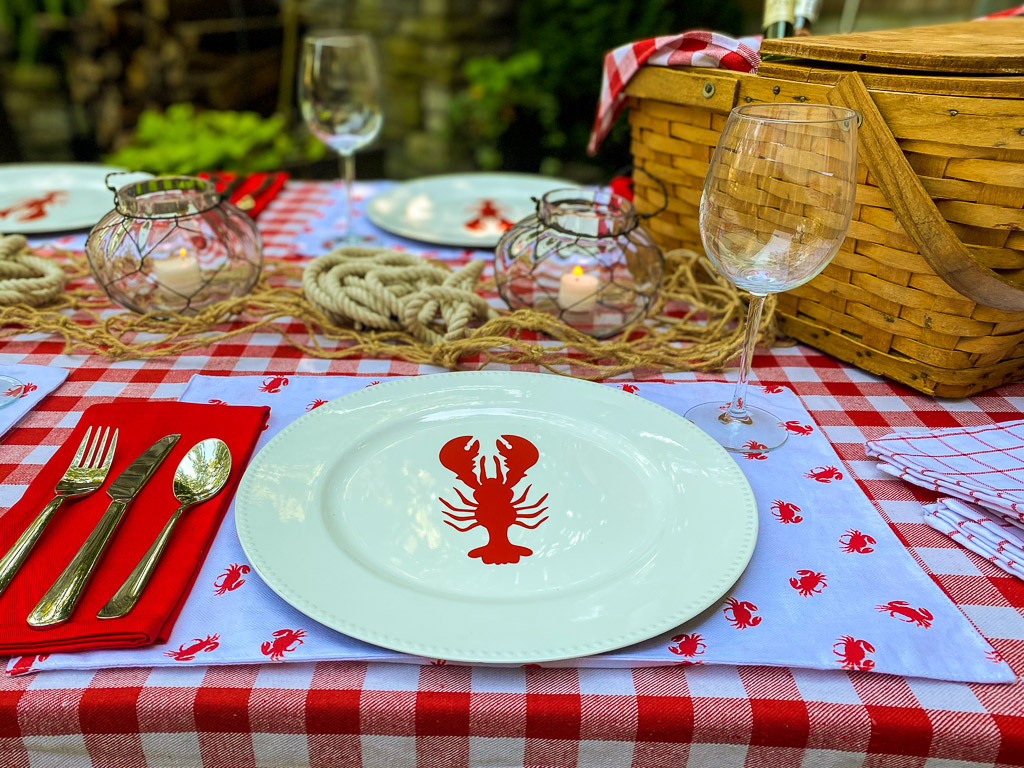 If wine isn't your thing, here is a great cocktail to try instead!
Or, you can celebrate with these tips about champagne …
Looking for other backyard fun ideas? Check out these five romantic picnic ideas!
Did you try this idea?
Share it on Instagram with the hashtag #makeeverydayanevent and tag @makeeverydayanevent.
If you have any questions or suggestions, contact us or leave a comment!
Follow us on social media! You can find us on Instagram, Pinterest, and Facebook.