BEAUTIFUL OUTDOOR PATIO IDEAS – YOUR DREAM SPACE IN FIVE SIMPLE STEPS
These outdoor patio ideas are beautiful, simple and affordable. In five easy steps, you'll be able to create your outdoor dream space.
Long nights on the patio with a fire in the fireplace are simply some of the best nights of the year.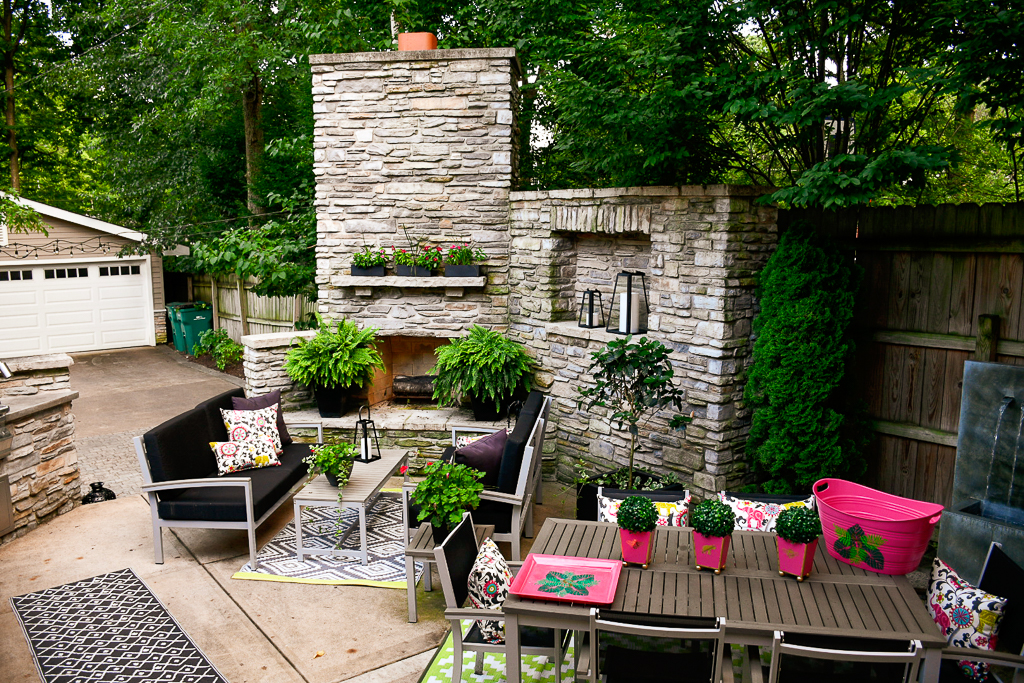 And I am so ready for it …
Great dinners, good friends, fun conversation, refreshing cocktails …
So. Much. Fun.
I cannot wait!
Fortunately I don't think I will have to wait much longer.
Because I'm fairly certain, spring has sprung.
The thermometer is starting to consistently reach the mid-seventies.
And the sun is shining!
Finally.
So getting the outdoor entertaining space ready for all of the fun times ahead is simply essential right now.
And I've got five outdoor patio ideas that will help you pull together a beautiful outdoor living space.
Because there truly is always something to celebrate … especially when you've got a great outdoor area in which to host your family and friends!
In fact, you'll look for any excuse to have people visit!
Here my five outdoor patio ideas that you don't want to miss:
1. DECIDE ON YOUR COLOR PALETTE
Similar to decorating an indoor room in my home, I began this project by thinking about the décor, specifically the colors, I want to include.
I think this is the spot in the decorating process where a lot of people get overwhelmed, for a variety of reasons.
First, there are a lot of options out there. And second, they're afraid of making a mistake.
Here's my little secret that I use over and over again.
Find an item that would fit within the space (whether it's a patio, your bedroom, the kitchen, the living room … wherever) that you adore.
And build your color palette around that item.
It works.
Every time.
Why?
Because you need some sort of starting point. So you might as well start with something you really love.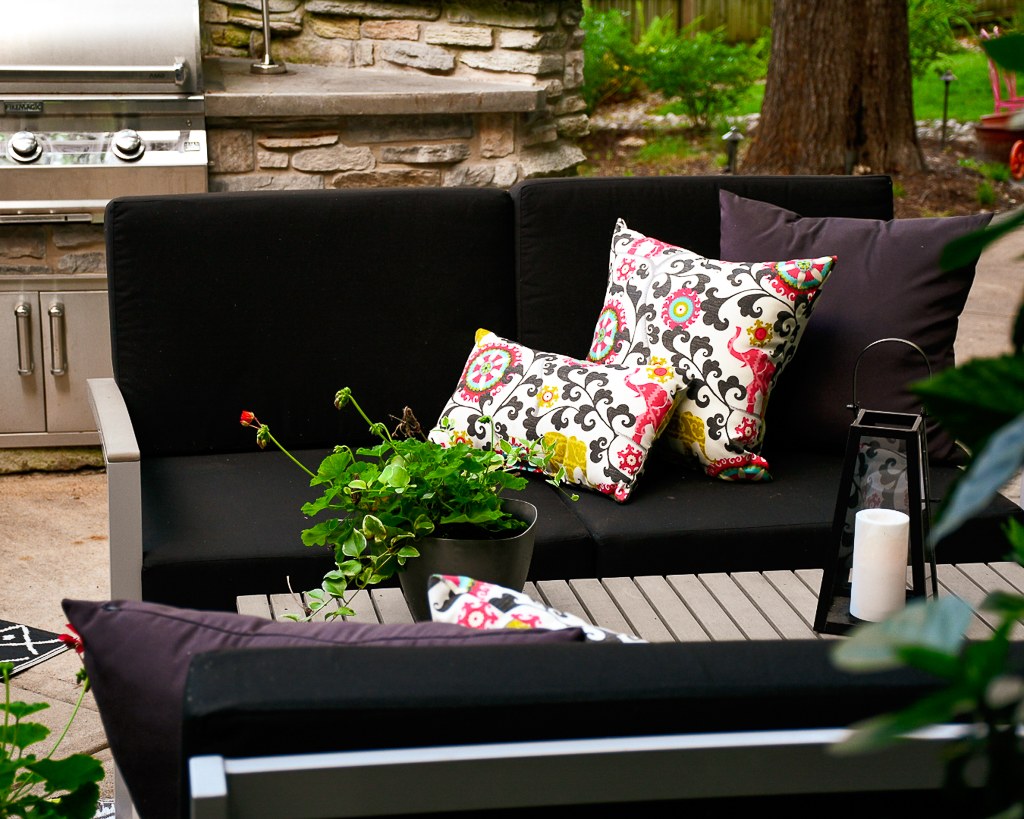 I found these darling outdoor toss pillows.
I love their pattern and their pop of color.
In my opinion, they're very Moroccan-chic.
Is that even a thing? LOL!
I'm not 100 percent certain, but regardless of whether it is or it isn't, they are definitely cute and fun, yet modern!
It's no wonder I couldn't resist them.
The hot pinks, blues and lime greens within the patterns of this pillow are just the perfect summer colors!
I just knew they were the perfect choice around which to build my patio's color palette.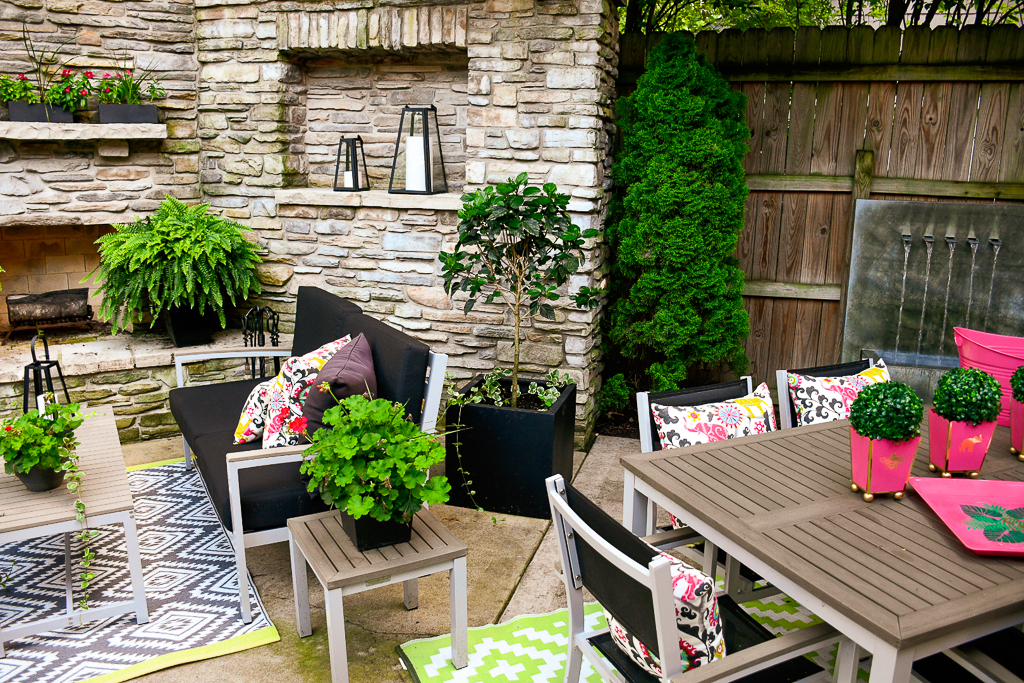 OUTDOOR PATIO IDEA TWO: DON'T BE AFRAID TO DIVIDE UP YOUR SPACE
No matter how big or small, don't think about your outdoor space as a singular unit.
Dividing the area into sections will make it infinitely more functional and more useful.
Think about carving out separate seating and dining areas on your patio or deck.
Why?
Some nights you may want to dine outside.
But on other occasions, you may enjoy your morning coffee out there or want to just sit back, relax and read a book, listening to the birds chirp.
You need the space to serve multiple purposes.
Benches are one of my favorite pieces of outdoor furniture to do this with, since they are multifunctional by their very design.
They can be used for seating, as accent tables, or even as an ottoman.
Plus they are great to display planters, pillows and candles.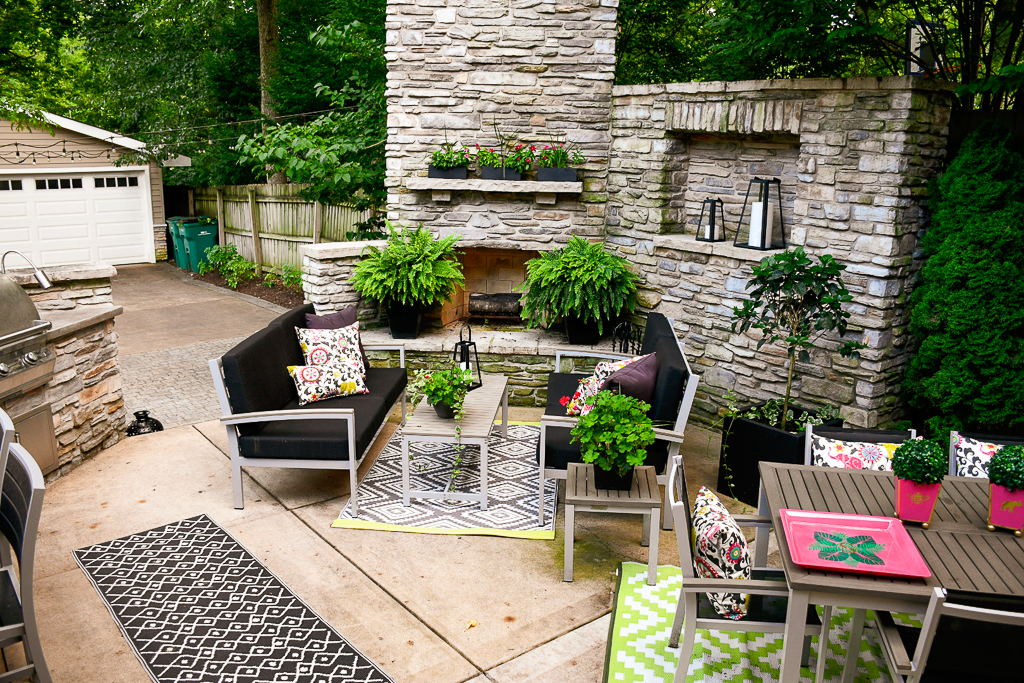 And similar to indoor decorating, outdoor rugs are essential to help to define each area visually underneath your furniture.
They allow your eye to separate and divide the space.
These rugs, made from recycled drinking straws, are hands down my absolute favorite outdoor rugs.
Our patio is not covered.
And they stand up to the elements while continuing to look great season after season.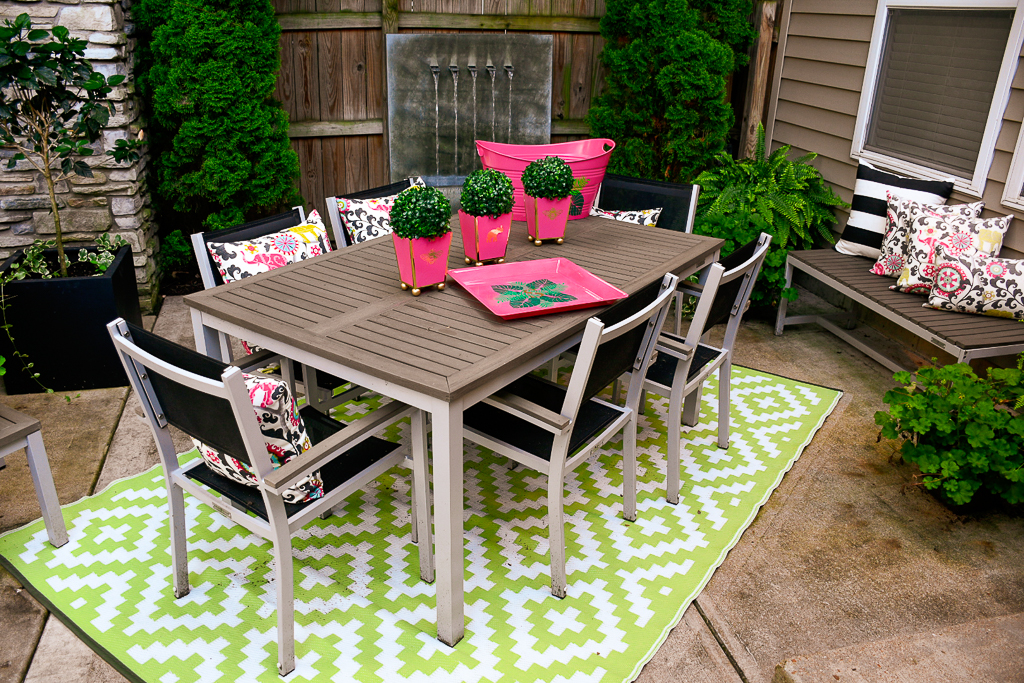 OUTDOOR PATIO IDEA THREE: CREATE A FOCAL POINT (OR TWO)!
I use the word "create" here but that's probably a bit misleading.
Unless you are starting from scratch (and that would be an entirely different discussion), your patio likely has some existing architectural elements that can fill this role.
Play off of them by arranging your furniture and accessories to highlight those features.
In my case, our outdoor fireplace definitely fit that bill and is a natural choice for a focal point.
But given the shape of our space, I felt the need to create another focal point.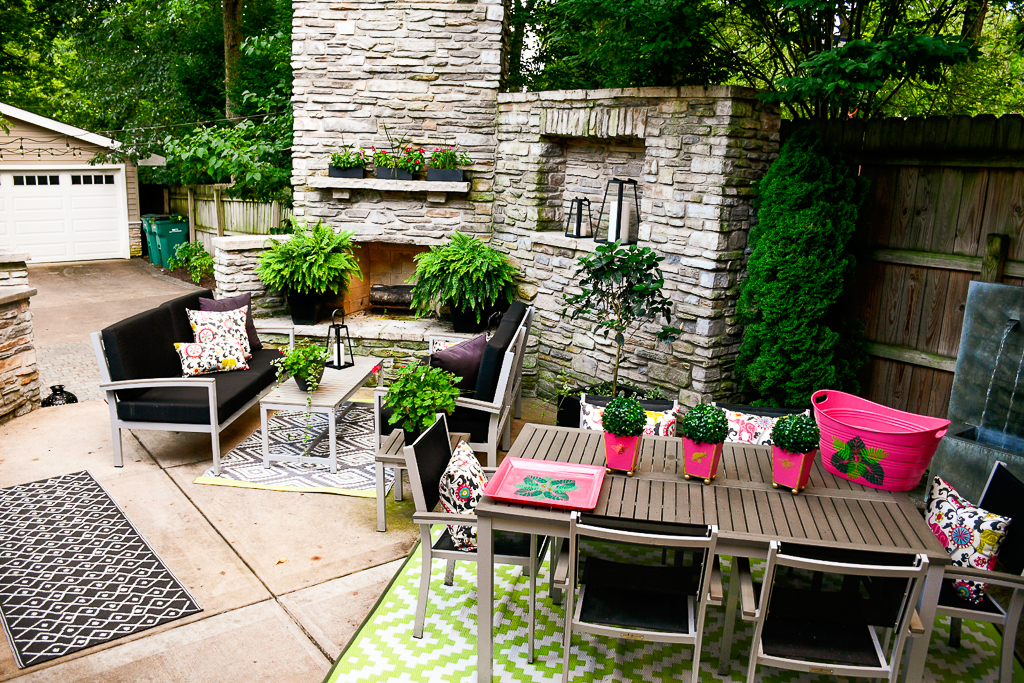 Posts on Make Every Day an Event may contain affiliate links which means we may earn a small commission on purchases at no extra cost to you. To learn more, please read our full disclosure here.
The area in front of the fence was a natural choice.
But it was ugly. Like really ugly.
I've always hated our cedar picket fence.
However, like most situations, a little creativity and a few additions can fix almost anything.
Such was the case to make this problem go away.
Again, similar to decorating inside your home, adding a large statement piece can anchor a room and create a focal point.
And I found the perfect option.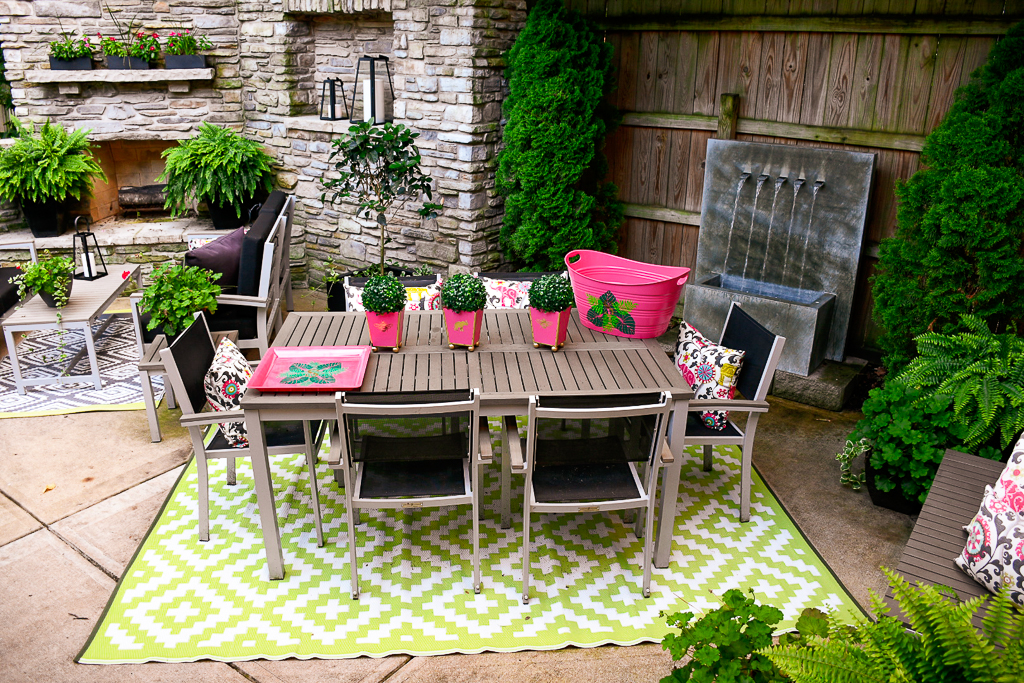 This modern fountain was ideal for the space.
Not only does it create an impression, its water feature also makes the space tranquil.
Other options I was considering that could also have transformed the area were:
Positioning a privacy screen in front of the existing fence
Installing a trellis with plantings next to the fence
Placing a garden planter with a trellis in the space
But the fountain is just perfect!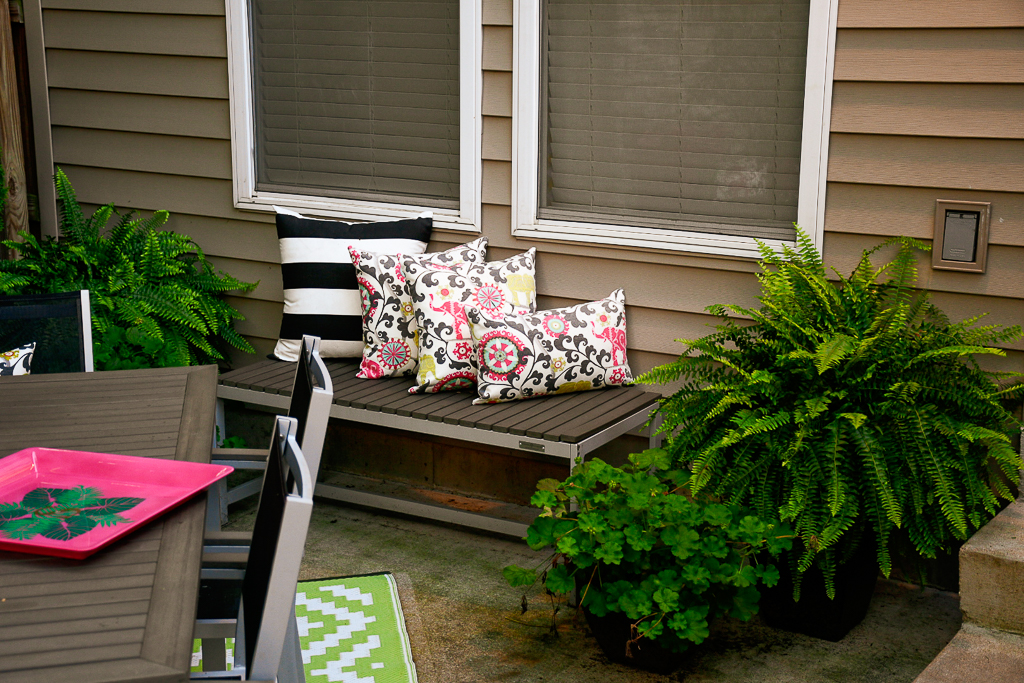 OUTDOOR PATIO IDEA FOUR: USE BOTH FLOWERING PLANTS AND GREENERY
I have a love-hate relationship with gardening.
I love planting my pots and watching the flowers bloom.
But the hot and humid summers here in Webster Groves can be a challenge and take their toll on them.
A lot of plants start to look really wilted by the end of June, which means scrambling for your Fourth of July guests.
You have to choose wisely.
Plus it always seems not everything is in bloom at the same time.
So a few years ago, I switched it up.
And I loved the result. I began planting ferns in my bigger patio pots and geraniums with vines in the smaller ones.
I couldn't be more thrilled with the result.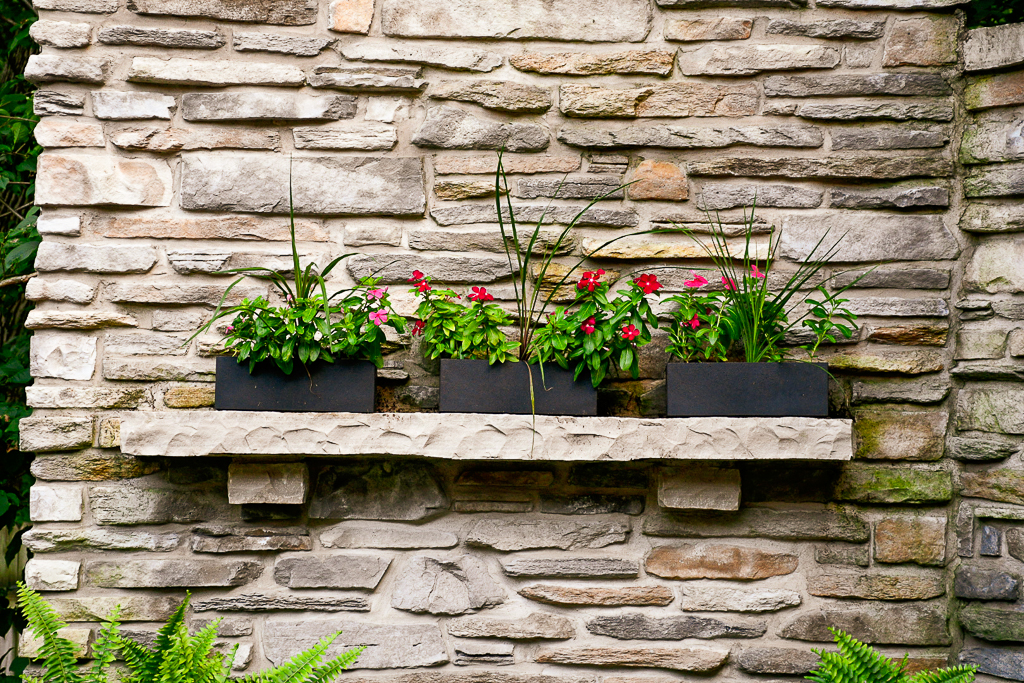 The combination of the dark green fern leaves really makes the bright pink geraniums and vinca pop.
The lesson here is to find patio plants that are hardy enough for your climate.
You don't want to go to all the work of planting and caring for them to only have to turn around and do it again, in a few months.
Don't overcomplicate it!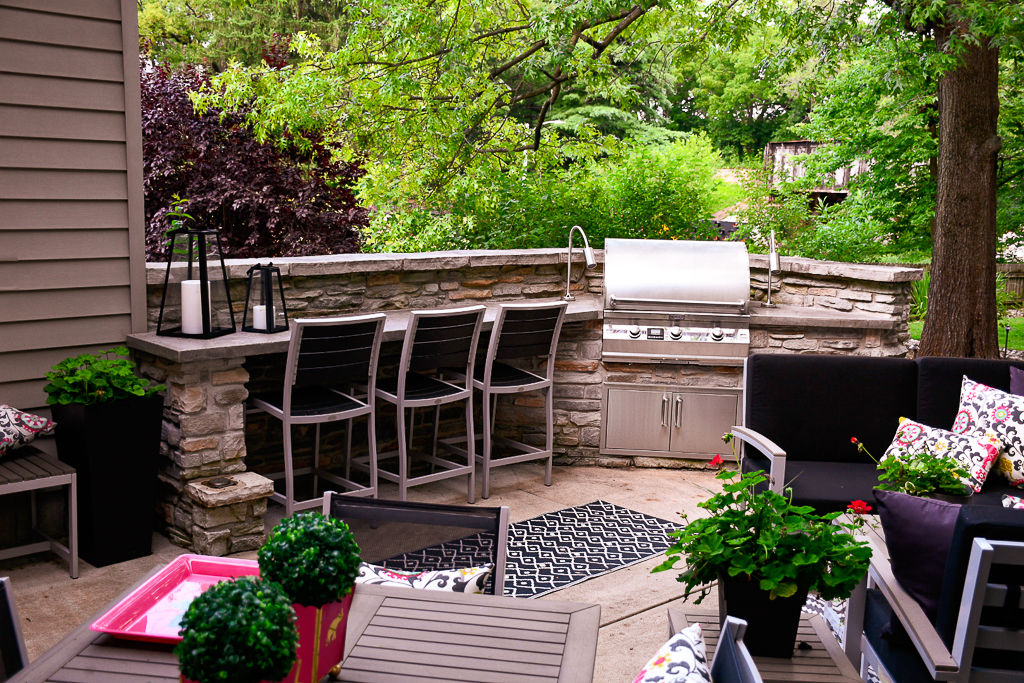 5. REMEMBER EVERYTHING DOESN'T HAVE TO MATCH PERFECTLY
And the truth is, it shouldn't! This is one of my favorite outdoor patio ideas.
I started this post by discussing the toss pillows and how I built the patio's décor scheme around them.
And if you look carefully, the rugs I chose to separate the various spaces of the patio don't match.
But they do coordinate.
One of the biggest lessons I've learned is that you don't want to source everything for the room (whether it's indoors or outdoors) in the same pattern or from the same retailer.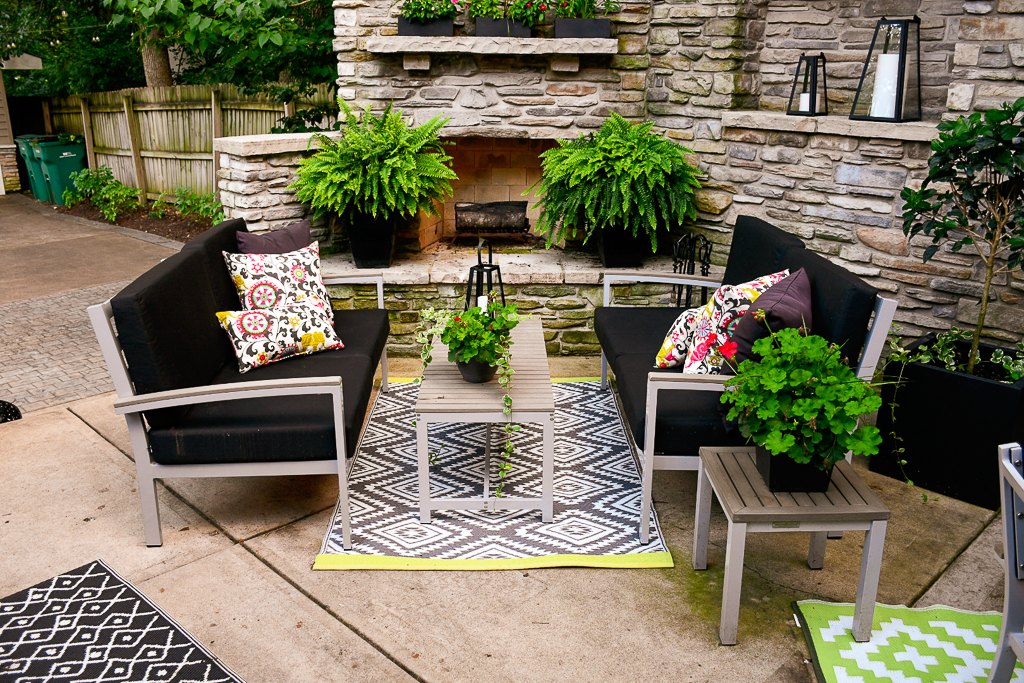 If variety is the spice of life, then it is also the essence of good design.
Like what you see? Here's how to shop for some of the furnishings and accessories I used to create this outdoor living space:
Oxford Garden Travira Loveseat
Oxford Garden Travira Backless Bench
Oxford Garden Travira 63 inch Table
Oxford Garden Travira Armchair
Share photos of your outdoor decor on Instagram with the hashtag #makeeverydayanevent and tag @makeeverydayanevent.
Did you enjoy these outdoor patio ideas? Looking for more great decorating ideas?
Check out these blogs:
DIY Cachepots Are Affordable, Easy and Elegant
How to Transform a Home Office into a Workspace You'll Love
If you have any questions or suggestions, contact us or leave a comment!
Follow us on social media! You can find us on Instagram, Pinterest, and Facebook.