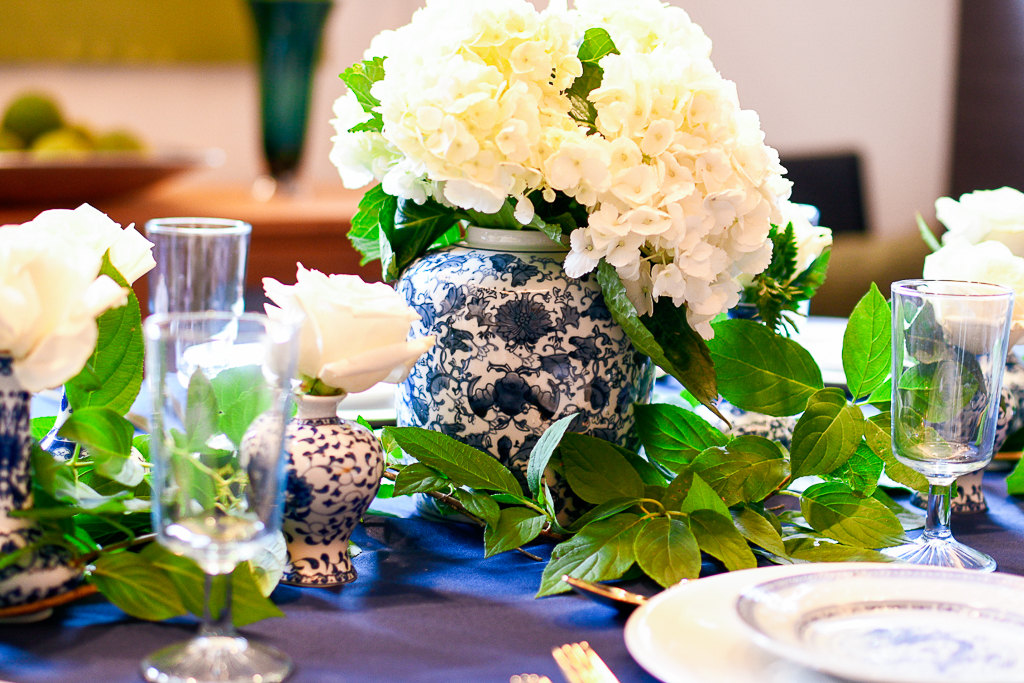 We show you simple ideas to incorporate beautiful blue table decorations on your summer tablescape in just a few easy steps!
Blue and white is everywhere in interior design this year, especially on the tabletop!
From the most sophisticated home boutiques to countless highly stylized catalog pages, as well as on all the influential Instagram feeds, blue and white home decor is hot! hot! hot!
And swoon worthy!
How can you incorporate this stylish blue table decorations trend onto your tabletop?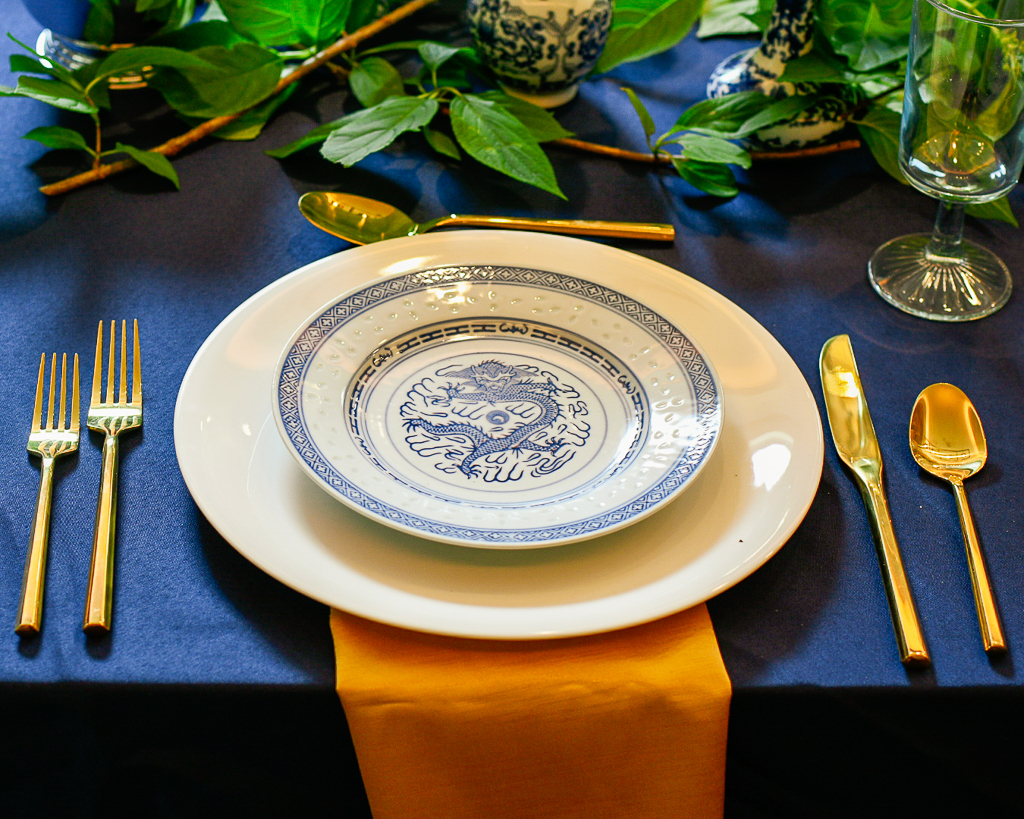 Personally, we couldn't wait to try our hand at pulling together a beautiful blue and white dinner table with a few key chinoiserie pieces.
The results were stunning. And we show you step by step how we did it.
In fact, here are three of the most important things we learned as we curated this stylish summer tablescape. These simple tips will help you create a gorgeous blue and white table setting on your very own table:
REPETITION IS THE KEY TO THIS MODERN, SOPHISTICATED LOOK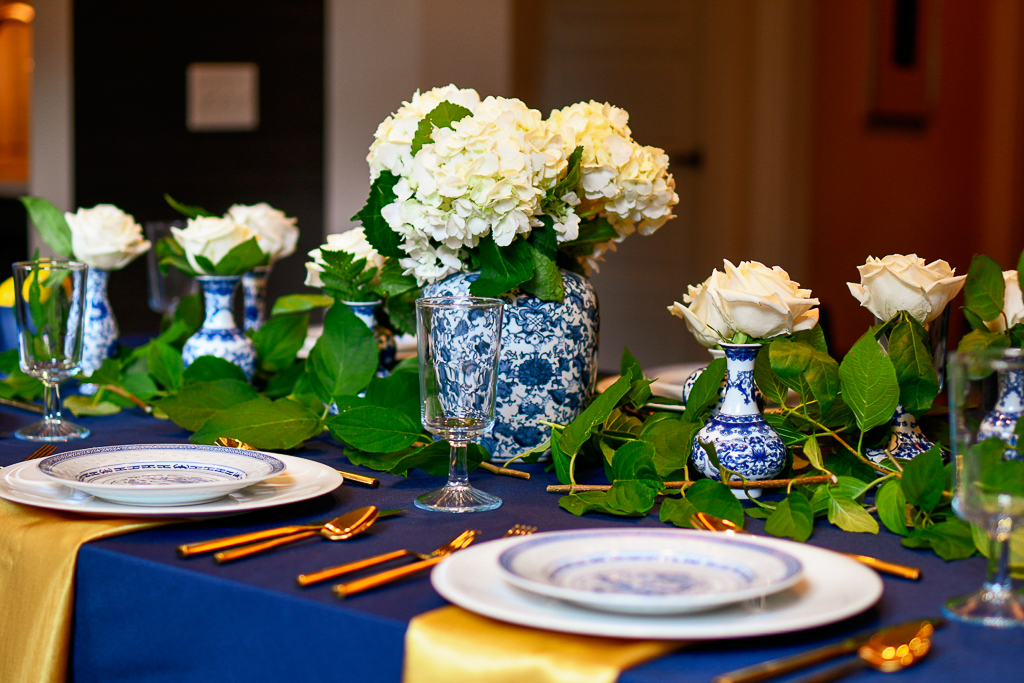 I found two great sets of chinoiserie bud vases that are absolutely perfect for this tabletop. They were an essential element in creating the look I desired. One set is more elongated in its design. The second is a more traditional "jar" style.
You need at least six vases (I actually ordered two sets of each for a total of 10) to really make this work.
Small bud vases are the easiest way I know to create a stunning floral centerpiece, without a lot of fuss or anxiety.
They allow you to arrange single stems together and create varying heights, running down the entire length of your table.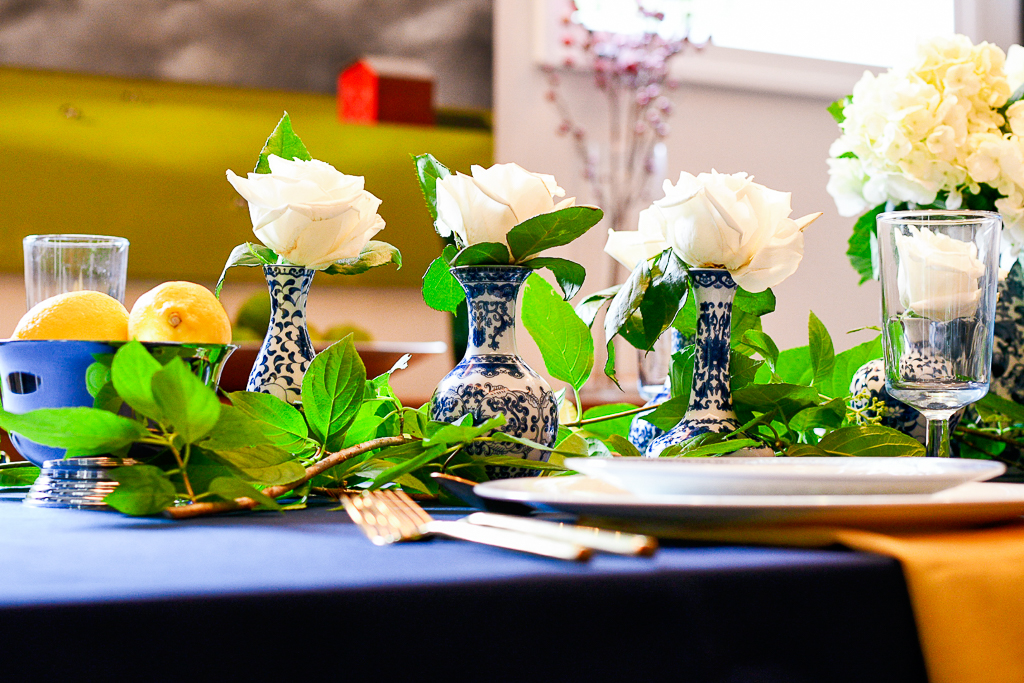 It's a foolproof way for almost anyone, regardless of skill level, to create an arrangement that looks professional!
I placed a single white rose in each bud vase, as well as a few pieces of greenery in some of the vases.
A large, chinoiserie ginger pot was ideal for the center of the table. This large vessel was perfect to hold several large, white hydrangeas. By keeping all of the flowers the same color, it created a sense of unity and flow.
The final touch for the centerpiece was to weave greens around all of the blue and white vases.
I actually used greenery branches cut from our gardens to complete the look!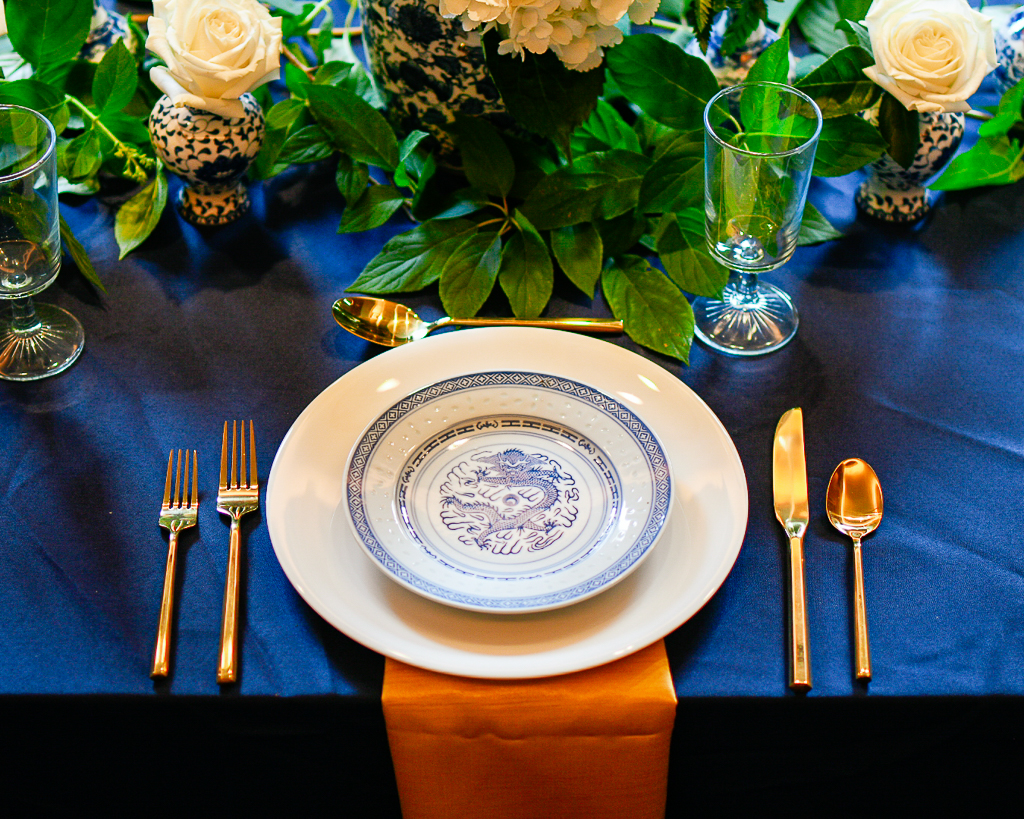 DON'T TRY TO MAKE THE TABLE TOO "MATCHY MATCHY"
Resist the urge to go overboard with this design, which is easy to get caught up in.
Repeat after me … I will resist the urge to go overboard! I will resist the urge to go overboard.
You will want to go overboard. Don't.
Using too many pieces with a blue and white pattern will create a chaotic, jumbled mess.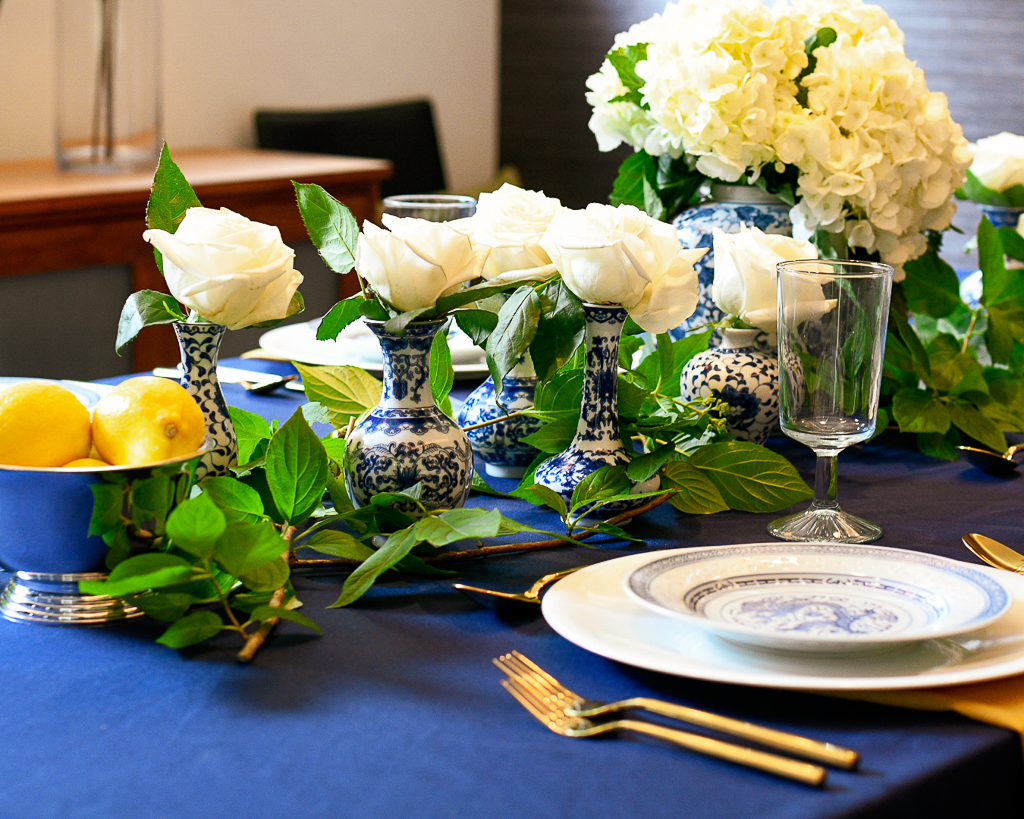 That's exactly the opposite of the look we were going for with this tablescape.
Since the center of the table was filled with chinoiserie vases, I didn't want every piece of china at each place setting to be blue and white as well.
Oversized white china plates were a simple and elegant "charger" for the smaller rice china.
The rice china is actually a family heirloom. Matt's grandmother managed to bring back an entire set from Singapore. I think she even carried it onto the plane with her for safe keeping! My hero!
ADDING ONE ADDITIONAL ACCENT COLOR CAN CREATE A REALLY NICE POP!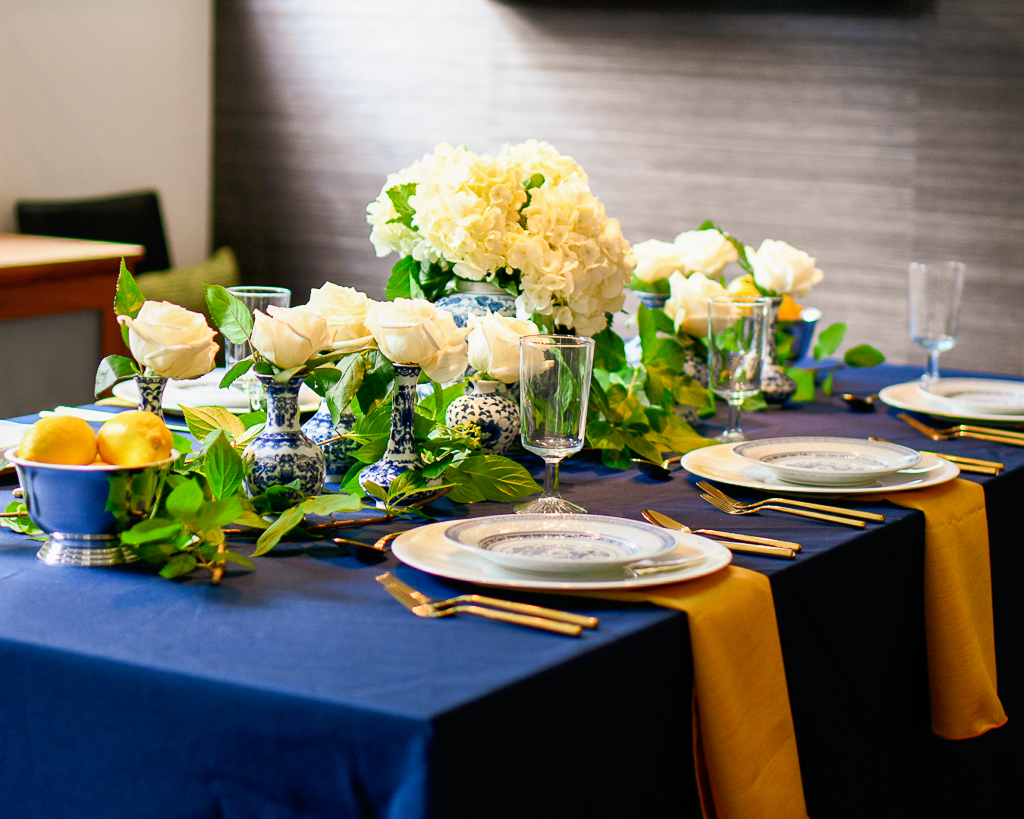 Adding a few pops of gold and yellow to this tabletop transformed it from simply beautiful to simply stunning.
These pieces really added a bit of "wow" to the table, especially against the dark navy tablecloth. This included both the flatware and the napkins.
As I've stated time and again, I love the gold flatware trend, which began several years ago in interior design.
The napkins on this table have just the right amount of shimmer, it's elegant not over the top.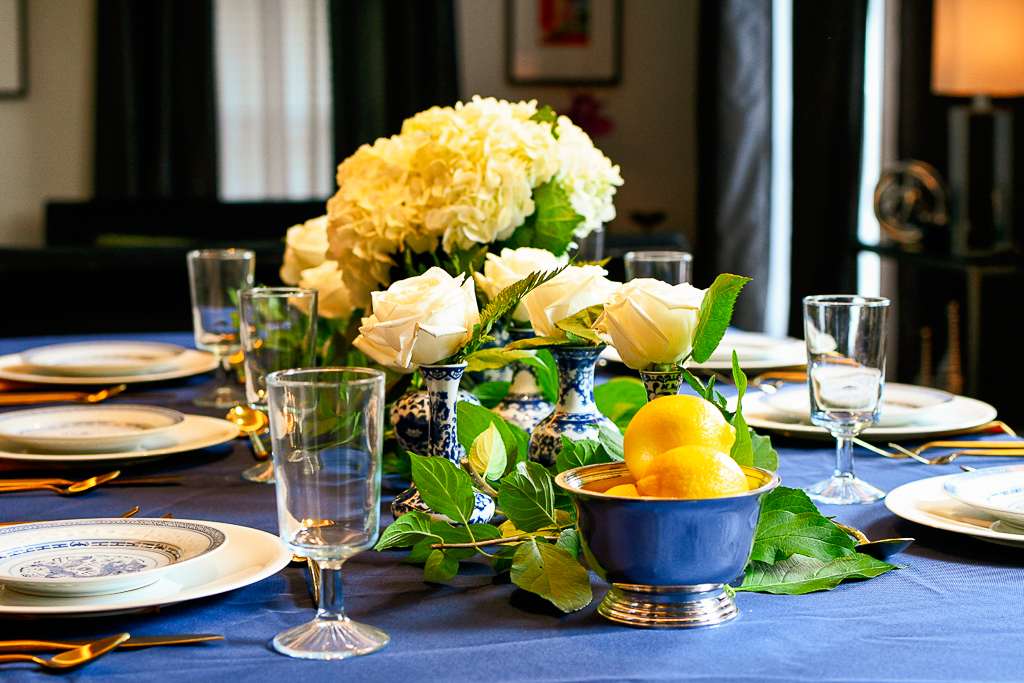 To break up things up just a bit, I added a silver bowl filled with fresh lemons to either end of the tablescape. It brings a great, organic element to "bookend" the design. Sometimes something as simple as a bowl of fresh fruit is all you need as a finishing touch!
Did you try this idea? Share it on Instagram with the hashtag #makeeverydayanevent and tag @makeeverydayanevent.
Looking for other great summer entertaining ideas, check out Cute Picnic Ideas that Make Outdoor Fun Easy or these great Rose Cocktail Recipes.
If you have any questions or suggestions, contact us or leave a comment! 
Follow us on social media! You can find us on Instagram, Pinterest, and Facebook.