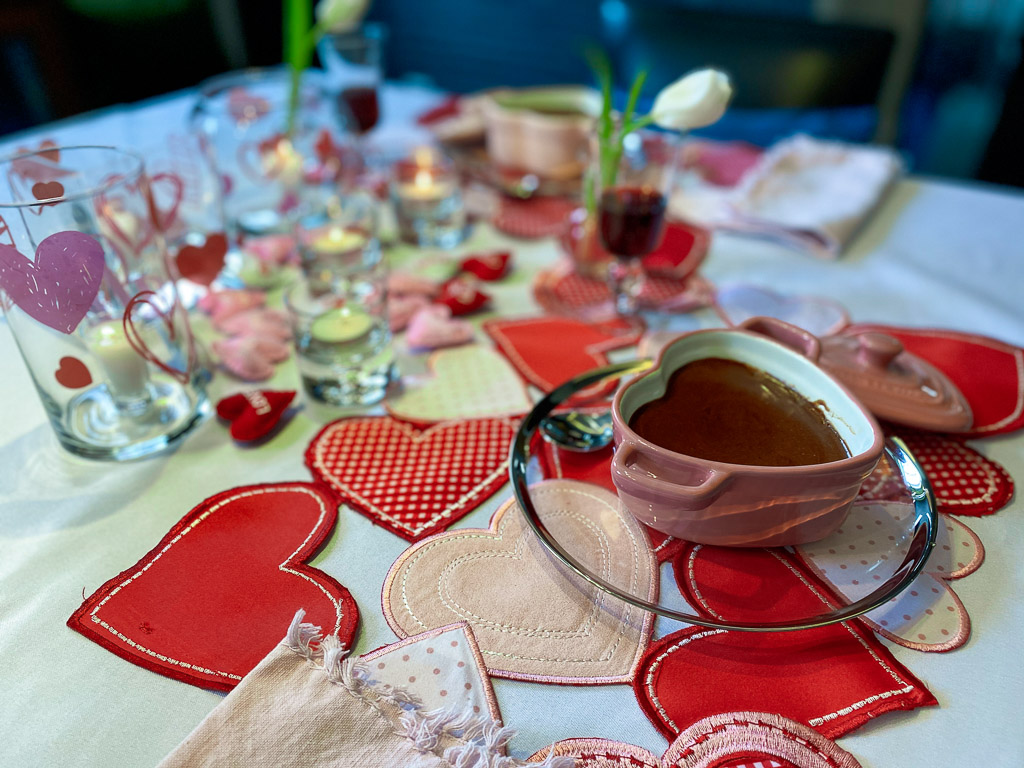 If absence makes the heart grow fonder, what does 24-hours a day together do? The answer is a bit uncertain at this point. Now is the perfect time for a "conscious-coupling" event! With or without Goop Founder Gwyneth Paltrow's blessing, we've decided to sprinkle a bit of Valentine's romance into our celebration for National Chocolate Mousse Day on April 3.
Just when I thought the news couldn't get any more ominous, it did. Come to find out cities in China reported record-high numbers of divorce filings in early March 2020, shortly after their quarantine bans were relaxed. In one report I read, it cited long backlogs at government offices where "staff members didn't even have time to drink water" because so many couples lined up to file and clerks were struggling to keep up. Just let that sink in for a moment. Good grief. I don't want to have to deal with a divorce pandemic at the end of all of this. Let's keep it together people. Literally.
STEP ONE: SET A ROMANTIC SCENE
Yet again, I head to the basement to dig out some heart-warming, off-season décor and vintage glassware. I'm keeping the color scheme traditional with shades of pinks and reds. Adorable placemats with heart cutouts serve as the foundation of the tablescape and are accompanied by matching heart scatter from at Sur La Table. I've included a variety of votives and candleholders adorned with simple clings to dress them up, adding to the romantic mood. I'm planning to serve the chocolate mousse in heart-shaped cocettes by Martha Stewart, which were purchased at Macy's.
STEP TWO: MAKE A SINFULLY DELICIOUS BUT SIMPLE DESSERT
This Chocolate Truffle Mouse recipe, which has been in our family for years, utilizes dark chocolate and is decadent, yet light. Plus, it's really easy to make.
CHOCOLATE TRUFFLE MOUSSE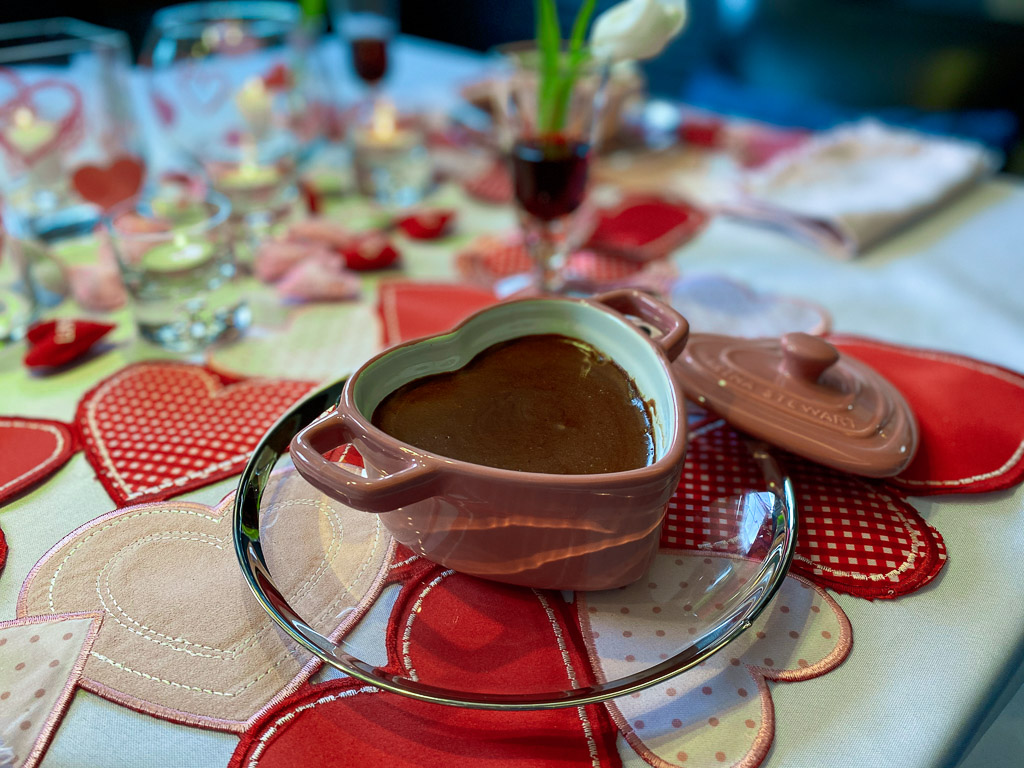 8 squares semisweet or dark chocolate (I used Ghirardelli)
¼ cup light corn syrup
¼ cup butter
2 eggs yolks, lightly beaten
1 cup whipping cream, divided
2 Tbsp. powdered sugar
½ tsp. vanilla extract
Combine first three ingredients in a saucepan, cook over low heat, stirring constantly until chocolate melts.
Combine yolks and ¼ cup cream. Gradually stir about ½ cup chocolate mixture into yolk mixture; add to remaining chocolate mixture, stirring constantly. Cook over medium-low heat 1 minute. Remove from heat. Cool to room temperature.
Beat remaining ¾ cup whipping cream until foamy, gradually add powdered sugar, beating until soft peaks form. Stir in vanilla
Stir ½ cup whipped cream mixture into chocolate mixture, fold in remaining cream mixture. Spoon into cups, cover and chill at least 8 hours. Serve with raspberry sauce.
RASPBERRY SAUCE RECIPE
10 ounce package frozen raspberries, thawed
2 tsp. cornstarch
1/3 cup light corn syrup
Blend raspberries in Vitamix. Place blended raspberries in a small saucepan. Add corn starch and corn syrup, stirring well.
Cook over medium heat, stirring constantly, until mixture boils for one minute. Remove from heat and cool before serving.
STEP THREE: CHOOSE THE PERFECT WINE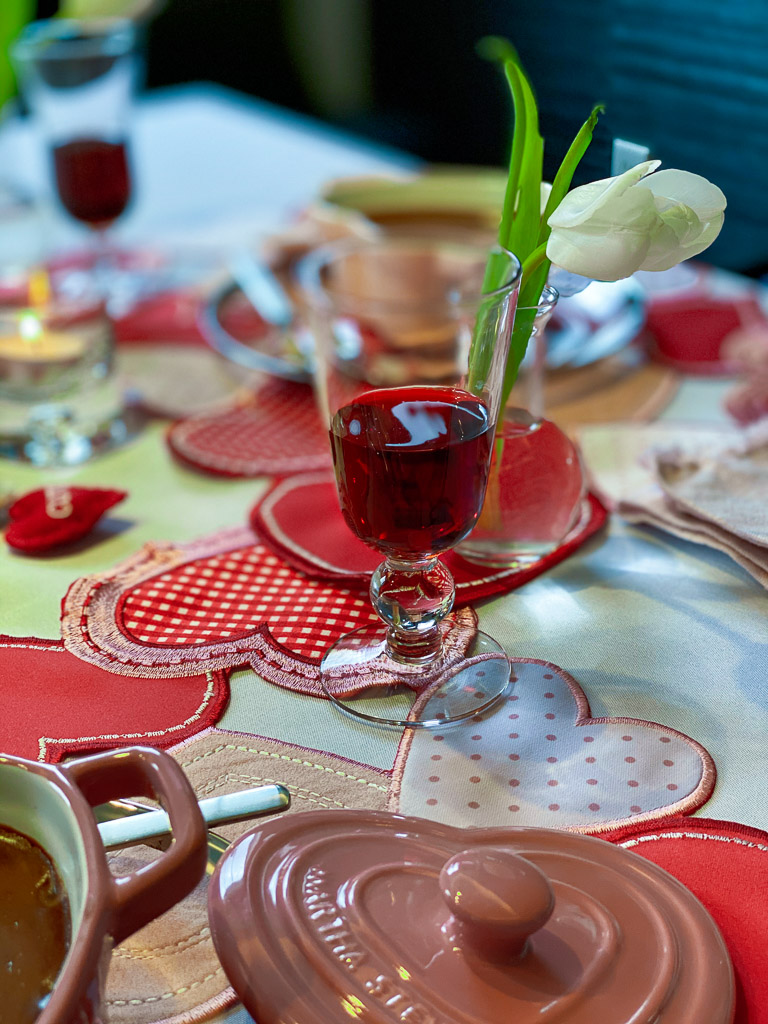 I am not great at pairing wine and food. It is squarely in Matt's arena. And since we don't have a Master sommelier at our home, I had to rely a great site to help with the wine pairing. Come to find out, pairing wine and chocolate is actually a fairly complex process. I am glad I called in the experts at Winefolly.com to help me determine a port would be my best choice for this dessert. Interestingly, it also confirmed I was completely on the right track with the theme for this evening, as wine and chocolate are both considered aphrodisiacs according to the site.
PRO TIP: For our client events, we are all about trusting the trained professionals with whom we choose to partner. And, you know who you are. That means not second-guessing the chef, letting the sommelier do her work, and expecting the same respect in return. These people have studied their craft for years and have tons of experience. It would be insulting to not follow their advice. Like a marriage, it's a fantastic partnership.
So, tonight, celebrate the night away all of you quarantined couples out there! Let's kickstart this conscious-coupling movement in an effort to stave off a rash of divorce-party planning six months from now! Think of it as your civic duty!
THIS IS A GREAT IDEA FOR:
Anniversary celebrations
Engagement dinner parties
Valentine's Day celebrations
How do you plan to #MakeEveryDayanEvent? Tell us below!