MAKE THE ULTIMATE GROWN UP PB&J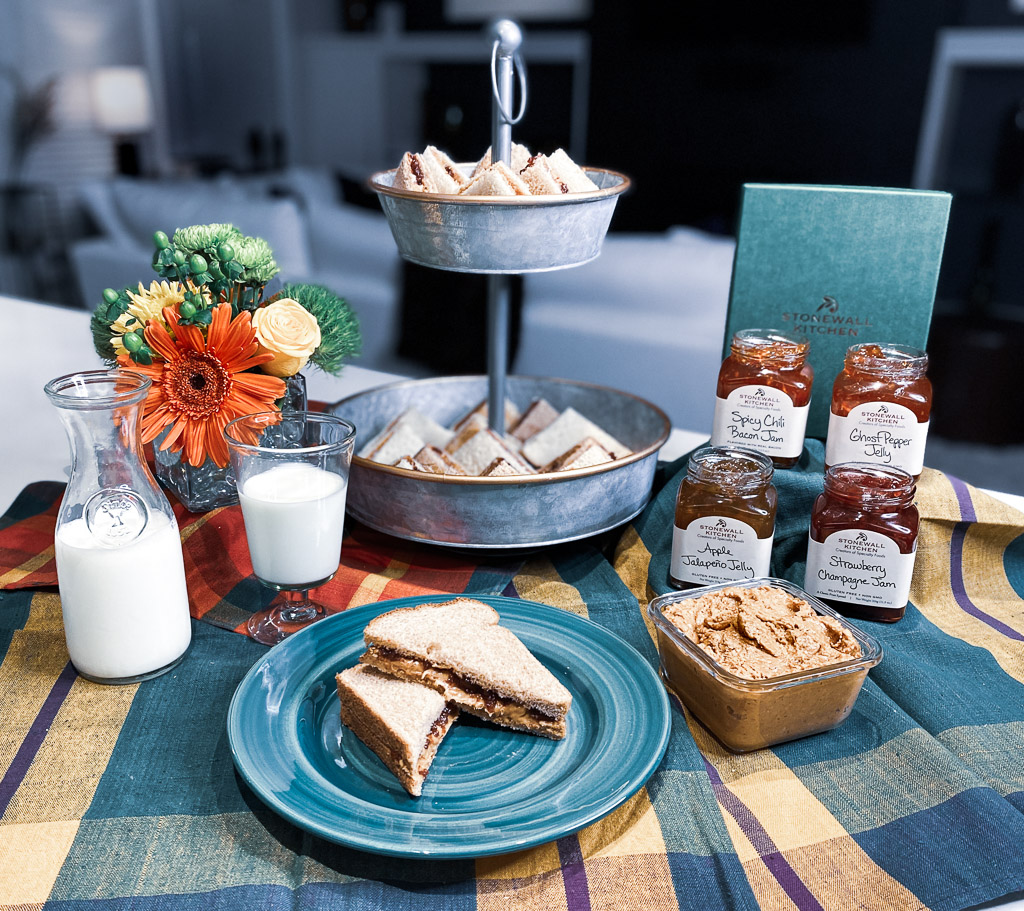 The average American child eats 1,500 peanut butter and jelly sandwiches by the time they have graduated from high school, according to the National Peanut Butter Board. That's a lot of PB&J. For National Peanut Butter and Jelly Day on April 2, we decided to behave like adults. How so? By pairing traditional peanut butter with some decidedly grown-up and highly unusual jelly and jam combinations. The results were surprising and delicious!
But, before we get to the tasting portion of the program, there are a few crucial questions regarding Peanut Butter & Jelly sandwiches which simply need to be asked. You could call them the "ground rules" of any good PB&J themed event. These are the kinds of questions people should really be asking on first dates.
As the saying goes, forewarned is fair warned. Some people have really strong feelings about a few of these questions. We're sharing our opinions and encouraging you to do the same. Remember, we're all here to just have some fun!
CRUST ON OR OFF … ?
Matt: Crust on. Always on.
Annemarie: On. Although the heel of the bread is a definite no.
DIAGONAL OR STRAIGHT CUT … ?
Matt: Diagonal.
Annemarie: Me too, diagonal. So far, so good. We may have future together … !
WHITE OR WHEAT BREAD … ?
Matt: I'm kind of indifferent on this one. I don't have a strong preference for either.
Annemarie: Wheat. Always wheat. My mom guilted me into thinking white bread was the devil a long, long time ago. But we're adults … let's make both.
For our PB&J sampler, we turned to the Stonewall Kitchen and chose from their wide variety of jams and jellies. Forget about those pedestrian Strawberry preserves and traditional Concord Grape flavors in a squeeze bottles. They're simply child's play. We went for highly unusual combinations that would create distinct flavors and tease our palates. After much deliberation, we selected two jams, Strawberry Champagne Jam and Spicy Chili Bacon, as well as two jellies, Apple Jalapeno and Ghost Pepper. With all of the attractive selections, it was hard to narrow it to just four.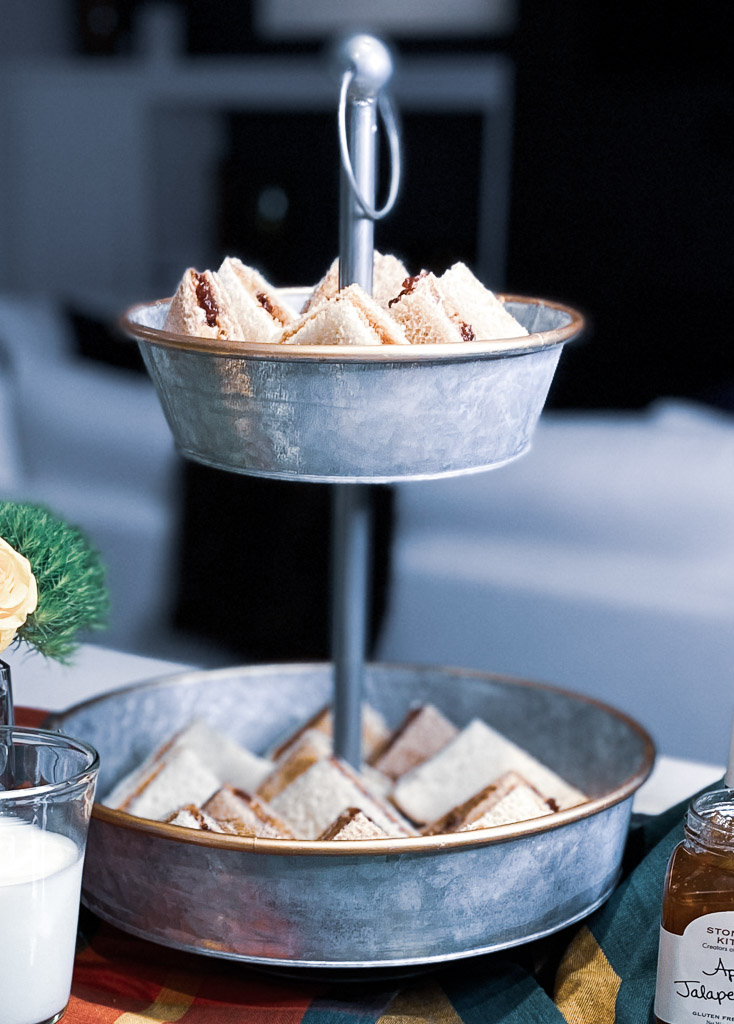 To facilitate the taste testing, cut the sandwiches into quarters. This allows you to taste all four varieties and, most importantly, go back for seconds of those you liked the most. We displayed the sandwich quarters in a cute galvanized tiered tray. Given the potential heat of some of the flavors (ghost pepper, I'm looking at you), an ice-cold glass of milk was an ideal beverage to pair with the PB&J varieties.
In honor of National Peanut Butter and Jelly Day, we now present our completely unbiased and totally unpaid opinions of the adult PB&J combinations we concocted:
Sandwich One: PEANUT BUTTER AND STRAWBERRY CHAMPAGNE JAM
Matt: This seems very traditional to me. It's not bad, it's just not unusual, which is what we are going for here.
Annemarie: I like this. The jam is really fruity and light. It's an elevated version of strawberry jam. The jam tastes crisp.
Sandwich Two: PEANUT BUTTER AND SPICY CHILI BACON JAM
Matt: Tangy is the first word that comes to my mind. I like this one better than the first. We are headed in the right direction.
Annemarie: This is really good! And I don't even like bacon … I am surprised I like this one as much as I do.
Sandwich Three: PEANUT BUTTER AND APPLE JALAPENO JELLY
Matt: This would taste fantastic on cinnamon raisin bread.
Annemarie: This is good, but I think I'd like this better on a biscuit.
Sandwich Four: PEANUT BUTTER AND GHOST PEPPER JELLY
Matt: This is hot, but not overpowering. I like it.
Annemarie: I hate ghost pepper. Truthfully, this isn't bad, but I wouldn't seek it out. I think my one bad ghost pepper experience a few years ago has scarred me for life. Definitely not a fan …
THE WINNERS:
Matt: The Apple Jalapeno PB&J has my vote.
Annemarie: I'm going back for seconds of the Spicy Chili Bacon Jam PB&J. Which surprises me … that's not the one I thought I would have picked.
THIS IDEA IS GREAT FOR:
Game watch parties
Work-from-home lunch
Casual supper with family or friends
How will you #MakeEverydayanEvent? Tell us below.