HOW TO TRANSFORM A HOME OFFICE INTO A WORKSPACE YOU'LL LOVE!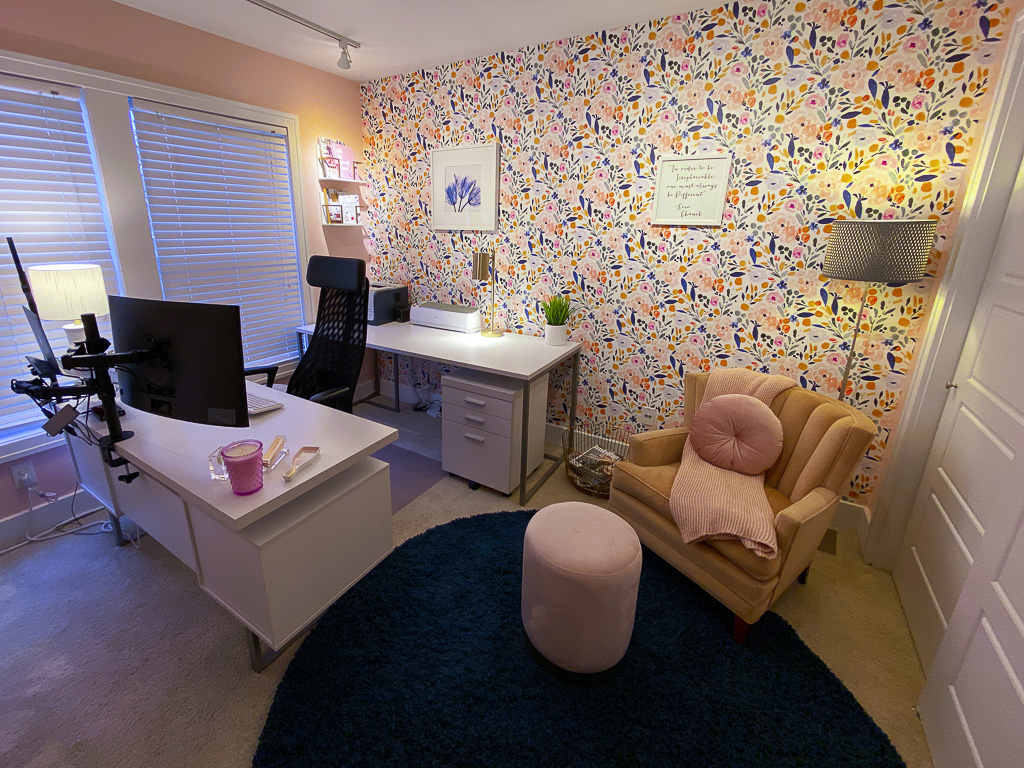 Step by step, we show you how to transform a home office into a space that you'll truly love! It's all in how you plan the project!
We are spending a LOT more time at home these days. And the work from home trend seems to be with us for the long haul. Which is great, if you have a space in which you truly enjoy working.
Unfortunately, I did not.
I have to admit, I did not love my home office.
When we moved into our home (almost 14 years ago!), I set up my office with furniture that we already owned. Since my home office is tucked away in an upstairs bedroom, decorating it wasn't on the top of my priority list. I was more focused on the areas of our house that guests were likely to see on a regular basis.
Which was fine. The space was functional. It worked. I worked in it …
And then the pandemic hit.
I slowly realized my office was boring and cold, devoid of personality and not somewhere I wanted to spend any amount of time (much less an entire work day), which was a bit of an issue.
It needed a makeover. An extreme makeover. But a makeover that was budget friendly too!
So over the course of a few months, that's exactly what I gave it.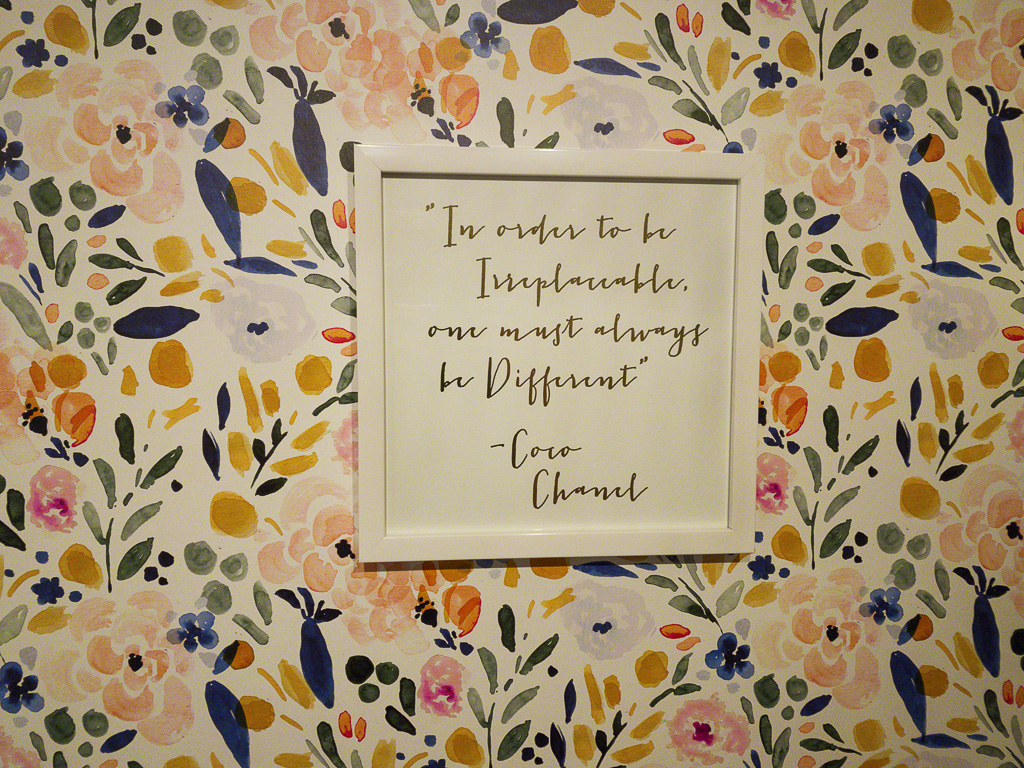 I reimagined the space as both a home office and a craft room!
And guess what happened … ? Now I can't spend enough time in it. I am in love with this space! In fact, it is one of my favorite rooms in our house!
Here's how to transform a home office into a space you'll love, step by step:
BEGIN YOUR RENOVATION WITH THE END IN MIND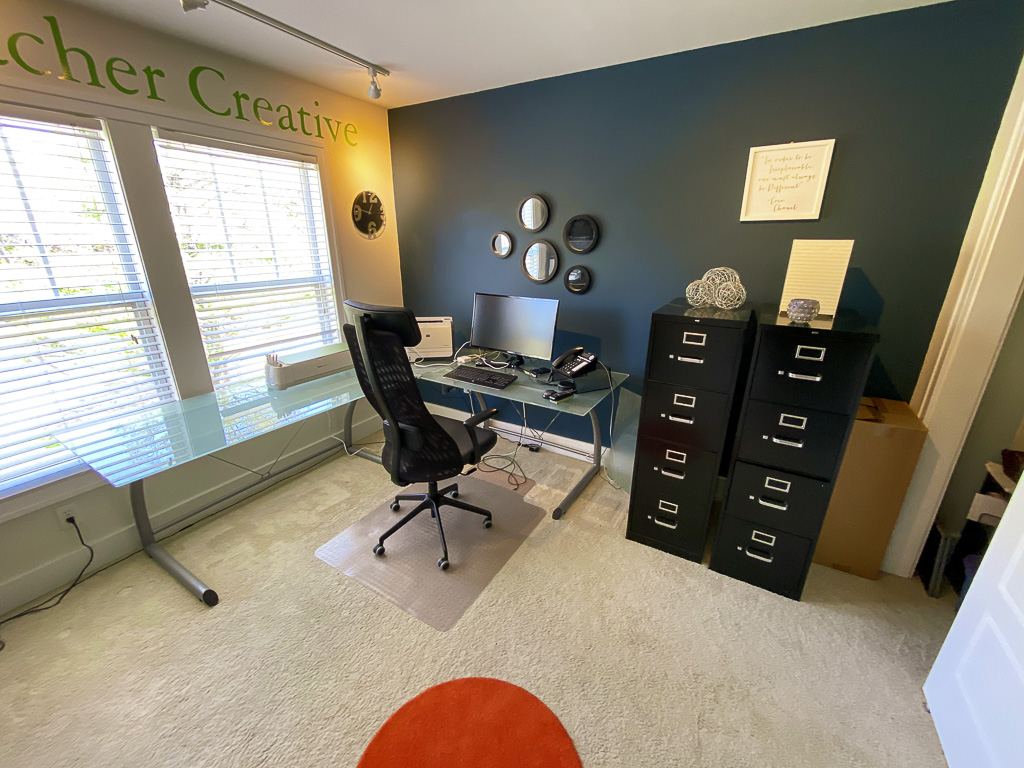 This was my office. To say it was drab would be kind. The only thing I really liked about the space were the two big windows that let in LOADS of natural light.
But other than that … meh.
So I knew I wanted and needed a change. But before I lifted a finger, I first spent some time thinking about what I really wanted to do in the space. And the answer was more than just my day-to-day job.
As you know, during the pandemic I rediscovered my love of crafting. I purchased a Cricut maker and have been having a blast creating lots of fun gifts for myself and others!
So I began to visualize a room that could be multi-functional, one that could serve as an office as well as a crafting space.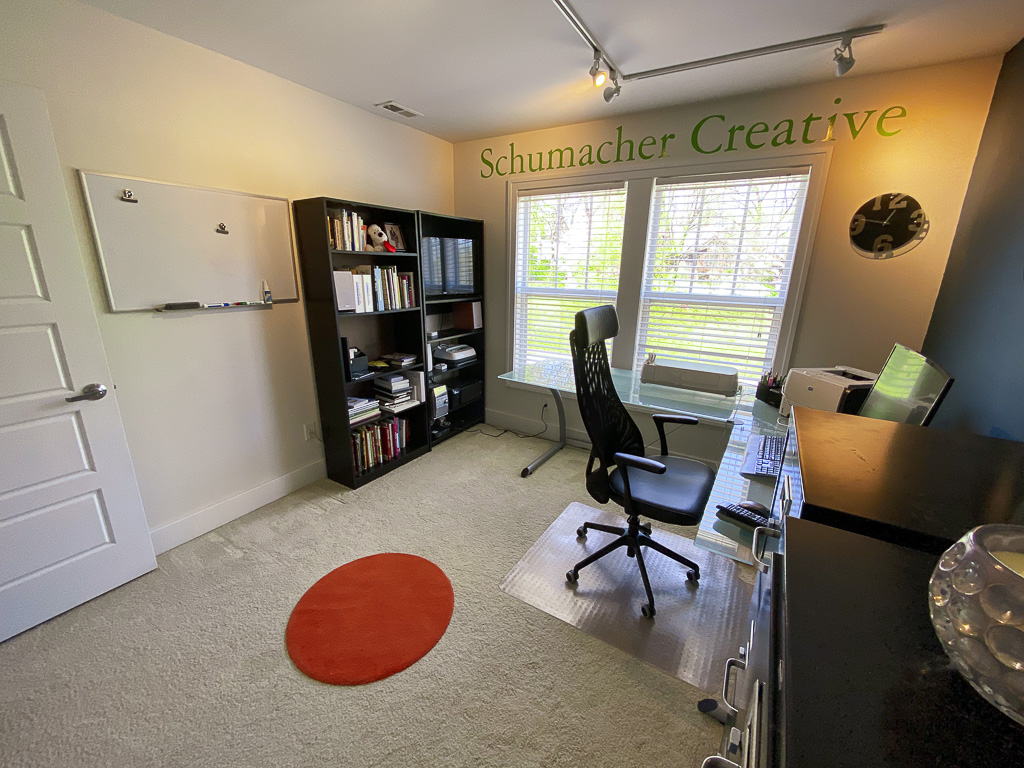 As I plotted out my reimagined home office, I really concentrated on maximizing every inch of space. That include floor space, as well as wall space (think shelves and vertical height!).
And I also realized I have NO need for filing cabinets. Clearing those out and selling them on a local swap and sell was truly freeing! There was no need to waste precious room space on papers that can easily be stored electronically.
I was feeling inspired already!
HERE ARE SOME OF THE OTHER MUST-HAVE ITEMS ON MY LIST:
Chair – I wanted a comfortable chair to sit in that wasn't my office chair. I was also hoping to be able to pair it with an ottoman so I could truly relax in the space, maybe even watch TV without interruptions!
Area rug – Replacing the carpeting wasn't an option. But the addition of a fun area rug could add a pop of color and change the look of the entire room for a fraction of the price.
Crafting space – I wanted a dedicated space for my Cricut, as well as lots of open table space.
Layers of light – The room had great natural light, as well as plenty of overhead track lighting. But I craved some soft, lamp lighting to give the room a cozy feel.
Warmth and coziness – above all, I wanted this space to be inviting. In my head, I kept thinking, "this is going to be my indoor she shed!"
CURATE A COLOR PALATE THAT REFLECTS YOUR PERSONALITY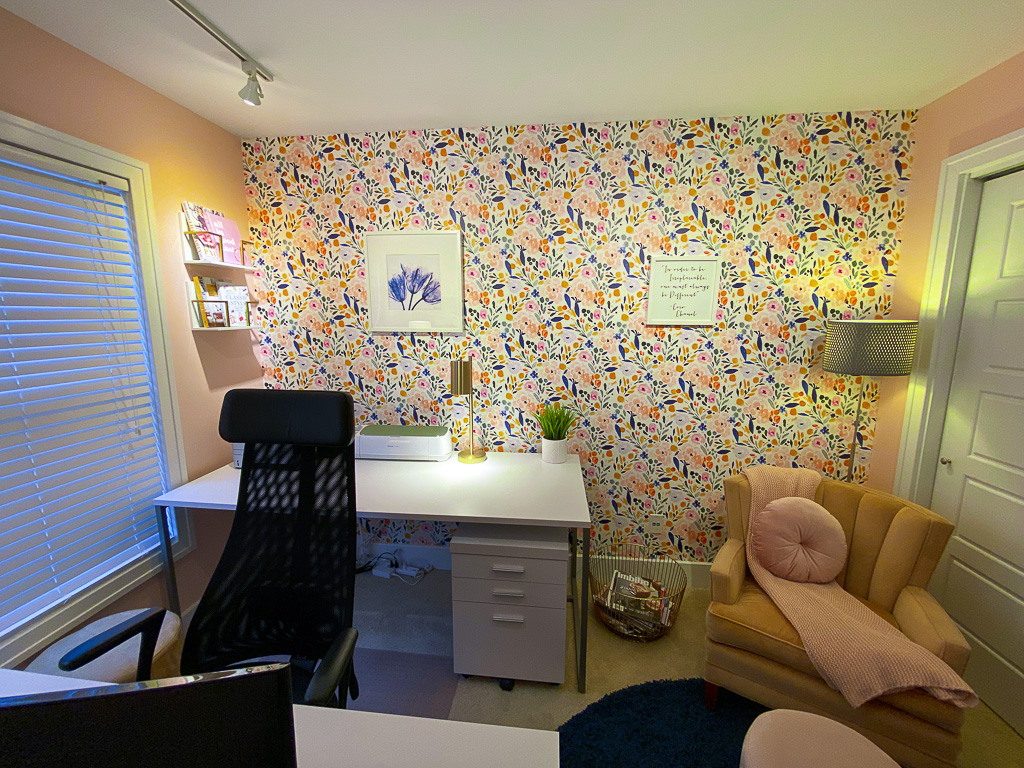 As I've said, the vibe of my old office just wasn't working. So as I began to pull together a color palette for the reimagined space, I knew I wanted warmer colors that would bring a tranquility to the room that had previously been missing.
I have to admit, I have always loved pink. And I was thrilled to see shades of the delightful rosy hue creeping back into interior design this past year.
The other design trend I wanted to incorporate? Wallpaper.
I love the statement a great wallpaper pattern can instantly bring to any room.
And I realized there are numerous removable or peel and stick wallpaper options out there.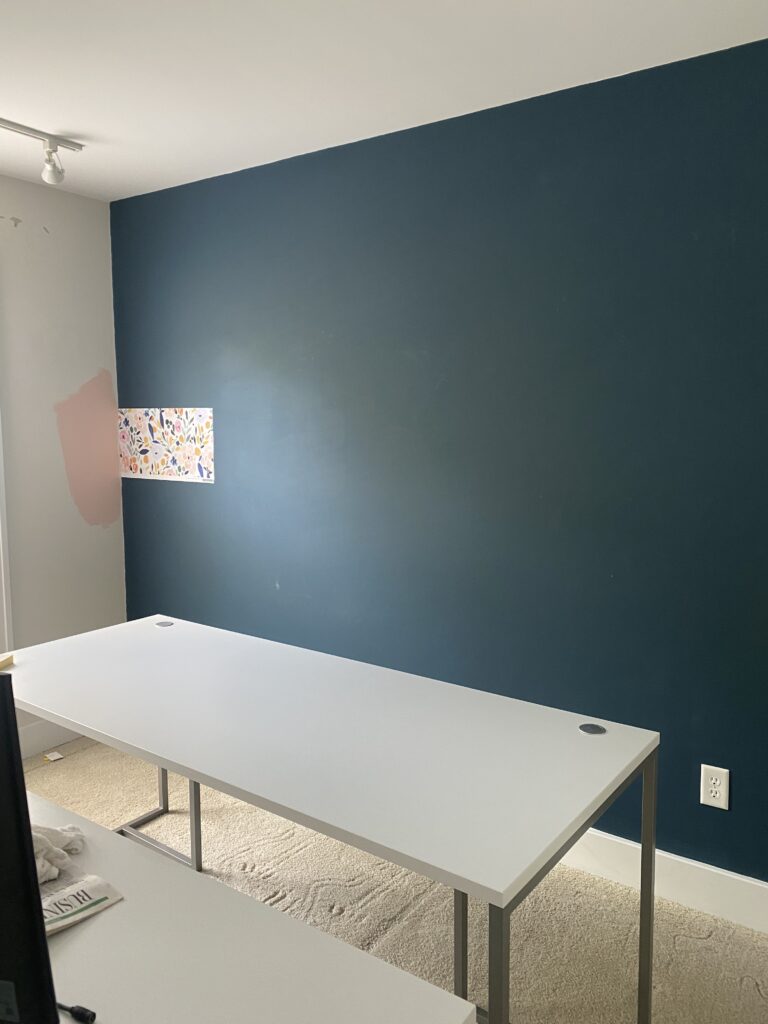 The colors in this pattern, which is Sierra Floral by Crystal Walen for Spoonflower, were absolutely perfect and checked all of my boxes. Here's more about how I selected this pattern and a few of the lessons I learned hanging it.
I pulled out the one of the pink shades in the pattern for my office walls. When decorating a room, I always pick one piece (whether it's a pillow, comforter, piece of art, or in this case the wallpaper pattern) to build the color palette around.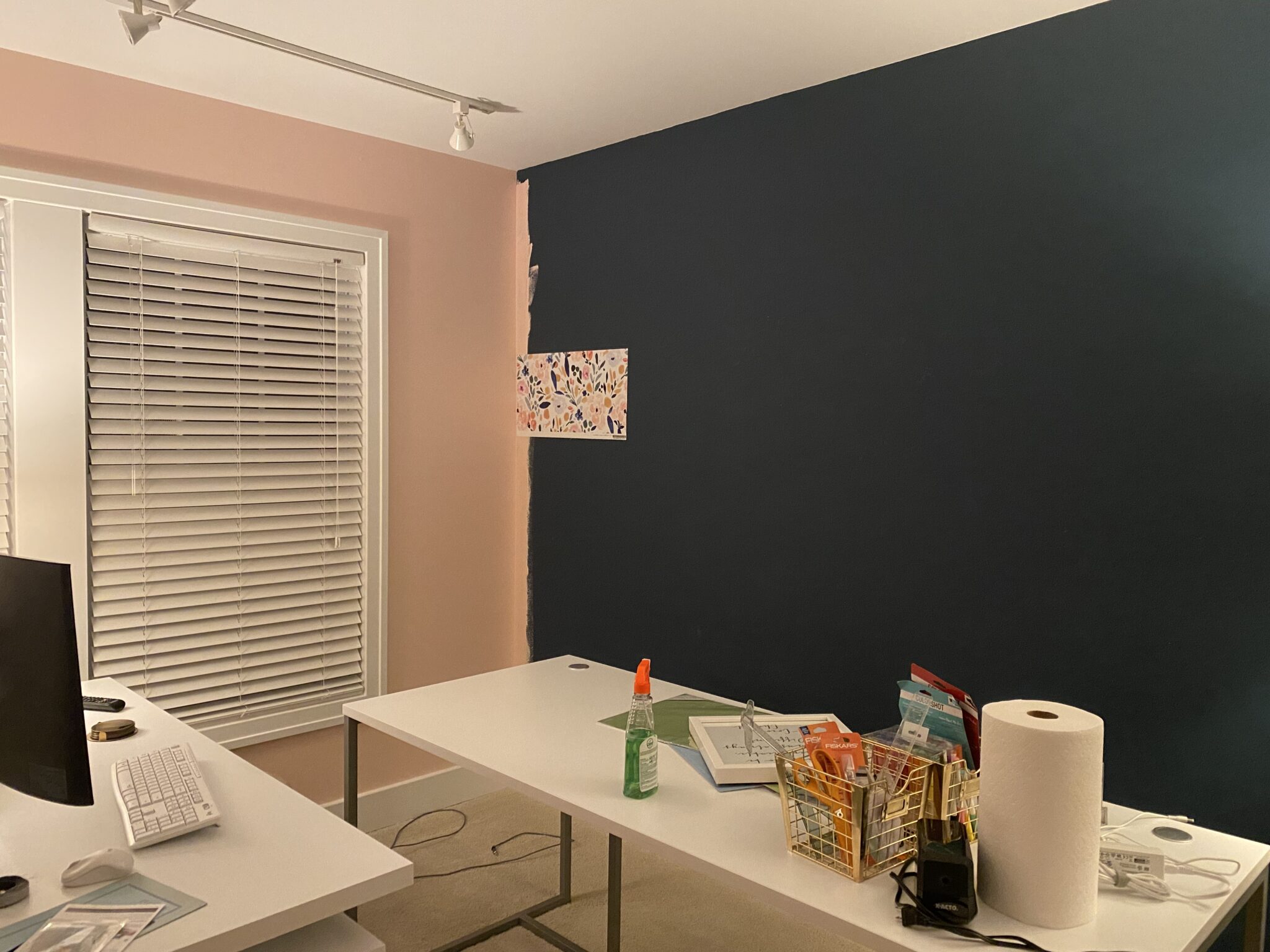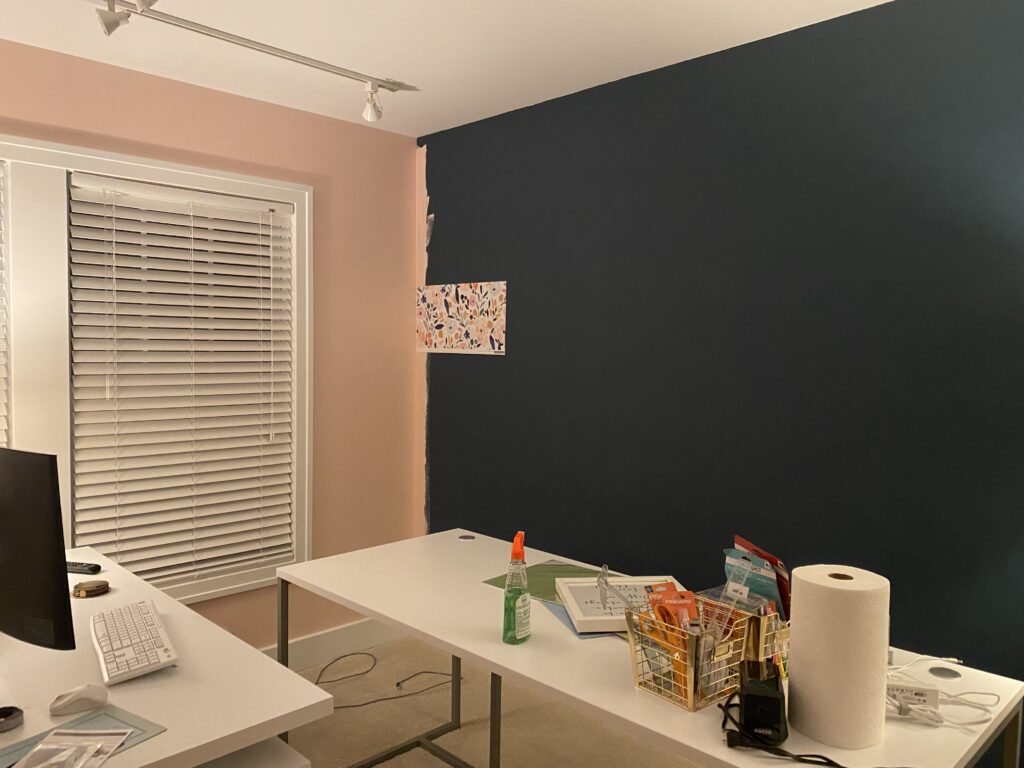 Sherwin-William's "Comical Coral" was a perfect choice. It has just the right depth of color and vibrancy to make the room feel energetic but not overwhelming.
Plus, the gorgeous wallpaper background is perfect backdrop for all of my Zoom meetings!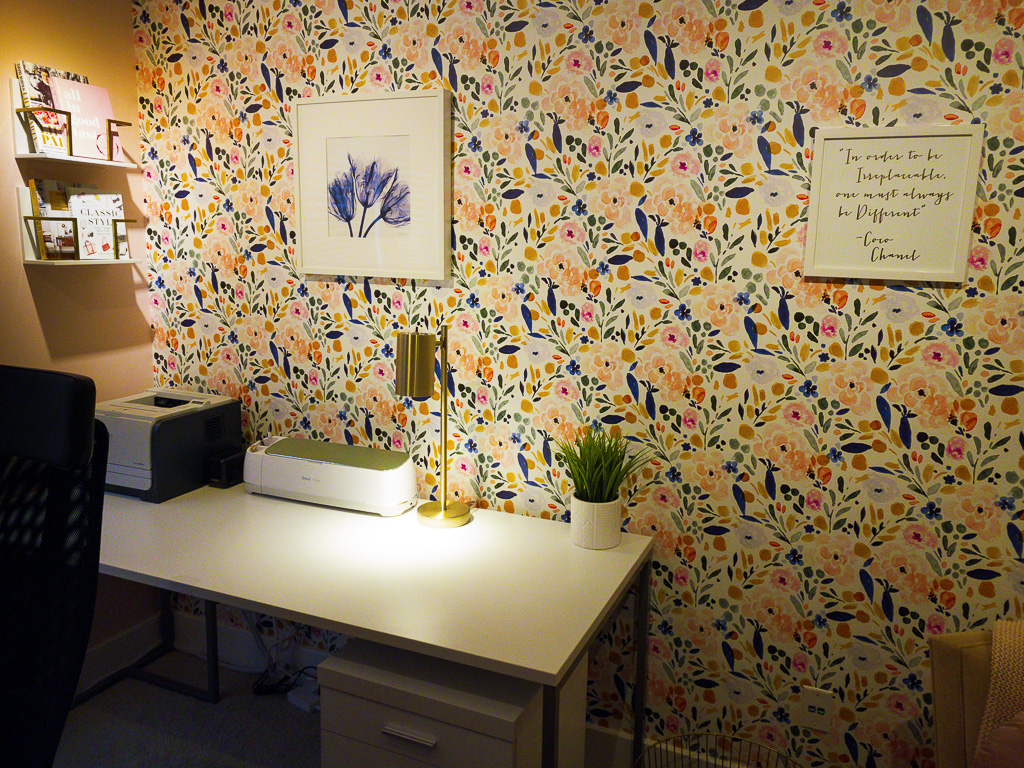 Posts on Make Every Day an Event may contain affiliate links which means we may earn a small commission on purchases at no extra cost to you. To learn more, please read our full disclosure here.
MAKE YOUR HOME OFFICE SERVE MULTIPLE PURPOSES!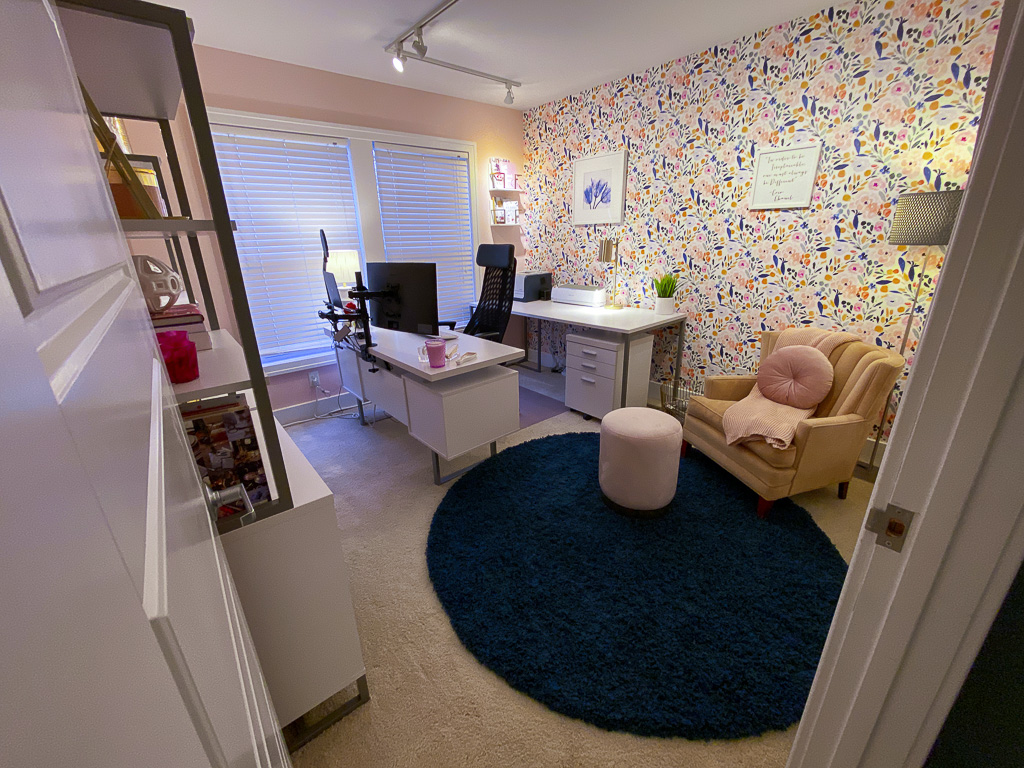 My biggest piece of advice to transform a home office into a space you'll love is to choose furniture that is functional.
Whether you're buying furniture secondhand or purchasing it from an exclusive, high-priced showroom, this is one room of the house where its ability to perform necessary tasks is first and foremost! Function before beauty!
Given my selected color palette, I wanted to go with neutral, white office furniture. I think my choice was also in response to having stared at those black filing cabinets and bookcases for one too many years!
I actually purchased two separate desks for the space. The first is ideal for my computer and monitor. It also has three large drawers that are perfect to store necessary items, as well as the few paper files I do need.
The second desk (which I placed against the wall), creates a large work area that is PERFECT for crafting! Finally … a space for my Cricut and my printer! I also splurged and got a great rolling drawer unit which neatly fits underneath the large desktop!
I LOVE the fact I can simply swivel from one desk to the other … ! Why didn't I think of this sooner!!!
BRING ON THE STORAGE OPTIONS!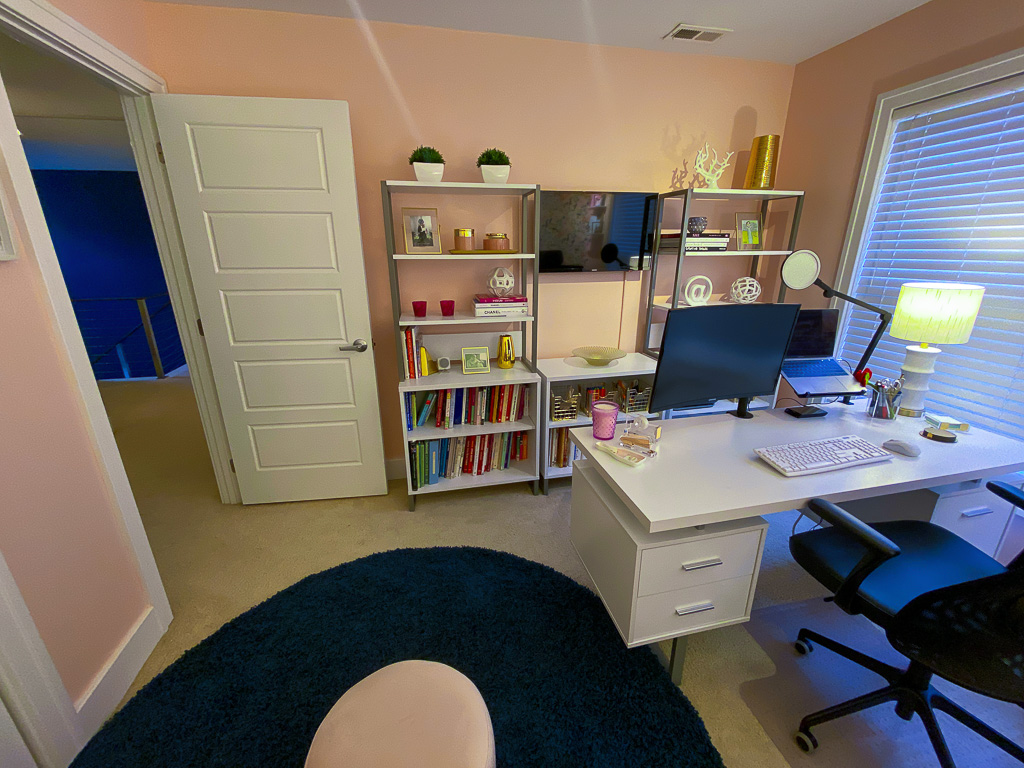 I carefully measured to incorporate as much storage space as I could on the wall opposite my desk. These modern, hutched white bookshelves were a great solution! Look at all of this storage! The lower bookshelf in the middle is perfect to connect the two.
Now my favorite craft books and inspirational authors are neatly stored, as well as literally at my fingertips. I even have a place to store all of my pens, infusible ink markers, paint brushes and Cricut easy press. Love, love, love!
In addition, the top shelves are open! So my tranquil walls aren't covered up!
INCORPORATE VINTAGE OR SENTIMENTAL ITEMS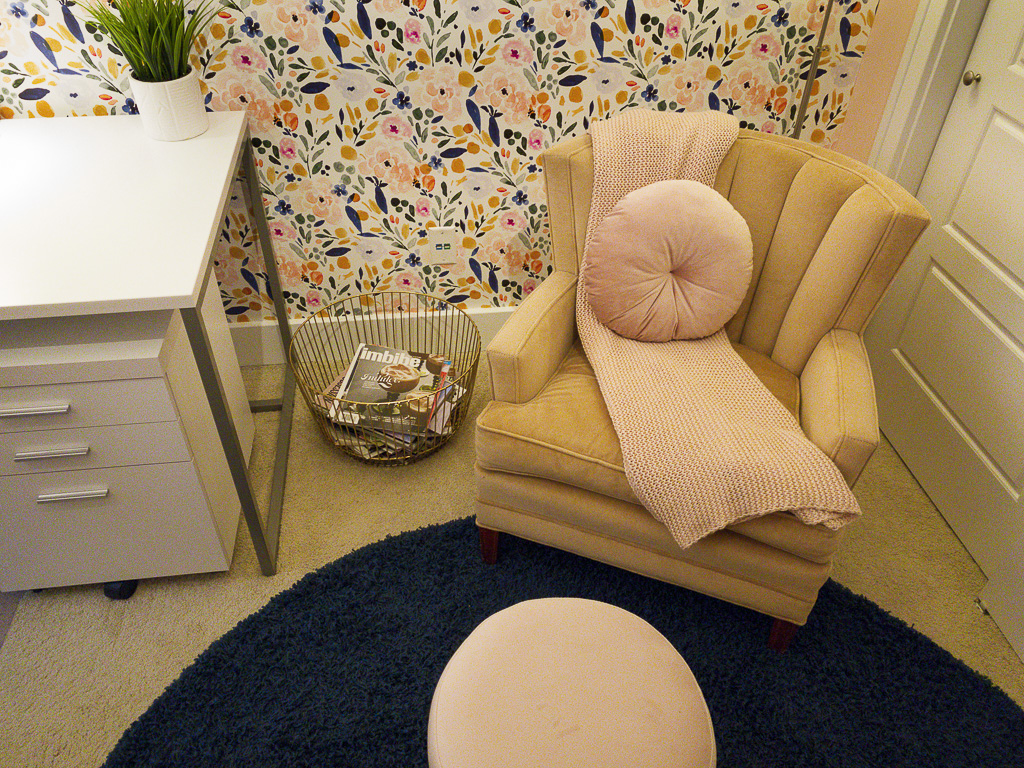 You don't have to buy everything new when you're renovating a space. In fact, I encourage you to look around your house and see if there are any items laying around (or sitting idly in other rooms) that you can repurpose.
This great, mid-century modern chair is one of those items.
This chair is old. It's a true mid-century modern piece that was purchased by my grandmother around 1950 (I think? LOL).
Since then it's been in my maternal grandmother's living room, recovered and placed in my parent's home, and now, it graces a corner in my office. I LOVE the story it brings to the room.
I also love that it pairs perfectly with this elegant pink ottoman. By adding a throw from IKEA and a tufted toss pillow, it creates a cozy nook to sit back and relax in this space, away from my desk. Goal achieved!
And in combination, these pieces look great atop with this round, navy shag rug! Two goals achieved!
In addition to the chair, I had several other decor items that friends have gifted me that I wanted to incorporate into the space. These include the beautiful rose colored votive holders, an inspirational saying from one of my nearest and dearest, and an adorable "cheers" trinket tray, among other tchotchkes.
I also curated some family photos to add to the shelves. These gold floating frames were perfect to place them in.
All of this sentimentality just adds to the warmth of the room!
DON'T OVERLOOK THE ACCESSORIES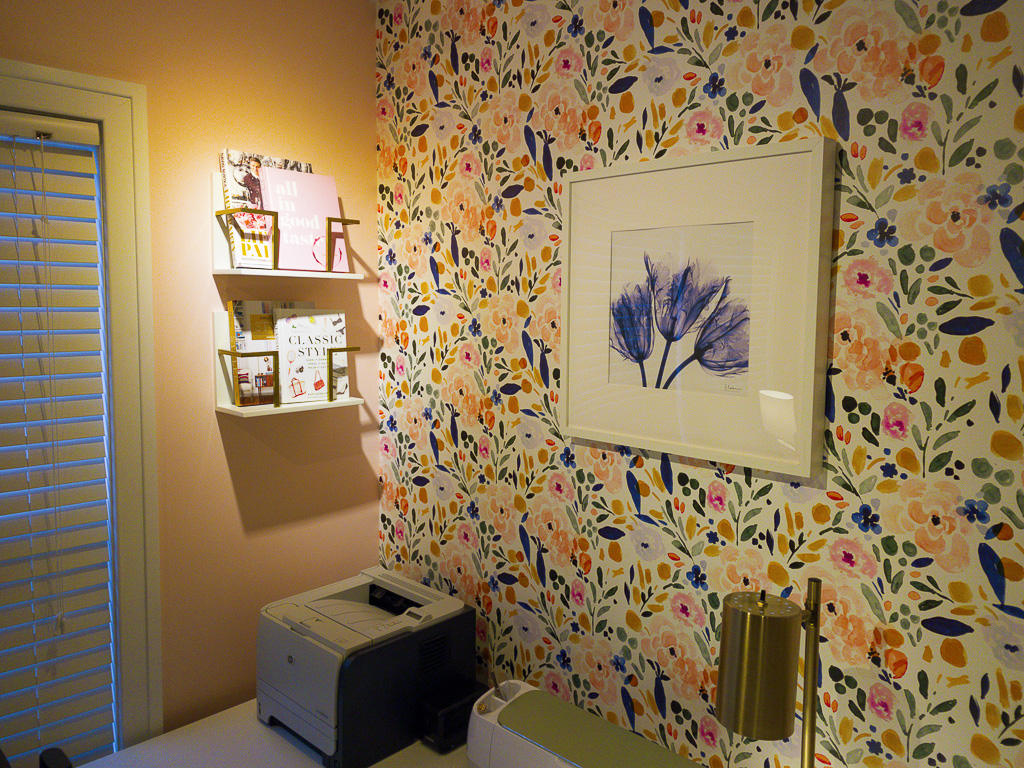 My final piece of advice on how to transform a home office is to not be too serious when you're pulling together a room. It's okay to get a little bit trendy. In fact, it's a lot of fun!
For me, this meant incorporating gold tones into the room, as well as some elements of the popular aesthetic rooms that are all over social media these days.
The hanging wall shelves pictured above were great to not only bring trend but also inspiration and additional storage to my office.
House plants are HUGE in interior design spaces right now. But I don't have the greenest of thumbs. These artificial selections I found at Home Goods are perfect and bring an element of greenery to my office, without the fuss!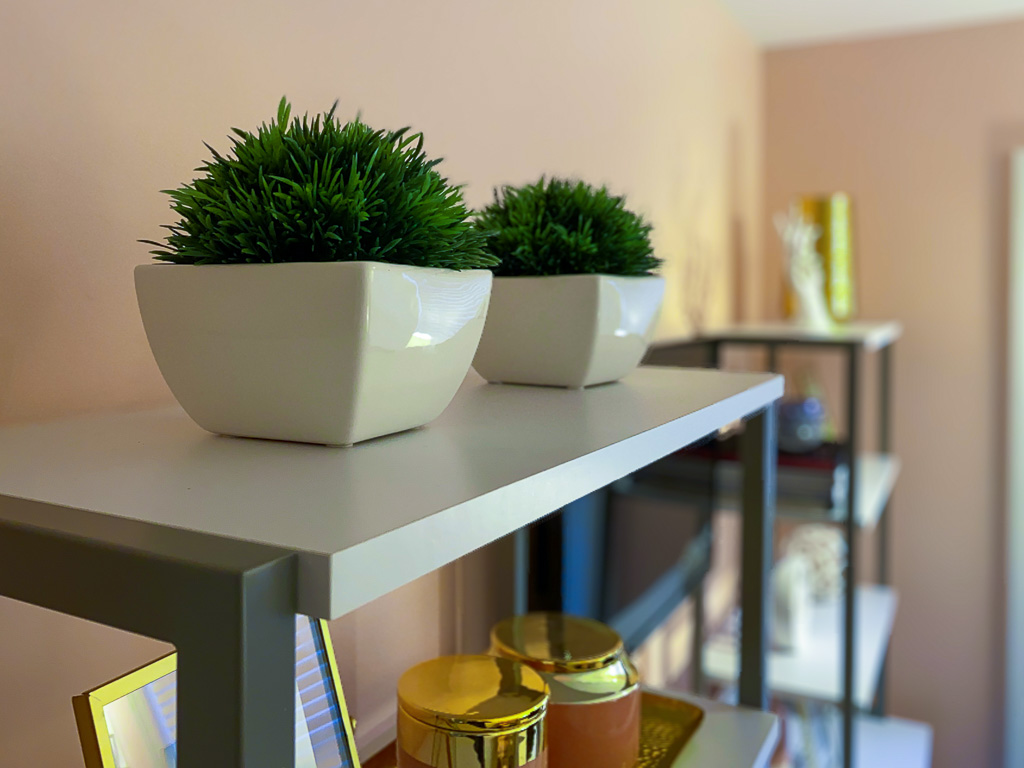 I also splurged on some new and MATCHING desk accessories! Novel concept, eh? I cannot tell you how happy it makes me that they all coordinate! No more hand me down stapler and pencil cup from my old employers!
I ADORE the gold and acrylic accessories I chose:
Stapler
Tape dispenser
Pencil cup (a cute square shape!)
Sticky note holder (with a variety of pastel shades of paper!)
Acrylic and Gold Desk Set
I also couldn't resist some gold binder clips and gold paper clips!
And I was thrilled to find this great lamp from At Home! The base reminds me of bamboo, while the textured shade adds a simple touch of elegance.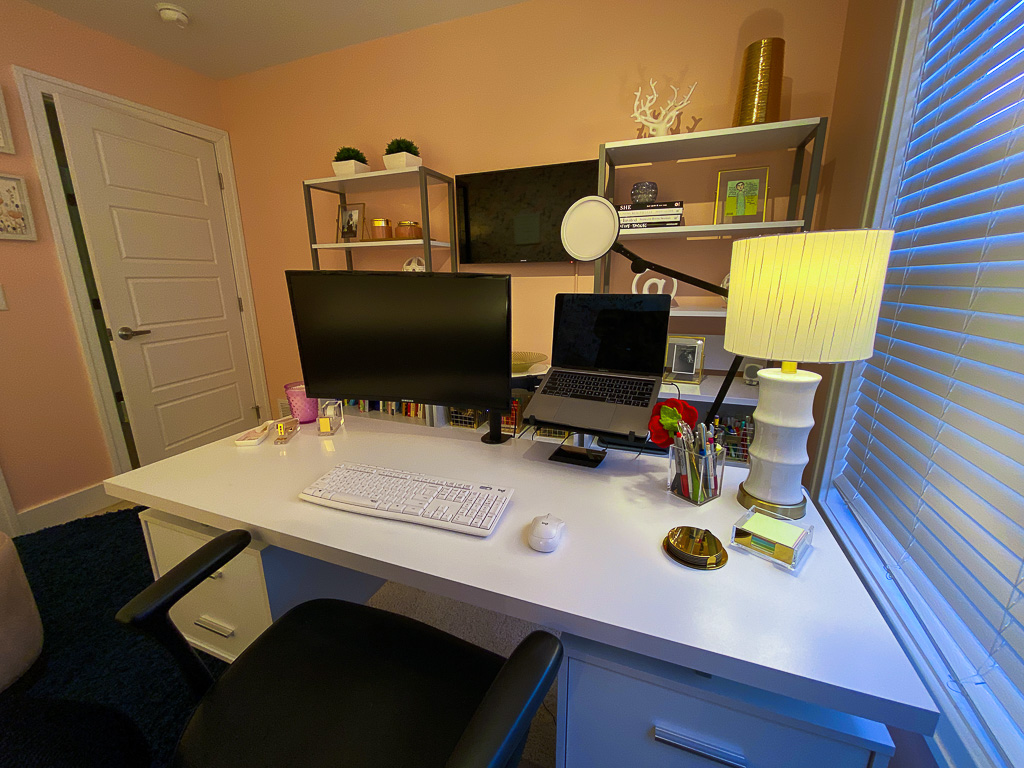 Did you find these ideas on how to transform your home office into a space you'll love useful?
Share your project photos on Instagram with the hashtag #makeeverydayanevent and tag @makeeverydayanevent.
If you like this blog, be sure to check out these other decorating ideas:
Five Tips to Hang Removable Wallpaper That You Need to Know
10 Ways to Transform Your Bathroom into a Spa This Afternoon
If you have any questions or suggestions, contact us or leave a comment!
Follow us on social media! You can find us on Instagram, Pinterest, and Facebook.