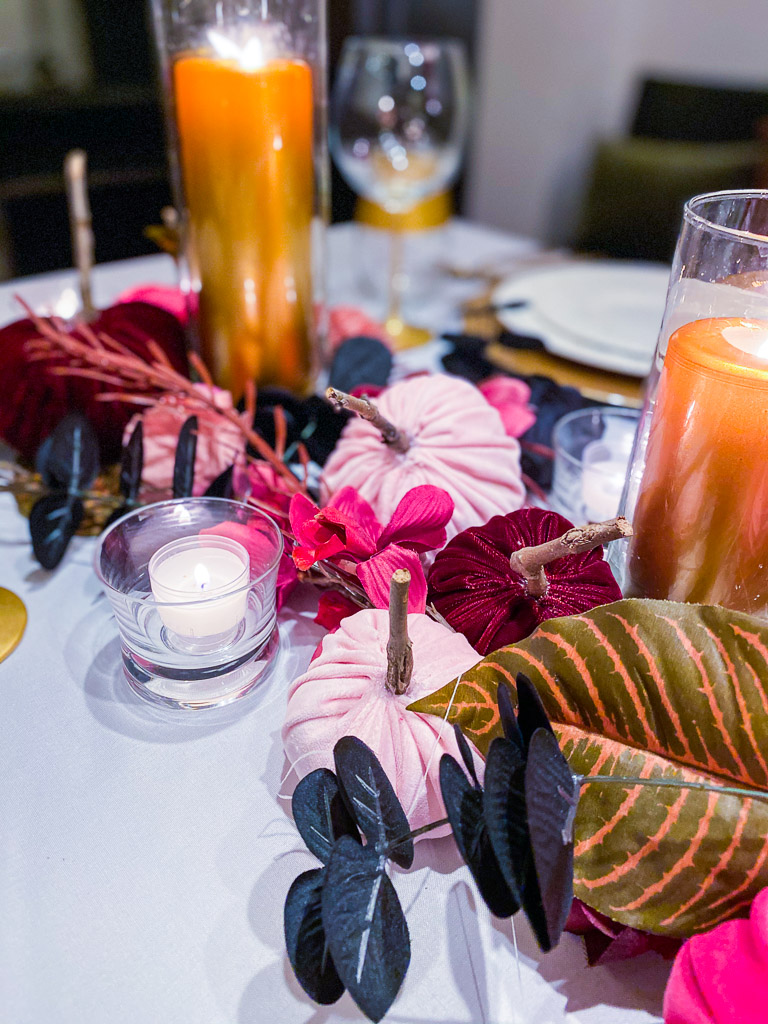 Here are the five biggest fall tabletop trends that we're seeing this year and how you can incorporate them onto your tabletop.
This is going to be FUN!
And informative!
Today I'm participating in a "Blog Hop."
Which means you'll not only discover my great ideas but those of a bunch of other really creative bloggers as well.
It's like a virtual pub crawl.
Or a progressive dinner.
But instead of partaking in food and drink, you'll discover some of the most creative and awesome DIY fall home decor ideas along the way.
Calorie free.
Everybody wins!
I am so grateful to my mentor, coach and friend, Karianne Wood of Thistlewood Farms, for putting this blog hop together.
She has been a HUGE inspiration and wonderful supporter to me these past few months.
I can't even begin to tell you excited I am to be part of her Thistlewood VIP group to grow my blog!
You know how the universe sometimes introduces you to exactly the right person you need, at the right time?
That's what she's been to me.
Such. A. Blessing.
Some of you may be viewing the site for the first time, since you've just hopped over from Cocoon Raw.
Welcome! We're all about unique and fun ways to turn every day into a special event.
I hope you'll join our community and help us Make Every Day an Event together!
DISCOVER THE FIVE TABLESCAPE TRENDS THE MOST FASHIONABLE TABLES ARE WEARING THIS FALL!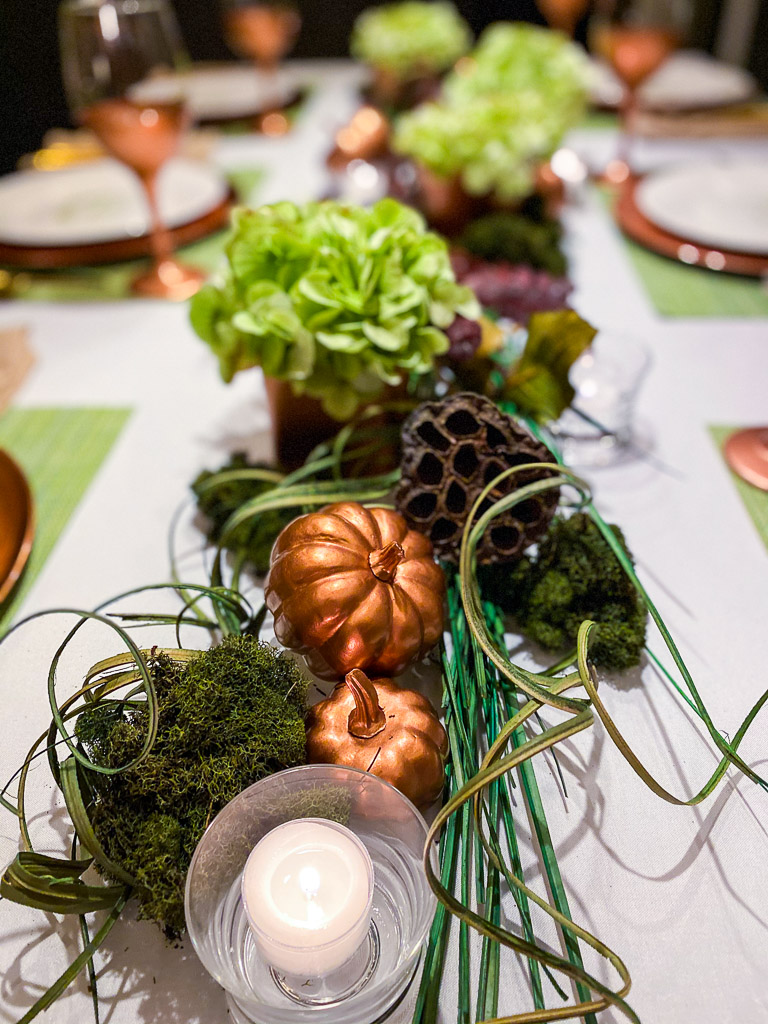 Fall is officially here.
Finally … !
And it seems like Mother Nature is even cooperating.
We've had some great, chillier weather this week.
I am so excited for the change of season this year.
Bring on the sweaters, jeans, and shoes!
All the shoes!
Boots, booties and even this season's hottest trend, CLOGS.
I can't believe I'm actually writing that!
But friends, clogs are BACK.
Similar to fashion, there are some big home décor trends I've noticed this season, particularly when it come to the tabletop.
The change of season is always a great time to well … make some changes.
And that includes your table!
So what are all of the most fashionable tables wearing this fall?
Here are the five biggest tablescape trends I'm seeing this year and how you can incorporate them onto your tabletop:
1. UPCYCLED DINNERWARE
The past year or so we have been squirreled up and hunkered down.
A lot.
And while that has created some issues, it's also created some opportunities.
Perhaps one of the biggest was the abundance of time to dig through our closets, cleanout some drawers and unearth buried treasures.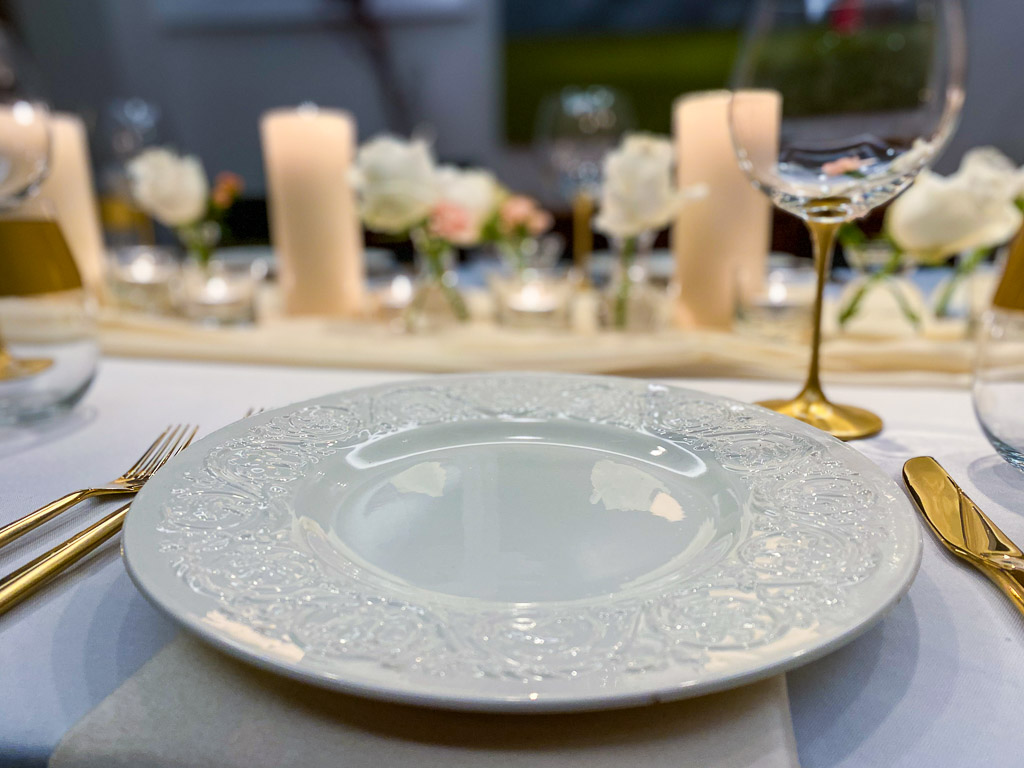 One such find at our house was a set of Wedgewood china.
I am actually not 100 percent certain of the origins of the set.
I think it originally belonged to Matt's grandmother and somehow it made its way into my hands a few years ago.
It was one of the many interesting heirlooms I rediscovered as I cleaned out our sideboard one Sunday afternoon during quarantine.
I was THAT bored.
But according to entertaining industry experts, I'm was not alone.
"When it comes to tablescaping, people are gravitating toward a more-is-more aesthetic," Roxanne Marie, buying director for fashion and home at Goop, said in a recent New York Times article.
"During the pandemic, abundance and glamour in the home became something of a pronounced escapist luxury. The idea that the 'good china' should be saved for guests went out the window."
I'm all about that notion!
However setting a modern table with vintage china can be a bit challenging.
Sometimes grandma's cherished place settings don't necessarily lend themselves to today's modern or transitional styles.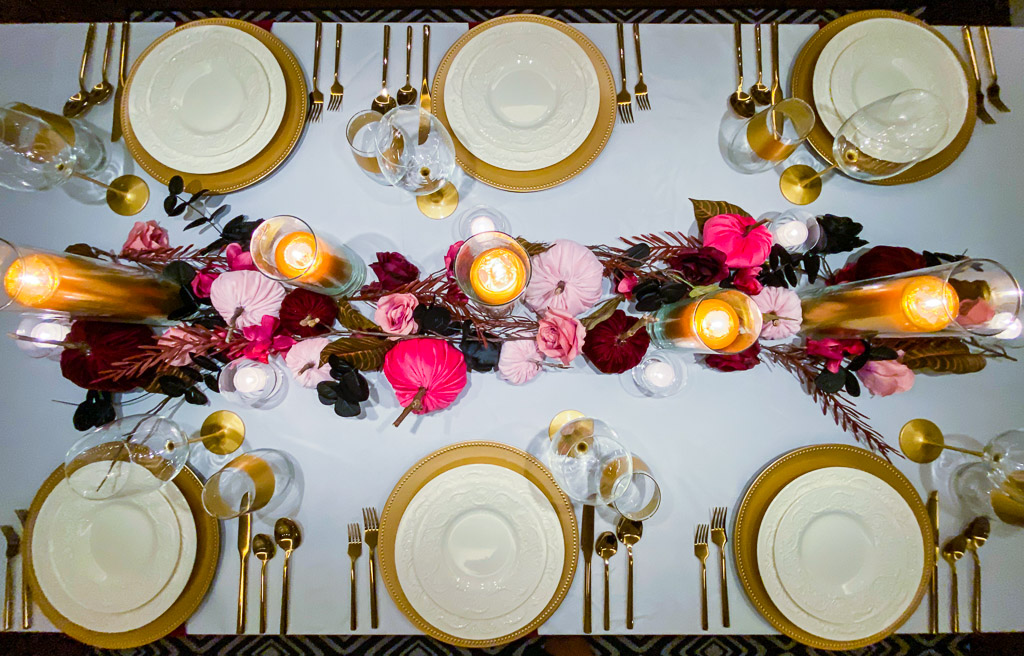 But if you follow a few simple rules to incorporate these vintage pieces, the results can be spectacular.
Here's how you can create an elegant, modern table with vintage china.
2. COLORED GLASSWARE
Colored glassware has been trending since the spring.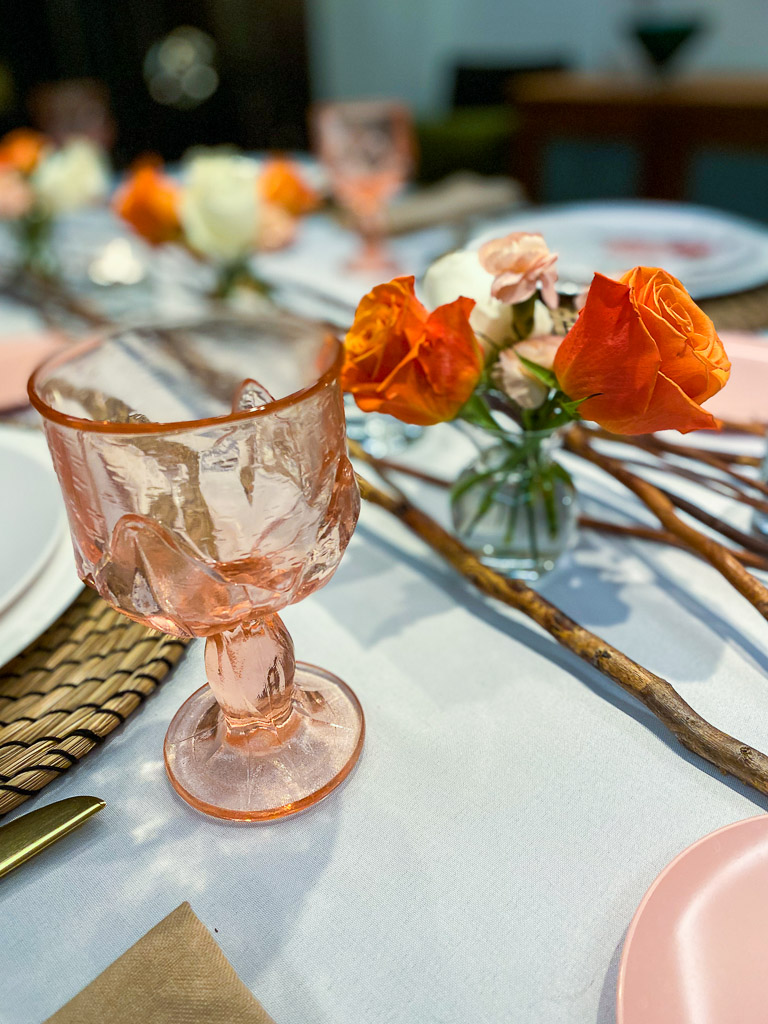 And it's popularity isn't slowing down heading into the fall and holiday season.
Why Settle for Boring Glassware? was a lifestyle piece which recently ran in the New York Times.
Again, I could not agree more!
We are fortunate to be blessed with a wide collection of beautiful vintage colored glassware that has been in Matt's family for many years.
In fact, his great grandfather was a glass blower for Tiffin, one of the biggest makers of colorful, blown glassware in the U.S. in the early twentieth century.
So colored glassware is actually in Matt's DNA.
Is that why I married him? Maybe! LOL.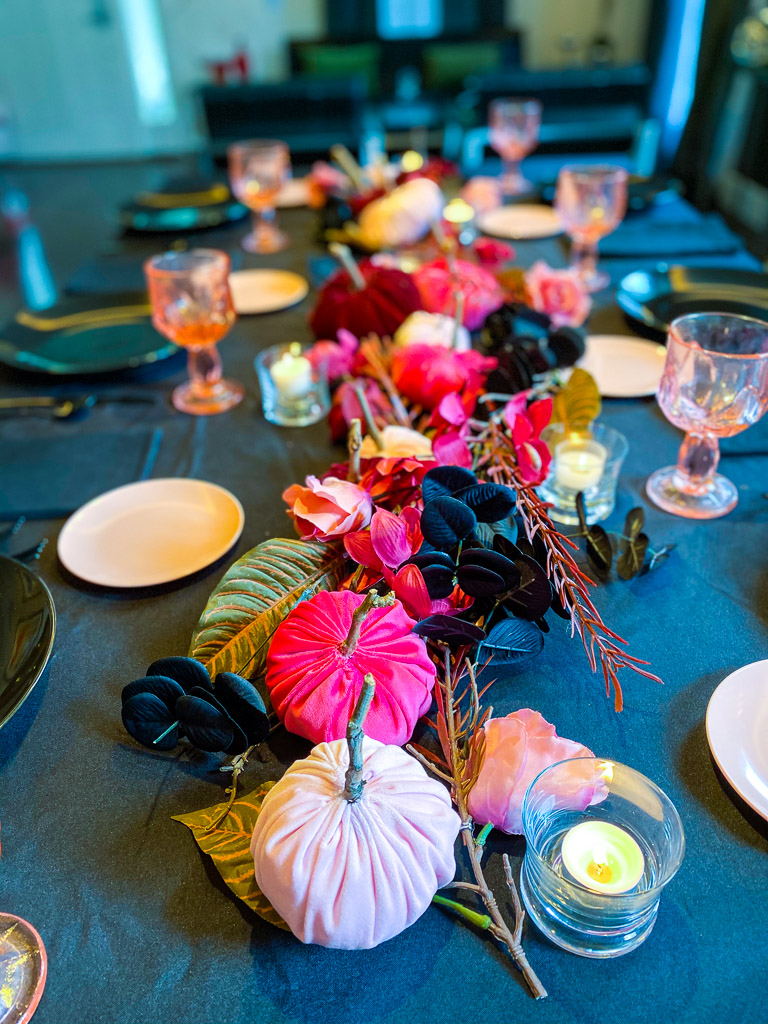 Building a tablescape around the colored glassware pieces that we've inherited honors the women who have come before me.
It couldn't be a more fitting tribute for our family's celebrations this fall.
This pink Tiffin glassware, which was handblown by Matt's great grandfather, was simply the perfect choice for this dramatic fall table setting idea.
I also love the whimsical and intense color palette of this fall tabescape.
So stunning and chic!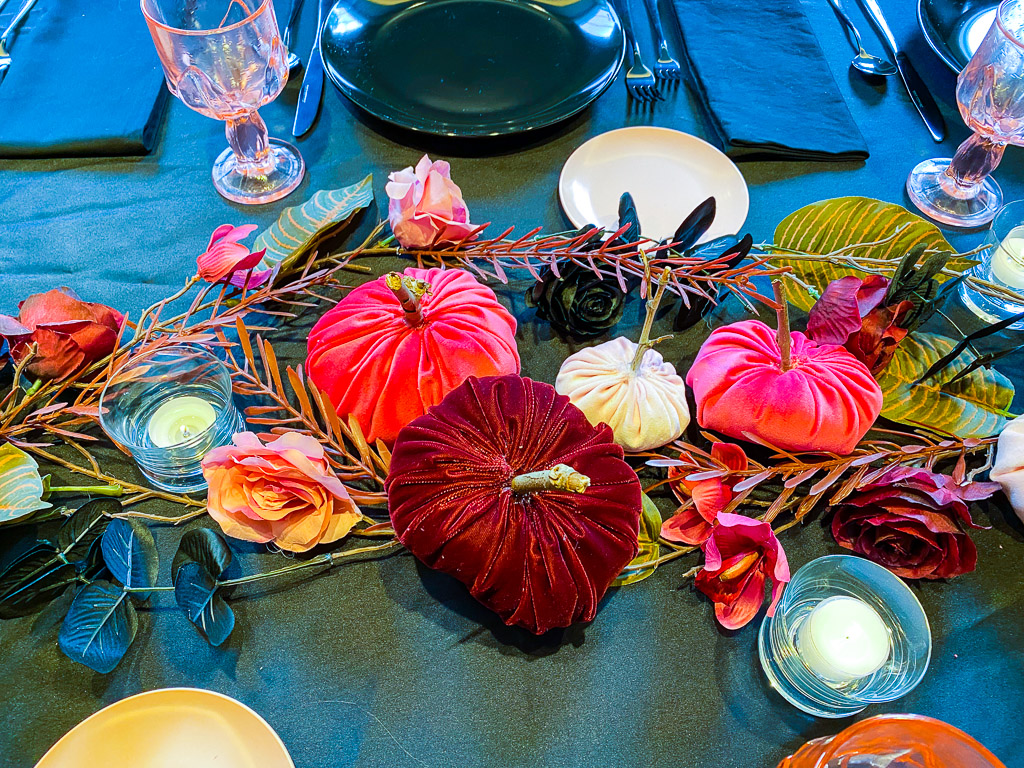 Here's how you can incorporate colored glassware into your fall tablescape, step by step.
3. GOLD FLATWARE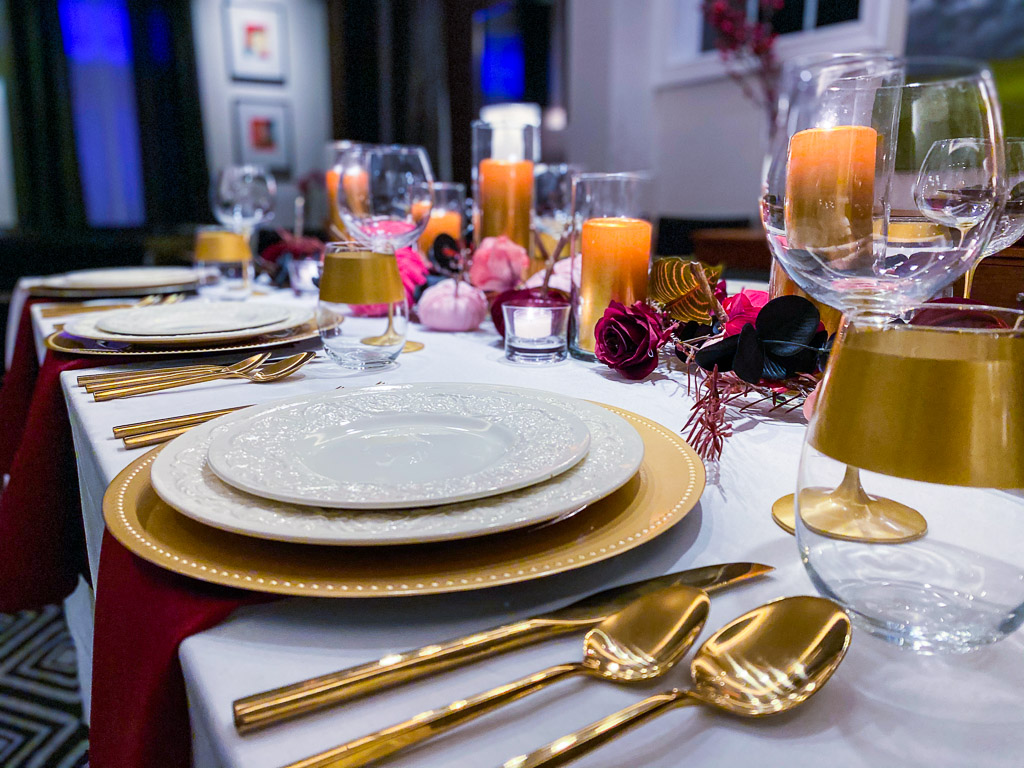 Similar to glassware, switching up your flatware for the change of the season can bring an entirely new and sophisticated look to your fall table decor.
Gold flatware is one of my favorite trends this and it's easy to see why.
The polished elegance it brings to a tabletop is undeniable.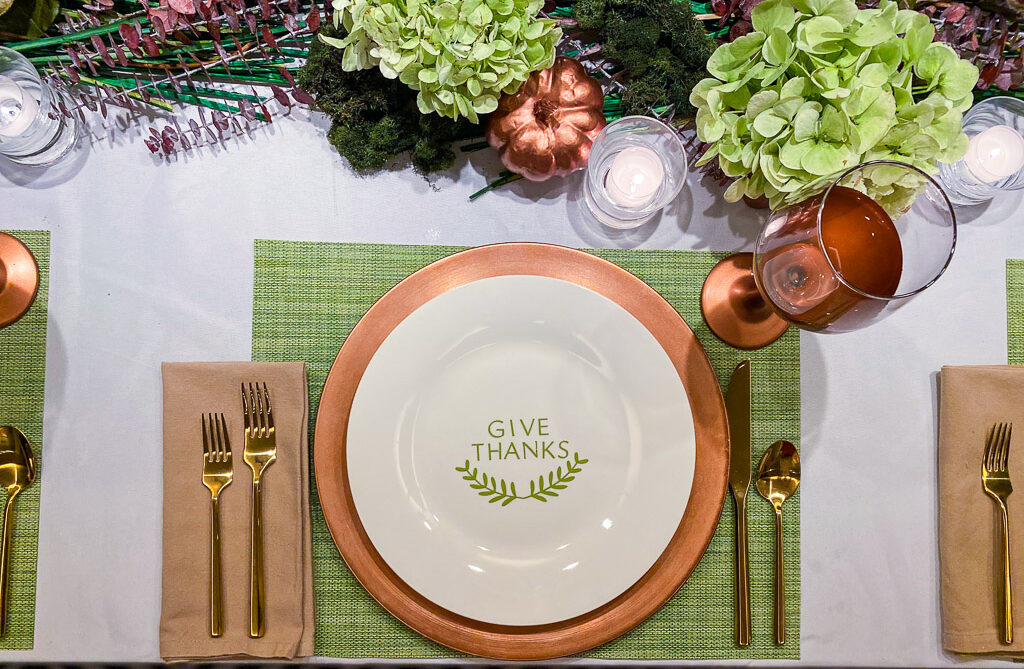 It's also a quick and easy way to update your place settings, without spending a fortune.
Discover how easy it is to incorporate gold flatware into a gorgeous fall tablescape.
4. COPPER ACCENTS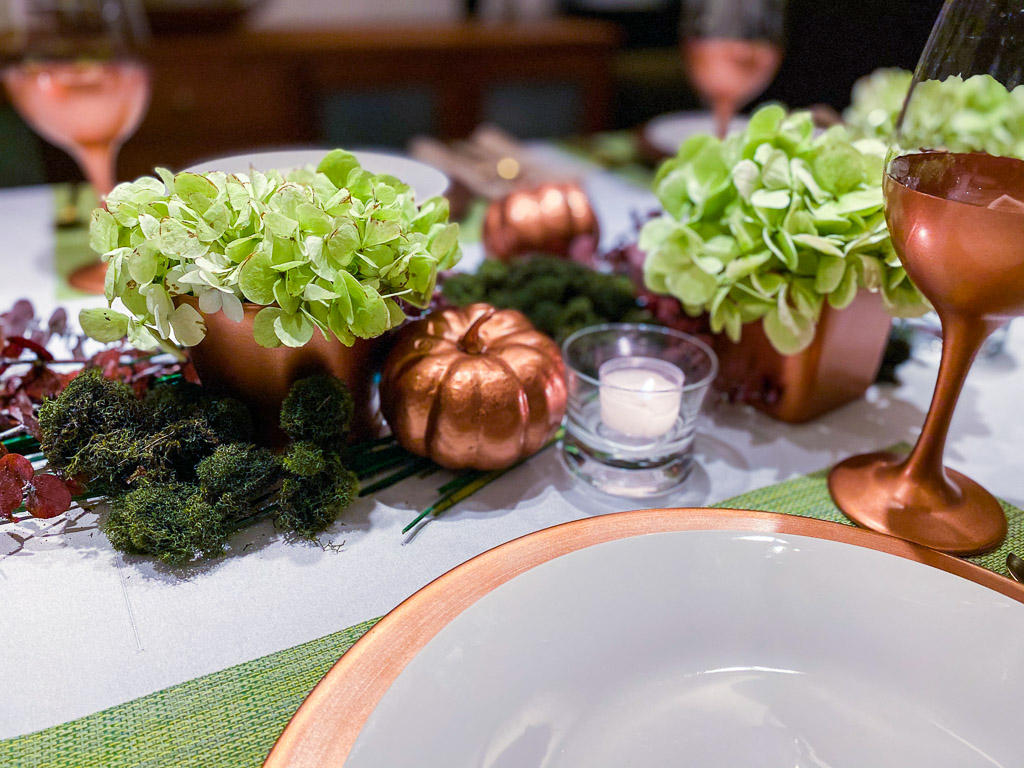 Move over gold and rose gold, copper is trending this year and it's trending hard.
Copper is everywhere.
All of the savvy retailers and style trendsetters are majorly crushing on this metal.
I am too!
From copper pumpkins to copper candle holders, and fun DIY copper stemmed wine glasses, here's how you can incorporate this popular trend into your fall tablescape.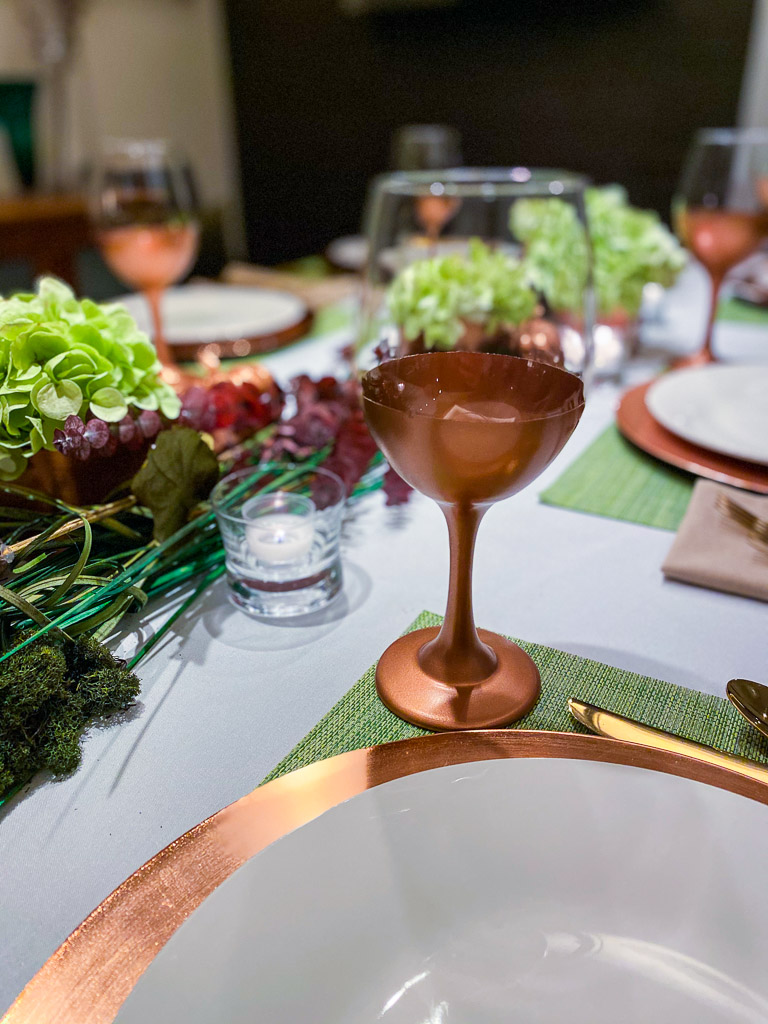 5. PINK PUMPKINS
Pumpkins that aren't your typical orange (or white) hues are HUGE this season.
In particular, the color pink.
In fact, all of the cool fall tablescapes are sporting this color!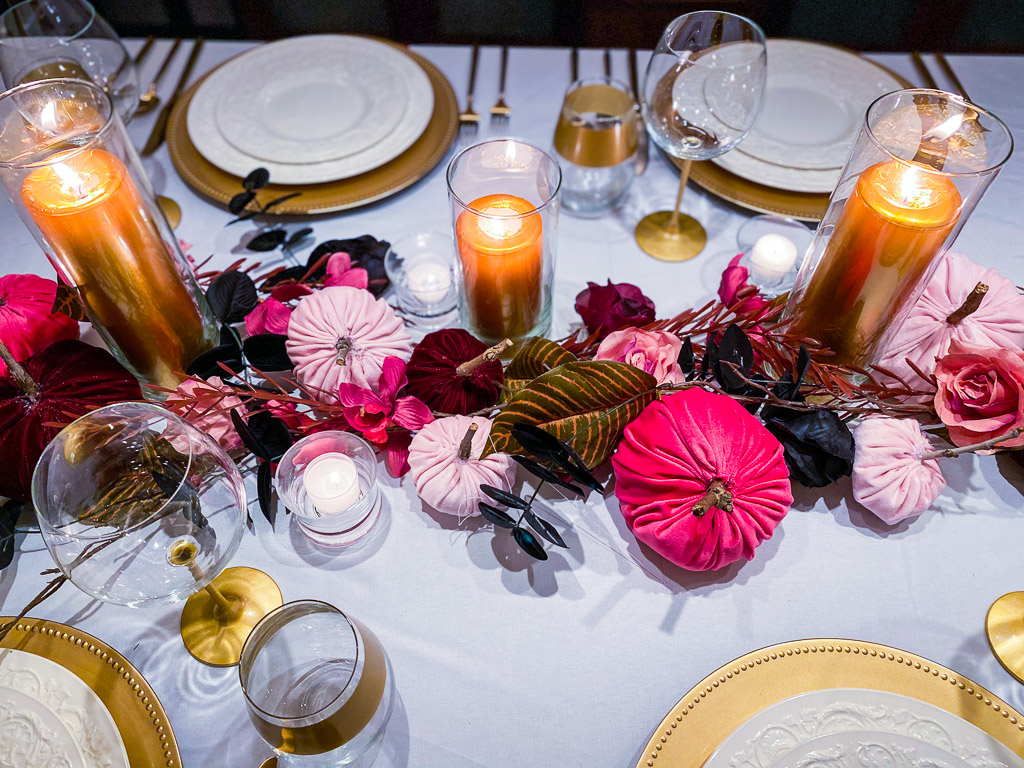 I could not love these pink velvet pumpkins, which add a tremendous amount of elegance to this table, any more.
The texture they bring to any tablescape is simply luxurious.
But admittedly, they have been hard to find in retail stores.
Come to find out, they're really easy to make.
We show you how easy it is to craft velvet pumpkins, in just a few steps.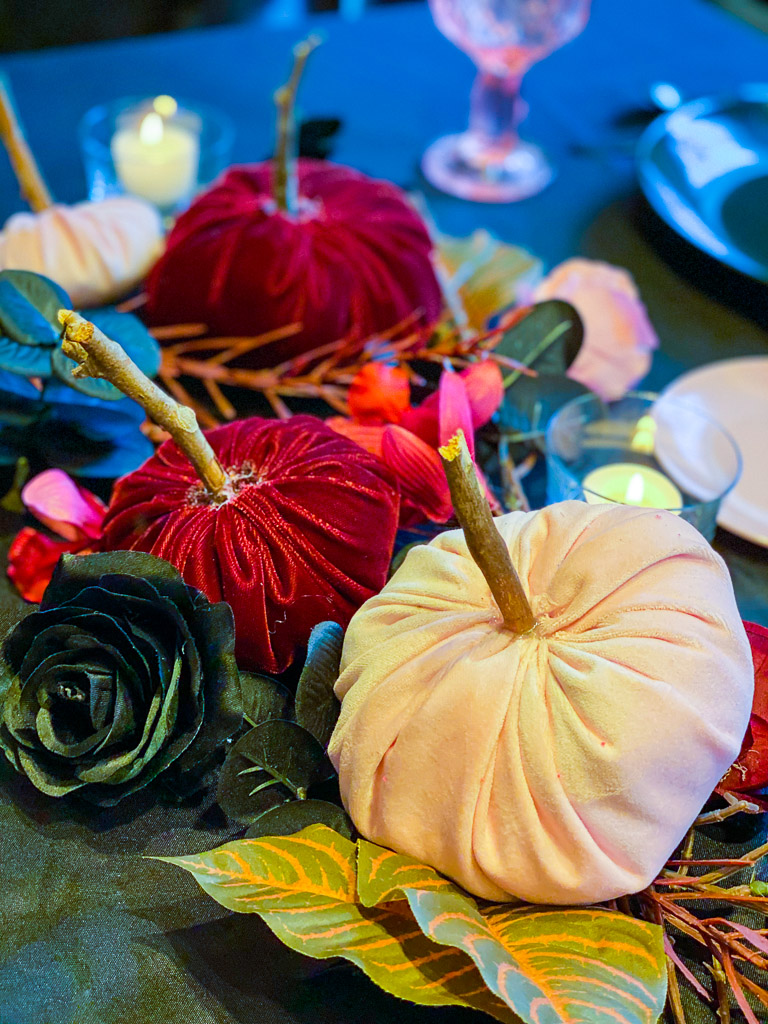 Thanks for stopping by today!
Or should I say hopping?
So, remember that awesome mentor and coach Karianne Wood of Thistlewood Farms whom I was bragging about earlier in this blog?
Well, she has pulled together some fantastic fall DIY ideas just for you …
You won't want to miss them.
Because her ideas are always the best!
I guarantee you'll be impressed!
And I bet you'll become almost as HUGE of a fan of Thistlewood Farms as I am!!!
Did you try this any of these fall tabletop trends?
Share them on Instagram with the hashtag #makeeverydayanevent and tag @makeeverydayanevent.
If you have any questions or suggestions, contact us or leave a comment!
Follow us on social media! You can find us on Instagram, Pinterest, and Facebook.
HERE ARE SOME OTHER GREAT BLOGS TO HOP TO FOR FALL IDEAS: