THE BEST BAR SETUP IDEAS FOR YOUR HOLIDAY PARTY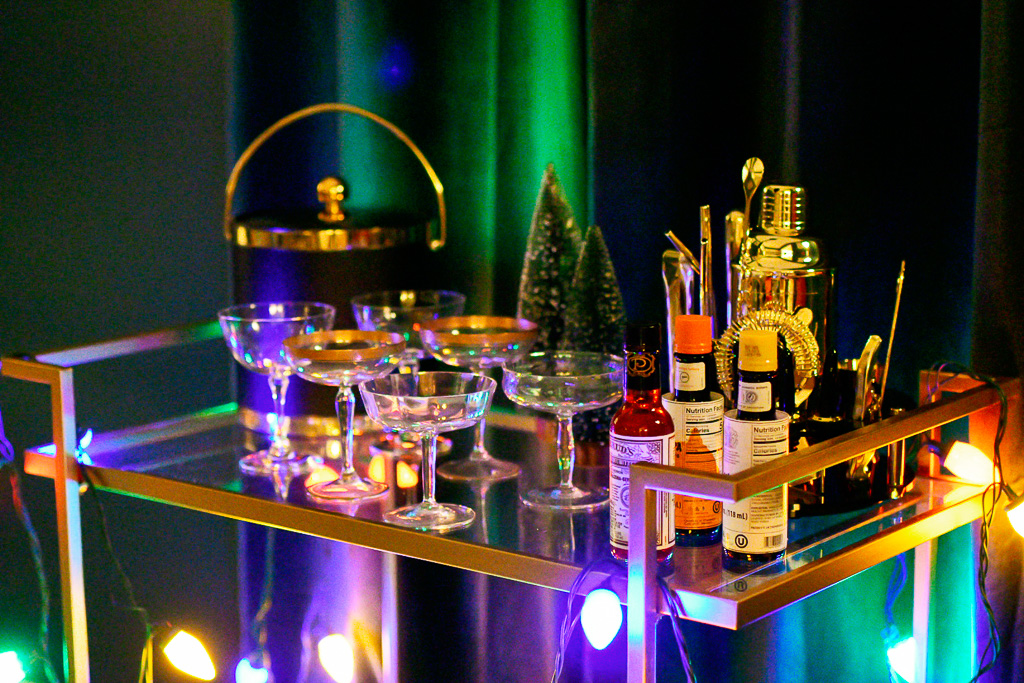 Our bar setup ideas for a party will help you to answer two of the most important questions this time of year, how do you set up a bar at home? And, two, how do you stock a bar for a small party?
We've got you covered with all the answers for all the fun!
Cheers!
HOW DO YOU SET UP A HOME BAR FOR A PARTY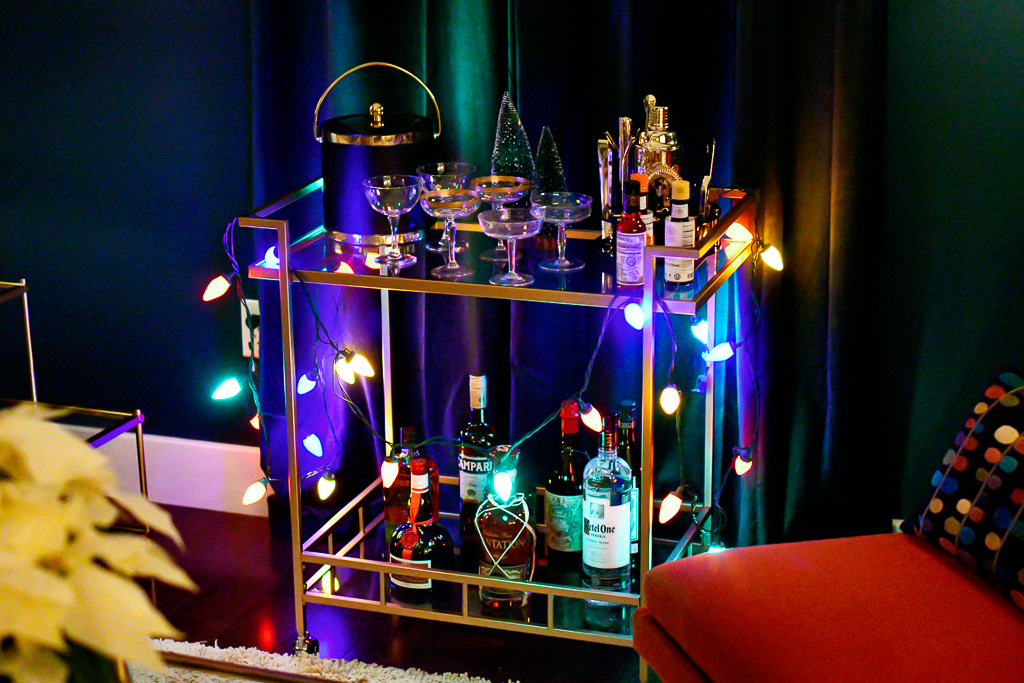 First, pick a defined space and think about how guests will approach this space, as well as be served from it, before setting anything up.
Ideally two defined areas are best, one for the liquor and wine bottles, and the other as a work space, with the latter having enough room for pouring, mixing, garnishing, etc.
HOW DO YOU STOCK A BAR FOR A SMALL PARTY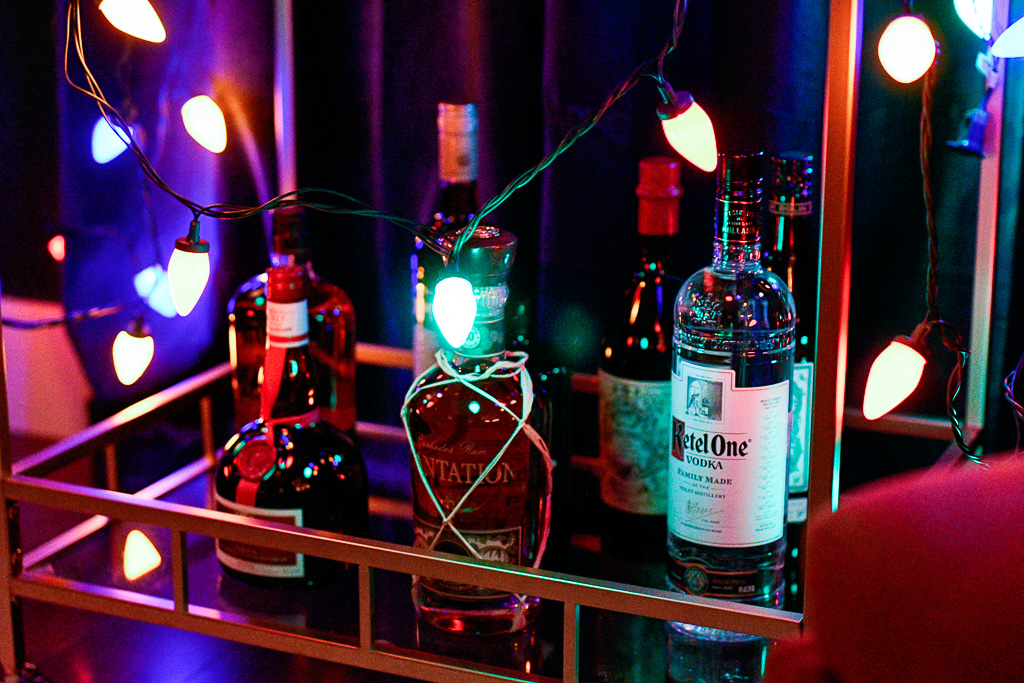 Stick to the basics as far as selection.
Three bottles apiece of a good red and a good white wine, as well as two fifths each of what people refer to as the "fab five" … vodka, bourbon, tequila, rum and gin.
You also do not want to forget adequate amounts of soda and mixers.
Don't feel the need to put everything out at once. In fact, I'd discourage doing that.
A general rule is to count on each guest having three drinks.
And garnish! You can't forget the garnish.
Cut wedges of of limes and lemons, and slice oranges.
A small jar of Luxardo cherries, as well as bottles of bitters (orange or angostura are two of our favorites) are also a great touch, especially for those who may prefer a mocktail to a cocktail.
BAR SETUP IDEAS FOR PARTY – COMMON MISTAKES TO AVOID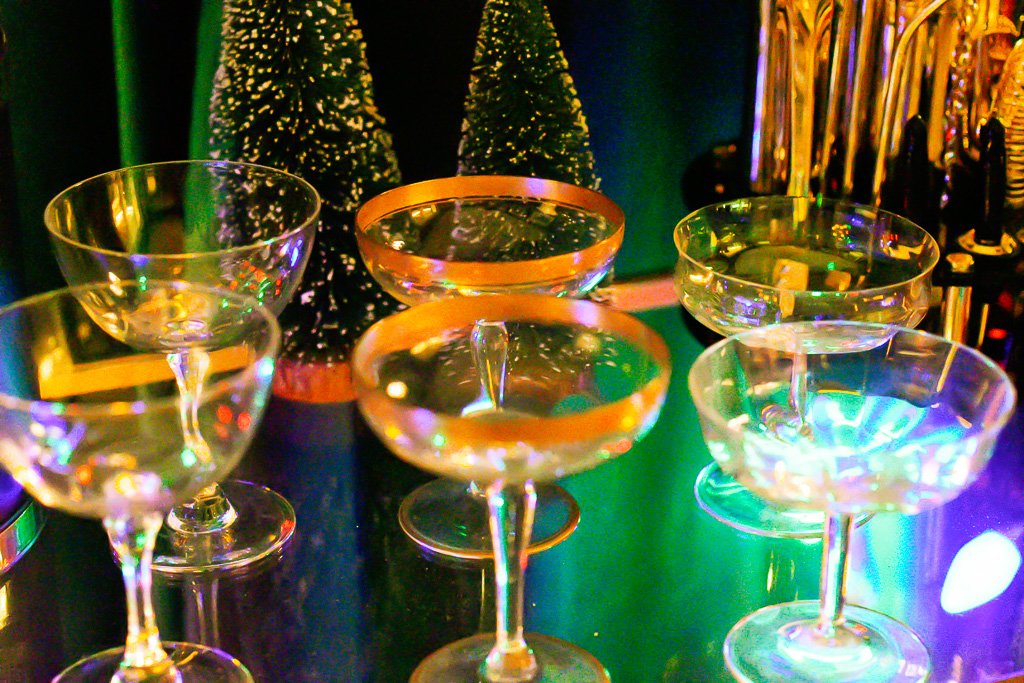 Posts on Make Every Day an Event may contain affiliate links which means we may earn a small commission on purchases at no extra cost to you. To learn more, please read our full disclosure here.
When you're figuring out how to set up a bar for 50 people (or considering how to set up a bar for 100 people, the number is really irrelevant) one of the most common mistakes is not having enough glasses and not having enough ice on hand. 
To remedy the glass situation, I suggest using plastic glassware.
People are constantly misplacing their beverages as they chit chat and mingle. Fortunately, there are lots of elegant, recycled plastic options from which to choose. Here are a few of my favorites:
A good rule of thumb is to have three times the number of glasses on hand as guests you anticipate.
With respect to ice, borrowing or renting a large, fishing-type cooler that keeps items cold for up to a week is perfect for overflow ice.
This can be placed outside on a back porch or in the garage, since they are a bit unsightly. But it will ensure you have adequate ice to last the entire night.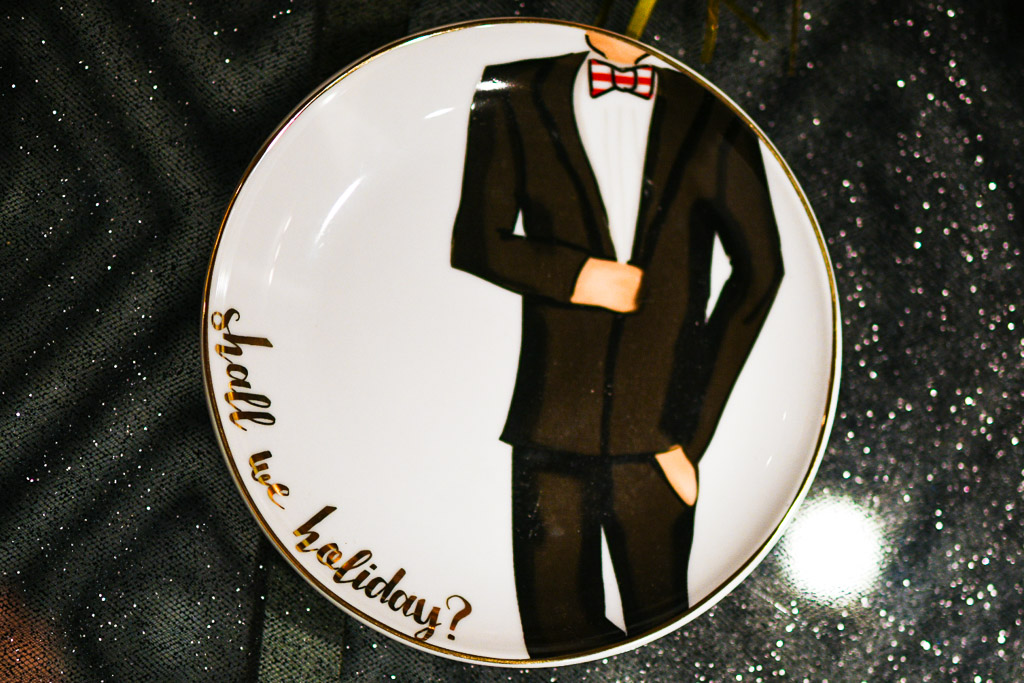 MY BEST BAR SETUP IDEAS FOR A PARTY
If possible I always suggest people utilize rentals for a holiday party.
Spills can happen, so you don't want people mixing drinks on a prized piece of furniture or a surface that you use on a daily basis, in case it were to get stained or damaged.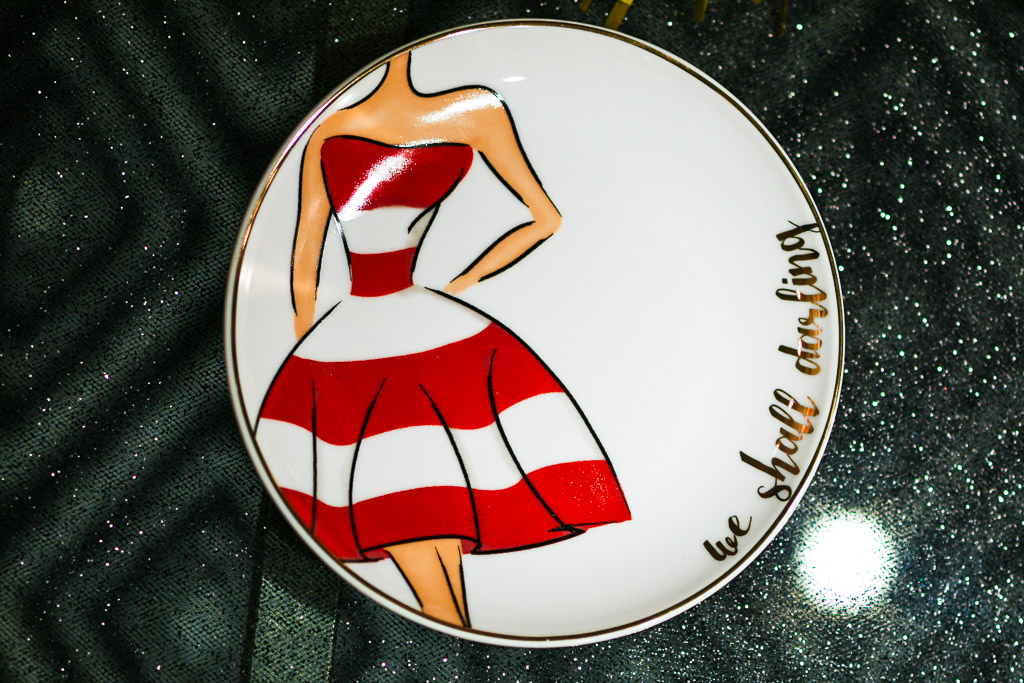 Local party rental companies can typically provide tables for less than $10 per table.
You should also rent linens.
I highly recommend black linens, as they don't show watermarks and stains as easily, so your bar will look presentable throughout the party.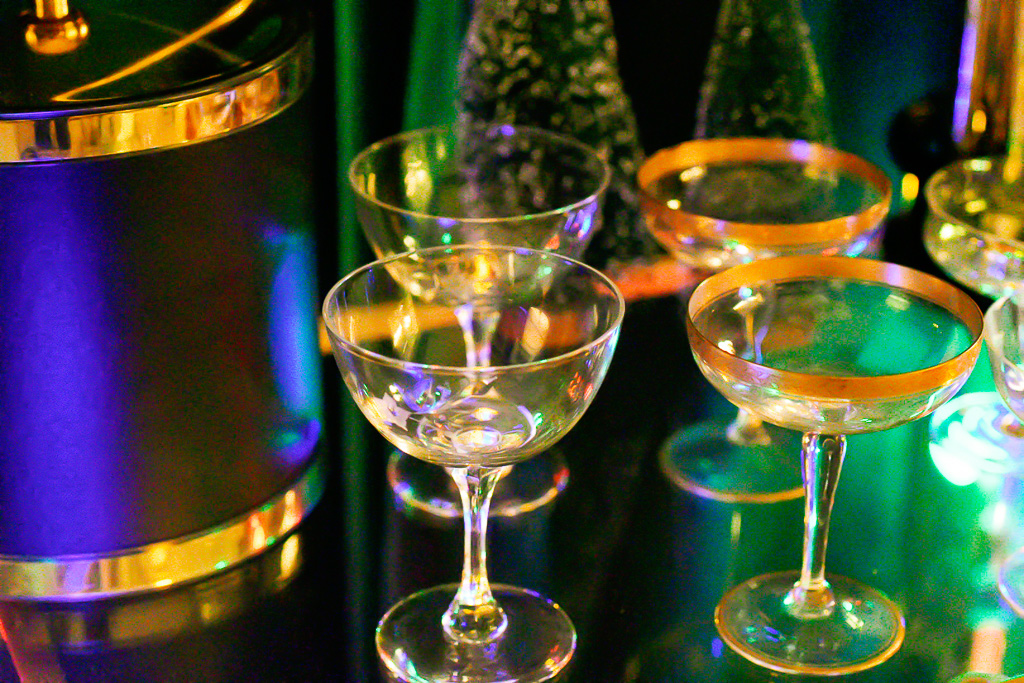 Renting a six or eight foot table with an accompanying bar riser and linens is a great and affordable investment for any holiday party at home.
Liquor bottles and mixers can be displayed on the top level, leaving room for glasses, ice, shakers, swizzle sticks, cocktail napkins and garnish on the lower level.
Your guests (or bartender) will have plenty of room to mix their favorite libations.
SHOULD YOU HAVE A FULL BAR OR JUST A SIGNATURE DRINK?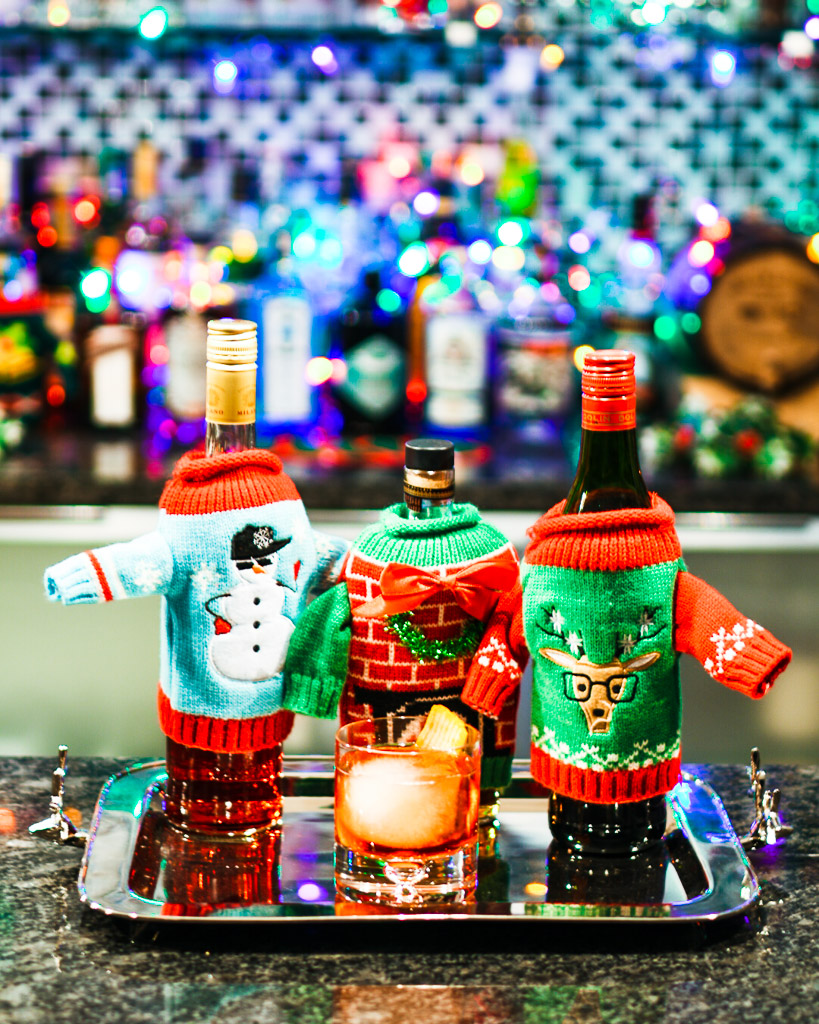 This decision depends on a number of factors including what time of day your party is held, how many guests you anticipate, and the vibe you'd like your party to have.
Around the holidays, parties can easily be limited to a signature drink.
Options such as egg nog, mulled wine, hot cider, or spiked cocoa can be perfect for certain holiday get togethers.
If you expect your party to last several hours, a full bar is probably the best option.
HOW TO HIRE A BARTENDER FOR A PRIVATE PARTY
Hiring a bartender can be one of the best bar setup ideas out there.
But there are lots of pros and cons to deciding whether or not you should hire a professional bartender for your party.
Here are a few things to think about on either side of the equation: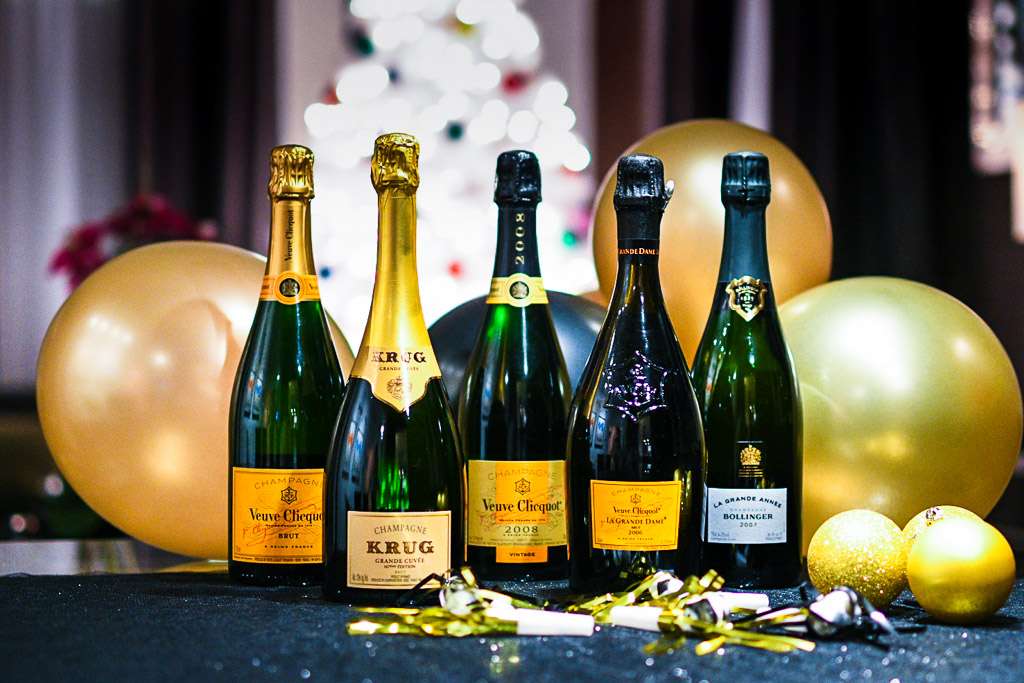 THINGS TO CONSIDER WHEN DECIDING TO HIRE A BARTENDER …
Pro – if your party will host more than 20 guests, hiring a bartender is money well spent. It will allow you to enjoy your gathering by eliminating the worry of constantly restocking the bar and ensuring your guests drinks are refreshed.
Con – obviously hiring a bartender is an additional expense. Keep in mind you should typically expect to pay an hourly wage, plus gratuity of 15 to 20 percent. You need to decide if this option fits within your party's budget.
SETTING UP A SELF-SERVE BAR
Pro – your guests can pour their drinks exactly to their liking. It also forces people to get up and mingle when their drinks need to be refreshed.
Con – if the liquor is flowing freely, your guests might become overserved a little more quickly. Always be sure to monitor how they are getting home and offer to call an Uber, Lyft or other car service if needed to ensure their safety.
BAR SETUP IDEAS FOR A PARTY, THE FINAL WORD …
Don't sweat the details.
The holidays are all about getting together with friends and family to share memories and create new ones, especially this year!
By following a few simple tips and tricks, you're sure to create a festive occasion that will be enjoyed by all … including you!
Want more ideas on how to set up a bar?
Check out this article (featuring Make Every Day an Event) on MarthaStewart.com, on this very topic.
This article will help you learn more tips and tricks to navigate the holiday season from some other great bloggers and entertaining pros.
Check it out!
Looking for other great Christmas ideas?
You'll find lots of great inspiration in these posts:
The Best Hot Chocolate Station Ideas
This Cocktail is a Great Idea for Your Ugly Christmas Sweater Party
An Easy Adorable Christmas Dessert That Will Have You Singing "Let it Snow!"
Cue the Coziness! These Yarn Christmas Trees Add Warmth
My Favorite Christmas Cookie — So Cute! So Tasty!
Did you use any of these bar setup ideas?
Share them on Instagram with the hashtag #makeeverydayanevent and tag @makeeverydayanevent.
If you have any questions or suggestions, contact us or leave a comment!
Follow us on social media! You can find us on Instagram, Pinterest, and Facebook.