THIS HAMILTON THEMED PARTY WILL GET RAVE REVIEWS YOUR GUESTS WILL LOVE IT!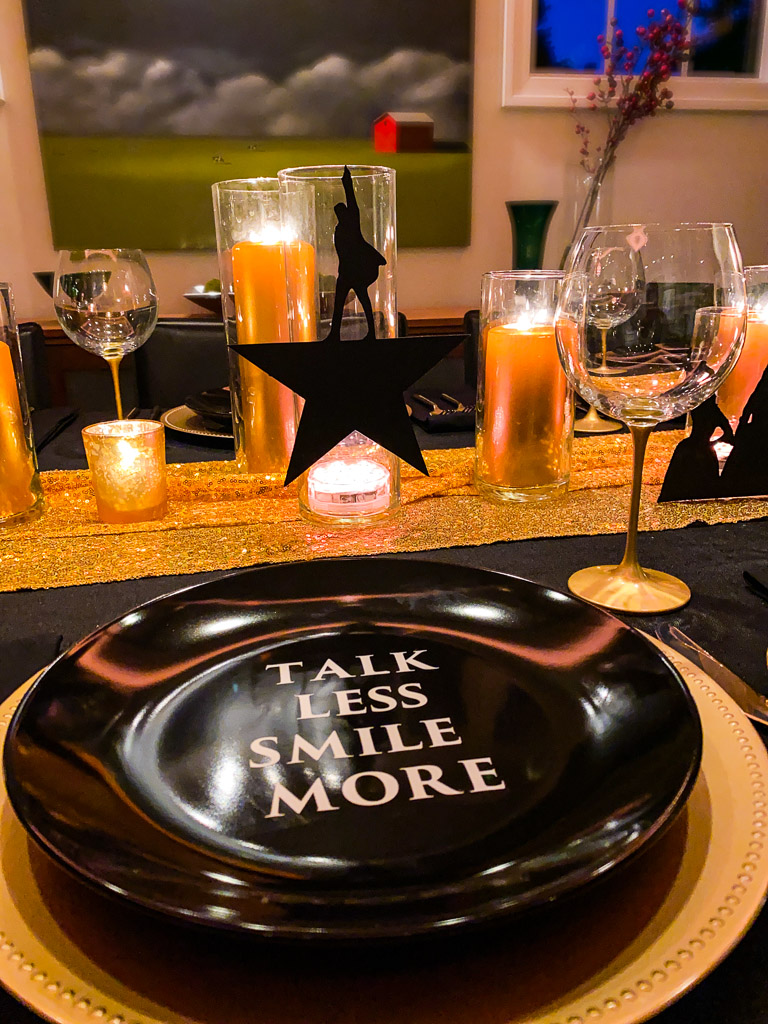 These creative Hamilton themed party ideas will help you pull together a must-see Hamilton theme soiree with dozens of adorable decor ideas that every critic will love!
Raise a glass to freedom and the Hamilton movie, which is perfect to play in the background.
Or make this a watch party!
It's the story of tonight (or maybe a fun afternoon).
Regardless of when you gather together, we guarantee these creative Hamilton party ideas are just going to "work!"
Whether you decide to do a brunch (Ham and eggs, anyone?), an afternoon get together, or a fun evening party, make sure you properly set the stage.
For our Hamilton decorations, we felt we couldn't go wrong by pulling our inspiration from the Hamilton Playbill.
Black and sparkling gold were the natural choices for the color scheme of the Hamilton themed party tablescape.
HAMILTON PARTY DECORATIONS …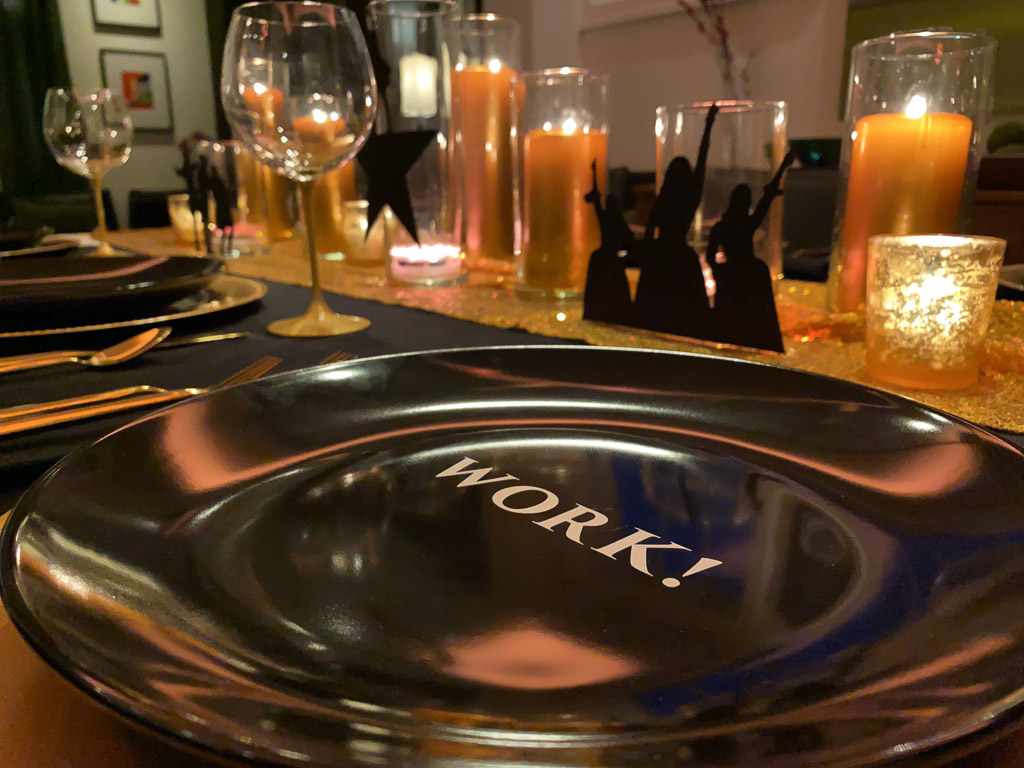 Black silhouettes of Alexander Hamilton, the Skyler sisters and the founding fathers really make this table eye catching.
These Hamilton party decorations were easy to make, using my Cricut maker.
I simply cut them from black cardstock in Design space.
A few glue dots make them easy to adhere to my favorite glass cylinder vases.
Another favorite, these round, submersible LED lights, are perfect to place within the vases and backlight the silhouettes.
So easy.
So impactful.
In addition, I utilized my Cricut to cut iconic lyrics from the musical from removable vinyl.
These phrases look awesome on simple, black plates from Dollar Tree.
They make great charger plates (you can't serve food off of vinyl) and create a huge impact when guests sit down.
How cute!
Metallic gold pillar candles were the perfect complement to place down the center of the table and look great on top of these sparkly, gold sequined table runners.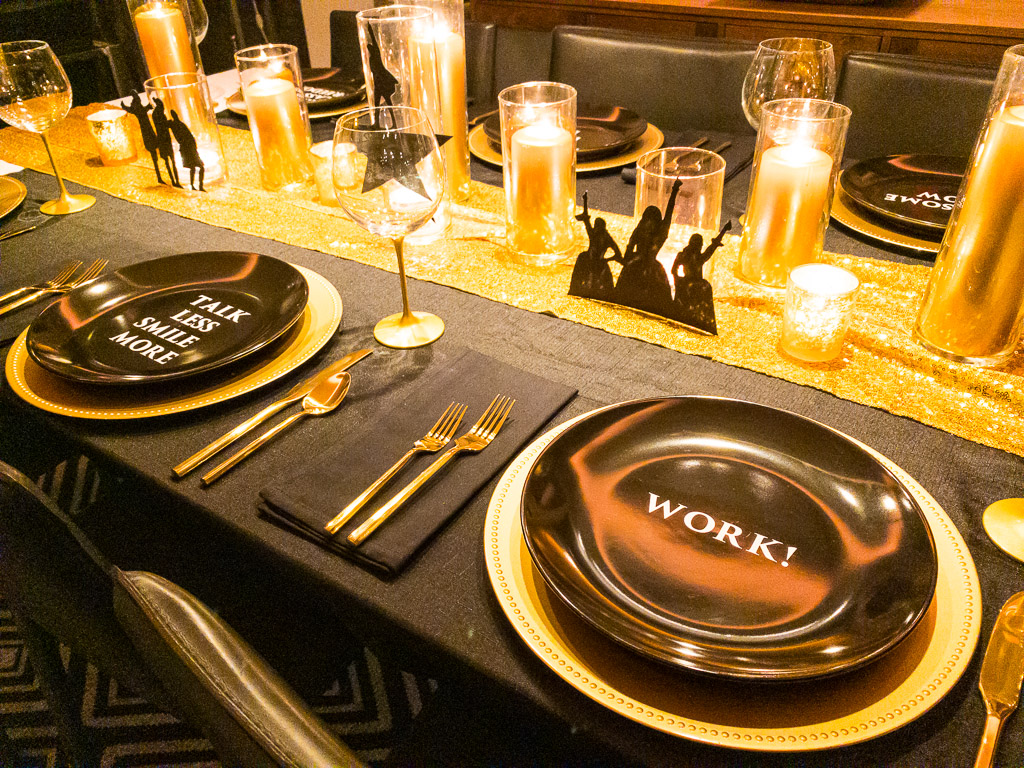 OTHER GREAT HAMILTON THEMED PARTY DECORATIONS ON THIS TABLESCAPE:
Mercury glass votive holders in gold
By sticking to the black and gold color theme, as well as keeping the accessories on the table simple, it's easy to pull together an elegant and fun tablescape.
YOUNG, SCRAPPY AND HUNGRY … HAMILTON THEMED PARTY FOOD!
There are dozens of different food options you could serve at your Hamilton party.
The possibilities range from some simple snacks or to a truly elaborate affair.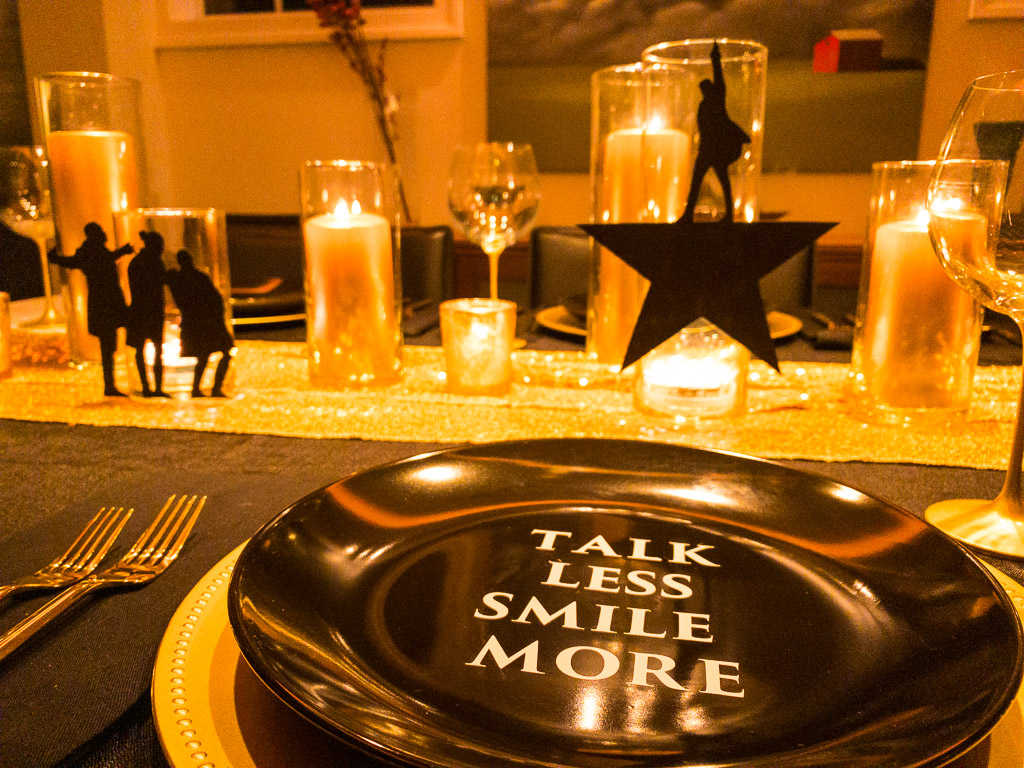 As we were brainstorming ideas for this theme, we began to wonder … what would Alexander Hamilton, Aaron Burr, Lafayette, Hercules Mulligan, and the rest of the founding fathers have put on their menu?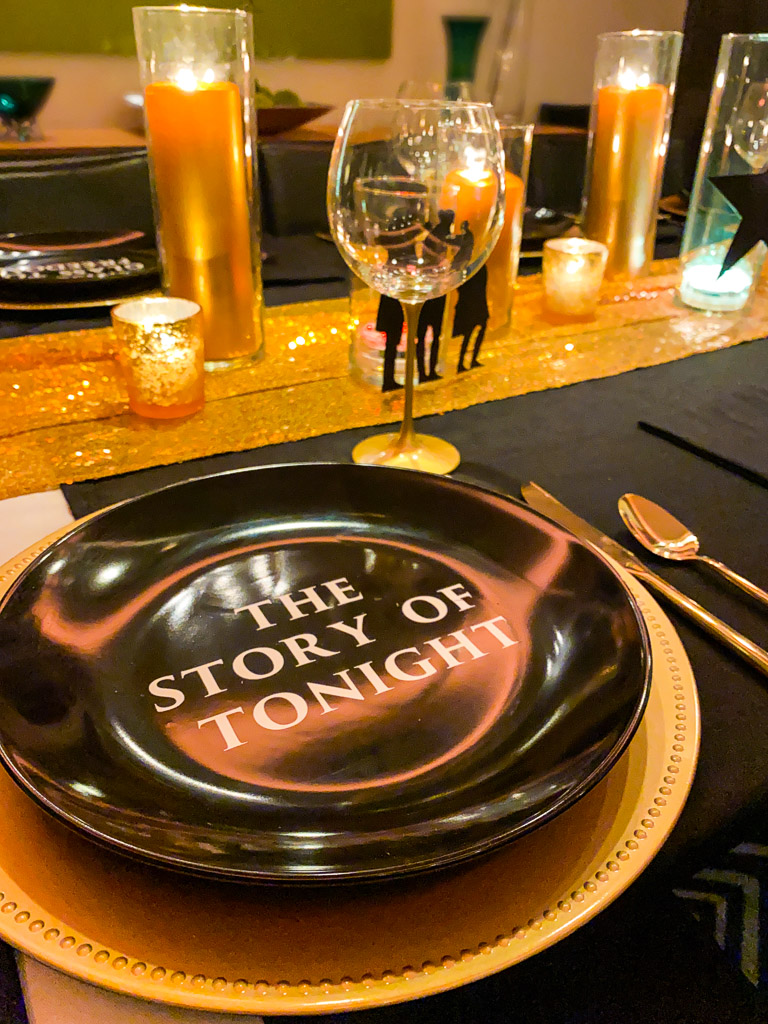 Come to find out, they were the original foodies!
Awesome. Wow.
In particular, we have Thomas Jefferson (who, not surprisingly had an affinity for French cuisine), to thank for introducing a few of our country's most beloved and popular dishes to the American palate.
These include French fries (he likely would have called them frites), ice cream and champagne.
Yum!
Jefferson also apparently had a soft spot for some good old Southern comfort food.
He is often credited with introducing us to Macaroni and Cheese.
But that is inaccurate, according to Food Historian Walter Staib, executive chef at Philadelphia's City Tavern and host of PBS' "A Taste of History."
It was James Hemings, Jefferson's enslaved chef who trained at the elite Château de Chantilly, who cooked up that creamy, cheesy goodness we know affectionately refer to as Mac and Cheese.
To learn more about the typical colonial menu and possibly incorporate some of their favorite dishes into your watch party menu, read this fascinating article which was originally published in Smithsonian Magazine.
LET'S HAVE ANOTHER ROUND TONIGHT!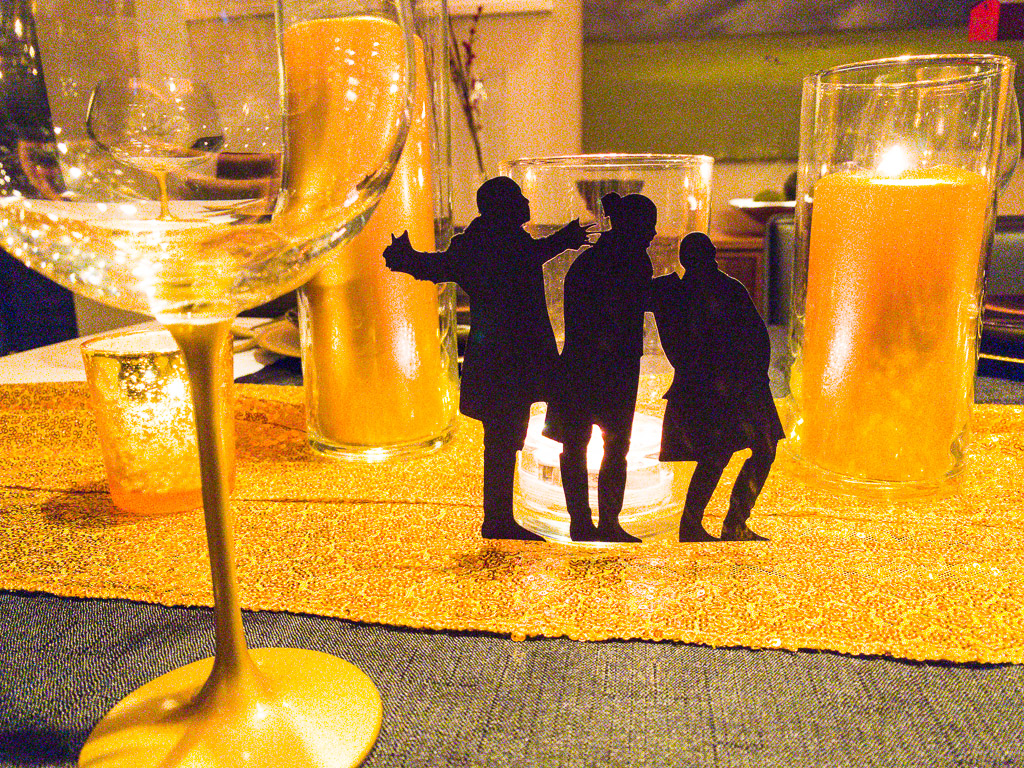 Let's have another.
And another.
And possibly another … actually.
According to sources, "Colonial Americans drank roughly three times as much as modern Americans, primarily in the form of beer, cider, and whiskey."
Good grief, so much for temperance.

Apparently they were also big believers in day drinking.
"From morning until night, people in the 18th century drank," author Steven Grasse states in Colonial Spirits: A Toast to Our Drunken History.
And you thought Drunk History was just a show on Comedy Central!
Come to find out, it might actually be real history!
For our party, we took a bit of a tamer approach and incorporated a nod to the musical's libretto itself.
A pint of Sam Adams seemed like the perfect choice of libation.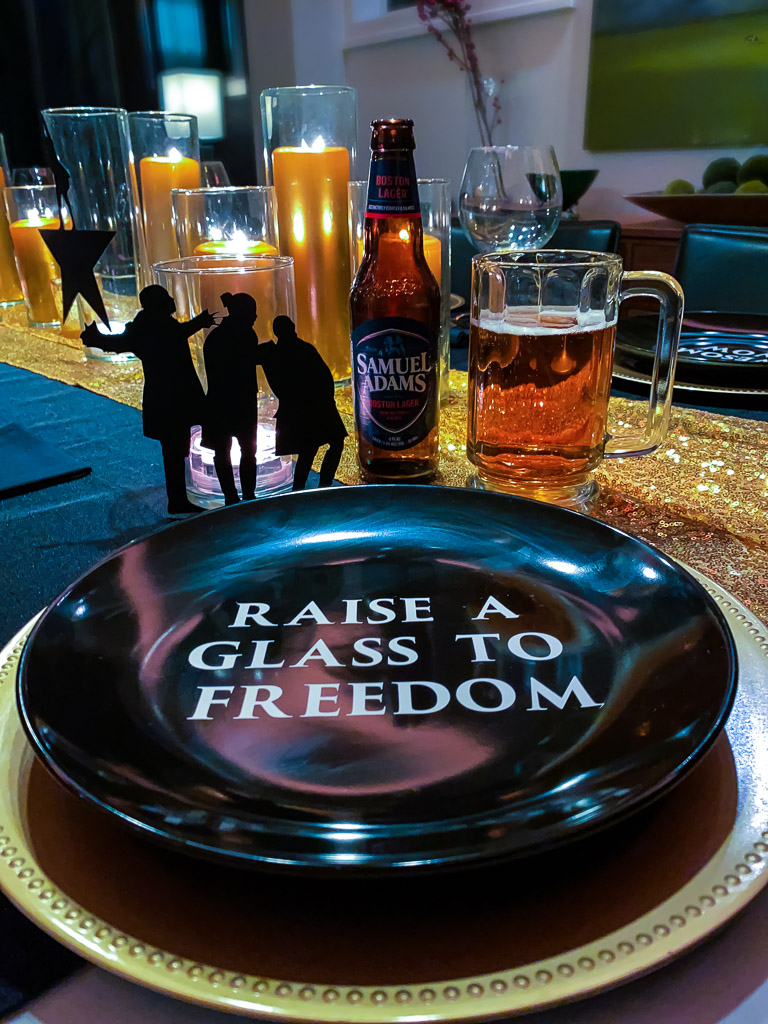 In researching and planning for our Hamilton themed party, we also uncovered another gem.
Benjamin Franklin, widely known as one of the most inventive of the Founding Fathers and credited with numerous innovations including bifocals, the lightening rod, and the Franklin Stove, also dreamed up "A Drinker's Dictionary."
The work is a compilation of approximately 228 words and phrases used to describe, well, drunkenness.
His list is a treasure trove of humor, including phrases such as:
"Been too free with Sir Richard"
"Had a thump over the head with Samson's Jawbone"
And, personal favorite, "Bowz'd."
Imagine the fun when "#BeenTooFreewithSirRichard" begins trending on Insta and Twitter!
For the complete list of Franklin's drunk euphemisms, as well as a bit more history on imbibing in Colonial America, see this great article.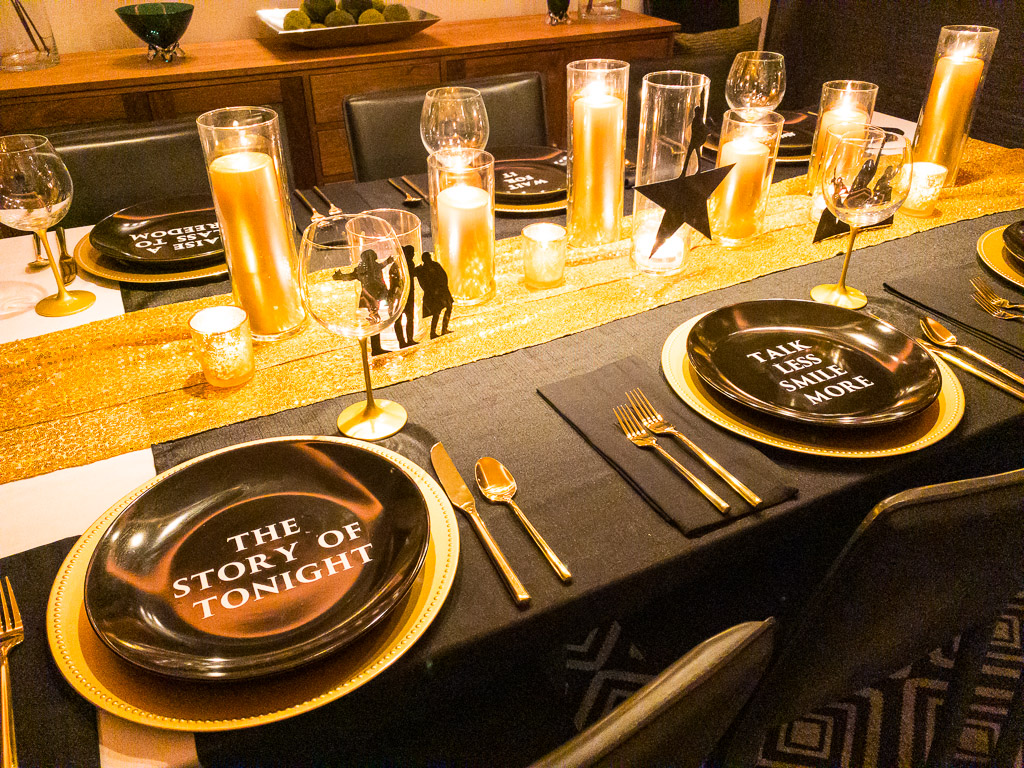 LOOKING FOR OTHER GREAT THEMED PARTIES? CHECK OUT THESE BLOGS:
Five Space Party Ideas You'll Love to the Moon and Back
Indoor Camping Themed Party Ideas
Yarrr! A Great Pirate Themed Party
A 70s Themed Fondue Dinner Party is Easy!
Try this idea and share a photo on Instagram with the hashtag #makeeverydayanevent and tag @makeeverydayanevent.
If you have any questions or suggestions, contact us or leave a comment!
Follow us on social media! You can find us on Instagram, Pinterest, and Facebook.