STRESS FREE IDEAS TO THROW AN AWESOME INDOOR CARNIVAL!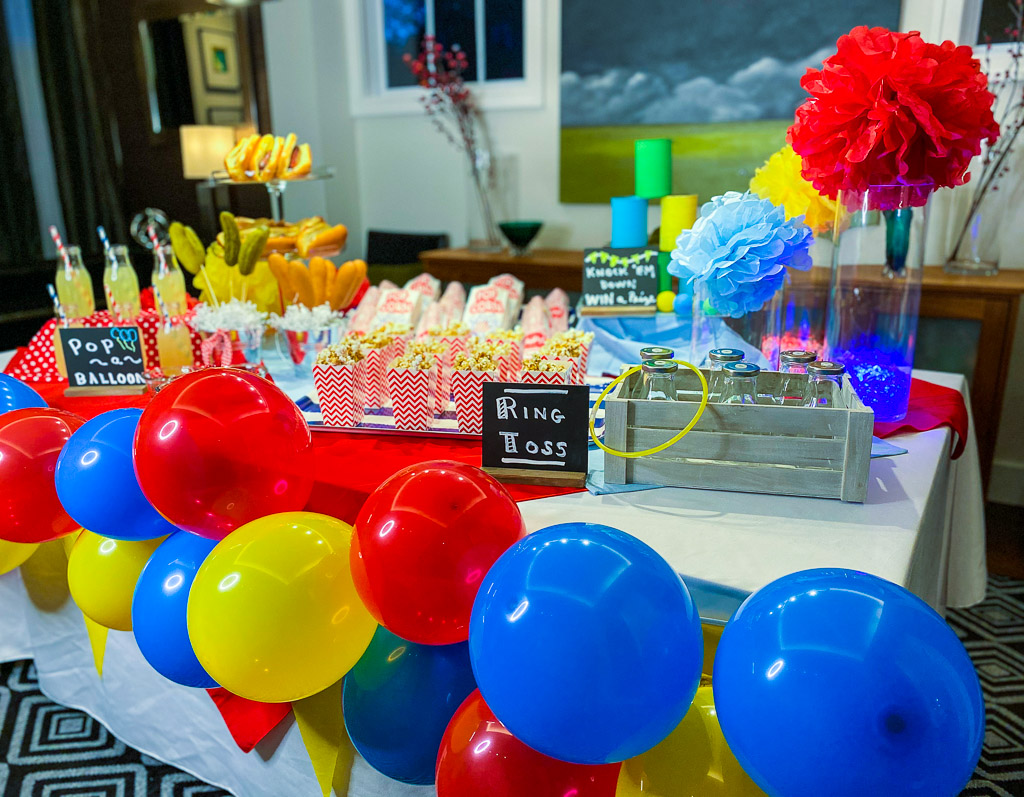 The games, the prizes, the food. There's nothing better than a carnival! We're throwing our own carnival party at home in celebration of National Caramel Popcorn Day on April 6! Here are five easy ideas to create the perfect carnival themed party … indoors! Kids and adults alike will love this theme. It's fun, it's colorful and the food is easy to make (and sinfully delicious!).
STEP RIGHT UP TO SOME FESTIVE DECOR
Reds, blues, yellows … carnivals are bright happy scenes filled with fun visual elements so naturally your table should be the same. I started with a basic white tablecloth and began to embellish from there, building the table top as I went along. A tiered cake stand and large vases helped to create interest by adding height of various levels. Glass accents are perfect. Their see-through nature adds elegance, yet simplicity, helping to make the table seem open and not crowded.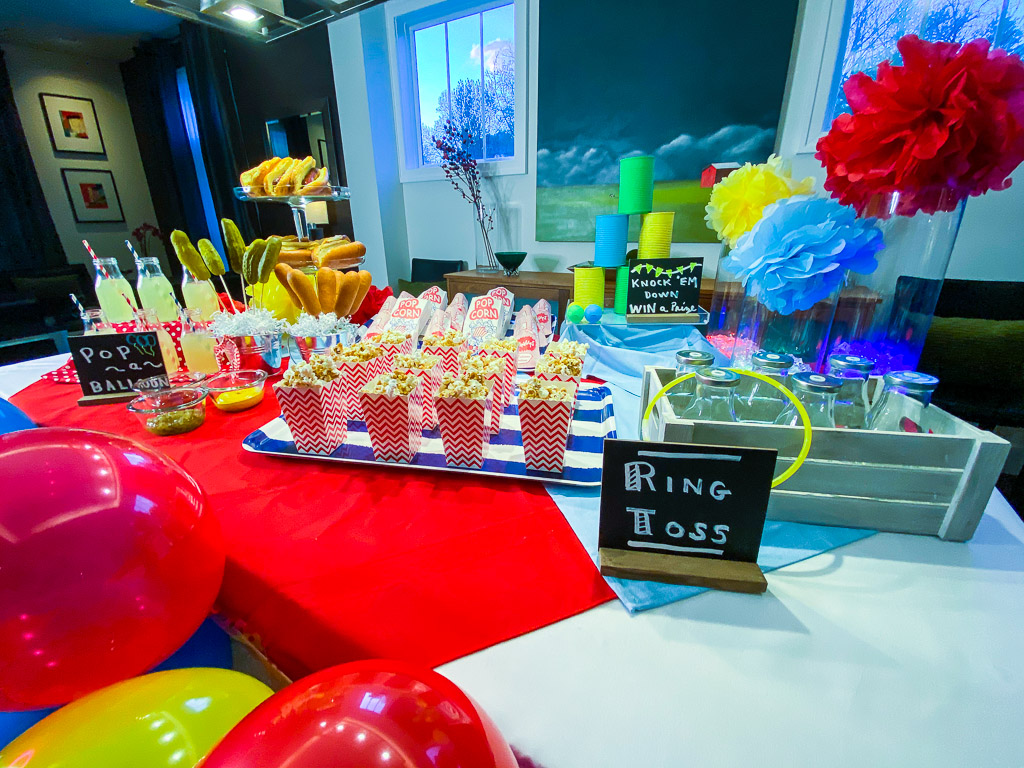 You can get adorable, authentic carnival food décor items for a very reasonable price on Amazon. We picked up mini popcorn containers in a cute red and white stripe, popcorn sleeves and peanut sleeves. Not only do they add to the festive tablescape, they make the food portable and easy to go back for seconds (or thirds) while you're playing some fun carnival games.
PRO-TIP: Don't be afraid to hide small boxes underneath the accent linens to additional levels varying stature. The pros do this all of the time (you wouldn't believe how creative we've gotten). Light blue napkins, repurposed as accent cloths, bounced off of a smaller red tablecloth I used as a topper and helped to mask what was hidden beneath.
Finally, I used a cute polka dot fabric remnant to accent the drink area. Fabric remnants, which are super cost effective and readily available at WalMart are one of my favorite secrets. They are a no-sew, easy way to dress up any table.
NEXT, GET THE PARTY POPPIN'
Nothing says "carnival" as much as caramel popcorn. I lucked out and found a great recipe for Oven Caramel Corn by sorting through the recipe box we saved from Matt's grandmother. It was super easy to make, made the house smell like heaven and was really tasty. Win, win, win! Here is the recipe.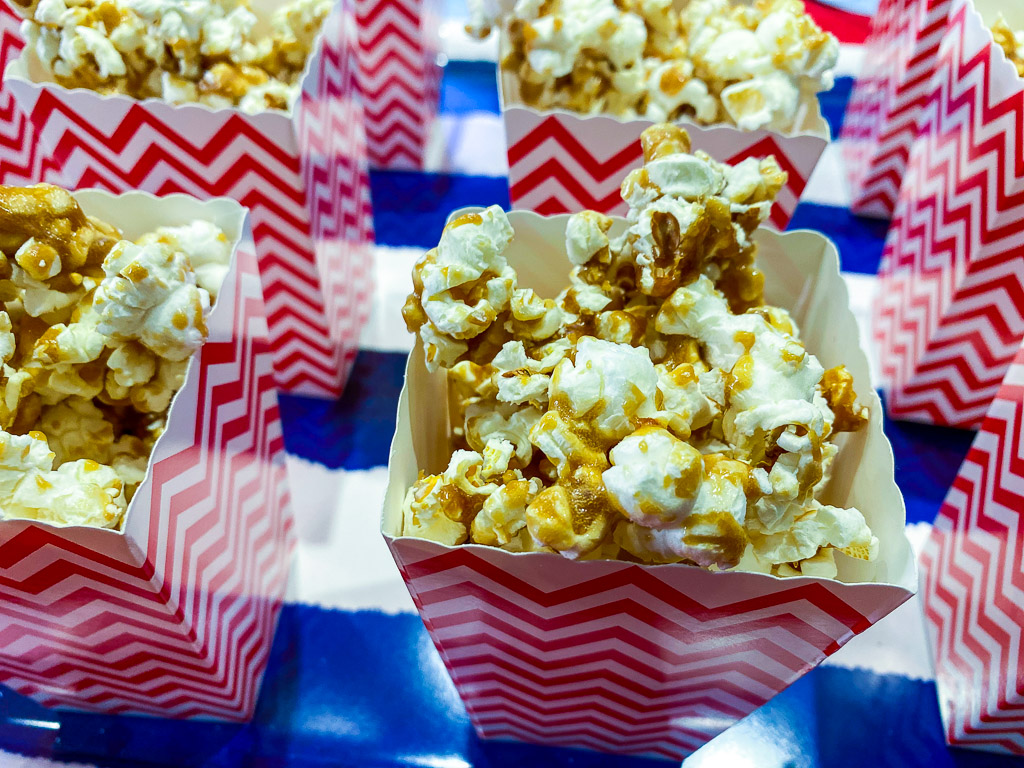 CREATE BALLYHOO OF A BUFFET …
You've got to just go for the tried and true, traditional items when planning your menu for this party. Grilled hot dogs and buns, soft pretzels, corn dogs, and pickles on a stick were chosen for our carnival buffet, which is the ideal set-up for this party. Caramel corn (of course!), regular popcorn and peanuts rounded out the culinary carnival delights. Fresh lemonade, served in cute bottles with striped straws, was the perfect thirst quencher.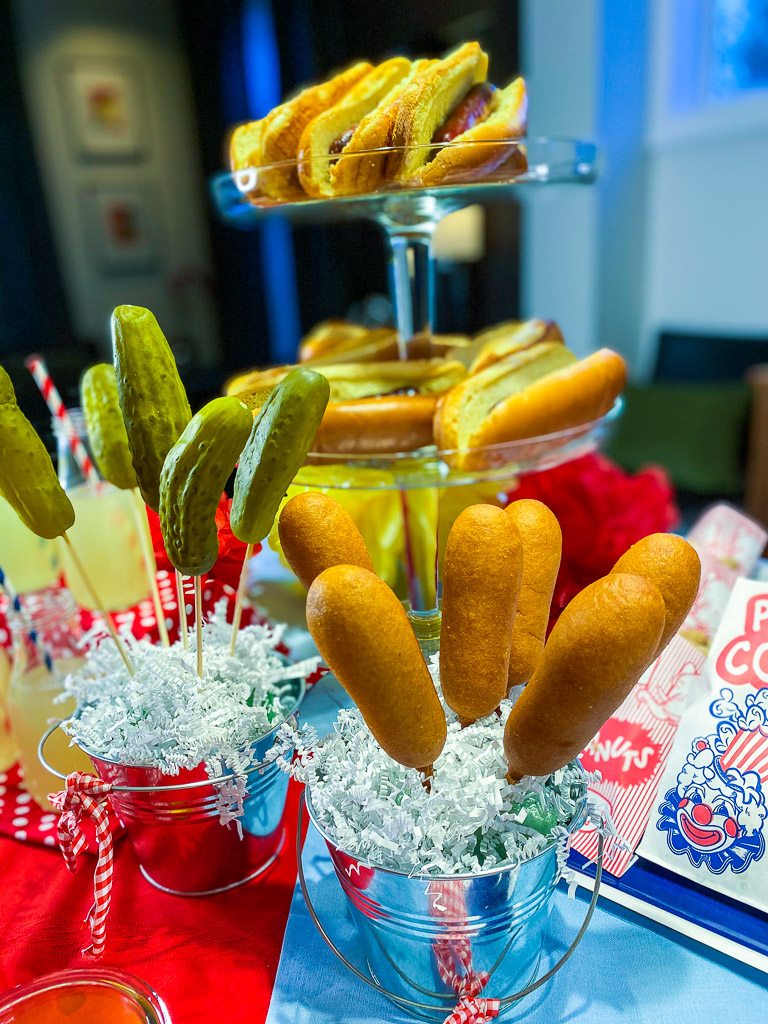 PRO TIP: Be creative when displaying your buffet items. Our pickle-on-a-stick and corn-dog bouquets added to the fun. By place a block of styrofoam inside a small galvanized pail, you can easily "arrange" the items and recreate this adorable accent.
LET"S PLAY SOME GAMES
What is the quintessential, must-have element of every carnival … ? The games, of course! But who among us has carnival games just laying around their house? The answer is you. You do, my friend! With a little bit of imagination, you can easily pull together some carnival fun at the drop of a hat. Here are few ideas:
CAN KNOCK DOWN – we simply saved a few soup cans (maybe we also pulled a few out of the neighbor's recycle bin) and painted them in bright, festive tones. After they dried, we stacked the cans in a pyramid formation. Add in a table tennis ball or even a Wiffle ball, and you've got hours of fun ahead.
RING TOSS – to make this one all you need to do is pull some bottles out of the recycle bin (wine bottles work great, wink, wink). For our ring, we repurposed a glow bracelet but anything in a ring shape will do.
CAKE WALK – for this at home version, we'd suggest simply using cupcakes. Gently tape numbers on the floor. Have participants line up and walk around the numbers to music. When the music is stopped, draw a number and that person has won the cake (or cupcake in this instance). This is a fun way to serve dessert.
BALLOON POP – a simple bag of balloons can provide hours of carnival fun. Sit and pop, pop the balloon, blow up and pop race, the options are endless. Here is a great site with literally dozens of balloon game ideas that fit perfectly with this theme.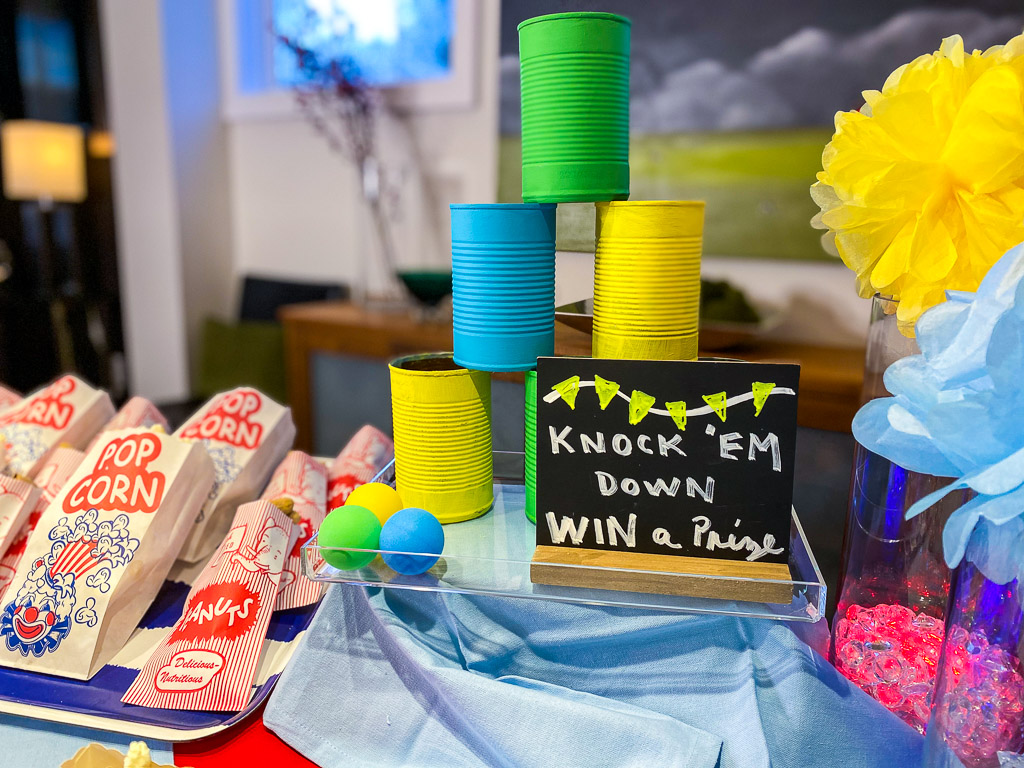 EASY PRIZE IDEAS EVERYONE WILL LOVE
The best part of a carnival is the thrilling feeling you get when you actually win that big stuffed animal. We're not suggesting you go out and buy a bunch of plush toys. There are ways to recreate that same feeling, without even leaving your living room.
For our carnival, we inserted paper slips that named prizes into the balloons at the front of our buffet table. When you win a game, you pop a balloon to get your prize. You can be just as creative with the prizes you give out as you were with the games that you play. There's no need to buy prizes, kids (and adults) simply love the idea of winning. Here are some of our prize-winning ideas: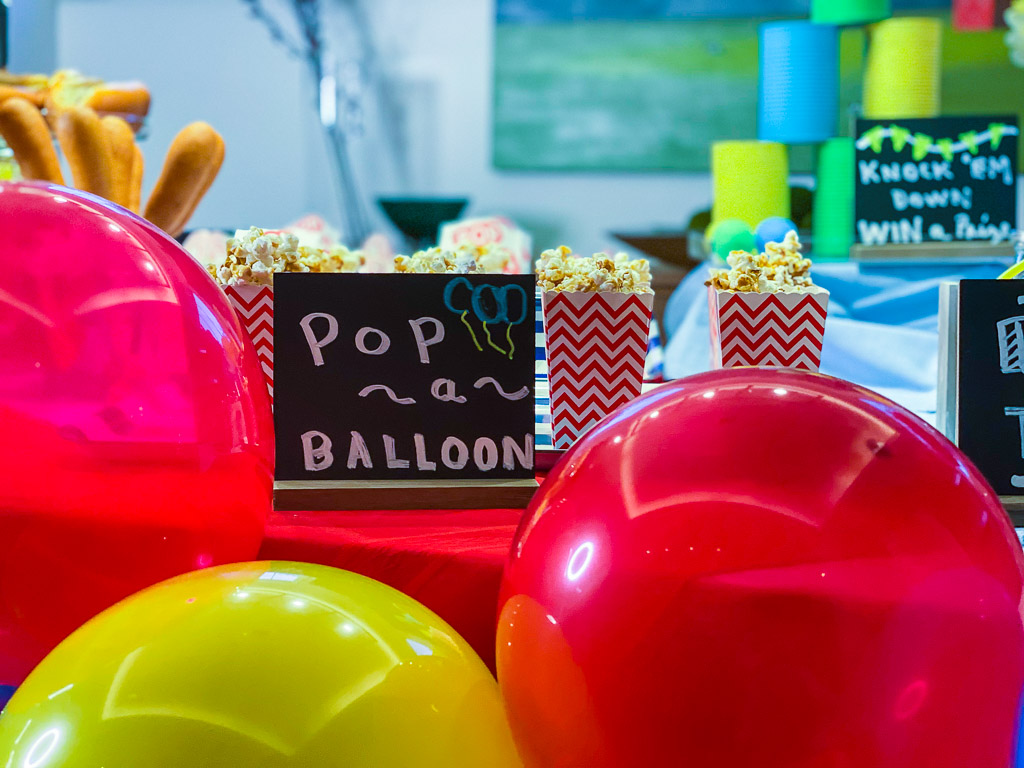 A pass from making the bed … for a week
Chef's choice, you get to pick what's for dinner
Breakfast in bed
Pick the pizza toppings
King or Queen for a day, no household chores (or guilt) for you
Select the next movie or series to binge watch
Choose the takeout restaurant
THIS IDEA IS GREAT FOR:
Children's birthday party
Couples dinner party
Baby shower