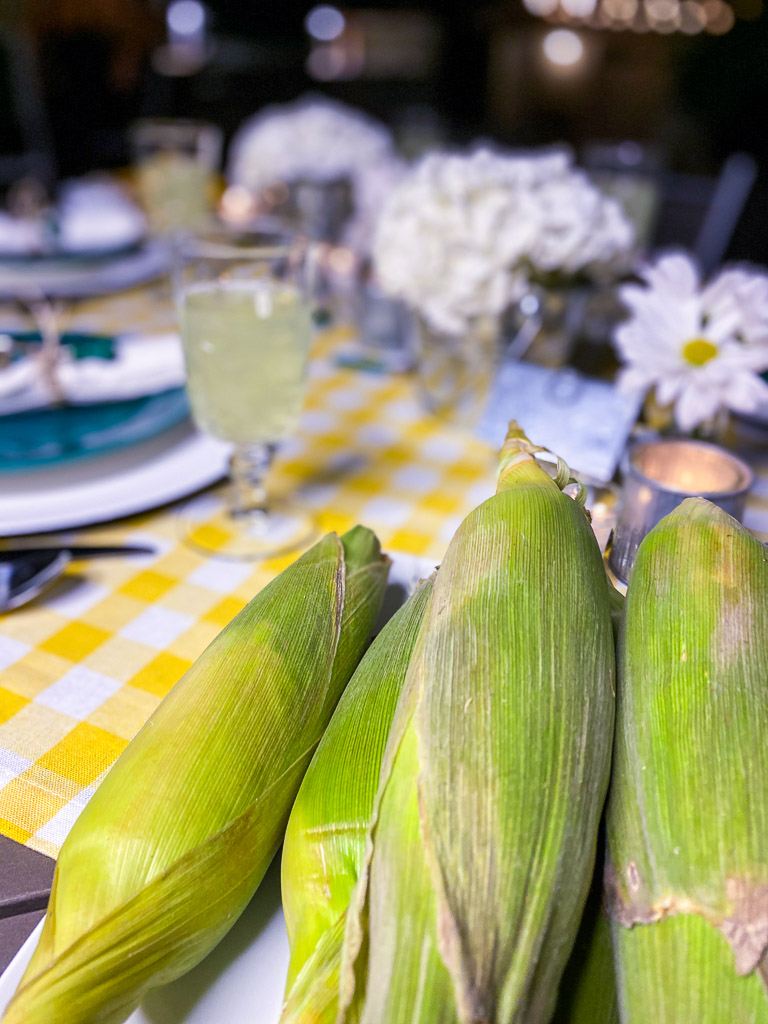 Few menus say "summer is here" more than the first meal of the season when corn on the cob makes its debut! To celebrate National Corn on the Cob Day, June 11, we've pulled together a delightful farm to table dinner and selected three equally different, yet equally delicious, recipes to showcase our corn-on-the-cob prowess. It's a perfect, interactive dinner party idea to invite your friends and family to share in the fun. We show you how to pull it together in three easy steps!
SET AN "A-MAIZING" TABLE …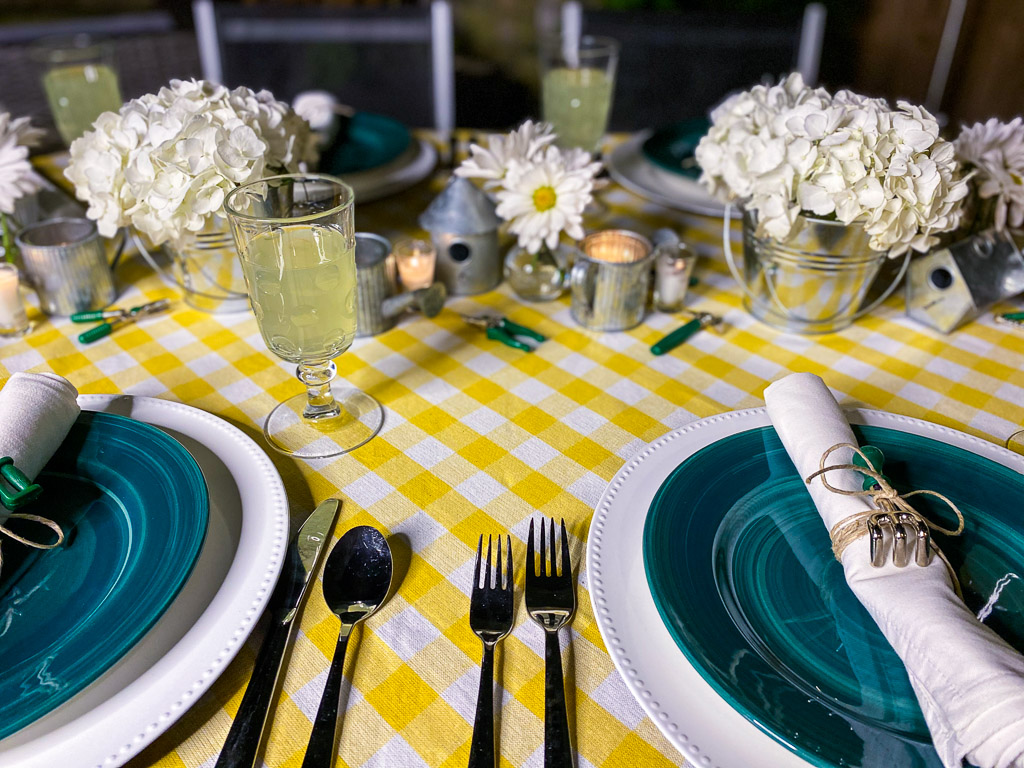 We have to admit, this tablescape was a lot of fun to create. This theme just lends itself to all the adorable special touches we love to include. We decided to take our creative inspiration from the natural colors of the vegetable namely: green, yellow and white.
This yellow-checked tablecloth was just perfect to lay the foundation for the other design elements. Rich hunter green (the color is making a strong comeback this season) dinner plates looked great against these white chargers. Our plates are vintage, but you can buy similar ones here.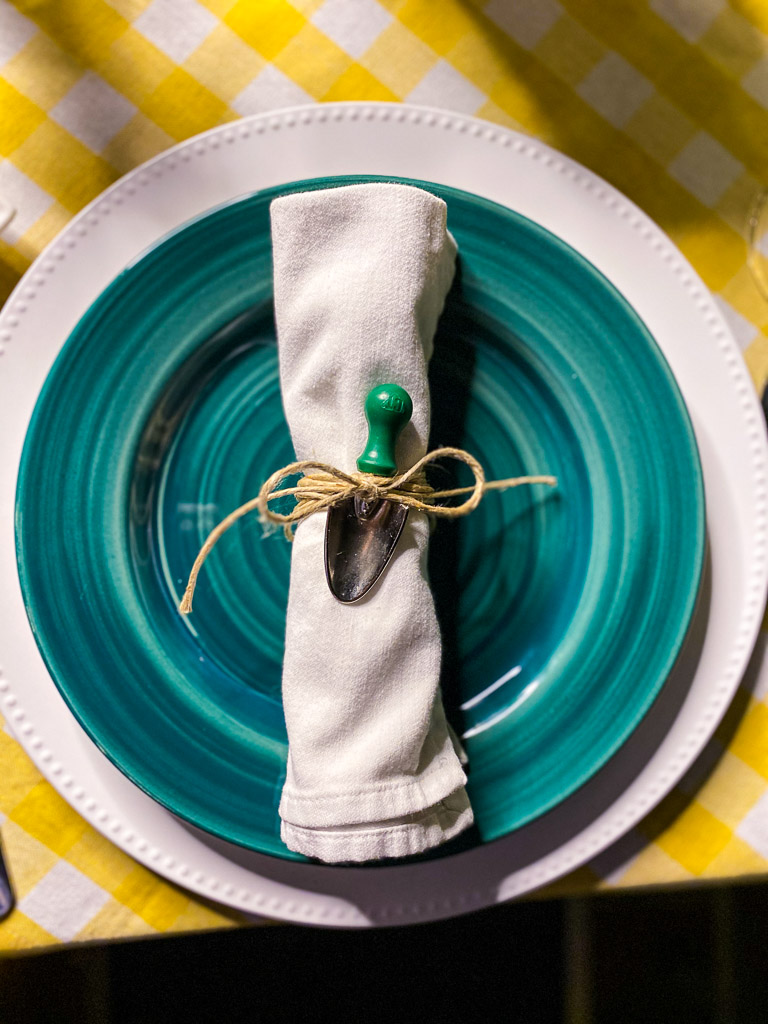 Galvanized accessories were an obvious choice. Miniature bird houses, watering cans and small galvanized buckets created a delightful scene on the center of the table. In addition, we kept the farm theme going with by using adorable garden tools and natural jute twine to create custom napkin rings.
PRO TIP: Like the old saying goes, sometimes the best things come in small packages. This often holds true when we are looking for creative décor items for tablescapes. The garden tools we used for the napkin rings are actually children's toys. We picked these up years ago and knew they'd be perfect for a garden or farm-themed party. These dollhouse garden tools could be used in a similar fashion.
Finally our chosen flowers for the table were white hydrangeas and white daisies. The tablescape had a lot of elements and we didn't want the florals to overpower the setting or make it too busy. In this case, less is more. The resulting look is modern, yet friendly. Perfect for our guests to enjoy!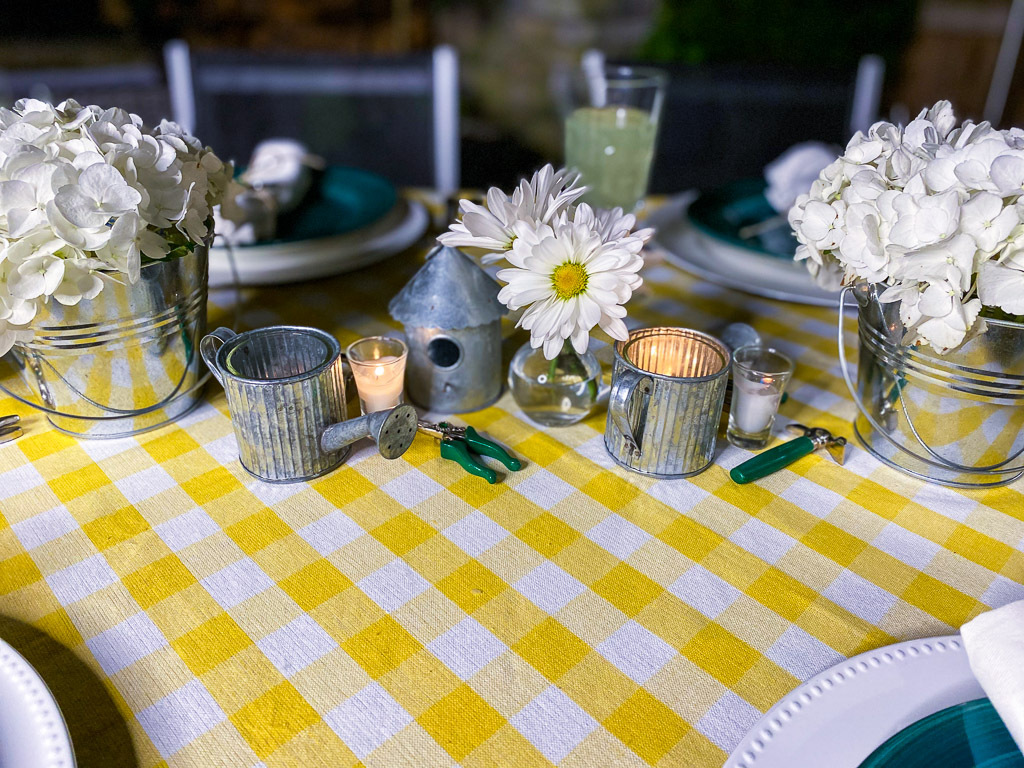 HAVE AN "A-MAIZING" ADVENTURE …
Peak sweet corn season runs from May to September in the U.S., depending on your geographic location. There is no better summertime treat than freshly picked sweet corn bought directly from the grower. We've been lucky enough these past few years to be traveling through Iowa (the corn capital of the U.S.) at exactly the right time of the year to purchase ears from one of the numerous street stands.
If you can't make it to Iowa, do the next best thing. Use this as your excuse to make a field trip to your local farmers' market and buy the freshest corn you can find. You'll want to do this relatively close to the day you plan to cook it. Sweet corn is best for only one to three days after its purchased, even if it's stored in the refrigerator.
PREPARE TO BE "A-MAIZED" WITH THESE FANTASTIC RECIPES …
The star of the show for this dinner is the corn on the cob. After all … it is National Corn on the Cob Day. For this meal, we prepared three unique recipes. However each can be assembled at the table. Allowing you to simply serve a platter of grilled corn to your guests tableside. They take it from there! Here are the three fantastic ways we enjoyed our corn on the cob: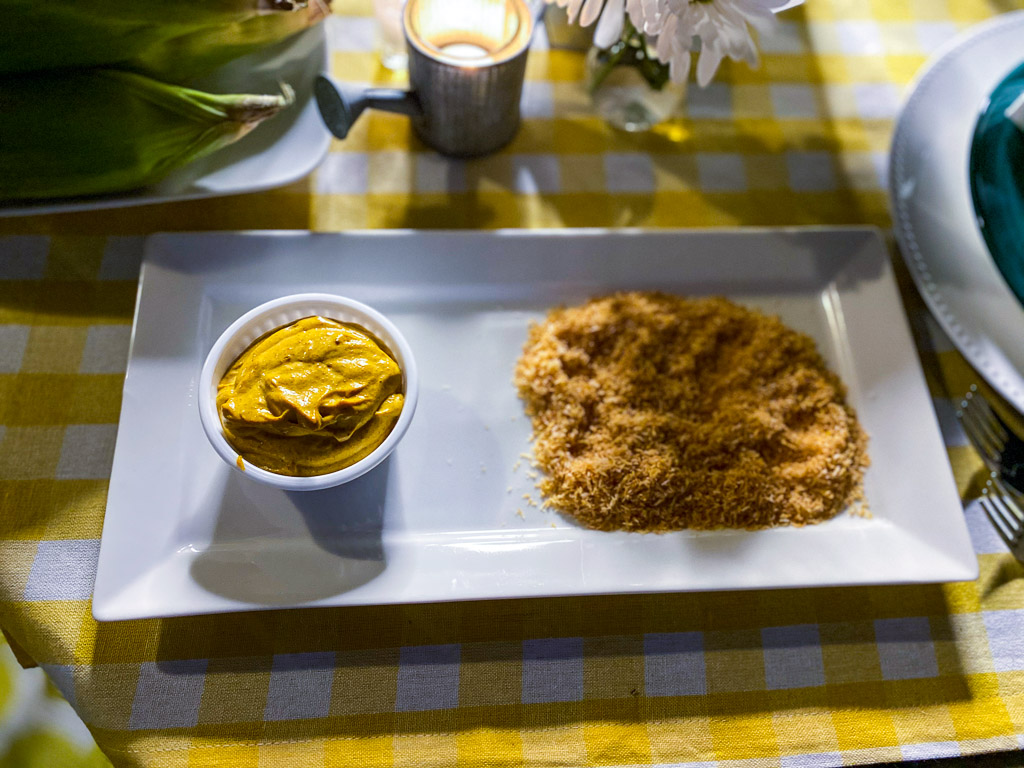 JAMAICAN SWEET CORN
Mix together ½ cup mayonnaise, 1 ½ tablespoons curry powder, 1 teaspoon grated ginger, ¼ teaspoon cayenne pepper, ½ teaspoon ground cinnamon and 1 tablespoon lime juice. Spread onto hot, cooked corn and roll in toasted coconut.(Recipe courtesy: Seattle Times)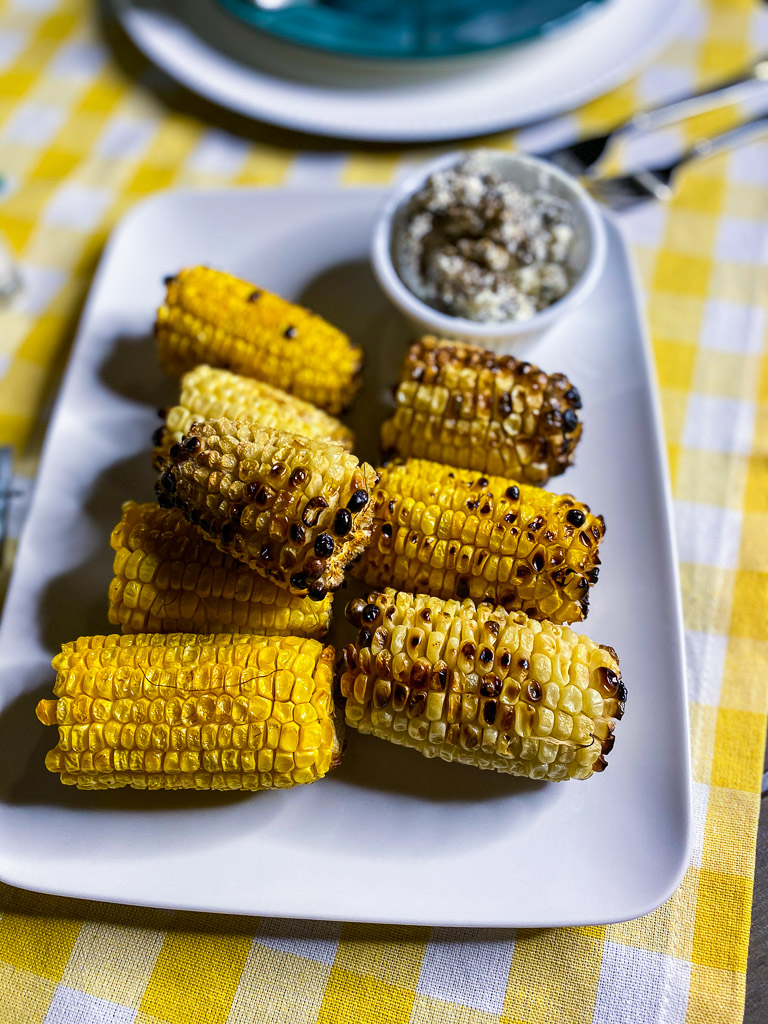 GOAT CHEESE AND THYME
Mix 2 tablespoons softened butter with 2 ounces goat cheese crumbles and add 1 tablespoon fresh thyme. Season with freshly ground black pepper and kosher salt. Spread on hot, cooked corn. (Recipe courtesy: Seattle Times)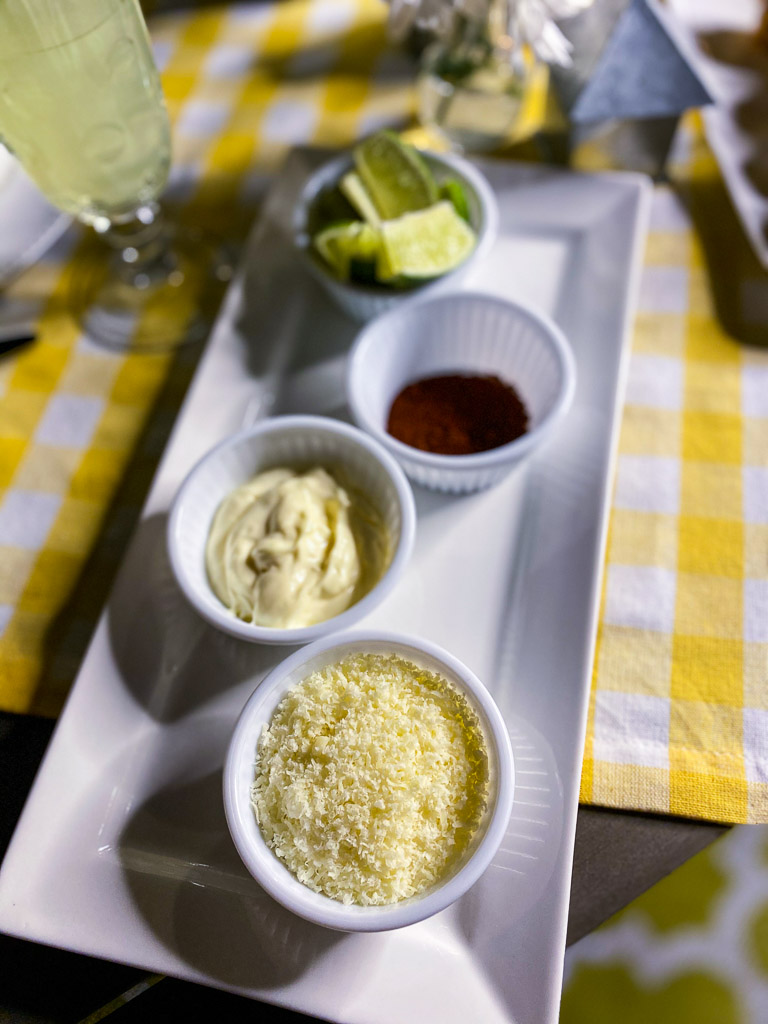 MEXICAN STREET CORN
Combine 1 teaspoon chile powder and ½ teaspoon cayenne powder in a small bowl. Spread mayonnaise on hot, grilled corn. Immediately sprinkle with crumbled cotija cheese and a pinch of chile powder mixture. To finish, squeeze lime juice over corn. (Recipe courtesy: Bon Appetit)