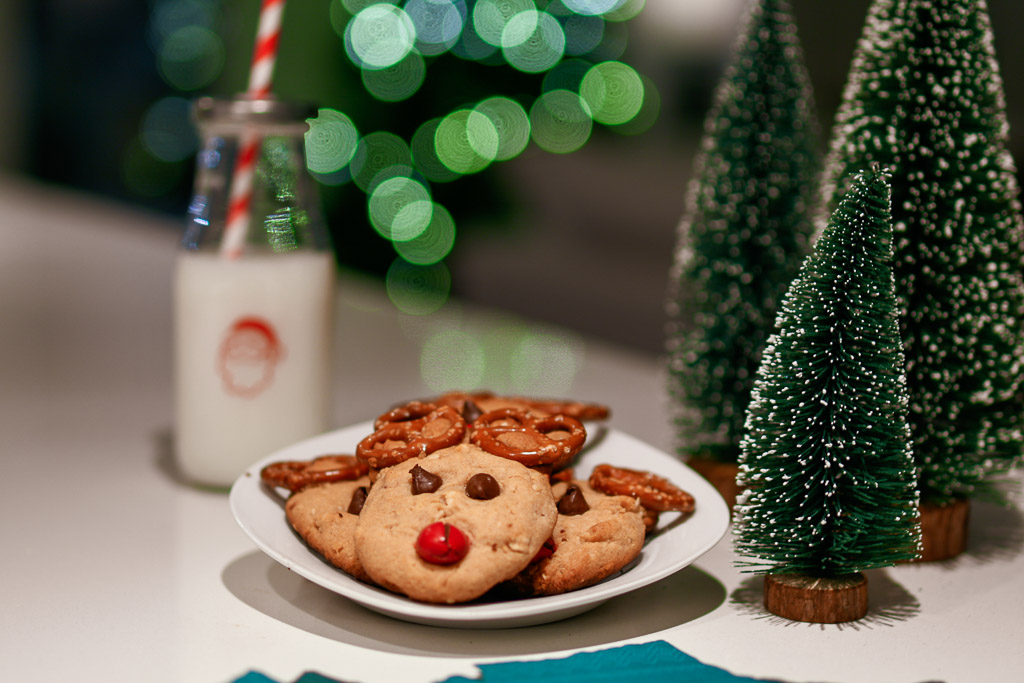 To celebrate National Cookie Day on December 4, we're sharing the cutest Christmas cookie recipe. We have been making these for decades. In fact, they've become one of our favorite (and dare we say most adorable) holiday cookie traditions. Whether you're young or old, you simply can't help but smile as you bake a batch of these treats!
There is nothing better at this time of the year than to clear your afternoon schedule, settle into the kitchen and bake up a batch (or two, or three) of cookies. The warmth of the oven, the scent of the baking cookies filling the house, and starting the afternoon by rifling through grandma's recipe box to find a favorite family recipe. The entire production evokes treasured family memories of the past, all while creating new ones. It truly is the definition of the holiday season. And National Cookie Day, December 4, seemed like an ideal time to make this magic happen!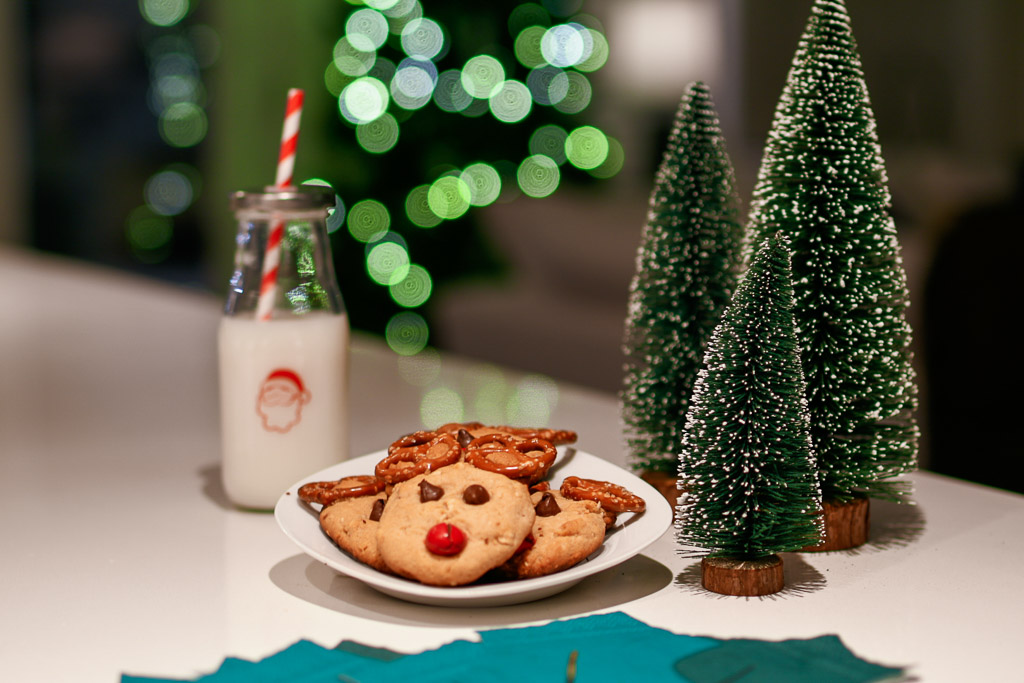 Besides their adorable appearance, these cookies also taste great. The addition of the pretzels as antlers gives them a wonderful touch of the classic sweet and savory combination. Even Santa's reindeers, especially Rudolph, realize you can't get by on just looks alone. Wink. Wink.
RUDOLPH'S PEANUT BUTTER COOKIES RECIPE
½ cup margarine
½ cup peanut butter
1 ¼ cup flour
½ cup sugar
½ tsp. baking soda
½ tsp. vanilla
¼ cup honey
1 egg
½ tsp. baking powder
¾ cup chopped peanuts
Approximately 64 small pretzels
Semi-sweet chocolate chips
Approximately 32 red and brown M&Ms (or red gumdrops)
First, beat the margarine and peanut butter for 30 seconds. Add half of the flour and all of the sugar, honey, egg, baking soda, baking powder, and vanilla, beating until thoroughly combined. Stir in the remaining flour. Then stir in peanuts.
Cover and chill one hour until easy to handle. Work with half the dough at a time. Keeping the rest refrigerated. Using 1 tablespoon of dough, shape into a triangle about 2 ½ inches long and 2 inches wide on an ungreased cookie sheet.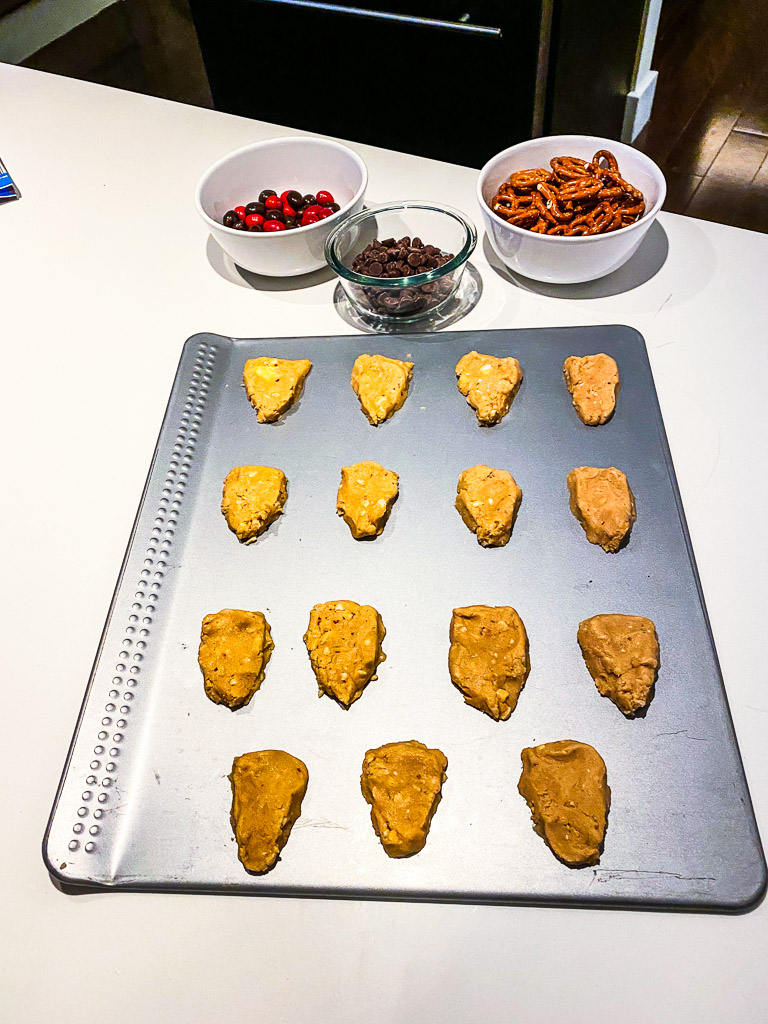 Lightly press pretzel antlers into side at wide end of triangles. Add M&M noses and chocolate pieces for eyes.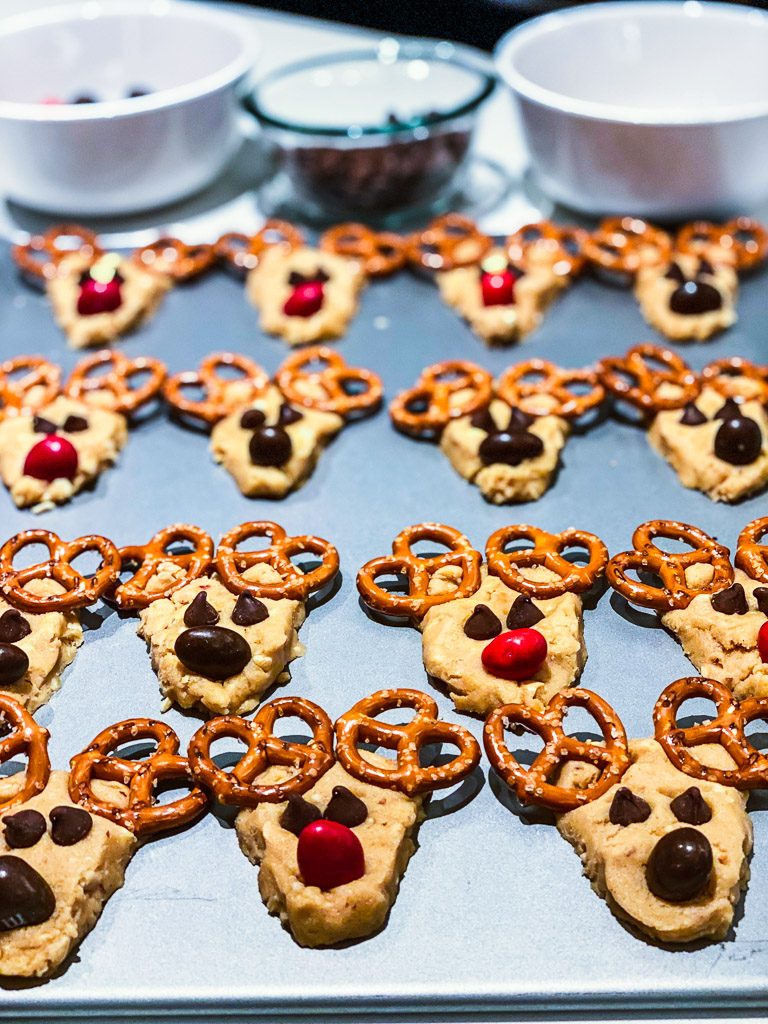 Bake in 375 degree oven for seven to eight minutes or until bottoms are lightly browned. Let cool two minutes on cookie sheet. Carefully remove to rack to cool. Makes approximately 32 cookies.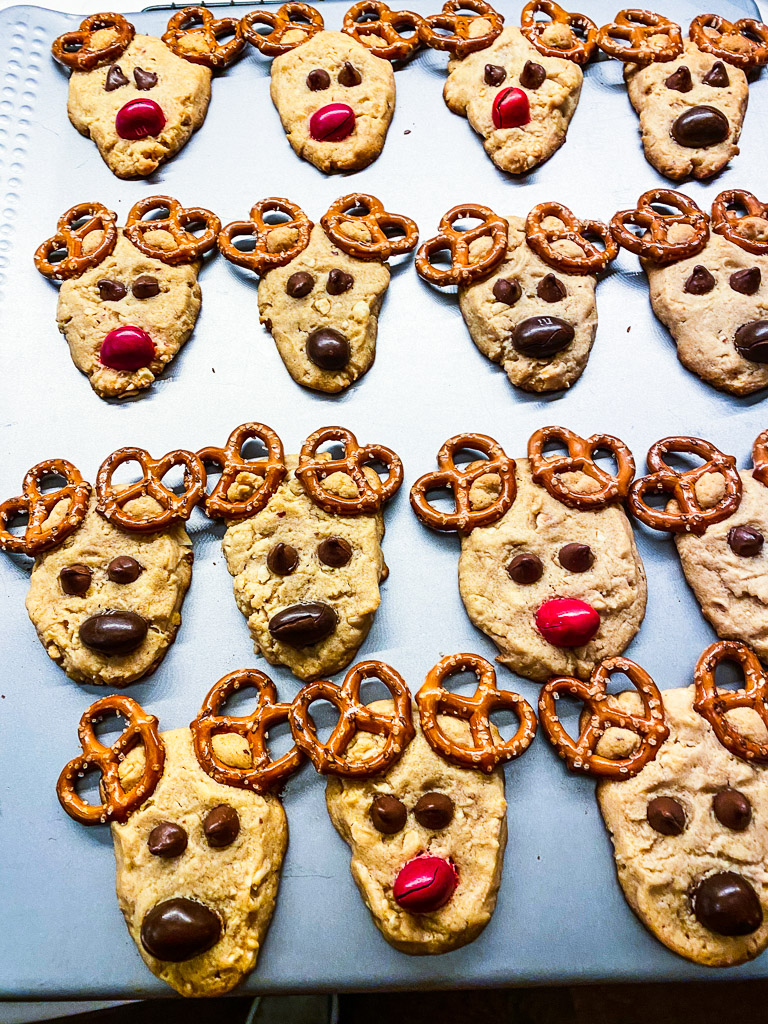 Speaking of cute, I can't get enough of these holly leaf Christmas napkins from Meri Meri, a paper goods and party brand based in the United Kingdom. Their products are just adorable and clever. You definitely want to check them out!