EASY GORGEOUS IDEAS FOR FALL TABLE DECORATIONS YOU WILL LOVE!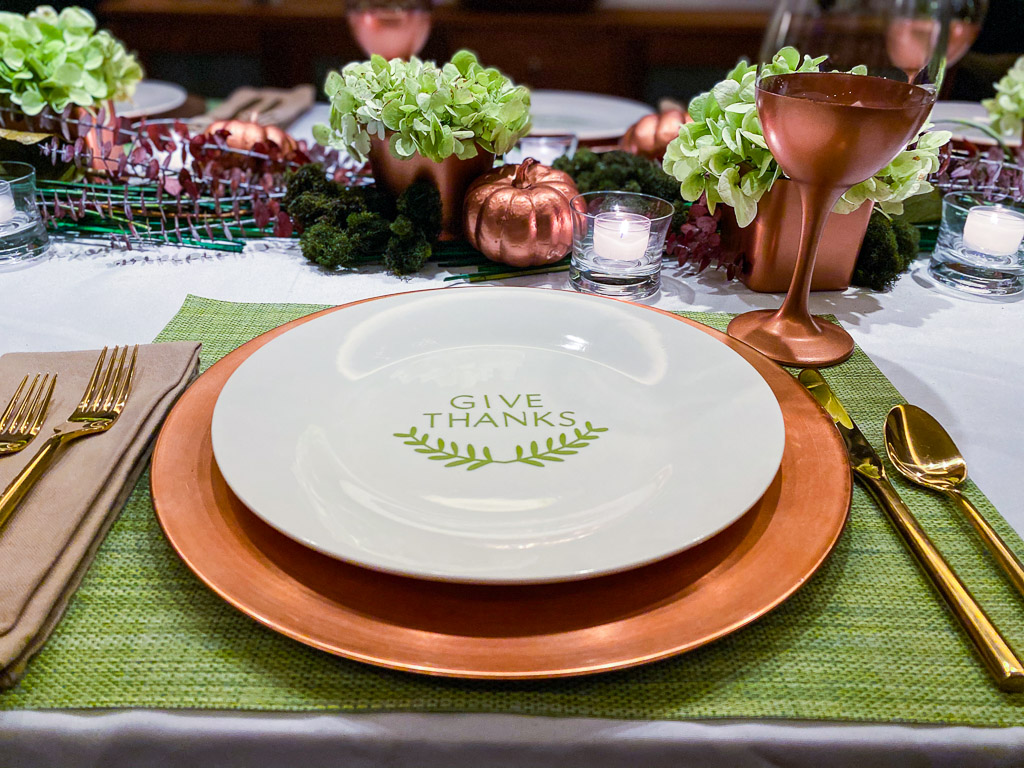 These ideas for fall table decorations that are stunning and feature the season's hottest fall trend, copper home accents, as well as a great DIY idea!
Move over gold and rose gold, copper is trending this year and it's trending hard. Copper is everywhere.
Everyone is majorly crushing on this metal this fall.
Measuring spoons, serving trays, canisters, barware … there are so many entertaining and tabletop items featuring atomic number 29.
How can you incorporate this popular trend into your fall tablescape … ?
HERE ARE SIX IDEAS FOR FALL TABLE DECORATIONS THAT WILL HELP YOU GET THIS BEAUTIFUL LOOK, FOR LESS!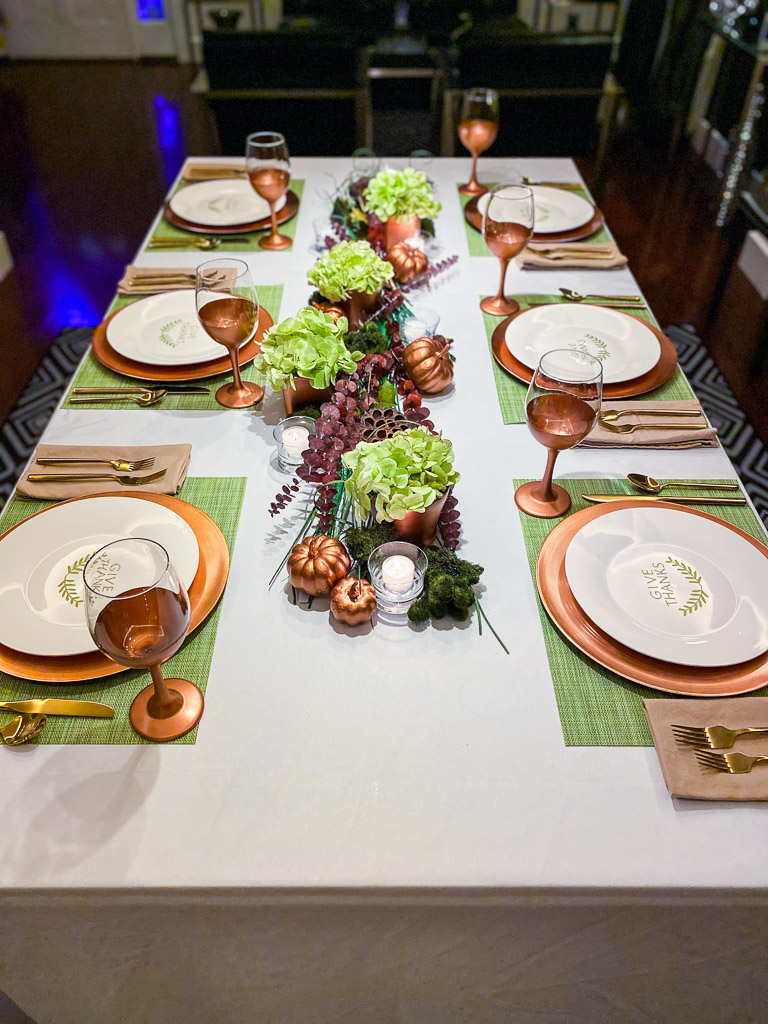 COPPER CHARGERS ARE GREAT ON A FALL TABLESCAPE
A simple copper charger is a quick, easy and cost-effective way to bring this look to your fall table.
We love these copper chargers (and especially like their price point).
To add another design element on top of the chargers, I got a little creative with my Cricut maker.
Using some basic white plates I found at Dollar Tree, I personalized each plate with a "Give Thanks" design in removable green vinyl.
These plates are for decoration only.
And that's okay.
At $1 per plate, the investment was minimal.
And the removable nature of the vinyl will allow me to re-use them for additional upcoming celebrations.
Plus they really add a "wow" factor to the tablescape.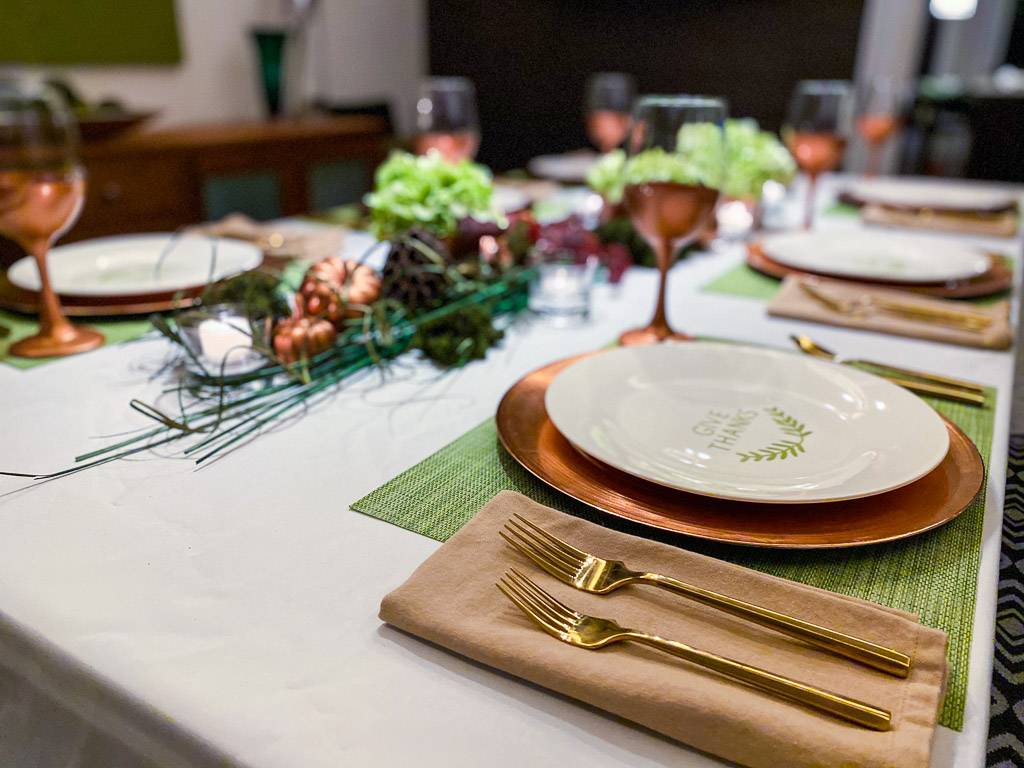 COPPER PUMPKINS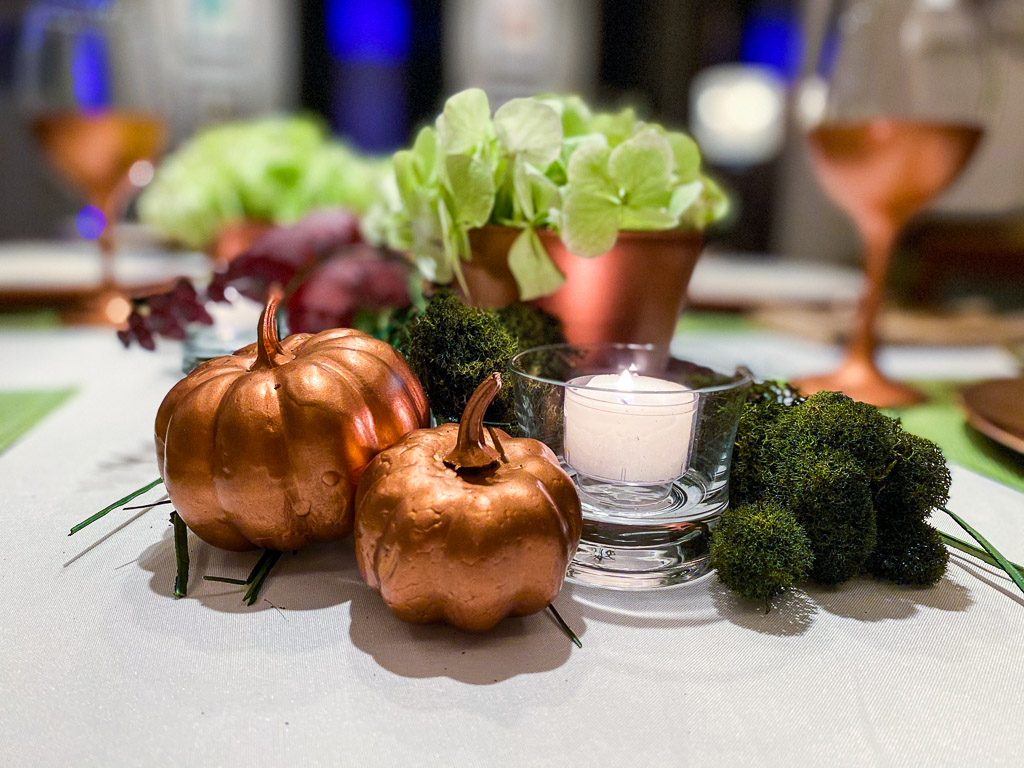 How cool are these?
Their coolness may only be outmatched by how easy they were to make.
With just a few sprays of Krylon Copper Spray Paint, we transformed some cheap plastic pumpkins into a truly beautiful design element.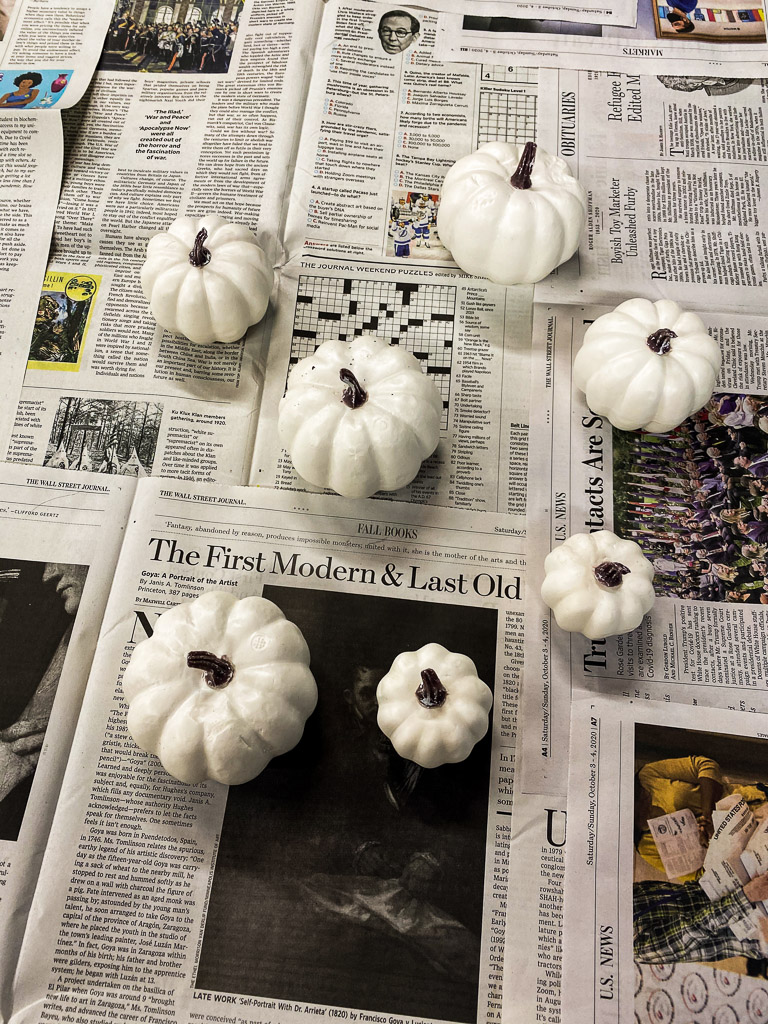 They were so easy to make and add so much impact to the table.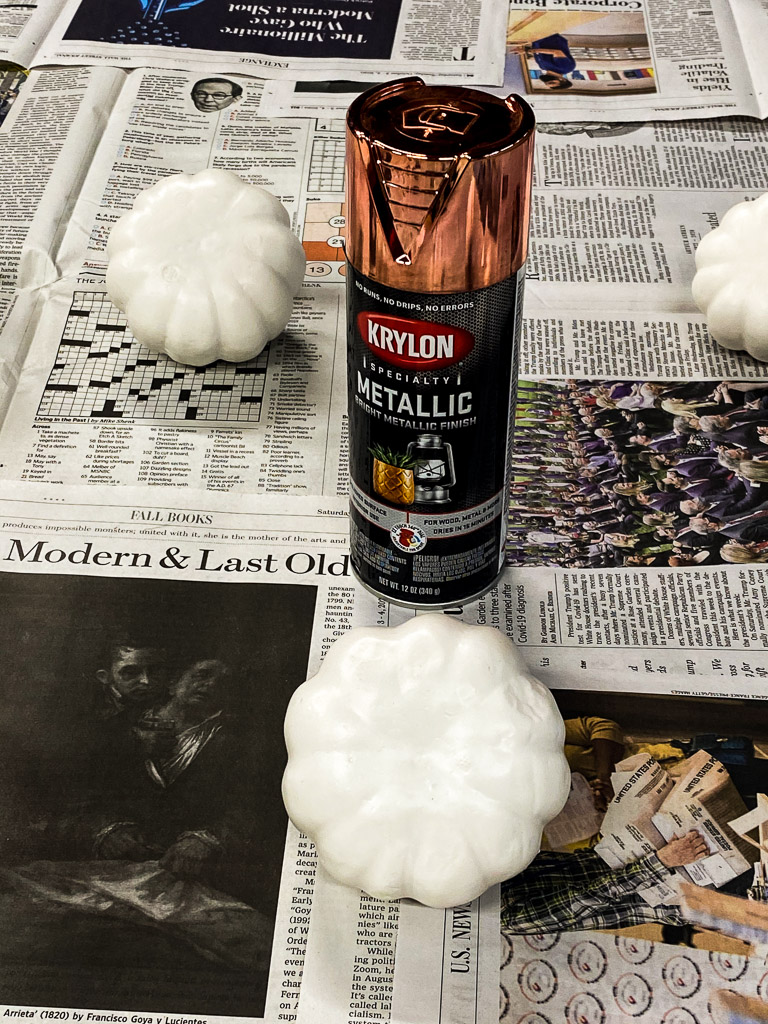 PRO TIP: Be sure to use plastic pumpkins and avoid the styrofoam ones. The former will turn out looking great, while the spray paint will melt the latter. Here are the pumpkins we used for this project, which worked really well.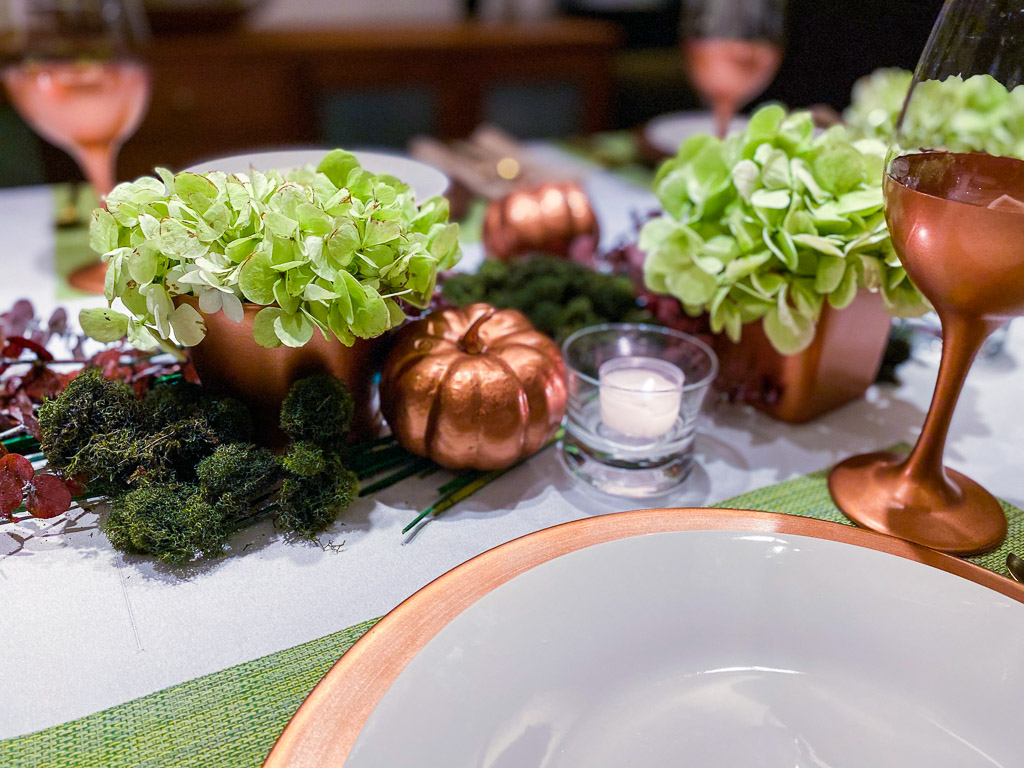 DIY COPPER WINE GLASSES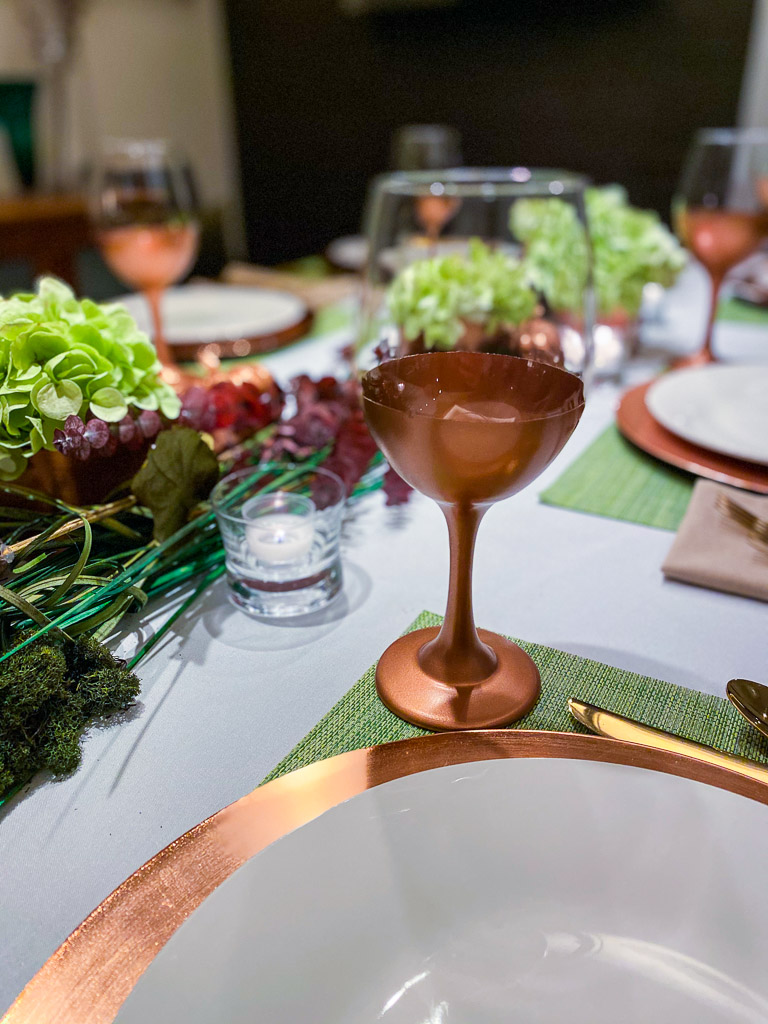 Thanks to the reality show, Love is Blind, copper wine glasses have become really popular.
The VonShef Copper Wine Glasses featured on the show were sold out on Amazon and other online retailers for months.
And they are still hard to find. With knockoffs starting at about $13 a stem, I went in search of an alternative.
Come to find out it was easy.
These painted, DIY, copper wine glasses, which I bought at Dollar Tree for a little more than $1 a stem, are simply a fantastic addition to this table.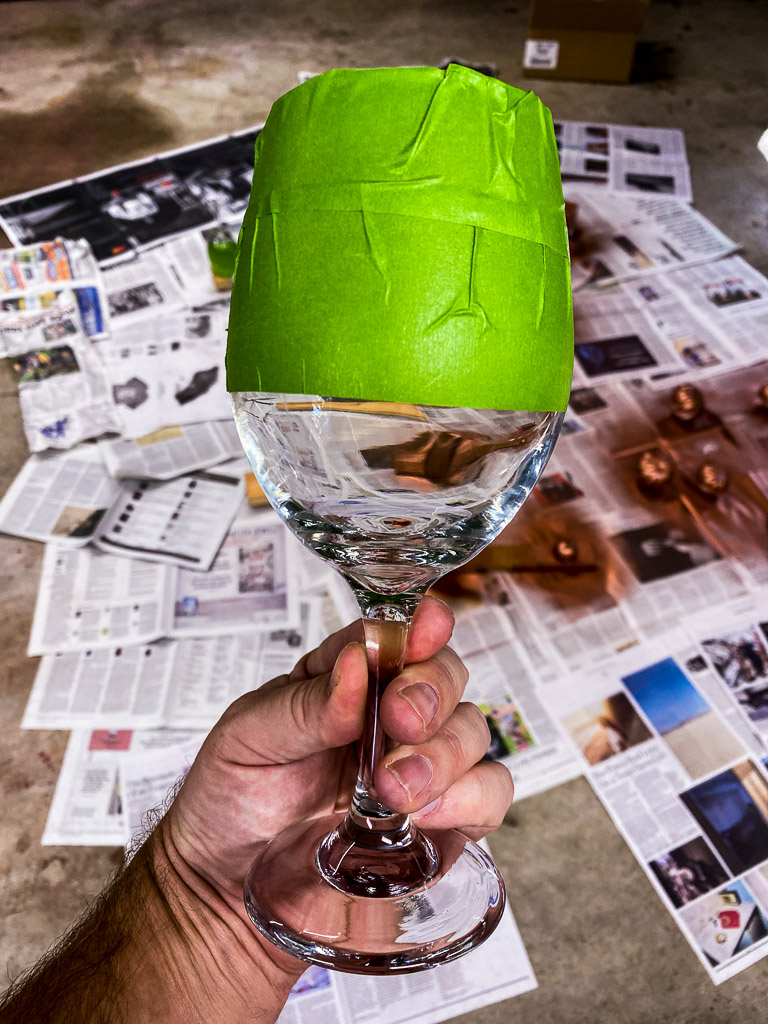 DIY COPPER VASES ARE ANOTHER GREAT FALL TABLESCAPE IDEA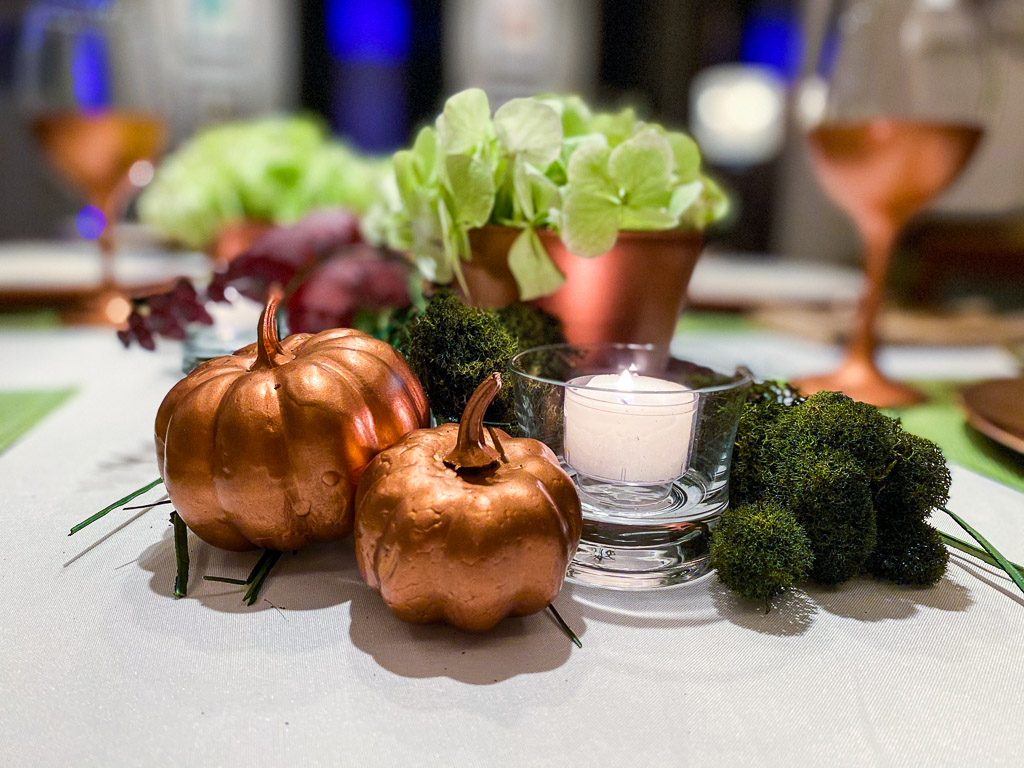 I love the pairing of green hydrangeas with these copper hues
The colors complement each other really well.
And as long as we were painting items, it was an easy decision to also paint round and square glasses vases with the same Krylon Copper Spray Paint.
It was an easy DIY that really tied everything together on this table.
At a little more than $1 per vase, it was a great investment that really paid dividends.
COPPER LOOKS GREAT WITH GREEN (AND EVEN GOLD) ON THIS FALL TABLE!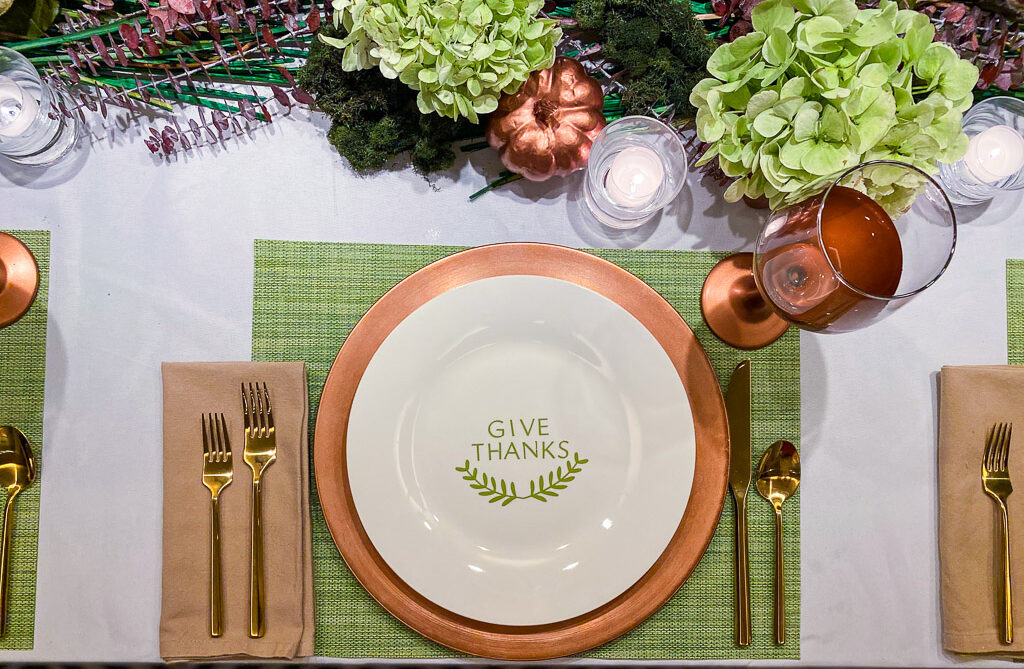 My favorite color to pair with copper is chartreuse green.
And perhaps that is a natural choice, since copper's shiny finish turns to green when it's exposed to the elements.
To incorporate this color, I used these woven placemats, as well as green hydrangeas.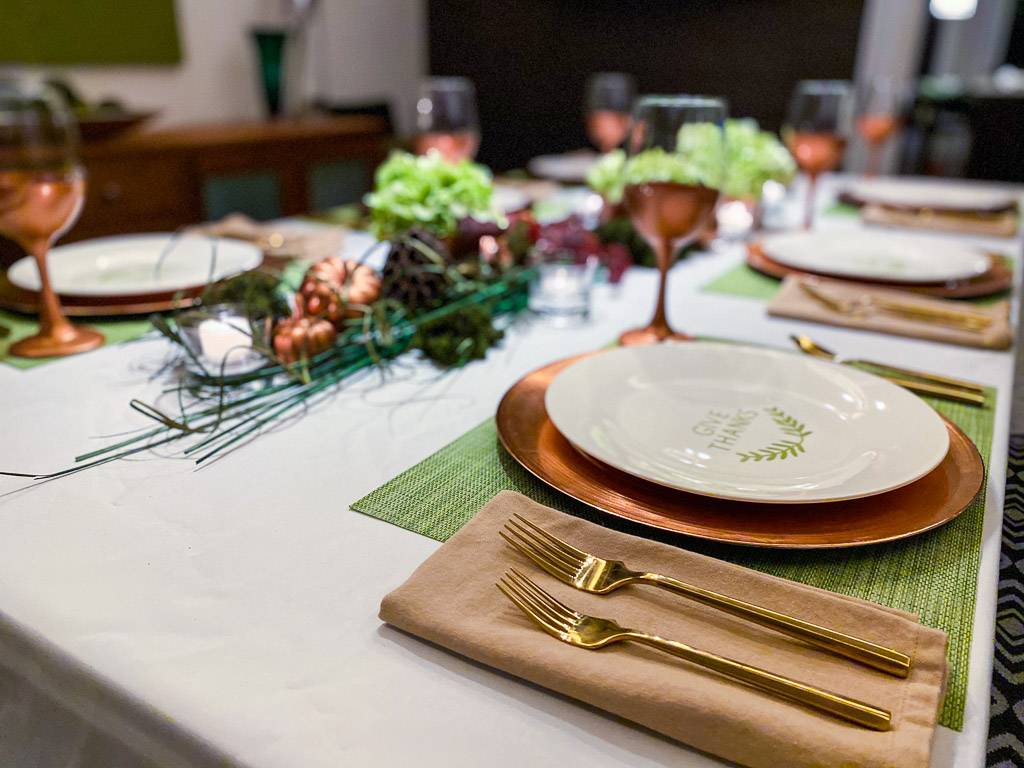 In addition, my favorite gold flatware (also trending this year) seemed the most stylish choice for this tablescape.
Don't be afraid to "mix metals" on a tabletop.
As you can see, these two work great together.
Finally, beige napkins were a the final touch at each place setting.
For this table, I liked placing the napkin underneath the flatware.
It made the gold tones stand out a bit.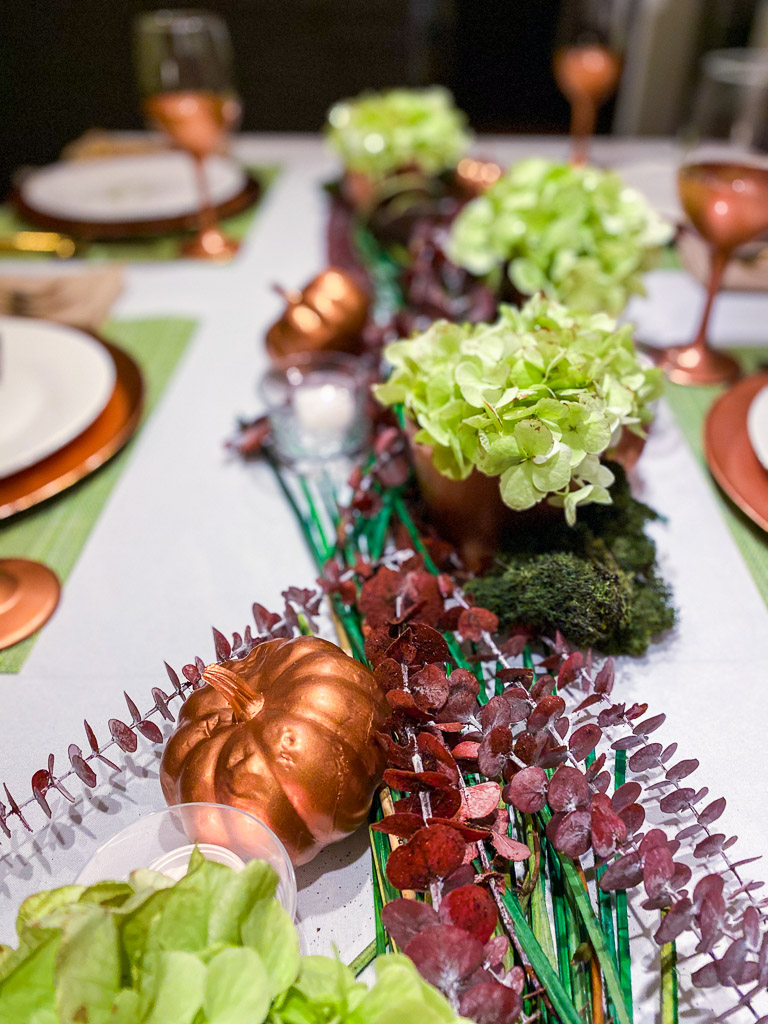 ON A FALL TABLESCAPE PAIRING COPPER WITH NATURAL ACCENTS IS A GREAT IDEA!
Copper is a natural element.
To complete the centerpiece on the table, I played off of that fact.
Natural sprigs of eucalyptus, dried grasses and moss helped to fill in the empty spaces between the pumpkins and the vases.
The addition of these elements was a great idea for this fall tablescape.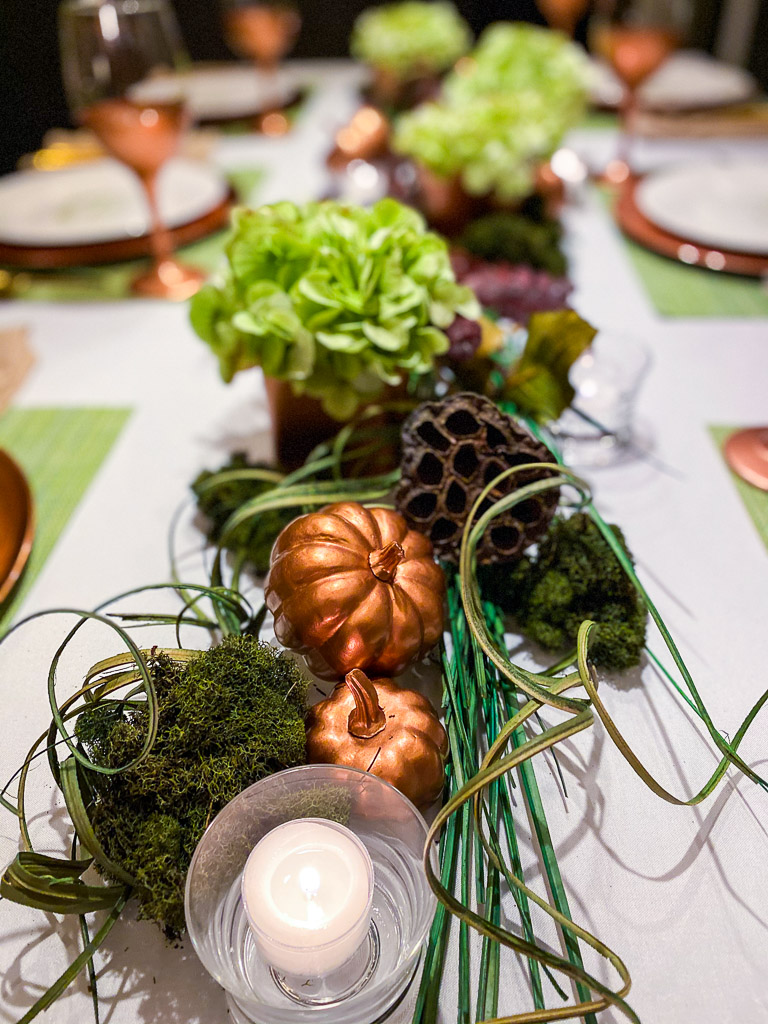 Love this look? We have even more fall table setting ideas you'll love …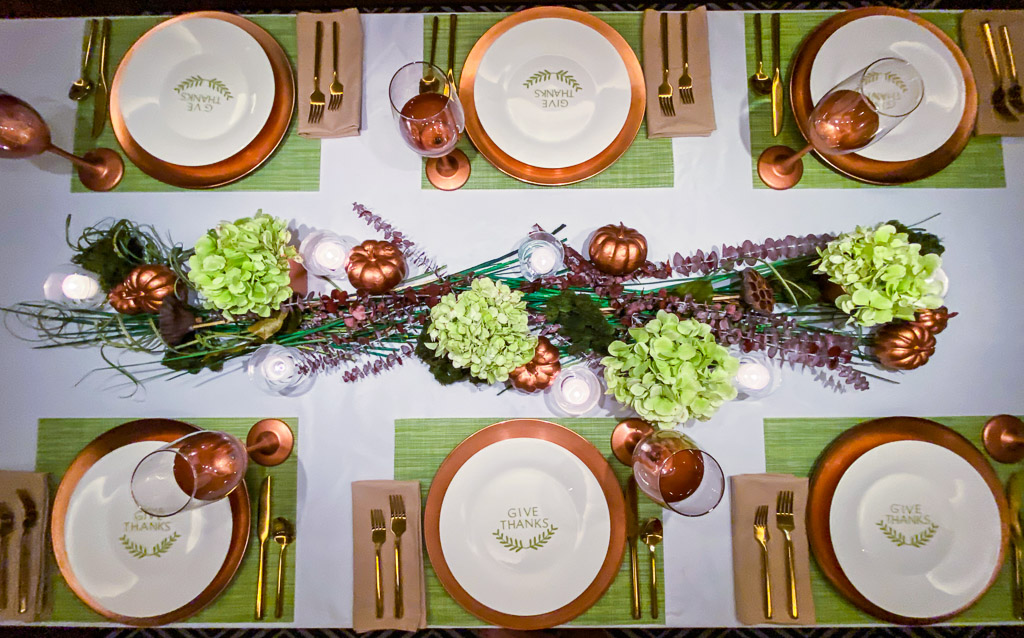 For more ideas for fall table decorations, explore these blogs:
Easy Fall Table Decor Ideas Using Chinoiserie that You'll Love
The Five Fall Tabletop Trends We've Spotted that You'll Love
The Best Fall Table Decor Ideas
Did you try this idea? Share it on Instagram with the hashtag #makeeverydayanevent and tag @makeeverydayanevent.
If you have any questions or suggestions, contact us or leave a comment!
Follow us on social media! You can find us on Instagram, Pinterest, and Facebook.