ONE OF THE BEST EASY CHRISTMAS DESSERT IDEAS … LET IT SNOW!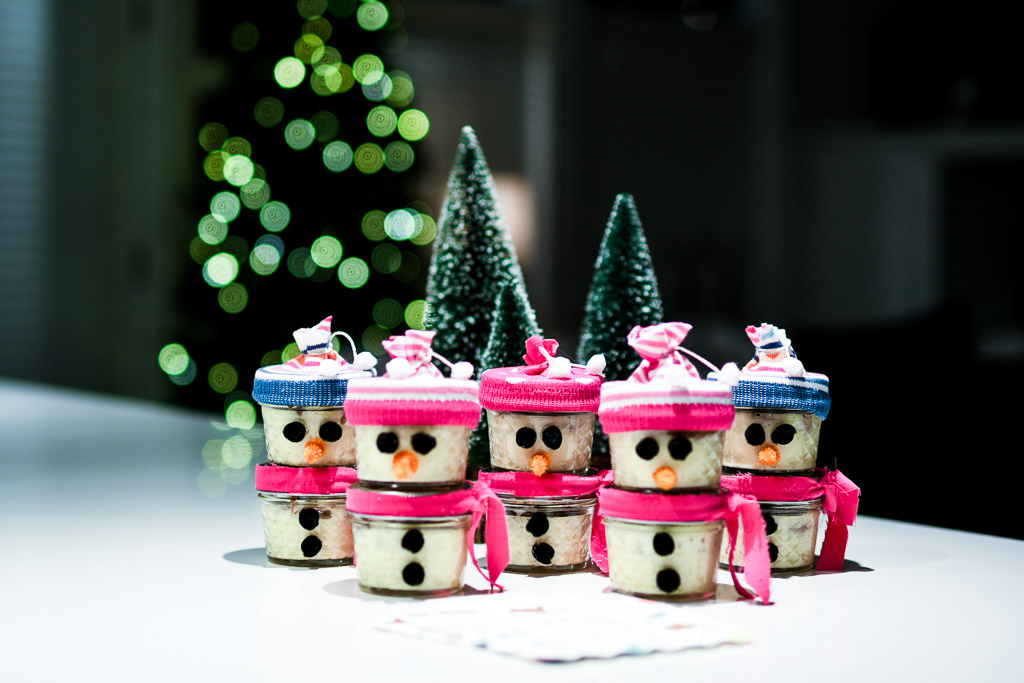 This is one of our best easy Christmas dessert ideas that is also just adorable. Step by step, we show you how to make it and add some cute and delicious joy to your holiday ! Merry Christmas!
I love this Christmas dessert idea!
And it's so easy to make … in fact, it's one of the best Christmas dessert recipes I've ever come across.
That's saying a lot, because there are a lot of Christmas dessert ideas out there.
This easy Christmas dessert idea will add a bit of pizzazz and lot of cleverness to your holiday table setting.
Let's be honest.
What could be more perfect than finishing a holiday meal with family and friends and being greeted by these adorable Christmas snowman desserts?
These snowmen brownie cheesecake desserts are also perfect for National Brownie Day.
Because we need something else to celebrate right now, right?.
Step by step, we take you through this easy Christmas dessert recipe, as well as show you how to assemble these cuties.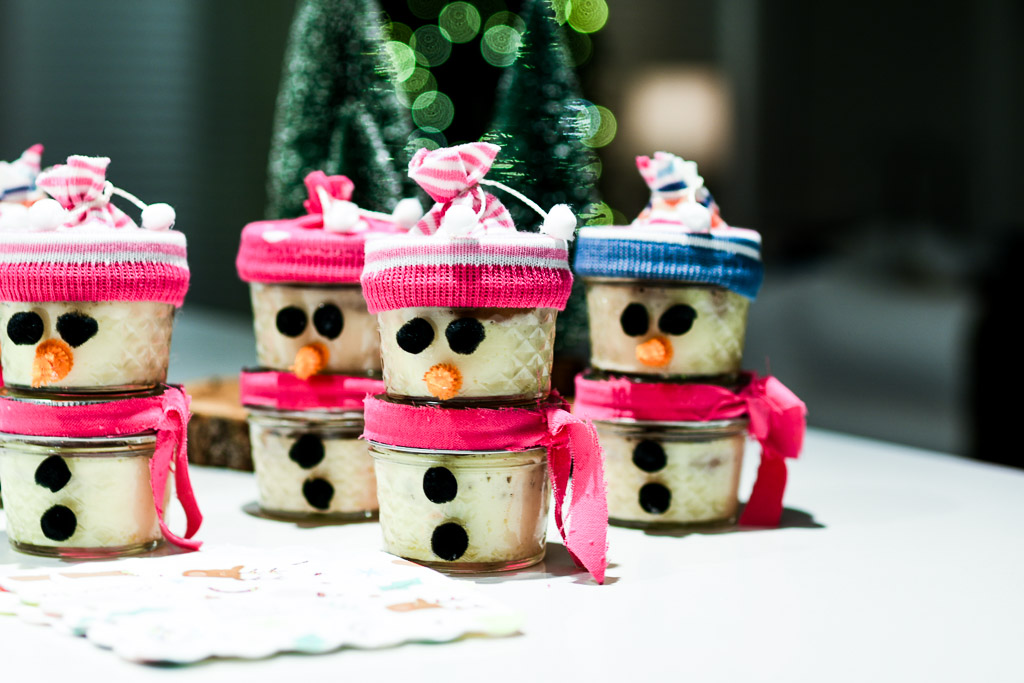 FIRST, MAKE THE INDIVIDUAL BROWNIE CHEESECAKES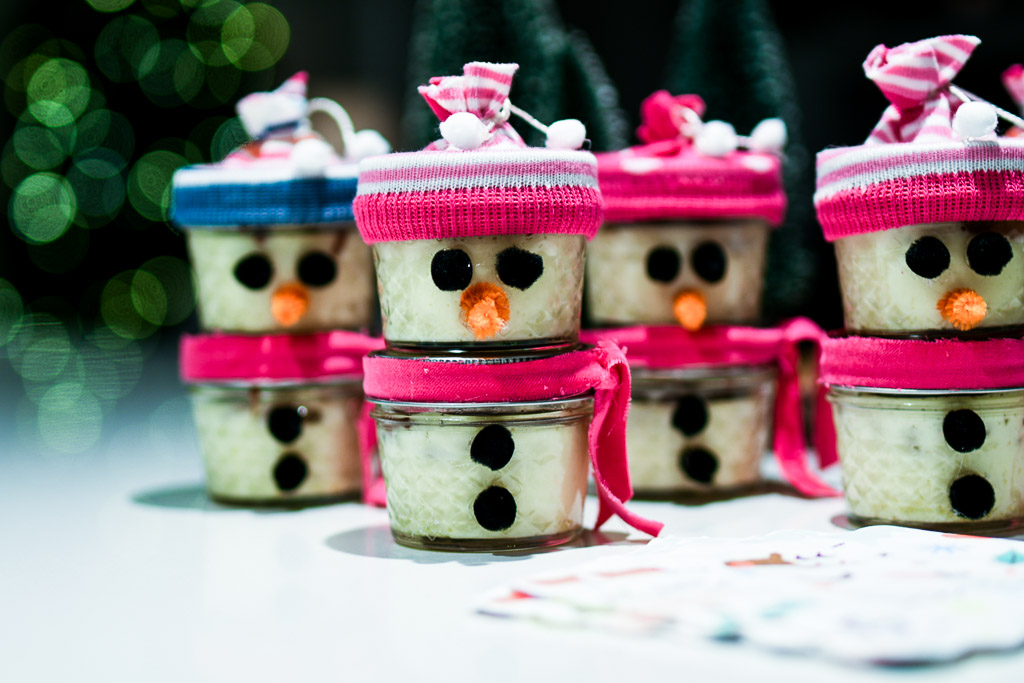 Two 8 ounces packages cream cheese
Two eggs
Nonstick cooking spray
10 Vanilla Wafers
Two ounces semisweet chocolate chips
¾ cup sugar
2 tablespoons all-purpose flour
1 teaspoon vanilla 
¼ cup milk
10 four-ounce mason jars
Allow cream cheese and eggs to stand at room temperature for 30 minutes.
Next, coat ten 4-ounce mason jars with cooking spray.
Place a vanilla wafer in the bottom of each jar.
Preheat oven to 350°F.
In a small saucepan, cook and stir chocolate over low heat until melted; cool slightly.
Lightly beat eggs with a fork in a small bowl; set aside.
In a large mixing bowl beat cream cheese with an electric mixer on medium to high speed for 30 seconds.
Add sugar, flour, and vanilla.
Beat until combined, scraping sides of bowl occasionally.
Next stir in eggs and milk until combined.
Transfer 1 1/2 cups of the batter to a medium bowl; stir in melted chocolate.
Spoon plain batter evenly into the prepared jars, filling each about half full.
Spoon chocolate batter over top of plain batter, filling each jar nearly full.
Place jars in a 13x9x2-inch baking pan or 3-quart rectangular baking dish.
Place pan on oven rack.
Pour enough boiling water into the baking pan to reach halfway up the sides of the jars.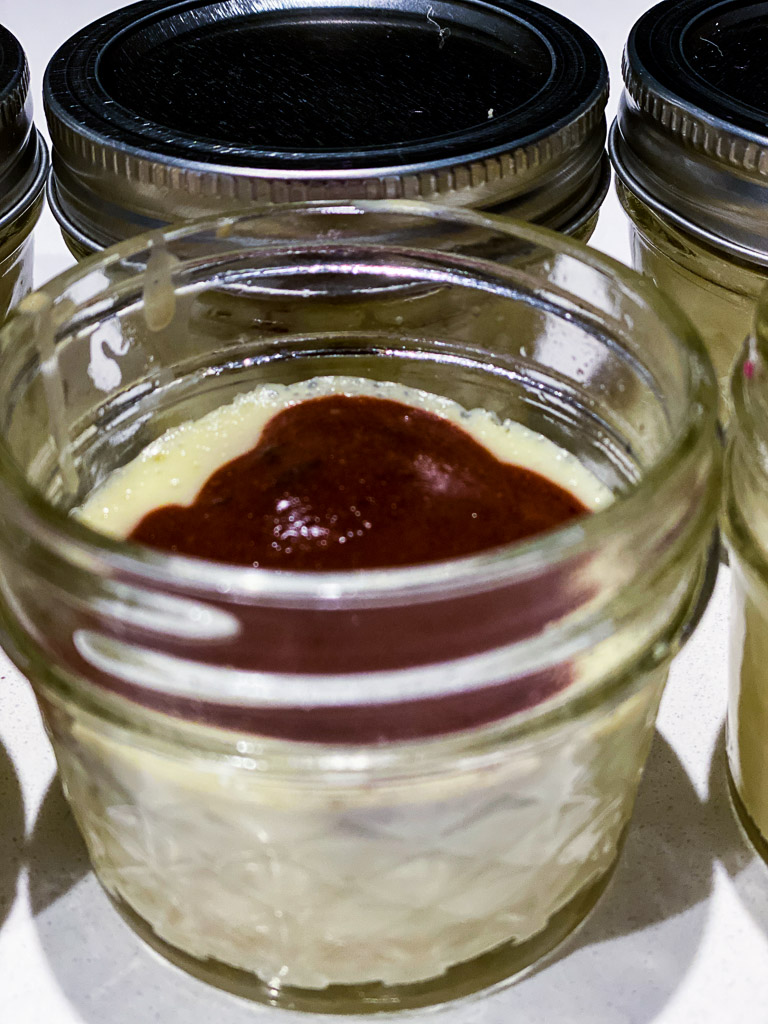 Bake for 15 to 20 minutes or until puffed and set when gently shaken (cheesecakes will fall slightly as they cool).
Carefully remove jars from water; cool on a wire rack.
Cover and chill for at least 4 hours before serving.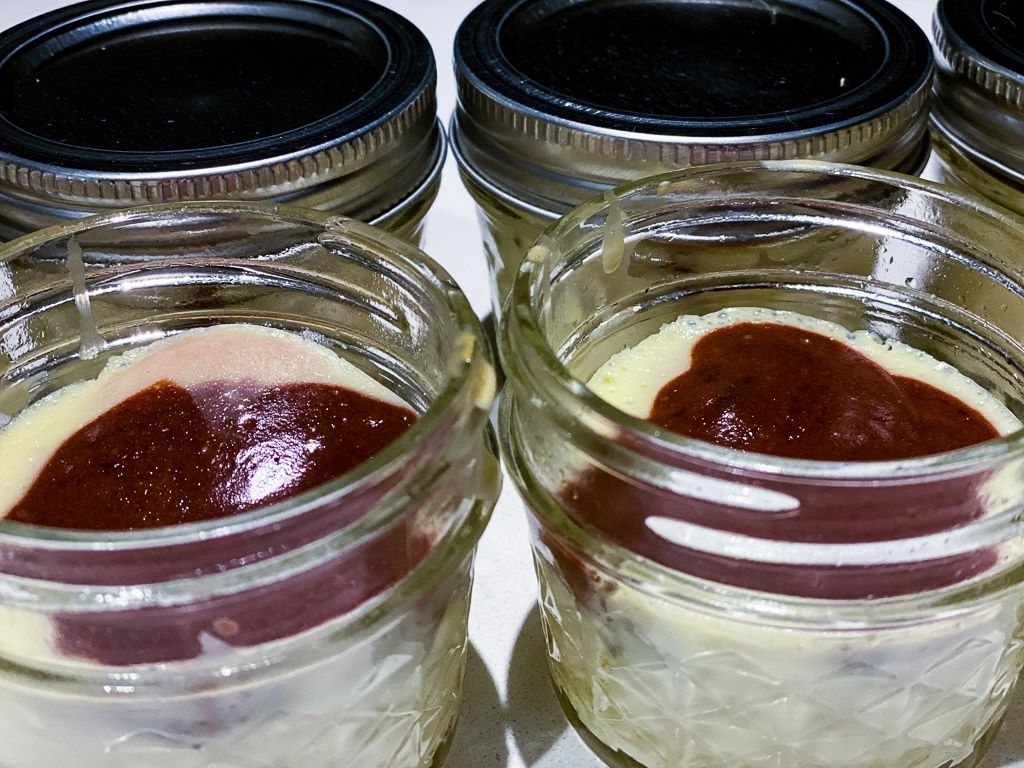 NEXT ASSEMBLE THE SNOWMEN: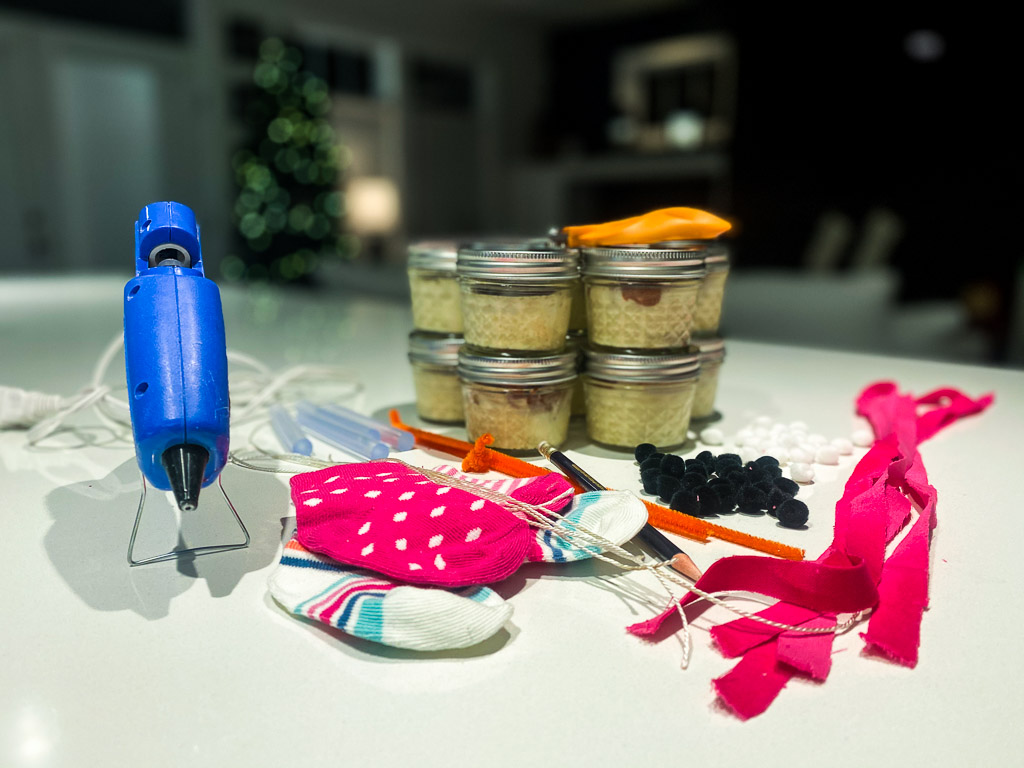 WHAT YOU'LL NEED …
Five cute patterned baby socks
10 mm black pom poms
10 mm white pom poms
White string, cut into six inch pieces
Orange pipe cleaners
Cloth for scarves, cut into 16 inch strips
Glue gun
Hot Glue sticks
Sharp scissors
Start by placing a baby sock around the lid of a mason jar.
Tie it with one of the strips of string.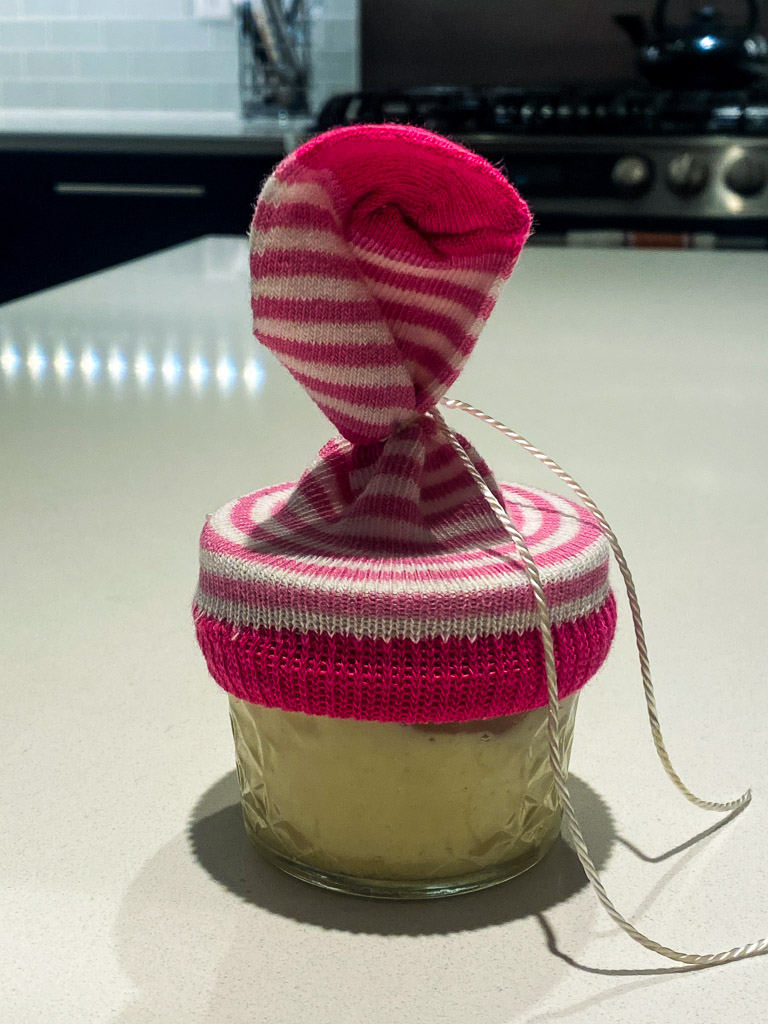 Next, cut the baby sock to create the top of the hat.
The snowman's hat is almost complete … !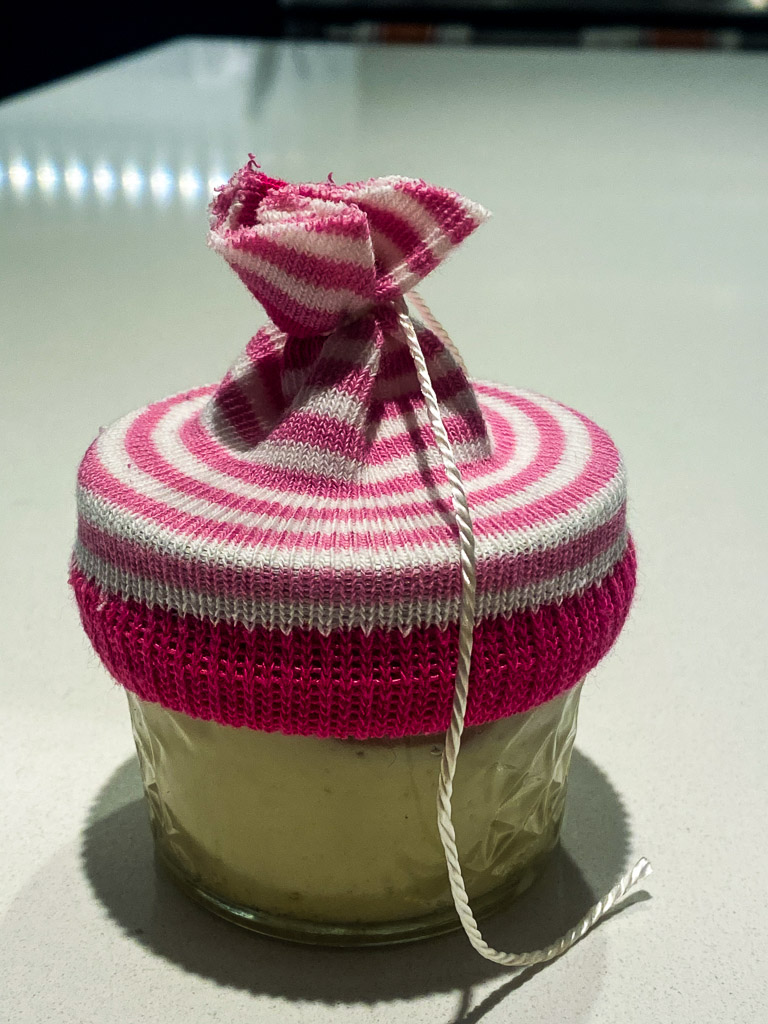 Trim the white string to the appropriate length for the hat.
Next, hot glue a white (or coordinating) pom pom to each of the string ends.
The hat is now finished!
YOU'RE ALMOST DONE … !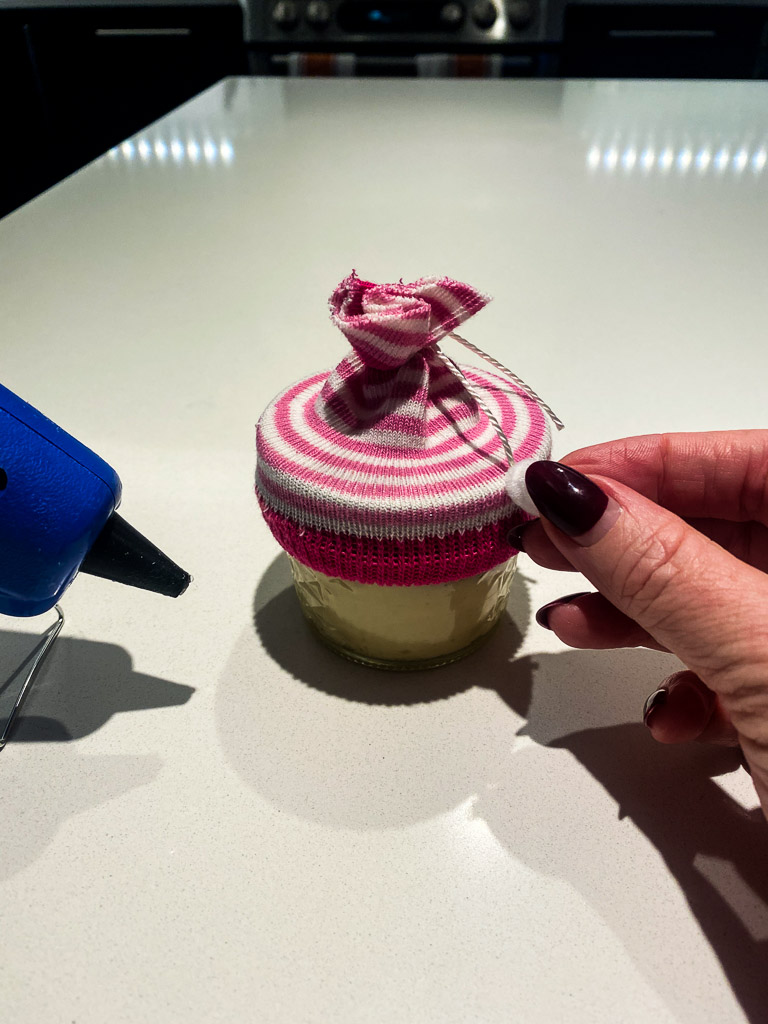 Next are the noses.
Wrap an orange pipe cleaner around the bottom of sharpened pencil.
I wrapped it around the pencil approximately three times.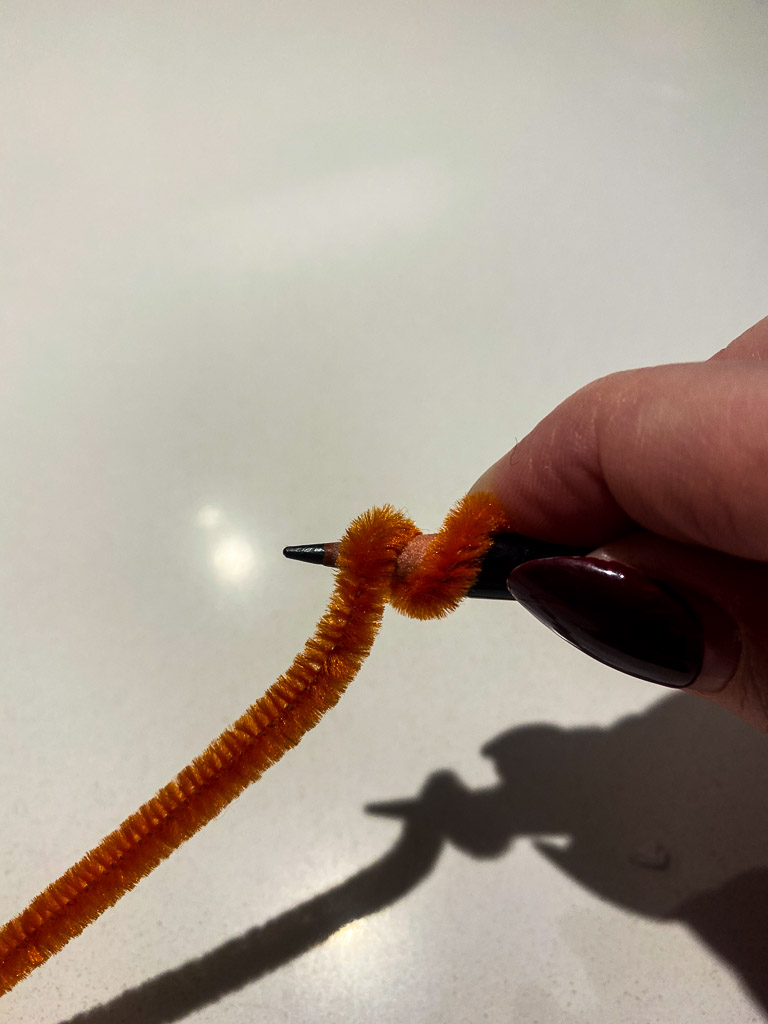 Clip the pipe cleaner with a sharp pair of scissors to finish the nose.
Since you're making five snowmen, you'll need five noses.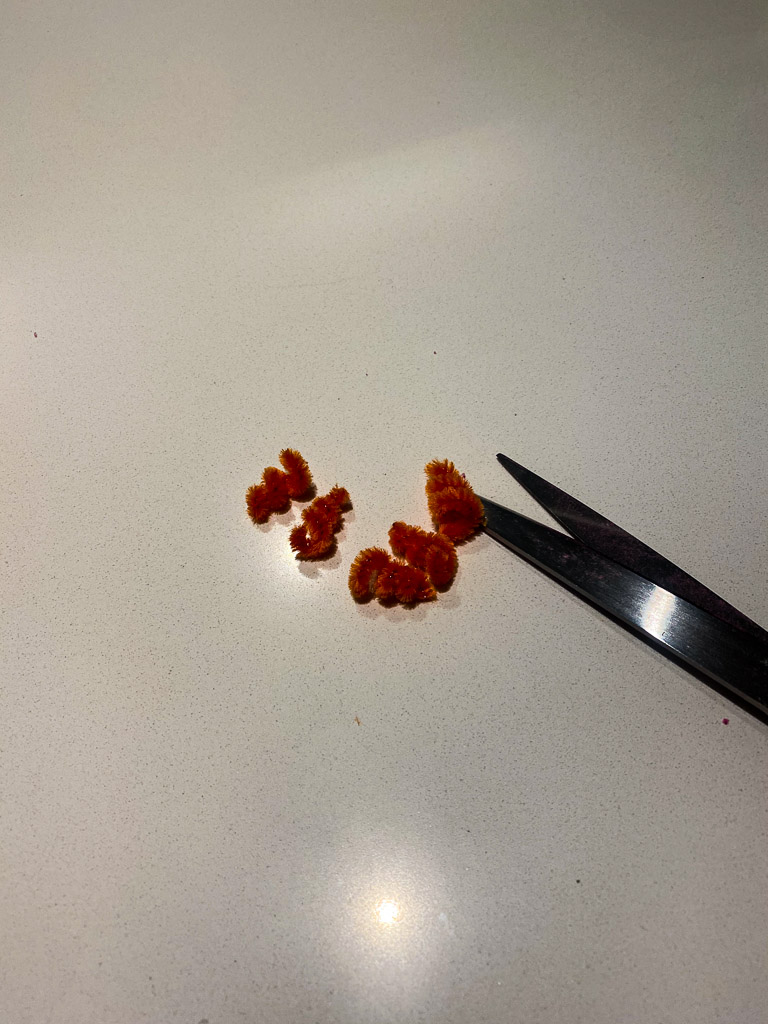 To create the scarf, wrap the fabric pieces around the lid of the mason jar.
Secure with hot glue.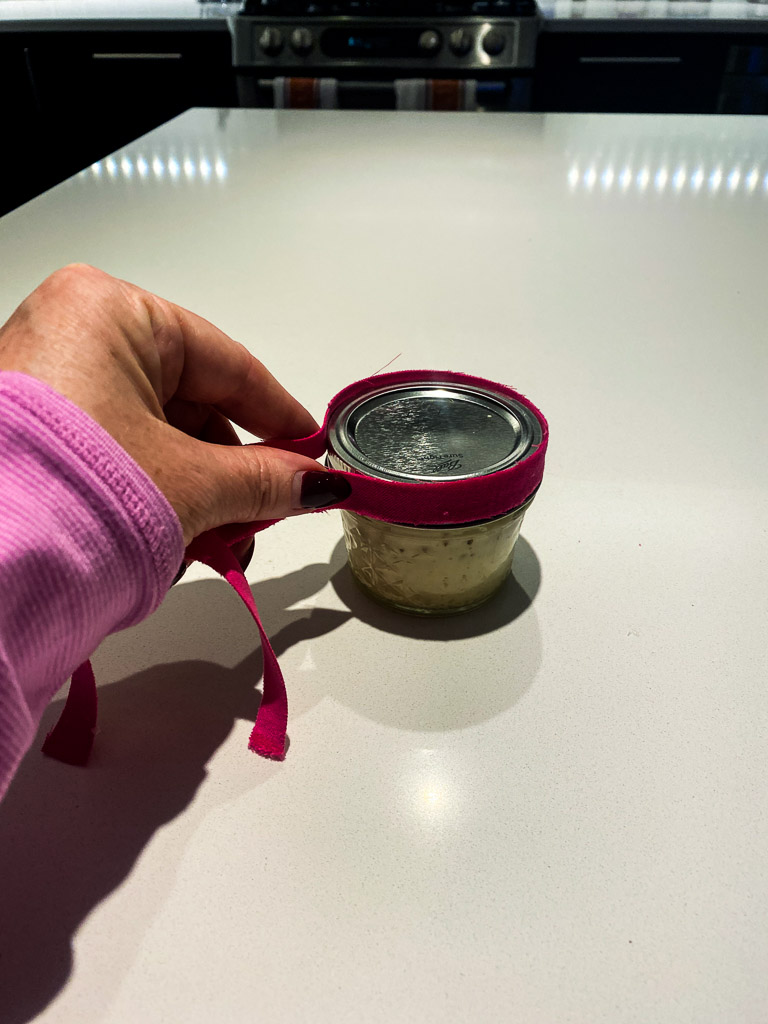 One final step!
Glue two black pom poms underneath the hat to create the snowman's eyes.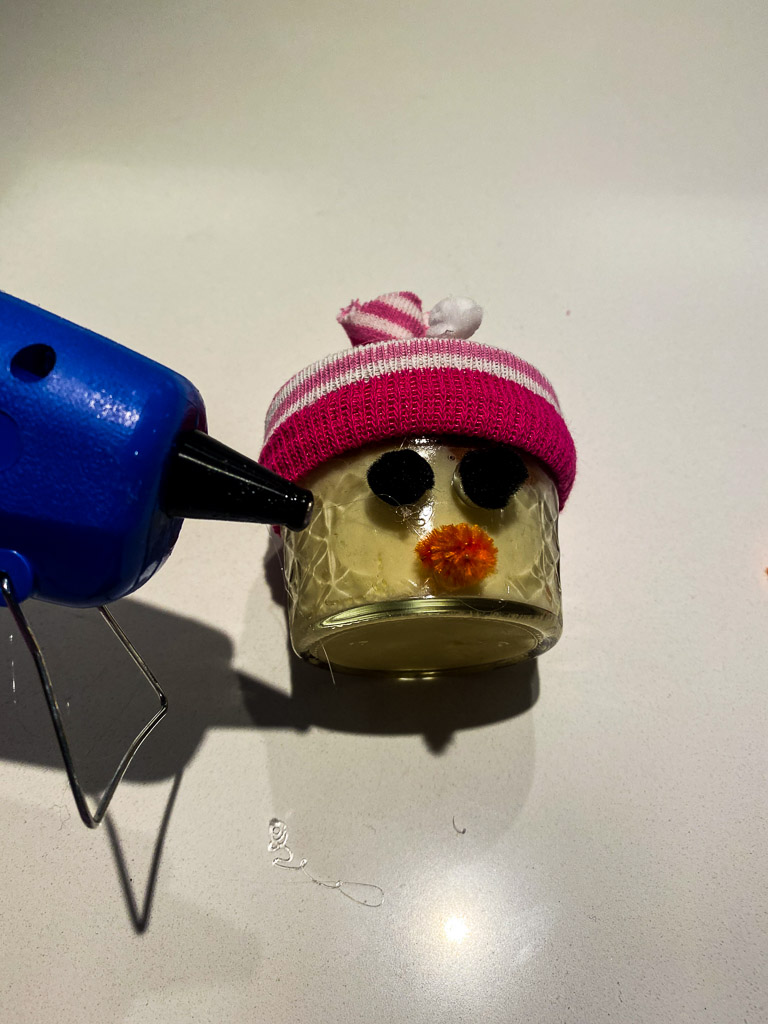 Attached the pipe cleaner nose with hot glue as well.
Your snowmen are now ready to be stacked!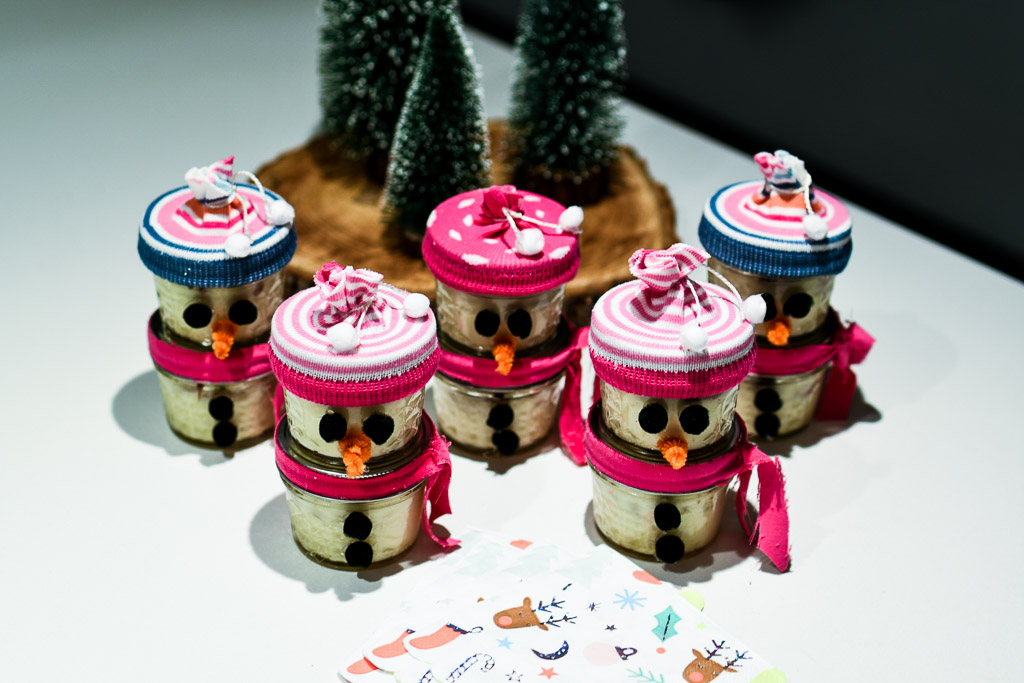 If you're not serving these easy Christmas dessert idea right away, you'll want to refrigerate the Christmas snowman desserts until you're ready to serve them.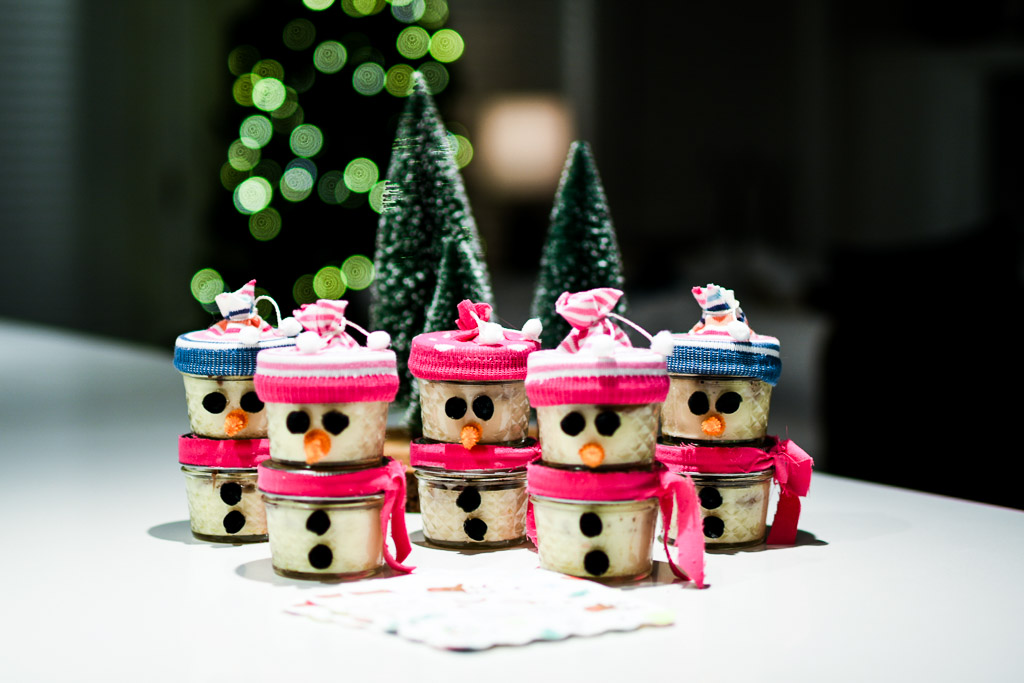 Looking for other great DIY Christmas ideas? You'll find lots of great inspiration in these posts:
The Best Bar Set Up Ideas for Your Holiday Gathering
This Cocktail is a Great Idea for Your Ugly Christmas Sweater Party
Hot Chocolate Station Ideas that You Will Love!
Cue the Coziness! These Yarn Christmas Trees Add Warmth
My Favorite Christmas Cookie — So Cute! So Tasty!
Did you make this dessert?
Share it on Instagram with the hashtag #makeeverydayanevent and tag @makeeverydayanevent.
If you have any questions or suggestions, contact us or leave a comment!
Follow us on social media! You can find us on Instagram, Pinterest, and Facebook.