FOUR SIMPLE EASTER TABLE IDEAS TO HELP YOU CREATE THE PERFECT SETTING!
Pulling together the perfect Easter table setting is a breeze with these four simple Easter table ideas.
We show you step-by-step how you can create a beautiful Easter table setting by combining pieces you already own with a few new touches!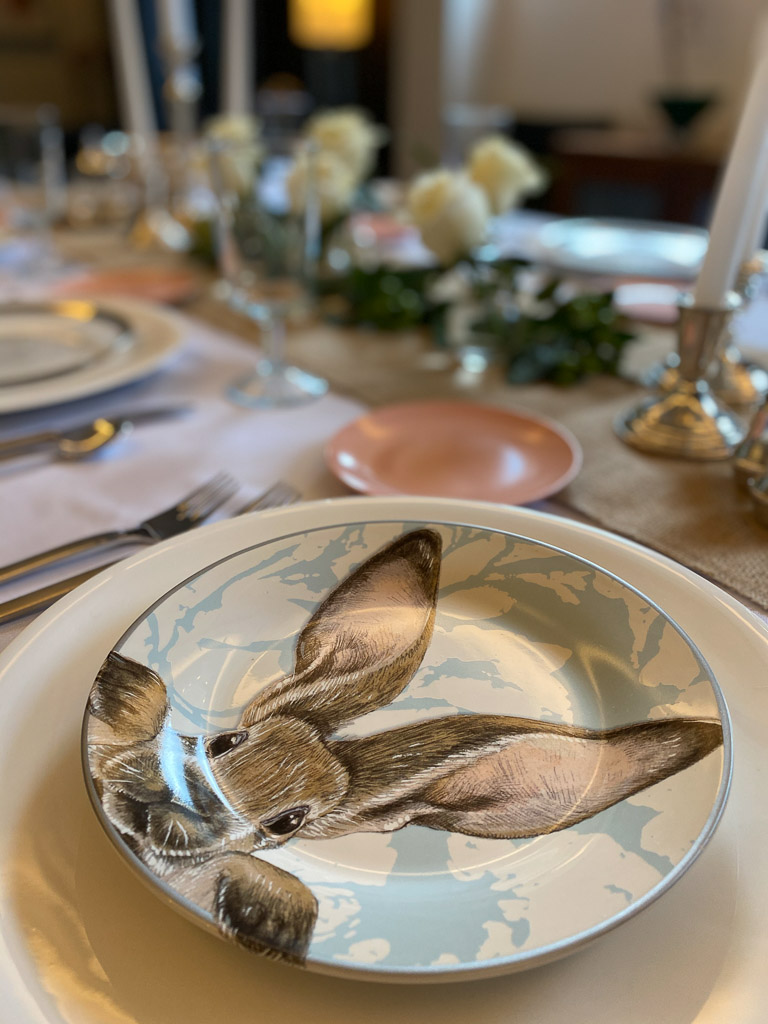 You have to admit … there really is no better holiday than Easter.
The pressure is off!
No gifts to buy (the bunny brings the baskets, right), no reason to worry about the weather, travel is minimal and spring is in the air!
Plus, everyone loves brunch … right?
I love setting the table for the Easter holiday.
I'll show you how I pulled together the perfect Easter table setting with four simple ideas.
They incorporate pieces that have been around for generations, as well as a few NEW finds!
Posts on Make Every Day an Event may contain affiliate links which means we may earn a small commission on purchases at no extra cost to you. To learn more, please read our full disclosure here.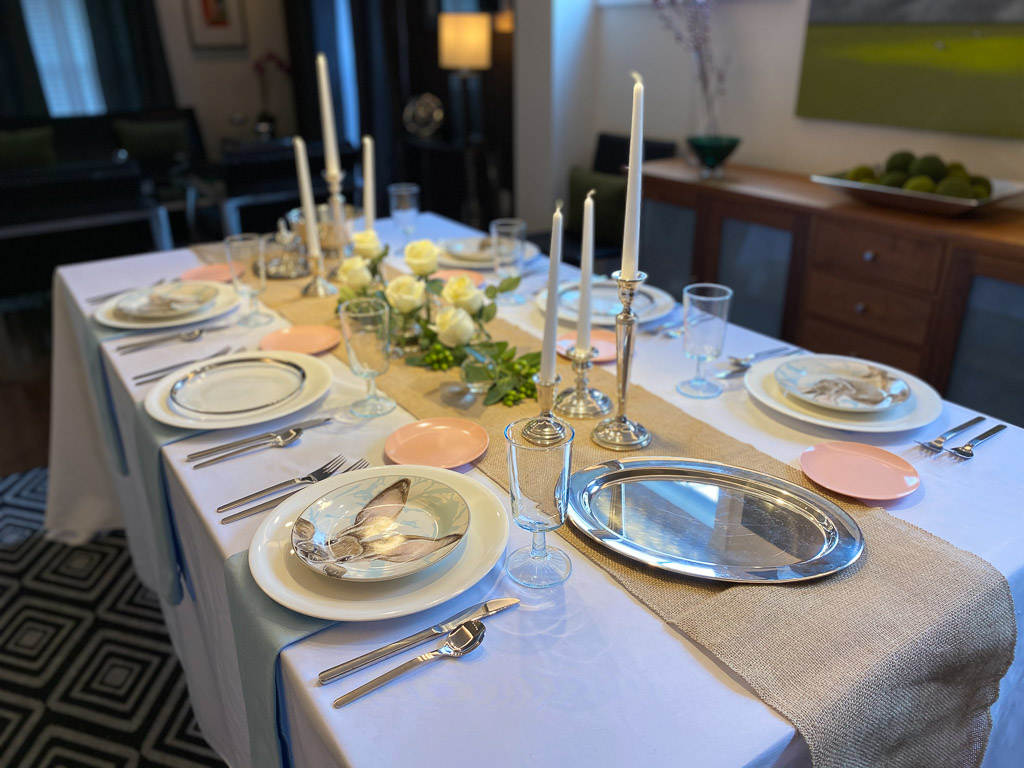 1. EASTER TABLE IDEA NUMBER ONE: ADD FAMILY HEIRLOOMS TO THE TABLE
To me, Easter brunch is the perfect combination of formal and casual entertaining.
So when I set out to pull this tablescape together, I wanted it to reflect that sentiment.
For every family holiday, I love to add pieces that we've inherited over the years.
The memories they evoke just warm my heart.
Because they remind me of loved ones who may no longer be with us …
And, isn't that what a family celebration should be all about!
That's why it's one of my favorite Easter table ideas.
These silver candlesticks and serving accessories, which have been passed down from generation to generation in my family, make this table not only beautiful, but also sentimental.
I can still picture them in my mom's china closet.
And yes, they did need a good polish when I pulled them out from my sideboard.
But the effort was well worth it.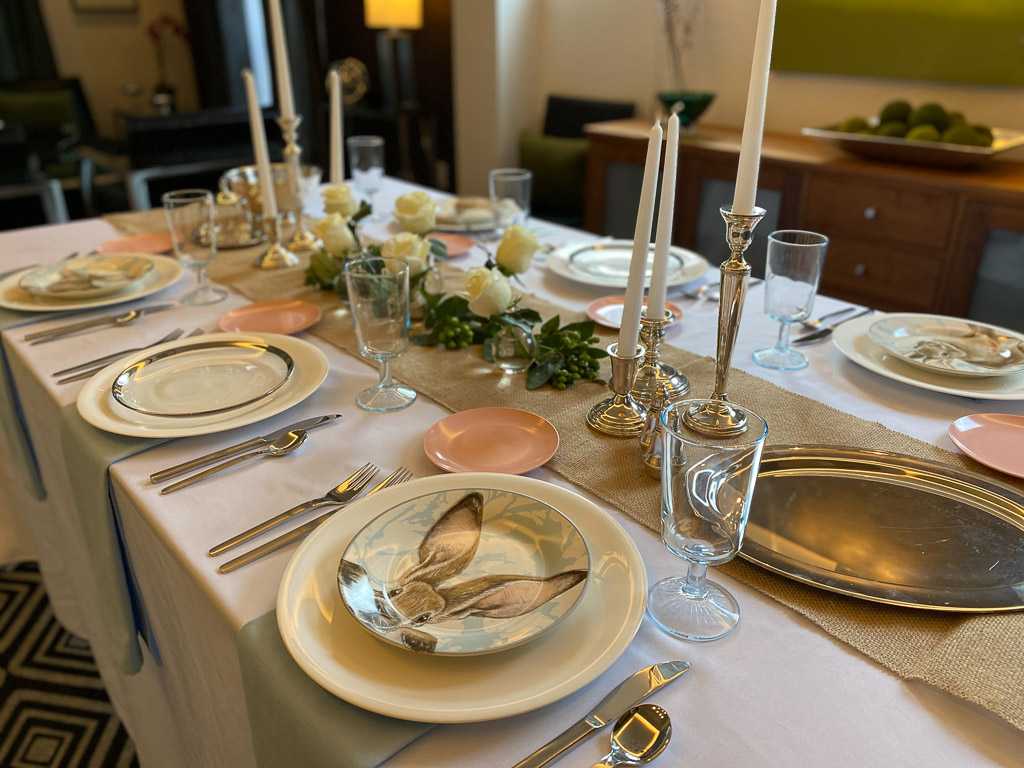 Silver can add a very formal touch to your table, but I wanted this Easter table setting to be fun.
To soften the look, I simply added some texture.
The swankiness of these heirloom silver pieces and ivory roses is off set with the down-to-earth informality of this burlap table runner.
The result is an Easter table top that is both elegant and inviting.
2. IDEA NUMBER TWO: COMBINE THE NEW WITH THE OLD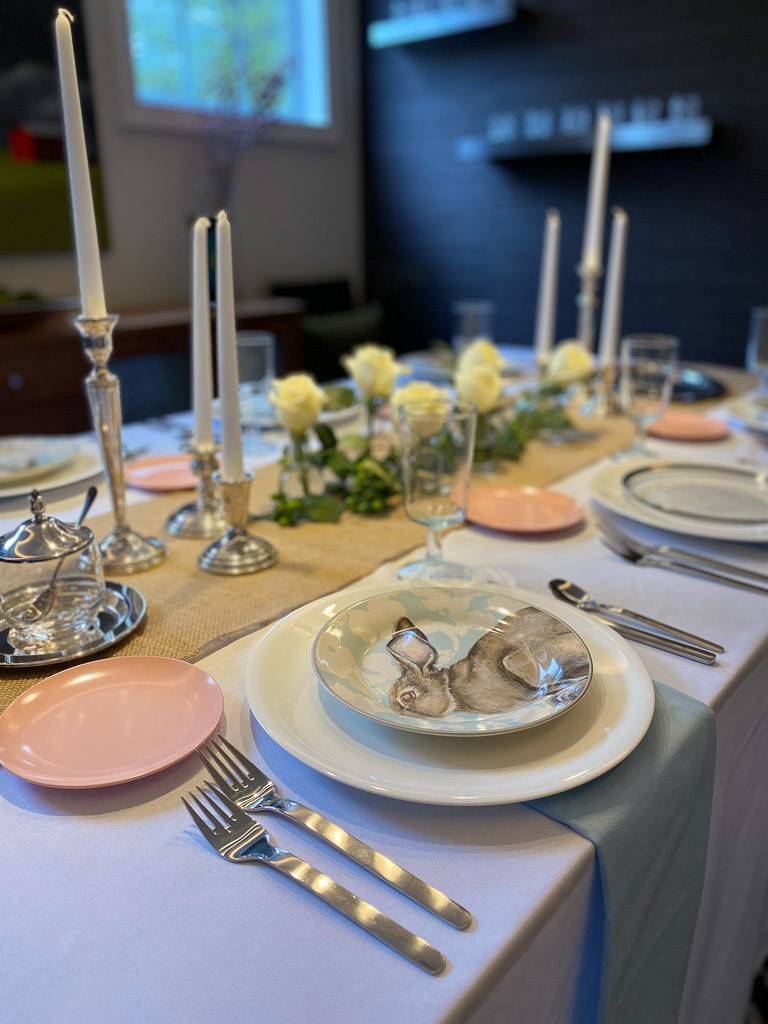 While heirloom pieces are great, sometimes you can't resist purchasing something new!
That was the exact situation I found myself in with these bunny plates.
I spotted them at Williams-Sonoma and knew I had to have them!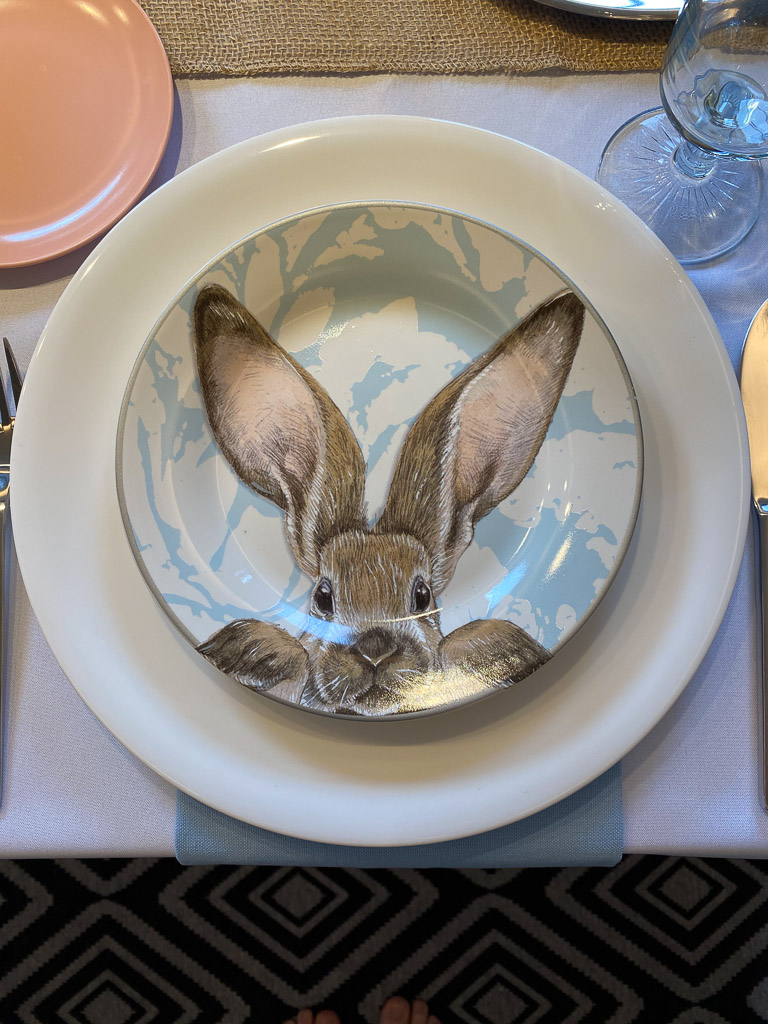 The blue, brown, pink and white within the design of the plates is just the perfect color palette around which to build an Easter tablescape.
And look at that bunny's face … who can resist it?
I absolutely adore these bunny plates.
They are the perfect Easter touch.
I know I will use them for years to come! Sometimes you just have to splurge! Here are some other adorable bunny plates I've found:
3. EASTER TABLE IDEA NUMBER THREE: DON'T OVERTHINK THE CENTERPIECE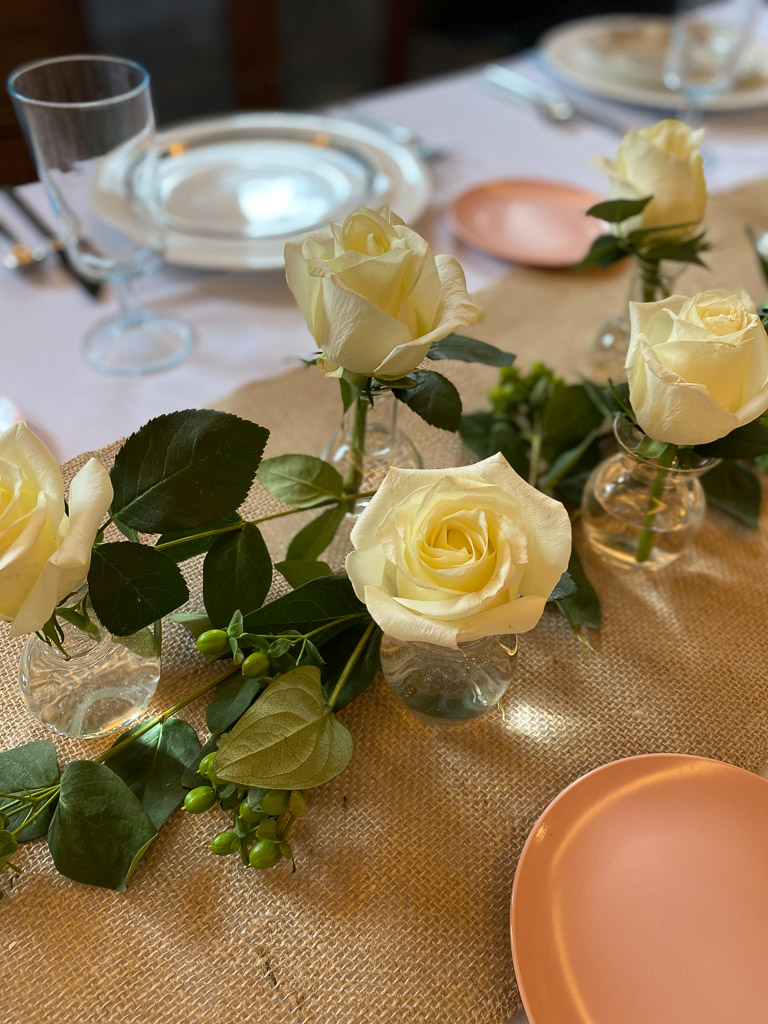 Why is flower arranging so intimidating?
Because it is … LOL.
I know that's not the greatest answer, but it is the absolute truth.
The reality is you may have the best intentions, but sometimes despite your best efforts, a DIY centerpiece can wind up looking like a hot mess.
Fortunately, I've picked up on a few tips to create elegant flower arrangements through the years,.
And these bud vases are one of my favorite tricks!
They make creating a sophisticated floral centerpiece easy.
For this arrangement, I started by placing a single ivory rose within each vase.
Next, I spread the vases out and centered them on top of the burlap runner
Finally, I added some greenery I picked up at the supermarket to fill in the spaces between the vases.
Voila! That was it!
It's a sophisticated touch, that was easy to achieve and created a beautiful focal point on the table!
The moral of this story: you don't need to spend hours to create a gorgeous centerpiece.
4. EASTER TABLE IDEA NUMBER FOUR: DON'T MATCH, JUST COORDINATE!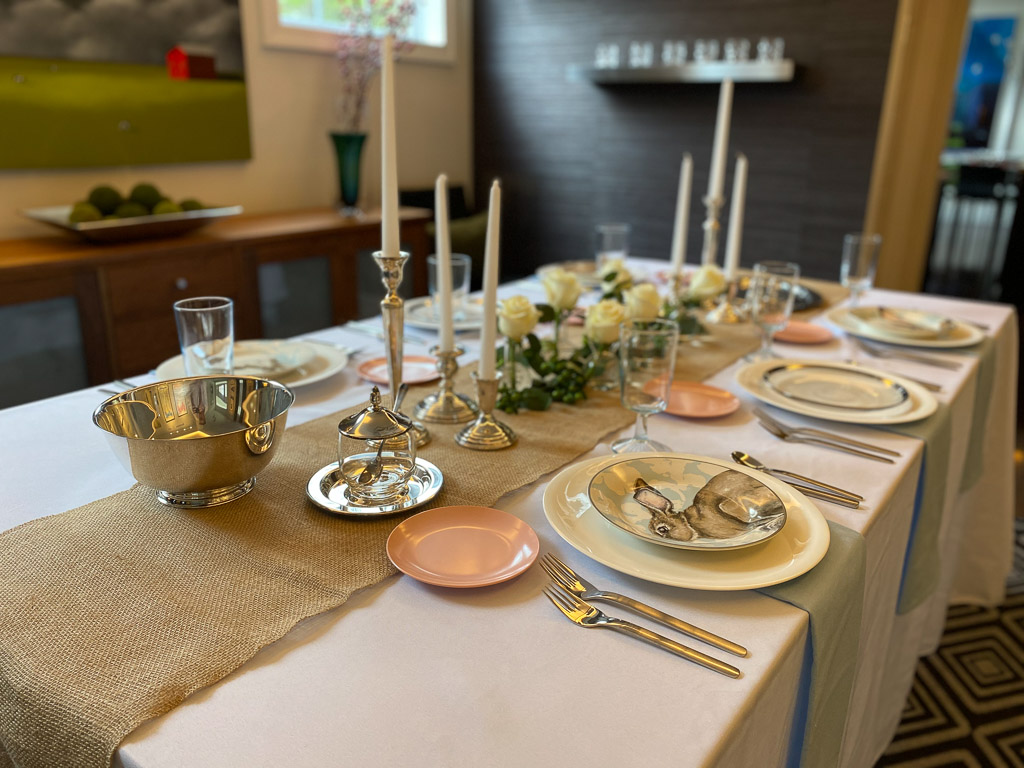 This is one of my favorite Easter table ideas: everything doesn't have to match.
In my mom's era, it was all about having 12 or 16 place settings of matching china so from top to bottom everything on the table perfectly matched.
Good grief.
And who has room to store all of that?
Not me.
And who wants to look at the same exact pattern for every holiday forever?
Not me. Sorry mom.
Personally, I like changing things up with a salad plate or a charger and combining different pieces that I can use throughout the year.
Mixing patterns and colors makes the table infinitely more interesting than simply having everything match.
Here's how I did just that as one of my Easter table ideas:
These pink bread and butter plates add a bit of whimsy to the table and bring out the pink in the bunnies' ears.
I love using my blue goblets for water glasses. Colored glass is enjoying a huge resurgence. Mine are vintage (from Matt's grandmother), but here are some other great choices that would look great on your Easter table:
Light blue cloth napkins, folded in thirds and hanging down from under each dinner plate, are a delightful touch.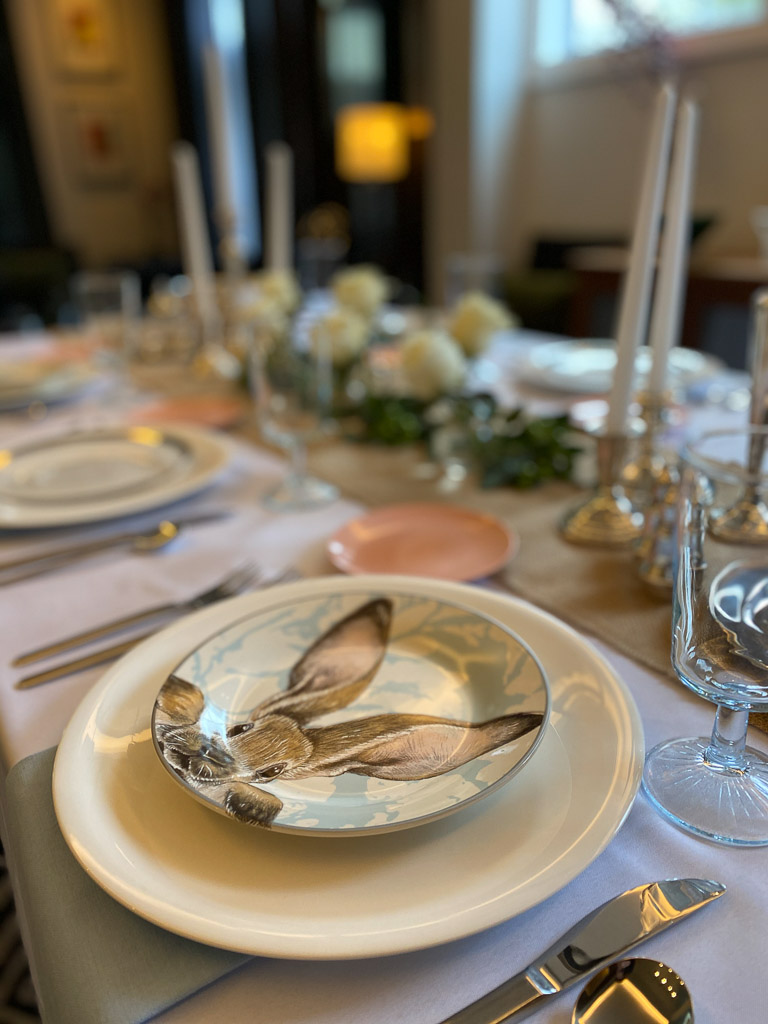 Did you try any of these Easter table ideas? Share them on Instagram with the hashtag #makeeverydayanevent and tag @makeeverydayanevent!
Looking for some other great Easter ideas? Check out these blogs:
Five Simple Easter Tabletop Decor Trends You'll Love
This Easy DIY Easter Wreath Idea Will Look Adorable on Your Front Door
If you have any questions or suggestions, contact us or leave a comment!
Follow us on social media! You can find us on Instagram, Pinterest, and Facebook.