THE BEST GOTH HALLOWEEN DECOR IDEAS YOU'LL LOVE FOR YOUR FRONT PORCH
These Goth Halloween decor ideas are perfect to create the ultimate spooky scene.
In a few easy steps, you'll be the envy of the block.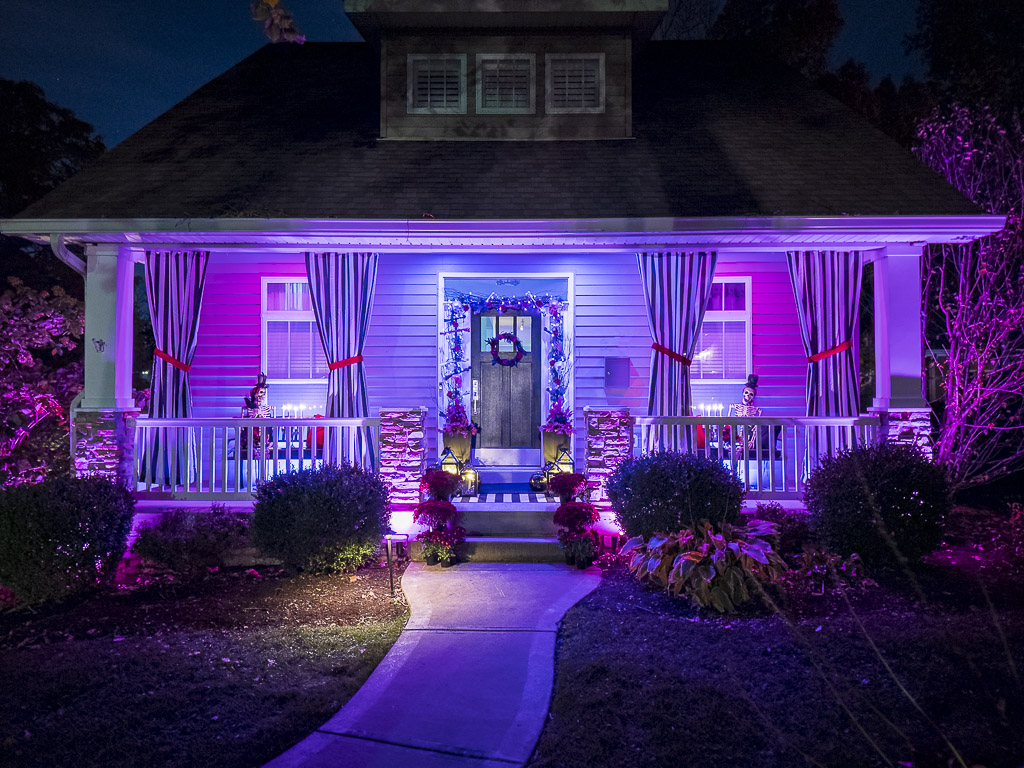 For this spooky season, I didn't want to just decorate our front porch. I wanted to truly create a scene with our Halloween porch decor ideas.
My goal was to pull together outdoor decorations that would be so outstanding, it would make all of our neighbors, well … frighteningly jealous!
So, what served as the inspiration for our Goth Halloween front porch ideas?
Fashion.
Like Miranda Priestly said in The Devil Wears Prada, "fashion always leads."
So I looked to the runway.
And goth is truly having a moment right now. It's simply everywhere, especially on social media. From Rihanna to the Kardashians, everyone whose anyone is wearing modern goth this season.
Transferring the fashionable trend to our Halloween front porch décor seemed just so on point.
Forget traditional pumpkins and black cats, for the creepy-crawliest holiday of the year, I wanted to be the big deal of Halloween decor on our block.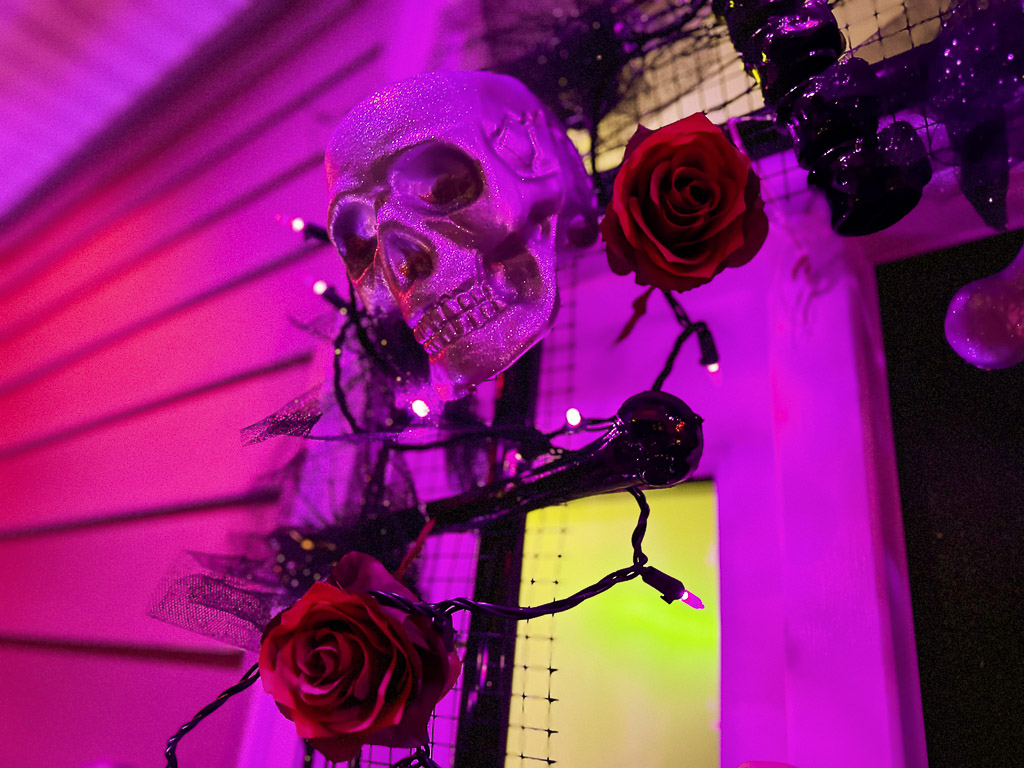 And I was so excited to work with The Home Depot to pull together all of the great outside halloween decorations, lighting and materials I needed to create the fabulous Goth Halloween décor setting I envisioned.
It was so easy to see my creative ideas come to life. This Goth Halloween decor concept is perfect for a Halloween party, to greet trick or treaters on Halloween night, or simply as a Halloween display on your front porch.
You'll love all of the creative ways these Halloween porch decorations will add a spooky vibe and some gothic horror to your covered porch.
A goth Halloween front porch is the perfect way to take your spooky decor to the next level.
How did I begin to bring this great idea to life?
First, I embraced the elements of goth design to create a cool, chic and sophisticated Halloween vibe.
Rich hues, dark furnishings, and deep textures are all hallmarks of the goth style. I also wanted to throw in pops of silver metallic and glitter.
In addition, our gothic inspired Halloween porch needed to incorporate lush draping. And I couldn't ignore the lighting. It really was the key to creating the sophisticated Halloween mood I desired.
Lighting is one of my favorite Halloween decor ideas.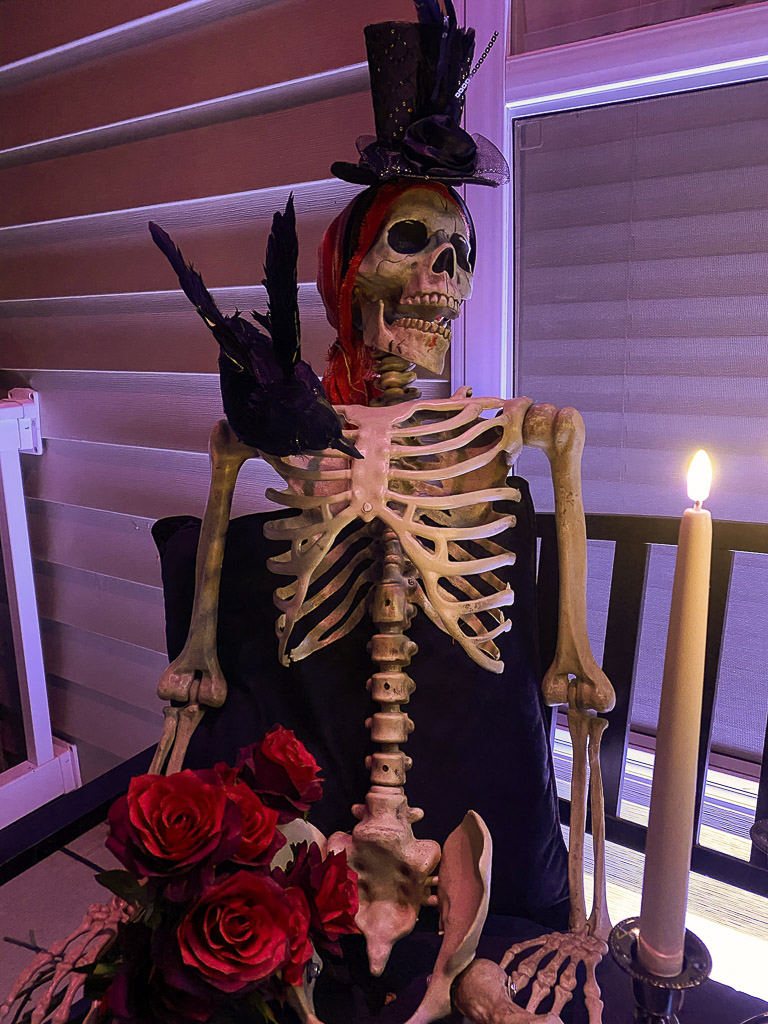 It was so easy to bring together these lavish, mysterious and absolutely gorgeous Halloween porch ideas with just a few clicks on HomeDepot.com.
Everything I needed literally showed up at our front door.
Here are the classy Halloween decor ideas you need to create your very own stunning Gothic Halloween decor on your very own front porch, step by step!
The only thing missing? A custom creepy playlist! As you will see, gothic really is the ultimate outdoor Halloween decor.
Posts on Make Every Day an Event may contain affiliate links which means we may earn a small commission on purchases at no extra cost to you. To learn more, please read our full disclosure here.
AN EASY-TO-BUILD, GLAMOROUS AND DECORATIVE GOTH HALLOWEEN DECOR IDEAS ARCH
The focal point of any front porch is the door, of course, so I wanted to ensure our spooky Halloween front porch decor made a bold, gothic statement.
Constructing a decorative arch to frame the door seemed like the perfect idea and was a big part of this look.
The end result really brought the drama and is one of the best outdoor Halloween decorations I've ever made.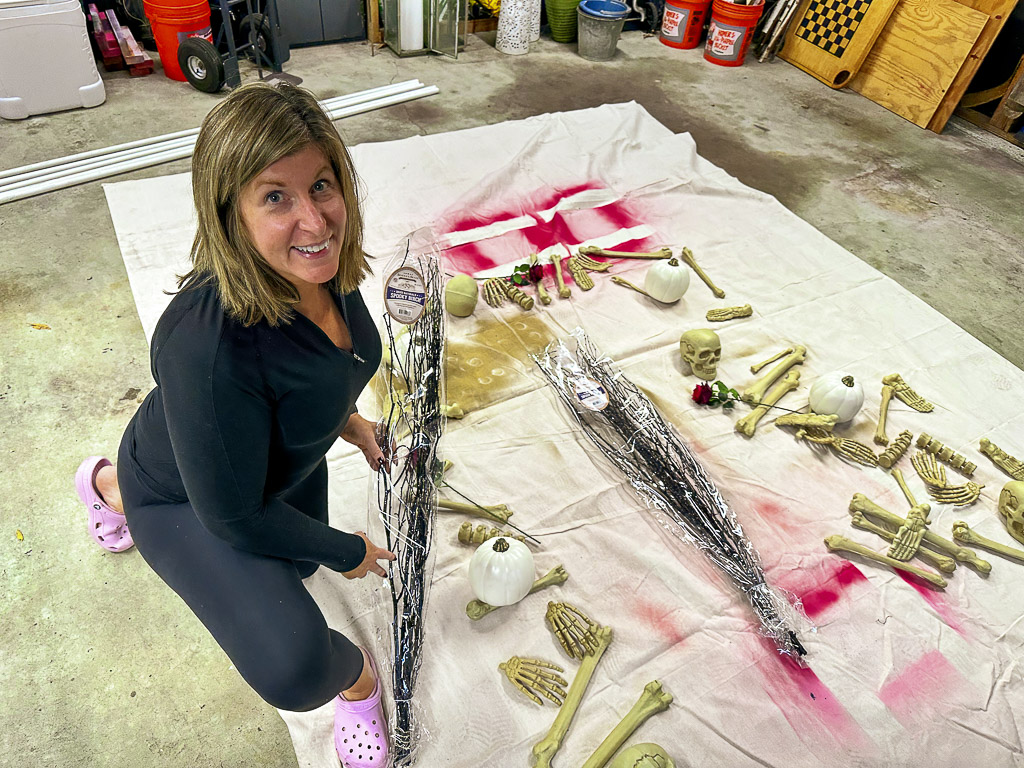 The frame was an easy DIY project with a trip to The Home Depot and it turned out fantastic. Here are the materials I used:
Product/Tool List:

Charlotte Pipe 1 inch PVC pipe
Everbilt Galvanized Poultry Netting
Two Charlotte Pipe 1 inch PVC 90-Degree Elbow
Oatey 8 ox. Regular Clear PVC cement
8-inch UV Cable Tie, Black
10.25 oz. Rust-Oleum Painter's Touch 2X in Gloss Black
10.25 oz. Rust-Oleum Bright Pink Glitter Spray Paint
10.25 oz. Rust-Oleum Silver Glitter Spray Paint
Black Glitter Sticks
12-Piece Bag of Halloween Bones
3-Piece Realistic Bag of Skulls
Nearly Natural Indoor 18 in. Rose Artificial Flower (Set of 24)
Black glitter tulle fabric
Purple LED Halloween Lights
I first measured the sides and the top of the door frame to determine the dimensions of the arch needed.
Next, I cut the pieces of the PVC pipe to the desired length using a hacksaw.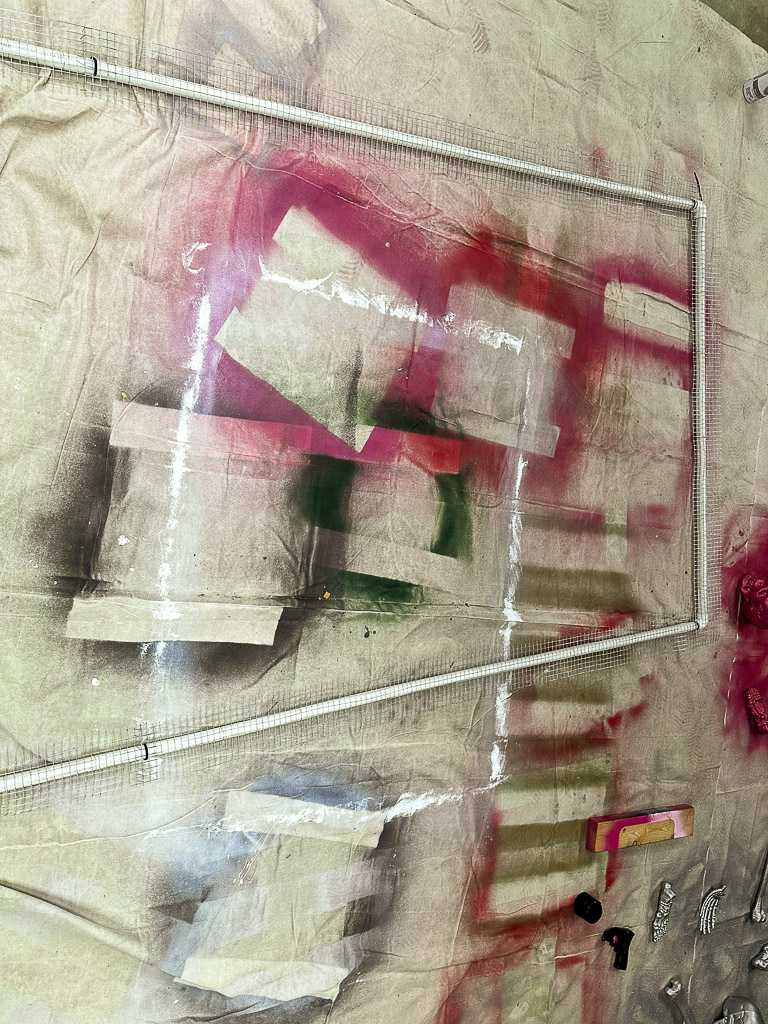 Using PVC elbow joints and PVC cement, I joined each of the pieces of PVC pipe together. In addition, I affixed legs at the bottom of each side of the arch to allow it to stand upright.
I knew we were going to attach the arch to house to stabilize it from falling backward. But to keep the arch from falling forward, I cemented a 90-degree PVC side outlet socket elbow on the bottom of each of the long poles and cemented two, 12-inch pieces of PVC pipe at the bottom and into each joint. This stabilized the frame.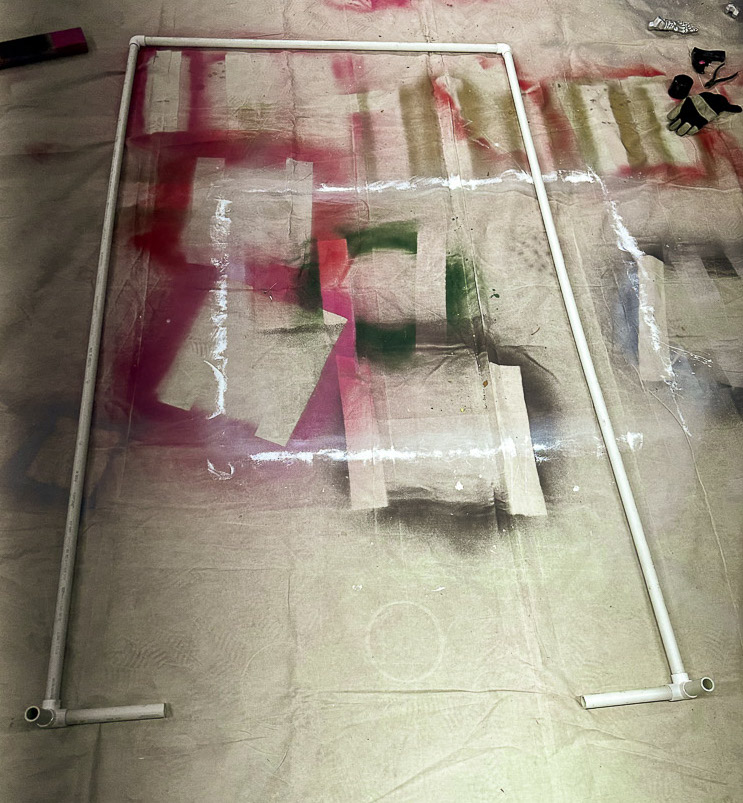 I then cut six-inch-wide strips of chicken wire using wire snips and attached the chicken wire with black zip ties all around the PVC pipe.
THE HALLOWEEN ARCH IS ALMOST COMPLETE … !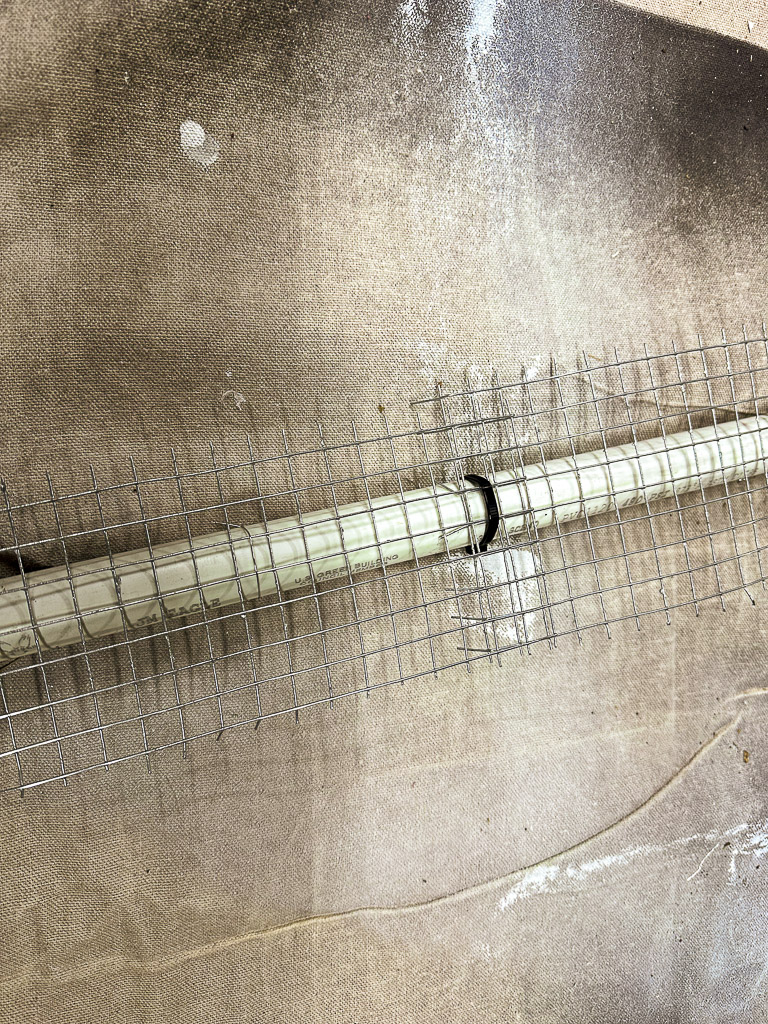 The final construction step was next. Since I was going for a Goth Halloween look, I spray painted the entire arch with Rust-Oleum Painter's Touch 2X in Gloss Black.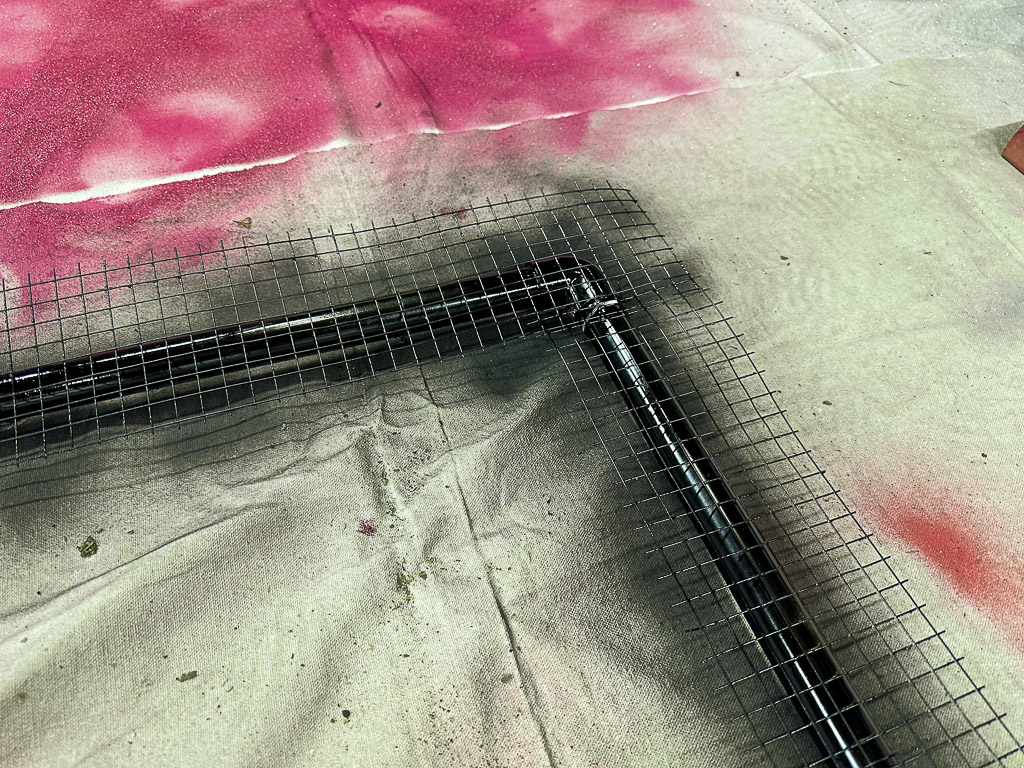 To create our pop of glitter and metallic accent, I spray painted a variety of Halloween skulls and bones, as well as some existing, white, artificial pumpkins I already had.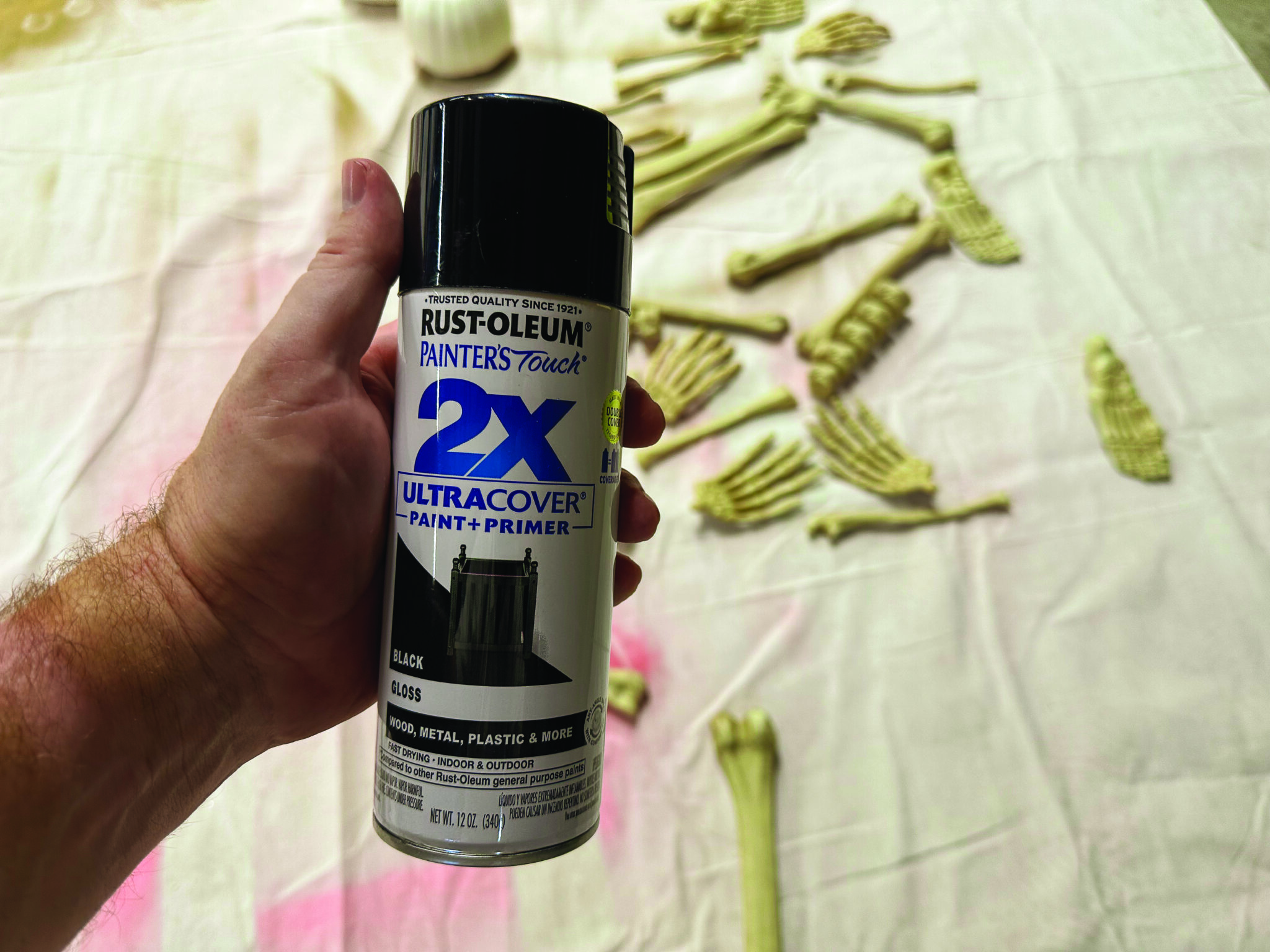 For these items, I used Rust-Oleum Bright Pink Glitter Spray Paint, Rust-Oleum Silver Glitter Spray Paint, and Rust-Oleum Gloss Black Painter's Touch 2X.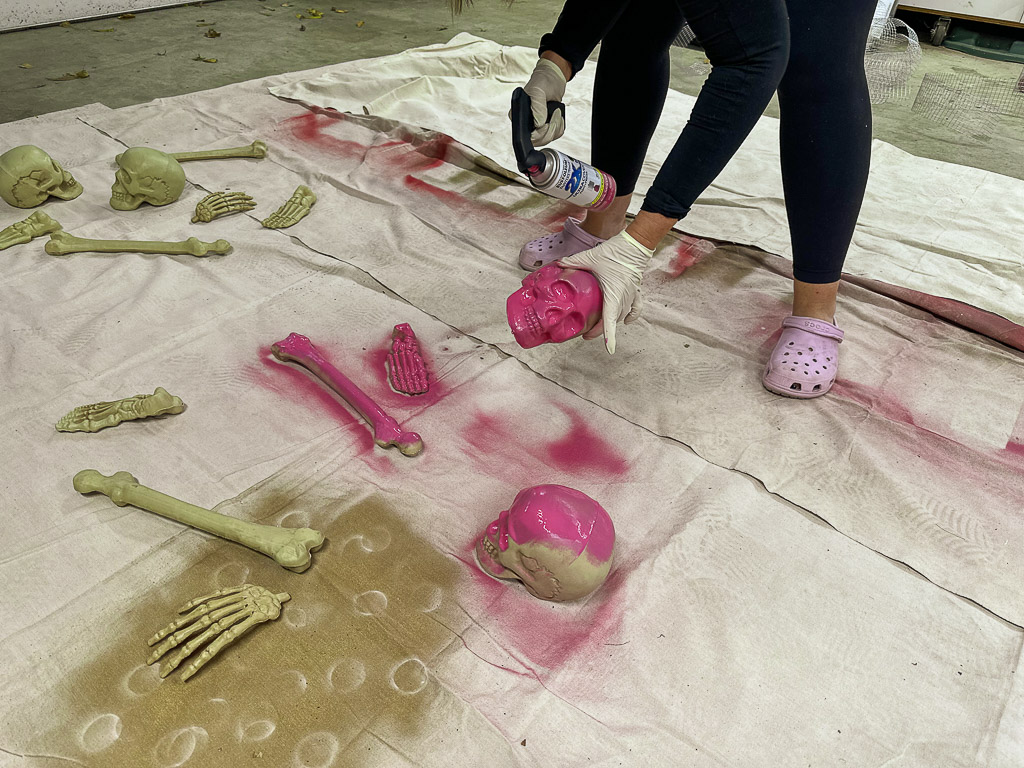 HOW TO ASSEMBLE AND INSTALL THE GOTH HALLOWEEN ARCH
It was so exciting to see the project coming together. I wasfinally ready to start assembling! It was so much fun, with no power tools required.
First, I secured the arch to the house using zip ties and the same hooks we use each year for our Christmas garland. I attached black glitter branches to the chicken wire, so it would serve as a background for all of the other items. Next, I attached the painted skulls and bones onto the arch using black zip ties. There was no rhyme, reason or pattern, I just mixed up all of the different bones and skulls to create variety and interest.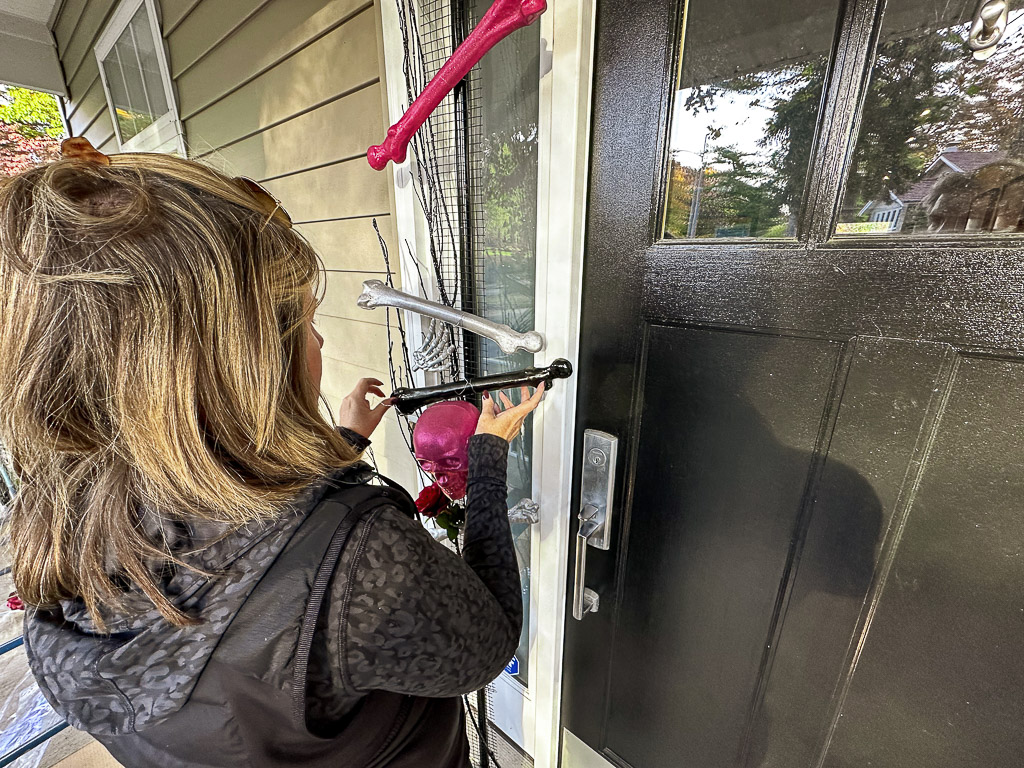 In between the painted skulls and bones, I placed some gorgeous, deep red, artificial roses to fill the space. I think they really make a statement on the arch.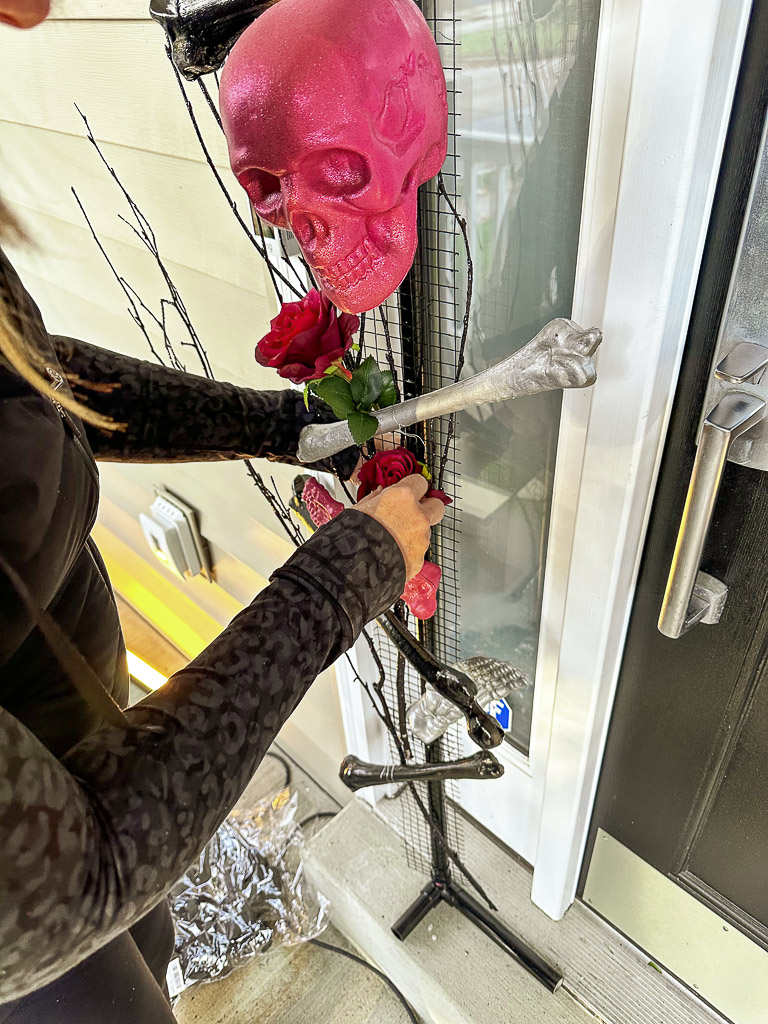 I love the fact we were able to get them on the Home Depot website. In fact, I was amazed by the great artificial floral selection they had available. These roses are just perfect for our Goth Halloween look.
I wanted the arch to look full, but not crowded. I also wanted to reserve a few of the skulls and bones for other portions of our décor. To fill in some of the spaces, we used some remnants of black, glitter tulle to poke a "puff" into some of the chicken wire squares. It gave the arch a great textural style, as well as an additional bit of sparkle.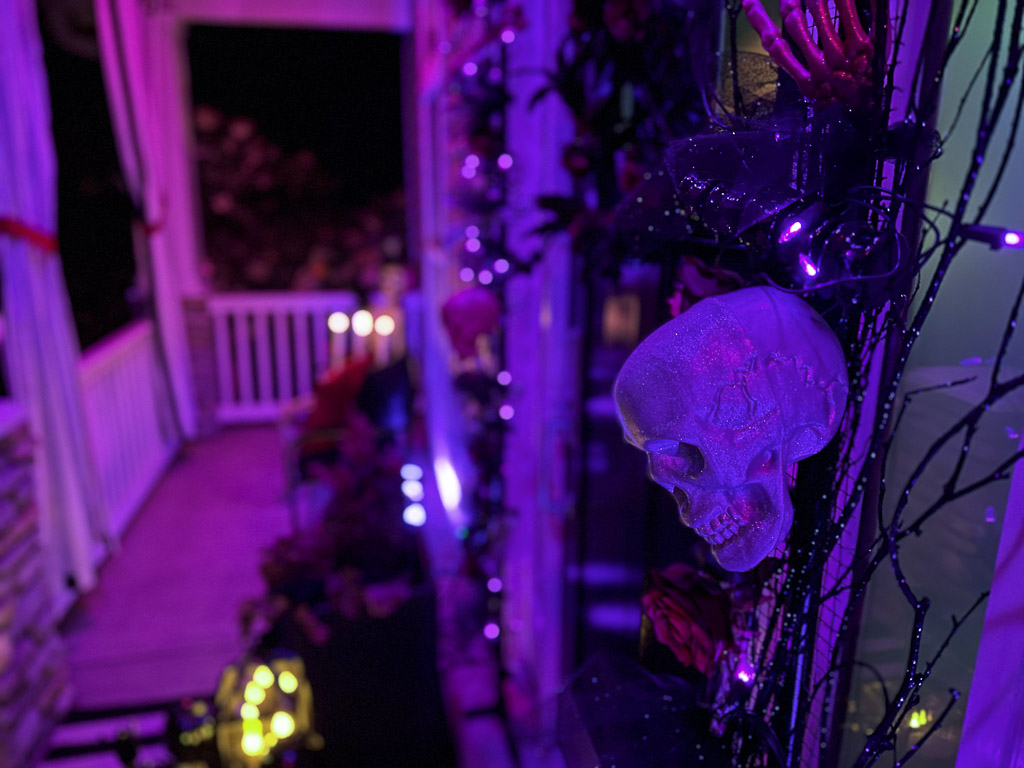 LIGHTING IS THE FINAL TOUCH!
Finally, I placed purple LED Halloween lights all around the arch to illuminate it. They were easy to secure, using the metal wire and a zip tie. The lights bounced off all of the glittered pieces and made the arch into the sophisticated entrance we wanted to create. It truly framed our front door and made it the focal point of the design and creates a modern look.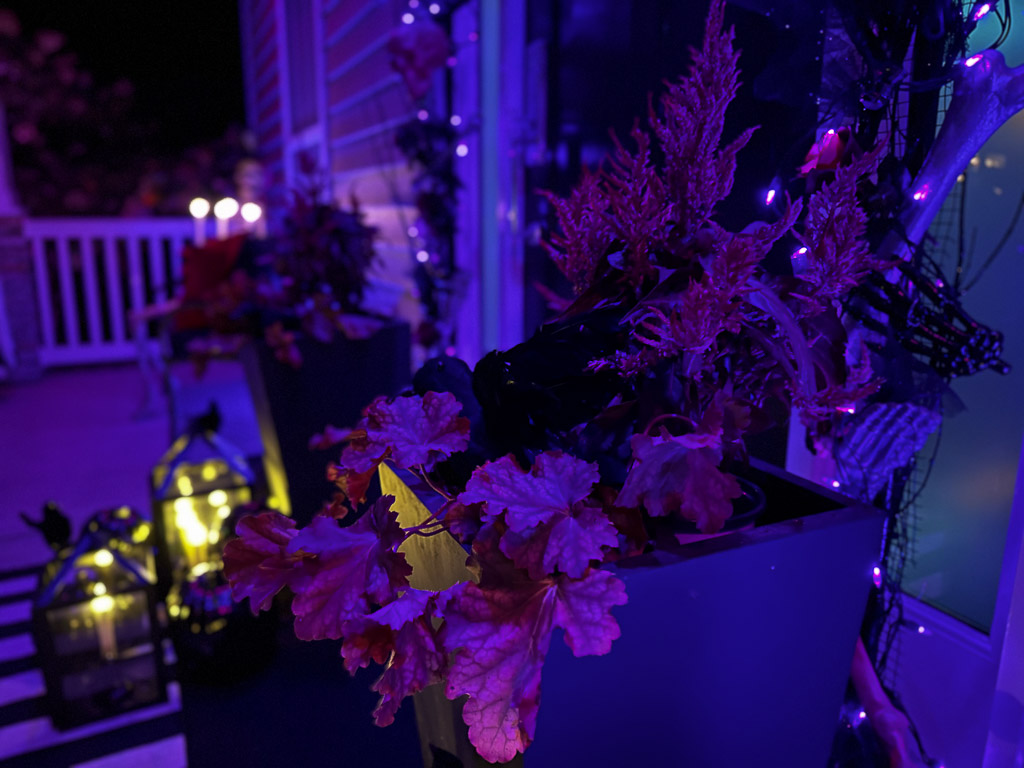 A GREAT ALTERNATIVE TO MUMS FOR YOUR FALL PLANTERS AND YOUR GOTH HALLOWEEN DECOR IDEAS!
I also wanted to dress up our planters, since they were too heavy to move off of the porch. I needed them to add to the porch's Halloween goth vibe to create a truly unique display. Unfortunately, the ferns they held during the summer had seen much better days. But I found out, mums aren't the only option to place into your fall planters.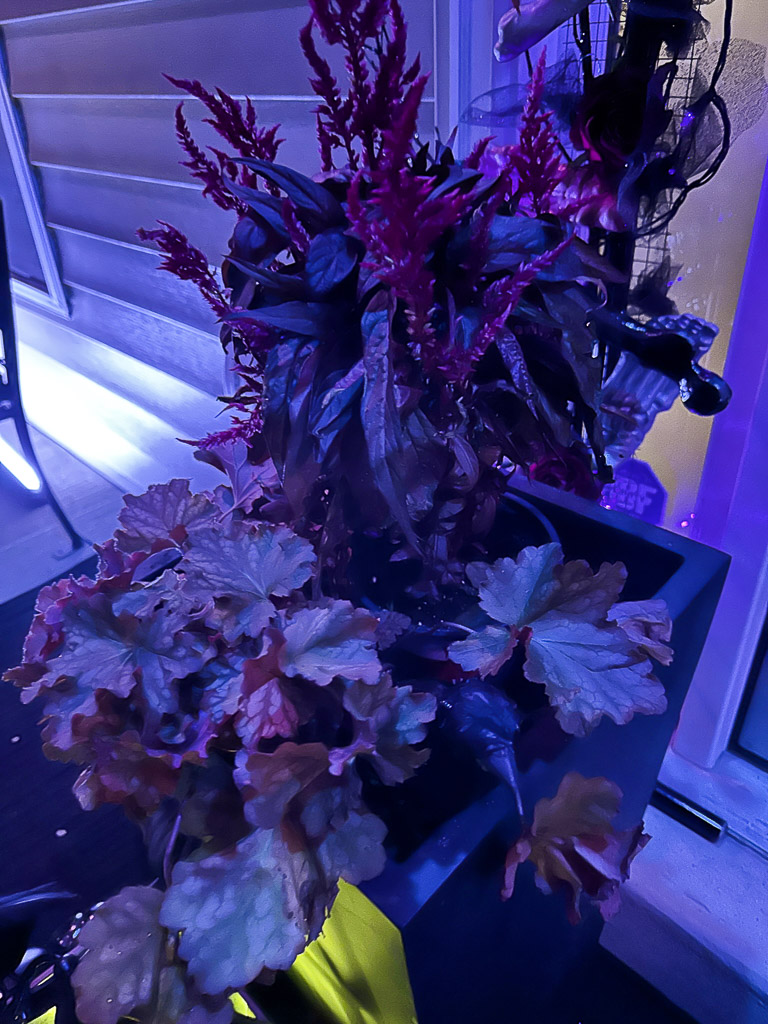 There are lots of great colorful plants which are an easy way to help you create a Halloween mood. And I think they are so much more interesting than mums! I picked up these coral bells and astilbe on the clearance rack at our local Home Depot. I love their deep rose, plum and purple hues, as well as the interesting shape of each of the plant's leaves. They were the great way to add to the Gothic Halloween vibe.
NOW WE'RE READY TO TRULY MAKE OUR GOTH HALLOWEEN DECOR IDEAS SHINE …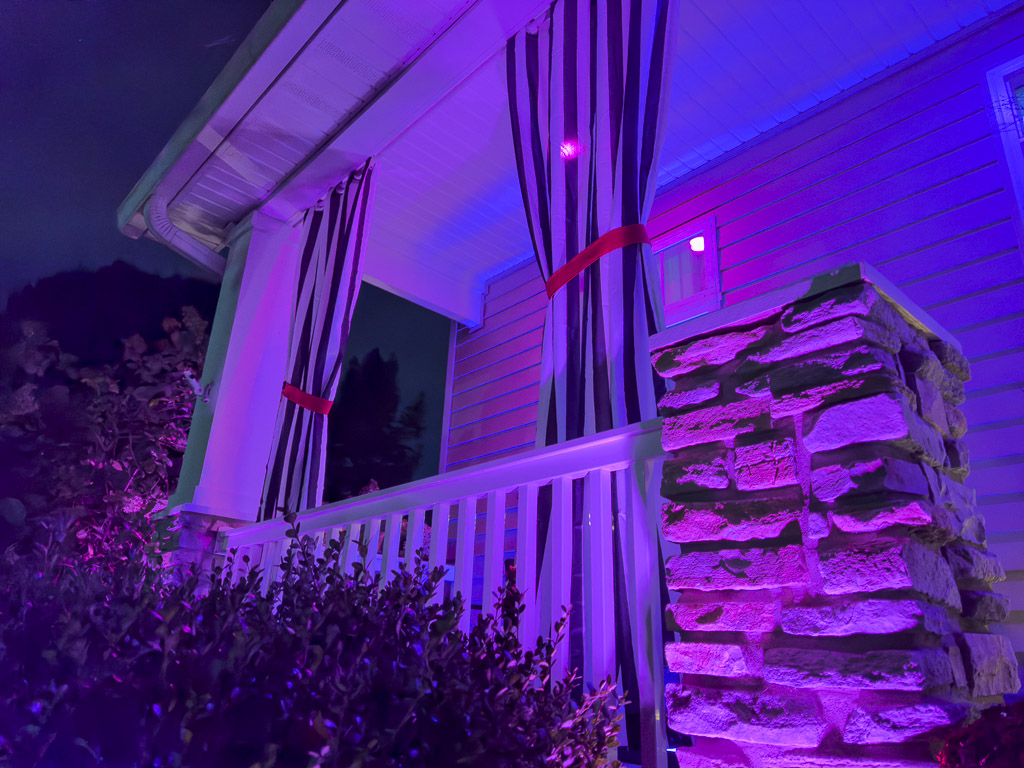 The key to creating any dramatic scene is always the lighting. And, of course, Halloween lighting is no exception, especially for this Goth inspired Halloween front porch.
The Philips Hue smart light collection was the exact solution that was needed. By utilizing the Philips Hue app, I could create the precise lighting color combination we wanted in just seconds!
It was so simple to create a truly unique and sophisticated Goth Halloween scene!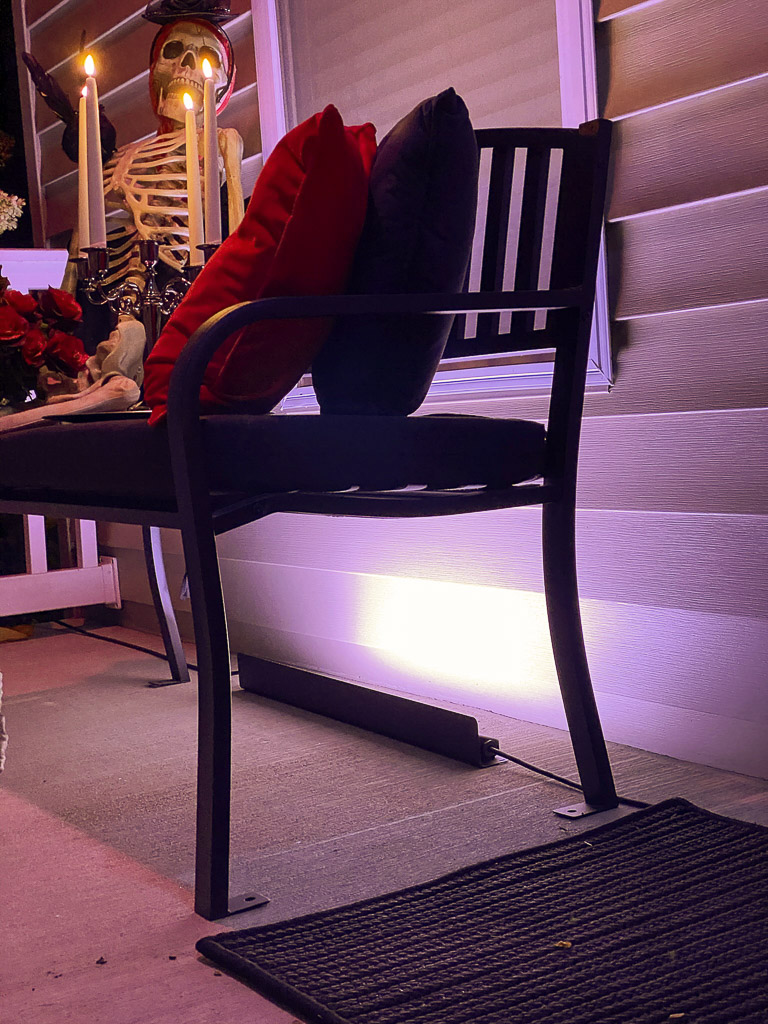 The combination of Philips Hue lights also allowed me to generate custom colors from a variety of angles to really illuminate our front porch.
From the spotlights on the columns, to the wall washing flood lights placed on the porch, to the bulbs we put in the ceiling can lights, the multiple layers of light truly made our Halloween scene come to life!
It is such a unique element and one of our favorite outdoor Halloween decoration ideas. Here are the products that were used: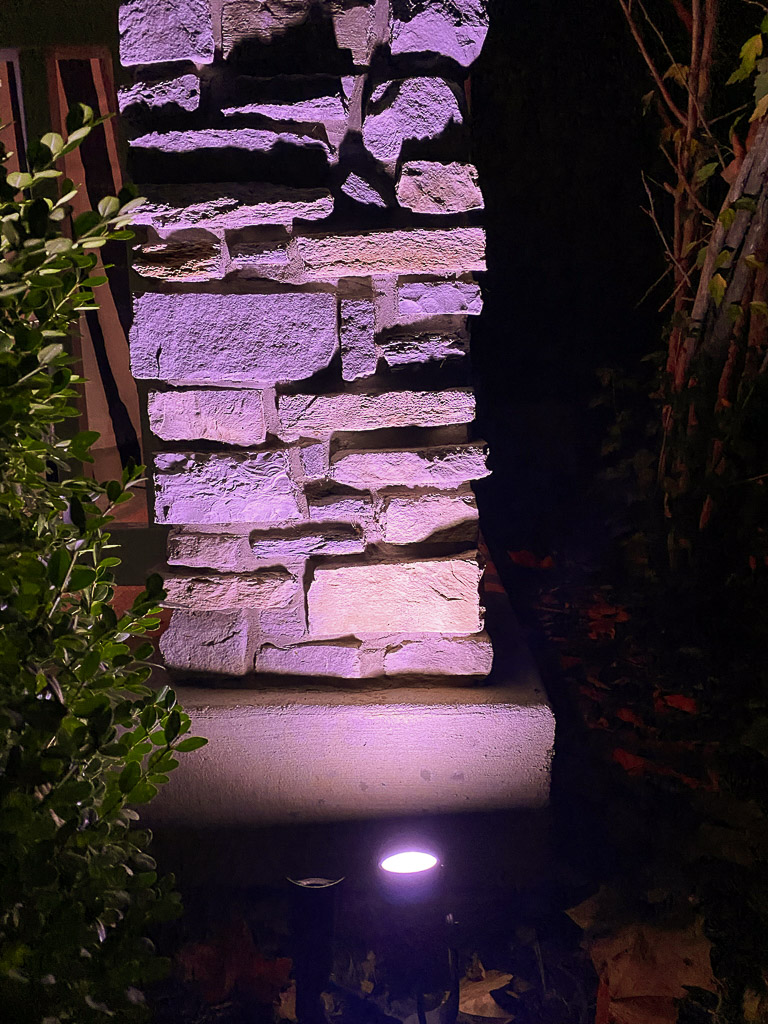 PRODUCT/TOOL LIST:

White and Color Ambiance Amarant Black Plug-In Landscape Flood Light with Integrated LED Outdoor Low Voltage Light by Philips Hue
White and Color Ambiance Outdoor Lily Black LED Low Voltage Smart Landscape Spotlight (3 Lamps and Smart Bridge) by Philips Hue
Philips Hue White and Color Ambiance A19 LED 60W Equivalent Dimmable Smart Wireless Light Bulb with Bluetooth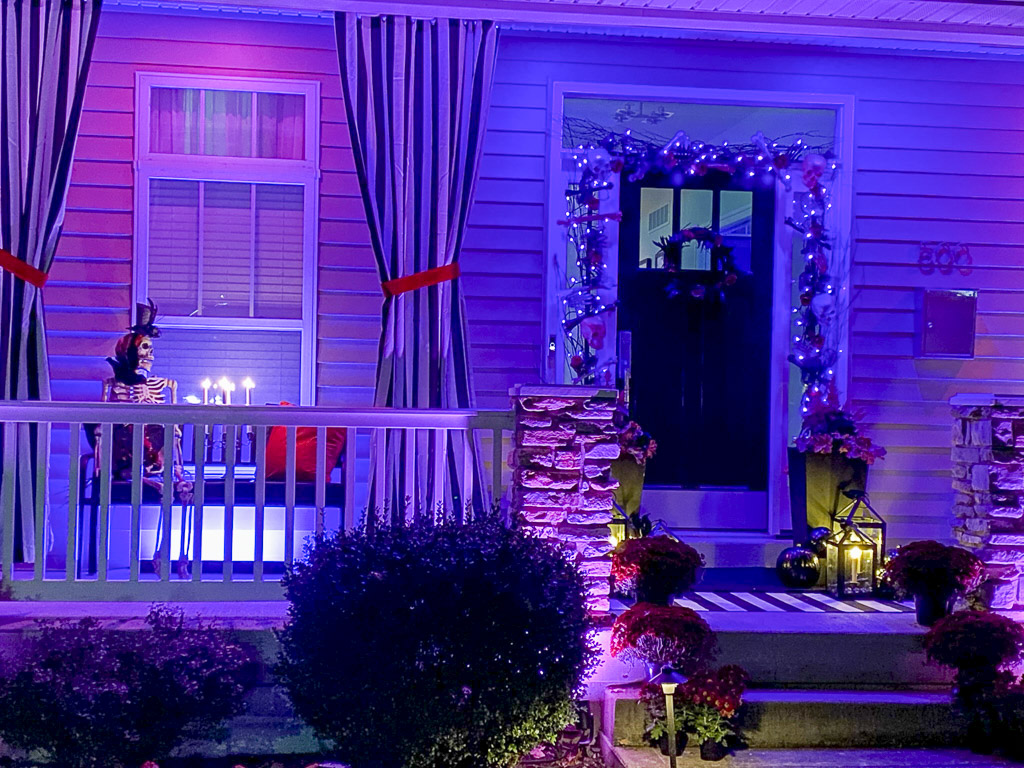 IT'S TIME FOR THE FINISHING TOUCHES FOR THESE GOTH HALLOWEEN DECOR IDEAS ON OUR FRONT PORCH!
This is always the best part of every project … putting all of the accessories in place and seeing our vision come to life.
And I found some smaller scary elements that really created a spooky porch and added to my scary Halloween decorations.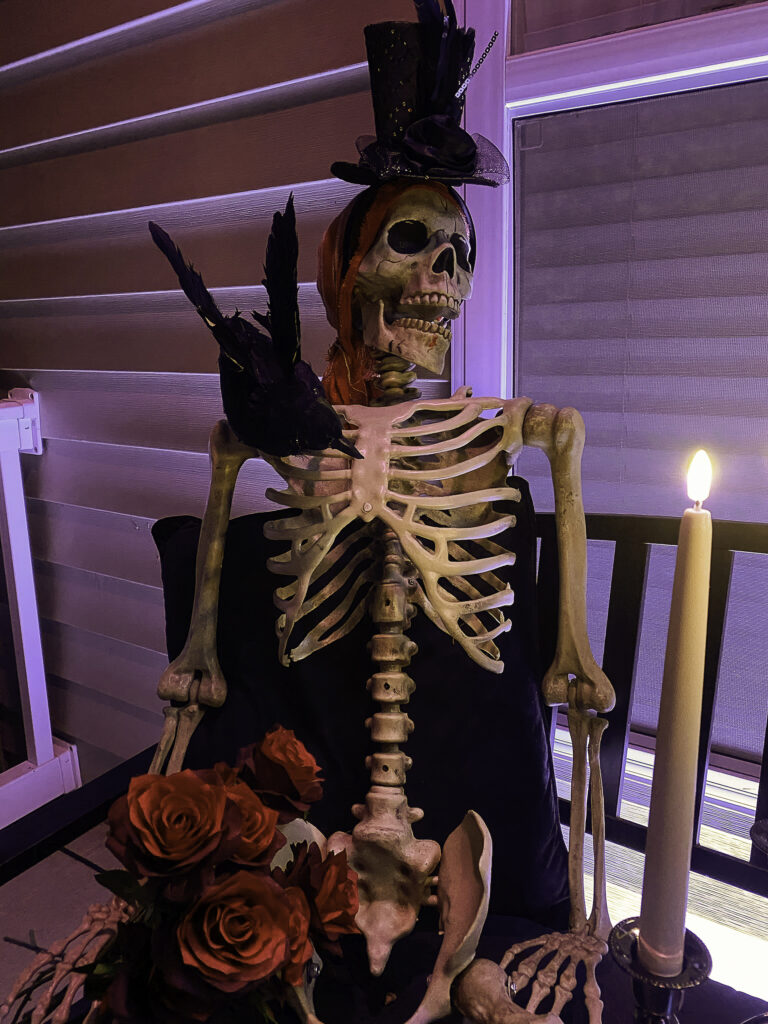 It was so fun to unbox all of the items as they arrived from Home Depot, and I couldn't wait to pull all of this together! Here are all of the great décor items that were used.
PRODUCT/TOOL LIST:

Plow & Hearth Arched 50 in. Black Metal Outdoor Bench
Home Decorators Collection Modern Black Metal Lantern Candle Holder (Set of 2)
9 in. Battery Operated LED Christmas Candles with Antique Bronze Base and Timer
Kenney Adler Adjustable 5/8 in. Single Indoor/Outdoor Rust-Resistant Wrap Around Curtain Rod in Black
Black Striped Outdoor Grommet Room Darkening Curtain
Home Decorators Collection Solid Black 2 ft. x 12 ft. Braided Indoor/Outdoor Runner Rug
Soft Velvet Square Red 18 in. x 18 in. Throw Pillow
Soft Velvet Square 18 in. x 18 in. Black Throw Pillow
TrafficMaster Beige Coir and Vinyl Door Mat
Jonathan Y Negril 2-Tone Wide Stripe Black/Cream 2 ft. x 8 ft. Indoor/Outdoor Area Rug
Red Velvet Ribbon Roll
5-foot Posable Skeleton
I first placed the black metal benches on either side of our porch. Their arched backs are perfect for this look.
I added some lush velvet pillows in red and black on each of the benches, as well as delightful posable skeletons. The pillows' velvet fabric brings a huge wow factor to the scene.
Finally, I created bouquets out of the same artificial roses that were used in the arch. The deep, rich red of the roses really tied everything together.
They are just stunning.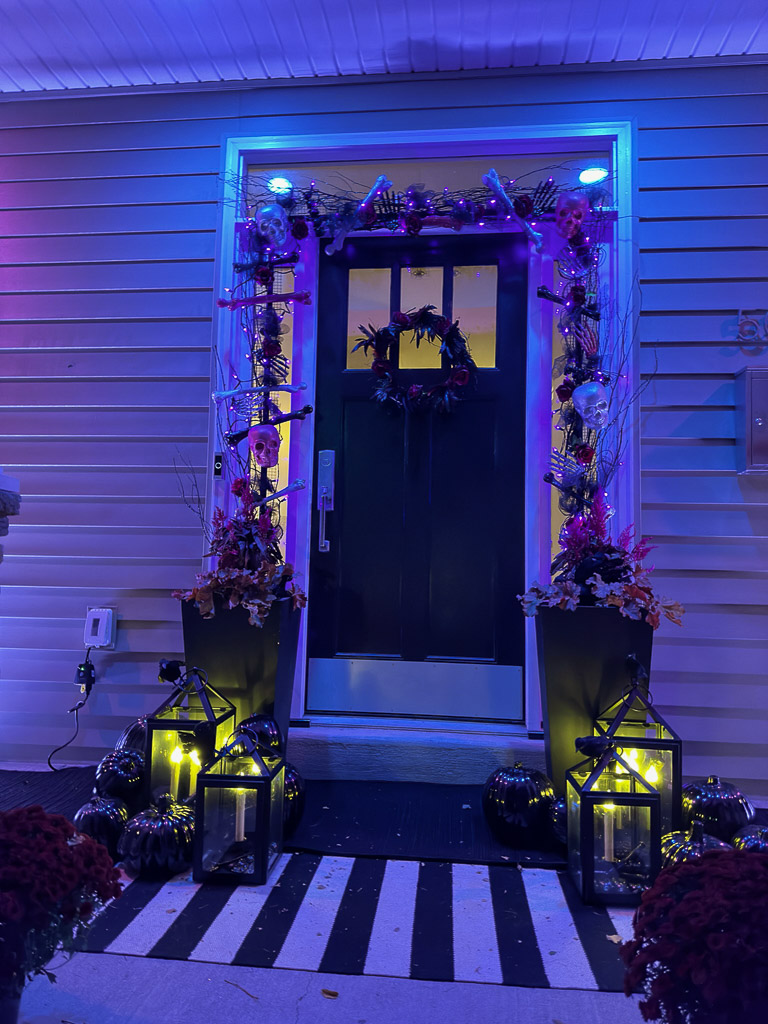 Next, I wanted to add some texture. Layering outdoor rugs or a welcome mat is a trick I often turn to, and it seemed ideal for this situation.
The black and cream striped rug looks great under the solid black runner.
Then, I topped it off with the custom door mat I made using my Cricut earlier in the summer. Perfection!
I love it when items can be used from season to season.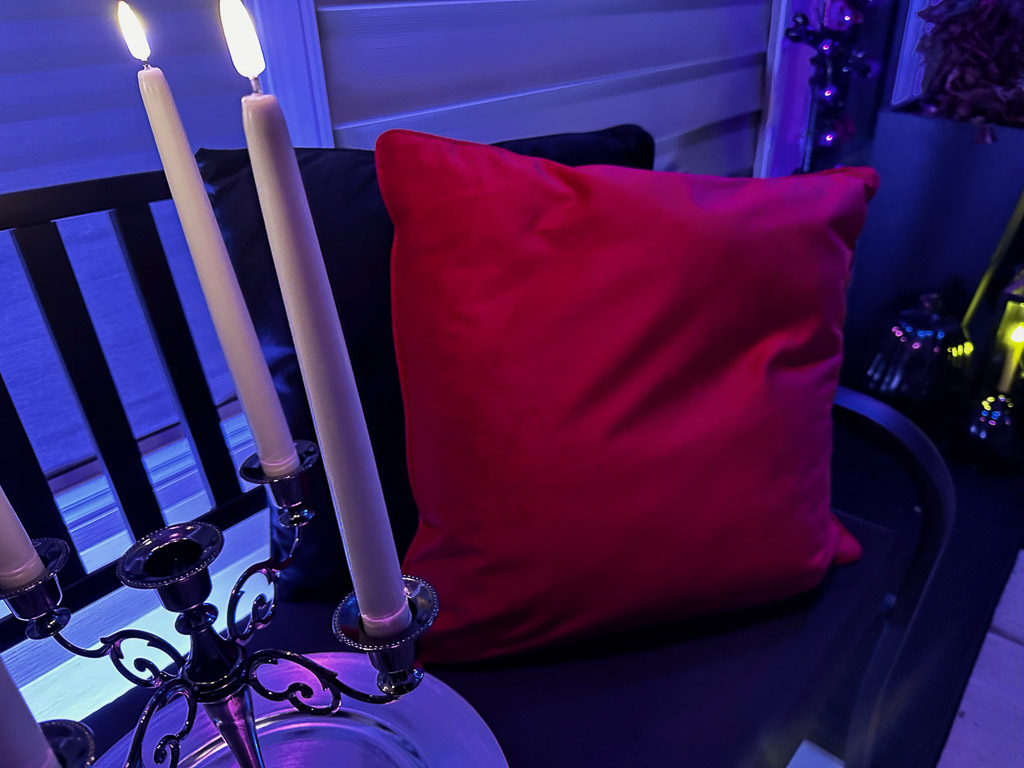 In addition to the DIY arch and the planters, I wanted to increase the drama in front of our door.
These modern black metal lanterns were exactly what I needed. They are heavy and solid, so I know they'll hold up season after season.
And I love the ring detail on the top.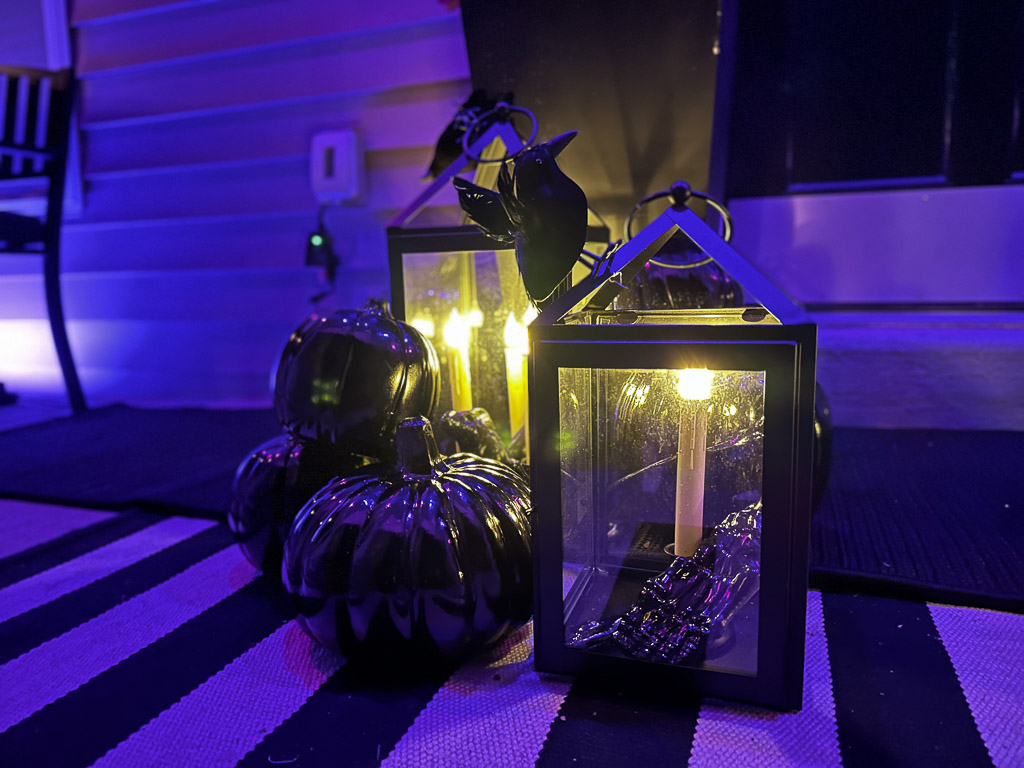 I also found a great option to light them. Instead of the typical pillar candle, these LED Christmas Candles really added to the mood.
I cannot get over how much we love these candles! They add sparkle, are battery operated, and are even on an automatic timer.
They bring a richness and vintage look to the lanterns that is just perfect.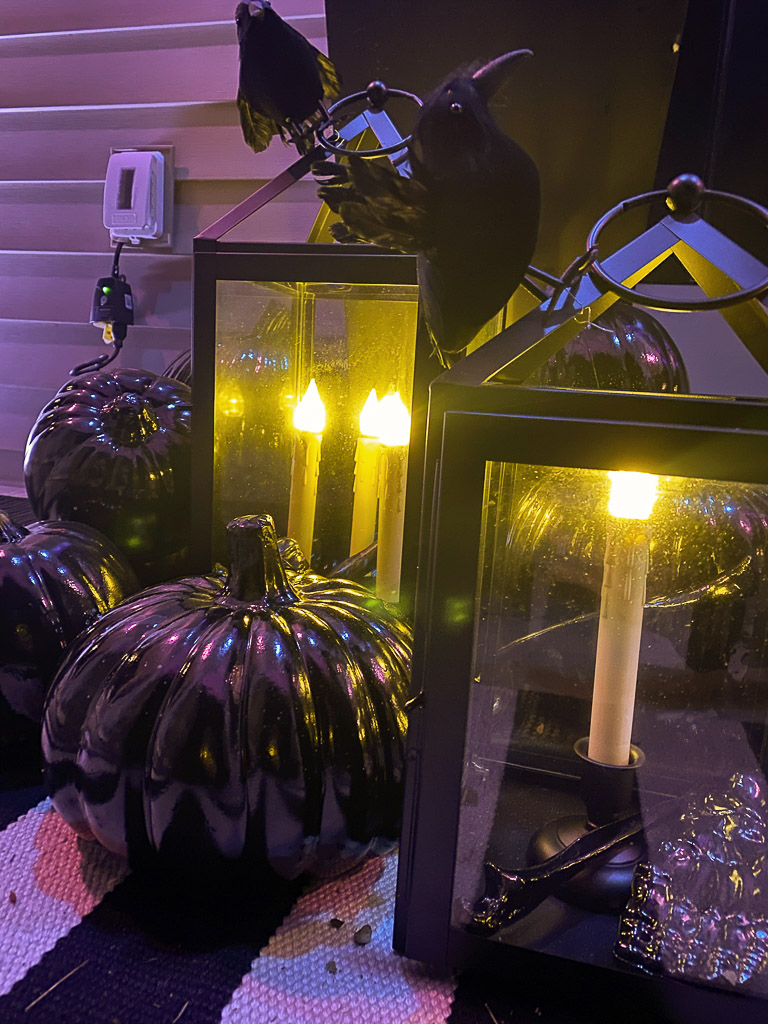 And remember when I reserved a few of the bones we painted? I placed them into the lanterns to create a spooky, Goth Halloween feel.
I love how these turned out! And, honestly, we can't wait to decorate these lanterns and candles for the holiday season.
There is simply nothing better than investing in décor that can transition from season to season!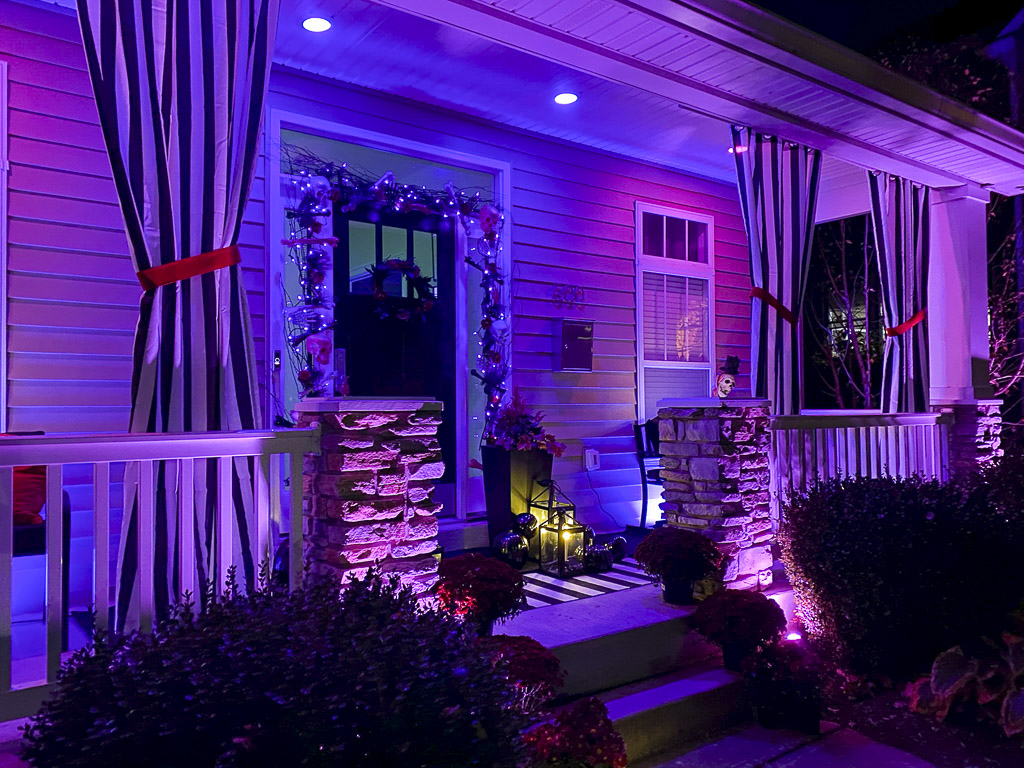 The finishing touch was draping. And these black and white stripe outdoor curtains were the exact items I needed for this look.
The panels were easy to hang using a rust resistant outdoor rod. And to add a pop of color, we tied them back with red velvet ribbon. They really completed this goth Halloween front porch idea!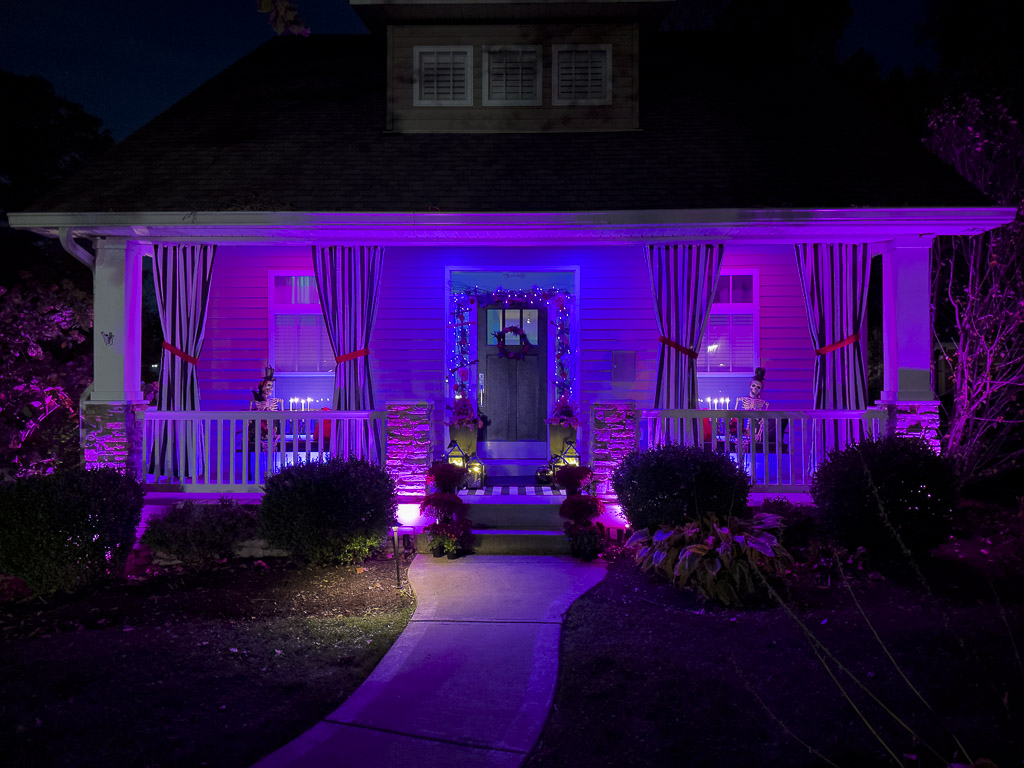 I simply could not be more thrilled with how this Goth Halloween decor ideas project turned out. Happy Halloween!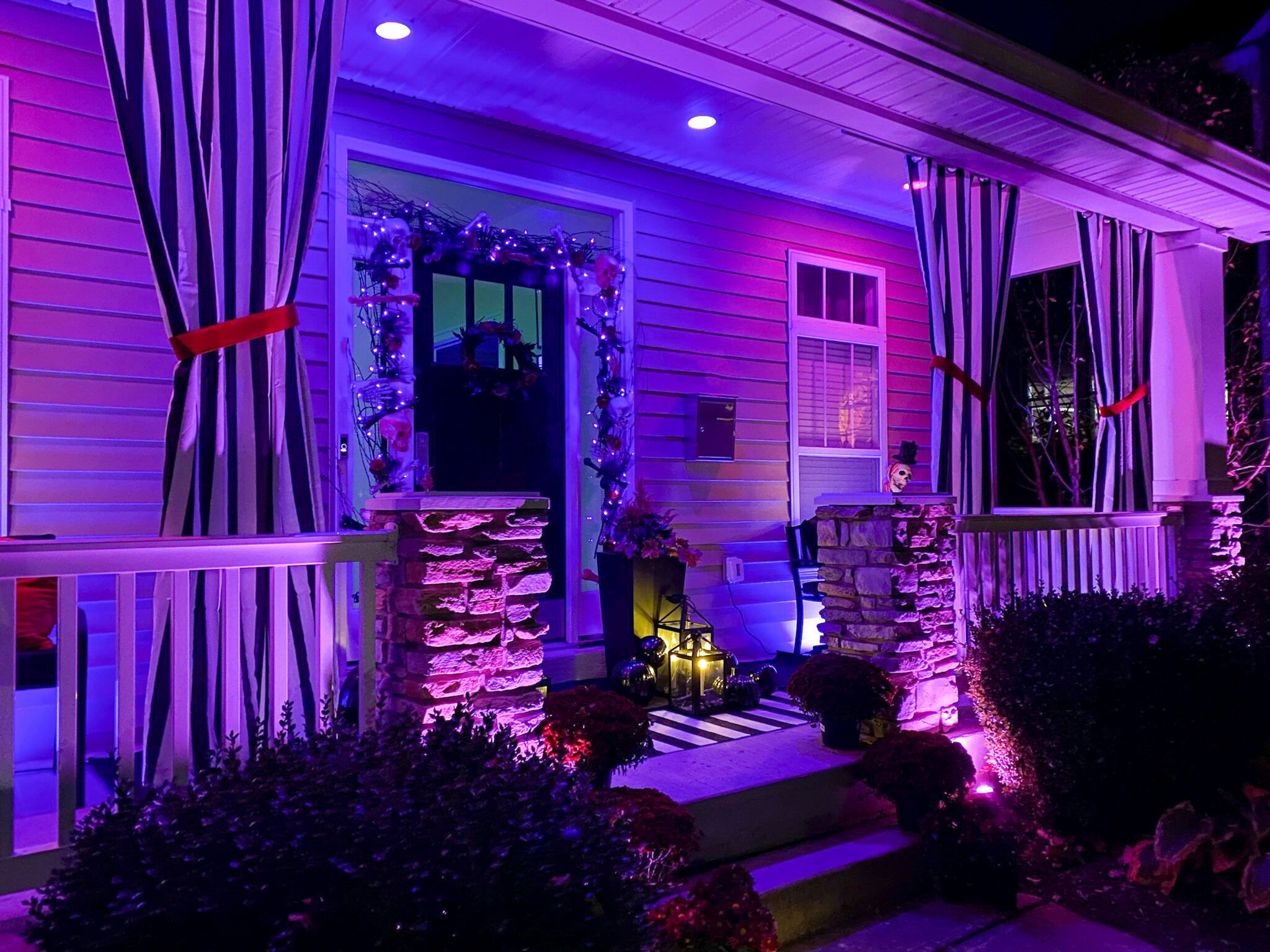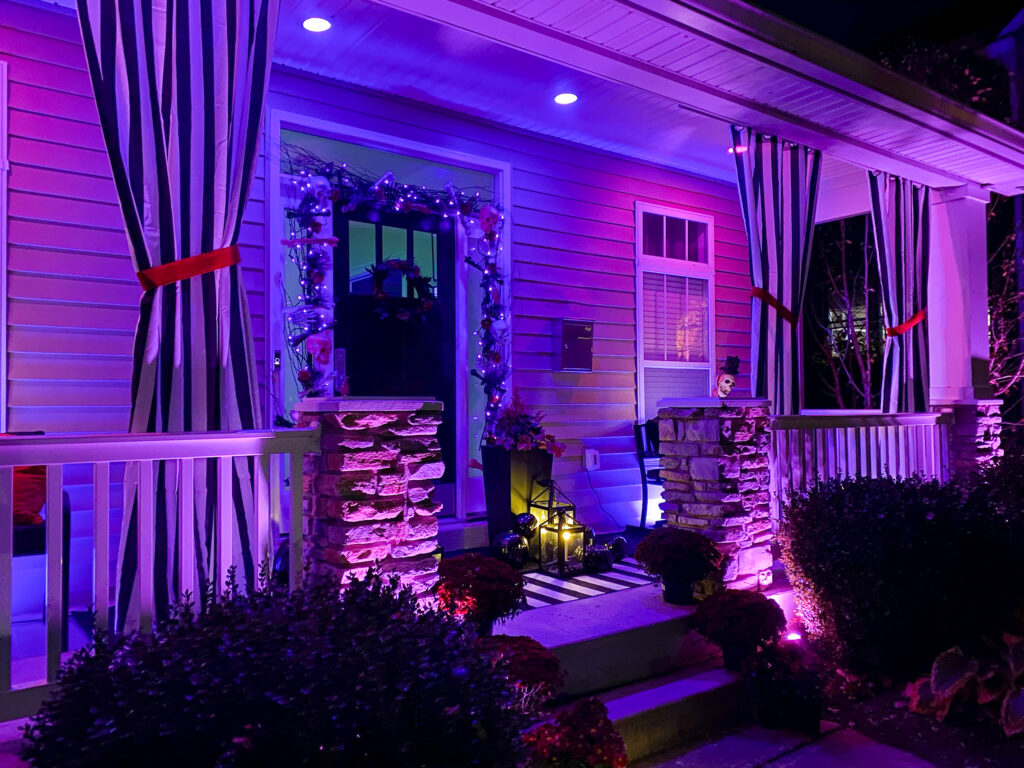 Did you enjoy these tabletop decor ideas? Here are some additional tablescape trends you'll want to explore:
Spooky Halloween Table Decor Ideas that Will Create a Look You'll Love
Easy Halloween Dessert Ideas that are Also Adorable
These Spooky Cocktails are the Perfect Halloween Drink Recipes
If you have any questions or suggestions, contact us or leave a comment!
Follow us on social media! You can find us on Instagram, Pinterest, and Facebook.