FIVE SIMPLE EASTER TABLETOP DECOR TRENDS THAT YOU'LL LOVE!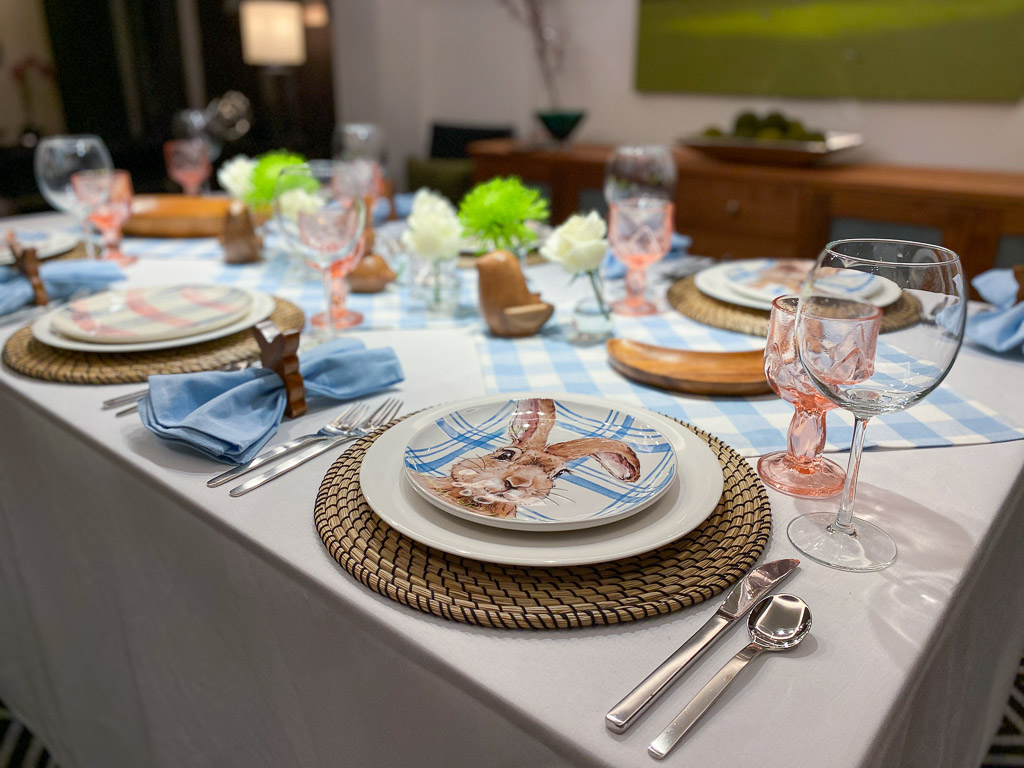 These five simple Easter tabletop decor trends will help you create an adorable and elegant Easter table top with just a few stylish accents!
If you are hopping over today from House of Mar, welcome! I'm so glad to have you here at Make Every Day an Event. We're all about doing something each and every day to turn it into a special event!
Easter is one of my favorite holidays of the year!
It's all of the fun, without that much of the fuss! Because like most good family celebrations, it's primarily centered around the meal at our house.
That means creating a beautiful Easter tablescape is essential. And for this Easter table setting, I wanted to get a bit trendy!
So what are all the fashionable tables wearing this season … ?
Round placemats, wooden serving pieces, vintage colored glassware and bold buffalo check linens are all the rage this spring.
I'll show you how to combine these Easter tabletop decor trends to create a fun, festive setting that's perfect for Easter brunch or dinner … using both old and new items!
Posts on Make Every Day an Event may contain affiliate links which means we may earn a small commission on purchases at no extra cost to you. To learn more, please read our full disclosure here.
1. WOODEN SERVING PIECES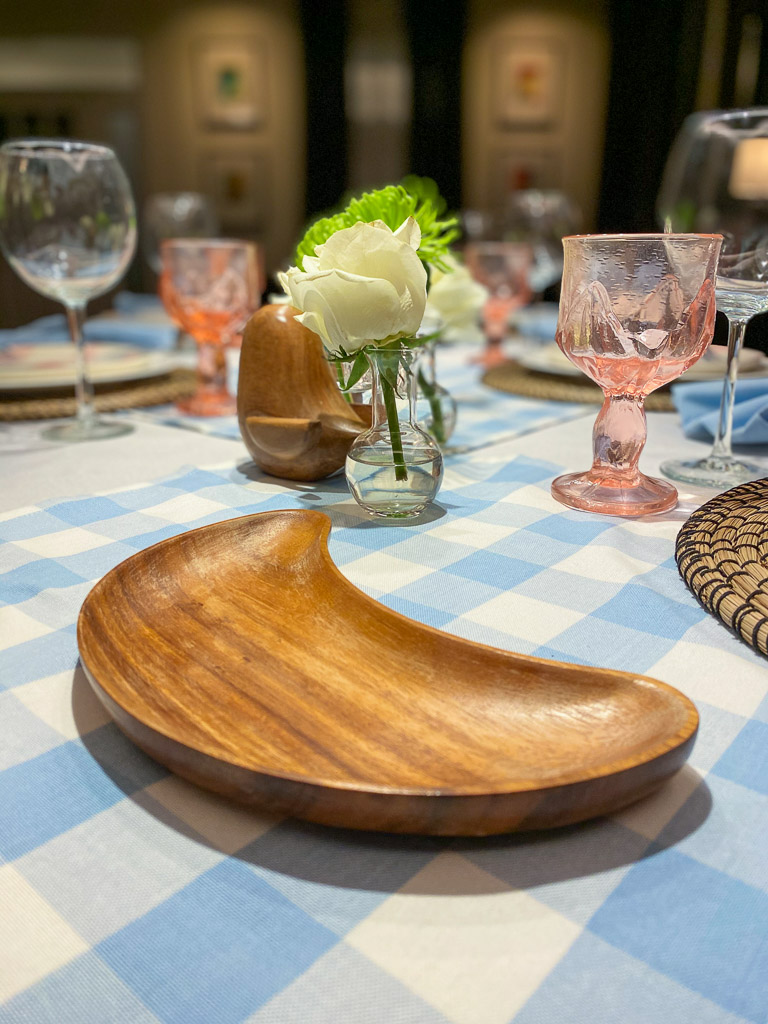 Acacia wood serving pieces have made a huge comeback.
And I'm so happy for their return.
The rich texture and organic touch they add to any tabletop are a welcome bit of warmth and charm.
Like many of the items on my tabletops, these are are vintage.
My mom had a big collection of wooden serving pieces that she barely used.
I kept several of them when we were cleaning out her house and feel so fortunate to have some great vintage choices that are in nearly perfect condition.
And I just LOVE what they bring to the tablescape.
If you aren't lucky enough to have some of these serving pieces hanging around, you can also check out neighborhood estate sales or local thrift stores for these types of finds.
If you're still out of luck, no worries, you can grab them firsthand.
This oblong tray set, root carved serving dish or round wood serving tray would look fantastic on your Easter tabletop.
And this great Acacia serving bowl would be a perfect piece in which to serve a scrumptious fresh fruit or tossed salad on Easter day! YUM! Pass me the bowl!
2. COLORED VINTAGE GLASSWARE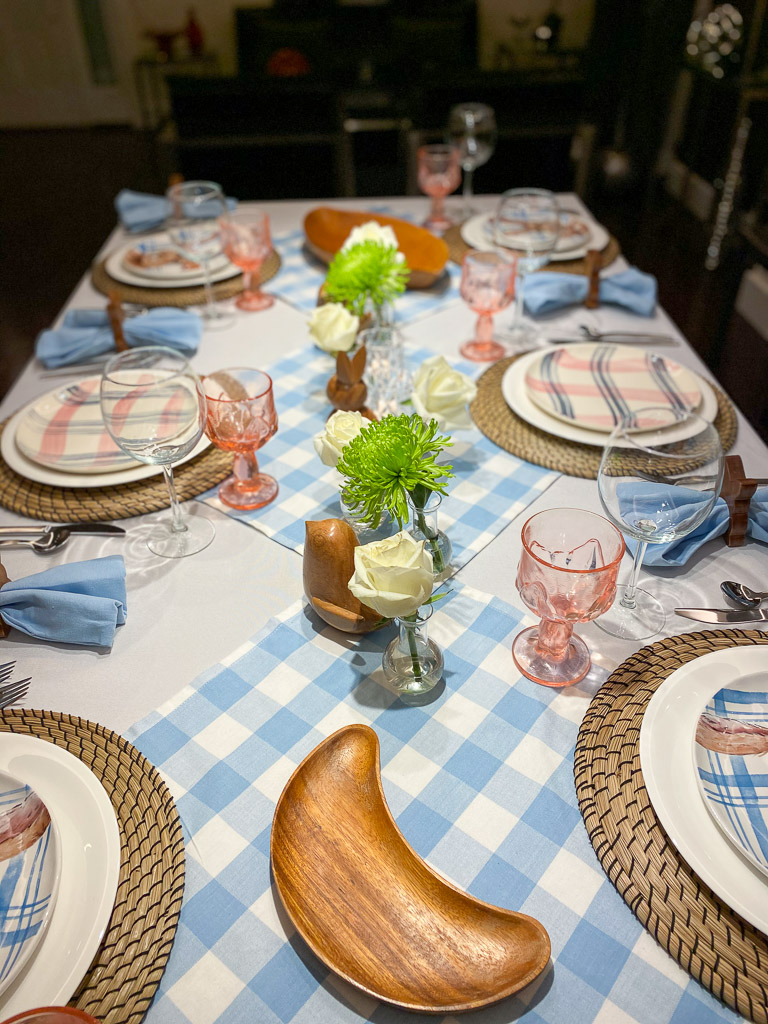 One of my favorite elements of this Easter tablescape is the antique pink Tiffin glassware.
Their charming pink hue just add some pop to the tablescape and are perfect for the spring holiday.
After years (okay decades) of clear glassware on everyone's tabletop, colored glassware is trending hard.
And I'm loving every minute of it.
However, you shouldn't go overboard with it.
If you notice, I kept it simple by only using colored stemware for the water glasses on this Easter tablescape.
They just add a delightful touch, as well as a bit of nostalgia to our table, since these glasses were passed down to us from Matt's grandmother.
As I've mention before, his great grandfather was a glassblower for Tiffin, a glassmaker based in Ohio whose products were tremendously popular in the mid-1900s.
(It's one of the many reasons I married him. LOL.)
While our glasses are vintage, you can find lots a great colored glass options at a variety of retailers.
I love these Fitz and Floyd trestle goblets, think these hand pressed dark green wine glasses would be stunning on any Easter table, and would find lots of use year round for these cobalt ice tea glasses.
There are so many choices in colored glass right now.
This trend is definitely my favorite for spring tabletops and one that I hope will stick around for quite some time!
I know you'll love it!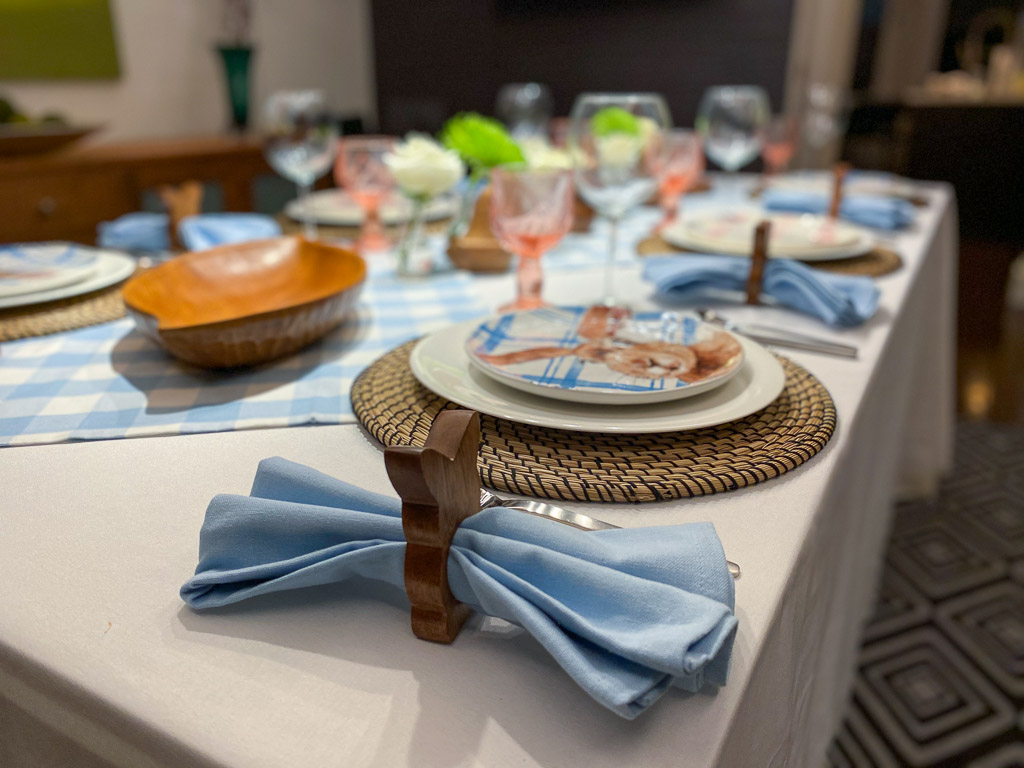 3. ROUND SEAGRASS PLACEMATS
These round seagrass placemats are suddenly everywhere … and there are many good reasons why.
First, they act as a charger underneath your plates.
Second, they add the perfect amount of texture to your tabletop.
And finally, they are one of my top Easter tabletop decor trends because the seagrass brings some of the natural elements of a traditional Easter basket to your tabletop!
Swoon!
Plus, they complement my wooden serving accessories perfectly!
How cute are the wooden bunny and wooden chick! They really complete this look!
These sculptured bunnies on wooden stands would also be a great addition to this tablescape and totally on trend!
Adorable wooden bunny napkin rings also add a bit of Easter flair to this table and make it cute.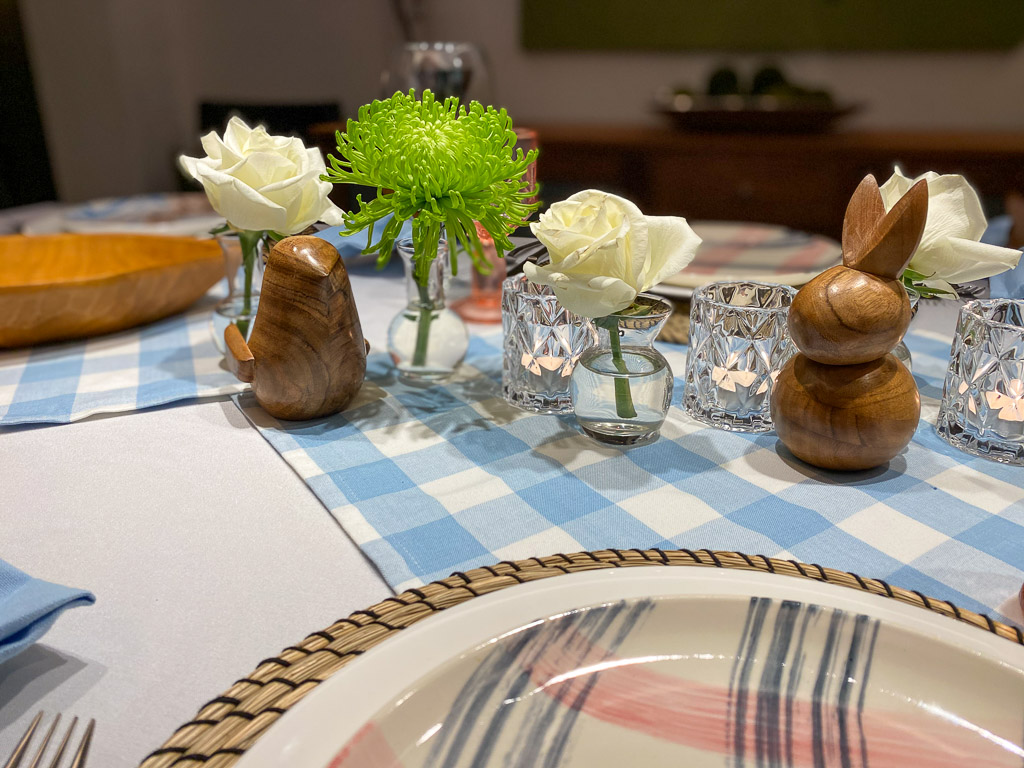 4. COLORED AND PATTERNED STONEWARE
I actually fell in love with these Henry Bunny salad plates last year and got them on clearance.
They came in a set of four and are a really fantastic accent for this table.
If you're having more guests than you have accent plates, don't worry about it.
Just mix and match to add interest to your table.
I supplemented the bunny plates with some cute blue and pink plaid stoneware dishes.
These pastel ceramic dinner plates would look fantastic on any Easter table, as would these Damask bunny plates, or these beautiful pink poppy dessert plates that are just gorgeous!
Don't sweat it! Everything doesn't have to match! It just needs to coordinate!
5. BUFFALO CHECK TABLE LINENS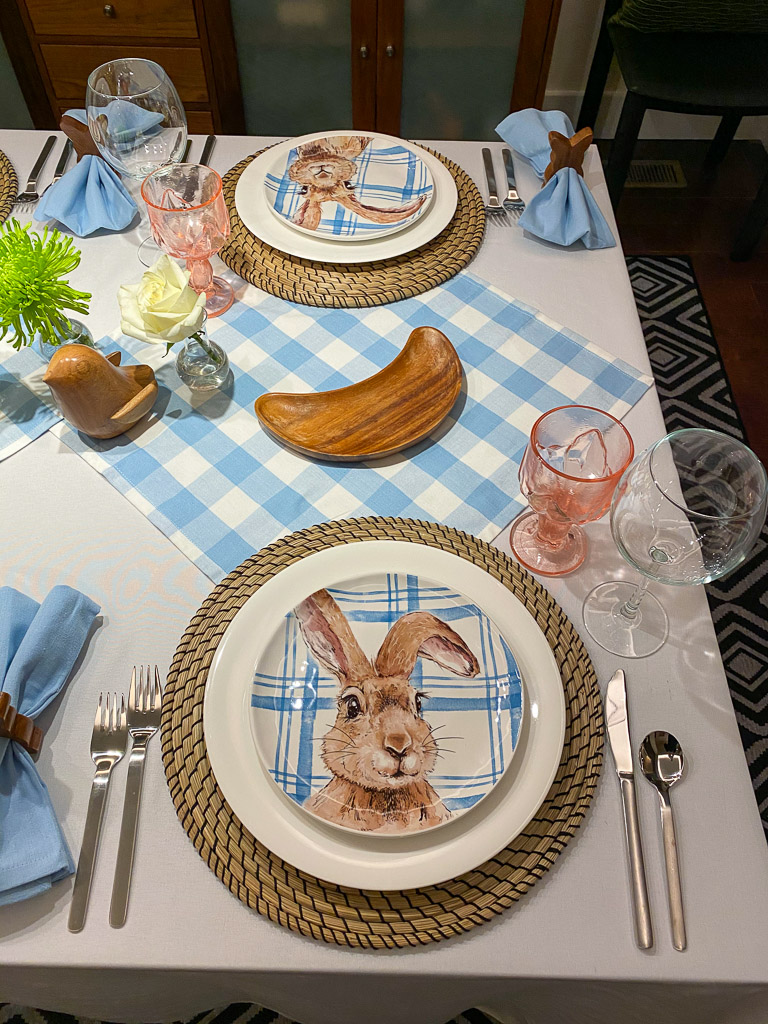 Buffalo check has been super trendy for a couple of seasons.
In particular, red and black buffalo check patterns for decorating during the holidays.
I'm currently seeing an uptick in these same types of patterns, but with an application for the spring season.
For this table, I jumped on that train.
And I LOVE the results!
I also utilized one of my favorite tricks, using napkins as a table runner.
When placed at an angle, they are a great way to add an interesting design element to the table, without spending a lot of money.
And they can be easily reused, time and time again, as well.
In addition to these blue and white buffalo check napkins, I could also envision these pink check napkins or this pastel blue buffalo check table runner on this tablescape.
Similar to the colored glassware trend, don't go overboard.
I placed matching, solid blue napkins at everyone's individual place setting. I like the balance it creates.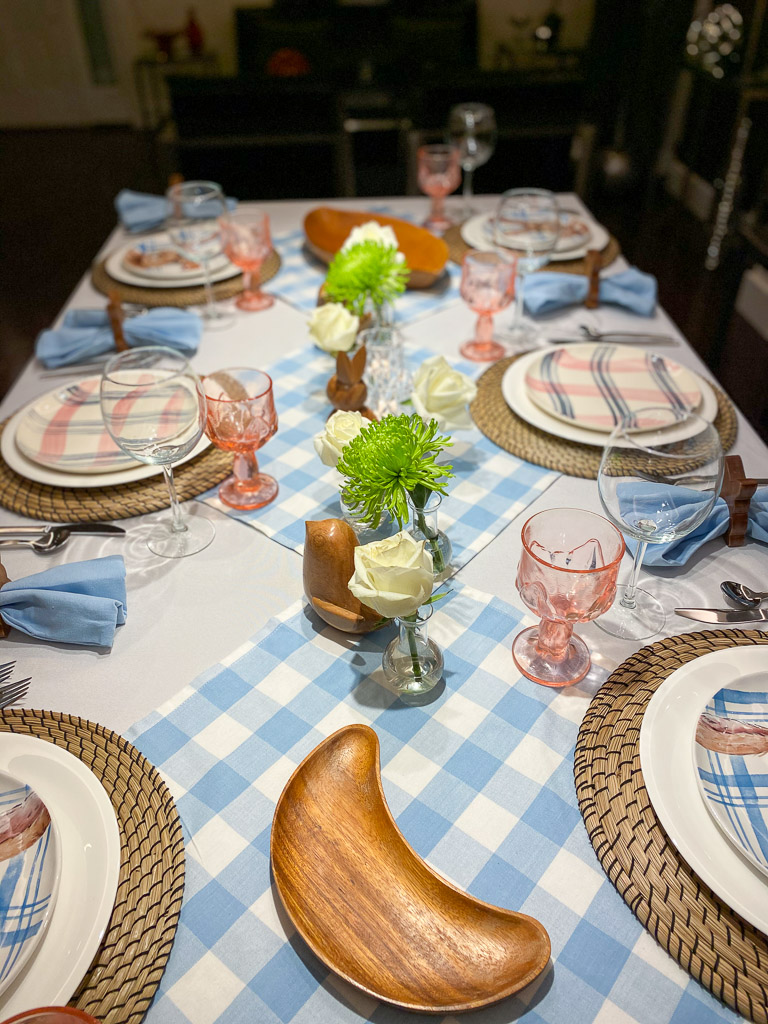 Share photos of your Easter table decor on Instagram with the hashtag #makeeverydayanevent and tag @makeeverydayanevent.
Did you enjoy these Easter tabletop decor trends? Then you'll love this concept …
Today I'm participating in an Easter tablescape blog hop! The hop is being hosted by Cindy from Cloches & Lavender.
After you see all of these great ideas, I know you'll want to thank to Cindy for organizing it!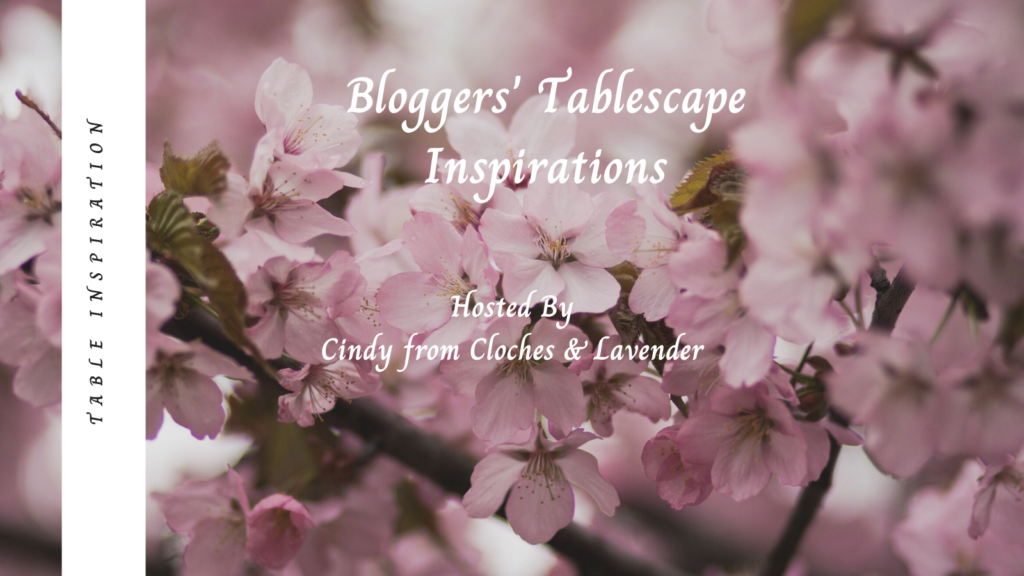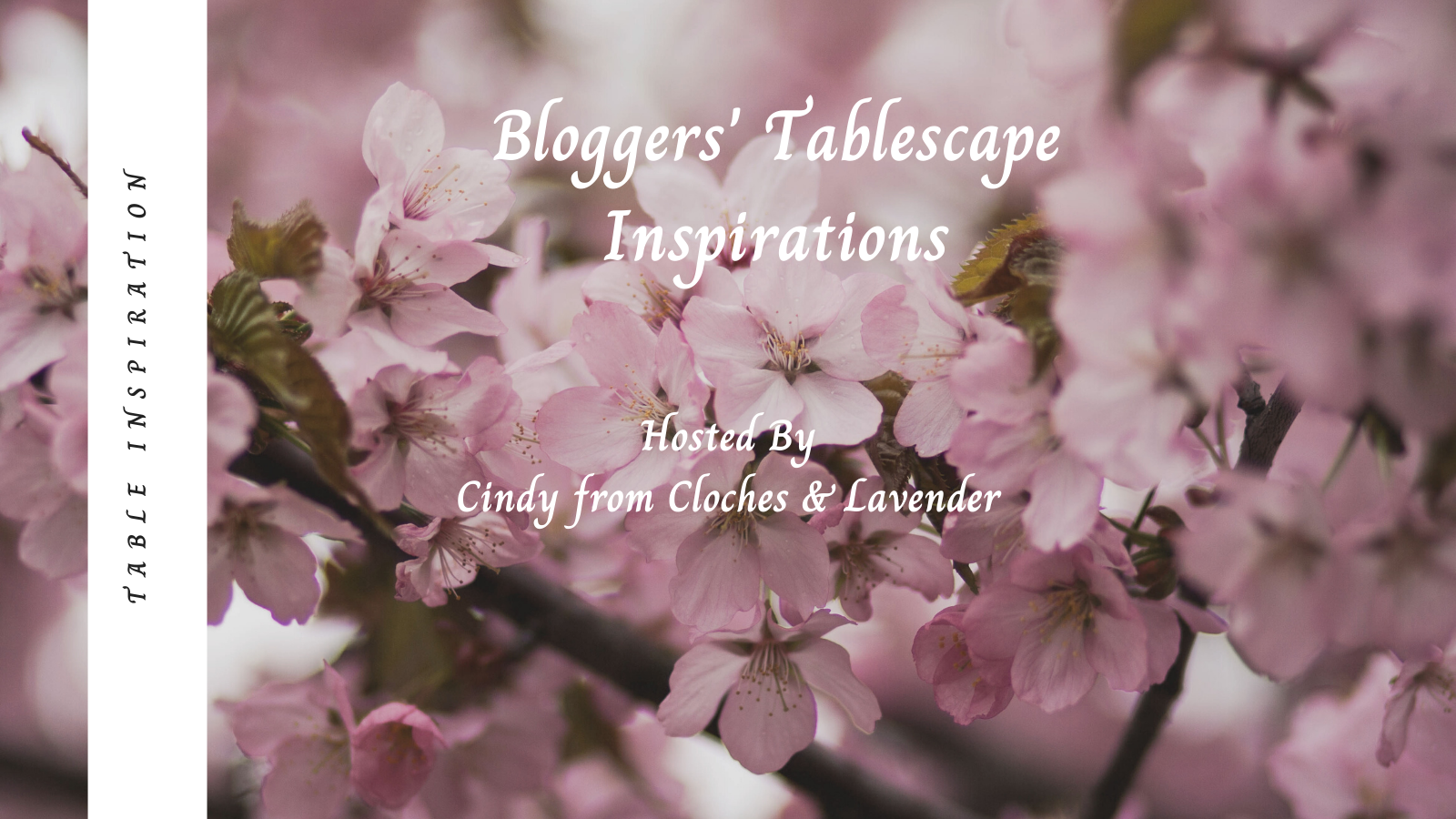 This blog hop is a great opportunity to check out some fabulous table decor ideas that are PERFECT for your spring entertaining.
Each of these table designs were created by fellow bloggers whom I've met along the way.
And one is more fabulous than the other.
I know you will find their ideas to be truly inspiring!
Click the links below to check out the posts:
If you have any questions or suggestions, contact us or leave a comment!
Follow us on social media! You can find us on Instagram, Pinterest, and Facebook.