FIVE WAYS TO CREATE THE ULTIMATE WAFFLE BAR … IT'S BREAKFAST FOR DINNER TONIGHT!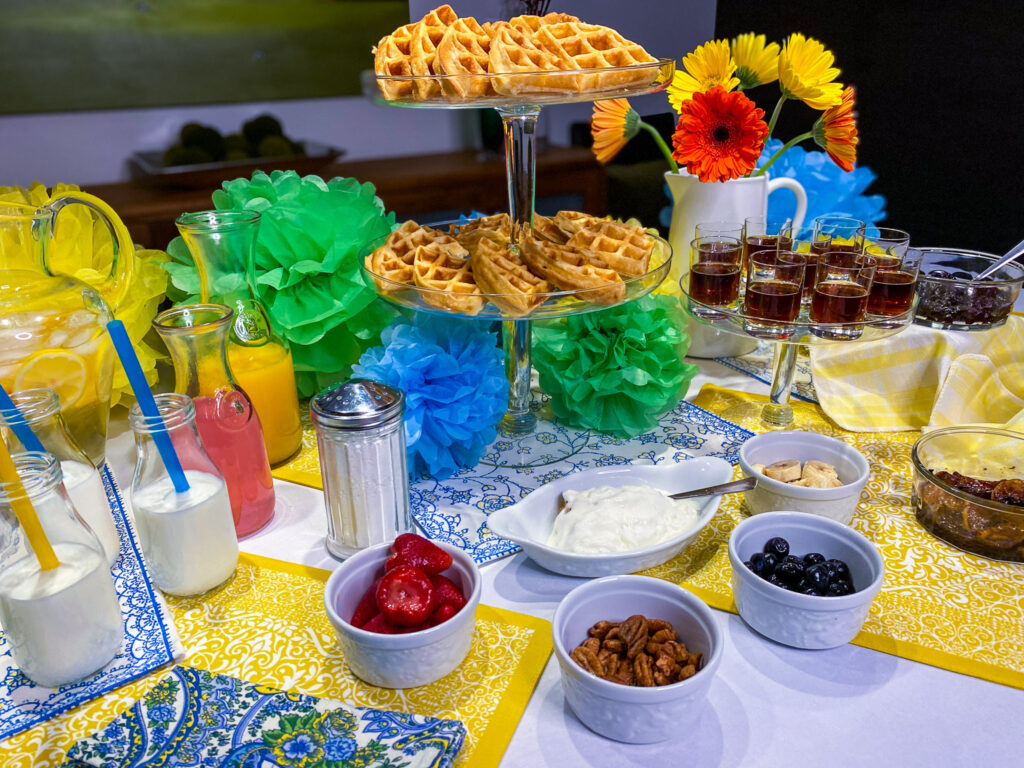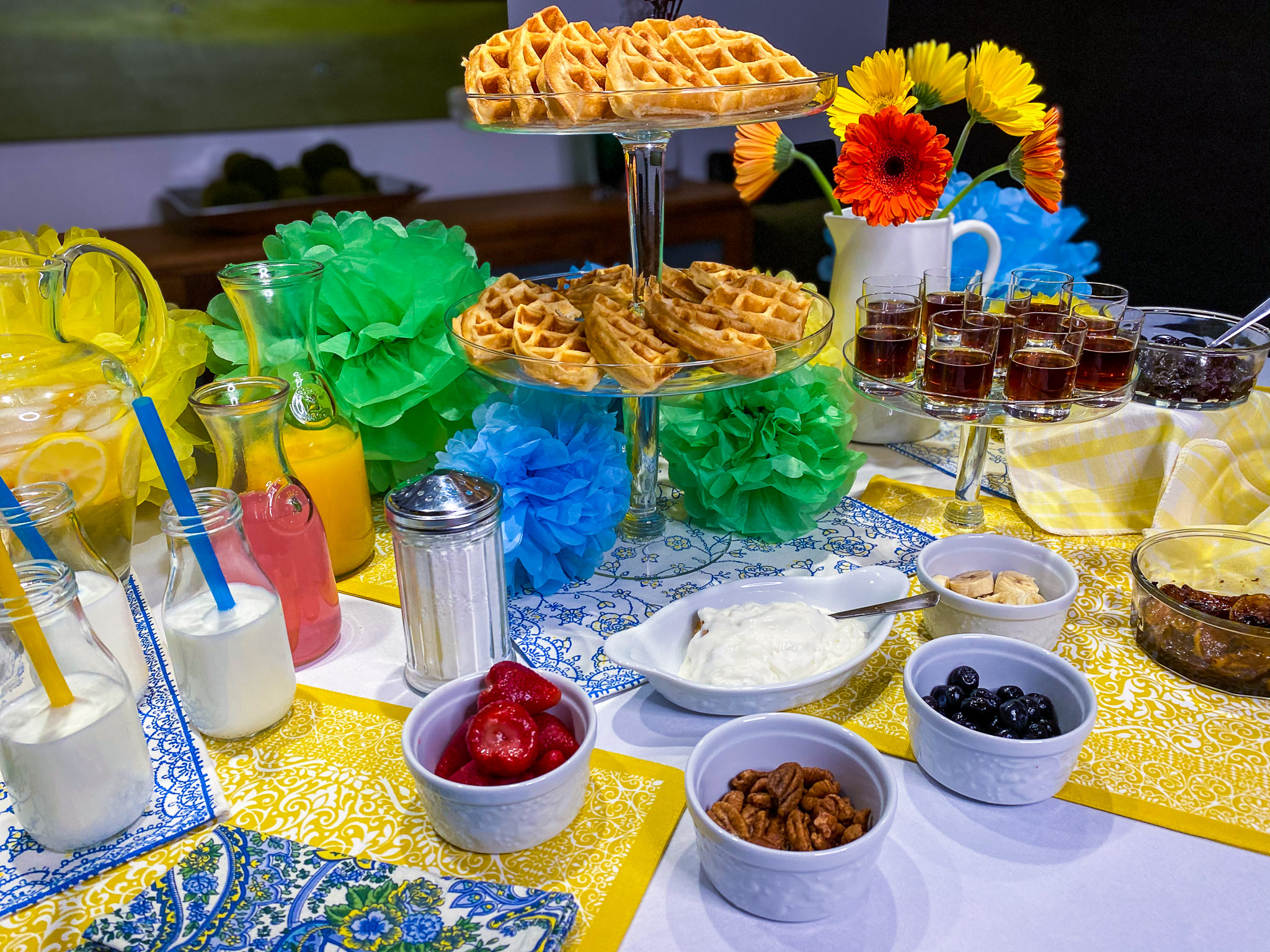 These easy waffle bar ideas were the perfect way to celebrate International Waffle Day on March 25. Everything is kind of upside down right now … still! So why not embrace it, by having breakfast for dinner? That sounded like a fantastic idea to us. So we served up a build-your-own waffle bar that's sure to put a smile on everyone's anxious face. And we're sharing five easy waffle bar ideas that are sure to be a hit.
Having breakfast for dinner was a huge treat when I was growing up. I have no clue as to why that was. My mom really didn't enjoy cooking and breakfast is one of the easiest, most foolproof meals to make. So it would seem we should have been evening noshing on breakfast favorites every other week … but sadly that wasn't the case.
In her honor, and for this year's International Waffle Day, we're going to keep it simple and easy to make. Classic buttermilk waffles, healthy toppings and a fun tabletop setting. We think it's the perfect recipe for a great dinner at home!
HERE ARE FIVE EASY WAFFLE BAR IDEAS:
1. HOMEMADE FRUIT SAUCE AND TOPPINGS ARE EASIER THAN YOU THINK (AND YOU CAN SERVE THEM WARM, YUM!)
Here are recipes for a few of our favorite fruit syrups. Why do we love them? The list of ingredients is short, they're easy to make and the results are simply delicious.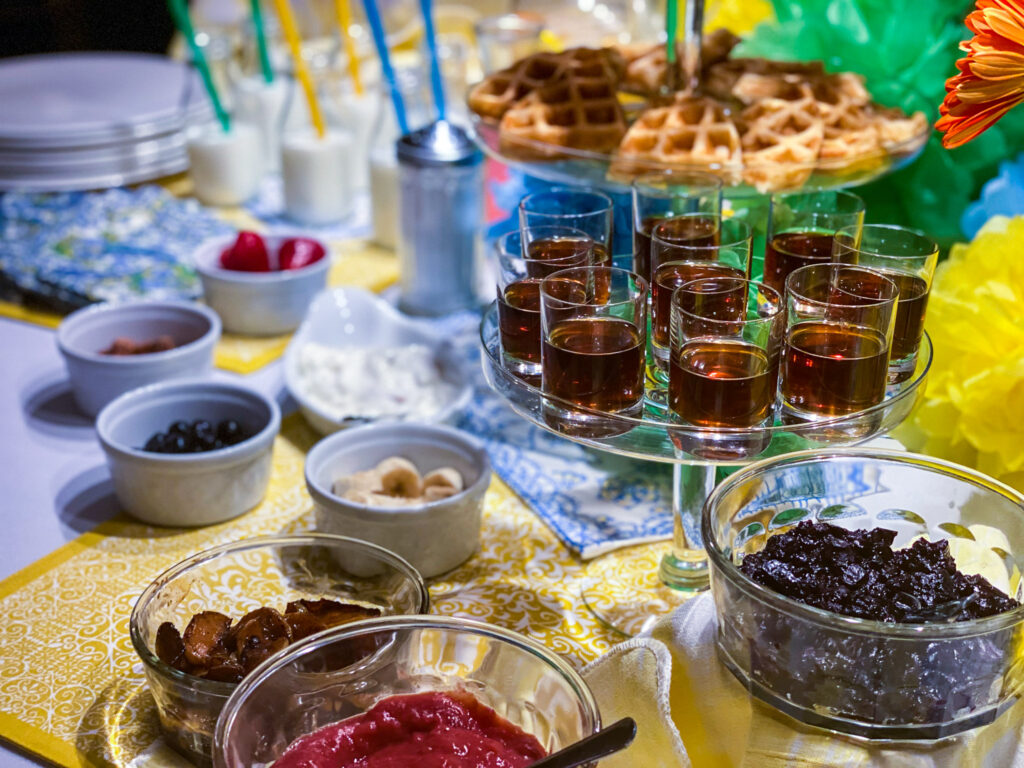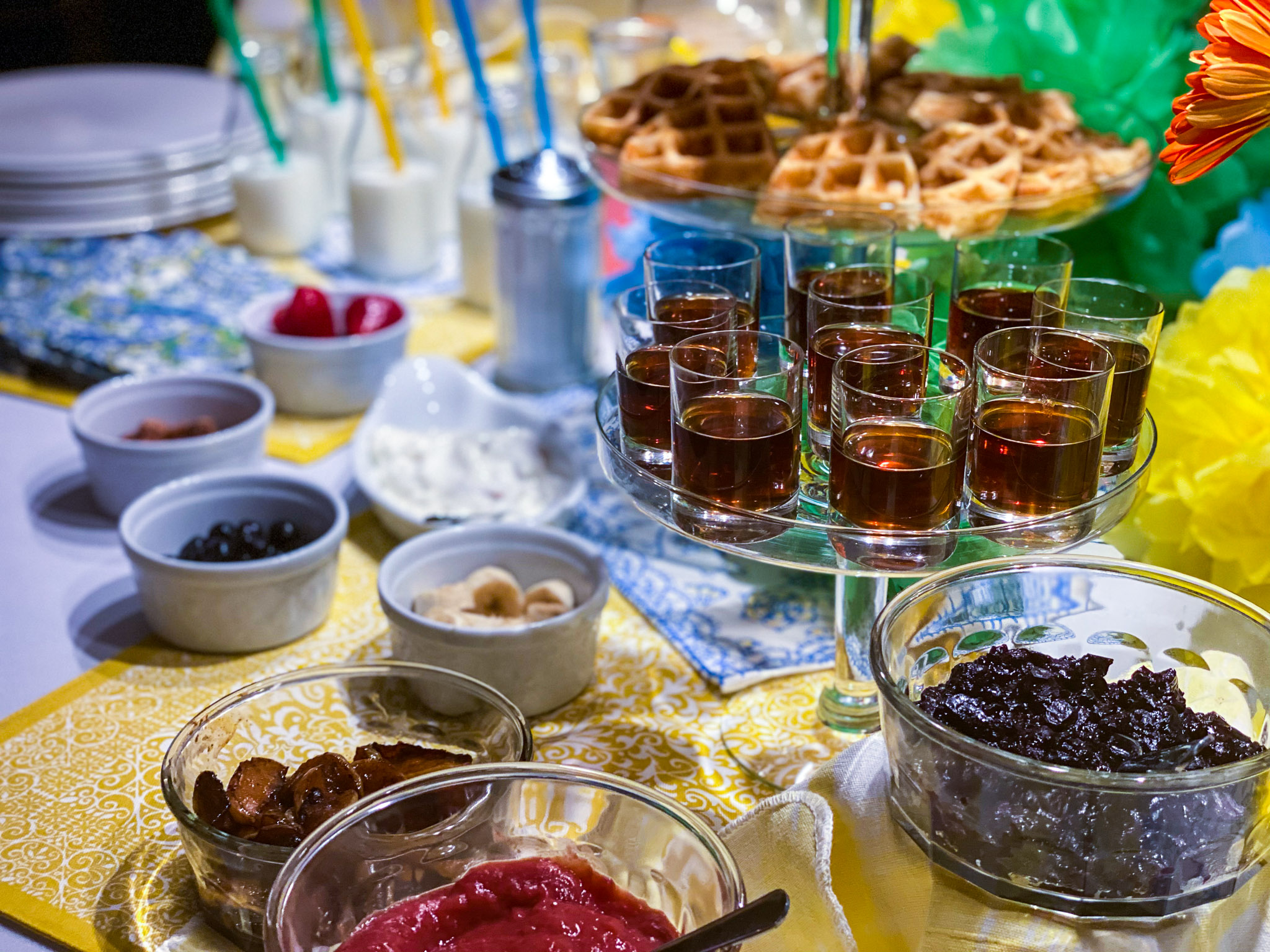 QUICK STRAWBERRY SAUCE
10-ounce package frozen strawberries
1 tbsp. cornstarch
Puree strawberries in a blender and transfer mixture into a saucepanAdd cornstarch and bring the mixture to a boil over medium heat, stirring constantly for one minute. Remove from heat. Serve warm, chilled or at room temperature.
EASY BLUEBERRY SAUCE
¼ cup sugar
2 tsp. cornstarch
¼ cup water
2 tbsp. lemon juice
¼ tsp. ground cinnamon
Two cups frozen blueberries
Combine all ingredients in a medium saucepan, cooking slowly over medium heat and stirring constantly until mixture boils and thickens.
SAUTEED APPLES
3 tbsp. butter
Four large Granny Smith apples (peeled, cored, cut into 1/2-inch pieces)
2 tbsp. brown sugar
1 tbsp. honey
1/4 tsp. ground nutmeg
1/4 tsp. ground cinnamon
1/4 tsp. grated orange peel
Cook butter in large nonstick skillet over medium-high heat until beginning to brown. Add apples and sauté until tender, about 9 minutes. Add all remaining ingredients; stir to blend.
MAPLE SYRUP TIP – we served our favorite maple syrup in individual servings and elevated it by placing it on a cake stand! Not only did this allow us to heat the syrup as an extra special touch, it also made for an elegant presentation. Plus, it was super easy!
2.YOU DON'T HAVE TO CREATE A STICKY MESS … BUT WE TOTALLY ENCOURAGE IT!
If syrup isn't your thing, go for the sliced fruits. Strawberries, apples and bananas, as well as whole berries are a great, colorful complement to waffles. In addition, sprinkles, powdered sugar and whipped crème also create a delightful combination that's not so drippy. Display these on the table and let everyone customize their unique topping mix!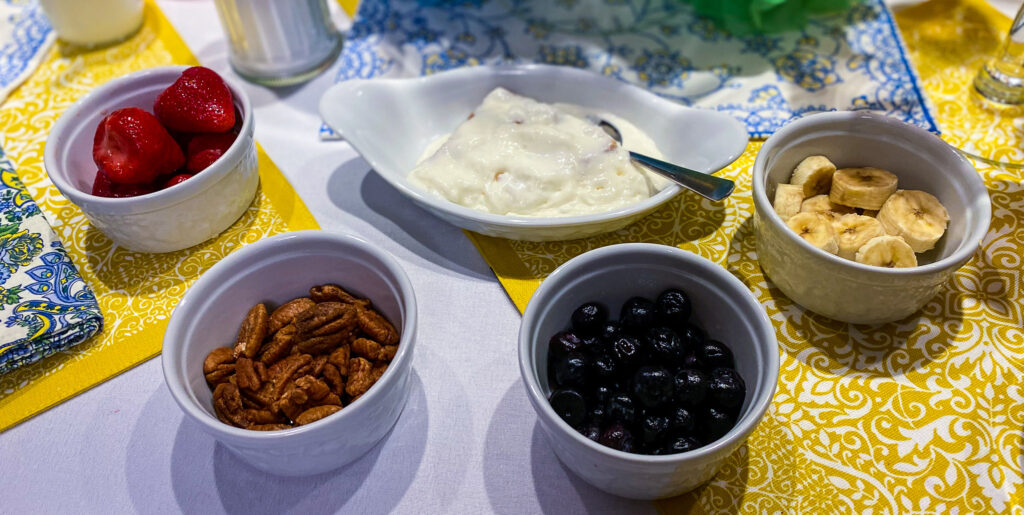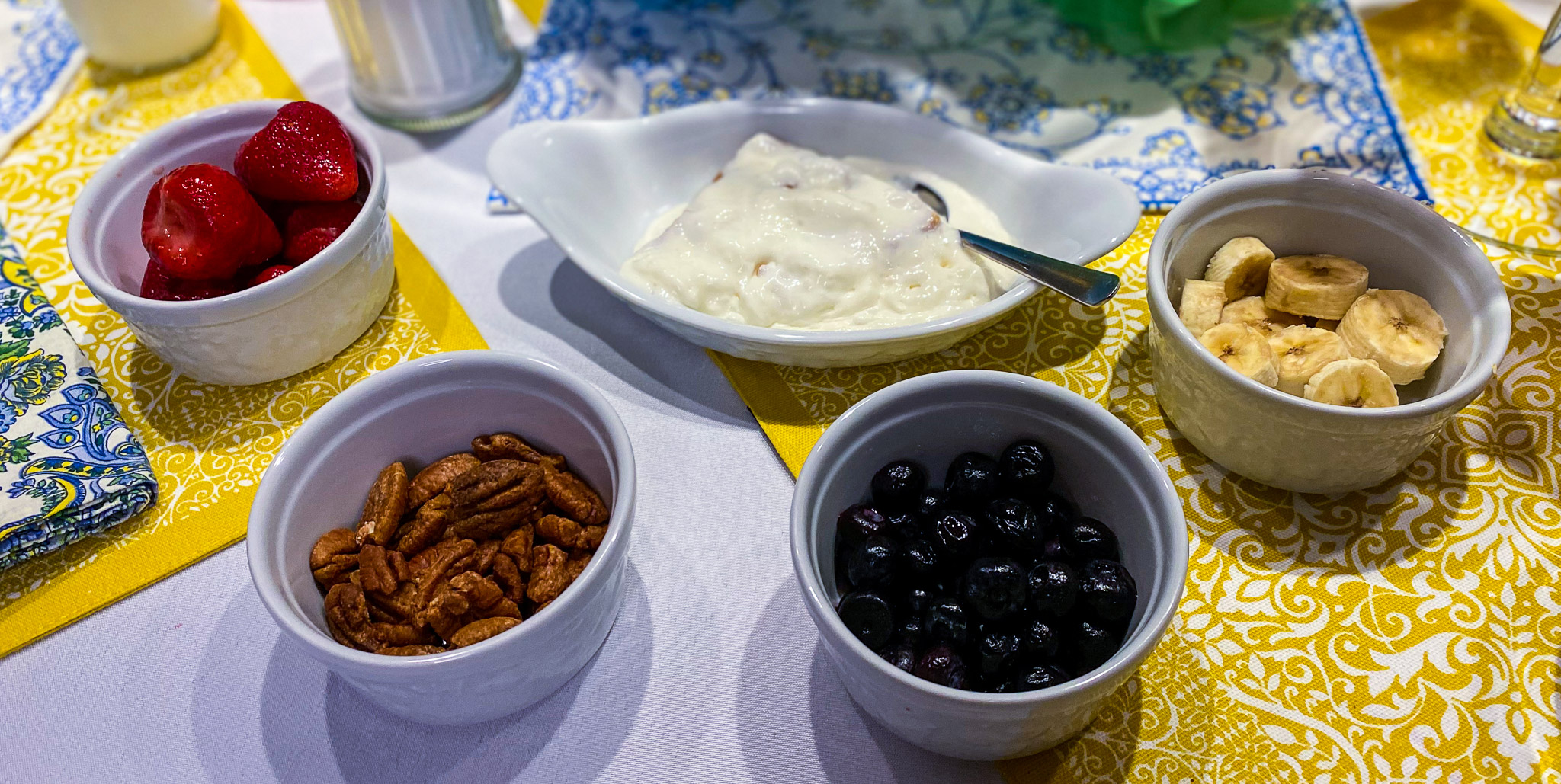 3. THERE'S NO REASON FOR ANYONE TO PROCLAIM, "LET GO MY EGGO!" WITH THIS SIMPLE TRICK.
Divide and conquer! Don't serve the waffles whole … break them up into halves or quarters. Not only will you avoid dinner time drama, you'll also give everyone multiple options to come up with different flavors and combinations. Blueberry syrup with bananas? Sure. Mix Maple syrup and bananas next? Absolutely. Combining all three syrups? Maybe … ? It's your choice!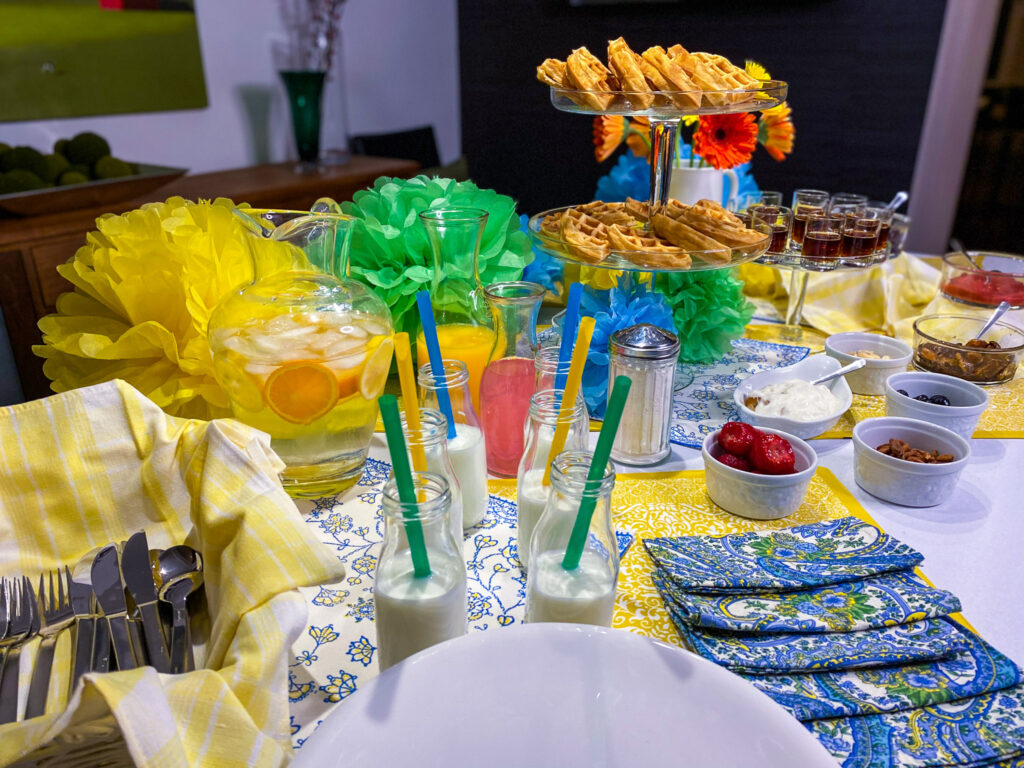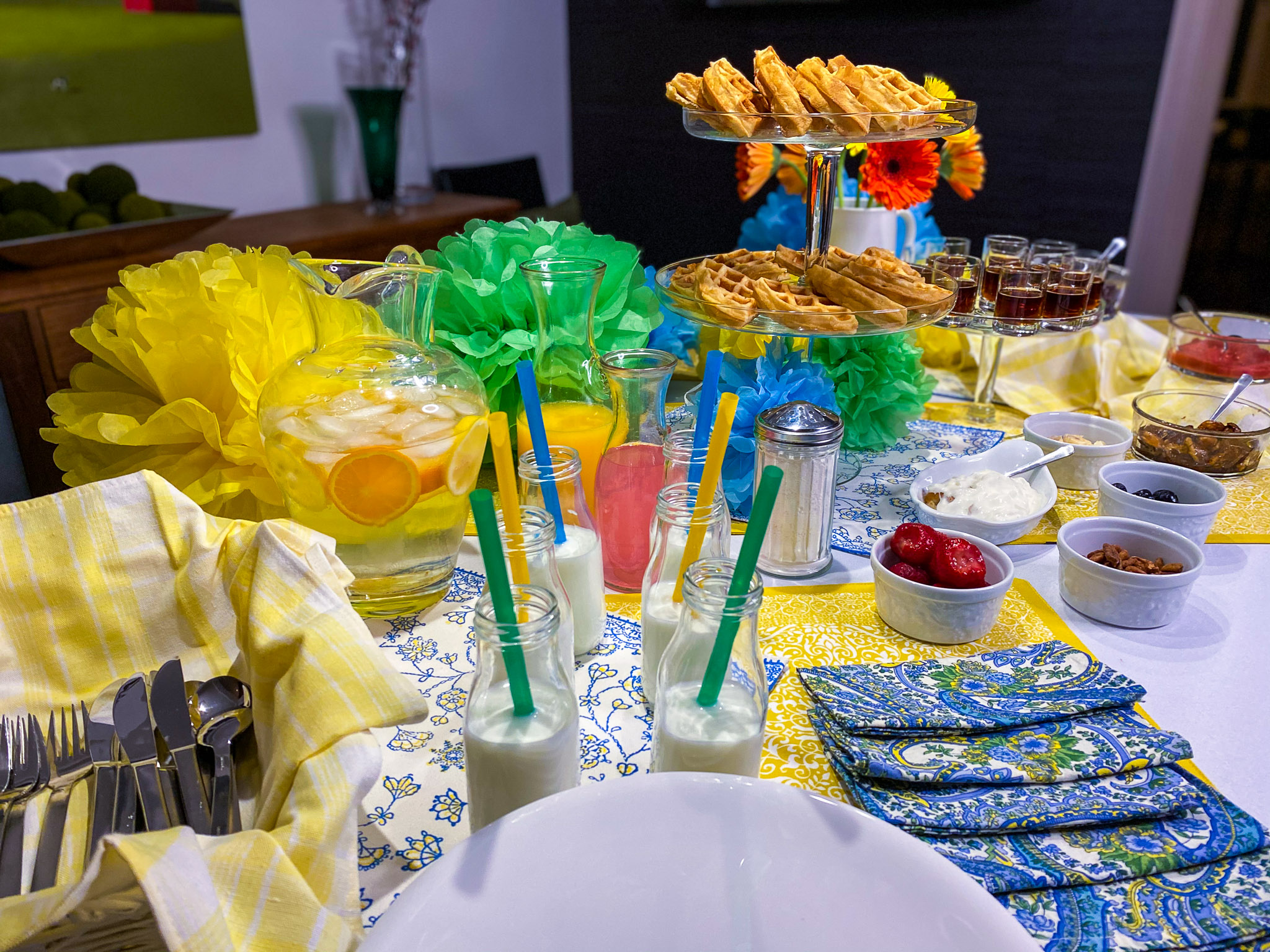 4. DON'T STRESS OUT, JUST LEAVE IT TO THE EXPERTS.
There are a wide variety of great baking mixes out there. This meal is supposed to be fun and angst free. Don't feel any shame if you choose to utilize a mix … we did!
5. BE SURE TO SAVE THE LEFTOVERS, BECAUSE THE FUN NEVER ENDS!
Waffles really aren't just for breakfast anymore! You can store leftover waffles in an airtight container in the refrigerator for up to three days. Think you'll need them longer? You can freeze waffles for up to three months. The best way to heat them? Pop them in the toaster, just like the aforementioned, good-old-fashioned Eggo. Some of the most popular, non-traditional waffle pairings we could find include:
Waffles and chili
Ice cream and waffles
Waffle eggs benedict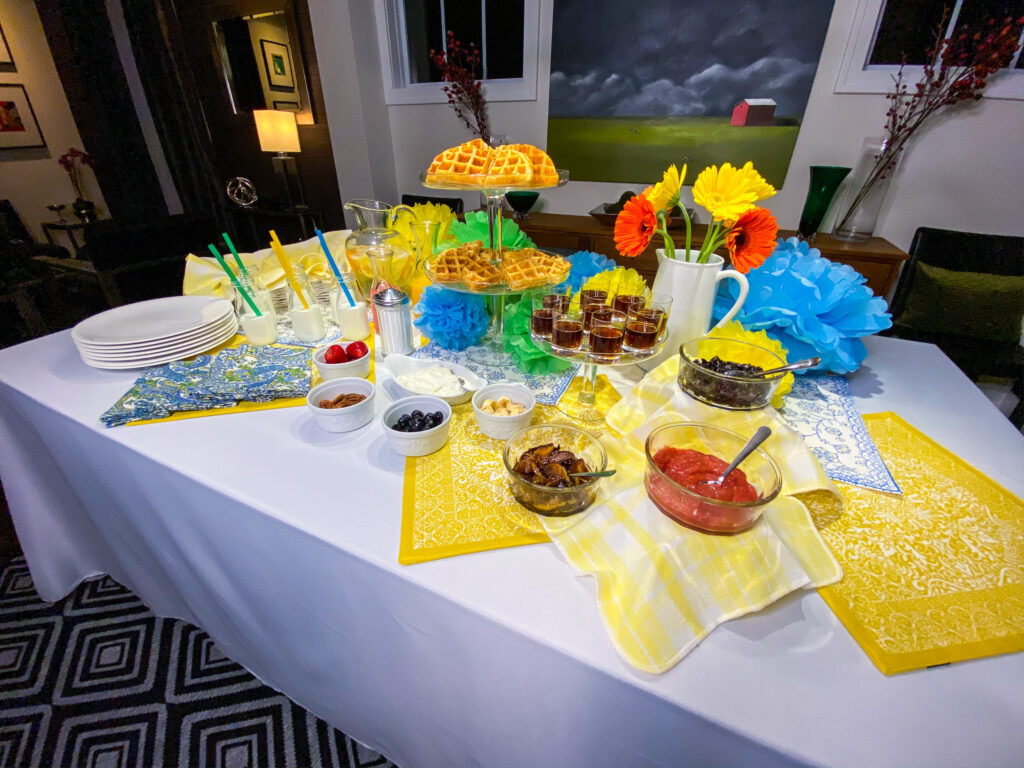 THIS IDEA IS GREAT FOR:
Sunday Funday brunch
Kids' birthday party
A morning book club
Bunko night with the girls
Looking for other fun ideas with waffles? Check out this blog that details how to make your own, homemade ice cream sandwiches!
How will you #MakeEveryDayanEvent today? Tell us below.