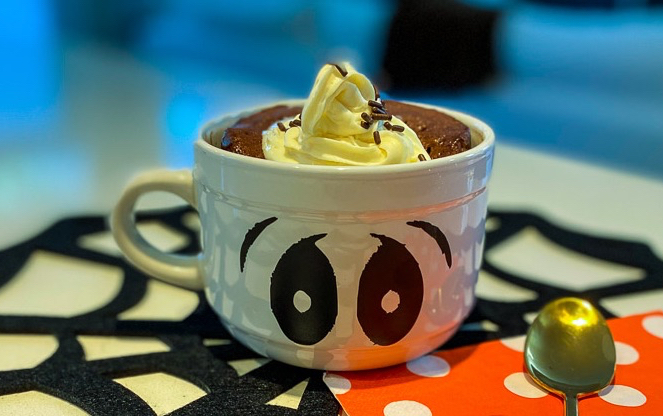 This is one of the best, easy Halloween dessert ideas I've found.
And did I mention it's adorable too?
We show you how to make a ghost mug in just a few easy steps, as well as divulge the best chocolate mug cake recipe we discovered.
Combined, they are a spooky Halloween dessert idea that's perfect if you're looking for a little something special to whip up as you carve pumpkins, make costumes or gather the family together to watch scary movies.
This easy Halloween dessert idea is also perfect to celebrate National Dessert Day on October 14.
As if we need another reason to have fun in October!
Both the mug and the cake are easy to make …
And they certainly got us excited about Halloween.
I think they'll get you in the spirit too!
FIRST, LET'S GET A WEE BIT CRAFTY …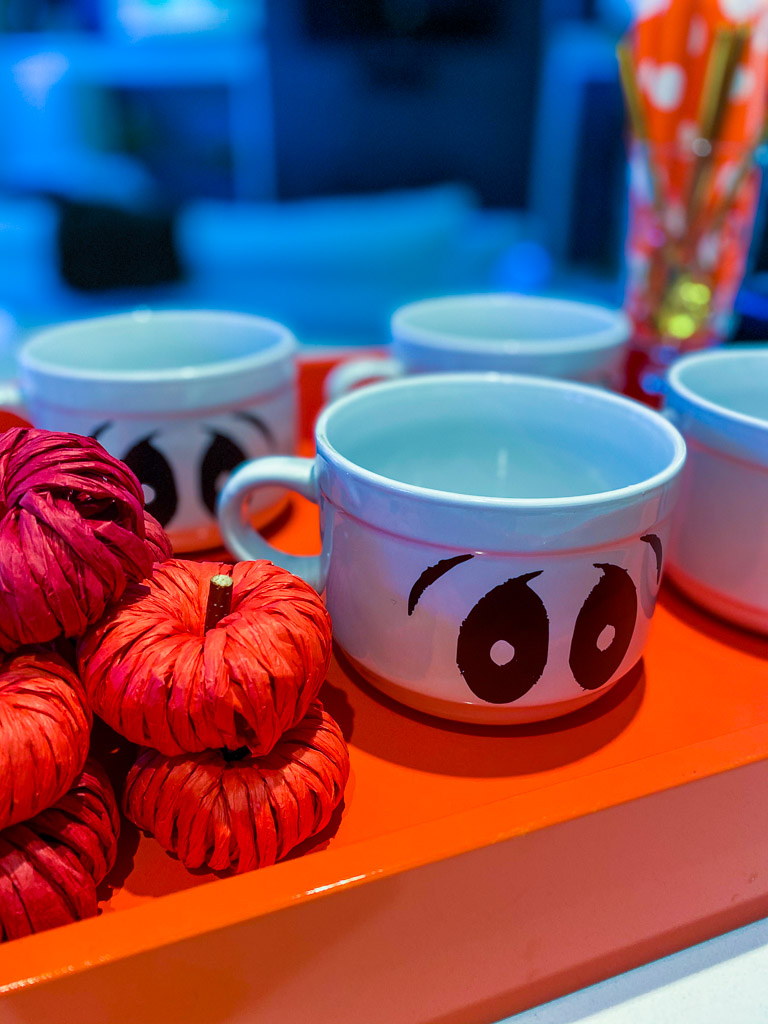 These Halloween mugs are inexpensive, easy to make and simply darling.
Their large size makes them perfect for a variety of seasonal fall options such as hot cocoa, soup (or chili), coffee, ice cream, and, of course, mug cakes!
I stumbled upon these particular mugs at Dollar Tree over the summer.
But if that's not an option for you (or if they are sold out), there are some equally great white mugs available on Amazon.
Whichever you choose, just make sure they are microwave safe.
To create the ghost eyes, I turned to Design Space on my Cricut maker.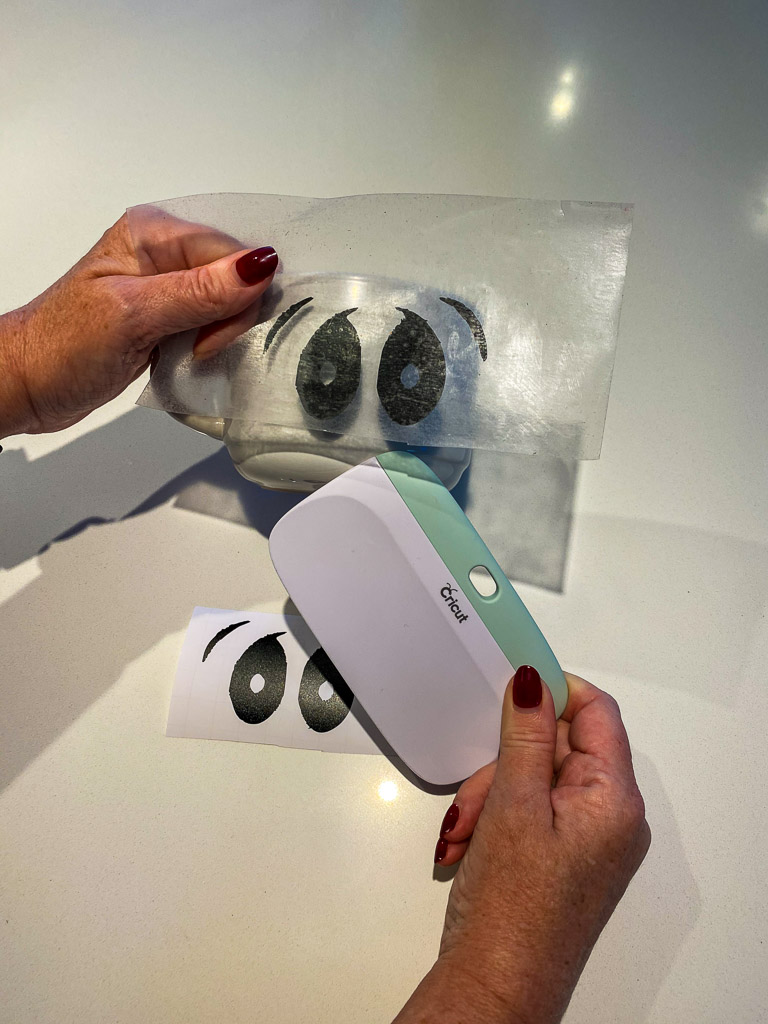 Here is a link to the file I created.
After cutting and weeding the eyes using black Cricut vinyl, I carefully transferred them onto the mugs.
So cute!
So easy!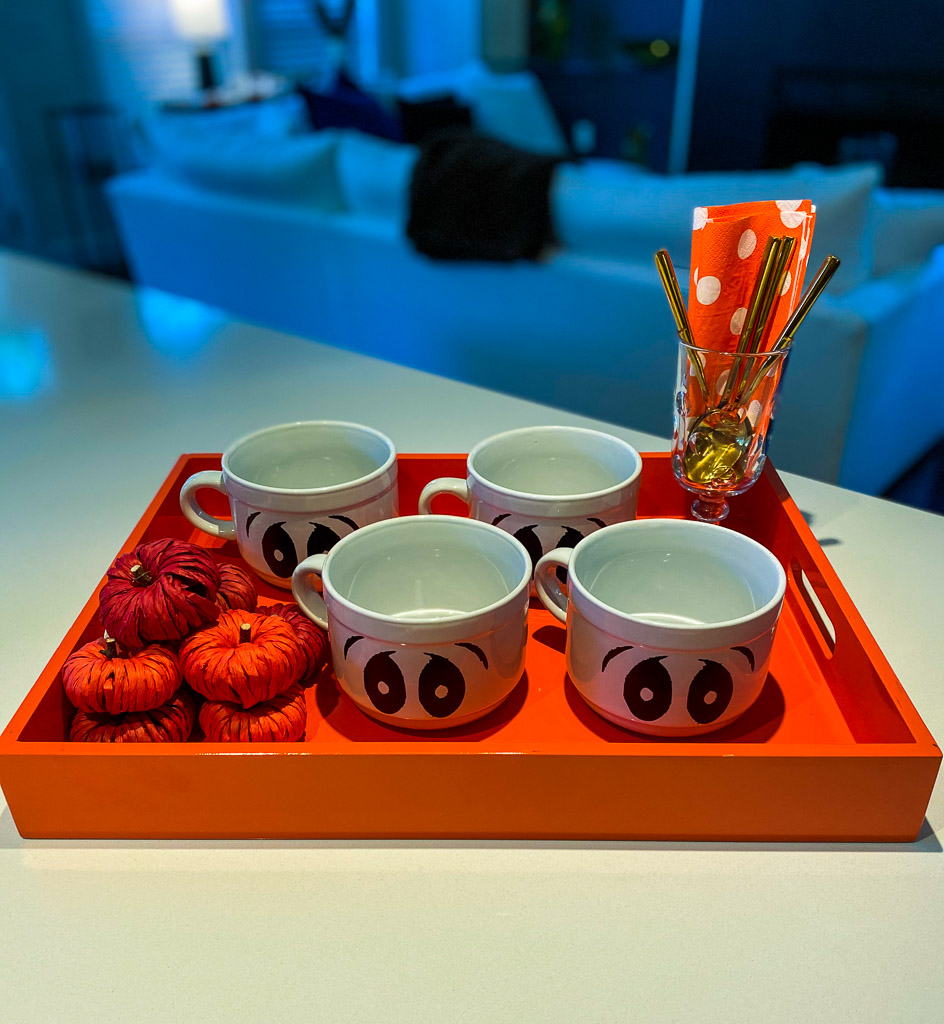 NEXT, LET'S GET BAKING …
Mug cakes are enjoying a moment.
And it's obvious as to why …
They are an easy way to make a cake from scratch, without the time commitment or the messy clean up.
Since they are best when eaten right after they're baked, they are also the perfect after-dinner treat.
And their small size also makes them a far less guilt-ridden choice than a traditional cake.
It's one and done … unless you decided to bake another.
And you might …
Because they make they whole house smell like chocolate cake.
YUM!
PRO TIP: Due to the large size (22 ounces) of our mugs, this recipe is doubled. If your mugs are smaller, simply cut the recipe as appropriate. Also, this recipe is rich! These large mugs are great for sharing!
But the biggest bonus?
Total prep/baking time is literally under five minutes.
Here's the best chocolate mug cake recipe we found for National Dessert Day, which is also one of our favorite easy Halloween dessert ideas: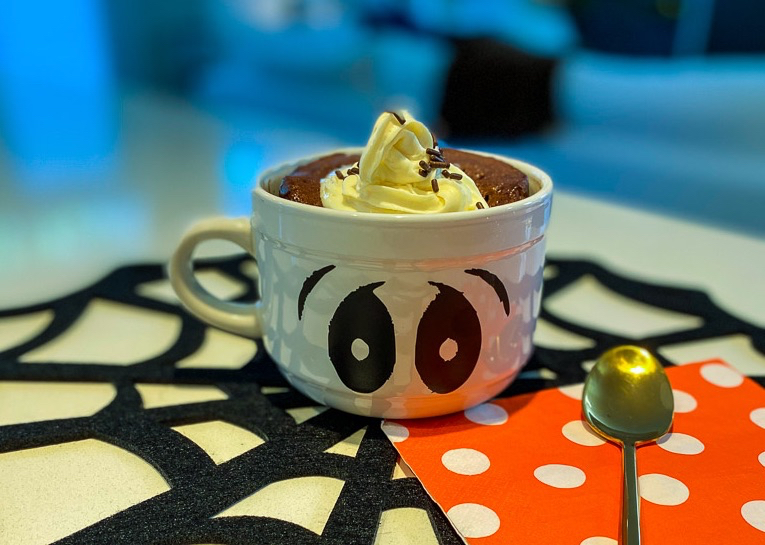 EASY CHOCOLATE MUG CAKE RECIPE MICROWAVE
Five tablespoons all-purpose flour
Five tablespoons sugar
One tablespoon unsweetened cocoa powder
One-half teaspoon baking powder
Pinch of salt
Four tablespoons milk
Two teaspoons canola oil
Two small eggs
Four tablespoons chocolate chips
In a microwaveable mug mix together the flour, sugar, cocoa powder, baking powder, and salt with a fork.
Add in the milk, oil, egg & chocolate chips and whisk until you have a smooth cake batter.
Microwave the cake for 90 seconds to two minutes or until the cake has risen and is firm to the touch.
Cooking time is based on a 1200 watt microwave.
Overcooking can cause the cake to toughen, so be mindful.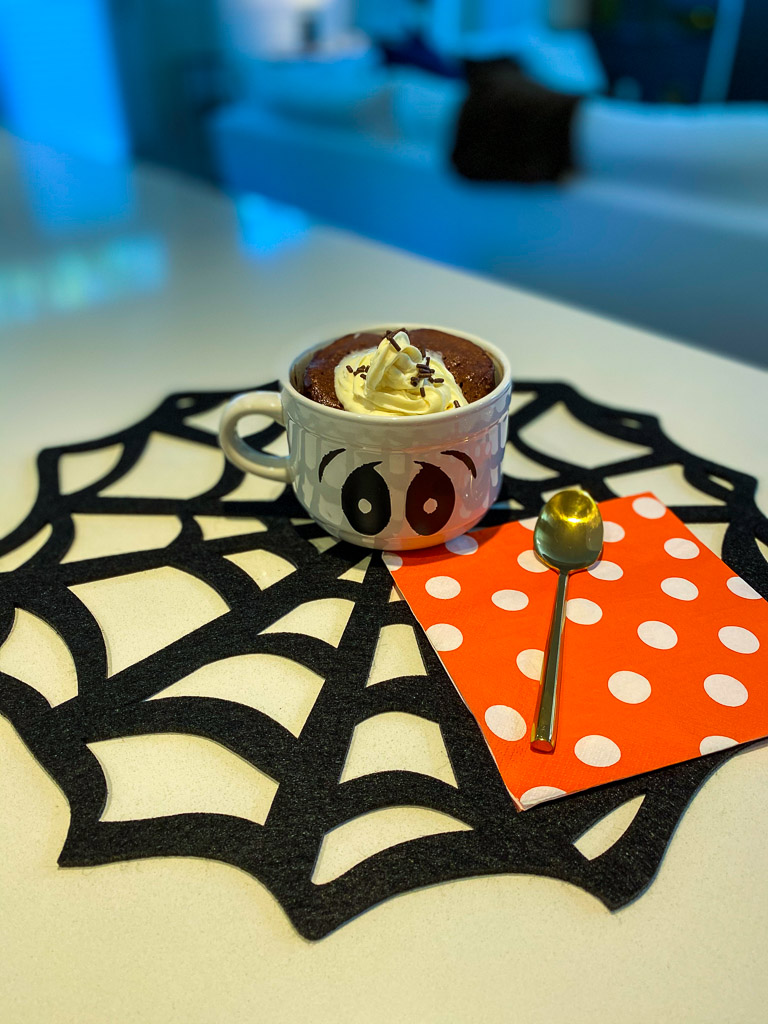 This is just one of many Halloween ideas we're sharing. To discover more great ways to get in the seasonal spirit, check out:
Cute, No-Carve Pumpkin Ideas
Modern, Red and White Halloween Table Decorations
Cute Halloween Ghost Garland
Did you try this idea? Share it on Instagram with the hashtag #makeeverydayanevent and tag @makeeverydayanevent.
If you have any questions or suggestions, contact us or leave a comment!
Follow us on social media! You can find us on Instagram, Pinterest, and Facebook.