GREAT IDEAS TO CREATE A 70s THEMED, FONDUE DINNER PARTY!
This is great 70s party idea! Can you dig it? Yes you can … ! And, you'll likely dip it too! We'll show you how to get the party started, step by step. In celebration of National Cheese Fondue Day on April 11, We've pulled together a seventies-inspired dinner party. There's nothing but good vibes and good food at this gathering. So take a chill pill and channel your inner Brady Bunch. Let's prepare to have some cheesy fun with this great 70s party idea!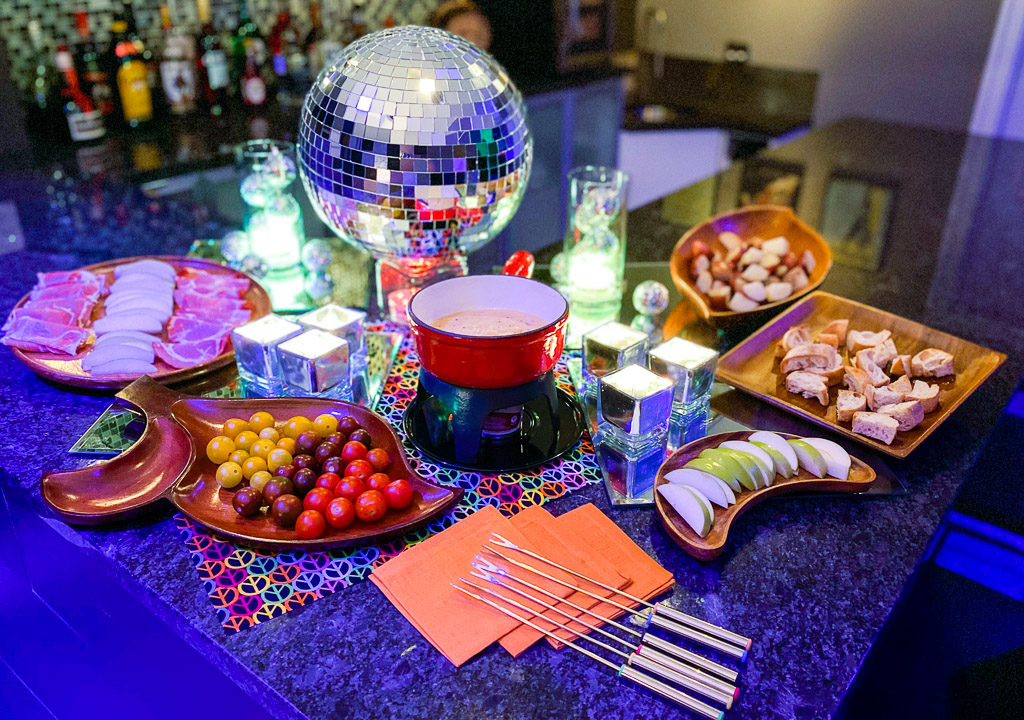 FIRST ADD SOME GROOVY DECOR!
We're referring to your crib, of course! Catch my drift? For this party, we pulled together some simple 70s décor items to create the festive tablescape. Mirrored tiles, a large disco ball and smaller disco balls (which are technically Christmas ornaments repurposed as vase filler), set the scene. A fun, seventies-inspired patterned table topper added some groovy color. Don't stress if you don't have access to specialty linens, this is just a simple fabric remnant that I found at WalMart.
PRO TIP: To add to the disco vibe, we called upon a simple trick … one which we use all of the time for client events. By putting battery operated submersible lights at the bottom of glass cylinder vases and placing filler on top, you can add a lot of interest to your table without a lot of effort. The lights are readily available on Amazon.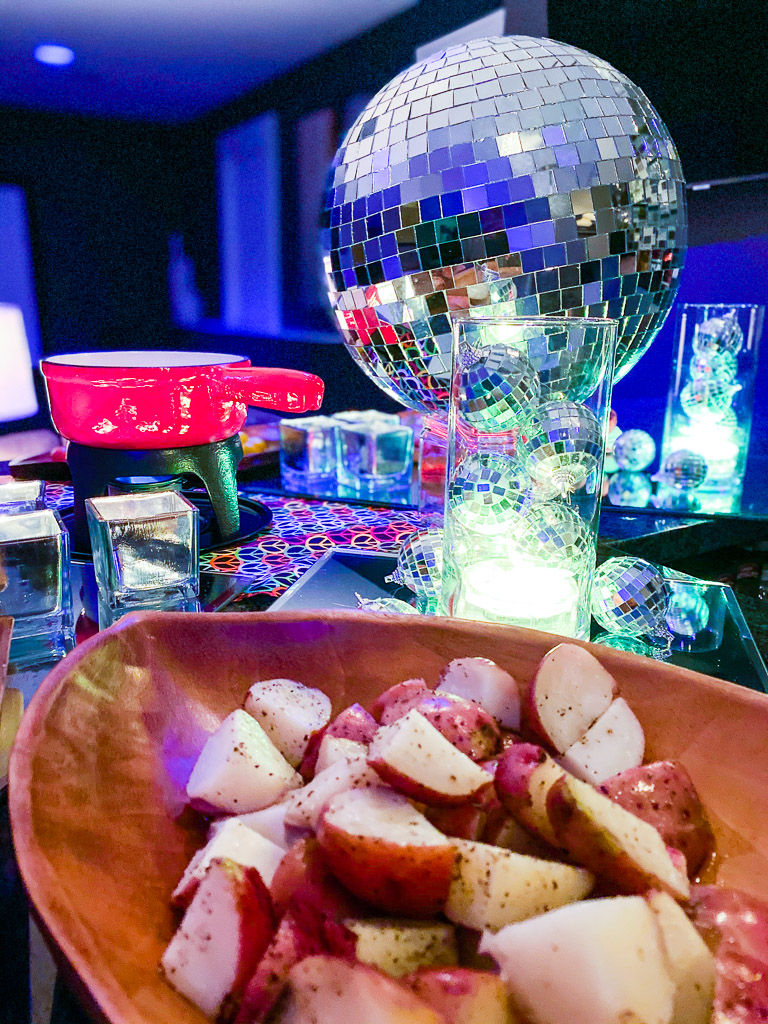 For our serving accessories, I headed to the basement and pilfered through the shelves, yet again. I found several wooden trays which belonged to my mom, Mary Ellen. They are super stylish, give the table an authentic seventies feel and are very on trend right now. If you don't have access to vintage, these round and octagonal trays are perfect to set the scene and you'll use them time after time.
THEN GET CHEESY, WITH THIS EASY FONDUE RECIPE!
The star of the show for this meal is the cheese fondue, of course! We found a great fondue pot by VonShef. But you don't need an actual fondue pot to enjoy this dinner. All you need is a desire to get a little (or a lot!) cheesy. Here is the recipe we used:
CHEESE FONDUE (Makes 4 to 6 servings)
1/2 pound imported Swiss cheese, shredded
1/2 pound Gruyere cheese, shredded
2 tablespoons cornstarch
1 garlic clove, peeled
1 cup dry white wine
1 tablespoon lemon juice
1 tablespoon cherry brandy
1/2 teaspoon dry mustard
Pinch nutmeg
In a small bowl, coat the cheeses with cornstarch and set aside. Rub the inside of a ceramic fondue pot with the garlic, then discard. Over medium heat, add the wine and lemon juice and bring to a gentle simmer. Gradually stir the cheese into the simmering liquid. Melting the cheese gradually encourages a smooth fondue. Once smooth, stir in cherry brandy, mustard and nutmeg. (Recipe courtesy of Tyler Florence and the Food Network)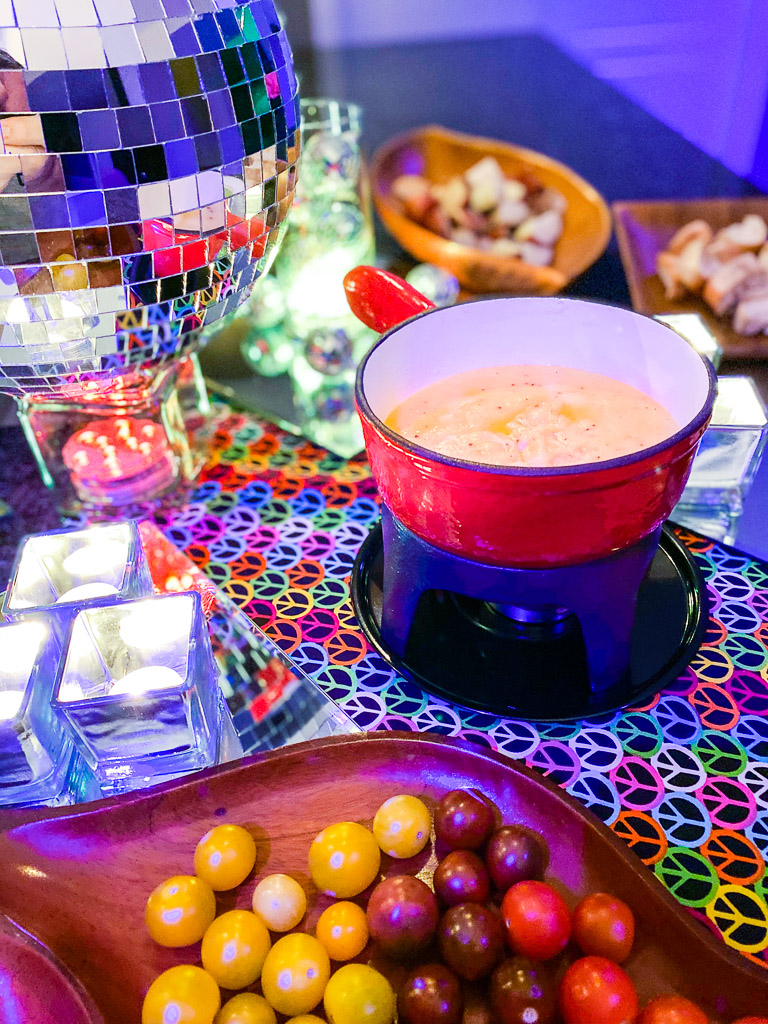 NEXT ADD SOME ACCOMPANIMENTS …
Now, it's time to get dipping! We arranged a variety of bite-sized items all around the fondue pot. These included cut Granny Smith apples, pear slices, toasted French bread, and cubed, blanched red potatoes tossed in olive oil. In addition, we added some charcuterie meats (prosciutto and capocollo), as well as brightly colored cherry tomatoes to our spread. It was delicious and pretty to look at … while it lasted!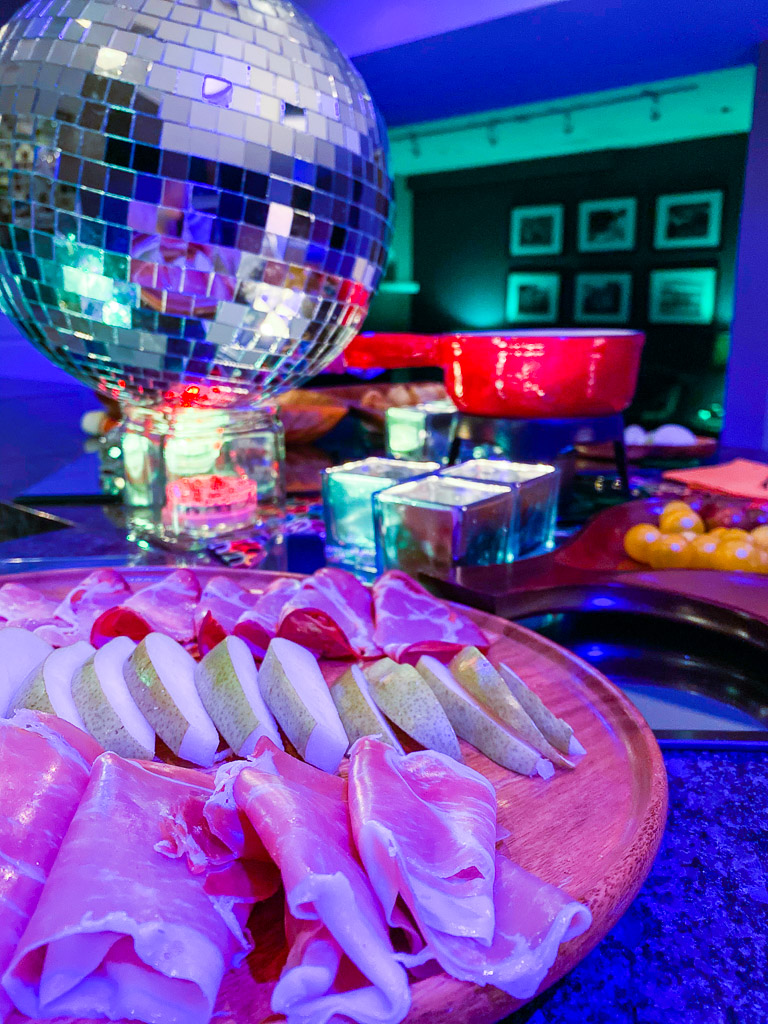 FINALLY CHOOSE THE PERFECT WINE TO COMPLEMENT THE MEAL
For our fondue dinner, Matt did a bit of research to figure out which wine would best suit the meal. He discovered that dry white wines pair best with the richness of cheese fondue and chose a Chinon Blanc. I was truly a great pairing (right on, man!). Here is a bit of a primer on the varietal, thanks to our friends at Wine Folly.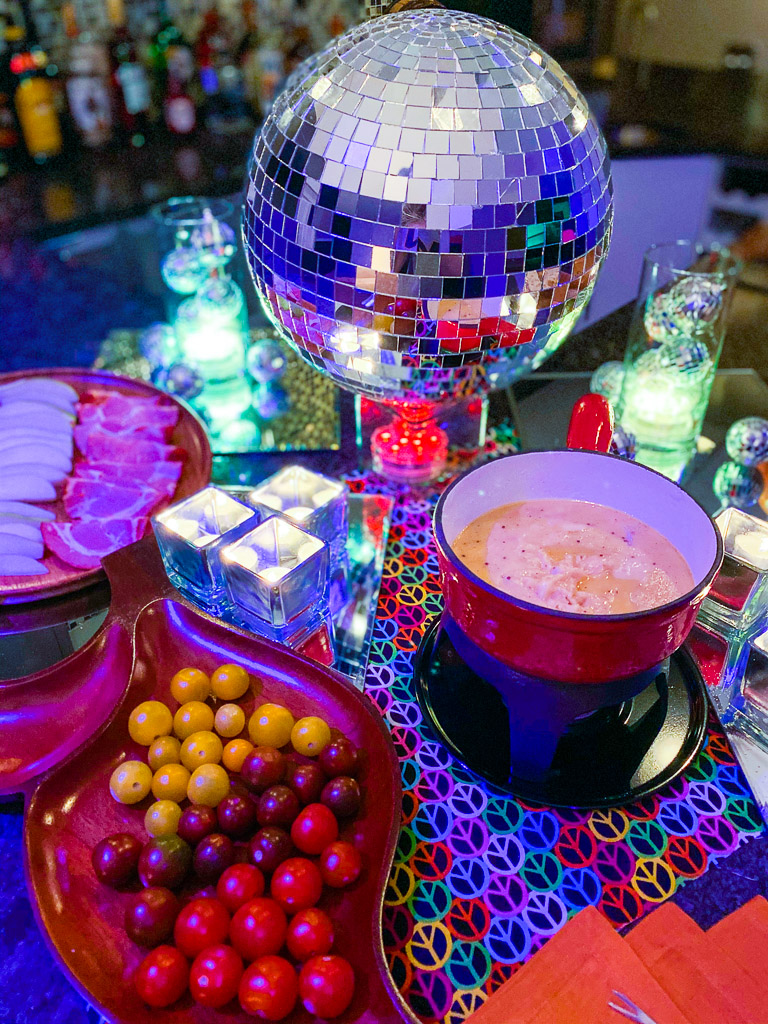 THIS GREAT 70s PARTY IDEA WORK WELL FOR:
A 40th birthday party
Dinner party with friends
A fun family dinner