FIVE SIMPLE WAYS FOR YOU TO RELAX THIS AFTERNOON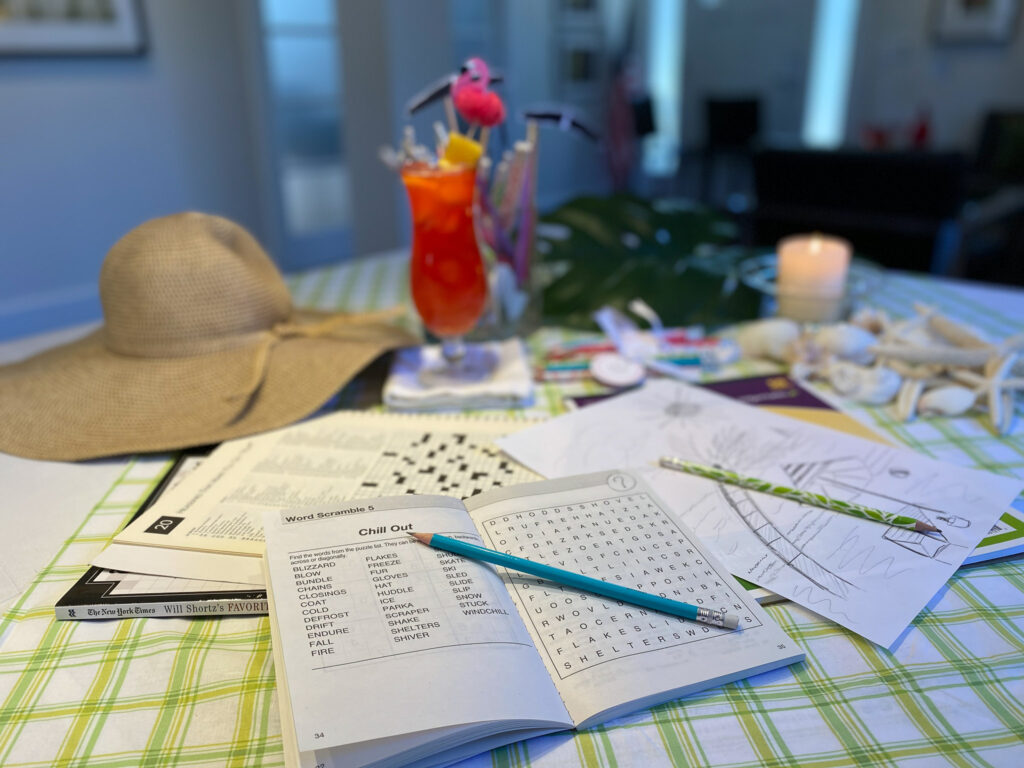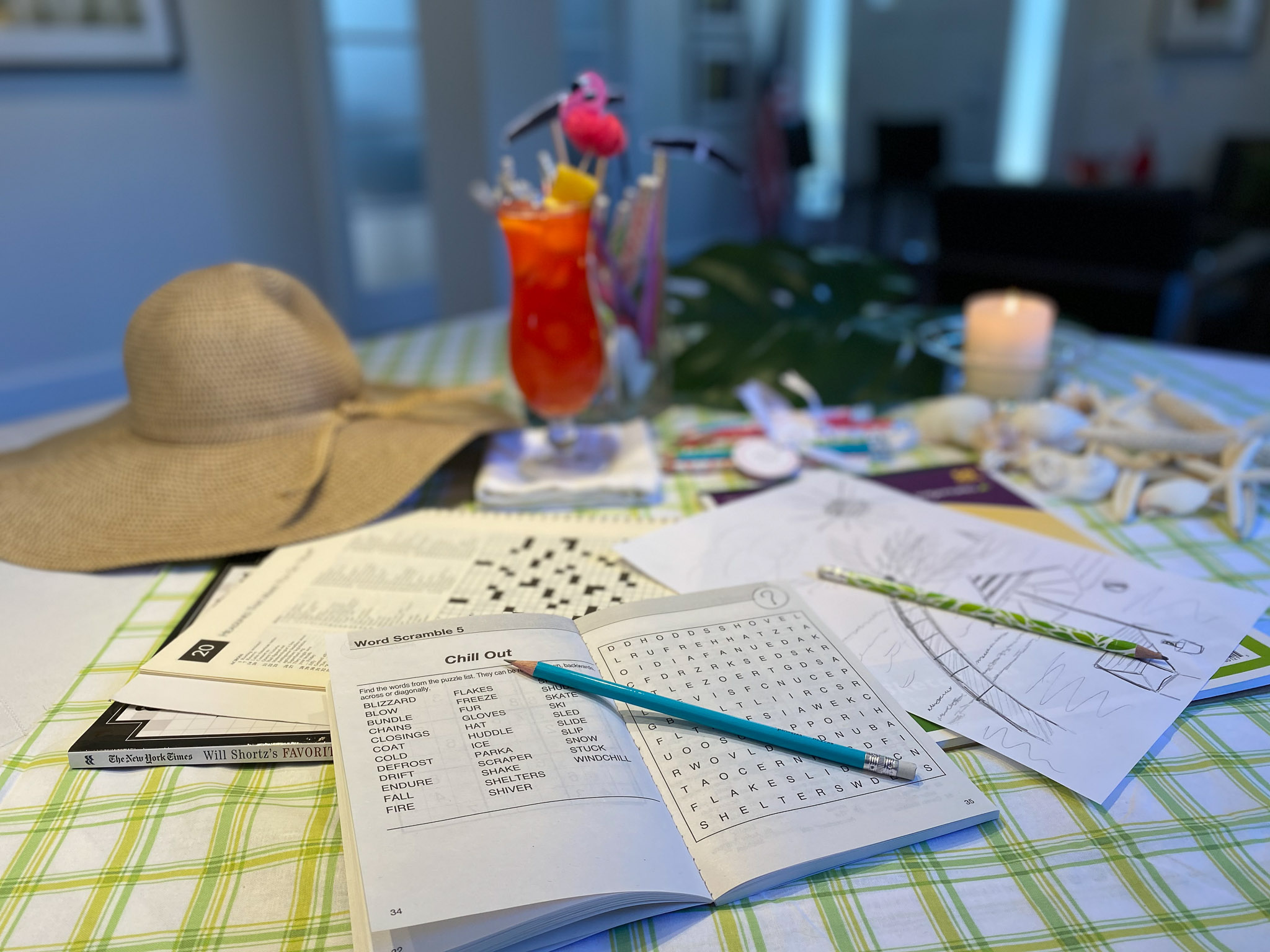 Here are five simple ways to relax this afternoon, or any afternoon for that matter. Because, sometimes it's the simplest things in life that bring us the greatest joy. In honor of National Pencil Day, March 30, we help you discover all you really need is a pencil and a daydream to make the world your oyster!
FIVE SIMPLE WAYS TO RELAX AND HELP YOU MAKE THIS DAY EXTRA SPECIAL:
1. DRAW A SKETCH OF YOUR HAPPY PLACE.
Right now the beach is calling my name. Unfortunately, in response to Coronavirus, local governments have called for most of us to shelter in place. So we shall stay right where we are. Golden sunshine, crashing waves, sand in your toes … that scene seems like a million light years away. Grab a pencil, as well as a sketch tablet, piece of paper, or notebook, (whatever you have available), and just start doodling. See where your mind and your pencil take you! An inexpensive sketch pad is a great purchase and can give you hours of fun to explore your inner artist.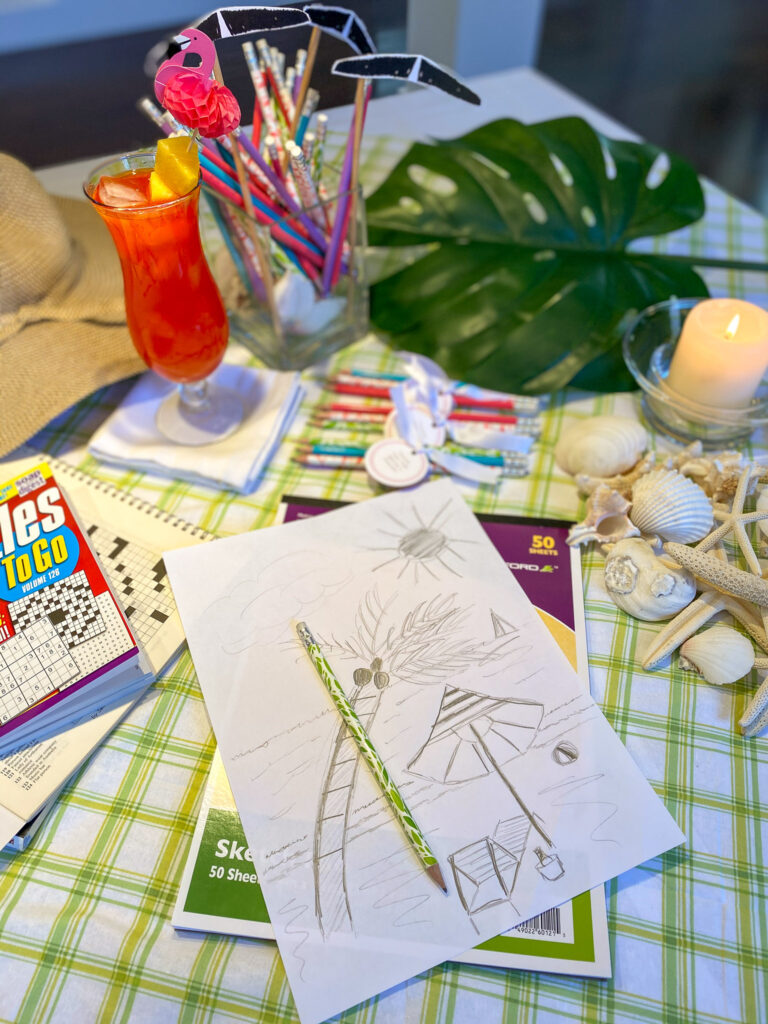 2. CIRCLE THE GLOBE!
Use your pencil to circle the globe, or travel, suitcase, passport, and other travel-related words with a good, old fashioned book of puzzles. It's a complete excuse to turn off the 24-hour news cycle for a bit, step away from the screen, put down your phone, and just chill out. This puzzle's theme, "Chill Out," couldn't be more perfect!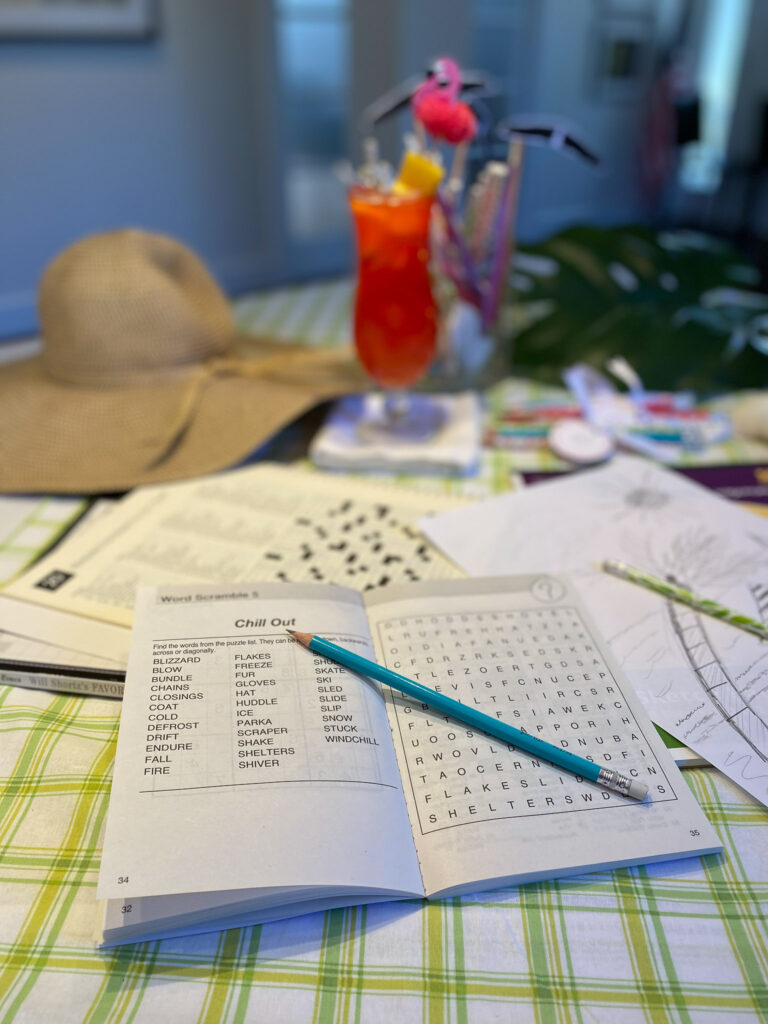 3. EMBRACE YOUR INNER PERIPATETIC …
What's an 11 letter word for a person who travels from place to place? Peripatetic. Who knows that? My mother would have, that's who. Mary Ellen loved her daily crossword puzzles. As a result, she had an enviable vocabulary and a mind that was sharp as a tack well into her … well, let's just say golden years. One should never trust a woman who tells her real age, right Mom?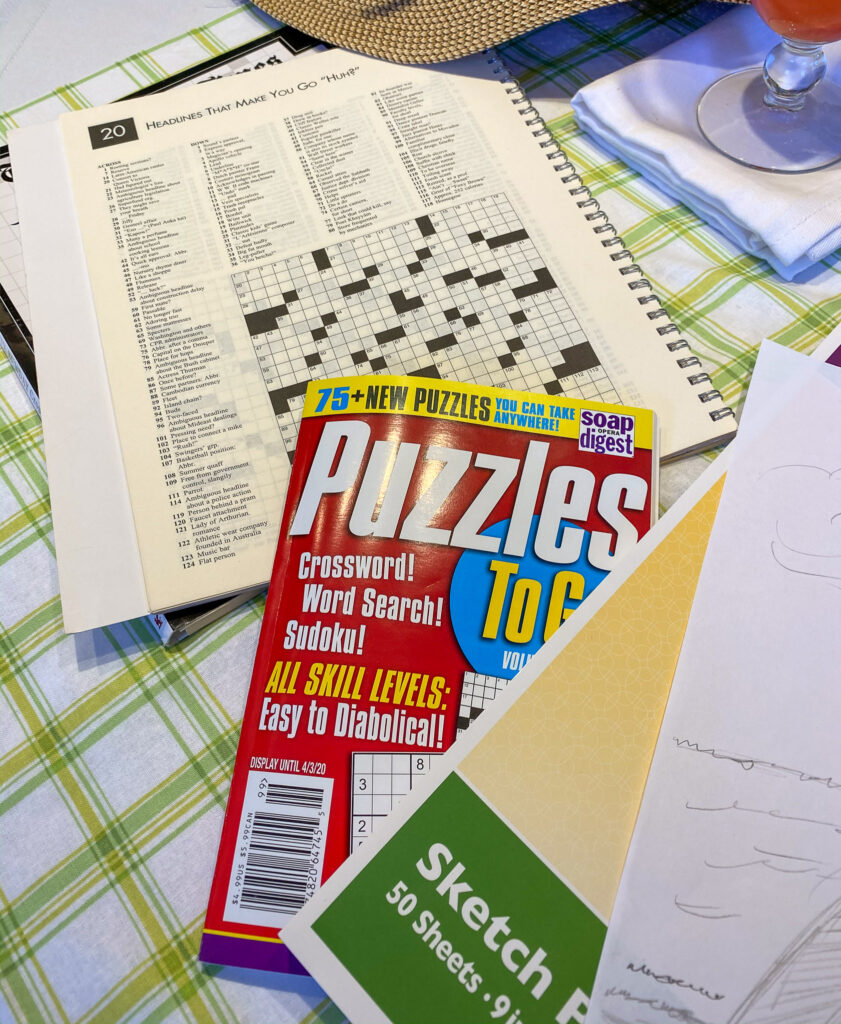 Crossword and puzzle books are available at most supermarkets and drug stores, or they are available for purchase on Amazon.
4. YOU CAN'T FORGET THE PENCIL THIN MUSTACHE!
In Jimmy's immortal words, do you "wish you had a pencil thin mustache?" Every trip to the beach needs some of Jimmy's music sprinkled into playlist. To access your very own pencil thin mustache, download this free printable and attach it to a round dowel. Then pour yourself a tropical cocktail (we suggest a Singapore Sling) and have fun taking selfies to share with us!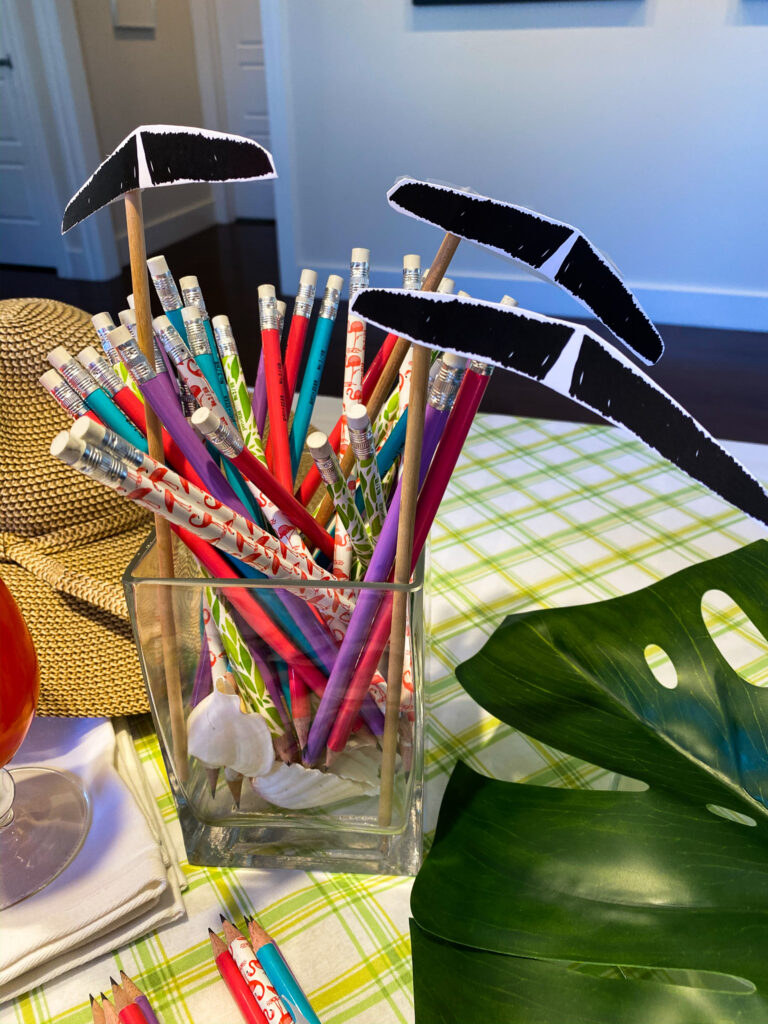 SINGAPORE SLING
1 shot gin
1/2 shot Cherry Brandy
1/4 shot Cointreau
1/4 shot Benedictine
1/3 shot Grenadine
1/2 shot Fresh Lime Juice
4 shots Pineapple Juice
1 dash Angostura Bitters
Combine all the ingredients in a cocktail shaker containing ice & shake.
Strain into a hurricane glass filled with Ice.
Garnish with the Pineapple Slice & Maraschino Cherry before serving.
5. BRING YOUR FRIENDS ALONG WITH YOU … !
While foraging for toilet paper and hand sanitizer last week, I meandered around the store and found these adorable pencils. The colors and cute flamingo design are so on trend. I couldn't resist tossing them into the cart.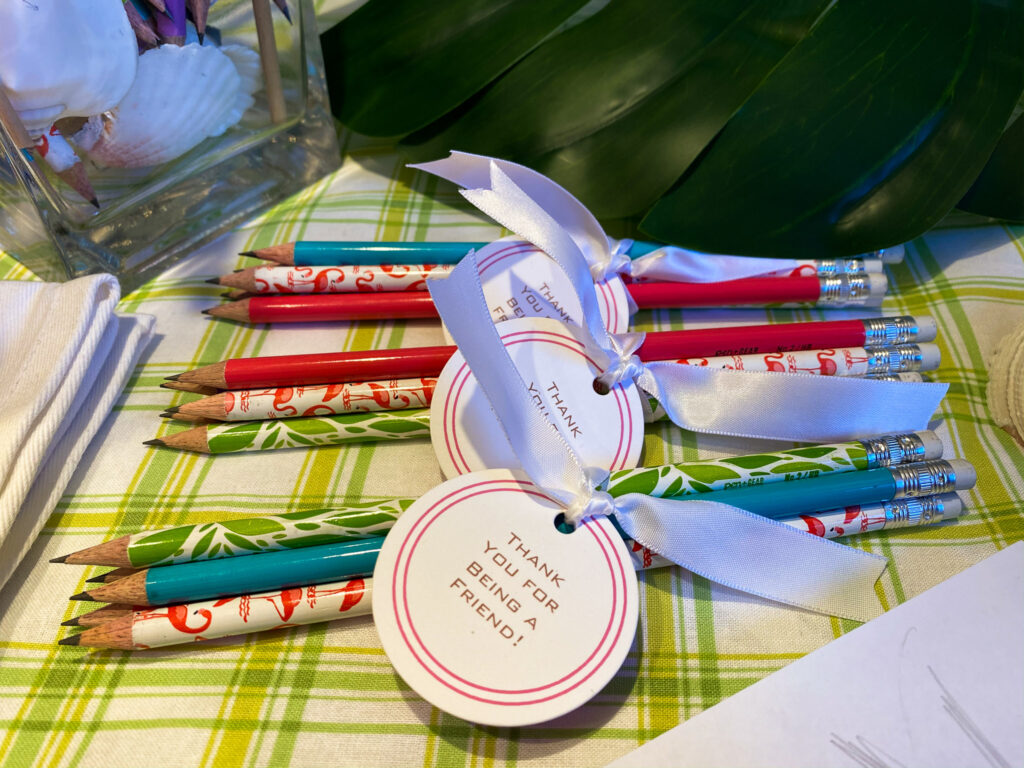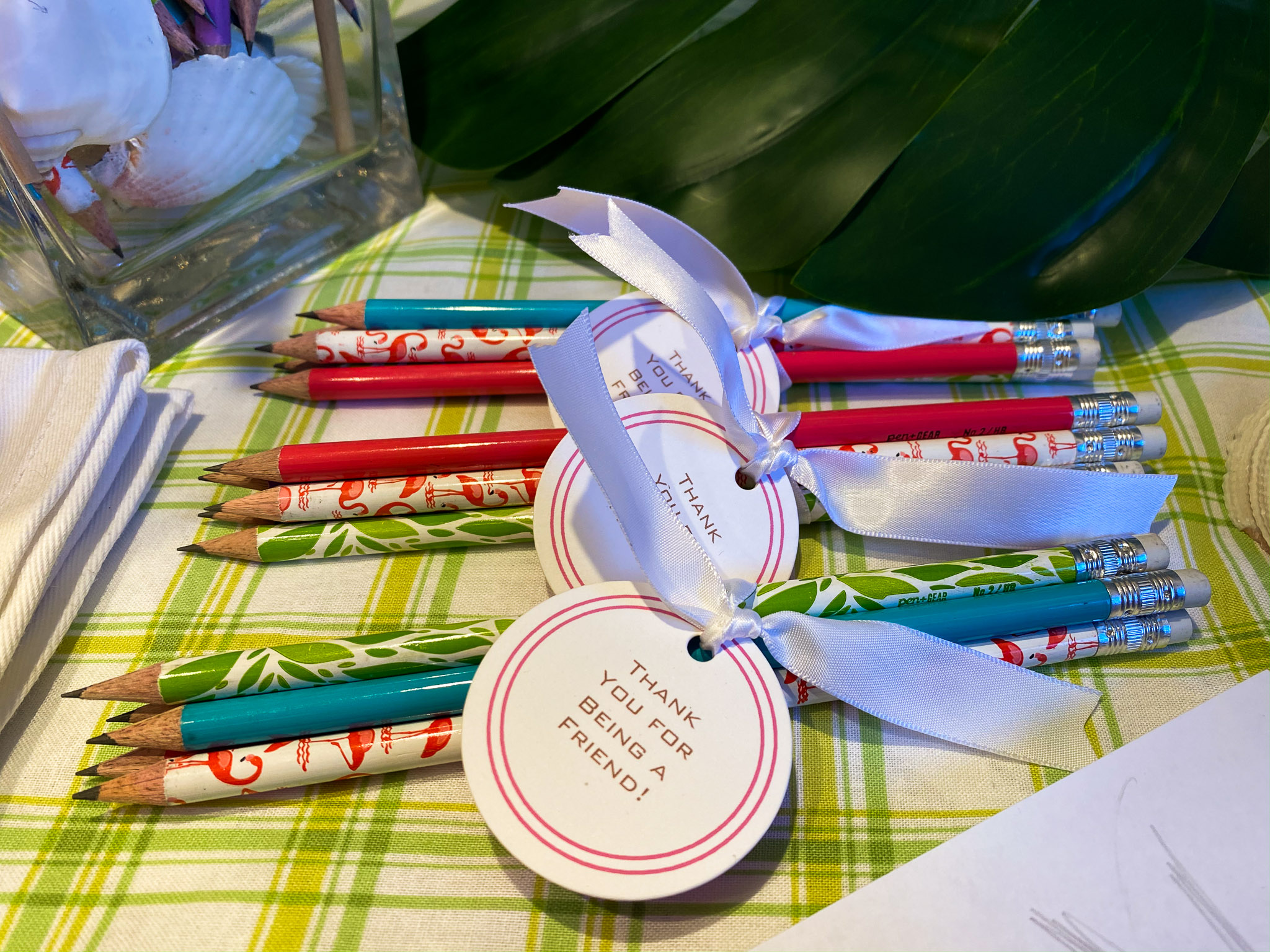 They will make a cute gift for friends, as a small token of appreciation of their help getting us through the quarantine madness. Just a simple little something that says, "Thank you for being a friend." You know who I'm talking about … your selfless gal pals who've grabbed an extra package of toilet paper for your crew, let you in on the secret spot that still has hand sanitizer in stock, and called you from their daily walk, patiently listening as you vented about too much family togetherness. While we may still be socially distancing, we truly couldn't get through this without each other! Small details add big results. A simple white ribbon and clever tag dress these pencils up to make them a cute gift!
THIS IDEA IS GREAT FOR:
Hostess gifts
Teachers gifts
A pick-me up for a friend
How will you #MakeEveryDayanEvent? Tell us below!