AN EASY CANDY CORN RECIPE THAT YOU'LL ACTUALLY LIKE!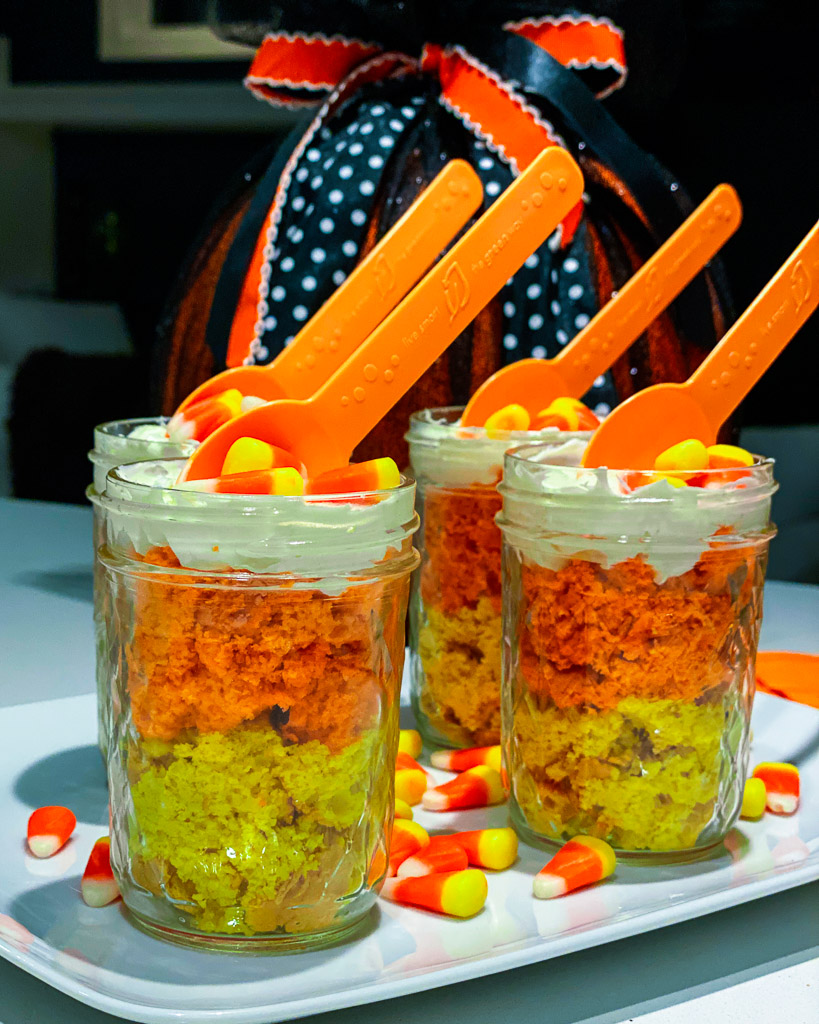 We've got an easy candy corn recipe that you're going to love. Discover how we gave this Halloween candy an extreme, delicious makeover.
WHAT IS THE MOST HATED CANDY?
That question is almost like asking, "who is the least popular kid among the popular kids in school"?
But come to find out, even a candy can be hated.
And Candy Corn consistently ranks low.
It's by far the least popular Halloween candy.
I must admit, I was shocked to discover just how strong the feelings of either love or hate (generally the latter) run for this tri-colored and rather cute confection.
If you search, "why do people hate candy corn," you'll receive more than 11.1 million results.
A recent survey by Candystore.com ranked candy corn as the least popular Halloween candy in the U.S.
And there were some really, really disgusting ones competing for the top honor.
Wax cola bottles (remember those awful things?) came in at number four.
Circus peanuts were number three.
And Mary Janes (apparently they still exist? ) ranked at number eight.
WHY IS CANDY CORN SO HATED?
How did this cute little, tri-colored treat become so incredibly disliked?
There are a lot of people, with a lot of opinions on the topic.
Candy corn has been called every name in the book, from "garbage," to "Satan's earwax."
And it has also been compared to "the leftover crumbs stuck in Guy Fieri's goatee."
Ouch.
WHAT IS CANDY CORN? IS CANDY CORN MADE OUT OF CORN?
Come to find out, candy corn is truly an American candy.
And, no, it's not made out of corn.
George Renninger first invented candy corn in the 1880s while working at the Philadelphia-based Wunderle Candy Company.
Originally known as "Butter Cream" or "Chicken Corn," its rise in popularity is credited to its three colors, which was truly innovative at the time.
It also involved the heavy labor of men pouring boiling buckets of sugar into molds.
Today, Jelly Belly and Brach's are the candy's two biggest producers, using a far more streamlined, less labor-intensive process.
WHAT IS CANDY CORN MADE OF? WHAT IS THE FLAVOR OF CANDY CORN?
The main ingredients in candy corn are sugar and corn syrup.
Candy corn is a "mellow creme" because of its marshmallow-like flavor.
But even all of its history and cuteness can't keep candy corn from being really disliked.
Or can it?
According to the National Confectioners' Association, American companies produce 35 million pounds, or 9 billion kernels, of candy corn annually.
So clearly somebody is eating it!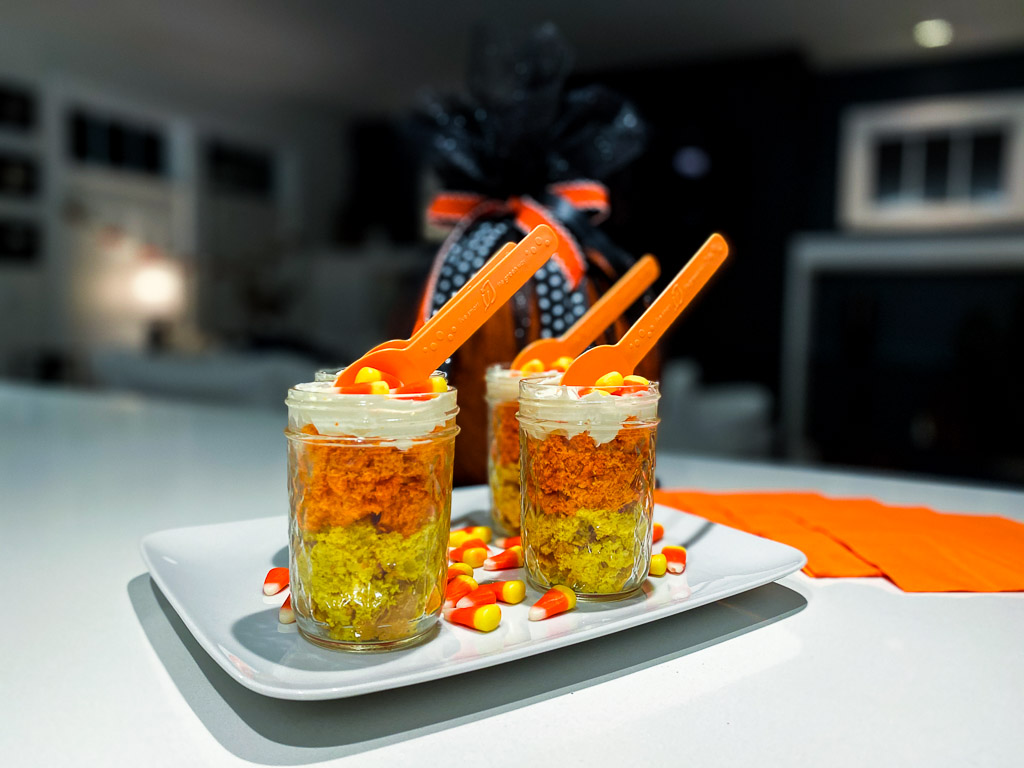 HOW DO YOU MAKE CANDY CORN TASTE BETTER?
In honor of National Candy Corn Day on October 30, we decided to befriend the most hated candy in the U.S.
And in the process, we discovered a candy corn recipe that you're going to love.
We gave the least popular Halloween candy in the U.S. a bit of an extreme, delicious makeover.
All of the cuteness, none of the disdain.
We think these candy corn cake trifles are the best candy corn recipe ever!
They are adorable, fun and taste like cake … because they are cake.
Plus the mason jars make them easy to serve and totally on trend for the germ-conscious era in which we're currently living.
Here's everything you need to know to make these festive treats which are one of our favorite, easy Halloween dessert recipes …
CANDY CORN CAKE TRIFLES RECIPE
Six Mason jars (I used these smaller jam jars)
One package yellow cake mix
Wilton yellow food coloring
Wilton orange food coloring
White frosting (I used this super convenient pre-loaded pastry bag)
Posts on Make Every Day an Event may contain affiliate links which means we may earn a small commission on purchases at no extra cost to you. Please read our full disclosure here.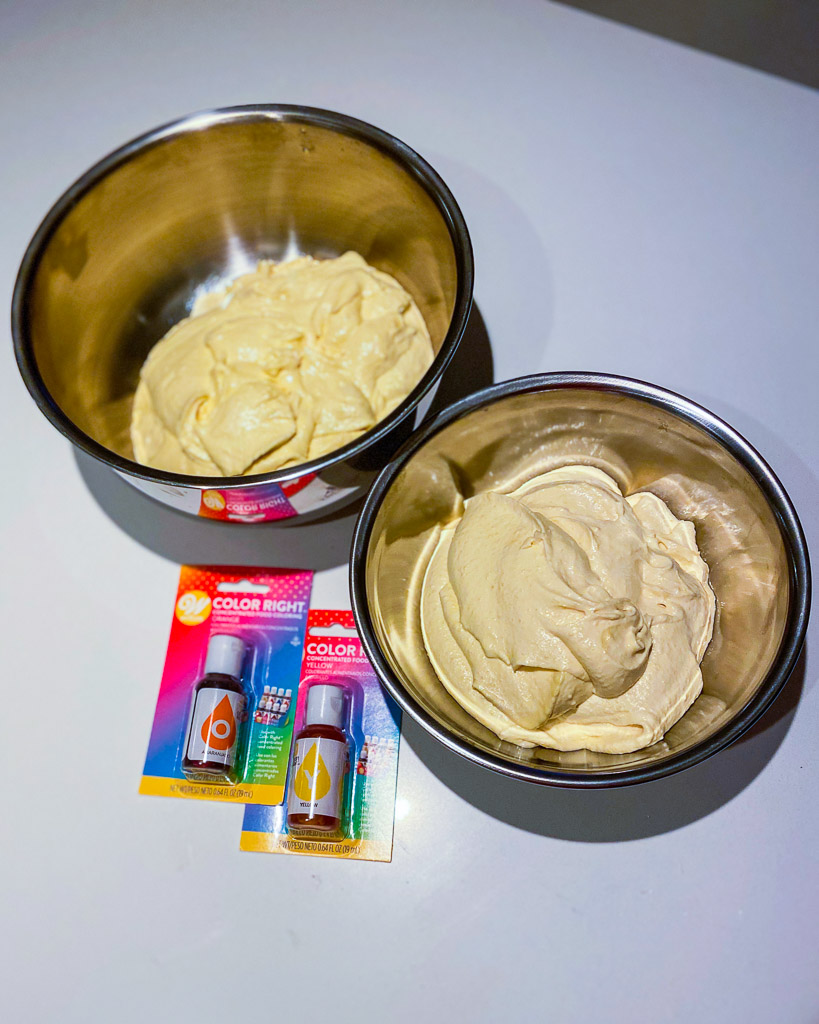 First, prepare the cake mix per the instructions on the box.
Next, divide the batter in half and place in two mixing bowls.
In one bowl, mix in the yellow food coloring.
In the second, mix in the orange food coloring.
I recommend using metal bowls, since the food coloring may stain a plastic bowl.
Pour each batter into lined cupcake tins.
The cupcake liners will prevent the sides of the cupcakes from browning.
Bake according to the package's directions.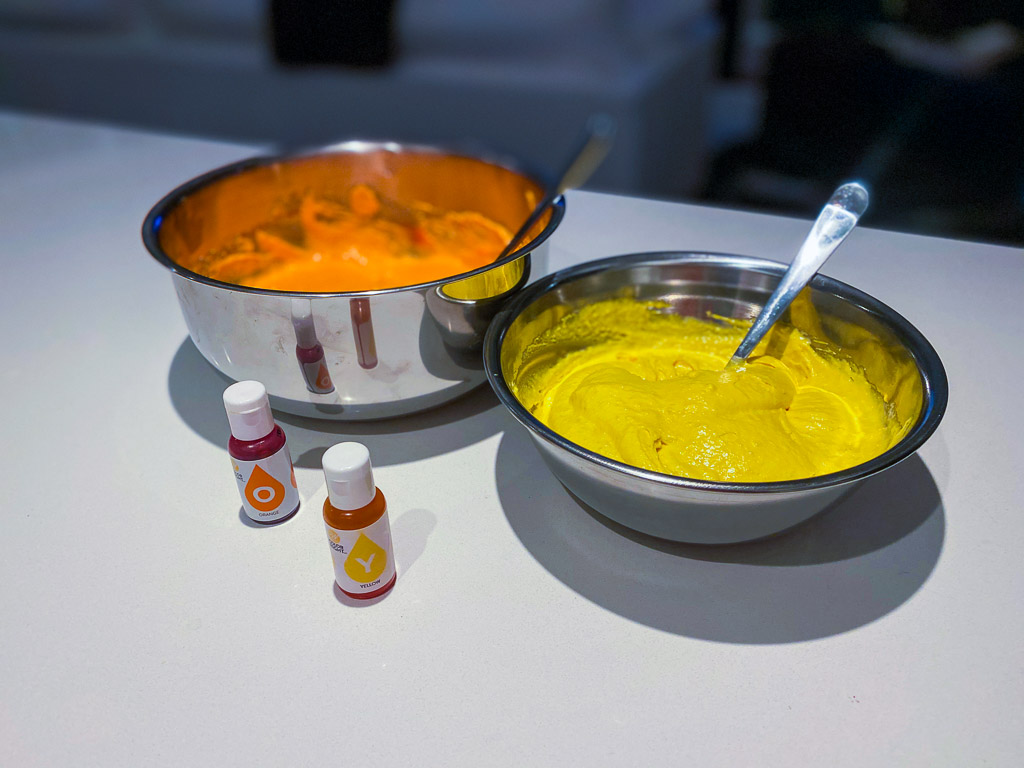 Now for the fun part!
Remove a yellow cupcake from its wrapper.
Crumble it and place at the bottom of the jar (about 1 ½ cupcakes per layer).
Repeat with an orange cupcake.
Finally, top with a layer of white frosting and add a few candy corns (if you like) as a garnish.
Keep repeating until you've created six candy corn cake trifles.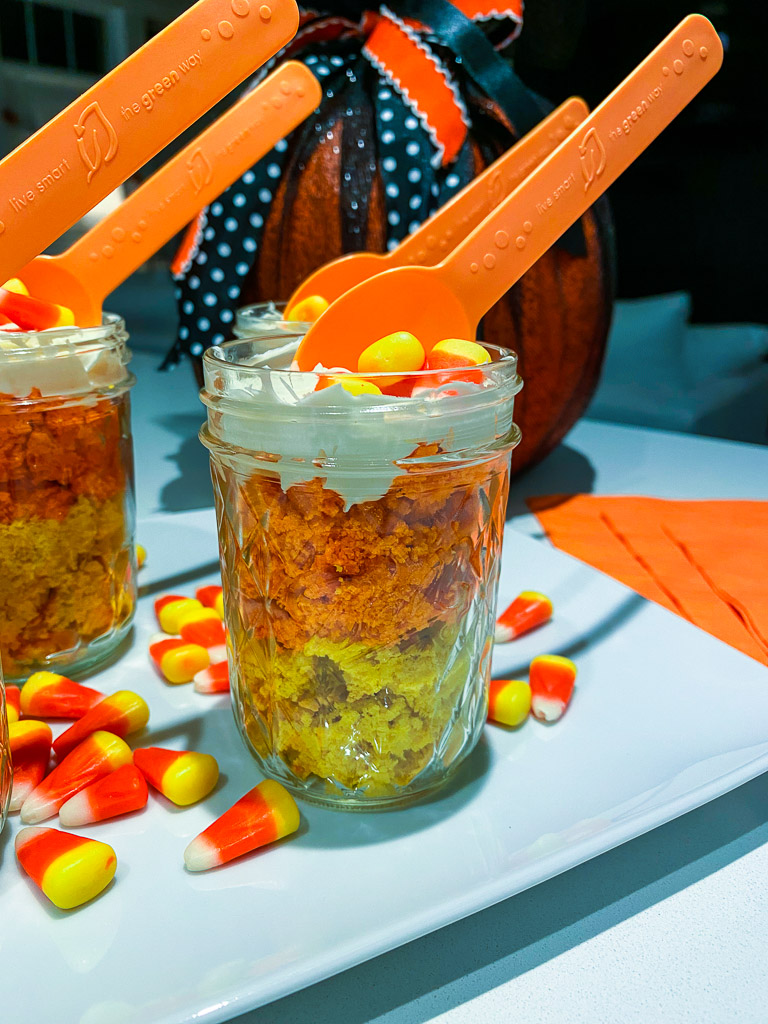 LOOKING FOR MORE FALL FUN? CHECK OUT THESE BLOGS:
Seven Last Minute and Easy Ideas for the Best Halloween Ever!
The Best Fall Tabletop Decor Ideas
Easy Gorgeous Fall Decorations for a Table You'll Love
This Halloween Candy Gets an Extreme Makeover
Five Halloween Trick or Treat Table Ideas You'll Love
Easy Halloween Treats You'll Think Are Adorable and Fun!
Try this idea and share a photo on Instagram with the hashtag #makeeverydayanevent and tag @makeeverydayanevent.
If you have any questions or suggestions, contact us or leave a comment!
Follow us on social media! You can find us on Instagram, Pinterest, and Facebook.