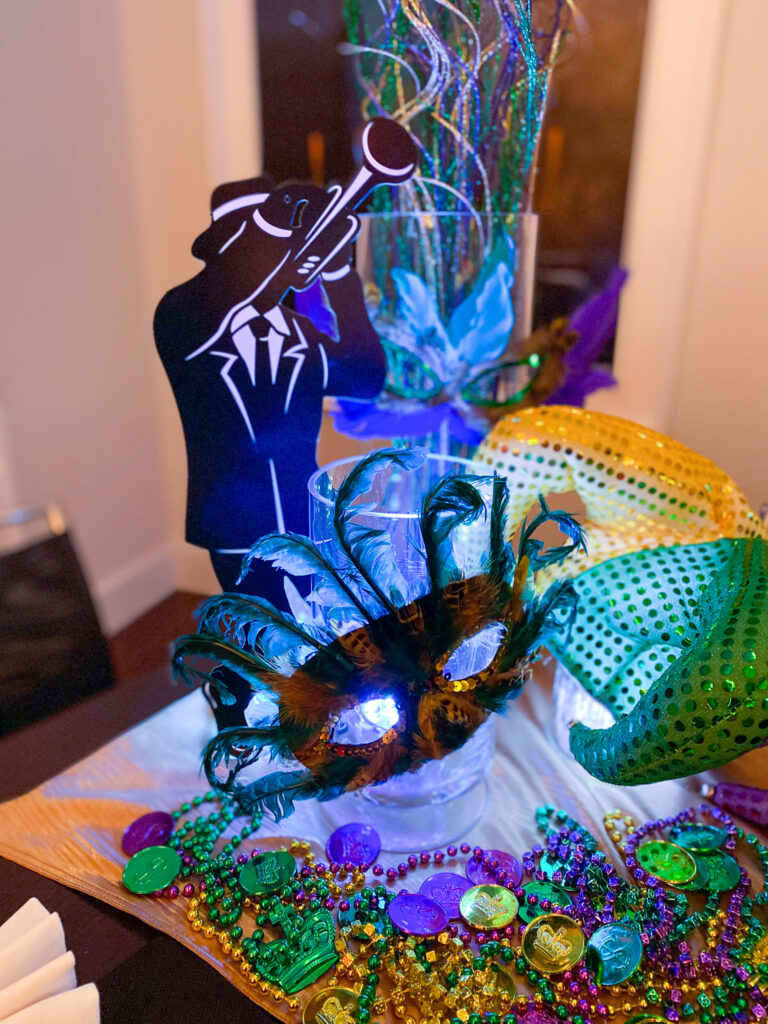 Some easy Mardi Gras ideas to help you get into the spirit of the season. Laissez les bon temp rouler with these four simple party ideas!
Mardi Gras season is upon us! And no city celebrates it better than New Orleans! From the French Quarter, to the Garden District, and on every block in between, the city loves carnival season and all of the traditions it brings with it. You literally can't help but run into a parade this time of the year!
We've got five easy Mardi Gras ideas for you that will help you bring a bit of the party-loving spirit and fun of New Orleans into your very own home!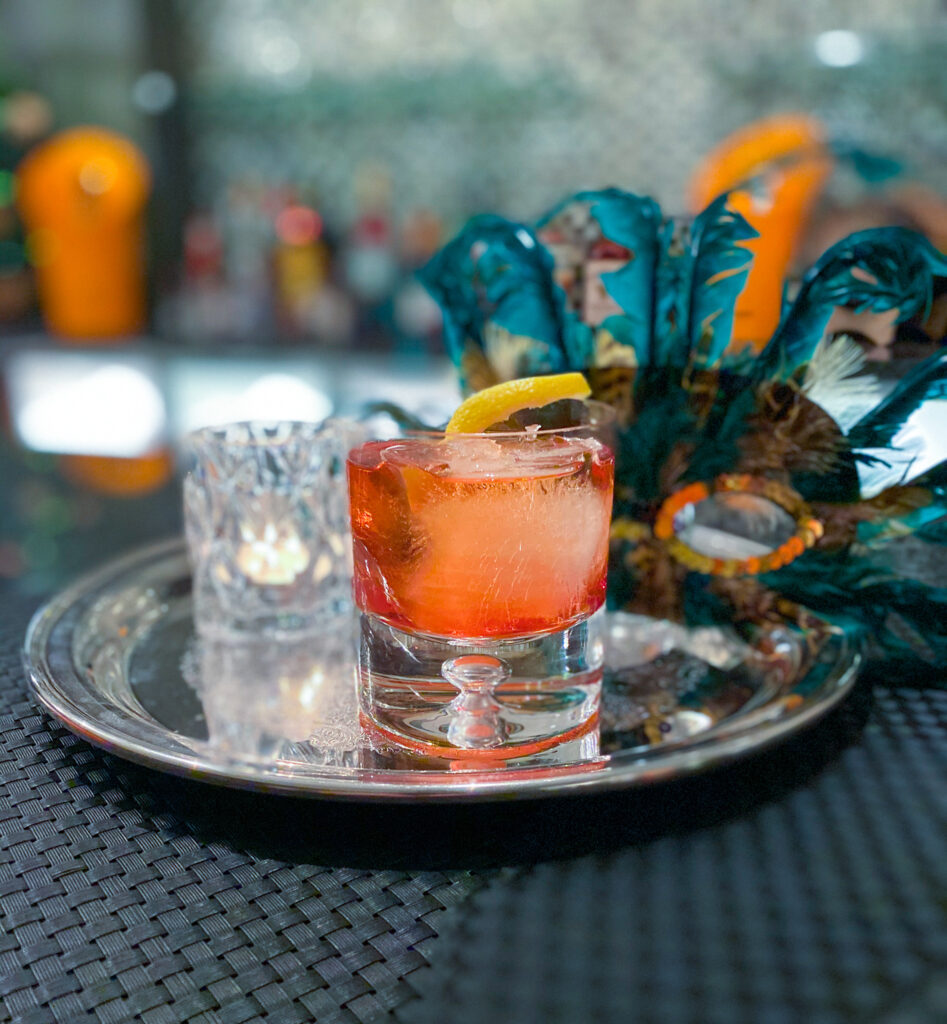 1. DISCOVER THE OFFICIAL COCKTAIL OF NEW ORLEANS, THE SAZERAC!
Despite popular opinion, the Hurricane is not the official cocktail of New Orleans. Instead, it's the Sazerac! According to sources, the Sazerac is the world's first "cocktail." Those in the know claim, "back in 1838, Creole apothecary Antoine Peychaud invented the Sazerac in his shop at 437 Royal Street." He served it to his fellow Masons after hours in an egg cup, or "coquetier." It's this word that some insist morphed into word "cocktail." And we've got the BEST Sazerac recipe to share with you!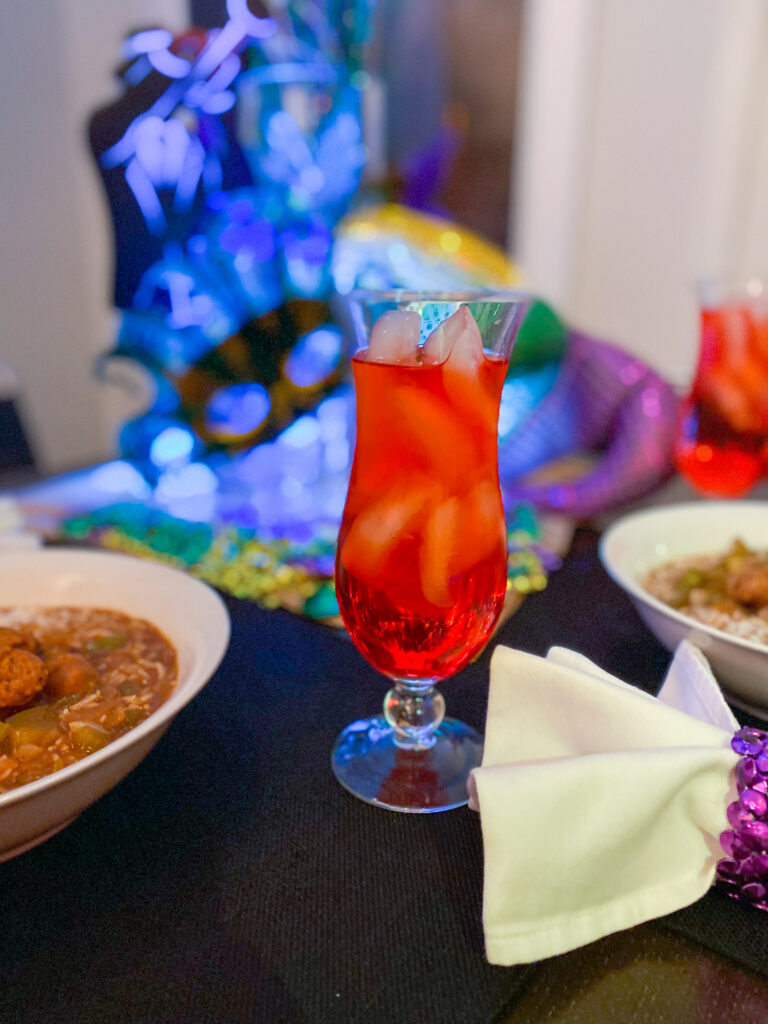 2. FORGET THE SYRUPY MIXES, THIS FRESH HURRICANE IS WHERE IT'S AT!
While the hurricane may not be the official cocktail of New Orleans, it definitely is a quintessential one! And it's a perfect addition to every Mardi Gras celebration. We prefer making the cocktail from scratch and avoiding the pre-mix versions. This recipe is easy to make and contains easy to find ingredients. Cheers!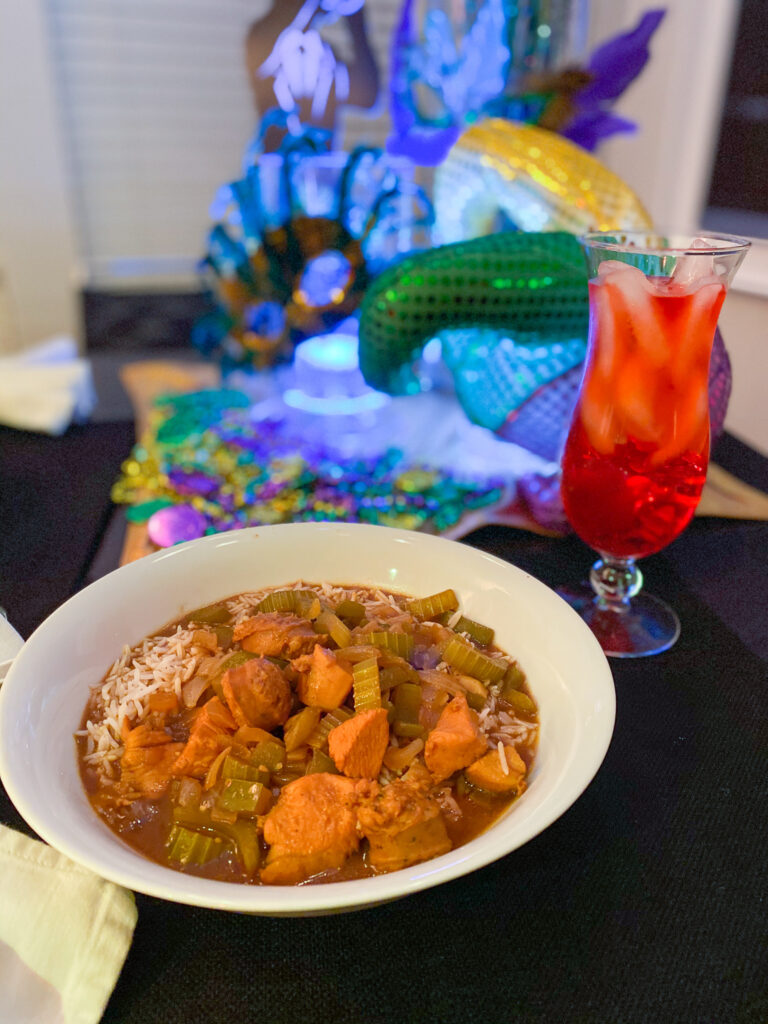 3. TRY AN EASY GUMBO RECIPE THAT IS PERFECT FOR DINNER
New Orleans is known for many things and great food is certainly at the top of the list. One of our creole kitchen favorites is gumbo. And if you know New Orleans cuisine, than you know nobody does it better than Tony Chachere's. We turned to this expert for an easy gumbo recipe.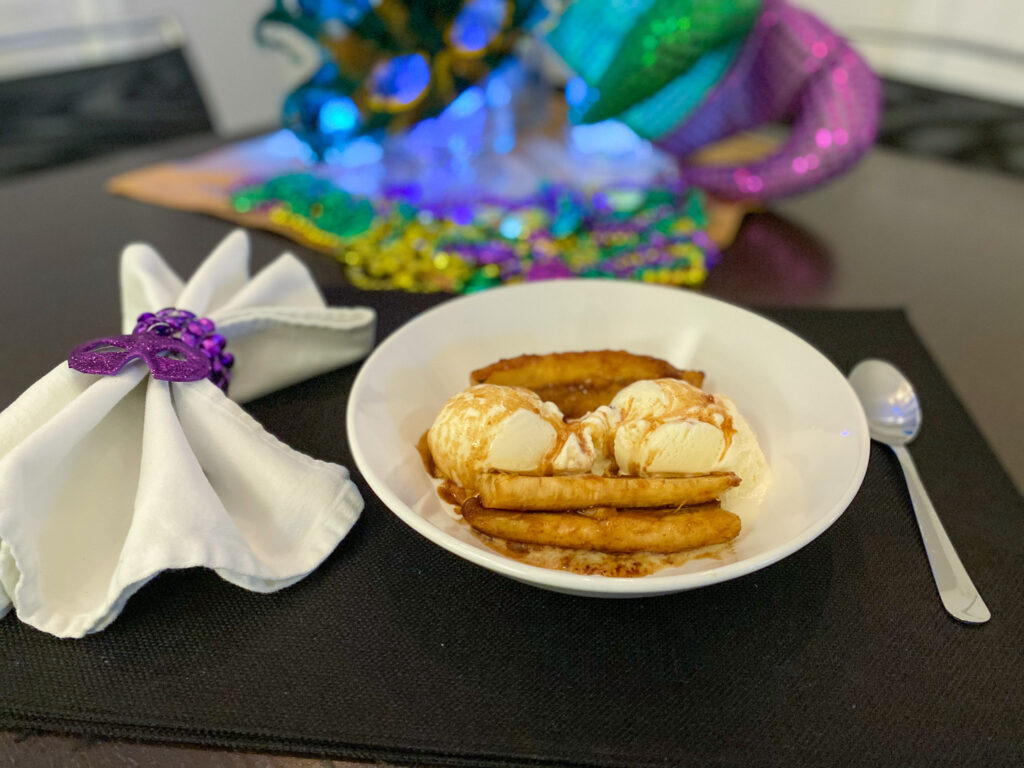 4. YOU HAVE TO MAKE THIS DESSERT, IT'S A NOLA ORIGINAL!
Bananas Foster is the most ordered item on the menu of Brennan's, the renownedd New Orleans restaurant. And we tried our hand at making this famed dessert from scratch. It was really fun to make, and is a fantastic way to end any delicious meal! Here is the recipe!
5. THROW SOME FESTIVE DECOR INTO THE MARDI GRAS MIX!
Gold, green and purple are the classic Mardi Gras colors, so I started with this color palette. Fun and classic décor items including beads, doubloons, and feathered masks were the perfect accessories. I used the masks' elastic bands to hold them in place on cylindrical vases of varying heights. Putting submersible, battery operated lights at the bottom of the vases will allow them to glow and create a celebratory mood.
In addition, fun jazz silhouettes added to the New Orleans feel. By placing the cutouts next to the vases, the lights to illuminate them, creating an effect similar to a theatrical spotlight. Finally, a sequined jester's hat can add to the fun. I propped it up with a small clear vase and lighted it from underneath. When building a fun tablescape, it's all about varying the heights of the decor.
Share your Mardi Gras photos on Instagram with the hashtag #makeeverydayanevent and tag @makeeverydayanevent.
If you have any questions or suggestions, contact us or leave a comment!
Follow us on social media! You can find us on Instagram, Pinterest, and Facebook.
Posts on Make Every Day an Event may contain affiliate links which means we may earn a small commission on purchases at no extra cost to you. To learn more, please read our full disclosure here.