FIVE ROMANTIC PICNIC IDEAS THAT ARE EASY, GORGEOUS AND INEXPENSIVE!
We've got some great and romantic picnic ideas to share with you that are not only gorgeous … they're super simple and really inexpensive!
You won't believe how affordable it was to pull together this beautiful picnic setting in just a few simple steps.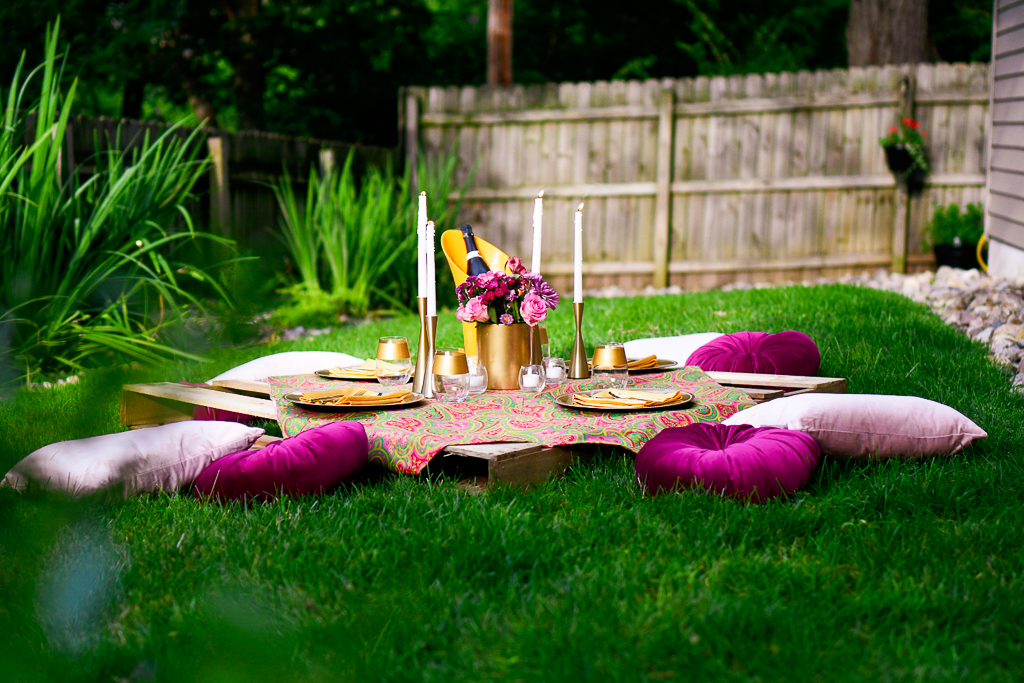 There is nothing more fun than gathering some friends together on a summer evening for a great picnic.
And these romantic picnic ideas will work almost anywhere, whether it's your own backyard or at a favorite park.
You don't even need a picnic table!
Here are five simple and clever ideas to help you pull together a romantic picnic that will certainly create a night to remember:
1. A WOODEN PALLET IS A PERFECT PICNIC TABLE!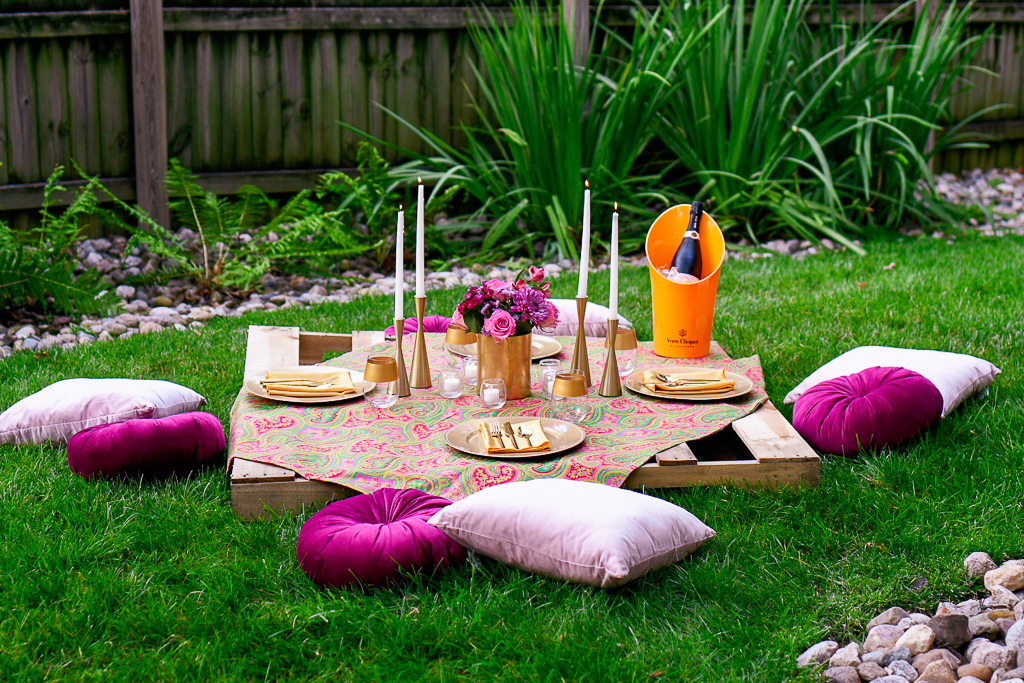 I brainstormed this concept a few months ago and really wanted to use it for a client's gala. Long story short, that never come to fruition.
But I was so excited to utilize this idea in my very own backyard instead.
Pallets are everywhere, you just have to look. We lucked out and got this one free earlier in the summer with a delivery.
But you can find them at grocery stores, restaurants, near trash dumpsters, or look on your local community Facebook groups.
Their size makes them a perfect low tabletop.
But … you can't just plop a pallet down on the ground and be done.
You need the right accessories and some romantic picnic ideas to create a truly lovely scene.
Here is what this setting looked like before: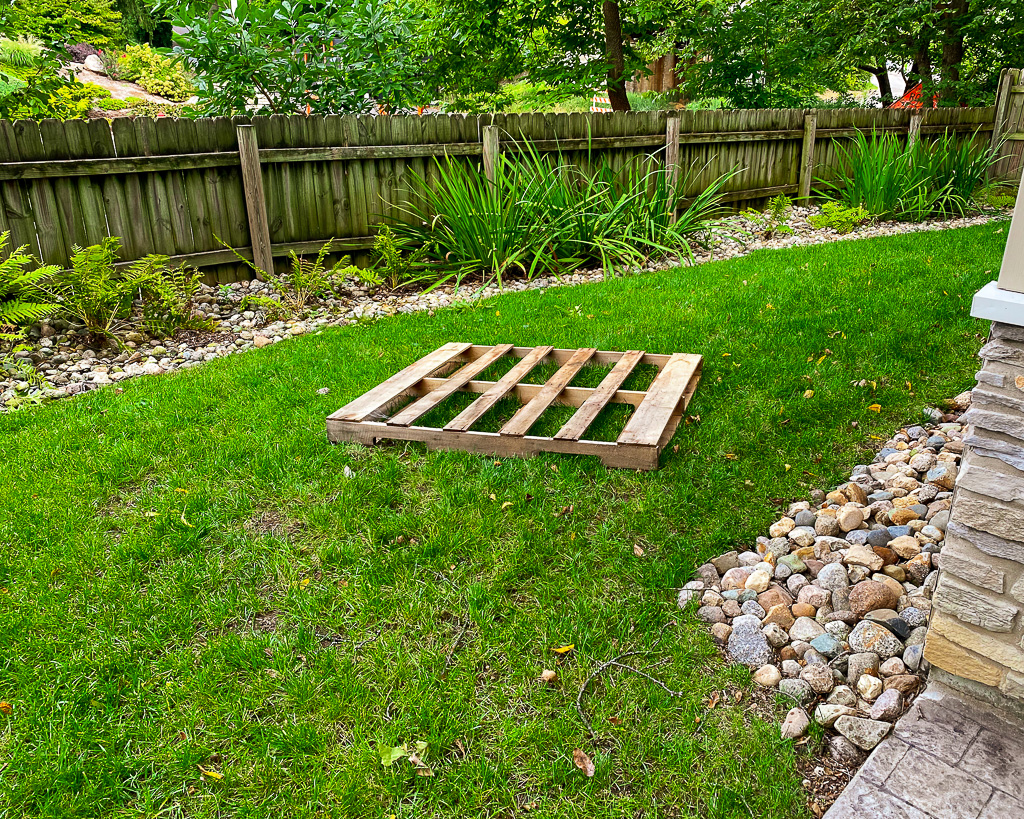 How ugly is this?
But with just a few accessories, it can be transformed to look like this: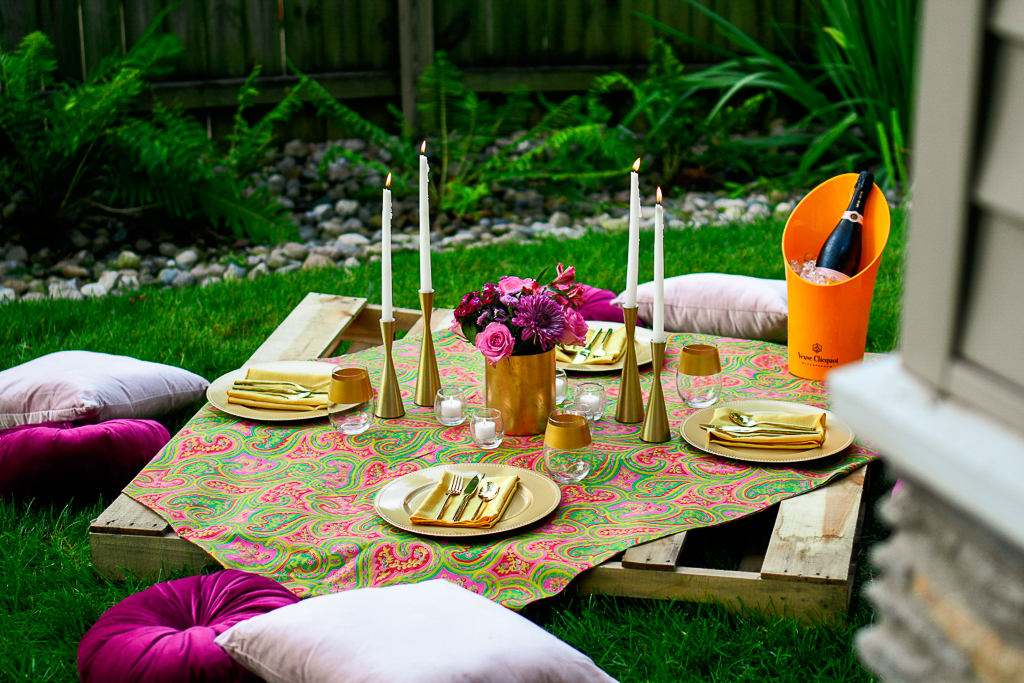 You could even opt to spray paint the pallet a fun, funky color but I like the natural look of the wood.
Pallets are relatively lightweight so you can even transport them to a favorite spot in a nearby park!
Now you have no excuse to set up a fun, cute picnic tablescape anywhere!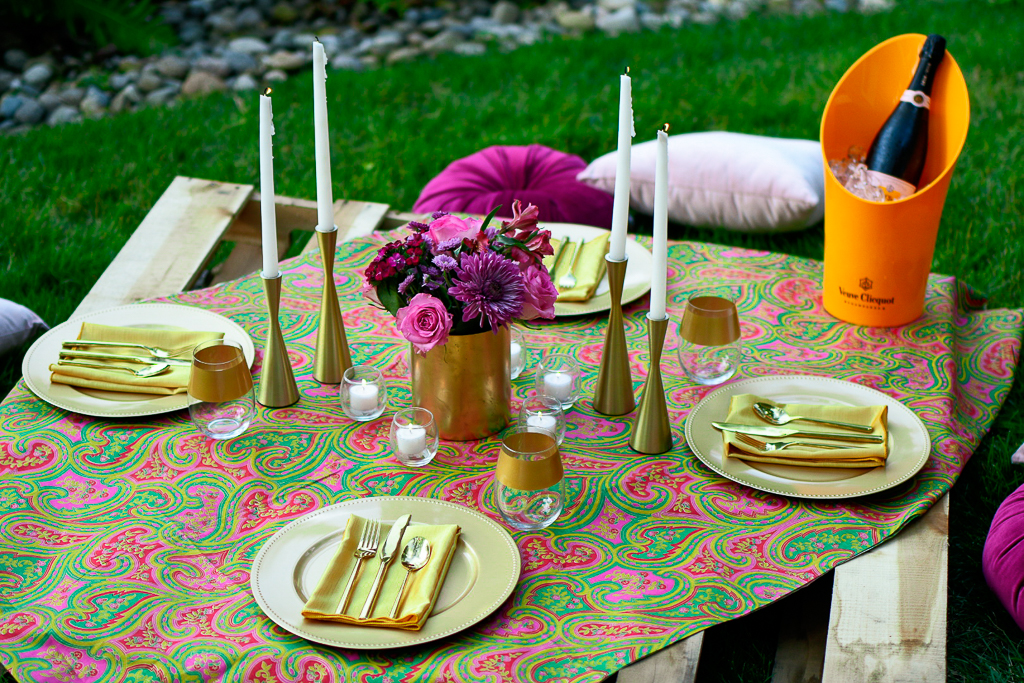 2. REPURPOSE FABRIC REMNANTS AS TABLE LINENS
This is one of my all-time favorite tricks! I love using a yard or two of fabric as a tablecloth or runner.
This vintage paisley print fabric was the perfect dimension and pattern for my picnic tablescape.
I love the rich pink, green and gold hues in this pattern. They bring an elegance and opulence to the tabletop, as well as create a great backdrop for the gold accessories.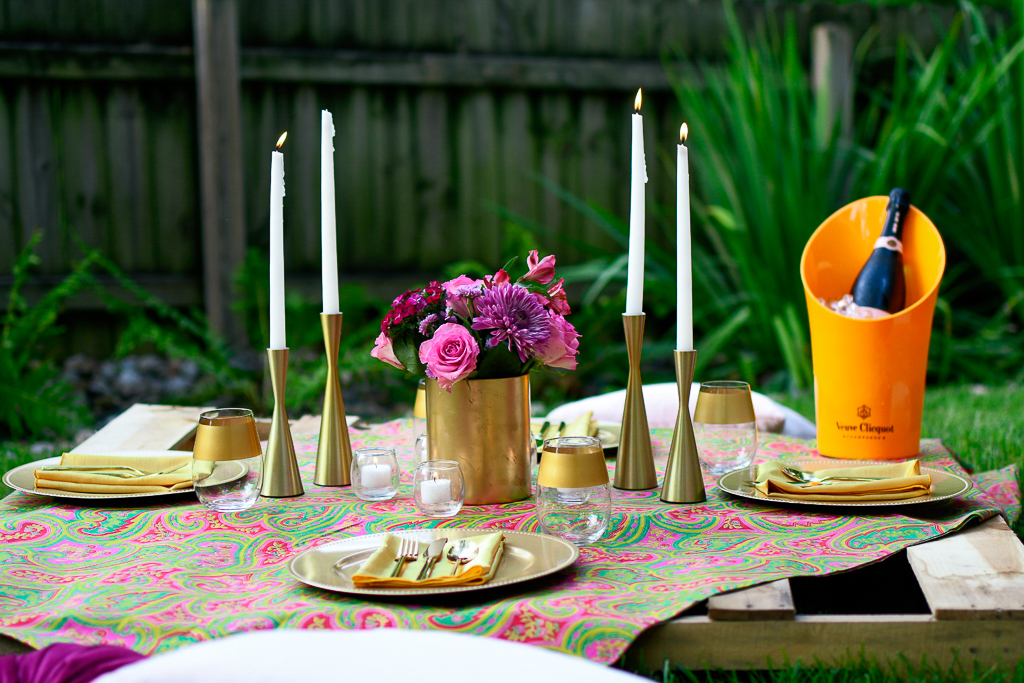 3. TO CREATE AN ELEGANT LOOK KEEP YOUR TABLE ACCESSORIES MONOCHROMATIC
For this tabletop, the paisley print added quite a bit of interest so it was essential to keep all the other elements simple. One of the easiest ways to achieve this look is to keep everything within the same color palette. In this case, gold was the obvious choice. Here's what we pulled together:
Gold chargers – chargers are always a great way to add some elegance to your tabletop.
Gold flatware – so on trend … I use these gold utensils over and over again. They are well worth the investment.
Gold napkins – these elegant napkins are 17″ x 17″ which is the perfect size for this party.
Gold candlesticks – I am obsessed with these gold candlesticks. Their shape is so elegant and the gold tone is just regal. I love adding pops of gold (judiciously) into my table settings and home decor right now. I see this trend continuing for quite some time!
Gold rimmed wine glasses – admittedly, I've had these glasses forever and use them time and again. I equally love these modern gold stemless wine glasses which are readily available for purchase on Amazon.
Gold vase -we simply spray painted a clear glass cylinder vase with Rustoleum's metallic gold paint to create this opulent touch.
The gold color of the vase really highlights the hot pink roses, purple daisies and dark green leaves. It ties the entire tabletop together!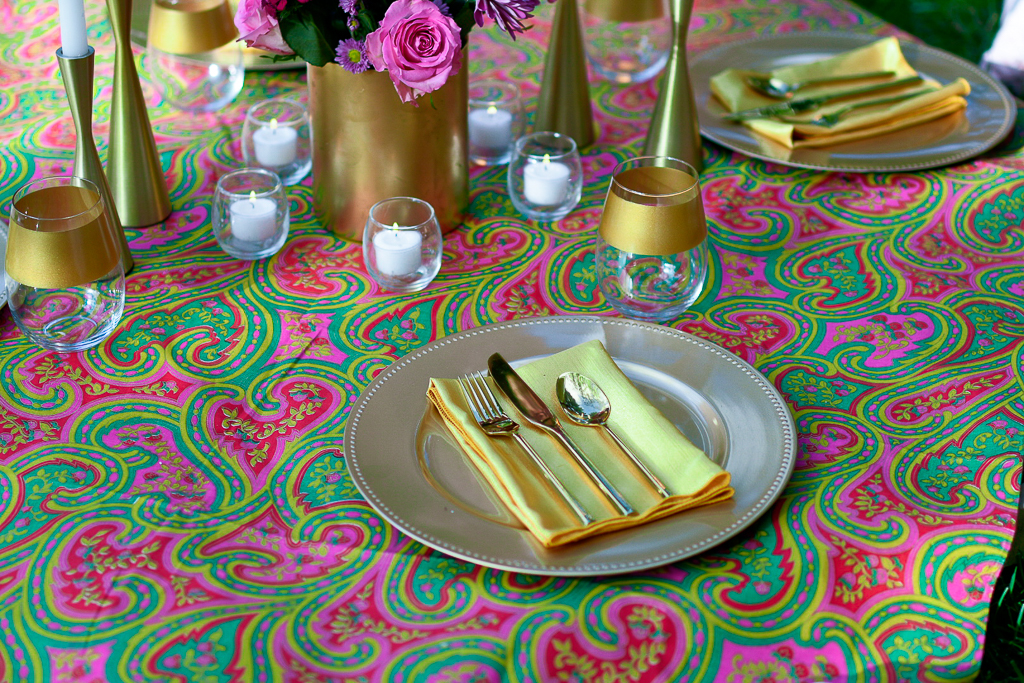 4.
TOSS PILLOWS ARE PERFECT AS CUSHIONS
These velvet toss pillows were absolutely perfect to use as seat cushions for our guests. Not only do they match the table linens, the velvet brings an unexpected element of texture into the mix.
How gorgeous are these tufted round toss pillows? I love how well they mix with these larger, square velvet pillows.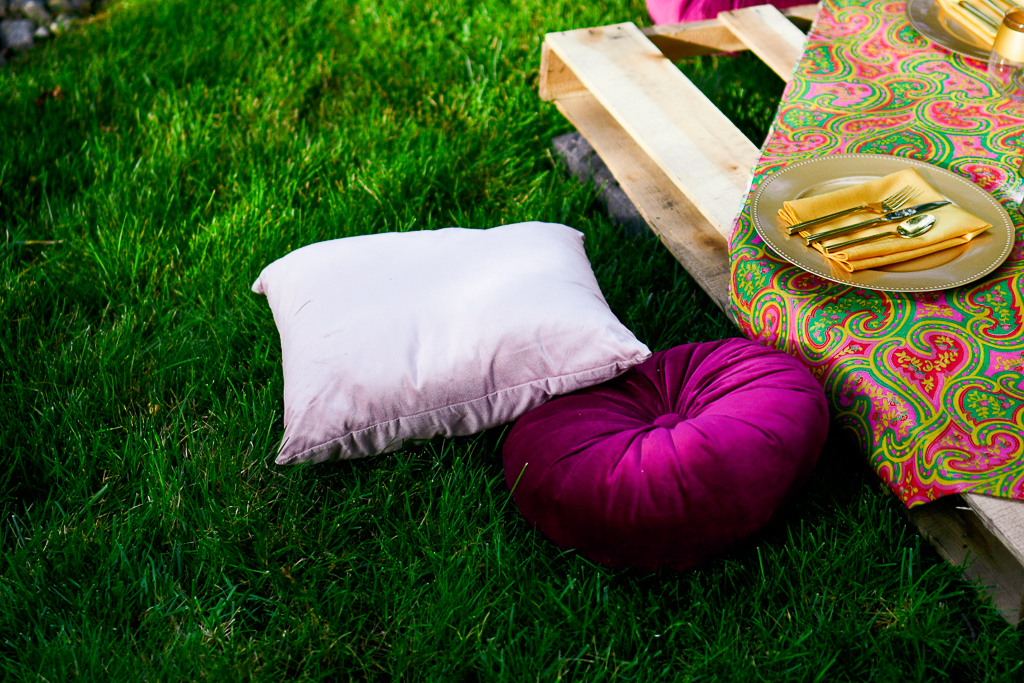 5. USE VARYING LEVELS OF LIGHT …
When thinking about an indoor client event or dinner party, lighting is one of the most important elements. The same holds true for entertaining outdoors.
You always want to layer light in multiple levels.
To achieve this on our picnic tablescape, we found these great gold candlesticks of varying heights.
Not only do I love the height they bring with the long tapers to the table, I also love their elegant shape and finish.
In addition, we placed six votives around the center of the table. I always group candles in threes … I'm not sure why, but it's just my rule.
The votives on this table create light at a different level and brought an even more dramatic effort as dusk took over. Simply romantic!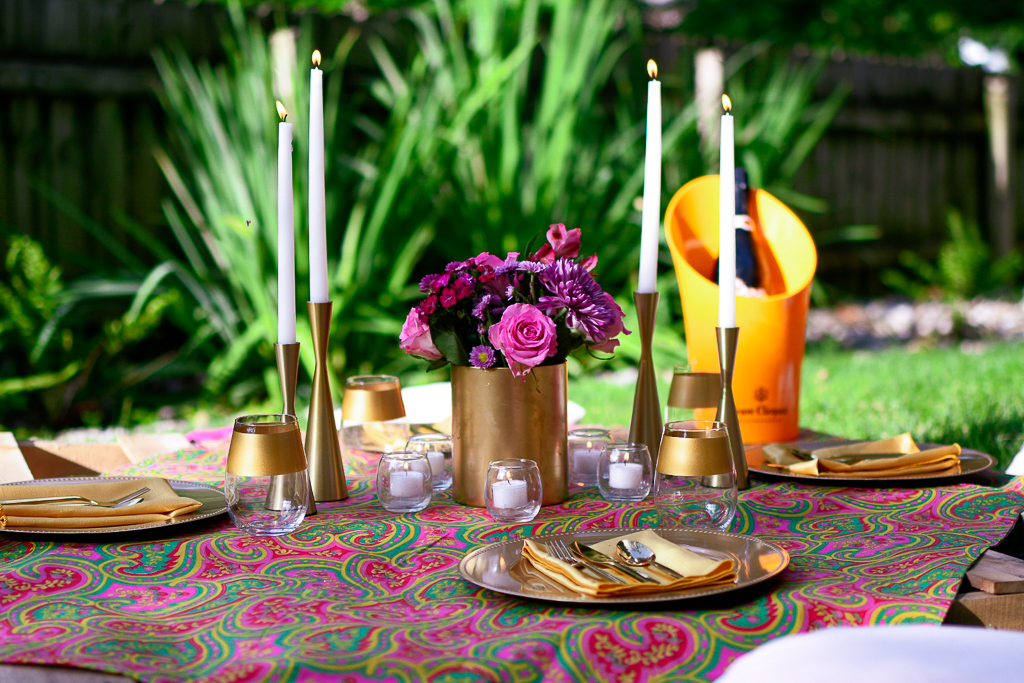 Did you try this idea? Share it on Instagram with the hashtag #makeeverydayanevent and tag @makeeverydayanevent!
Looking for other cute picnic ideas?
Check out Cute Picnic Ideas that Make Outdoor Fun Easy or The Best Rose Cocktail Recipes.
Follow us on social media! You can find us on Instagram, Pinterest, and Facebook.
If you have any questions or suggestions, contact us or leave a comment!