BEST EASY OUTDOOR PATIO DECOR IDEAS FOR A SMALL SPACE
Discover the best outdoor patio decor ideas for a small space with these five easy tips.
You'll love how easy it is to create an outdoor oasis!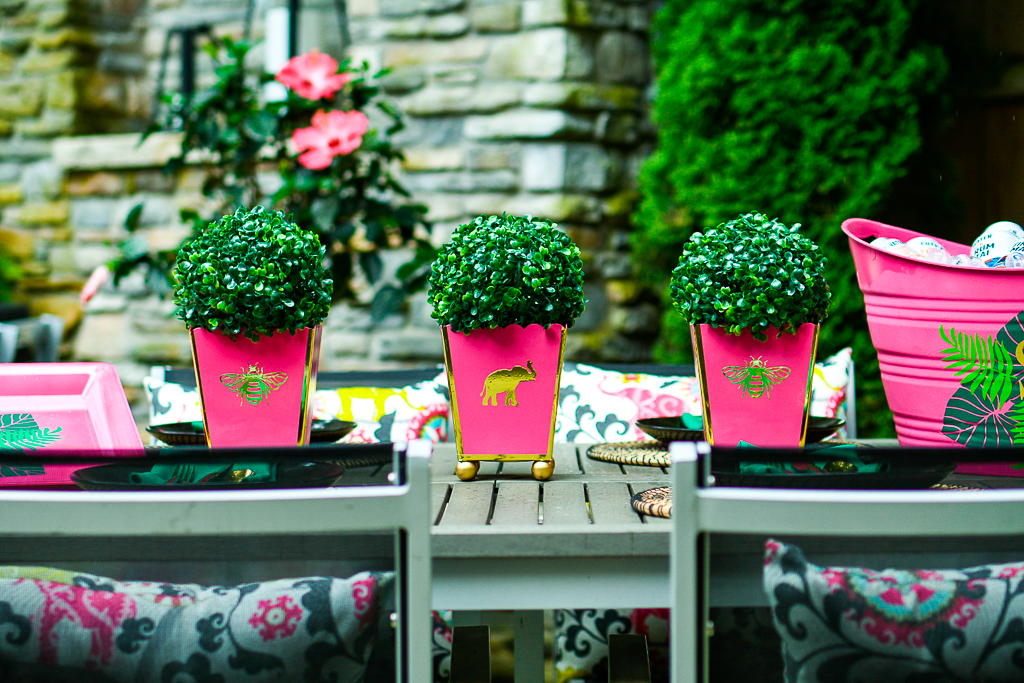 Last weekend was THAT weekend.
You know the weekend I am talking about …
The summer months are upon us and you realize you've put it off as long as you can.
You simply can't avoid it any more.
It's the weekend when you have to do the spring cleanup – outside.
It's time for the grimy covers to come off of the outdoor patio furniture.
You shake a winter's worth of dust off of the outdoor throw pillows.
And you pray there isn't a squirrel hiding underneath one of them.
You fight the crowds at the garden center and you plant the annuals in the flower bed.
So many annuals.
The power washer becomes your best friend.
At the end of the long weekend, your entire body is sore and you are filthy dirty.
Because literal dirt is covering your hands, your face and somehow it's even in your hair.
And you try not to track it into every inch of your house when you are finished.
If you ever get finished.
But, the reward is definitely worth the work!
And because of all my hard work, I've got five of the best small patio ideas to share with you.
You are going to love how easy they are to help you create the outdoor oasis of your dreams and the perfect place to spend the warm weather, al fresco, enjoying the great outdoors!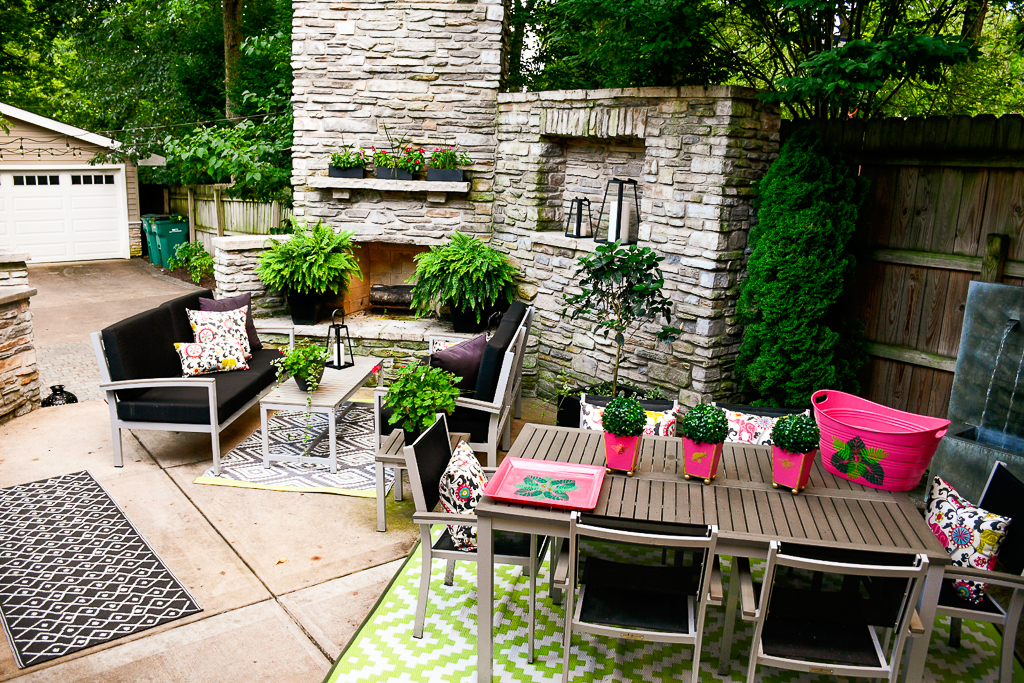 BEST OUTDOOR PATIO DECOR IDEAS: DON'T BE AFRAID TO DIVIDE UP YOUR SPACE
Our backyard patio is not large. In fact it's a small space.
The lot our house sits on is quite narrow, limiting the amount of space on which we had to build our patio.
But, like most things in life, you work with what you have, right?
Exactly.
So when we were doing our patio design, I made sure to make the best use of every precious inch we had for our outdoor area.
Here's a great lesson I learned in the process.
No matter how big or small, don't think about your outdoor space as a singular unit.
Dividing the area into sections will make it infinitely more functional and more useful.
Think about carving out a separate seating and dining area on your patio or deck. Why?
Because some nights you may want to dine outside.
But on other occasions, you may enjoy your morning coffee out there or want to just sit back, relax and read a book, listening to the birds chirp.
You need the space to serve multiple purposes.
It just makes sense to divide it up into unique areas to turn it into a great place for a variety of uses.
Benches are one of my favorite pieces of outdoor furniture to do this with, since they are multifunctional by their very design.
They can be used for extra seating, as side tables, a coffee table or even as an ottoman.
Plus they are perfect way to display potted plants, pillows and candles.
Also, don't be afraid to arrange the right furniture in nontraditional ways. For this seating area, I placed the couches perpendicular to the outdoor fireplace.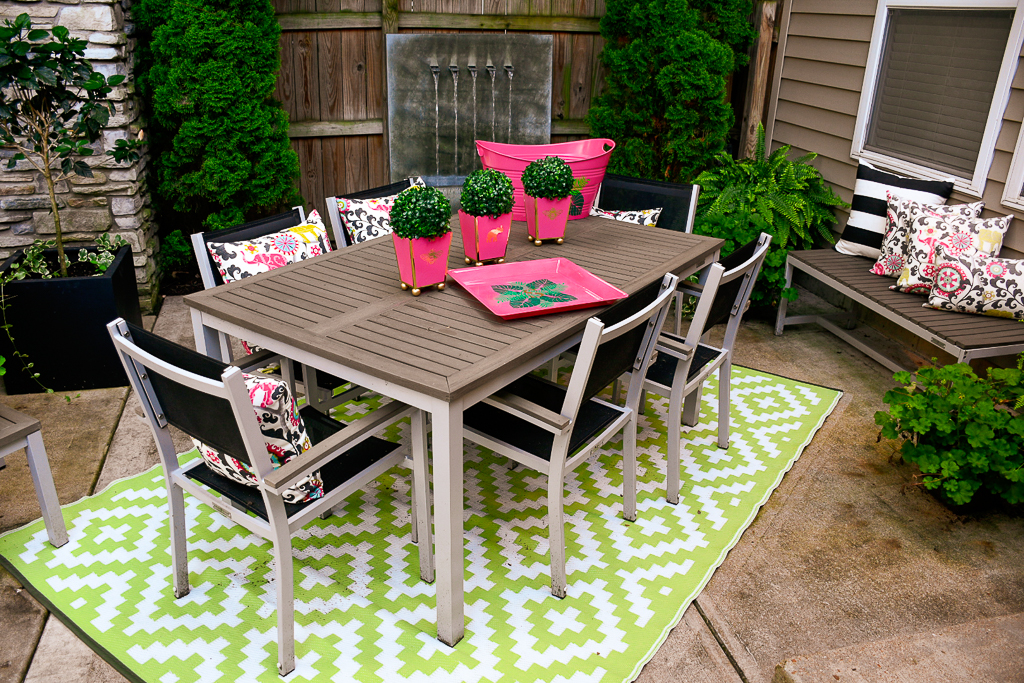 YOU ARE GOING TO LOVE THESE OUTDOOR RUGS FOR YOUR PATIO
And similar to interior design, outdoor rugs are one of the best ways to help to define each area visually underneath your furniture.
They allow your eye to separate and divide the space. Your patio area is an outdoor room after all.
If you are looking for a quick, easy way to brighten your patio space, I've got the best idea for you.
These Fab Habitat outdoor rugs are the bomb!
Their brightly colored patterns, multitude of sizes and overall value price tag, are only matched by their durability.
We don't have a covered patio. So I need to be mindful that it rains in the summer. An obvious notion, but when it comes to rugs … it matters.
Traditional jute or cotton rugs would attract and retain water, potentially creating a moldy and mildewed mess.
But these great rugs stand up to the elements and look like new, season after season.
And would you believe they are made from recycled drinking straws? Yup.
You read that right. So they are environmentally friendly as well.
I love how they divide up the spaces of our patio, as well as soften the concrete.
They are hands down my absolute favorite outdoor rugs. I cannot recommend them enough!
BEST OUTDOOR PATIO DECOR IDEAS: AN EASY DIY WELCOME MAT FOR LESS THAN HALF THE PRICE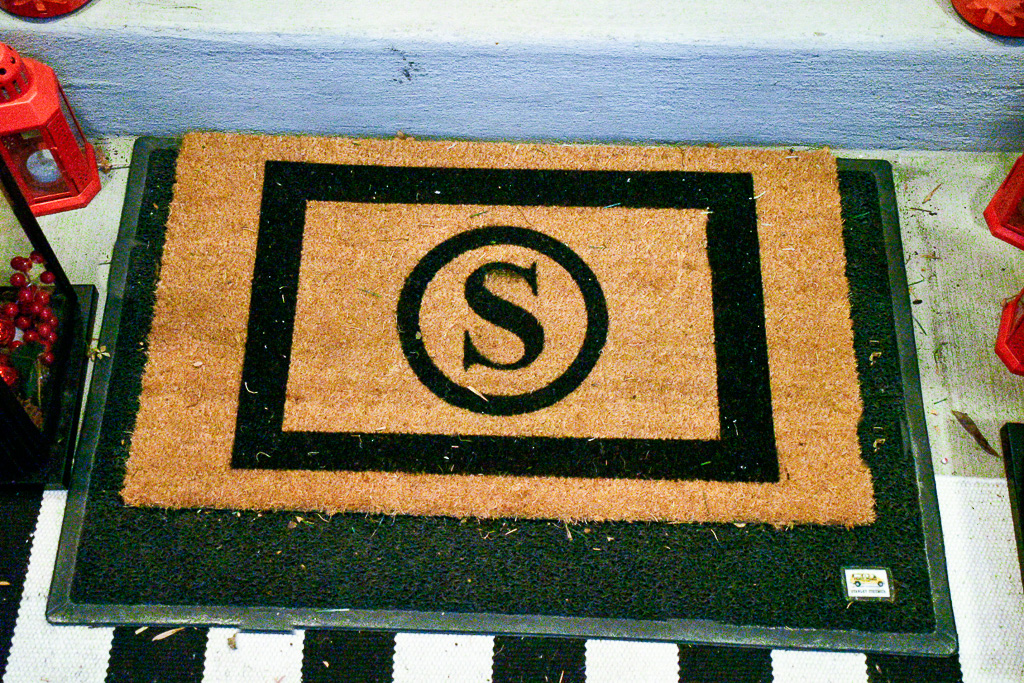 I love this initial door mat.
But when I was looking at them online, some of the price tags were out of this world. I didn't really want to spend $80 to $100 for a door mat.
And, then … it hit me!
I could easily create a DIY version for a fraction of the cost, using a few inexpensive materials and my Cricut maker.
Step by step, I take you through exactly how I created it.
And I love how it turned out! And it was so easy!
For just a few dollars, I got the exact initial doormat I wanted.
And I think it really it's a great way to add a touch of modern elegance to our porch!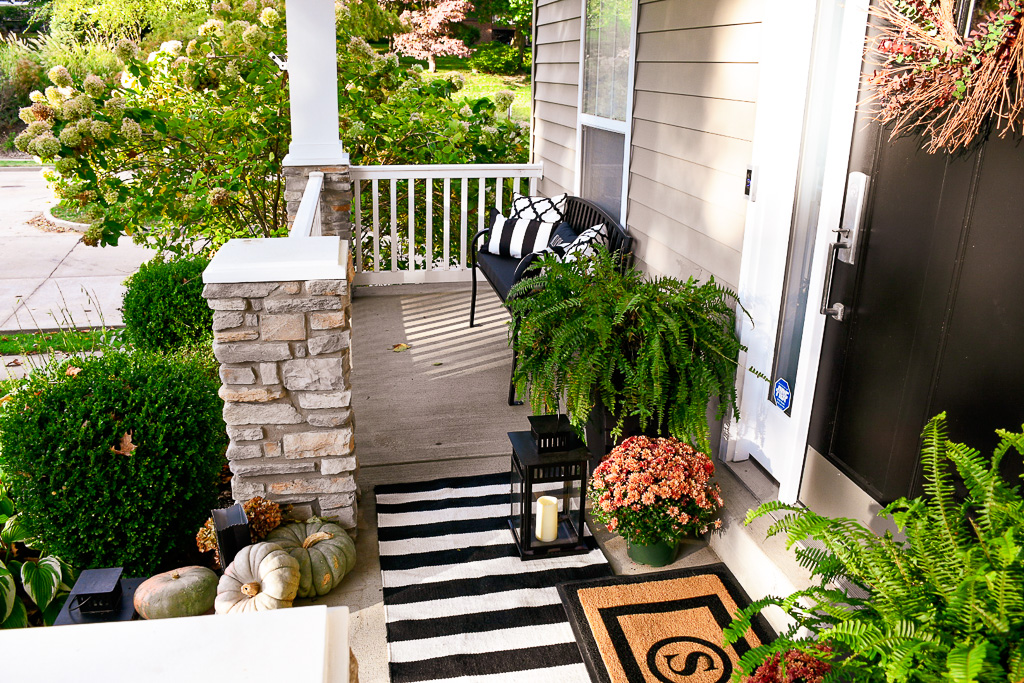 LAYERING RUGS AND WELCOME MATS CREATES A SOPHISTICATED LOOK
Another easy way to add some elegance to either your patio or your front porch is to layer your rugs and welcome mats.
Layering two or more rugs together will add depth, texture and interest to your entrance – which is a natural focal point.
Another thing to think about is mixing textures and colors. I love how this coconut fiber mat contrasts with the larger black mat by our front door.
It would also be fun to add a bright color into the mix.
There are so many possibilities!
Stripes and solids, mixing patterns … layering rugs can really bring a lot of personality and personal style to your space!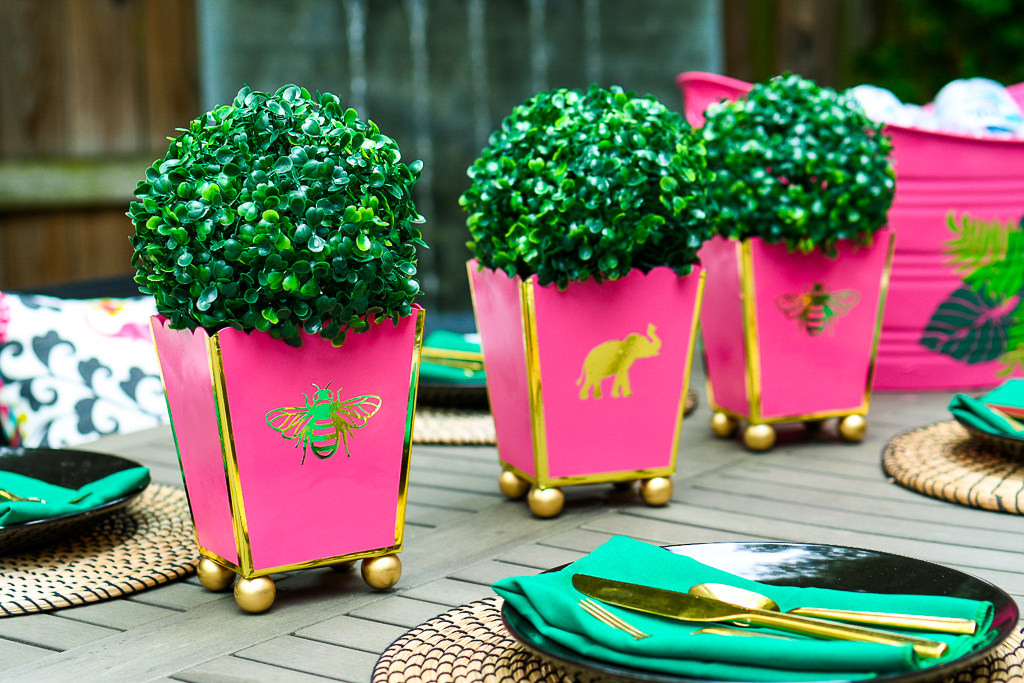 BEST OUTDOOR PATIO DECOR IDEAS: THESE DIY CACHEPOTS ARE THE ACCESSORY OUTDOOR DINING TABLES NEED
Finally, how adorable are these accessories?
They are just the perfect addition to my patio table. And again, I had been lusting after them for years.
But at close to $60 a cachepot, and considering they look best in groups, I just couldn't pull the trigger.
However, lightening struck again!
And I figured out a great, easy way to make these cachepots using a few inexpensive materials. I'll take you through the process I used, step by step.
The project is super easy and the results are just fabulous.
They are the perfect summer accessory and add so much elegance to my summer tabletop!
You are going to be amazed at how great they look!
Follow us on social media! You can find us on Instagram, Pinterest, and Facebook.
If you have any questions or suggestions, contact us or leave a comment!