HOMEMADE PRETZELS ARE THE EASY, DELICIOUS SNACK YOU NEED TO MAKE!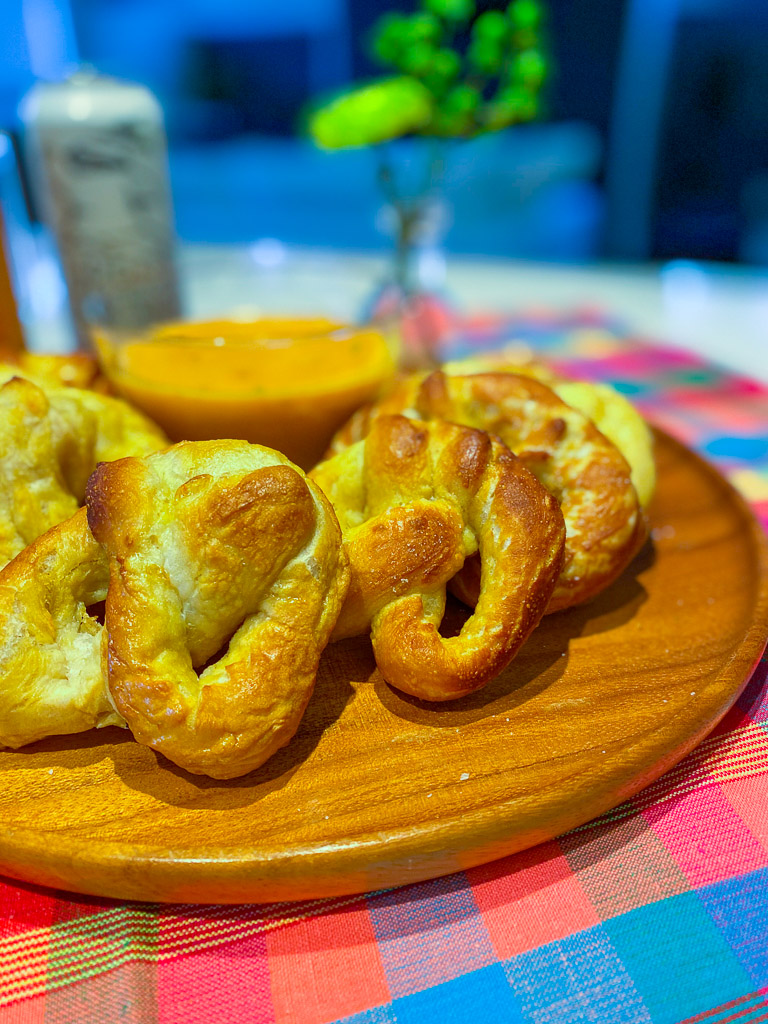 To pay proper homage to the pretzel's twisted history on National Pretzel Day, April 26, we've decided to make soft pretzels from scratch. Sound difficult? You're wrong! We found a great recipe that was delicious, easy and fun. In addition, it pairs fantastically with the warm, homemade cheese dip we also made from scratch.
EASY HOMEMADE SOFT PRETZELS
1 and 1/2 cups warm water
1 packet active dry or instant yeast (2 and 1/4 teaspoons)
1 teaspoon salt
1 Tablespoon brown sugar or granulated sugar
1 Tablespoon unsalted butter, melted and slightly cool
3 3/4 to 4 cups all-purpose flour (plus more for work surface)
Coarse sea salt for sprinkling

Preheat oven to 400°F. Whisk yeast into warm water. Allow to sit for a minute. Whisk in salt, brown sugar, and melted butter. Slowly add three cups of flour, one cup at a time. Mix with a wooden spoon (or dough hook attached to stand mixer) until dough is thick.
Add 3/4 cup more flour until the dough is no longer sticky. If it is still sticky, add 1/4 – 1/2 cup more, as needed. Poke the dough with your finger – if it bounces back, it is ready to knead.
Turn the dough out onto a floured surface. Knead the dough for three minutes and shape into a ball. Cover lightly with a towel and allow to rest for 10 minutes.
With a sharp knife or pizza cutter, cut dough into 1/3 cup sections. Roll the dough into a 20-22 inch rope. Take the ends and draw them together so the dough forms a circle. Twist the ends, then bring them towards yourself and press them down into a pretzel shape.
Place pretzels on parchment lined baking sheets which have been sprayed with cooking spray. For chewier, more authentic pretzels, prepare baking soda bath as detailed below. This step is optional.
BAKING SODA BATH
½ cup baking soda
9 cups water
Combine baking soda and water, bring to a boil in a large pot. Drop one to two pretzels into the boiling water for 20-30 seconds. Using a slotted spoon, remove pretzel from bath, allowing excess water to drip off.
After placing pretzels onto prepared baking sheet, sprinkle with coarse sea salt and bake for 12-15 minutes or until golden brown. (Recipe courtesy of Sally's Baking Addiction)