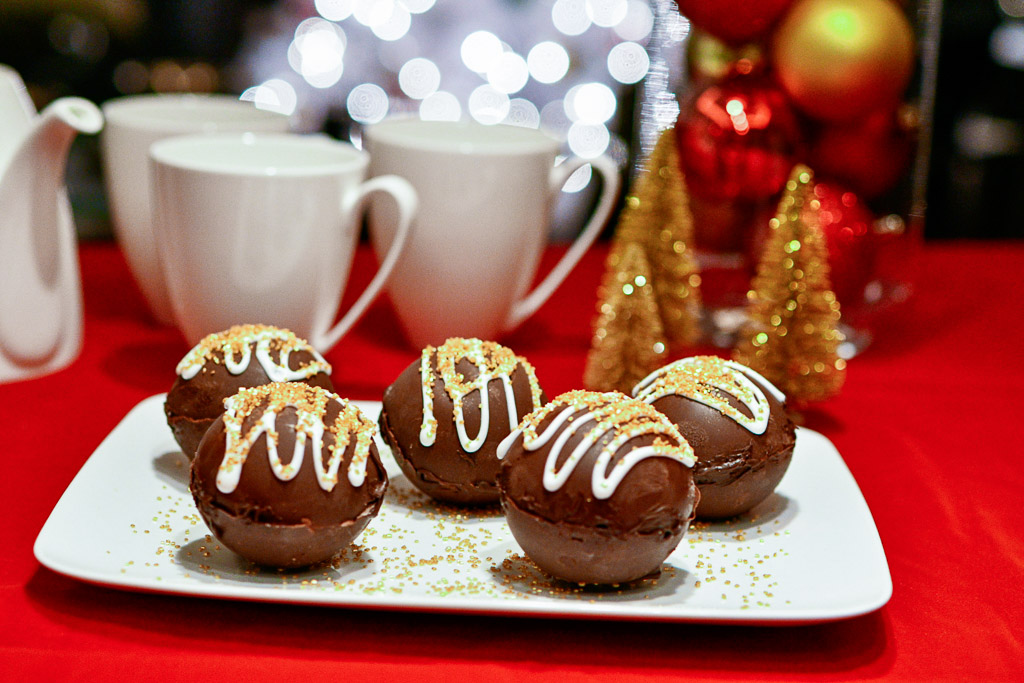 Elegant hot chocolate bombs are the perfect way to celebrate National Cocoa Day on December 13. Hot chocolate bombs are literally exploding everywhere, particularly on social media, this holiday season. Lots of candy shops and bakeries are offering their versions of these delights as well. But for National Cocoa Day, we decided to try our hand at making them.
It was a fun activity whose required skill level wasn't extraordinarily high. In fact, they were fairly simple, save for a few key points, to make. The fruits of our labor were elegant hot chocolate bombs worthy of gift giving. But we're selfishly keeping them for ourselves! Here's the equipment you'll need and how you can do this too, step by step:
SILICON CANDY MOLDS
These are essential and I highly recommend these red molds I got on Amazon. One of my major concerns as I began exploring making my own hot chocolate bombs was how to get each half out of the mold without cracking it. Because for this project, it takes two baby!
I saw suggestions of using silicon ice trays but that just sounded odd to me. Plus, those molds have holes at the top. These red molds were, well … the bomb. They peeled off the chocolate with ease.
SILICON PASTRY BRUSH
This was really helpful when assembling the molds. The silicon material is really easy to clean and its far more durable than a traditional pastry brush. This item is worth the nominal investment.
MAKE-SHIFT DOUBLE BOILER
I need a what? Properly called a "Bain Marie," which is French for heated bath, these double decker pots have kind of fallen out of fashion. I suspect it's because they take up a lot of room for the two times each year they're actually used. If you have a small saucepan and you have a metal bowl, you're set.
Fill the saucepan about a third full of water, setting the metal bowl on top of the saucepan so its contents are surrounded by the warming water. It's the best way to melt chocolate because it all but eliminates the possibility of burning it. Controlling the melt in the microwave is impossible. And burned chocolate smells pathetic. Still confused on how to pull this together? Here is an excellent article from Bon Appetit explaining the DIY double boiler.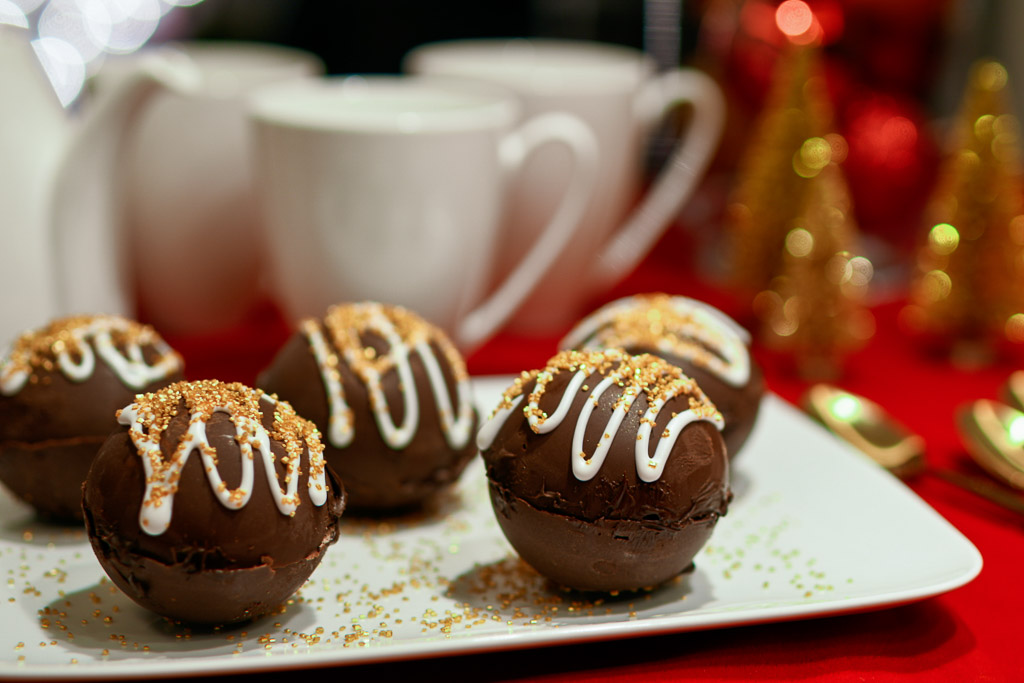 HOT COCOA BOMB RECIPE:
Chocolate chips (milk, dark, white, etc.)
Hot cocoa mix
Add-ins like mini marshmallows, sprinkles, or toffee pieces
Melt chocolate chips in your double boiler, stirring chips gently until the chips are all melted. Use a spoon to dollop the melted chocolate into your molds, smoothing it around the edges until everything is covered. Place molds on baking sheet in freezer for at least 30 minutes or until chocolate is solid.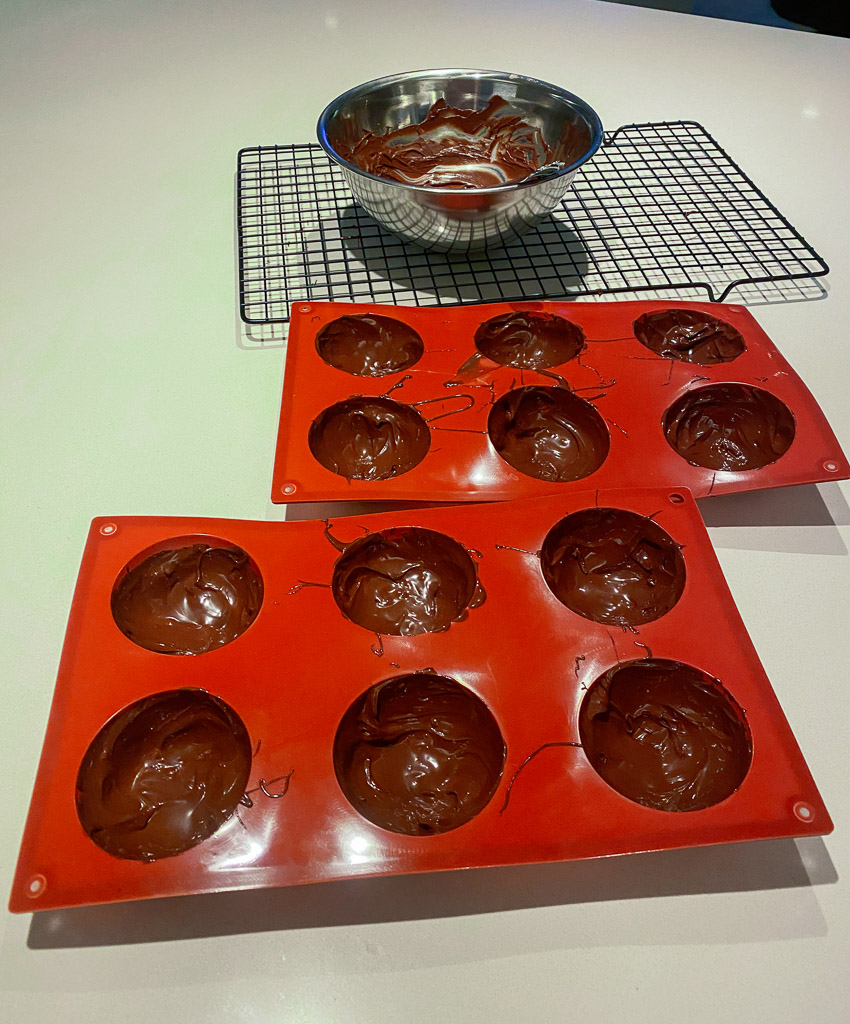 PRO TIP: Ensuring the chocolate has completely covered the mold is key. Truth be told, I had to go back and patch a few spots, refreezing the molds. The red color of the silicon molds I had made this easy to spot. Obviously you can't have holes in your bombs … the hot cocoa mix will just fall out.
Set in the refrigerator for about 30 minutes, or until the chocolate is firm.
Remove the chocolate forms from the molds. Fill half of them with two tablespoons of hot cocoa mix, as well as your favorite add-ins. Mini marshmallows, sprinkles, toffee pieces, crushed peppermint candy … the options are endless.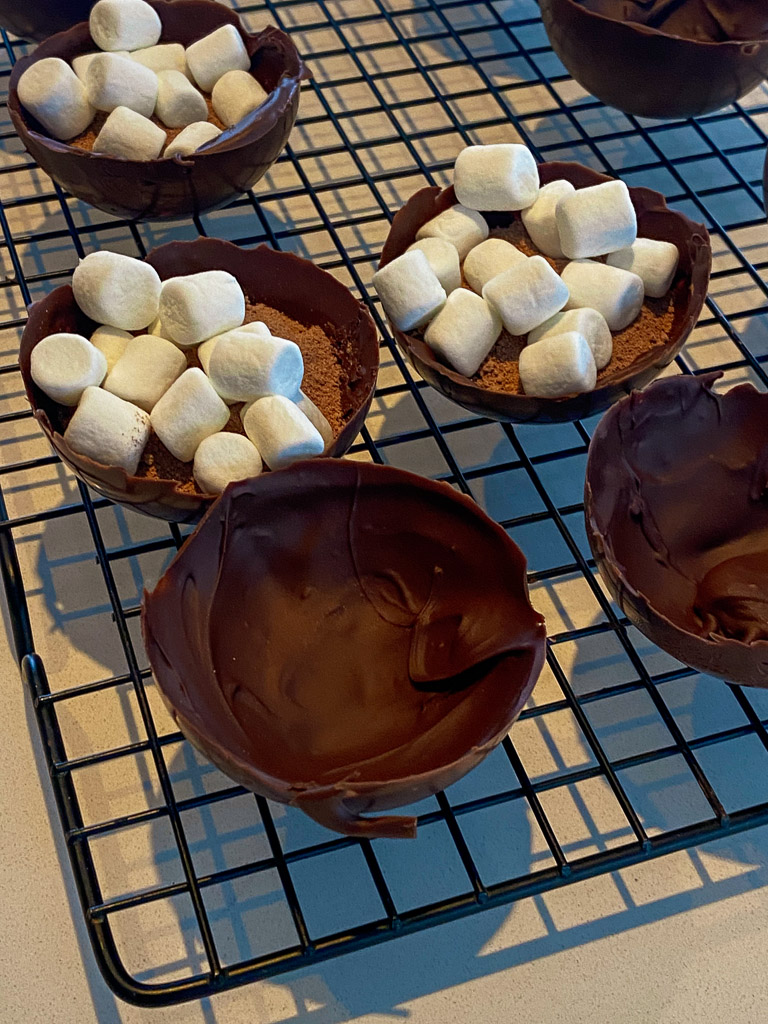 HOW TO ASSEMBLE
You need to have a bit of patience for this step. Place an empty chocolate half on top of each filled half. Seal the halves by brushing lukewarm melted chocolate at the seam. Temperature is key here. The chocolate needs to be cool. If it's hot, it will melt the molded chocolate. Think of it like paste.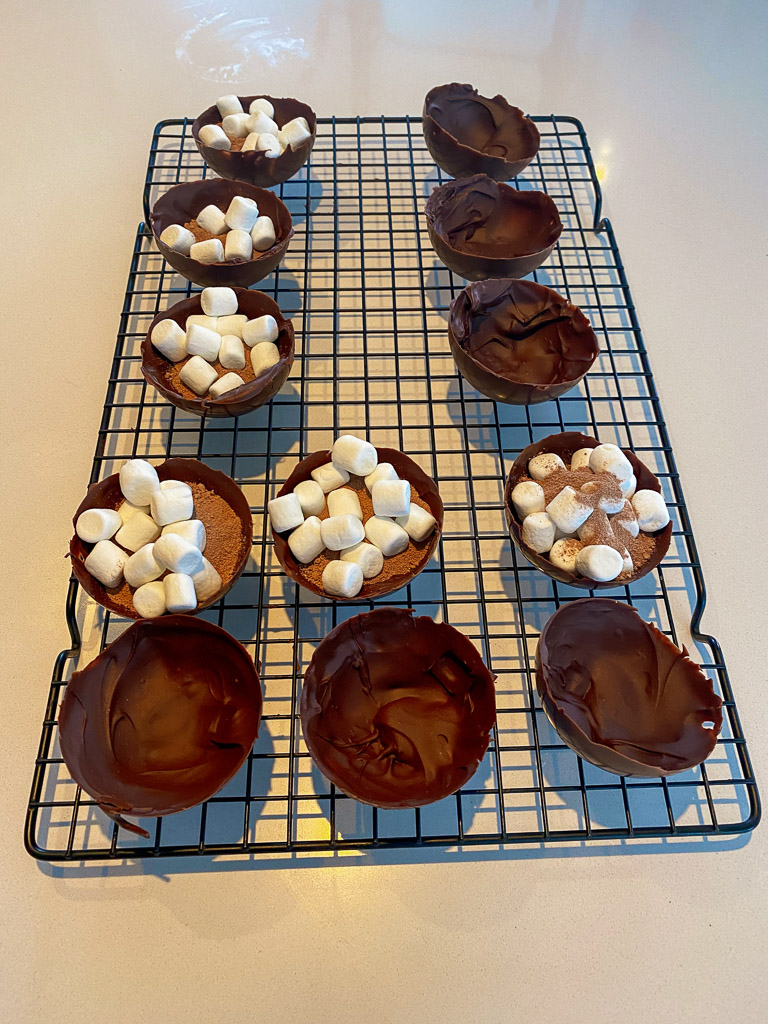 NEXT, MAKE IT ELEGANT!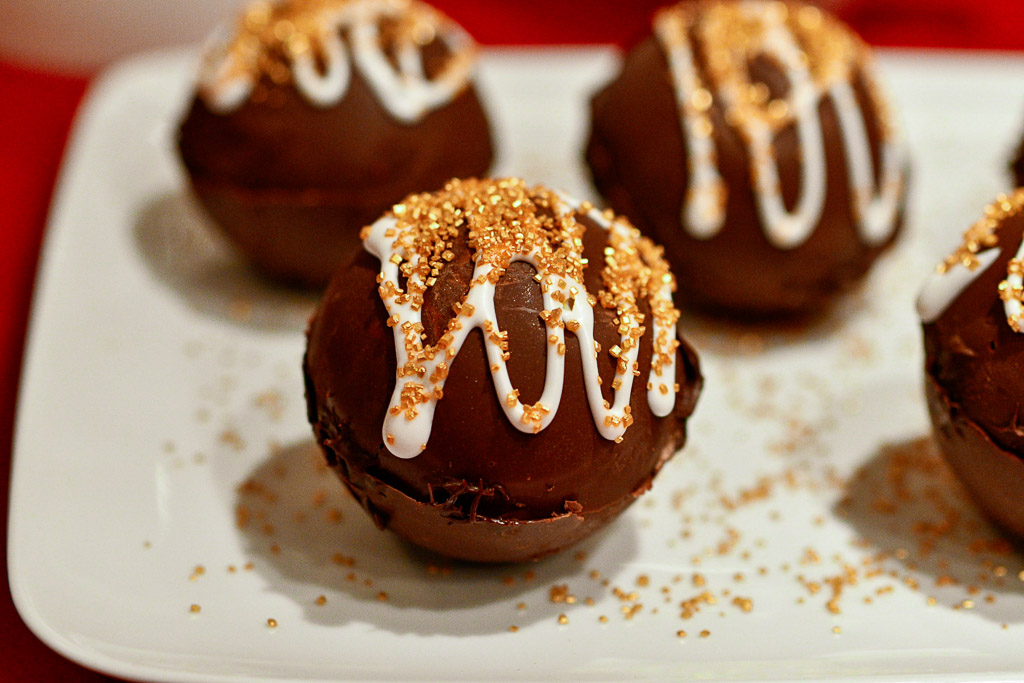 To decorate the outside of the bombs, I used white cookie icing. Again, temperature is key. Don't fall into the trap of thinking melted white chocolate will work. It will not. It's too hot and will melt the bombs. Add some sparkle with colored sprinkles and edible glitter.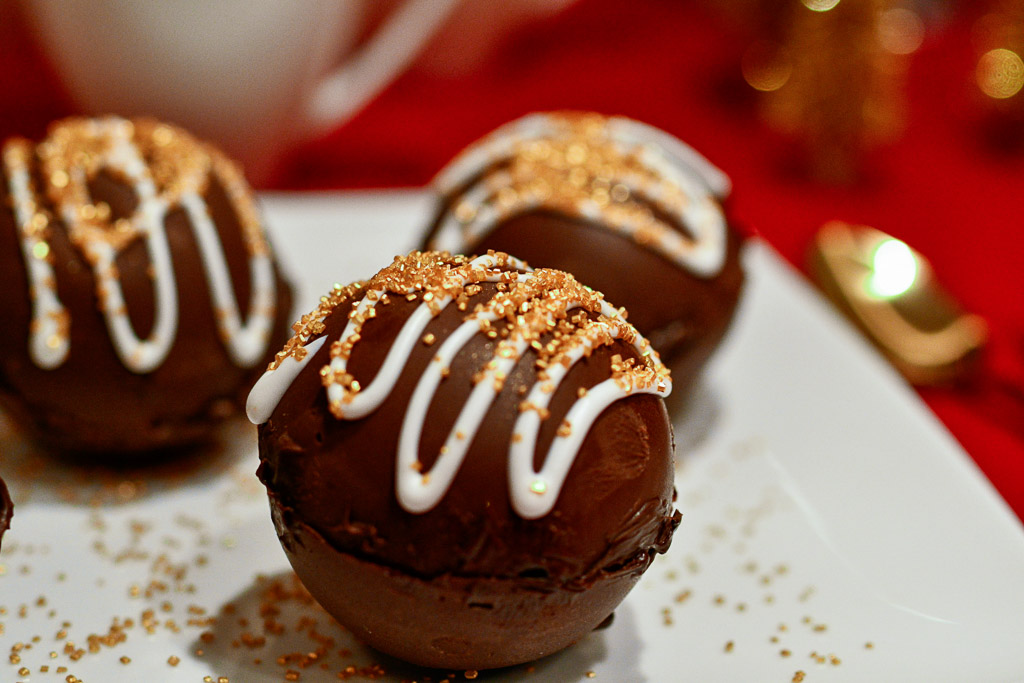 To serve, place in a mug and pour hot milk over the bomb. Stir until completely melted. Looking for other holiday ideas? Check out these adorable mini gingerbread houses.