5 FOURTH OF JULY DECORATIONS IDEAS THAT ARE EASY, ADORABLE AND AFFORDABLE!
These 5 Fourth of July table decoration ideas are just quintessential Americana and perfect for the holiday!
They're easy, adorable and ideal for the Fourth of July weekend or any summer celebration!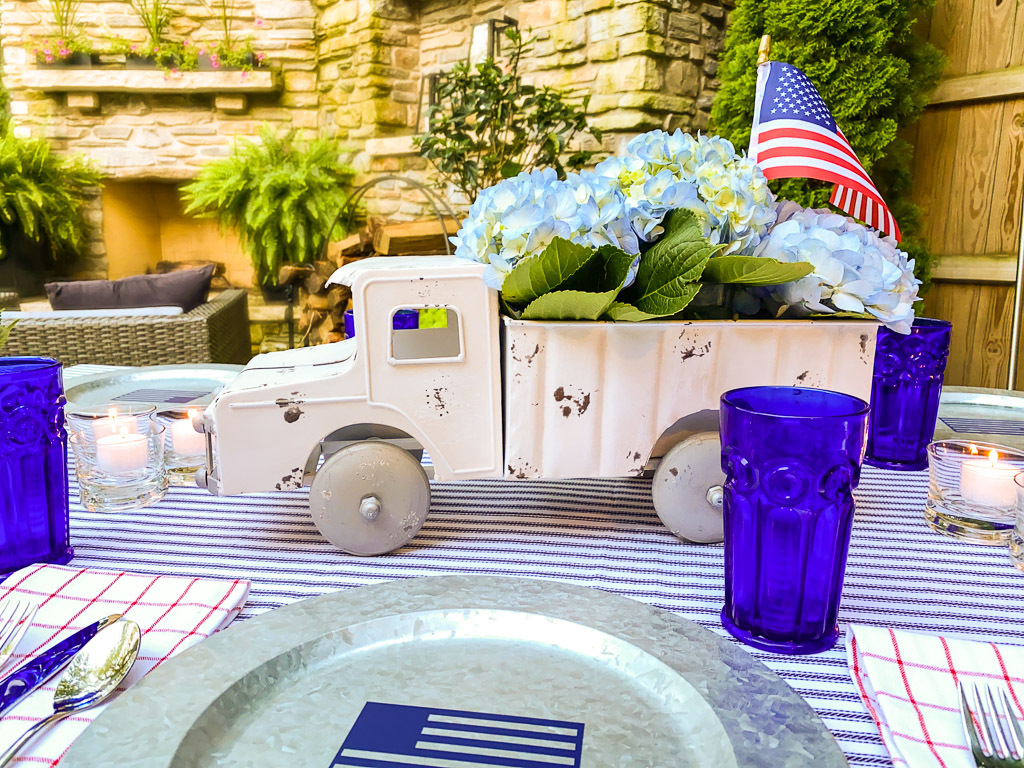 Barbecues with family and friends, vine-ripened tomatoes, fresh sweet corn, night-time fireflies, and, of course, fireworks!
The Fourth of July holiday is just the perfect celebration to sit back, relax and enjoy the long warm evening, as well as the spectacular sunsets that occur this time of the year.
Because the dog days of summer are upon us …
And they are simply some of the best days of the year.
The 4th of July holiday always reminds me of my mother-in-law Cheryl.
She simply loved decorating in red, white and blue, as well as throwing an American flag into the mix whenever and wherever she could.
I know she would love this table! And I think you will too!
Here are five 4th of July tablescape ideas that are easy, adorable and affordable, and will make your holiday an occasion to remember!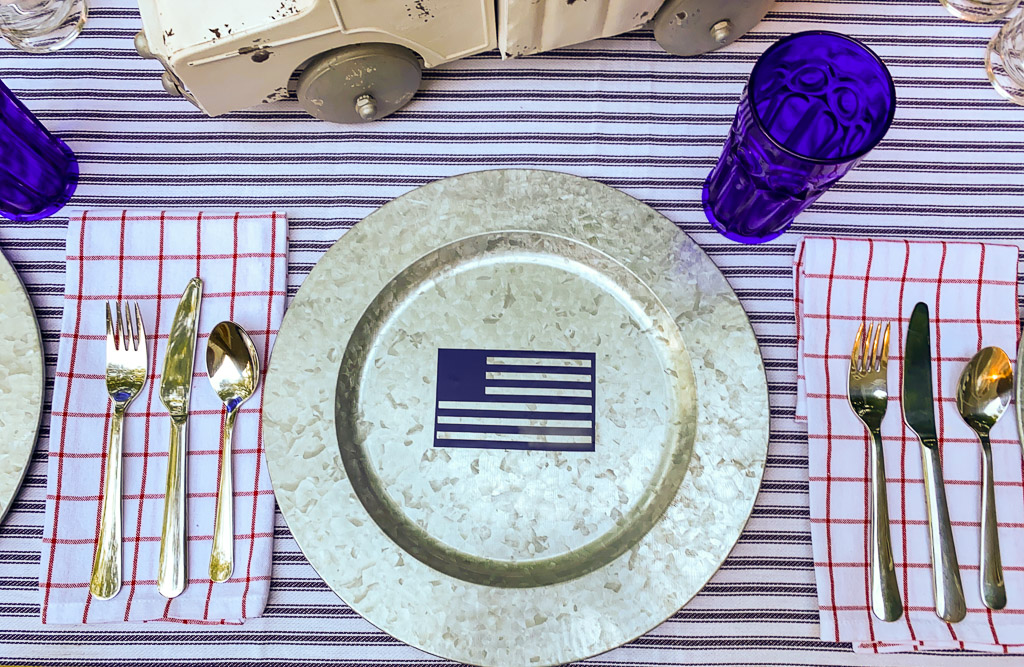 Posts on Make Every Day an Event may contain affiliate links which means we may earn a small commission on purchases at no extra cost to you. To learn more, please read our full disclosure here.
1. A GREAT TABLE STARTS WITH A GREAT TABLECLOTH
I've seen a lot of tablecloths in my time.
But this one is simply the best!
And I don't say those words lightly.
The navy and white ticking stripe on this tablecloth gives it interest, but allows it to be super versatile.
I can picture using this linen for the Fourth of July, as well as an early fall dinner or even at Easter.
And the weight of the fabric makes its ideal for an outdoor table. It's definitely not going to blow away or wither in the summer humidity.
It's like the perfect black dress, you can dress it up or dress it down and it works great either way.
It is simply a must-have for any 4th of July tablecape.
2. THE CENTER OF ATTENTION ON THIS 4TH OF JULY TABLESCAPE …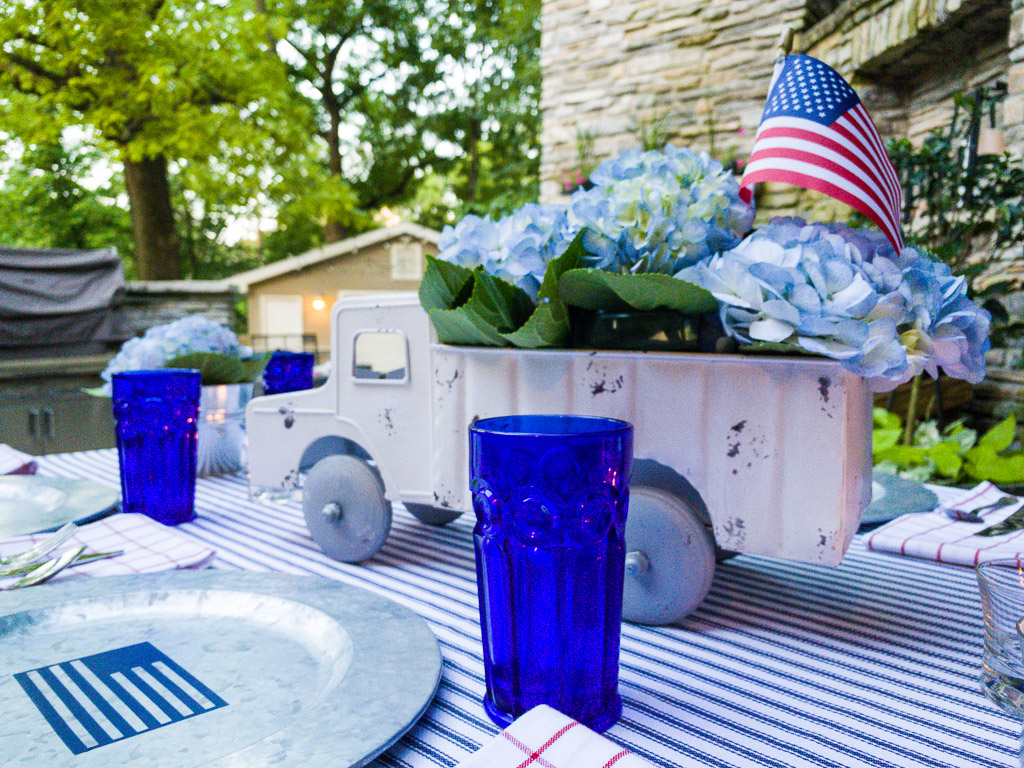 The scene stealer on this table is this vintage truck plant holder.
I love pieces that can be reused from season to season.
And this vintage truck plant holder definitely fits that bill.
For this table, I've simple placed these small mason jars into the truck's bed, to serve as vases for the hydrangeas.
The result is so simple, yet so impactful.
I've also used this vintage truck plant holder in the fall (filled with pumpkins), as well as during the holidays (think small Christmas trees and pinecones).
It's one of my favorite decor items I own.
And it's definitely worth the investment because it is just so versatile.
On this 4th of July tablescape, I just love how it adds a heaping amount of charm!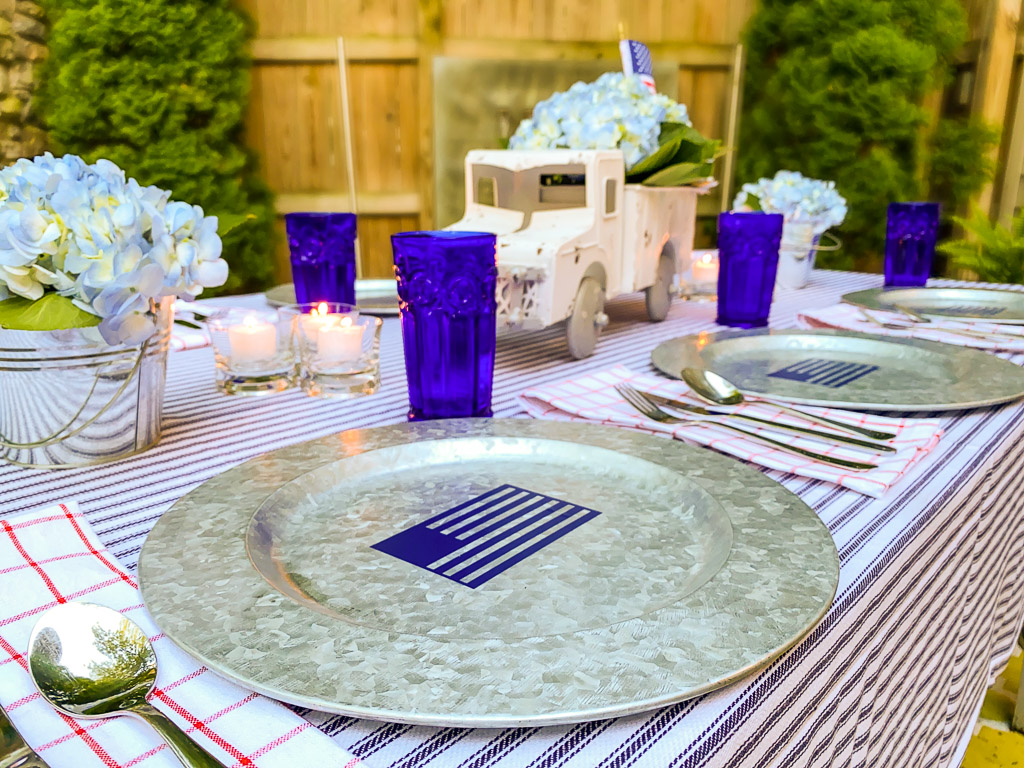 Since my table is oblong, I also added two additional small, galvanized buckets of hydrangeas on either side of the main centerpiece.
It brings a bit of balance to the table, don't you think?
And finally, to mirror the truck's wheels, I added these adorable galvanized chargers to the tabletop.
They are the perfect tabletop accessory to greet each guest!
For this 4th of July tablescape, I dressed them up using my Cricut maker.
It was a super simple project. The navy flags, which are made from removable vinyl, match the stripes in the tablecloth and will be easy to remove to use these pieces again and again.
They just tie everything together!
3. NAPKINS DON'T HAVE TO BE, WELL … NAPKINS!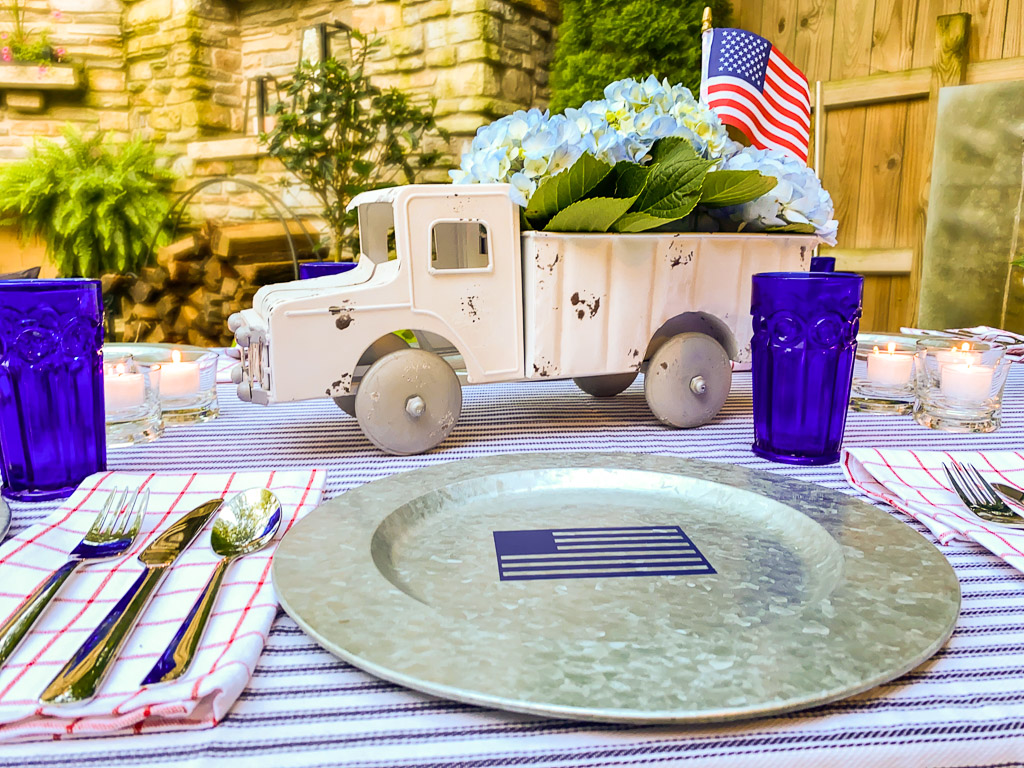 While this may sound like some sort of riddle, it's not.
In fact, it's my of our favorite tricks.
For this table, I opted to use these red and white window pain dish towels instead of traditional napkins.
Because, let's face it, summer meals can be messy … ribs, corn and other seasonal treasures can make your hands ridiculously messy.
Guests will really appreciate having an oversized cloth to keep them neat and tidy, especially if they are wearing white!
They are a great addition to this 4th of July tablescape!
4. VINTAGE GLASSWARE CAN ADD A GREAT POP OF COLOR TO YOUR 4TH OF JULY TABLESCAPE
I love incorporating vintage pieces into our tablescapes.
In fact, I've previously written about my connection to vintage glassware.
These blue vintage Tiffin water glasses add a huge pop of color to the table.
You'll be amazed at the bargains you can find on beautiful glassware at estate and tag sales, as well as at thrift stores and on eBay.
In addition, you can find new glasses that evoke a vintage look and feel.
Here are some great options that would look perfect on any 4th of July tablescape:
These cobalt iced tea goblets would be a great addition
A handblown cobalt tumbler is ideal for any Fourth of July tablescape
Blue stemless wine glasses are a great choice too
If you're looking for a great thirst quencher to accompany your meal, consider making one of these iced-tea recipes.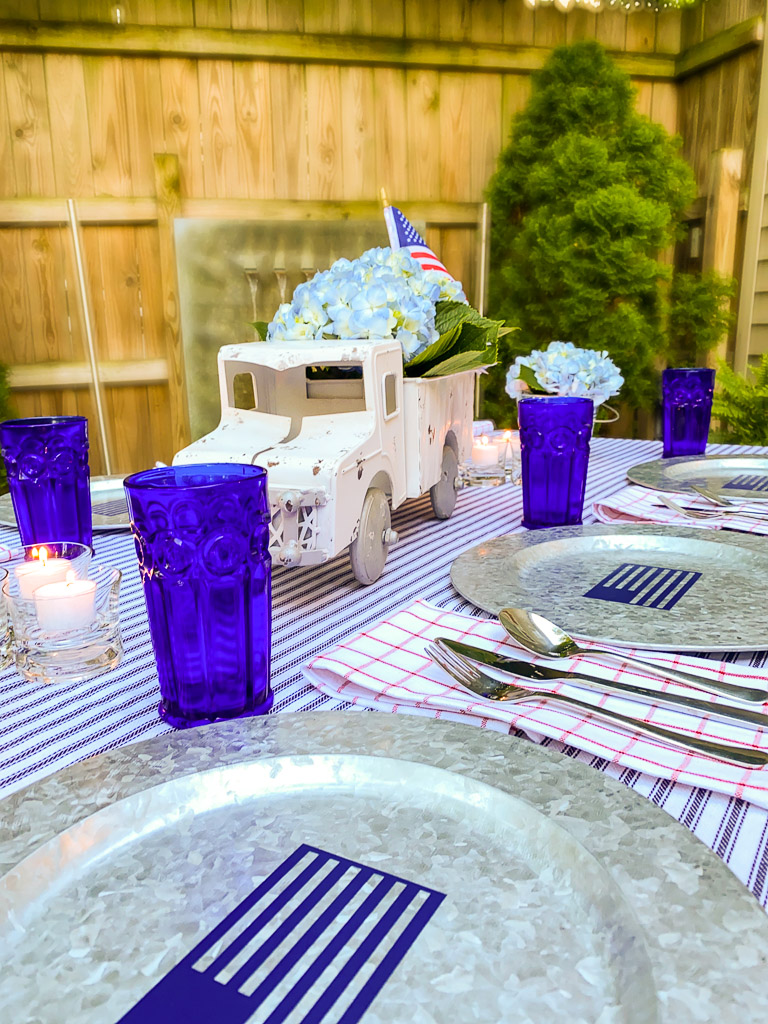 5. BLUE HYDRANGEAS … ONE OF MY FAVORITE 4TH OF JULY TABLESCAPE IDEAS!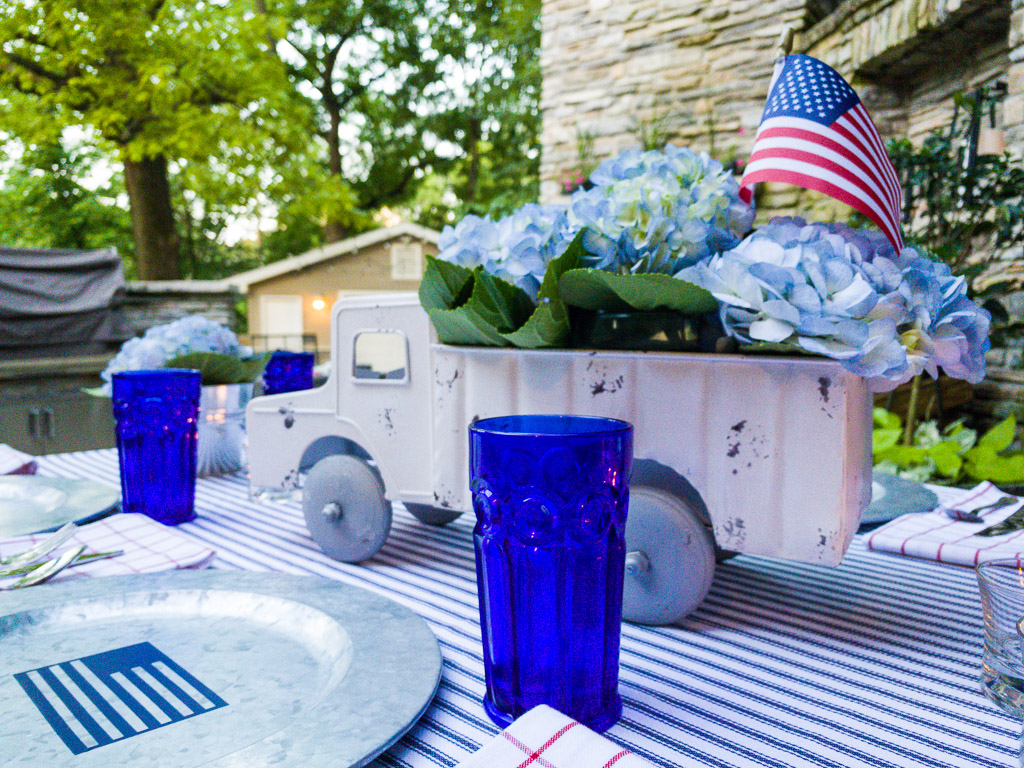 What's one of my favorite 4th of July tablescape ideas?
Blue hydrangeas.
These flowers are the perfect complement to this 4th of July tablescape. Why?
Because hydrangeas are hardy and stand up to summer temperatures.
In addition, they are long lasting.
And should you find your hydrangeas begin to wilt sooner than you'd expect, there's an easy way to get them gorgeous again.
Simply cut the stems at a diagonal and soak them in a tub of cold water (our mud room sink is the perfect spot) for several hours.
Magically, the blooms will rejuvenate.
Did you try any of these 4th of July tablescape ideas? Check out these additional summer entertaining tips that you don't want to miss:
Discover the Daiquiri … It's Not What You Think!
Rose All Day with These Rose Cocktails
A Fun, Easy and Adorable Dessert for the Fourth of July
If you have any questions or suggestions, contact us or leave a comment!
Follow us on social media! You can find us on Instagram, Pinterest, and Facebook.