ELEVATE YOUR DEVILED EGG GAME THIS HOLIDAY SEASON!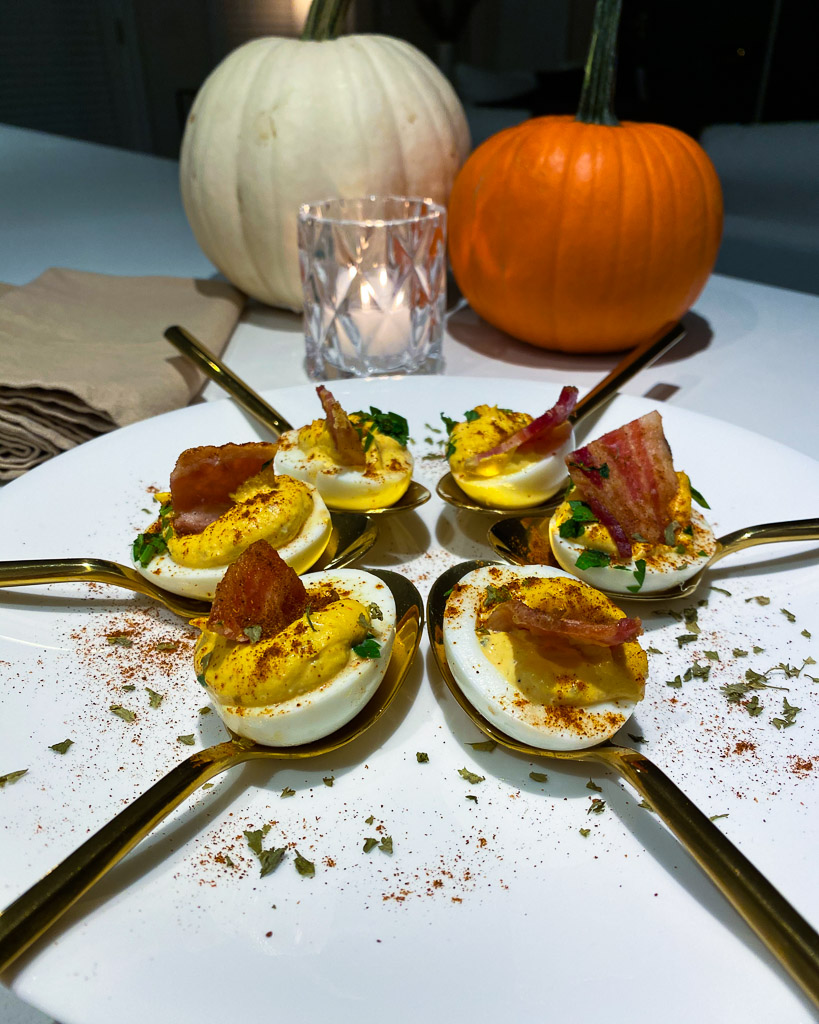 National Deviled Egg Day is November 2. Deviled eggs are a comfort food that have truly grown up these past few years. No doubt, your mom has her favorite recipe and your grandma's got one too. And invariably, your aunt, uncle and neighbors have put their spin on this classic American dish over the years. Deviled eggs have been a mainstay of holiday celebrations, potluck dinners and picnics for generations. Heck, they even have their own dedicated dish (you may need to dig really deep into the sideboard or pantry to find that one). So as we begin to plan our holiday menus this year, what better occasion than National Deviled Egg Day to take a deep dive and celebrate this savory staple. 
MORE POPULAR THAN EVER …
These oval goodies are enjoying more than a moment. It's truly a movement. Forget a simple paprika and mustard recipe. The deviled egg game has been upped. Substantially. Over the past decade, they have become a mainstay at the most acclaimed Southern barbecue joints, trendiest affairs, and some of the finest restaurants in the U.S.
PRO TIP: Why are they "deviled"? Basically, to devil a food means to season a food aggressively. In addition to eggs, other foods can be deviled. Some of the most common include: crab, salmon, chicken, and, of course, devil's food cake.
The new wave of the elevated deviled egg affinity appears to have gotten its start around 2008, according to Eater when prominent chefs throughout the U.S. began putting their spin on them. Standouts included yellowfin tuna deviled eggs in Aspen, truffle deviled eggs in NYC, and "oeufs mimosa" made with crab, caviar, and a dainty topping of gold leaf on the West Coast. Yum!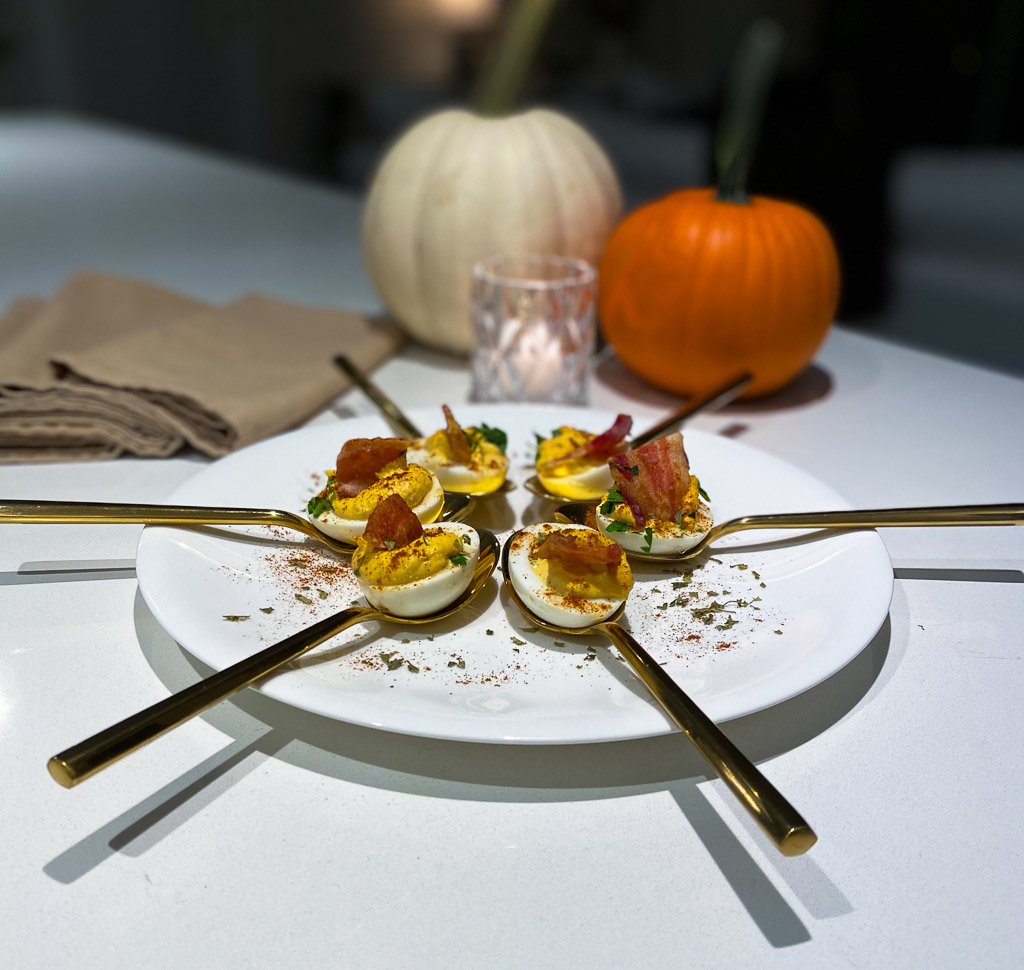 Closer to our home, we found a great recipe for deviled eggs from an acclaimed local barbecue favorite, Salt + Smoke. Did we make them from scratch or did we carry out? We're not telling. But we certainly did enjoy these bacon deviled eggs and think you will too! Happy National Deviled Egg Day!
PRO TIP: The easiest way to serve deviled eggs … ? On a spoon! It makes them easy to grab without getting your hands messy or affecting the filling. We love the elegance of this gold flatware, but there are other good options as well including: Asian soup spoons, these modern heavyweight soup spoons, this fantastic deviled egg tray and charcuterie board, or a basic porcelain deviled egg plate you'll love.
SALT + SMOKE DEVILED EGGS RECIPE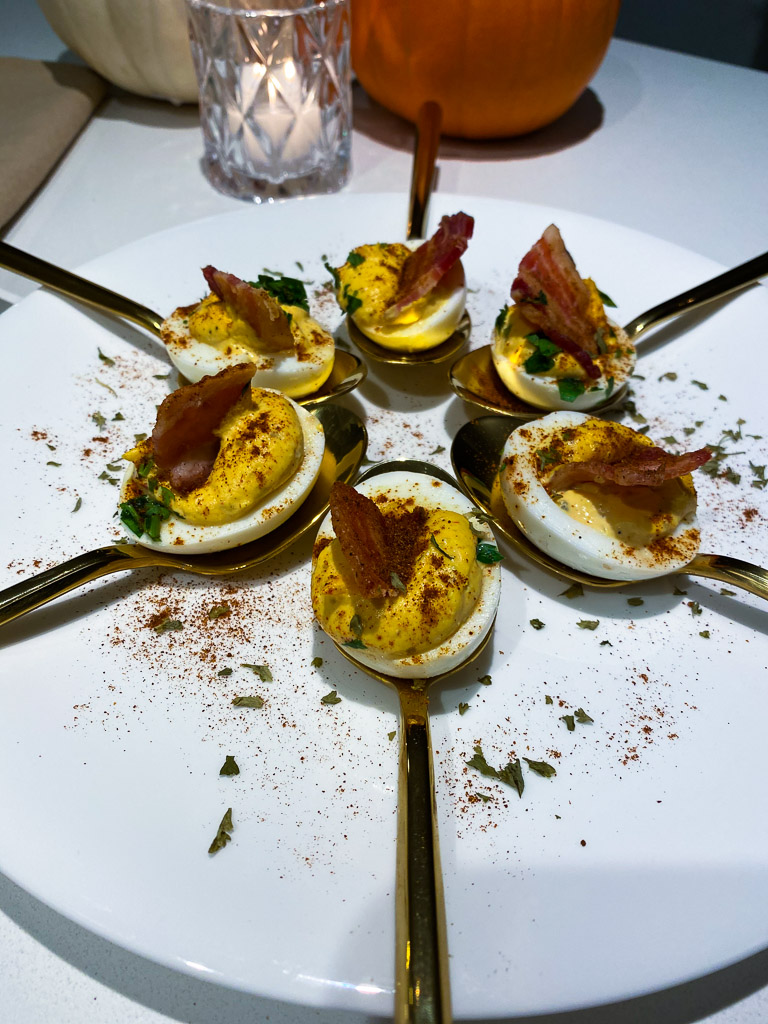 15 large eggs, hard-boiled and peeled
2 teaspoons French's yellow mustard
2 small whole garlic cloves smashed, peeled and roughly chopped
4 tablespoons jarred sun-dried tomatoes, drained
1 ½ cup mayonnaise
2 teaspoons smoked paprika
½ teaspoon salt
1 small sweet gherkin, minced very fine
½ teaspoon liquid smoke
Black pepper to taste
10 strips crisp thick-cut bacon
2 teaspoons sweet Hungarian paprika
Chopped parsley
2 cups of pimento cheese spread
Cut each egg in half lengthwise. Gently remove egg yolks and place them in the bowl of a food processor. Place the egg halves on a platter or baking sheet and set aside. Pulse yolks until they are in small crumbles.
Add mustard and pulse until just incorporated. Place egg mixture in a medium mixing bowl and set aside.Place the chopped garlic and the sun-dried tomatoes in the bowl of the food processor. Pulse to a paste.Add the mayonnaise to the bowl and pulse to just blend with tomatoes and garlic. Remove to a small mixing bowl.
Mix the smoked paprika with the salt. Add to the mayonnaise mixture and gently fold and stir to blend the powdered spice evenly throughout. Add the finely minced gherkin and the liquid smoke, and stir to blend. Fold the mayonnaise mixture into the egg yolks, stir to incorporate completely. Cook or bake 10 strips of bacon until crisp. Remove to paper towels to drain. When cool, break each piece into thirds.
To assemble the eggs, pipe in or fill each egg hollow with a generous dollop of the yolk mixture and place on a tray or plate. Lightly sprinkle the top of the egg paste with sweet Hungarian paprika and chopped parsley. Add a bacon strip to the center of each just before serving. To serve, place a tablespoon of pimento cheese on the plate and set a filled egg on the cushion. Makes 15 servings. (Recipe courtesy: St. Louis Post-Dispatch)
Want to explore another great culinary trend?? Check out fried chicken and champagne. It really is the pairing you've been missing!