FIVE SPACE PARTY IDEAS YOU'LL LOVE TO THE MOON AND BACK!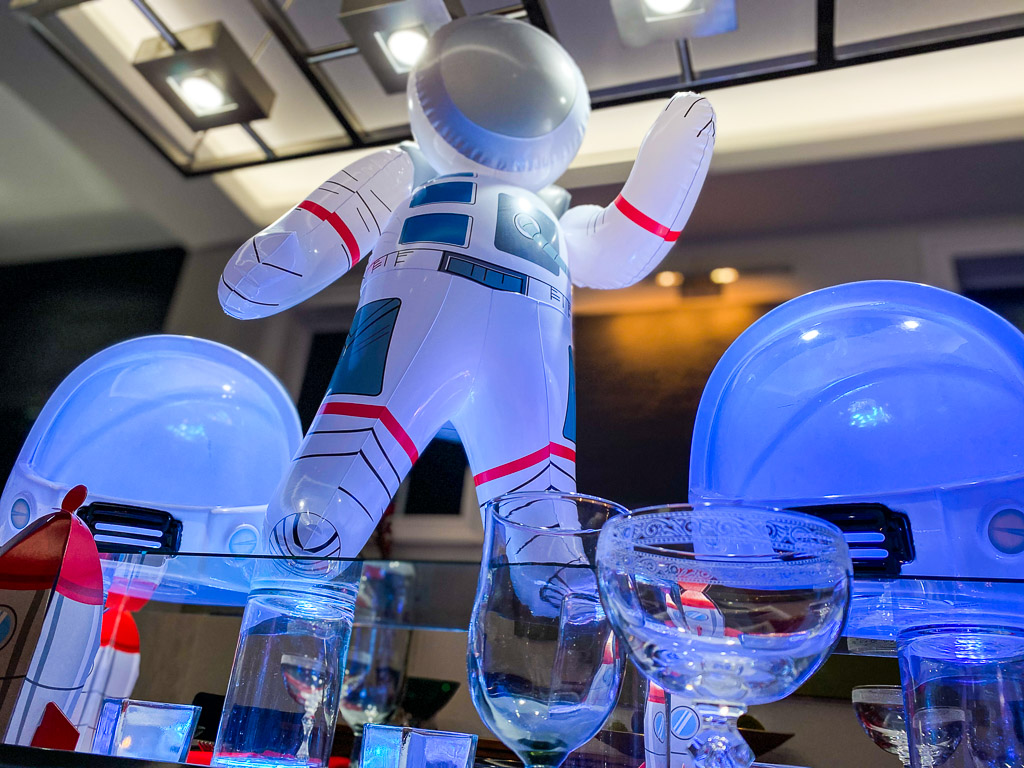 We're counting down to blast off! Inspired by the recent SpaceX launch, we curated a space-themed party that we think is out-of-this-world fun! We even found a perfectly themed cocktail for the occasion. Discover how we pulled this party together in five, four, three, two … one!
IF YOU'RE HEADED TO OUTER SPACE YOU NEED THE RIGHT GEAR …
As we began to look for décor items for this party, we knew we wanted to keep it simple. This is a huge theme and it could get quickly out of hand. We were looking to find a few key items that would make a big impact and tie everything together. Fortunately we quickly found décor elements that were up to the challenge.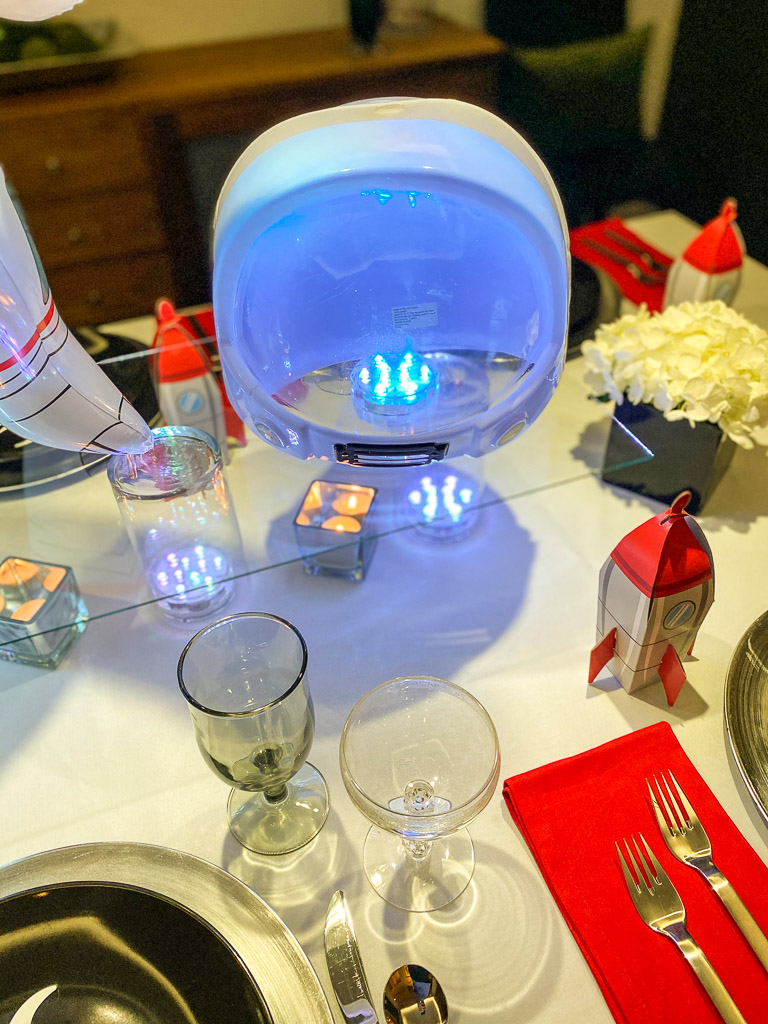 This inflatable astronaut was just perfect, as were these space helmets. Over the years, we've realized that working with light sources can have a huge, dramatic effect and set the mood for the table, without a huge amount of effort. By placing lights under the helmets, we created a glowing, outer space effect.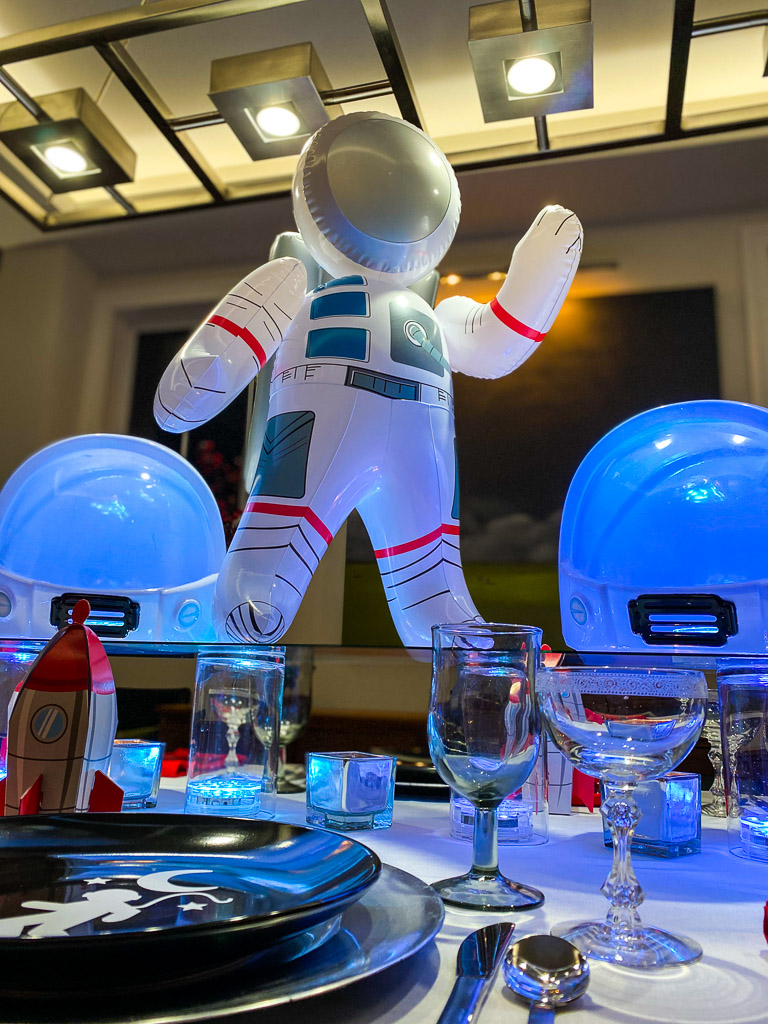 Another way we add drama, is to place décor items at varying heights within our designs. The tablescape for this space party was no exception, as we incorporated a clear glass riser down the center of the table. We then perched the astronaut and space helmets on top of the rectangular piece of glass. The glass was held in place by cylindrical vases turned upside down. Those upside vases were an ideal perfect spot to insert additional round lights.
Finally, the height created by the riser allowed us to place silver votives underneath the glass "shelf." When lighted they took on an effect similar to the flames that are visible during a rocket's launch.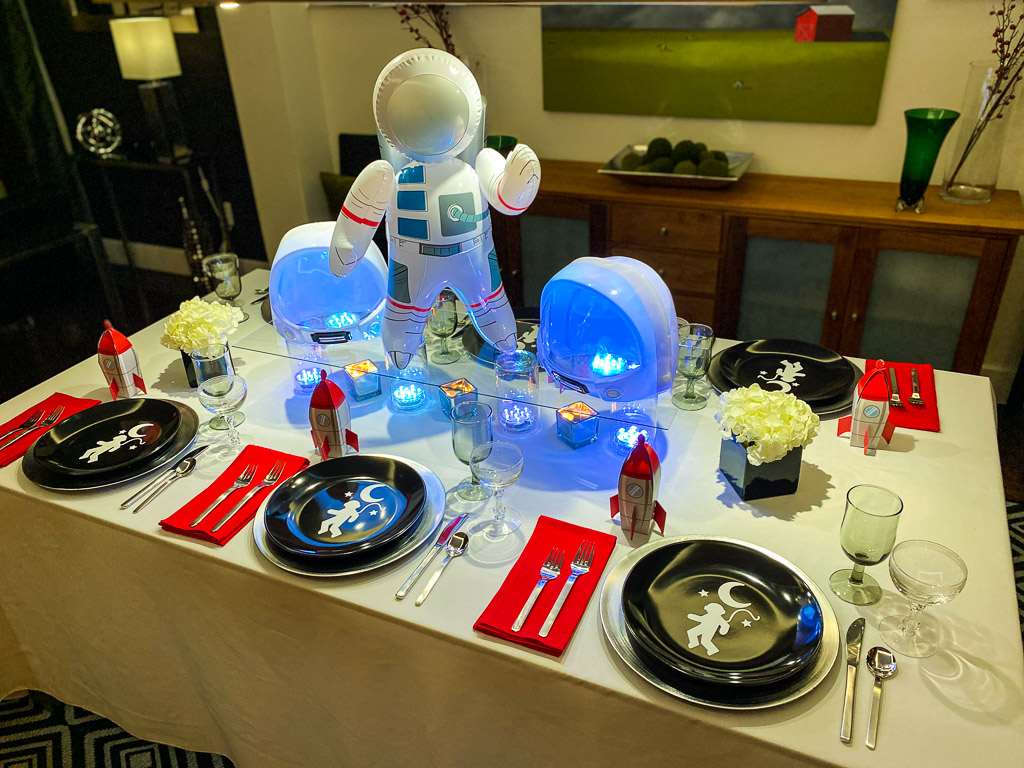 A FEW ADDITIONAL CREATIVE TOUCHES TO SET THIS PARTY IN ORBIT …
There are so many cute tidbit plates, cups, bowls, etc. to buy with a space theme (and every other theme on this planet). But finding a place to store all of these treasures can become a real issue. Instead, we like to buy a few basic items and reuse or repurpose them for multiple party themes. Not only is it cost effective, it's storage friendly. Our space-themed tablescape was no exception to this rule.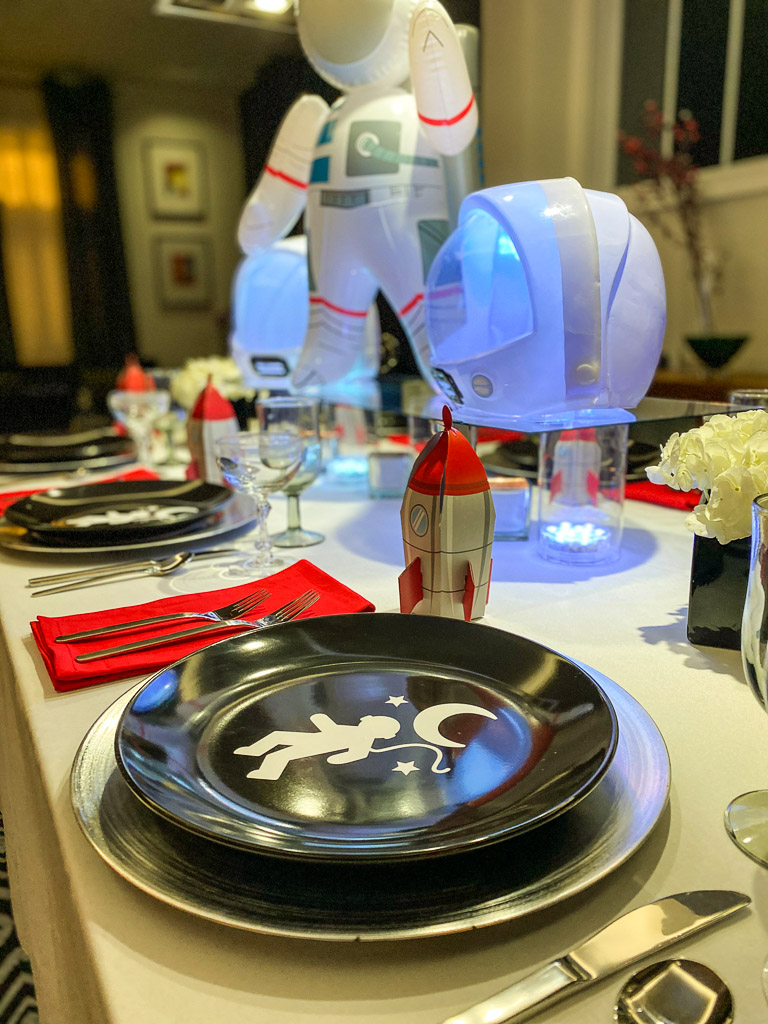 These custom looking plates were created using a Cricut maker and white vinyl. The black plates were a Dollar Store find and we plan on reusing them many more times. Placing the plates on these silver chargers completed the look.
Finally, we incorporated vintage glassware into our table. Gray goblets were a great match and worked well as water glasses. The vintage Tiffin coupes, were a perfect glass for our space themed cocktail. If you don't have vintage, you can find similar items here and here.
A COCKTAIL THAT IS OUT OF THIS WORLD … AND SHIMMERS!
We searched high and low for exactly the right cocktail for this theme. And it was harder than you'd think. There are a lot of silly, syrupy and just plain awful space concoctions out there that no one in the world would ever want to drink. And then we found this: The Deep Space.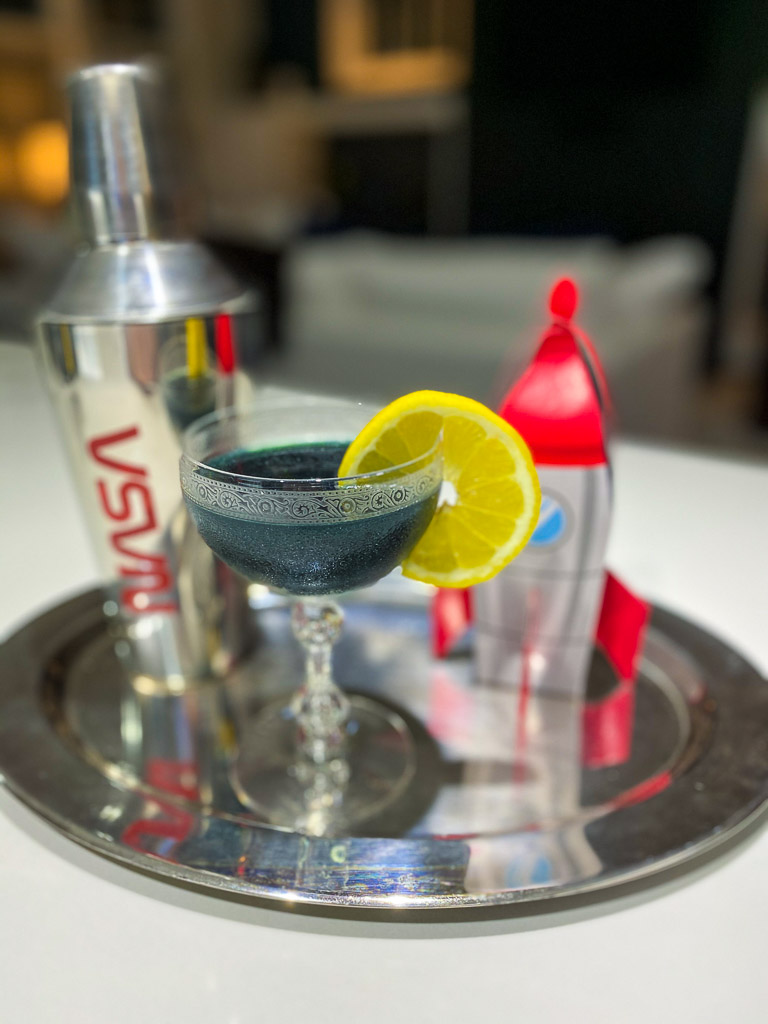 Not only does it taste good, it sparkles. And it opened our eyes to a whole new universe of possibilities. The drink features Black Cocktail Shimmer Dust. Our world was rocked. The possibilities to use it (and its other colored counterparts) in drinks are endless. We're definitely inspired … to infinity and beyond!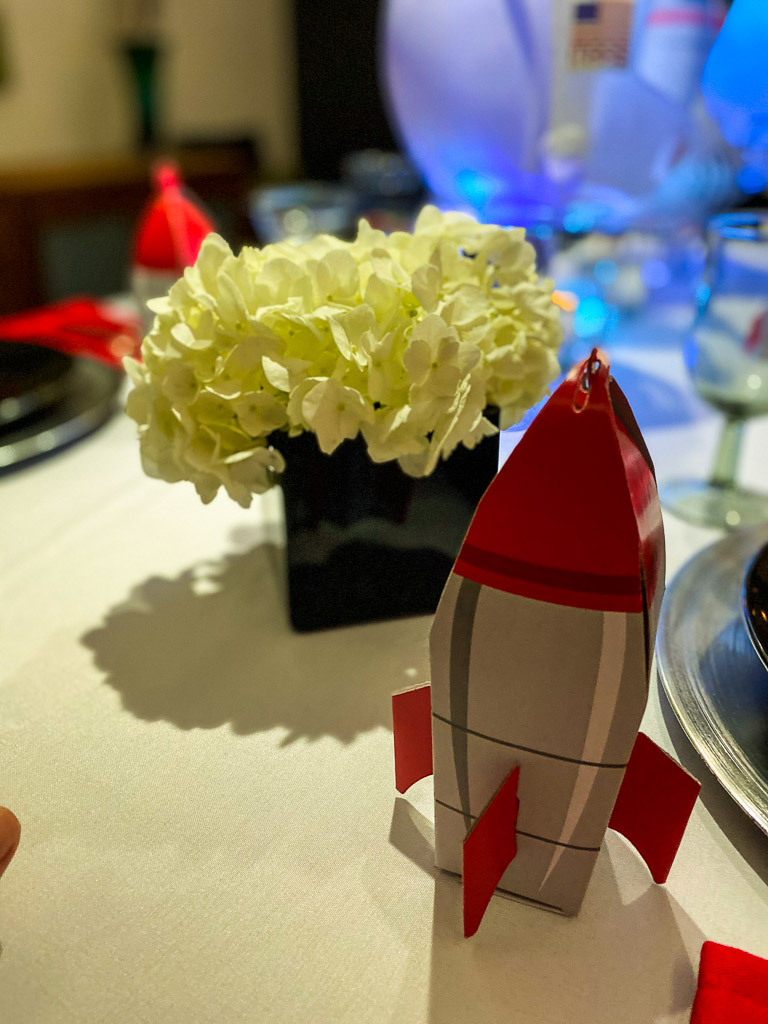 WHILE THERE DON'T HAVE FLOWERS IN SPACE, THEY SHOULD BE ON YOUR TABLE …
We always like to include a few fresh cut flowers on our table. Hydrangeas were perfect for our space theme. By placing them in these black square vases, the flowers created a shape and color that reminded us of the moon's surface.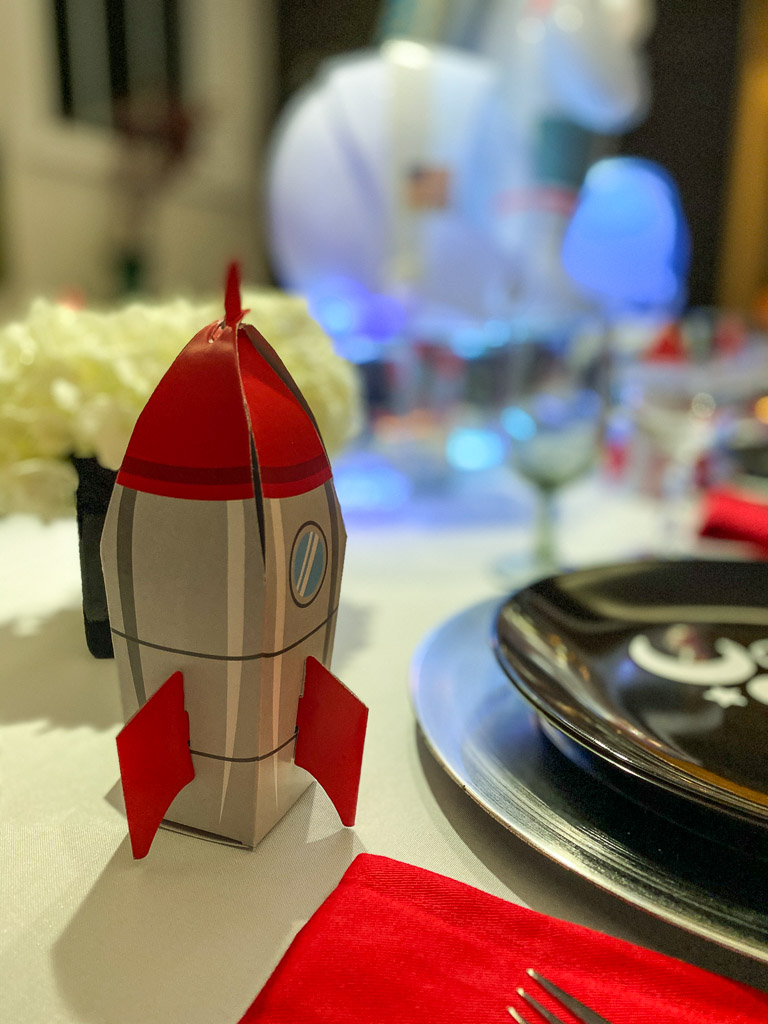 DON'T FORGET THE PARTY FAVORS!
We found these rocket-shaped gift boxes and thought they were an ideal edition to our place settings. Whether you're young or old, children and adults alike look forward to party favors. And if you're taking a trip to outer space or landing on the moon, people will surely expect they'll be able to bring home some sort of souvenir, right?