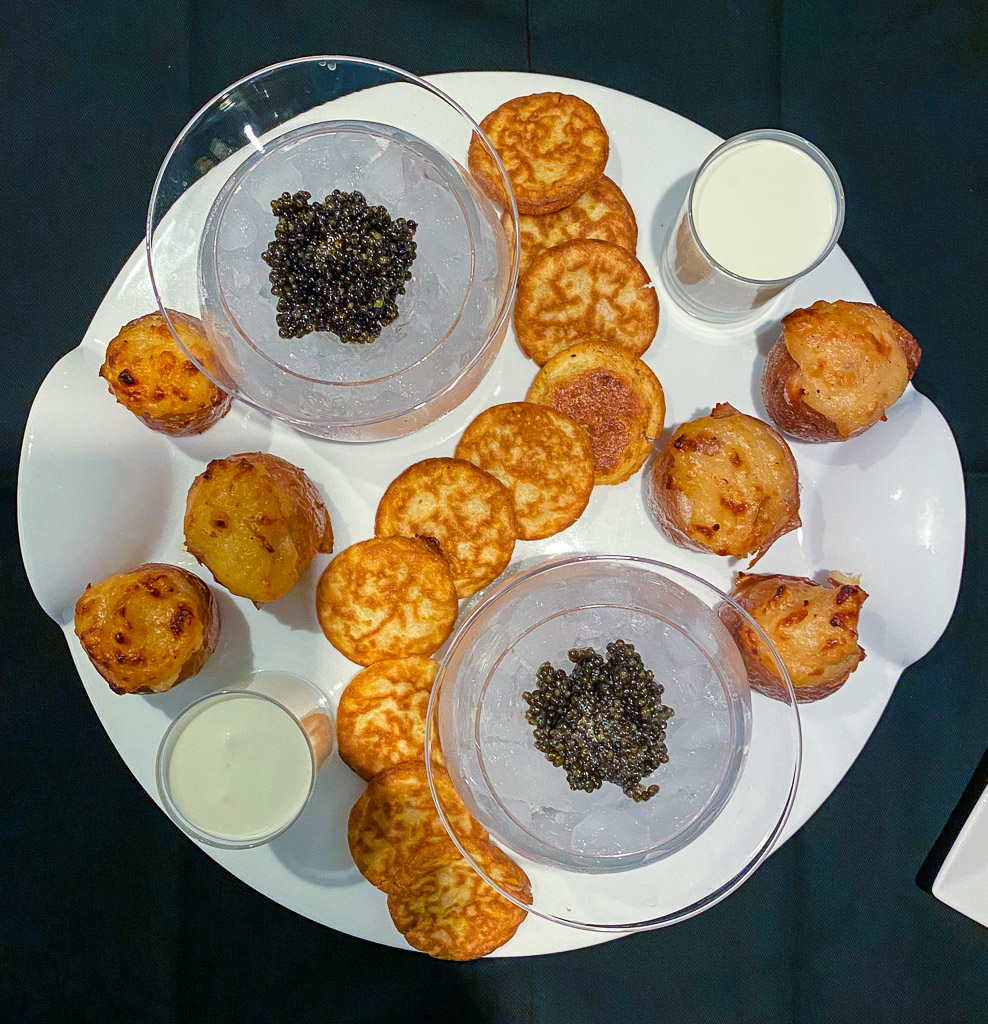 It's actually not that complicated. We show you how to host a caviar tasting for yourself and possibly some close friends. Because this party is somewhat of an investment. So you don't want to invite just anyone. It's long considered one of the ultimate food indulgences. When it's in the room, it always getting attention and garnering multiple "oohs" and "ahhs." It's mysterious. It's aloof. And its allure spans centuries. It was coveted by Ancient Greeks, Romans and Russian Tsars and is as equally desired in modern times. What is this magical delicacy? It's caviar! And July 18 is National Caviar Day. And we demonstrate step by step how to host a caviar tasting.
FIRST THINGS FIRST …
In honor of the day, we pulled together an at-home caviar tasting and we can't wait to share with you. Since we knew this occasion was going to be a bit of an investment, it only seemed prudent to do some research. We wanted to make sure we enjoyed this decadent and indulgent experience to its full potential. Because, let's be honest, it's not like we do this every night. National Caviar Day only happens once a year, right? So we wanted to make sure we did it right.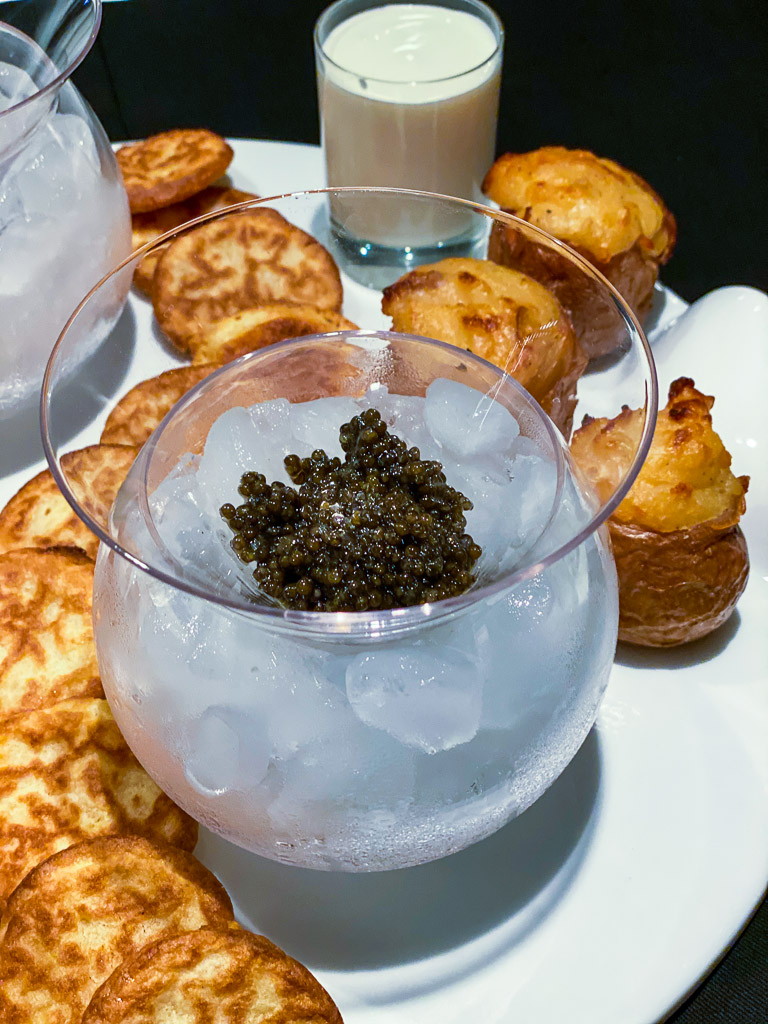 First, let's just get everything out in the open and chip away at some of the mystic. What exactly is caviar? According to Marky's, a caviar producer located in Miami, caviar is a type of roe, and roe is the eggs that come from fish (most famously, the sturgeon). True caviar can come from four types of sturgeon: Beluga, Osetra, Sterlet, or Sevruga. More affordable caviar is made from the American paddlefish or salmon.
While we know a bit about caviar, we quickly discovered there was a lot we didn't know. The best analogy we found is that caviar is like wine. People will seek out rare and reserved varieties. It also is considered to get better with age, as the finest caviars are "older, larger eggs that are lighter in color" according to "13 Things You Didn't Know About Caviar," a great piece featured on Food Republic. Lower quality caviar is younger, with a less intensely fishy flavor, and darker in color.
So now that we know the basics, here are some additional insights and a few pieces of helpful advice we learned along the way as we pulled together our very own caviar tasting.
CHAMPAGNE WISHES AND CAVIAR DREAMS? YOU BET. BUT HOLD THE CHAMPAGNE.
Come to find out vodka, not champagne, is the best adult beverage to pair with caviar according to Food and Wine's Five Myths About Caviar. "Vodka is actually a more traditional pairing than champagne," Christopher Klapp, general manager, Petrossian Restaurant and Boutique in West Hollywood said. The brand is more than 98 years old and considered to be one of the best marketers of caviar. "Vodka is very clean, and it has an antiseptic quality that cleanses that palette," Klapp said.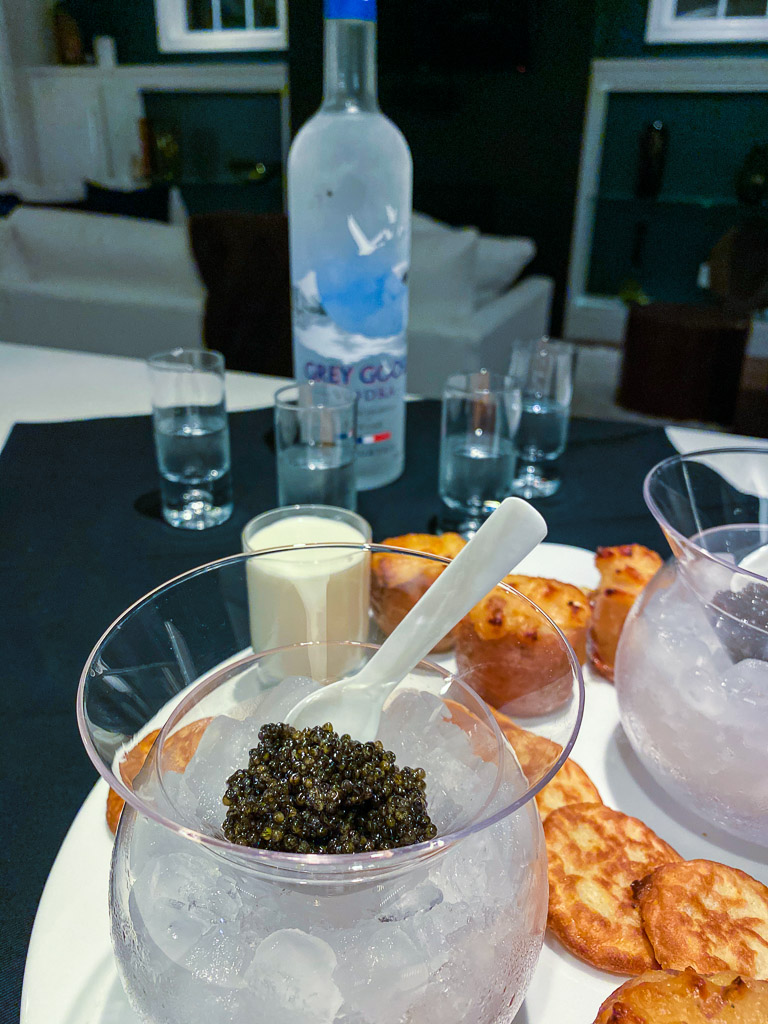 METAL SPOONS AND SERVING PIECES SHOULD BE AVOIDED. GO WITH THESE MATERIALS INSTEAD …
You might think a fancy silver spoon would be your best choice for such opulent fare. But this assumption is incorrect. The caviar will actually absorb the taste of the metal. So, at all costs, metal spoons and serving dishes should be avoided.
Instead, you want to use spoons made of materials such as bone or mother of pearl. Your serving pieces should ideally be made of glass. We found some great mother of pearl caviar spoons that were very reasonably priced. You really don't need more than a few. A caviar tasting isn't something we'd suggest for a dinner party. It's more of an occasion to share on fun date night or with another couple, and is best as an appetizer. This menu gets really rich and filling, really quickly. This set came with six spoons, which was an ideal number.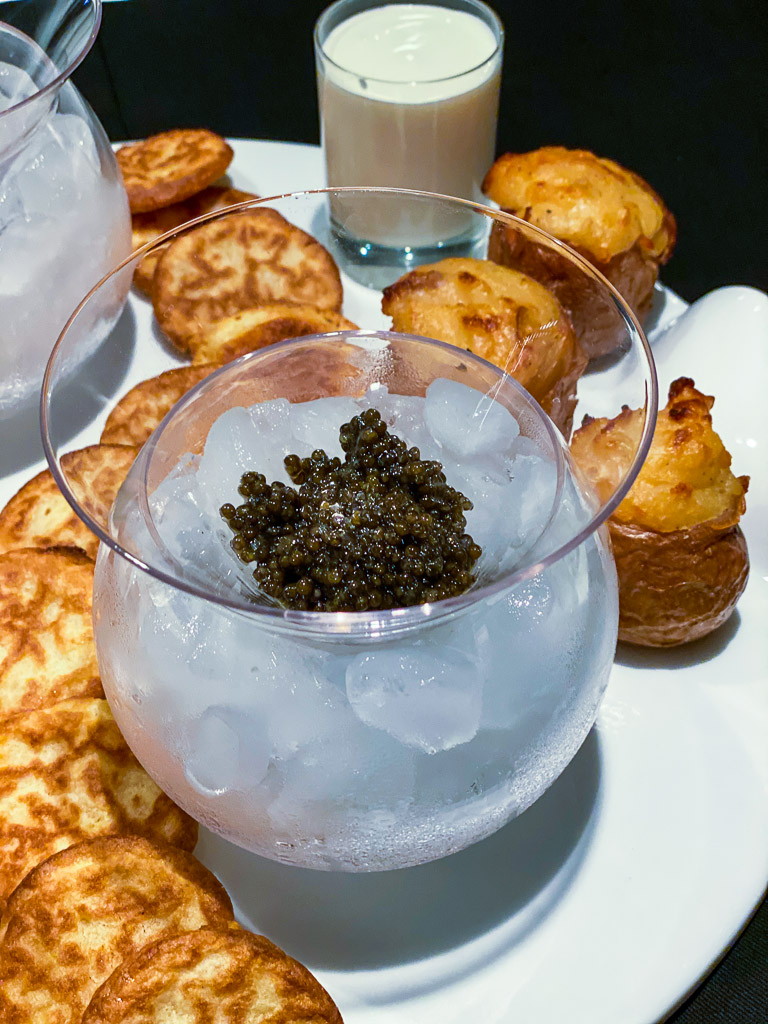 I love the sleek lines of this modern, glass caviar serving set. And similar to many of the pieces I purchase, I can easily envision re-using these pieces to serve sauces, antipasto, or as part of a crudité. They will be great for cocktail parties and happy hours.
CHILL OUT AND RELAX! CAVIAR IS BEST SERVED ICE COLD.
Apparently a lot of people are hesitant to serve caviar ice cold. But according to our research, that's the absolute best way. Many worry about the roe freezing, which can be extremely compromising to its taste. "There is no real reason to worry about it freezing, if you are careful," Klapp stated in his Food & Wine interview. "Caviar doesn't freeze until about 28 degrees." You do, however, want to store it in the coldest part of your refrigerator. And once it is opened, the tin should be used within 24 hours to guarantee the best experience.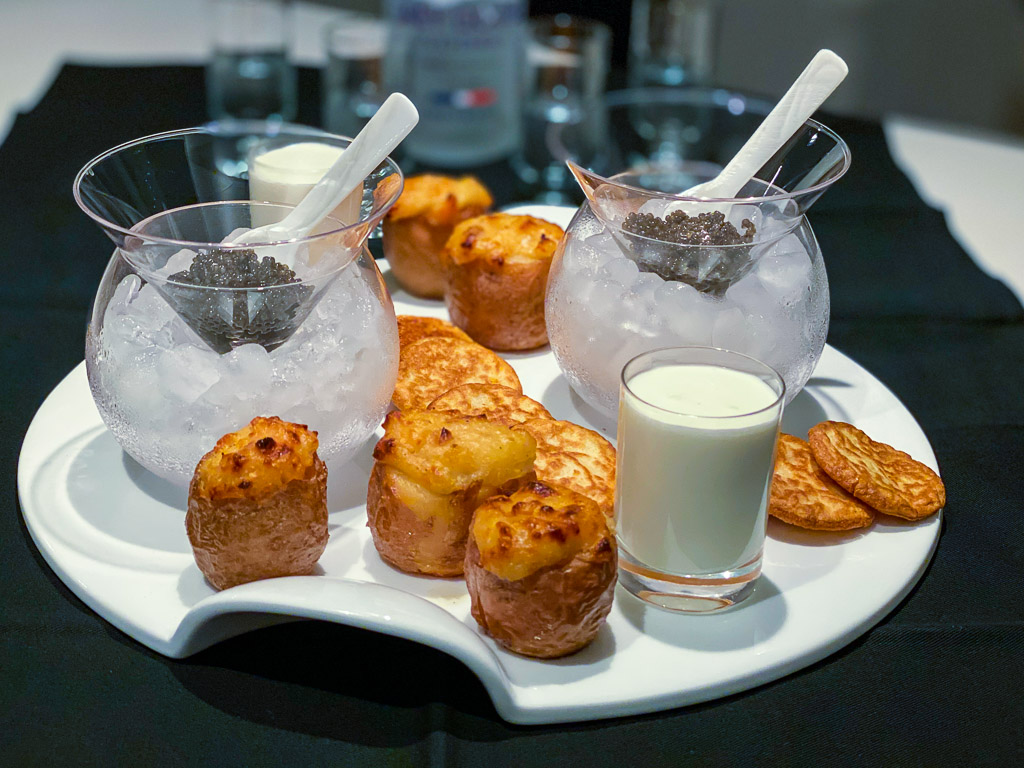 IF ONE IS GOOD, TWO IS EVEN BETTER!
Like we mentioned earlier, similar to wine, different types of caviar have different nuances, flavors, and, of course, price points. To appreciate these subtleties and notes, we chose to try two types of Marky's Caviar, which were available at our favorite local, specialty grocer, Straub's. The first was Siberian Sturgeon, which was the more pricey of the two at around $85 per ounce. The second was Hackleback, which was darker in appearance and cost less, with a price tag of $35 for one ounce. This allowed us to taste and judge for ourselves the differences between the two types.
CHEW ON THIS … ACTUALLY DO NOT CHEW ON THIS!
Caviar, we discovered, is one food that you actually need to pay attention to how you are physically eating it. The most important directive: you should not chew it. This is why caviar spoons are small – to encourage you to consume small amounts, typically less than a tablespoon. "You should use your tongue, never use your teeth," Klapp said. "You can really feel the bead of the caviar and the butteriness of the fat that way." He also points to the fact that you don't have any taste receptors in your teeth, and so when you chew the caviar, a lot of its flavor can be lost.
PRO TIP: Christopher Klapp, general manager, Petrossian Restaurant and Boutique in West Hollywood suggests you approach tasting caviar like you would a wine tasting, Hold a spoonful underneath your nose, and take in the aromas. Then put the spoon on your tongue, and turn it upside down so all the beads make contact with your tongue. You want to breathe through your mouth a bit here, like how you might spray a wine across your palate. This helps extract the full aroma and flavor from the caviar.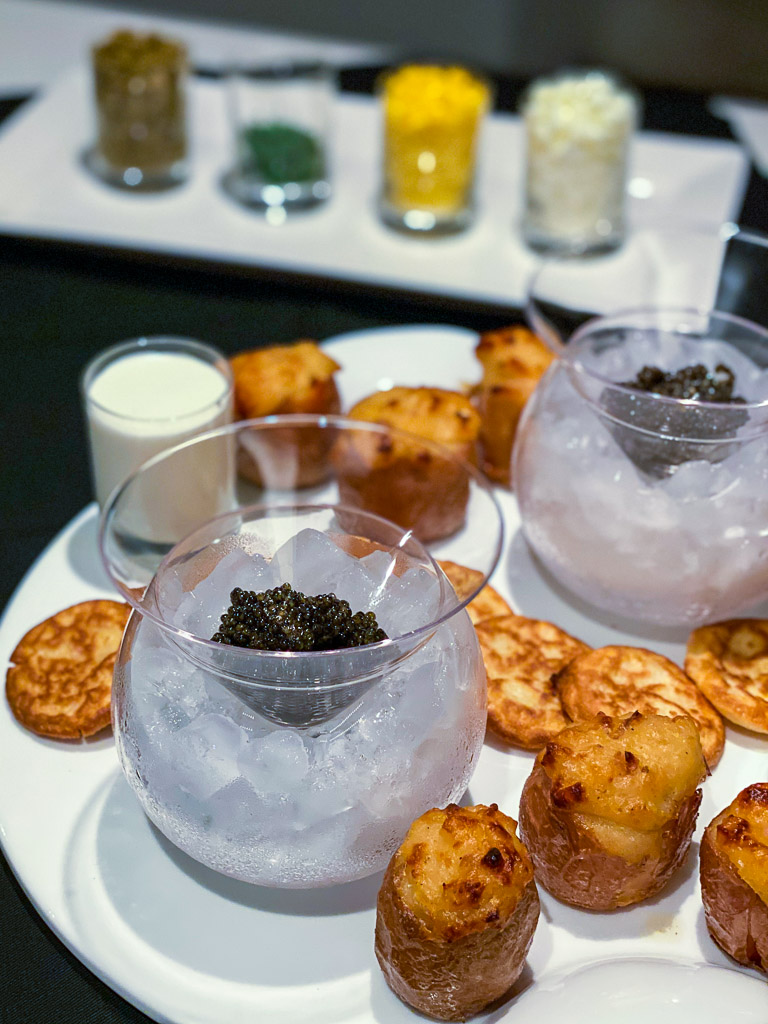 THINK OUTSIDE THE BOX … OR RATHER TIN!
Donuts, mozzarella sticks, fried chicken and lobster rolls. Pizza and hamburgers. People seem to be putting caviar on almost everything and everything these days. Food and Wine even chronicled this trend. They recently did a taste test pairing caviar with a wide variety of flavored potato chips including odd combinations from barbecue chips to classic plain, as well as salt and vinegar, and a bunch of varieties in between.
For our tasting, we wanted to keep it traditional and really experience its flavors without any distractions. Caviar is typically eaten as an appetizer and served on blinis, with crème fraiche and chives. For our tasting, we added in chopped egg white, chopped yolk and minced capers. We also made our own crème fraiche.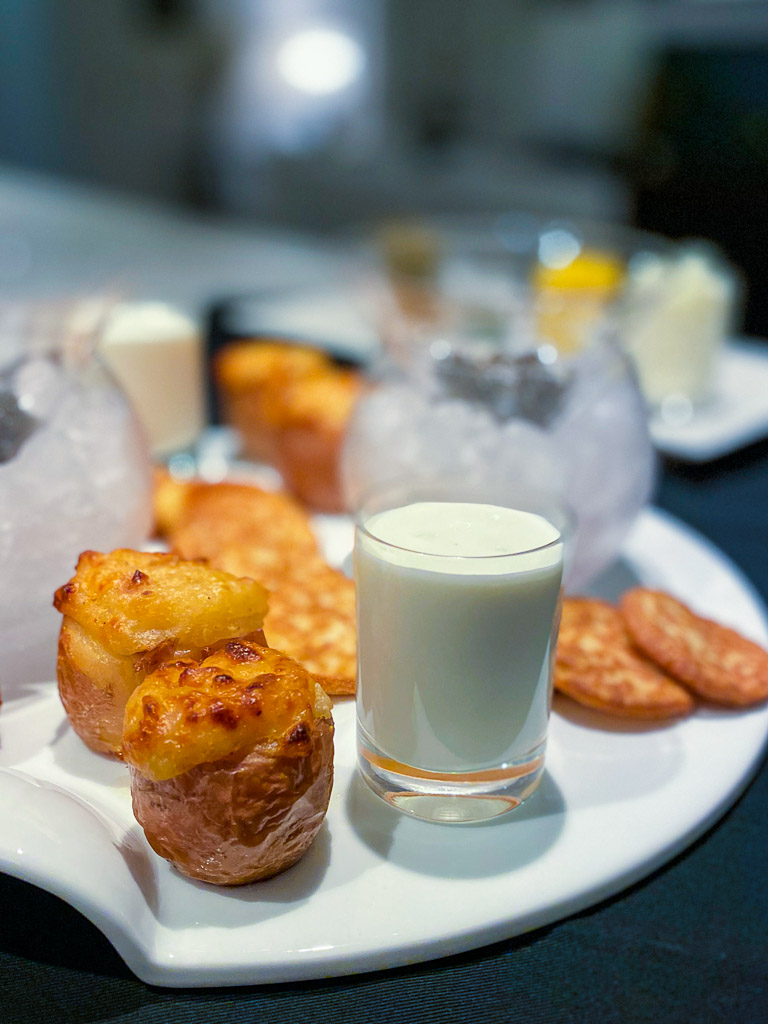 In addition, we found a great recipe which Martha Stewart shared during a recent tour of the Petrossian facility . Apparently Martha loves to pair caviar and potatoes. And the connoisseurs at Petrossian agree with this twosome, so who were we to argue? This recipe was easy to make and really delicious.
Did you try this idea? Share it on Instagram with the hashtag #makeeverydayanevent and tag @makeeverydayanevent! Looking for another fun entertaining idea, check out these great ideas for a fondue party.