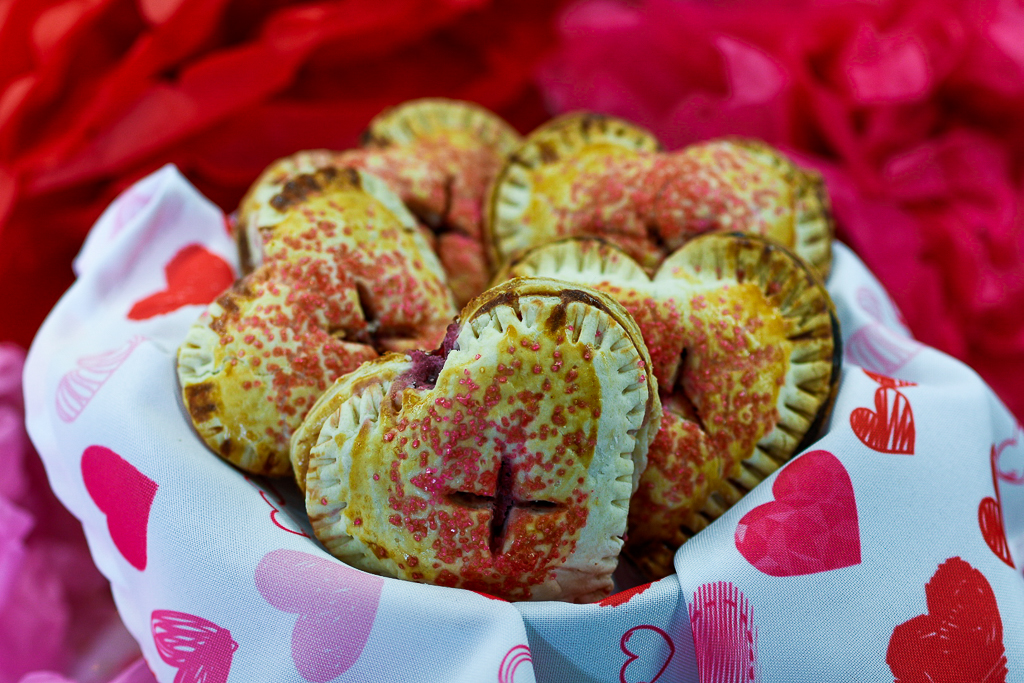 Theses heart shaped Valentines Day desserts are as adorable as they are easy to make. We walk you through how to create these cuties in honor of National Pie Day on January 23!
You'll want to bake up several batches between now and Valentine's Day, because January 23 is National Pie Day!
And who doesn't like pie?
Especially when it presents itself in the form of a heart shaped Valentines Day dessert that's charming and checks all the boxes for the season of love …
Irresistably cute? Check!
Easy to make? Check!
Tasty? Check!
Healthy? Probably … ?
This recipe has a delicious berry filling and is a Valentine's Day dessert without chocolate.
So it can't be that bad for you, right?
Let's walk through step-by-step how to impress the ones you love with these heart shaped Valentines Day desserts …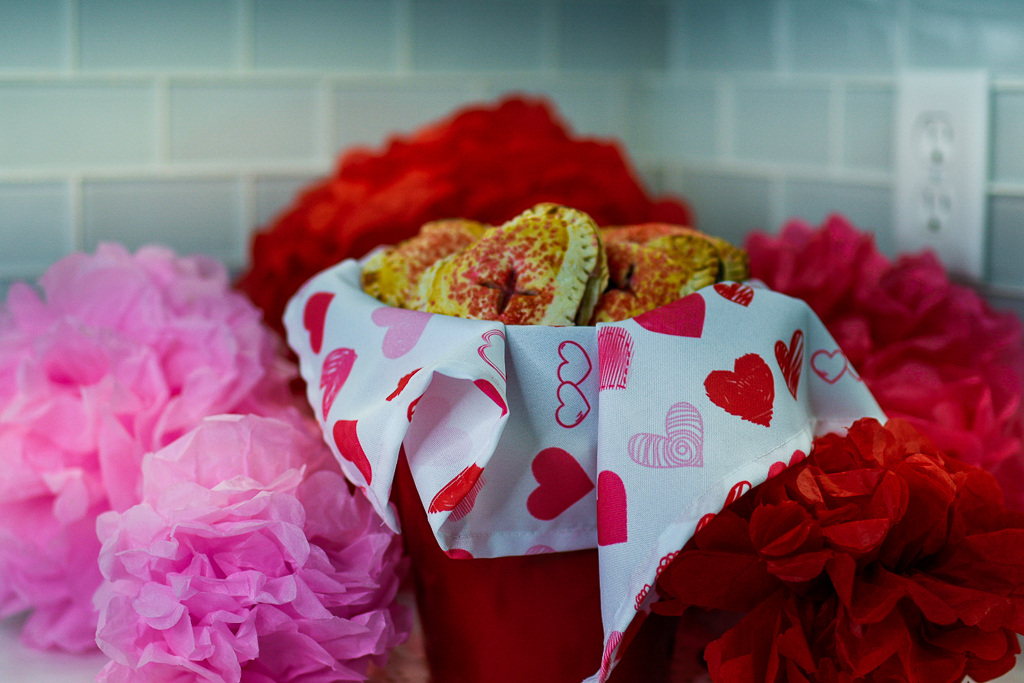 INGREDIENTS
Two packaged pie crusts
1/4 pound strawberries, chopped
1/4 pound raspberries
2/3 cup granulated sugar
2 tbsp. cornstarch
1/8 tsp. almond extract
1/8 tsp salt
1 egg, lightly beaten
Course sugar, for sprinkling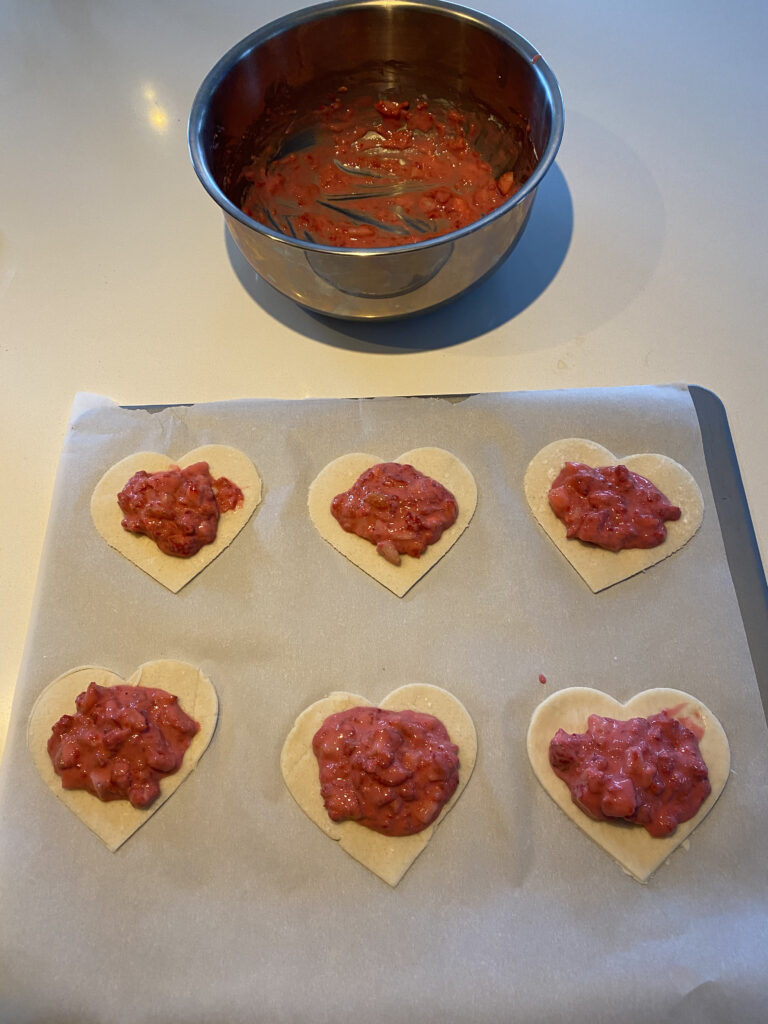 HOW TO MAKE HEART SHAPED VALENTINES DAY DESSERTS
Preheat oven to 400 degrees Fahrenheit.
In a mixing bowl, combine berries, almond flour, sugar, cornstarch, salt, and almond extract.
Unroll dough and place on floured work surface.
Cut out dough with heart shaped cookie cutter, making six total. Re-roll the dough and cut as needed.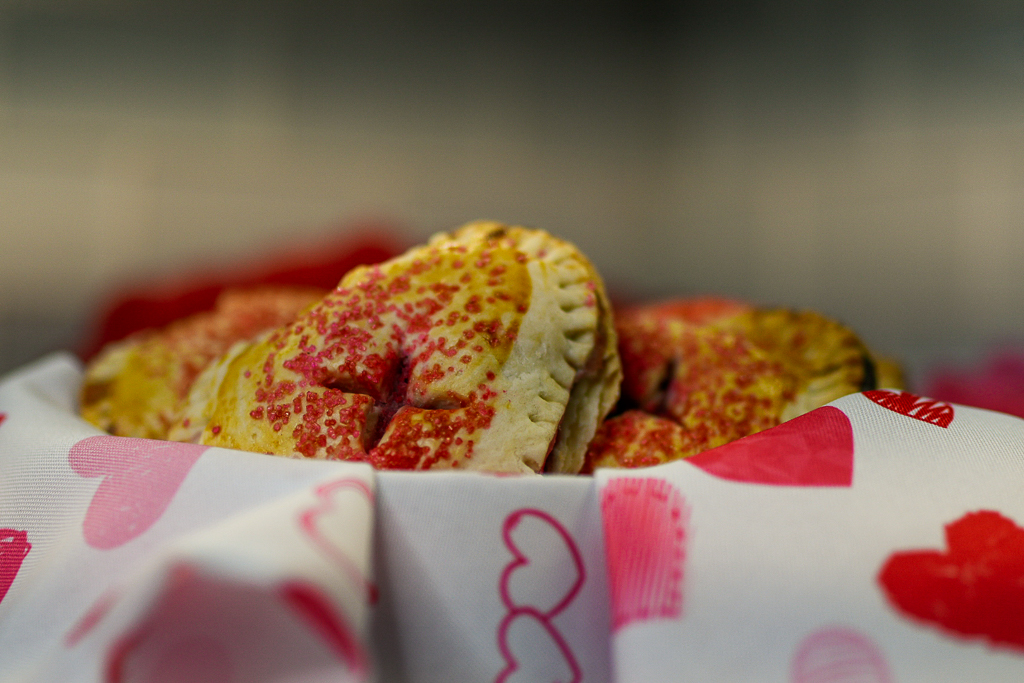 Place the six hearts on to a parchment lined baking sheet.
Spoon one tablespoon of fruit mixture onto the center of each heart.
In a small bowl, whisk together egg and water to make the egg wash.
Lightly egg wash the edges and place another dough heart on top of the filled heart.
Press edges with a fork to seal and create a decorative look.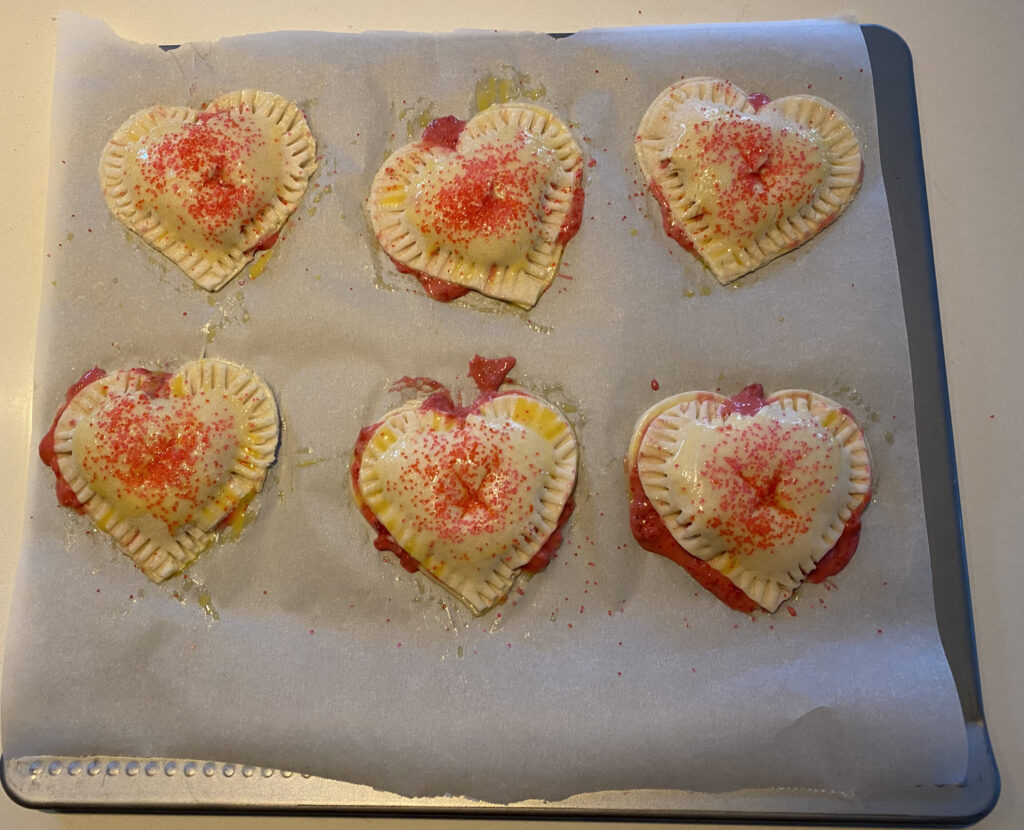 Slice an X into the center of each heart to help heat escape while baking.
Lightly brush the egg wash again over the top.
Shake red sugar sprinkles on top of the hearts.
Bake for 15 minutes or until golden brown.
Allow pies to cool for 5 minutes on baking sheet before transferring to a wire cooling rack.
Serve pies warm or at room temperature.
The six servings are the perfect amount!
You won't be tempted with leftovers for weeks!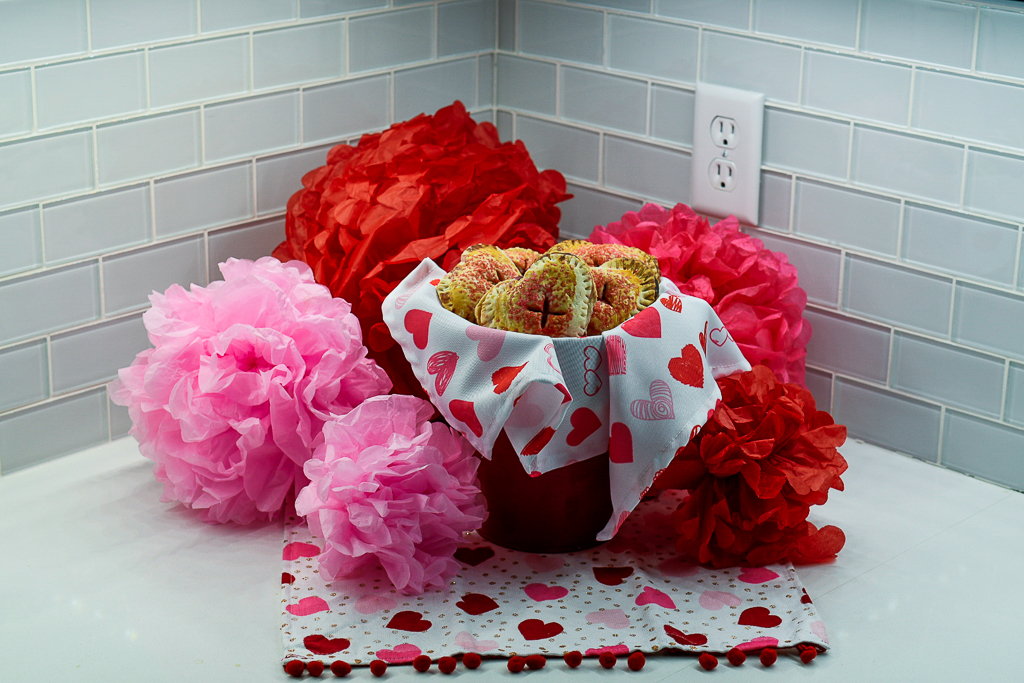 To make the hand pies even cuter, I added a few pieces of my favorite Valentine's Day table decor:
These cute heart napkins which also come with matching placemats.
This darling heart table runner with confetti hearts and adorable red pom poms on either end.
This round red pail was a darling way to serve these heart shaped Valentine's Day desserts.
Tissue poms in red and pink are always an easy way to add interest and complete this vignette.
LOOKING FOR OTHER GREAT VALENTINE'S DAY IDEAS?
Looking for other fun ways to celebrate Valentine's Day, check out: We "Heart" Chocolate Cake on its National Day!
Did you make these heart shaped Valentines Day desserts?
Did you try this idea? Share it on Instagram with the hashtag #makeeverydayanevent and tag @makeeverydayanevent!
Share a photo on Instagram with the hashtag #makeeverydayanevent and tag @makeeverydayanevent.
If you have any questions or suggestions, contact us or leave a comment!
Follow us on social media! You can find us on Instagram, Pinterest, and Facebook.