THESE CUTE VALENTINE'S DAY GIFTS ARE AN EASY DIY TREAT EVERYONE WILL LOVE!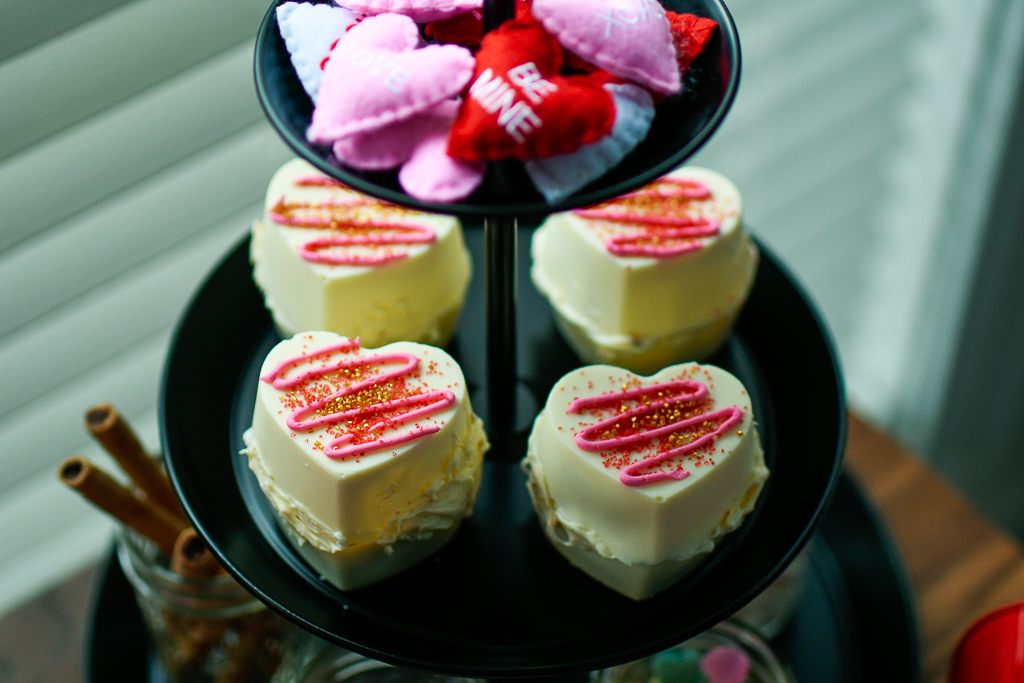 Heart shaped hot chocolate bombs are cute Valentines Day gifts and made with white chocolate! A great gift idea for Valentine's Day!
Making heart shaped hot chocolate bombs was a great, creative way to celebrate National Hot Chocolate Day on January 31, as well as to get a jump start on my Valentine's Day gifts .
Hot chocolate bombs were literally exploding everywhere, particularly on social media, over the holidays.
Lots of candy shops and bakeries even offered their customized versions of these delights.
So I decided to try my hand at creating a white chocolate, heart-shaped hot chocolate bombs for Valentine's Day.
They were fairly simple to create, save for a few key points.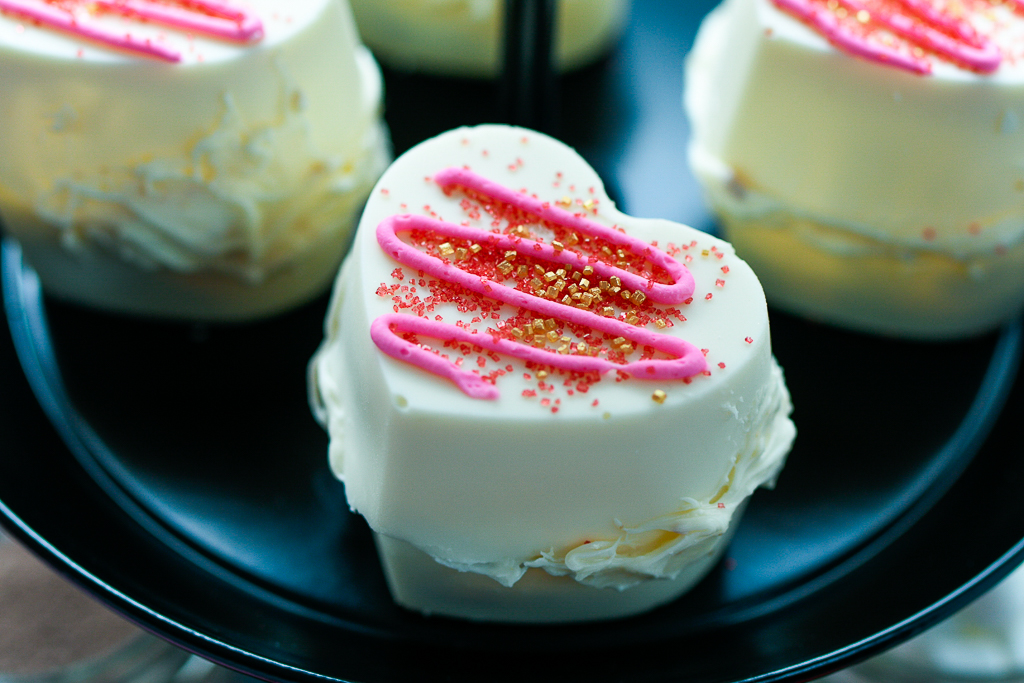 And the results are darling!
Here's how I did it, starting with the equipment you'll need: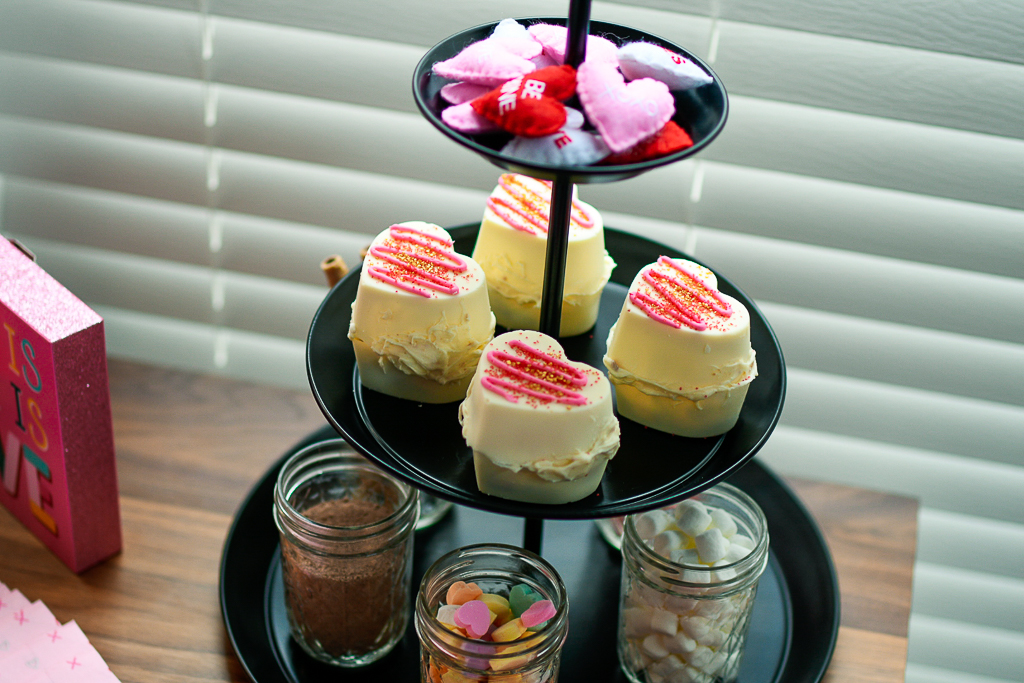 Posts on Make Every Day an Event may contain affiliate links which means we may earn a small commission on purchases at no extra cost to you. To learn more, please read our full disclosure here.
HEART SHAPED SILICON MOLDS
These are essential and I highly recommend these heart shaped molds.
One of my major concerns as I began exploring making my own hot chocolate bombs was how to get each half out of the mold without cracking it.
Because for this project, it takes two baby!
I saw suggestions of using silicon ice trays but that just sounded odd to me.
Plus, those molds have holes at the top.
These heart shaped molds were, well … the bomb.
They peeled off the chocolate with ease.
A SILICON PASTRY BRUSH
This silicon pastry brush was really helpful when assembling the molds.
The silicon material is really easy to clean.
It is definitely worth the nominal investment.
MAKE SHIFT DOUBLE BOILER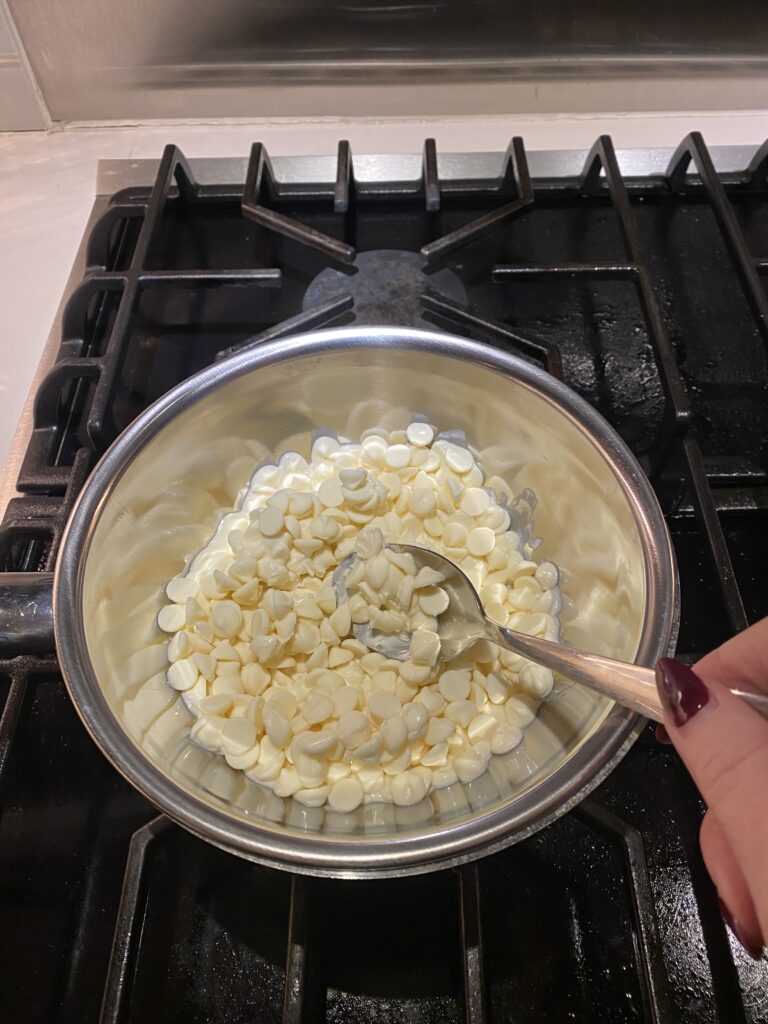 I need a what?
Properly called a "Bain Marie," which is French for heated bath, these double decker pots have kind of fallen out of fashion.
I suspect it's because they take up a lot of room for the two times each year they're actually used.
But if you have a small saucepan and you have a metal bowl, you're set. 
Fill the saucepan about a third full of water, setting the metal bowl on top of the saucepan so its contents are surrounded by the warming water.
It's the best way to melt chocolate because eliminates the possibility of burning it.
Controlling the chocolate melt in the microwave is impossible.
And burned chocolate smells pathetic.
HOT COCOA BOMB RECIPE:
White Semi-sweet Chocolate chips (one bag)
Hot cocoa mix
Add-ins like mini marshmallows, sprinkles, or toffee pieces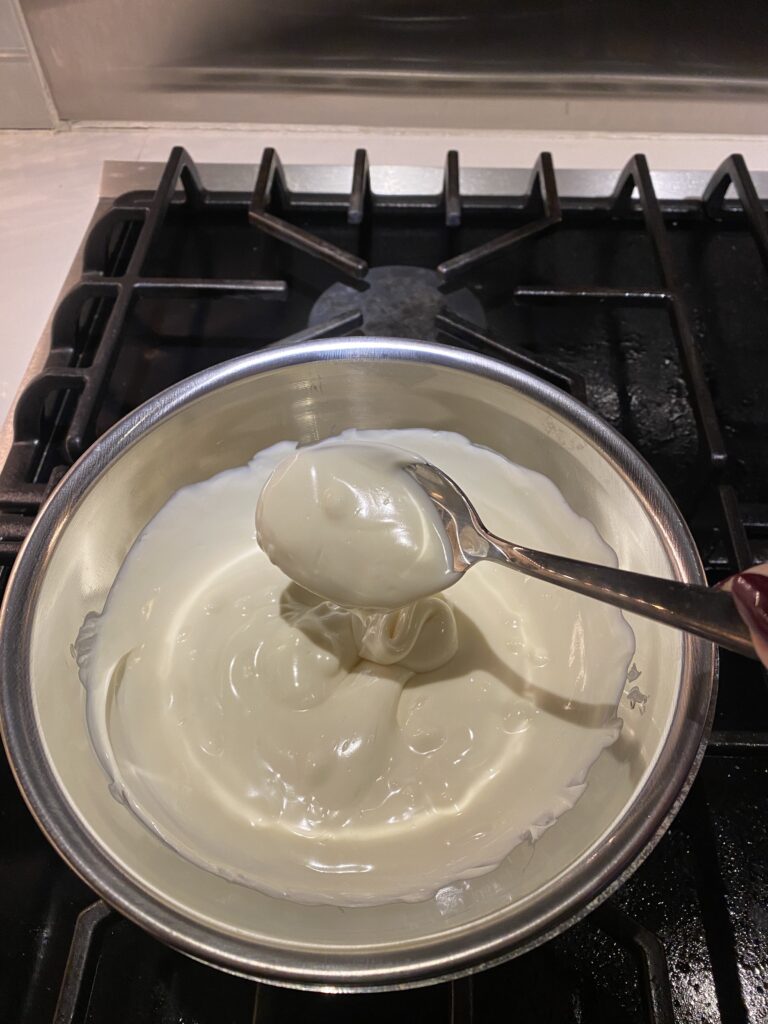 Melt chocolate in your double boiler, stirring chips gently until the chips are all melted.
Use a spoon to dollop the melted chocolate into your molds, smoothing it around the edges until everything is covered.
Place molds on baking sheet in freezer for at least 30 minutes or until chocolate is solid.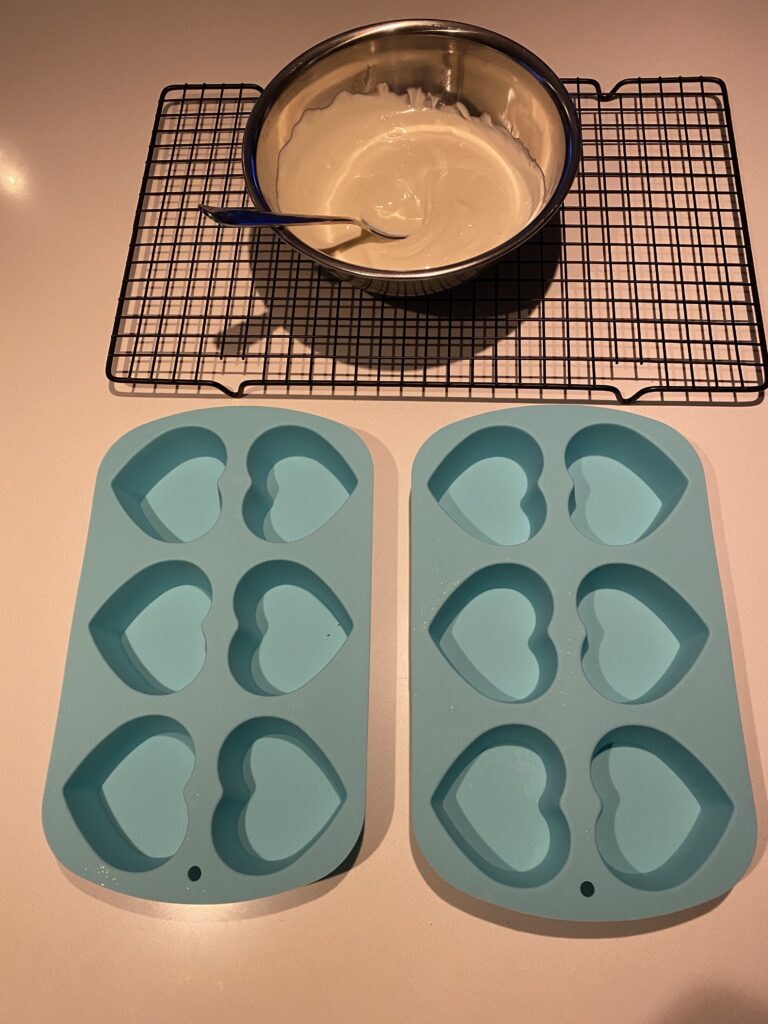 PRO TIP: Ensuring the chocolate has completely covered the mold is key. Truth be told, I had to go back and patch a few spots, refreezing the molds. Obviously you can't have holes in your bombs … the hot cocoa mix will just fall out.
Set in the refrigerator for about 30 minutes, or until the chocolate is firm.
Remove the chocolate forms from the molds.
Fill half of them with two tablespoons of hot cocoa mix, as well as your favorite add-ins.
Mini marshmallows, sprinkles, toffee pieces, crushed peppermint candy … the options are endless.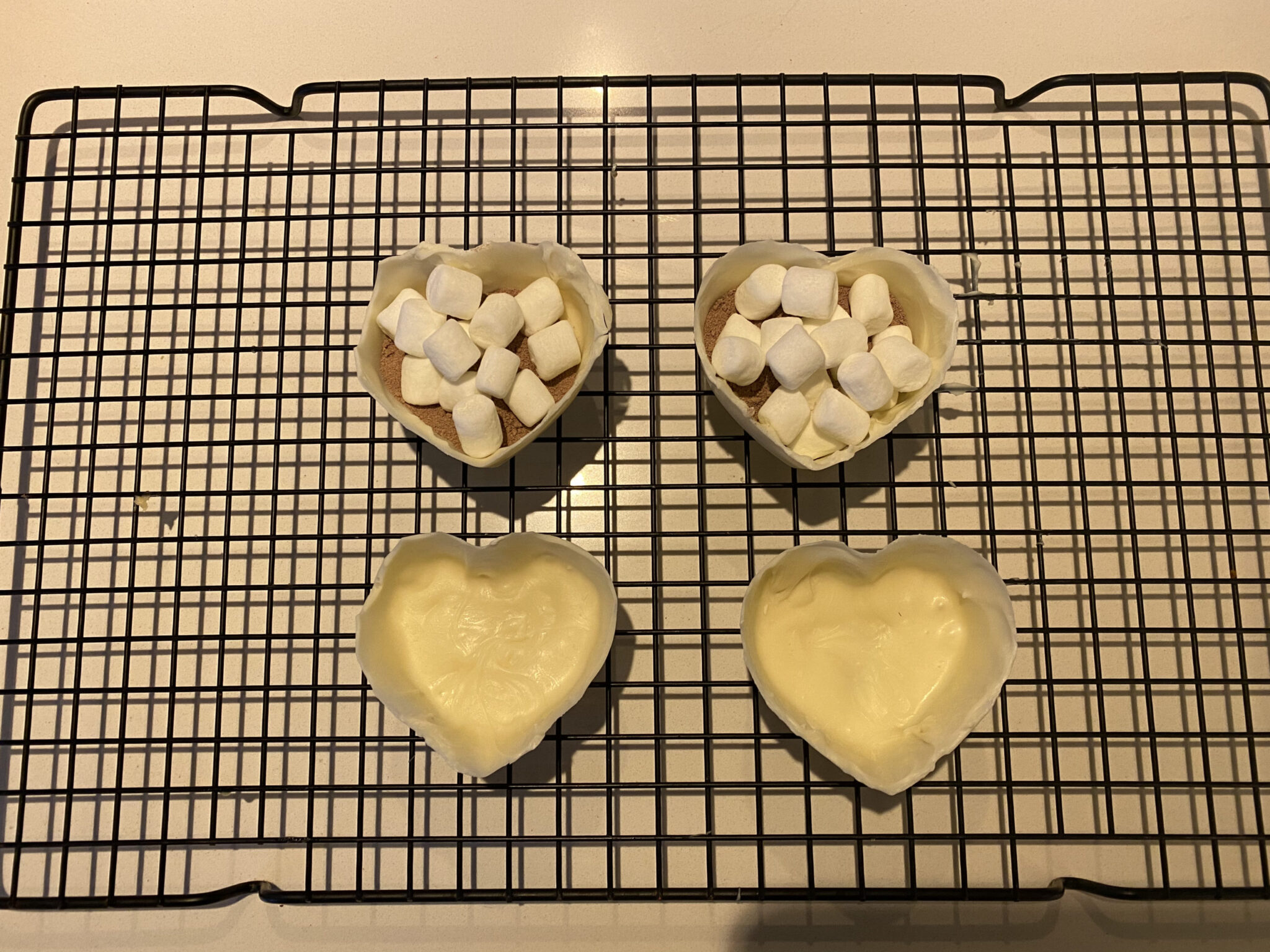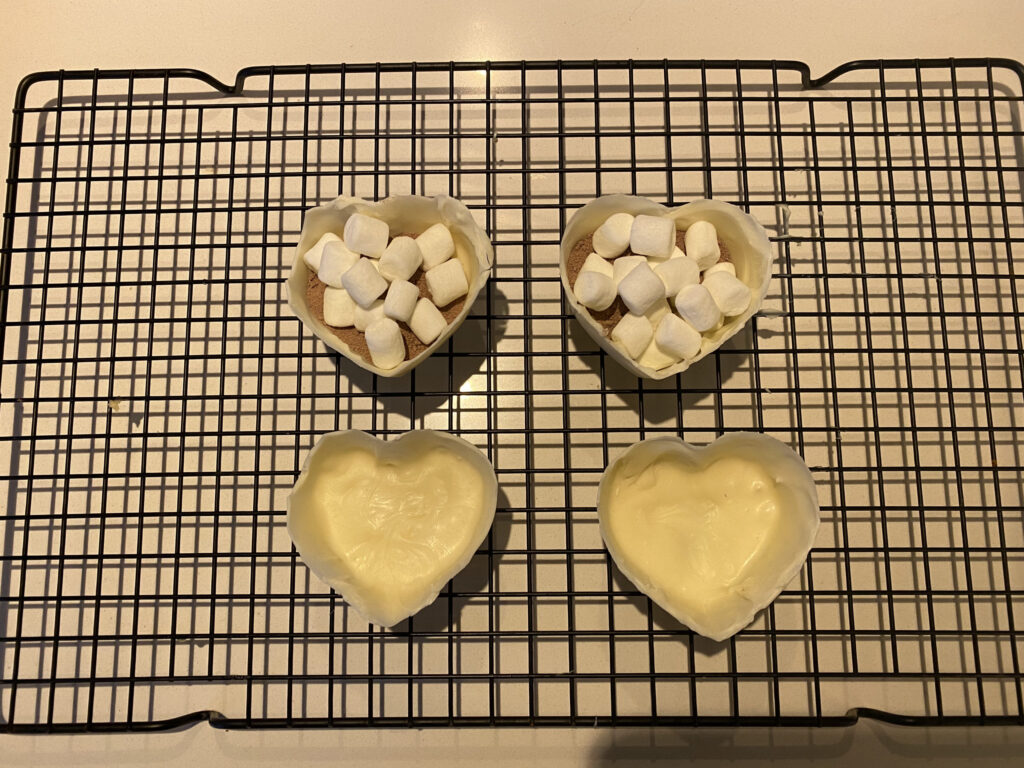 HOW TO ASSEMBLE THESE CUTE VALENTINES DAY GIFTS:
You need to have a bit of patience for this step.
Place an empty chocolate half on top of each filled half.
Seal the halves by brushing lukewarm melted chocolate at the seam.
Temperature is key here. The chocolate needs to be cool.
If it's hot, it will melt the molded chocolate. Think of it like paste.
NEXT, MAKE YOUR CUTE VALENTINES DAY GIFTS FANCY!
To decorate the outside of the bombs, I used pink cookie icing.
Again, temperature is key.
Don't fall into the trap of thinking melted white chocolate, tinted with food coloring, will work.
It will not. It's too hot and will melt the bombs.
Next I added, some sparkle with colored sprinkles and edible glitter.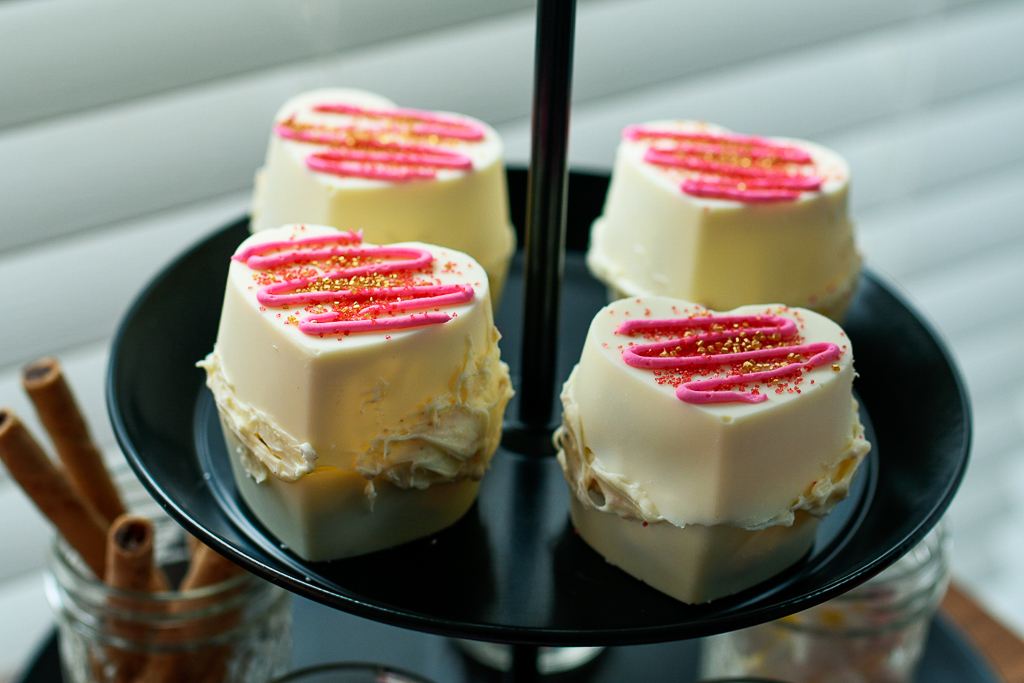 To serve, place in a mug and pour hot milk over the bomb. Stir until completely melted.
Did you try this cute Valentines Day gifts idea?
Share your photos on Instagram with the hashtag #makeeverydayanevent and tag @makeeverydayanevent.
If you like this blog, be sure to check out these other great ideas:
Hot Tea Bombs are a Perfect, Cozy Afternoon Treat
Heart-shaped, Homemade Hand Pies are a Great Valentine's Day Treat
Make Your Valentine Feel Special with Their Very Own Hot Chocolate Station
10 Ways to Transform Your Bathroom into a Spa This Afternoon
If you have any questions or suggestions, contact us or leave a comment!
Follow us on social media! You can find us on Instagram, Pinterest, and Facebook.