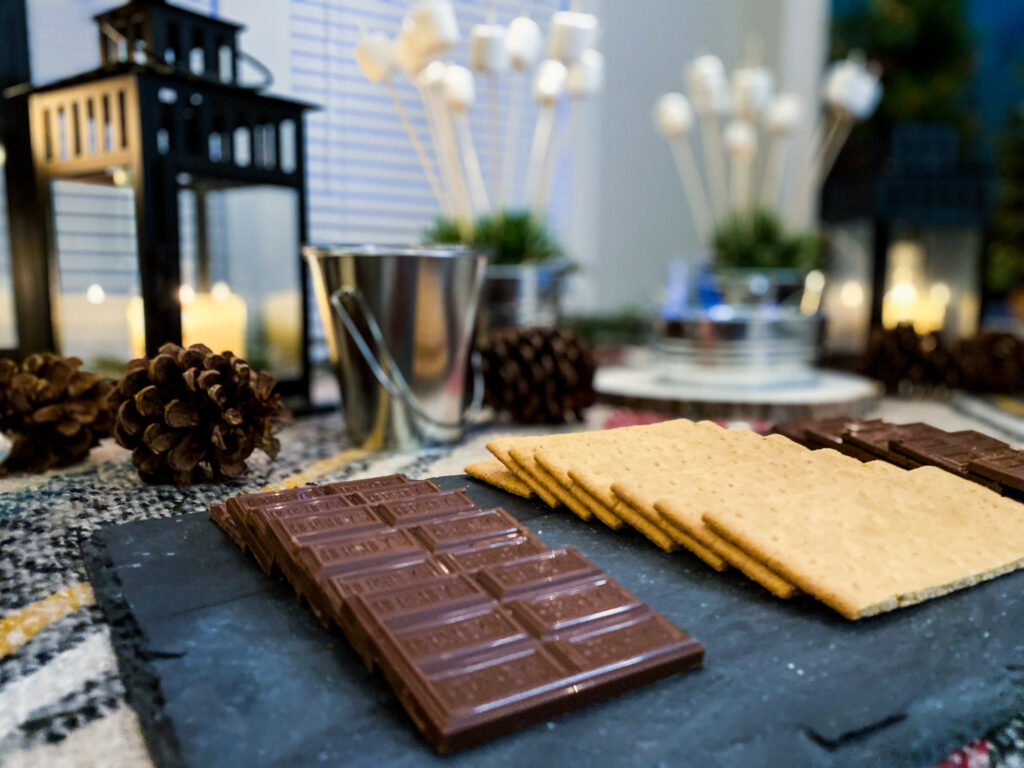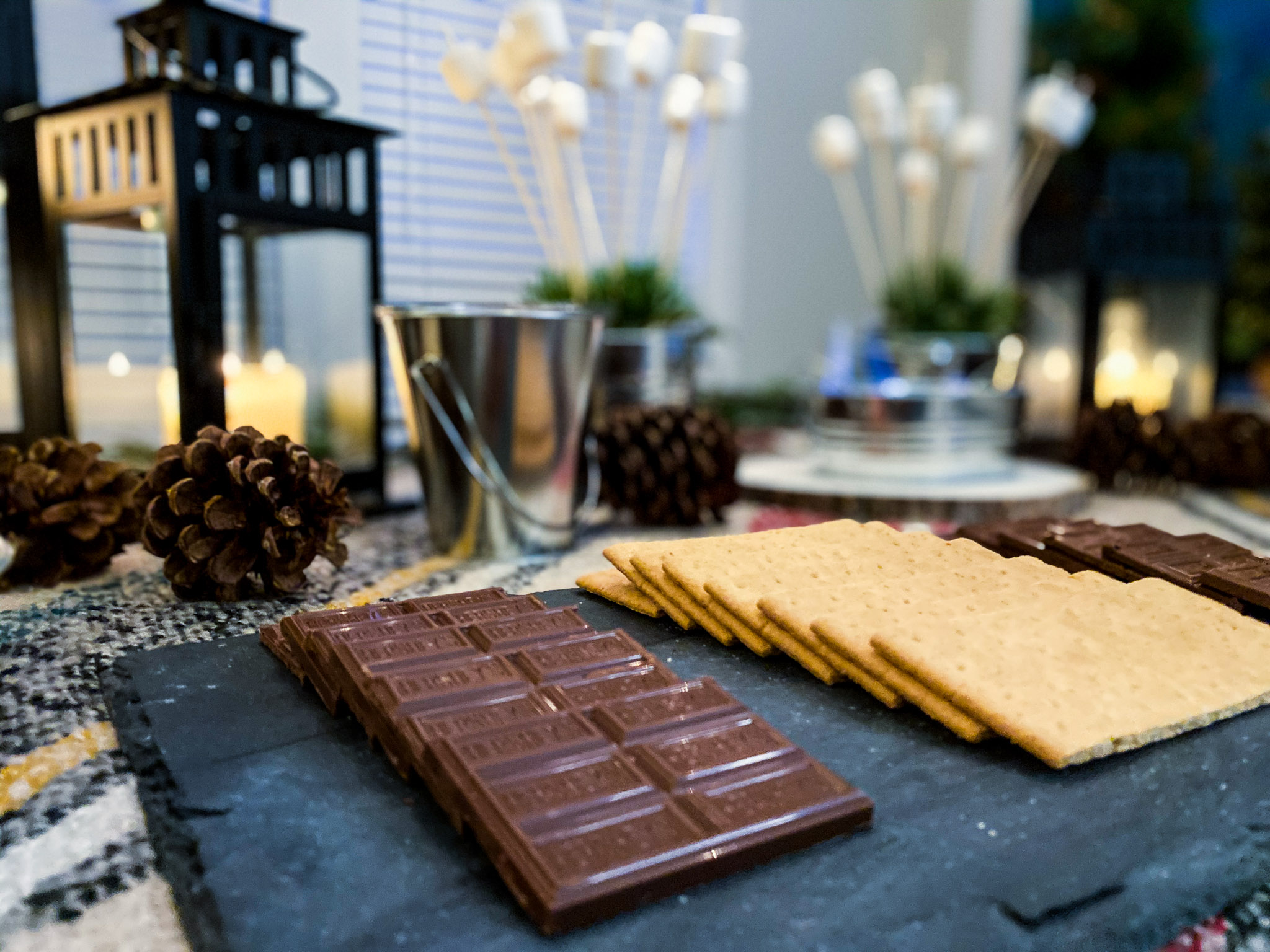 We're sharing the easiest way to make indoor s'mores, as well as all the ingredients you need for a great s'mores bar station.
This ideas is a great way to have some outdoor fun … inside.
Or even on your patio if you don't have a fire pit!
A s'mores bar station was the perfect way to celebrate National S'Mores Day on August 10.
OUR S'MORES BAR RECIPE …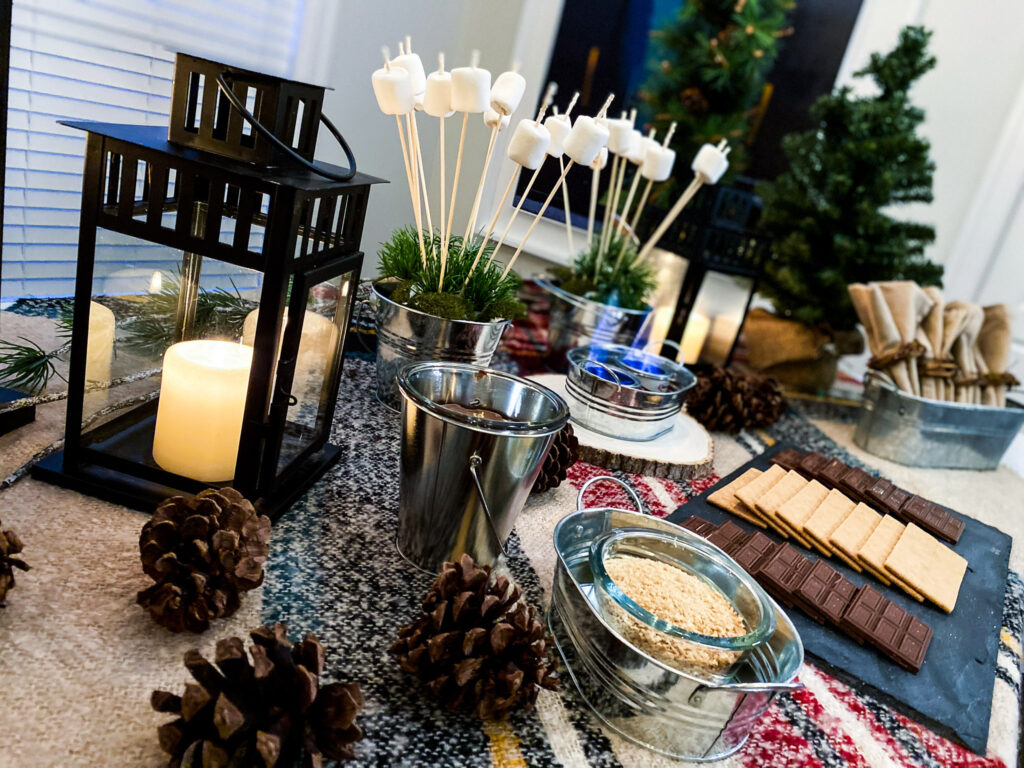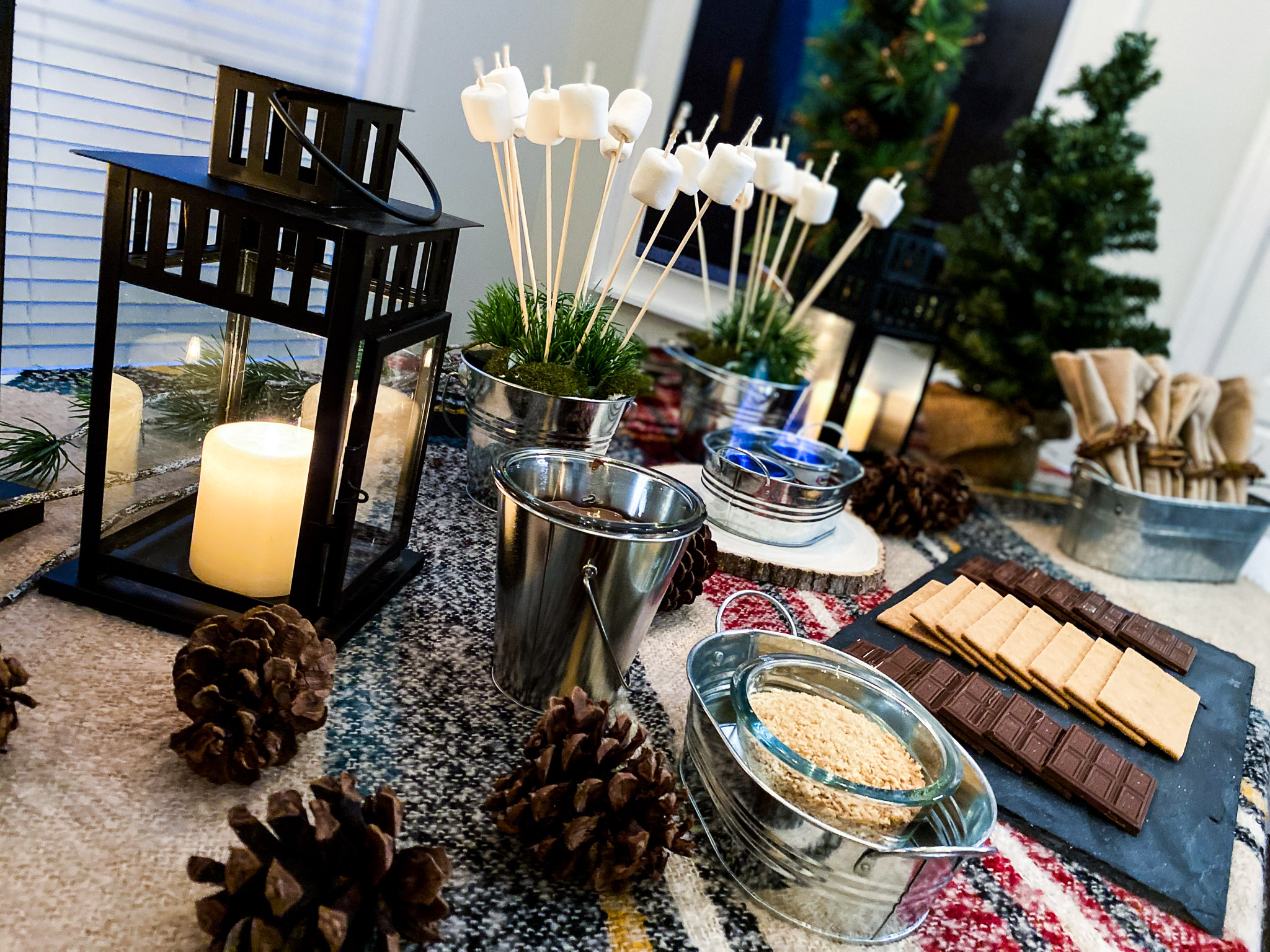 There are no rules here!
Just be creative!
For our indoor s'mores bar station, I gathered décor items from around our home (as well as my closet), to set the scene.
This cute plaid table topper is actually a blanket scarf from one of my favorite local boutiques.
Repurposing items to place on a tabletop is one of my favorite things to do.
It looks adorable … and no one knows!
The colors of the scarf remind me of a classic Coleman camping lantern.
They are simply perfect for this theme.
In addition, I raided our Christmas and fall decorations to make the tablescape extra cozy for our s'mores bar station.
Repurposed miniature Christmas trees, cute galvanized buckets, large pinecones and whimsical marshmallow "bouquets" helped to complete the outdoorsy tabletop scene.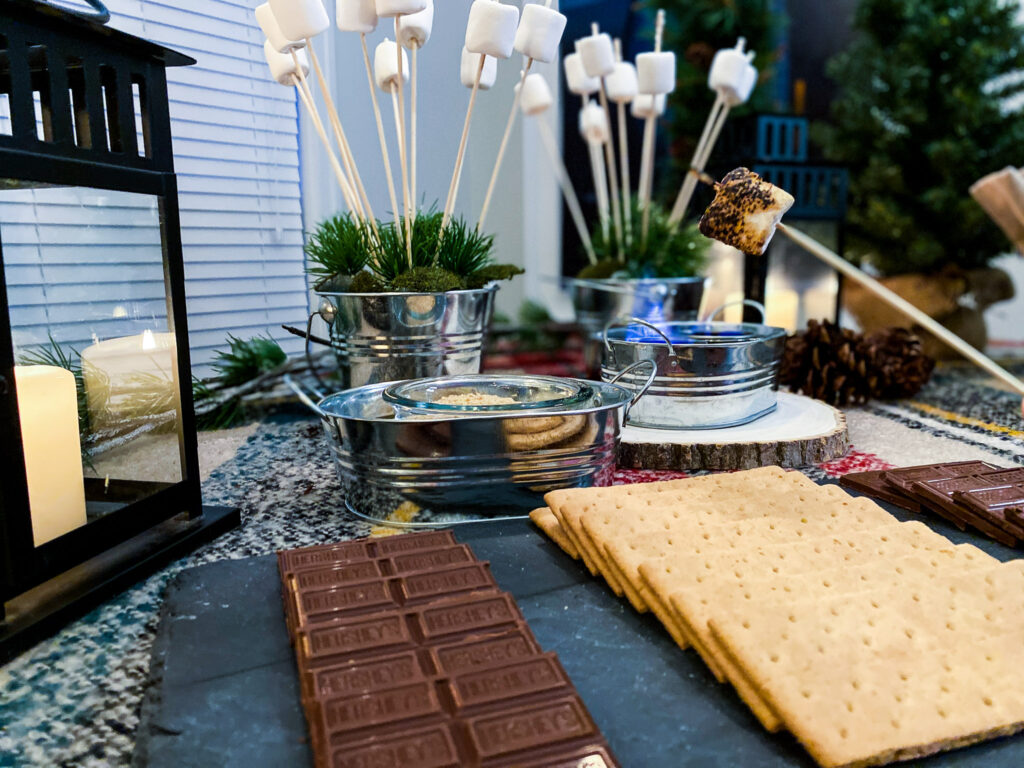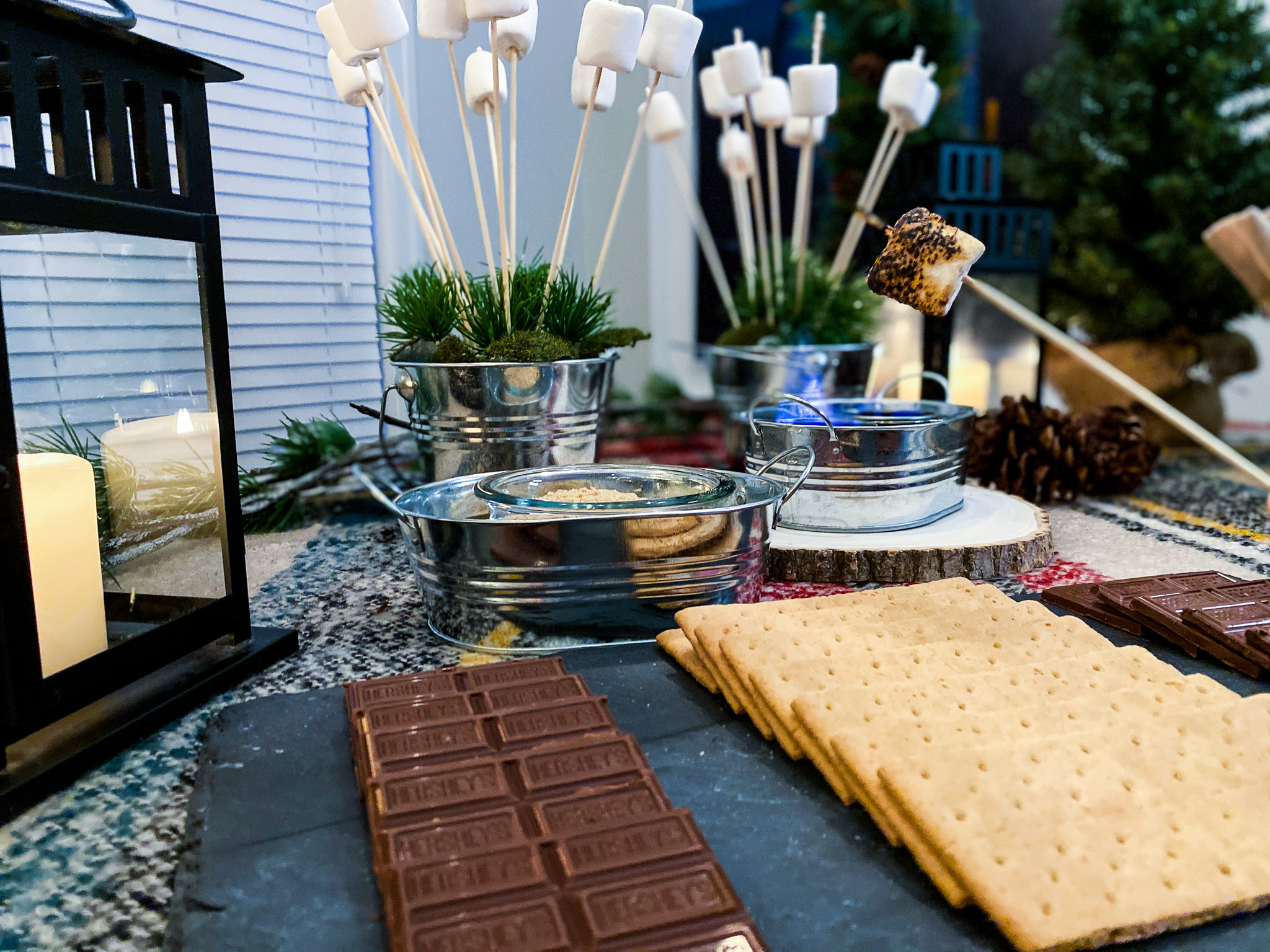 HOW TO MAKE S'MORES WITHOUT A FIRE … A CAMPFIRE IN A CAN!
At the center of our table is the "campfire," the Sterno 20261 S'mores Heat can.
This safe and clean-burning fuel is made from renewable sources and non-toxic ingredients. It specifically formulated for cooking.
PRO TIP: Traditional Sterno heat cans cannot be used for this purpose, as they are NOT safe for cooking.
THE ESSENTIAL S'MORES INGREDIENTS …
Since this is an interactive s'mores bar station, I've broken up the chocolate and graham crackers into individual servings for our campers.
We went traditional with the classic Hershey milk chocolate bar.
But there are endless options to you choose from including dark chocolate, chocolate with almonds, or even white chocolate.
Mix it up with your family's favorites and make it your own!
HOW TO MAKE S'MORES DIP …
In addition, to the usual s'mores, we've added an adults only, deconstructed version to our menu.
This boozy s'mores fondue is perfect for mom and dad to share, after your little happy campers have gone to bed.
Obviously, you can omit the whiskey to make it kid friendly … but we sure didn't!
This Boozy S'mores Chocolate Fondue is simply the bomb!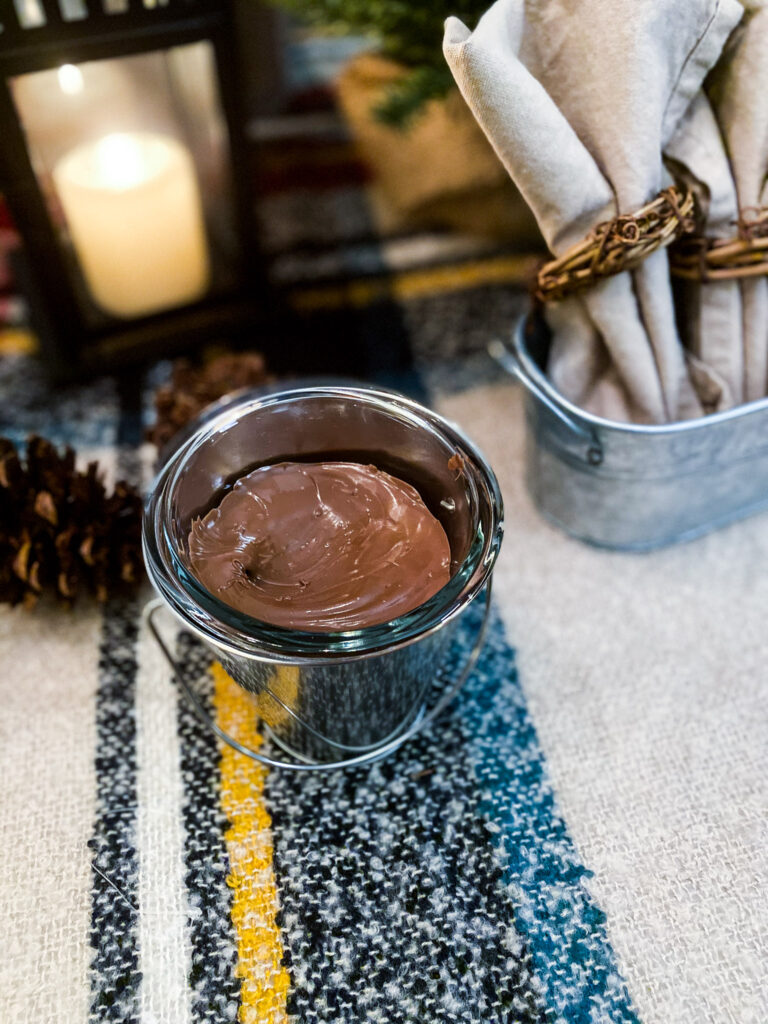 BOOZY S'MORES CHOCOLATE FONDUE RECIPE
2 cups chopped quality dark chocolate
1/3 cup whipping cream
1/4 cup whiskey
1 cup graham cracker crumbs
Large marshmallows, for toasting
Heat water in a double boiler (you can also place a metal bowl over a sauce pan, filled with water) over medium-low heat.
Add the chocolate and cream, and stir until melted.
Stir in the whiskey. Pour the chocolate sauce into a bowl.
Place the graham cracker crumbs in a small bowl.
Toast the marshmallows over the flame.
Dip the marshmallows into the chocolate sauce, and then into the graham cracker crumbs.
(Recipe courtesy: The Cooking Channel)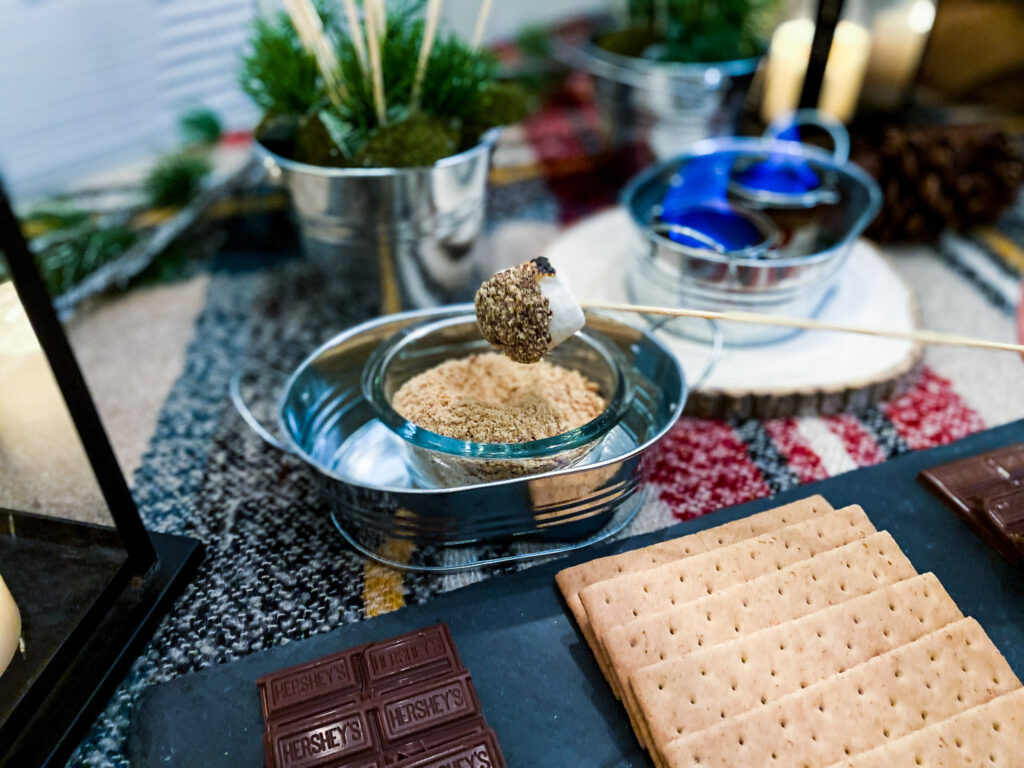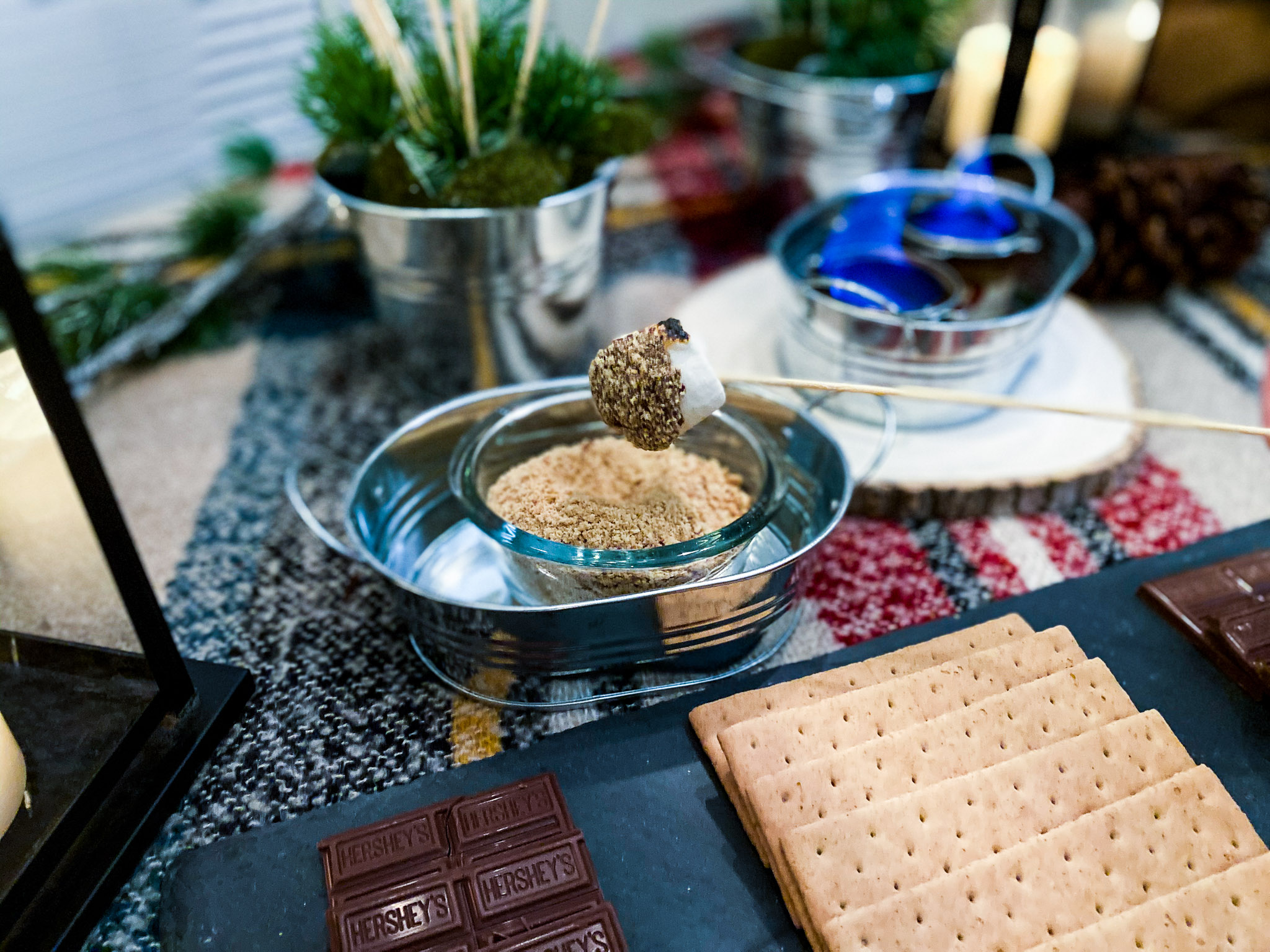 HERE IS AN OVERVIEW OF OUR ADORABLE S'MORES BAR STATION …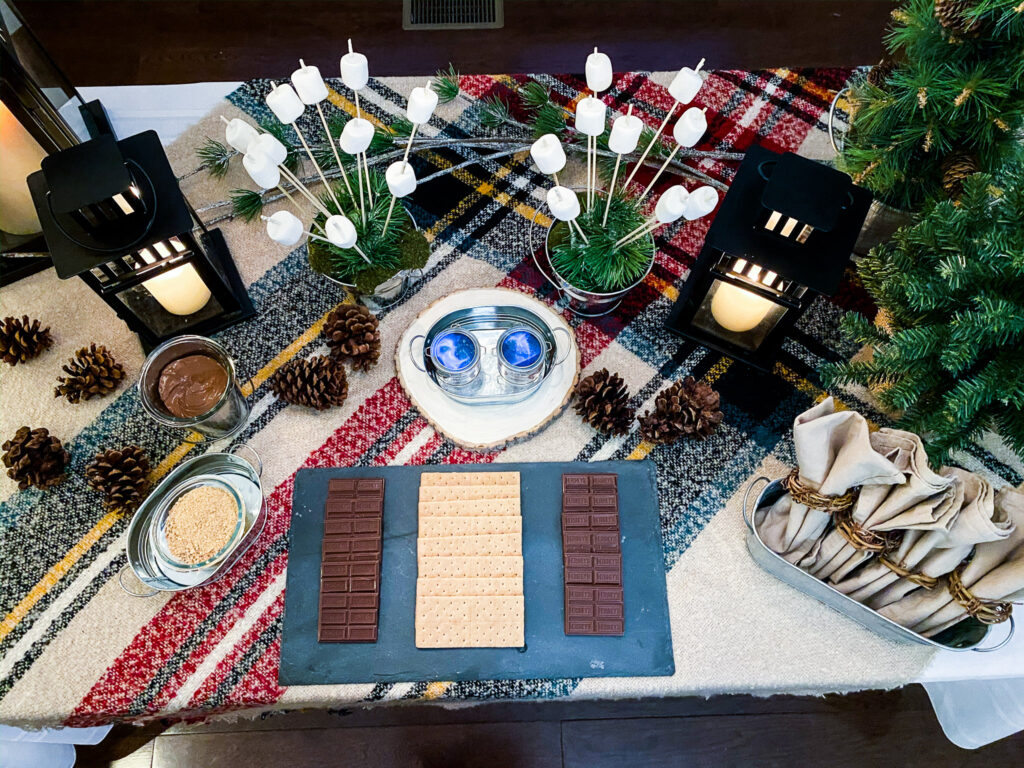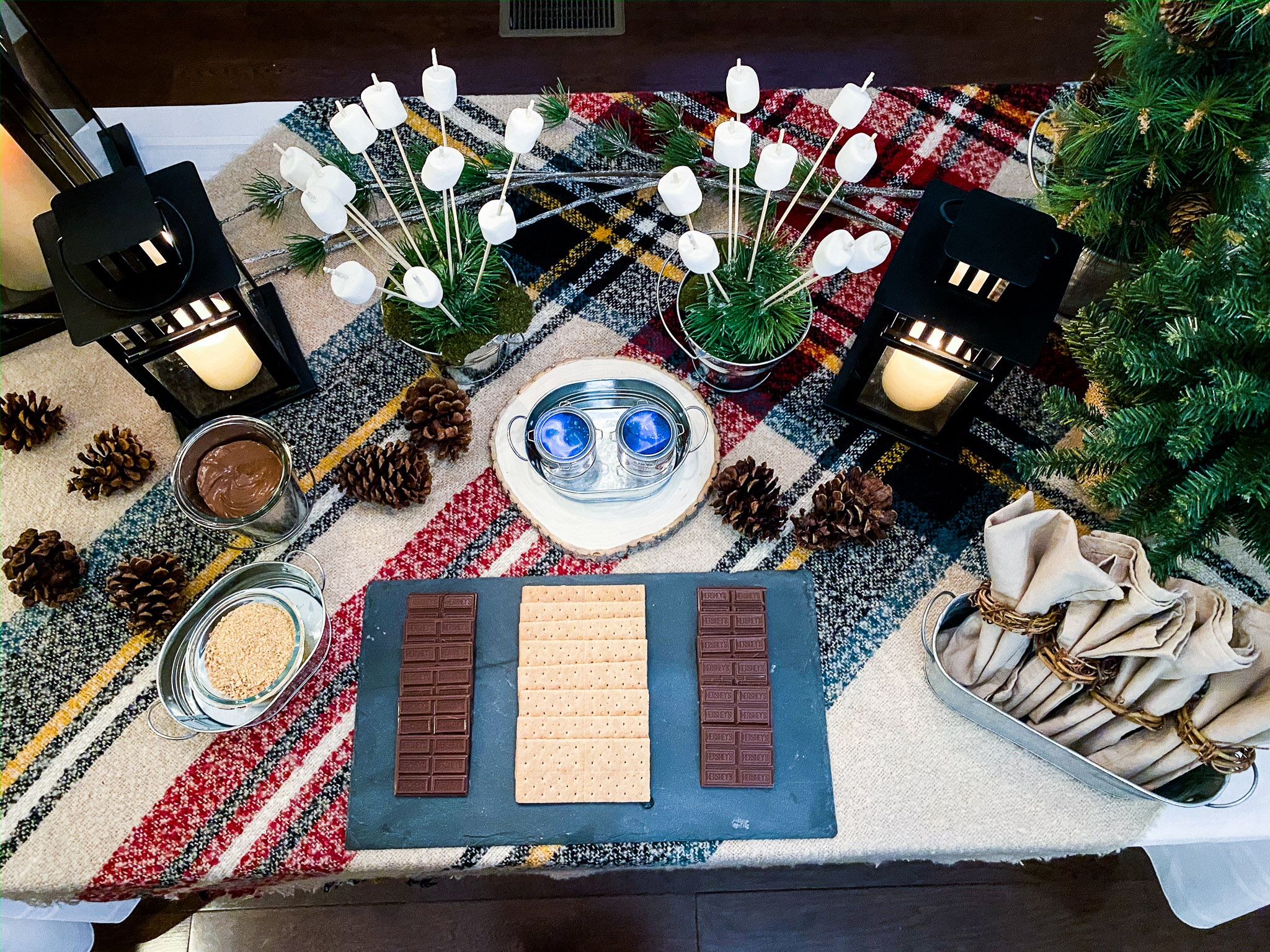 Did you try this idea? Share it on Instagram with the hashtag #makeeverydayanevent and tag @makeeverydayanevent!
Looking for other cute indoor ideas? 
Check out Great Ideas to Create a 70s Themed Fondue Party.
If you have any questions or suggestions, contact us or leave a comment!
Follow us on social media! You can find us on Instagram, Pinterest, and Facebook.