THE BEST FALL TABLE DECOR IDEAS TO EASILY CREATE A STUNNING TABLE SETTING YOU'LL LOVE!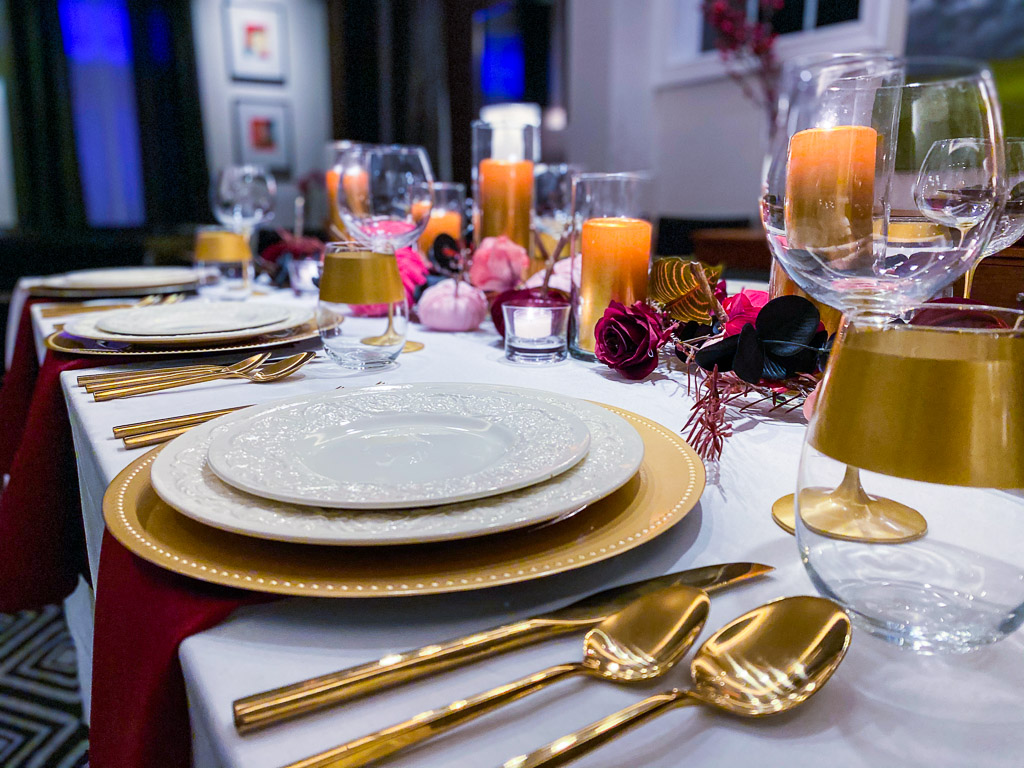 These five fall table decor ideas will make your guests say, "wow!"
Fall tablescapes don't have to be traditional shades of orange, red and brown.
In fact, if you know me at all, you know I love weaving unusual colors into my seasonal table decor.
It's all about adding a touch of drama and the easiest way to do this is with color.
These fall table table setting ideas also include a bit of modern fall table decor.
And pink velvet pumpkins.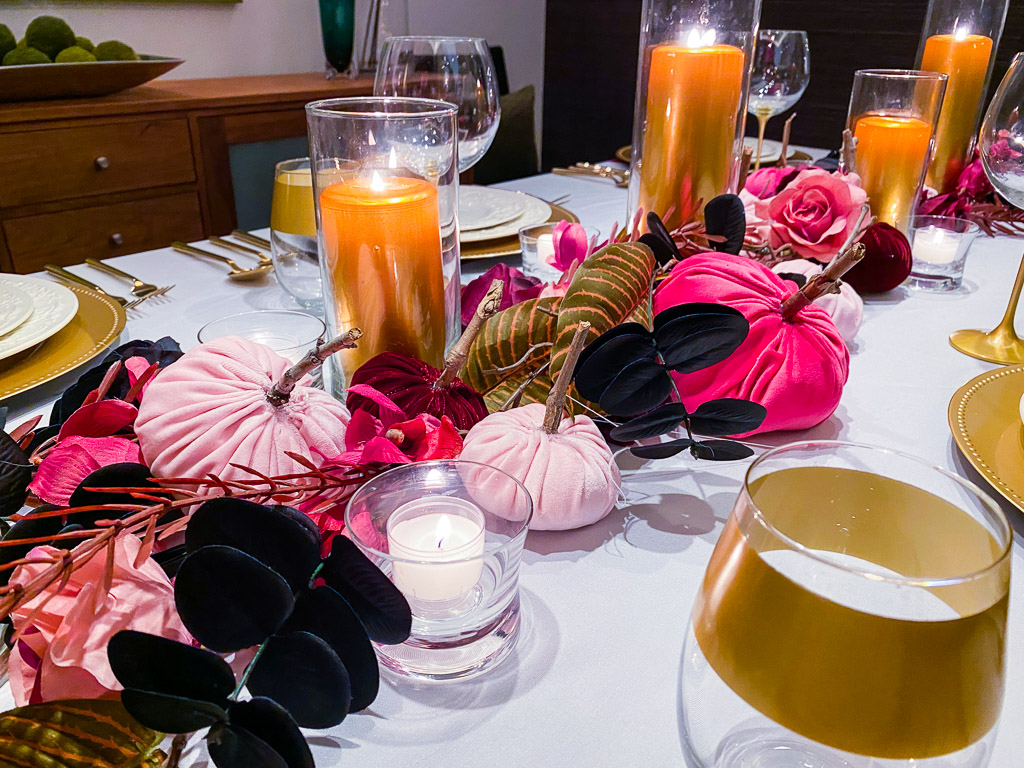 Say what?
Incorporate unusual, atypical and vibrant colors is a great idea for your fall table centerpiece.
And the results are stunning.
HERE ARE FIVE FALL TABLE DECOR IDEAS THAT YOU DON'T WANT TO MISS …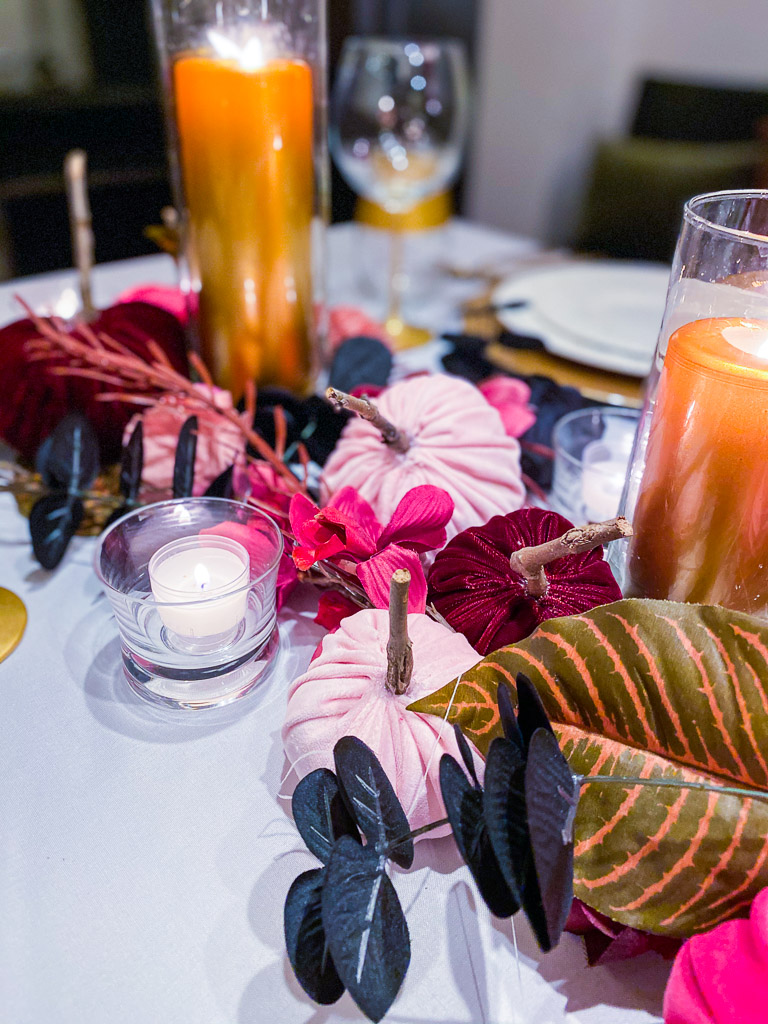 1. CONTEMPORARY GLASSWARE IS AN EASY WAY TO MODERNIZE TRADITIONAL PIECES …
According to Jeffra Trumpower, senior creative director at WeddingWire, formal china isn't a staple in many homes anymore.
"Entertaining has become much more casual," Trumpower said in this recent interview.
But for fall table decor and holidays centered around family gatherings (like Thanksgiving), you often want to incorporate pieces of formal china and the memories they can evoke.
Such was the case for this table that utilizes heirloom china in the classic Wedgwood Patrician pattern.
The set was passed down to me from my husband's family.
But I didn't want the table to look overly formal, so I simply used the dinner and salad plates.
I love the creme color and the patterned rim of the plates!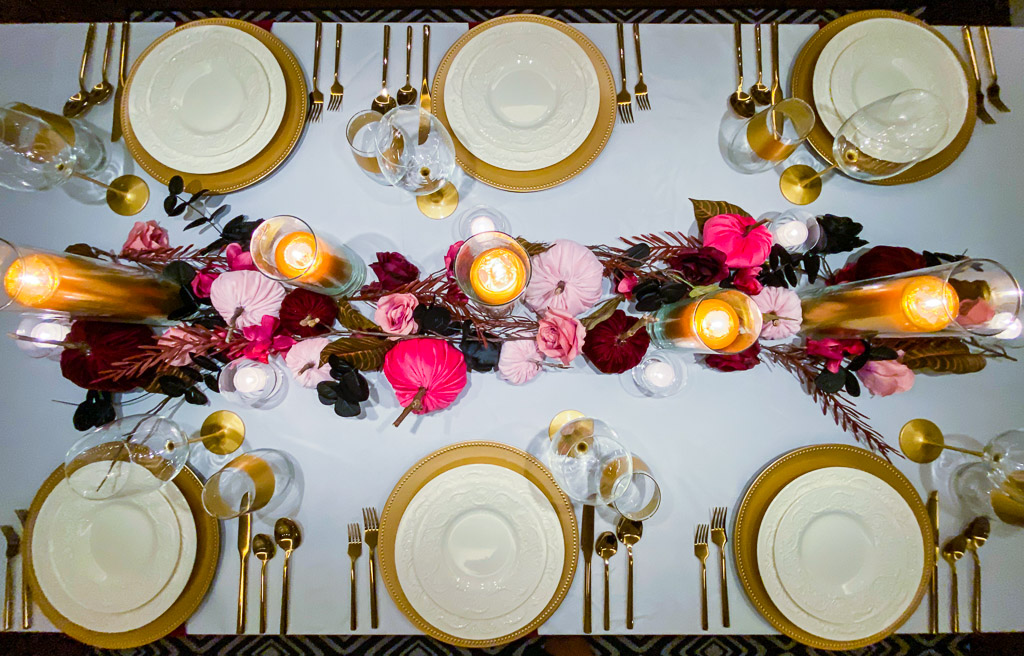 If you don't have your own set, consider borrowing sentimental pieces from a relative.
Pairing traditional pieces with more contemporary items is one of the easiest ways to shake things up on a tabletop and a great fall table decor idea.
Thse gold stemmed wine glasses and gold banded stemless wine glasses are a great example.
And they pair perfectly with the vintage ivory china.
Plus, the stemless glass is a great for water or soft drinks.
So throw convention out the window and use a bit of imagination when it comes to your glassware!
You'll be glad you did!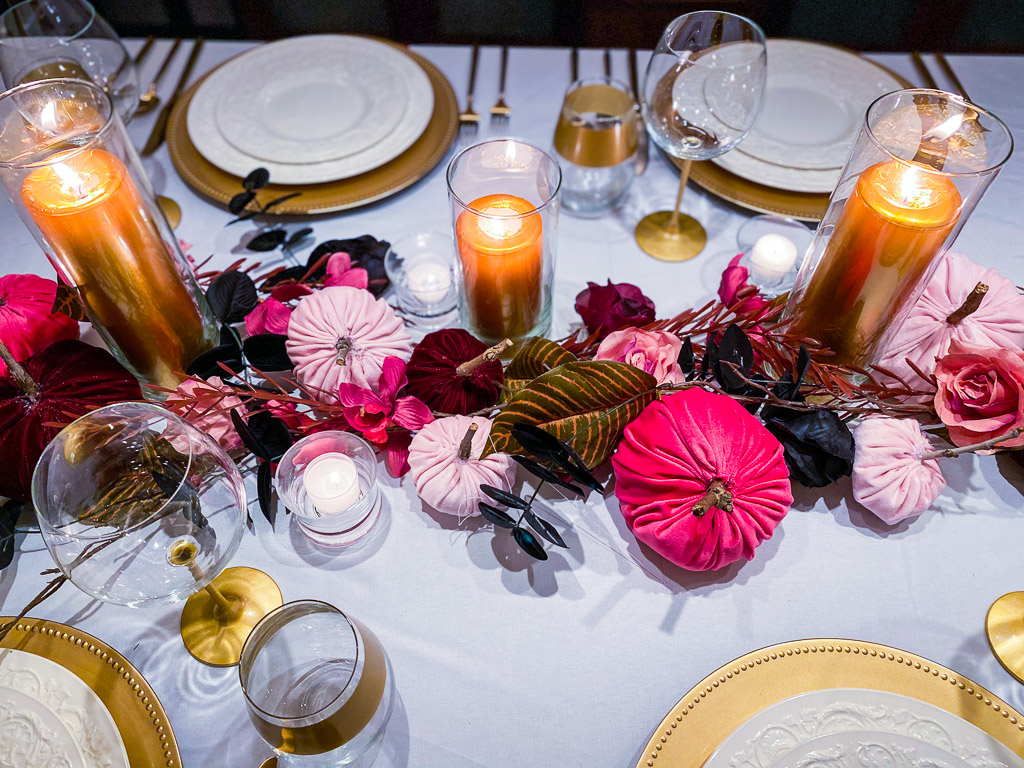 This ivory and gold table combines the old and the new, to create contemporary, modern fall table decor that's approachable and not stuffy.
2. CONSIDER OPULENT GOLD FLATWARE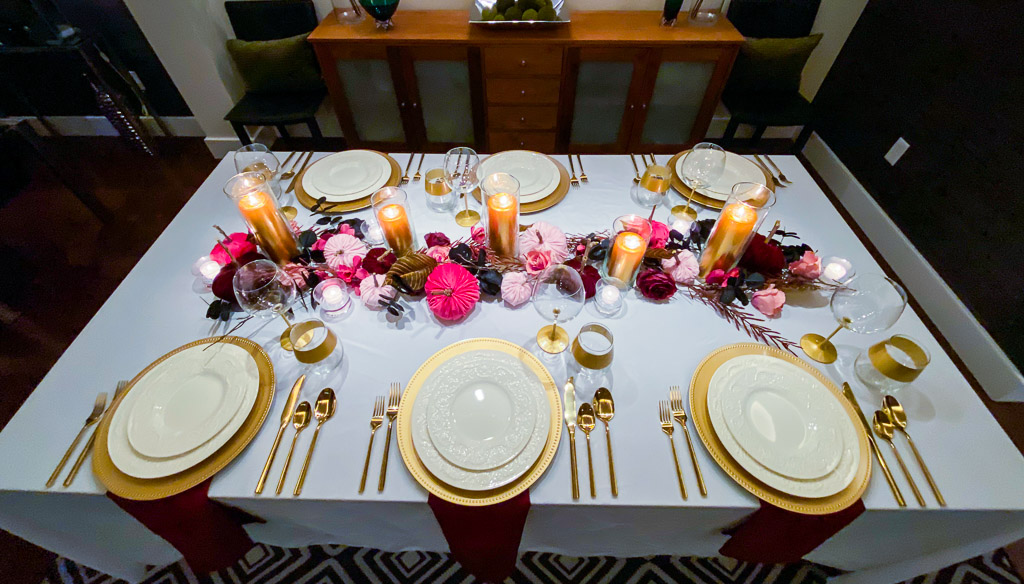 Similar to glassware, switching up your flatware with something a bit more modern can bring an entirely new, sophisticated look to your fall table decor.
Gold flatware has been trending for the past several years and it's easy to see why.
The polish and elegance it brings to a tabletop is undeniable.
It is a quick and easy way to update your place setting, without spending a fortune.
We love this gold flatware set and have used it on numerous occasions.
It was well worth the modest investment!
3. GO FOR A STRIKING NAPKIN COLOR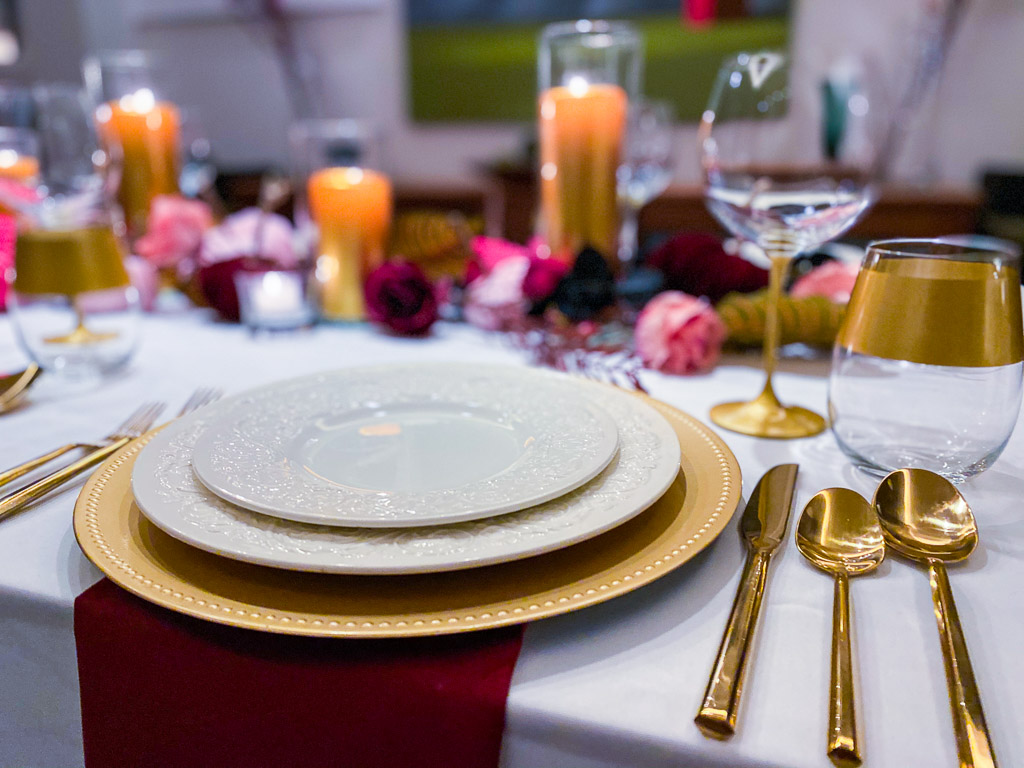 White tablecloth, white napkins … right? Wrong.
Think of the napkin as the scarf of your table's outfit.
It's not just a napkin, it's an accessory!
Rethinking the napkin is the easiest way to add a bold pop of color to your table.
These burgundy napkins accomplish that task.
Also consider napkin placement.
One of our favorites is to place the napkin under the plate, allowing it to hang down a bit, which adds additional color to the table.
One absolute: always use cloth napkins, never paper.
They are remarkably easier to care for than you think!
And you can reuse them for future dinner parties!
Plus they are environmentally friendly!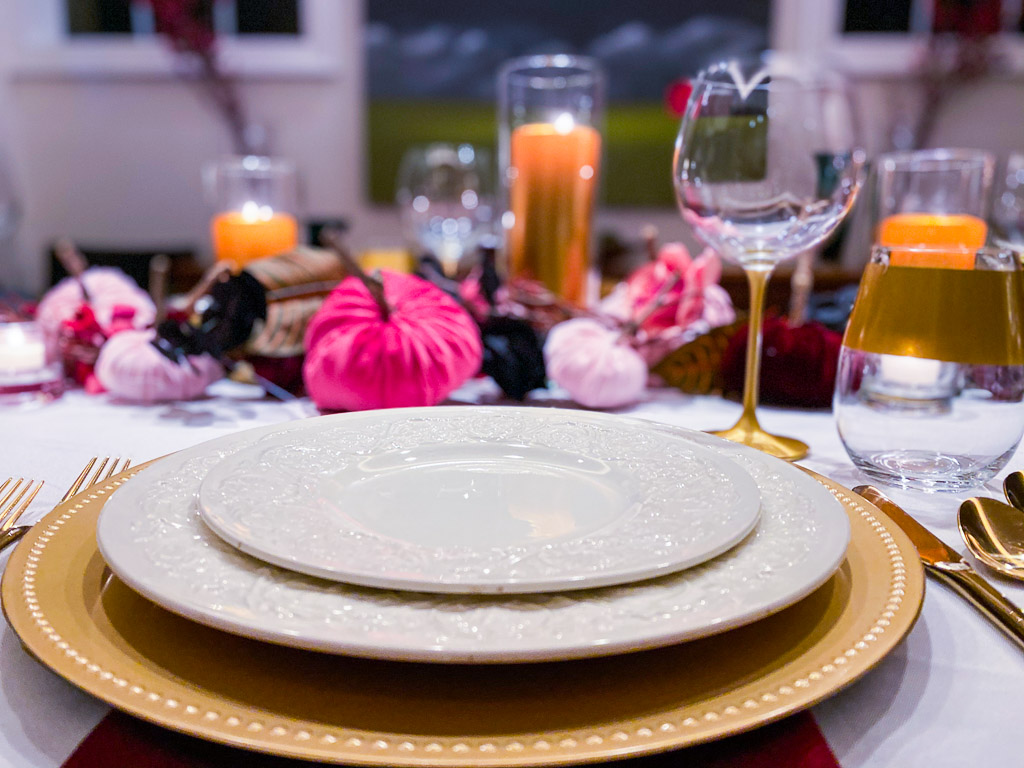 4. ADD A CHARGER INTO THE MIX
Adding a charger is one of the best and easiest fall table decor ideas.
These gold chargers were perfect for this tablescape and helped to fill out our table.
The dinner plates of vintage china sets are often smaller than those manufacturers today.
The larger chargers finish each place setting and balance the vintage china.
5. CREATE A UNIQUE, NONTRADITIONAL CENTERPIECE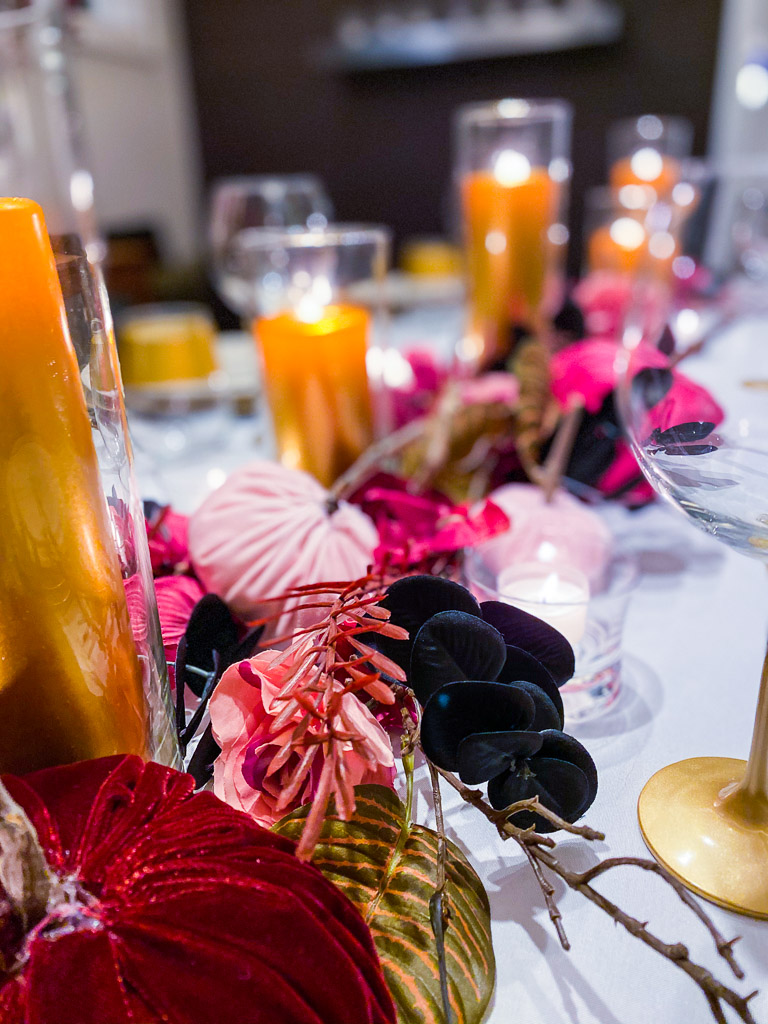 Gold pillar candles in glass cylinder vases, a garland featuring deep black, mauve and pink hues, and lots of votive tea light candles …
That's just the start of this nontraditional Thanksgiving centerpiece that runs down the center of the table.
You don't have to have a single flower arrangement, perfectly placed in the middle of the table …
Boring.
This elongated centerpiece runs the entire length of the table and adds visual interest with a variety of colors and textures.
It also includes a harvest of velvet pumpkins in matching hues and several layers of candlelight.
It's so opulent! I love it!
Discover how easy it is to make these velvet pumpkins and customize them as a fall table centerpiece.
They bring an unusual pop of color to this fall tablescape that is hardly traditional, but completely elegant!
For more fall decor ideas, explore these blogs:
The Five Fall Tablescape Trends that We've Spotted and You'll Love
One Table, Three Ways: Thanksgiving Table Ideas
One Table, Three Ways: So Many Halloween Ideas
Did you try this idea? Share it on Instagram with the hashtag #makeeverydayanevent and tag @makeeverydayanevent.
If you have any questions or suggestions, contact us or leave a comment!
Follow us on social media! You can find us on Instagram, Pinterest, and Facebook.
For additional Thanksgiving table decor ideas, visit An Elegant, Luxurious and Dramatic Tablescape is Easy.