TEN SIMPLE WAYS TO TURN YOUR BATHROOM INTO A SPA!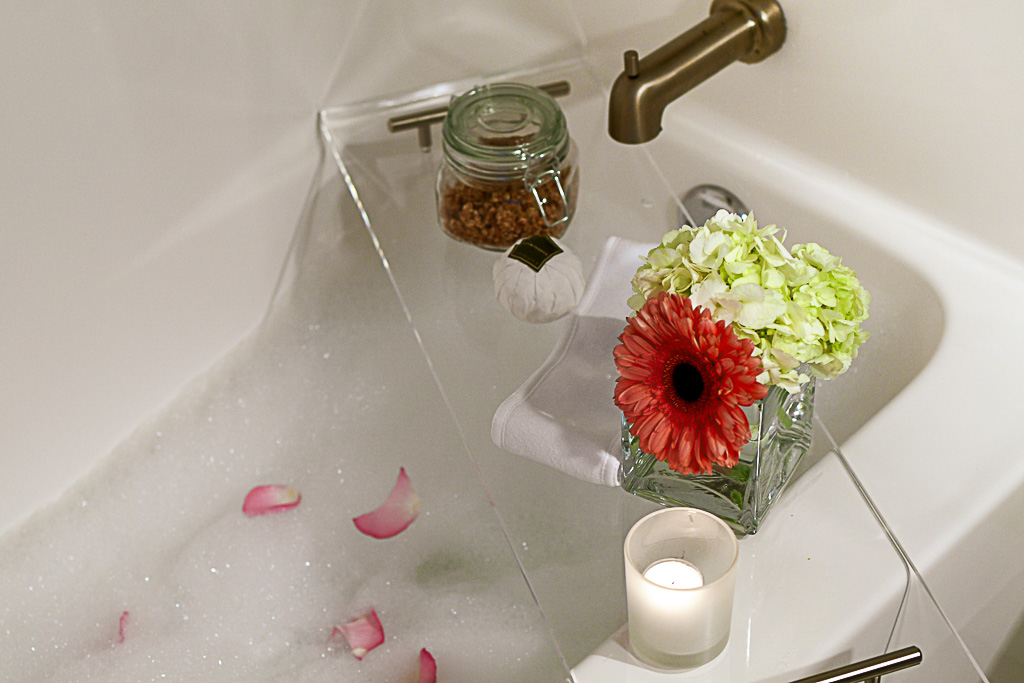 Turn your bathroom into a spa this afternoon! These 10 simple and easy tips will show you how to turn your bathroom into a spa … no renovations needed! Keep reading for the ultimate DIY spa day ideas!
Did you know January 8 was National Bubble Bath Day!
And did we celebrate the occasion? 
Absolutely!
Because the beginning of January is the most perfect time to simply sit back, relax and just soak!
The past few weeks have been hectic …
Plus the weather has been just cold, damp and gray.
Yuck.
But today … it's all about creating a spa-like experience at home with just a few simple touches.
No big renovation project involved.
And all of the headaches those bring.
Just calm, quiet, and, of course, bubbles!
You've got to have some bubbles!
The soapy kind, of course!
LOL.
I love these DIY spa day ideas and know you will too!
Posts on Make Every Day an Event may contain affiliate links which means we may earn a small commission on purchases at no extra cost to you. To learn more, please read our full disclosure here.
HERE ARE 10 SIMPLE WAYS TO TURN YOUR BATHROOM INTO A SPA THIS AFTERNOON: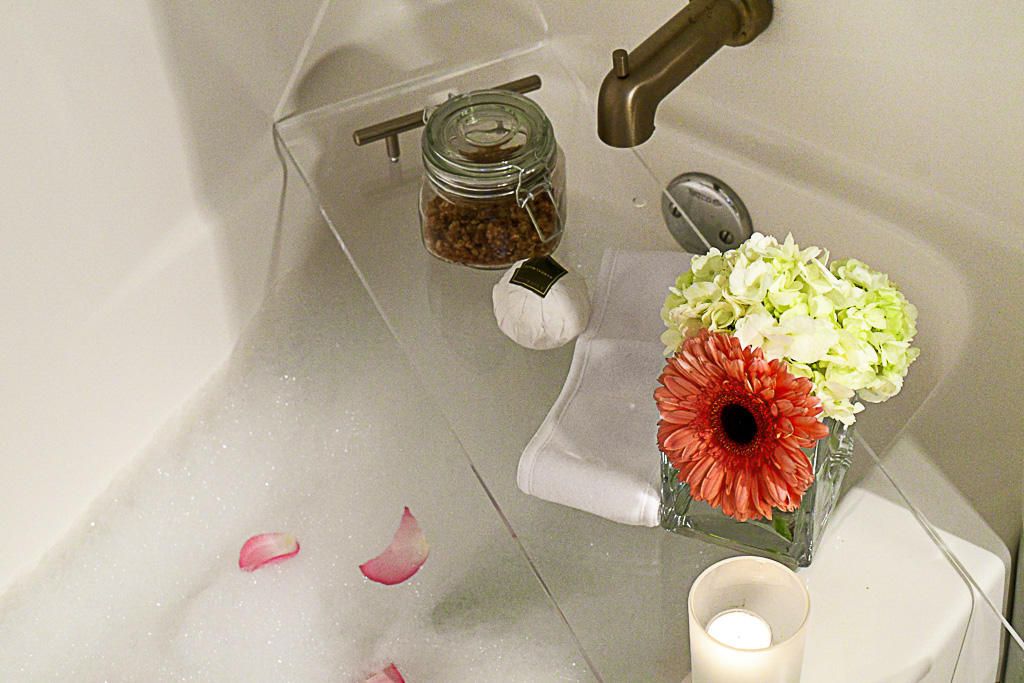 1. INVEST IN A BATH TRAY
Literally, where has this tray been all my life? I picked this up on Amazon and I can't believe I didn't buy it sooner.
I love its clear acrylic design and elegant stainless handles.
It's so simple, clean and modern.
Plus you can still see all of the bubbles underneath.
It's a great size to hold all of the other spa bathroom accessories you'll want for your relaxing DIY spa day.
I also might repurpose it as a serving tray at some point …
Because can't you imagine this with flowers on it, running down the middle of a dining table? Gorgeous!
Seriously, I love it that much!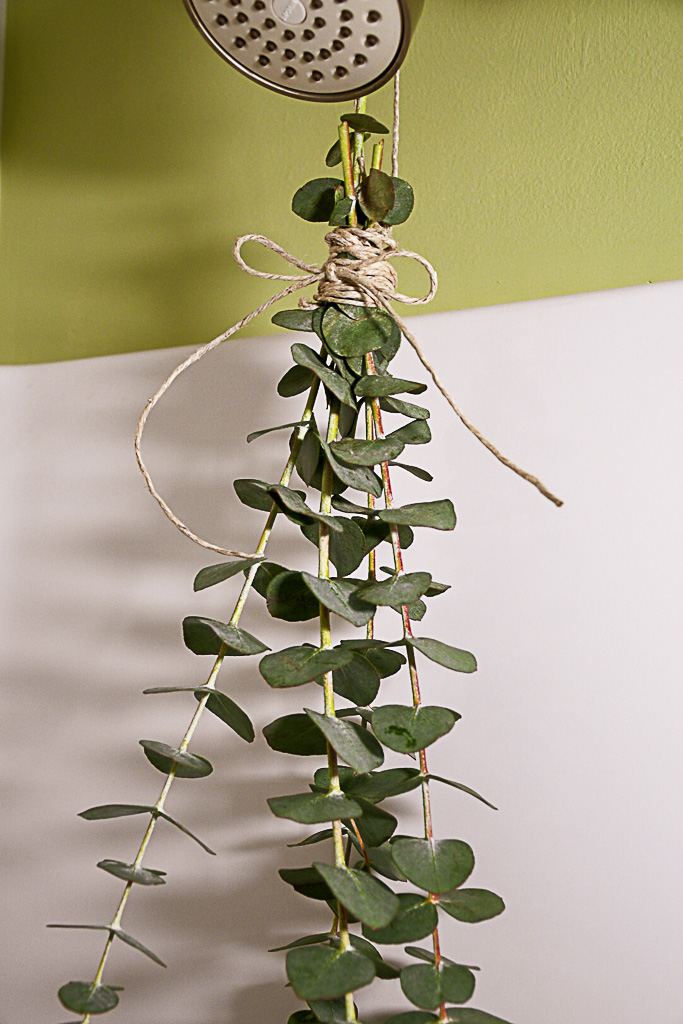 2. HANG A EUCALYPTUS SHOWER BUNDLE
I always love the scent of the spa!
It fills your senses from the moment you walk in the door.
You can create that same sensation at home with a eucalyptus shower bundle.
When you hang it from your shower head, the steam and heat will release oils from the eucalyptus leaves and fill your bathroom with their unique scent.
The natural, essential oils in eucalyptus are said to have numerous health benefits including boosting your immune system, relieving pain, and reducing inflammation.
A eucalyptus shower bundle is also thought to help those experiencing congestion from colds or allergies.
3. SPOIL YOURSELF WITH A PAIR OF SPA SLIPPERS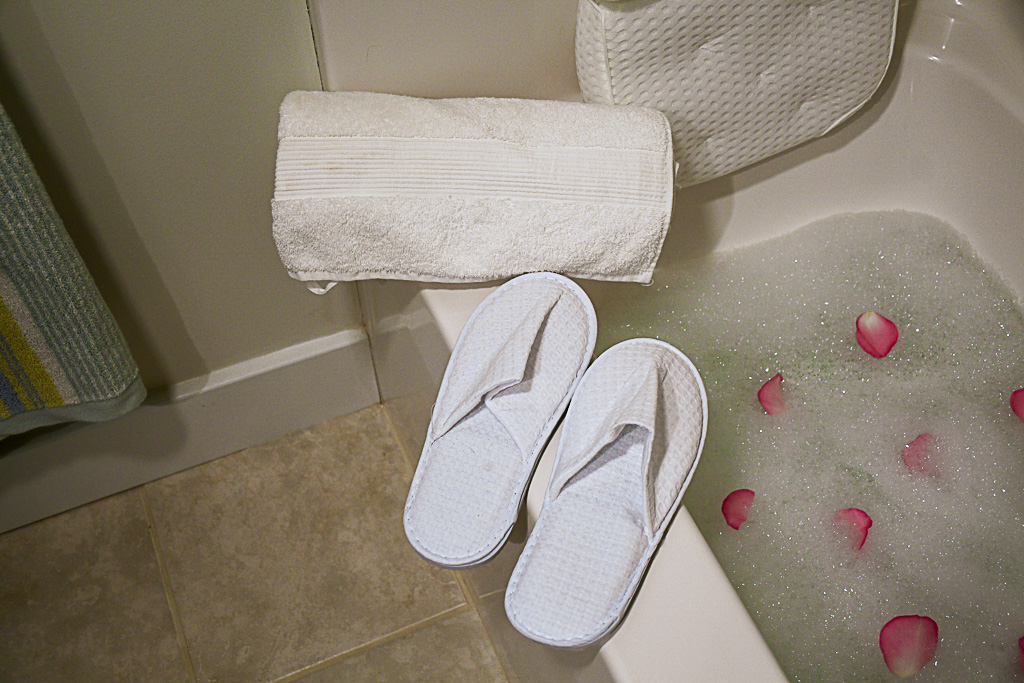 Another thing I love about the spa are the adorable white slippers they give you when you check in.
So … I bought a pair for my bubble bath afternoon.
Why not?
They were a fun little indulgence, which is what this celebration is all about!
And my feet never felt so cozy.
4. SINK YOUR HEAD INTO THIS COMFY BATH PILLOW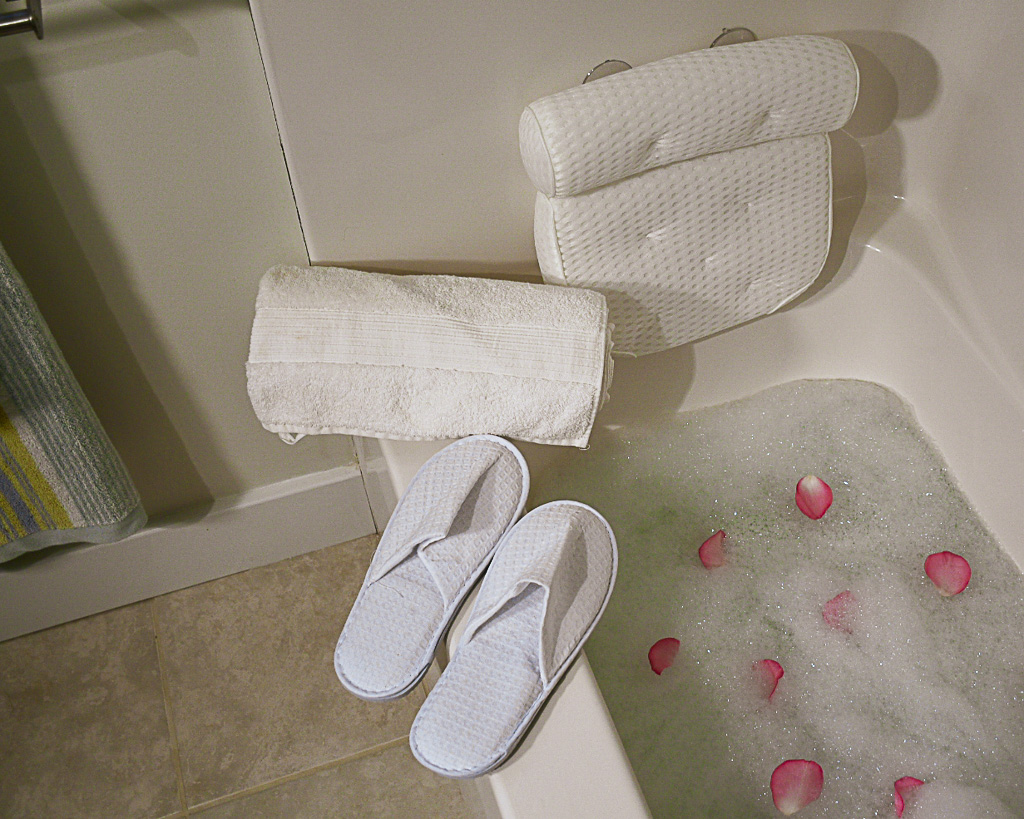 Place this spa bath accessory in the category of "things I didn't know about, but now I can't live without!"
This bath pillow, which is designed to get wet, attaches to the shower/tub wall with a series of suction cups.
So it stays in place and is a perfect spot to rest your head as you relax and soak.
It even comes with a convenient zippered pouch to store it in, when it's not in use.
If you added a monogram to it, this would also be an incredibly cute gift! Love it!
5. DON'T FOLD YOUR TOWELS, ROLL THEM!
Taking another tip directly from the spa, don't fold your bath towels, roll them!
I don't know why such a truly simple touch can transform your bathroom so dramatically … but it certainly does!
6. PAMPER YOURSELF WITH A DELIGHTFUL BODY SCRUB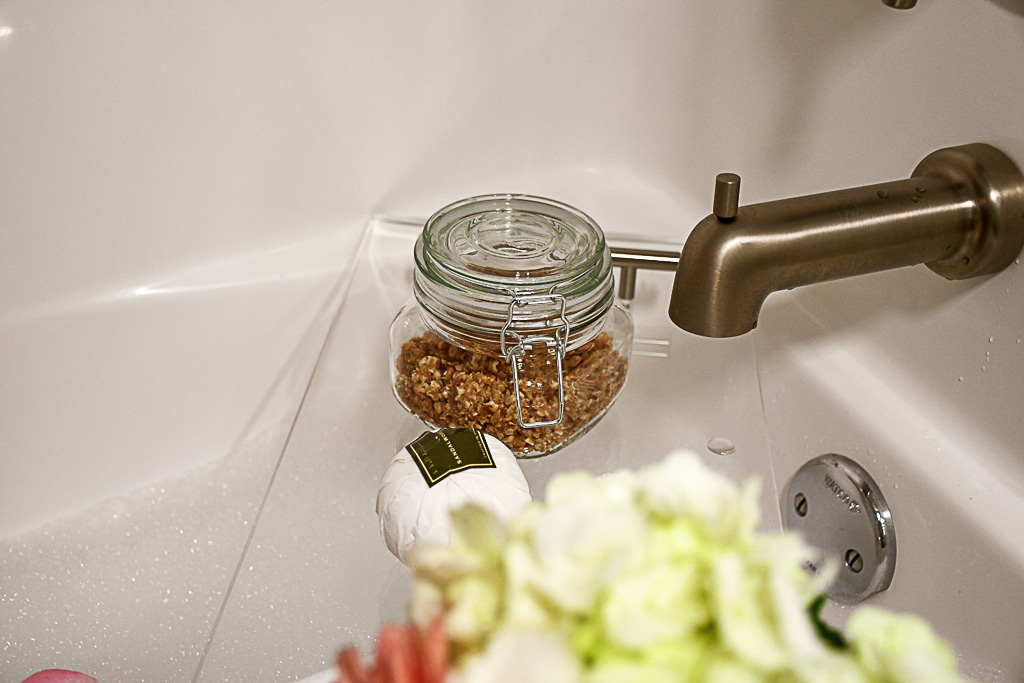 This DIY body scrub is all natural and easy to make.
Its oatmeal, almond oil, and crushed almonds (with a hint of vanilla extract), make it not only a fantastic exfoliator, it's also a delicious smelling recipe for dry skin.
You'll love it!
And you'll love how your skin feels after you use it!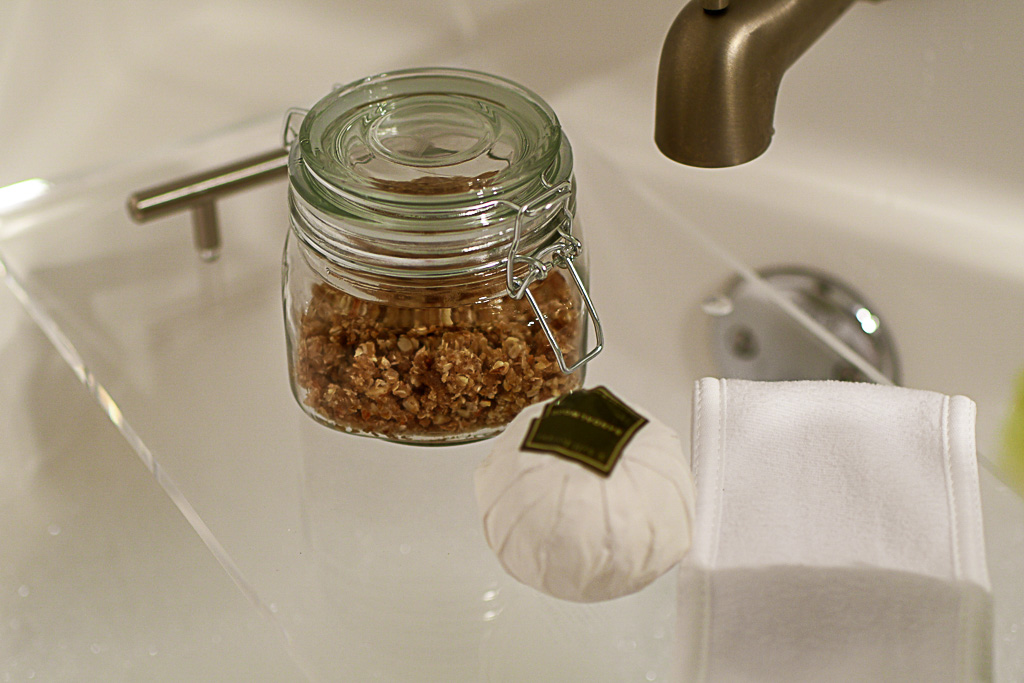 7. ADD A BATH BOMB TO THE MIX
Bath bombs are an affordable and tranquil bit of luxury that can add an element of calm, sophistication and fun to the end of anyone's long day.
There are a lot of great bath bombs available to purchase or you can make your own.
In this post, we share how to make heart shaped, floral bath bombs that are not only a delightful dose of self-care, they are also a thoughtful gift to give to your friends or family on Valentine's Day, Galentine's Day, or just because you care on any given day of the year, for no particular reason!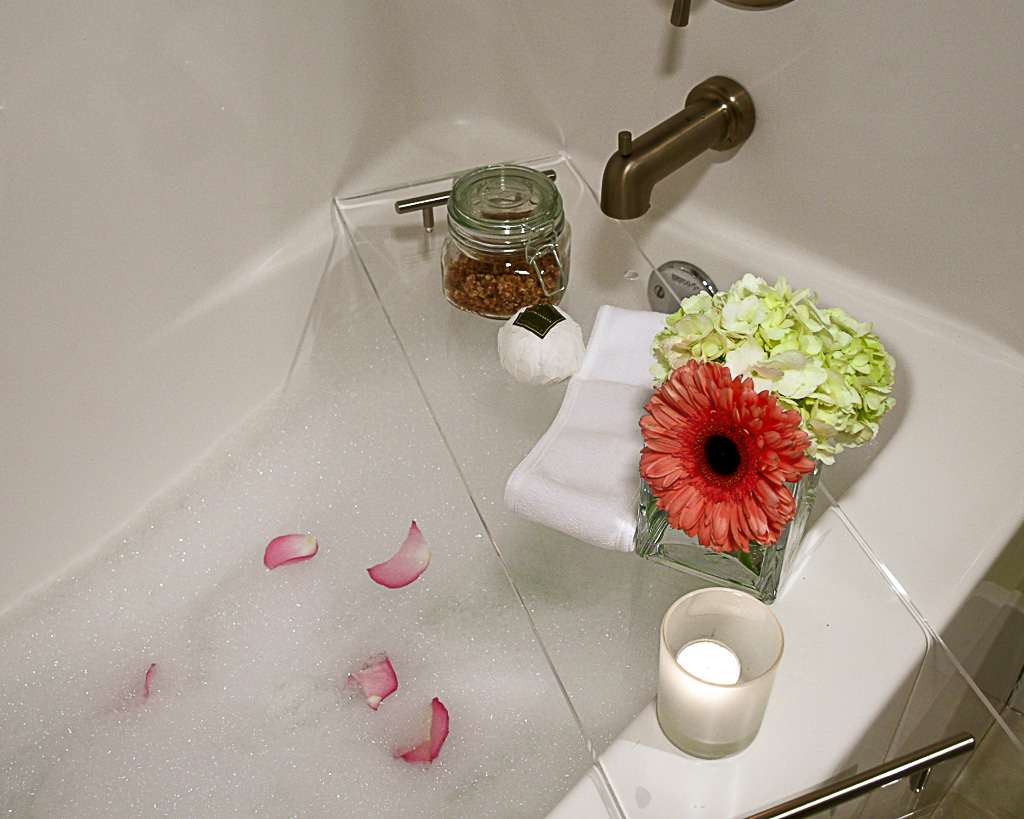 8. INDULGE IN A SPA HEADBAND
Similar to the smell of the spa and the cute slippers they give you when you check in, I also love the velcro headbands they give you to put on before a facial.
So I bought a couple to have around the house.
Why haven't I done this sooner?
They are great to use when soaking in the tub and even better to pull back your hair before using facial scrubs or masks on a weekly basis.
Add this headband to the things I now know I can't live without … LOL.
Luckily, they are super affordable!
9. TREAT YOURSELF TO SOME FRESH FLOWERS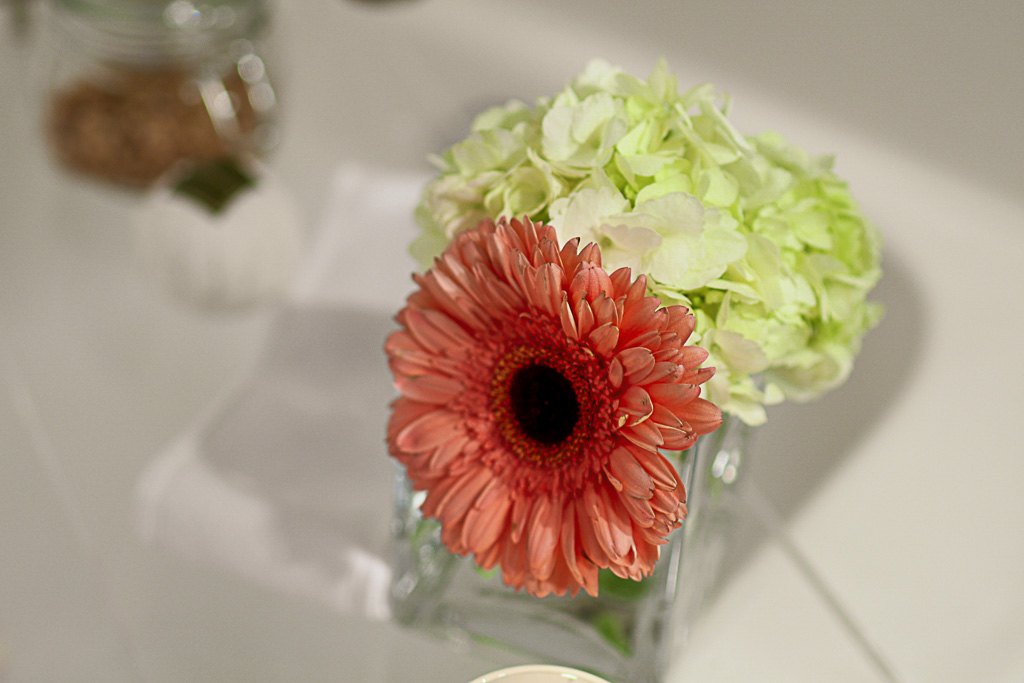 I've talked about this before, but during the pandemic I began buying fresh cut flowers on a regular basis.
It's one quarantine habit I'm glad I've picked up (I'm not discussing some of the others which aren't so great … LOL!)
But a simple vase of fresh flowers brightens your day and brings a refined elegance into your home.
And in this case, it's an easy way to turn your bathroom into a spa!
10. SIMPLY LIGHT A CANDLE
It's such a simple touch, but one that's often overlooked!
And that's most likely because often there's no room for one!
But that great bath tray I showed you earlier certainly solves that problem! 
Adding the softness of candlelight to your bath just makes the room glow!
It's such a easy addition, but it really will make your DIY spa day complete!
Looking for other great wellness ideas? Check out these blogs:
The Best Mocktail Recipes for Dry January and Beyond
An Easy DIY Body Scrub that Will Leave Your Skin Glowing
Did you try any of these ideas to turn your bathroom into a spa?
Share them on Instagram with the hashtag #makeeverydayanevent and tag @makeeverydayanevent.
If you have any questions or suggestions, contact us or leave a comment!
Follow us on social media! You can find us on Instagram, Pinterest, and Facebook.