SPOOKY HALLOWEEN TABLE DECOR IDEAS THAT WILL CREATE A LOOK YOU'LL LOVE!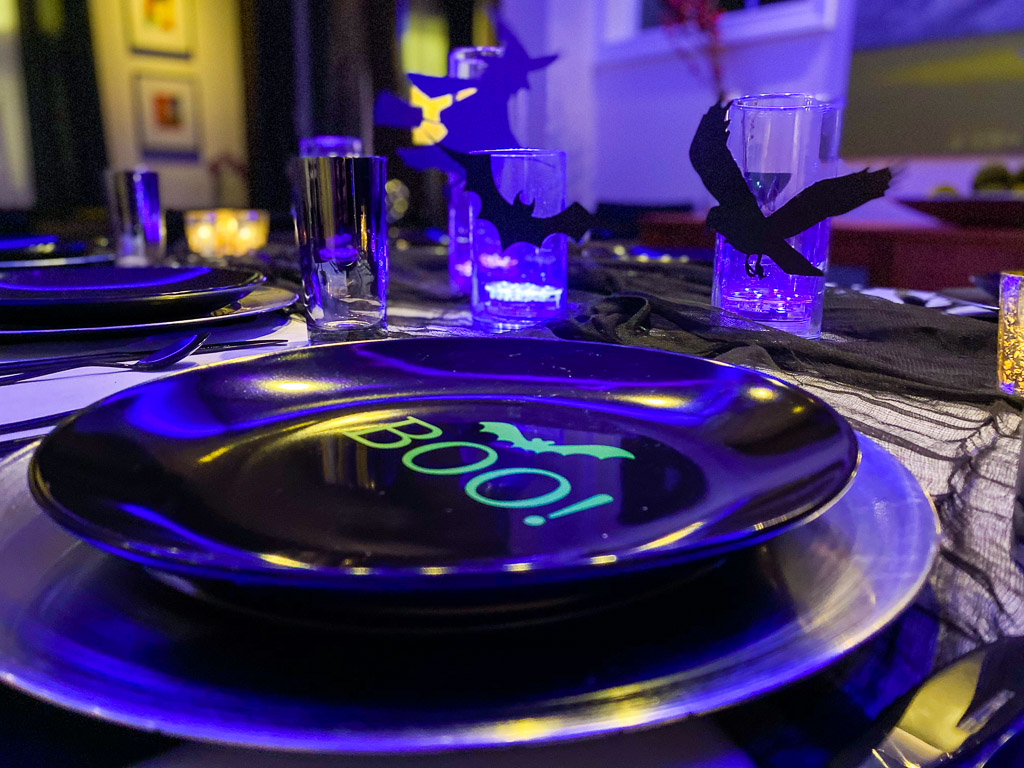 These Halloween table decor ideas will transport your guests from an ordinary dining room to a scene straight out of the Haunted Mansion.
Pulling together creative Halloween table décor is easy … especially if you know a few of the right, simple touches to utilize.
For this eerie table, we've employed one of our favorite creative Halloween decor tricks, namely purple lights and black shadows, to transport our guests from just an ordinary dining room to a setting straight out of the Haunted Mansion.
Discover how you can use these easy and unique ideas yourself!
PRO TIP: As we've gone through the design process for each of our events, as well as projects we've completed around our house, both Matt and I have come to realize that lighting is everything. I cannot state that enough. Lighting is one of the most important, but most often overlooked elements of design. The impact it can have on a design is simply immeasurable.
In addition to being really impactful, lighting is also incredibly cost effective.
It's just amazing what the right lighting will do … even for the simplest tablescape.
For this Halloween table, it's really apparent how a few modest lighting touches can truly transform a setting.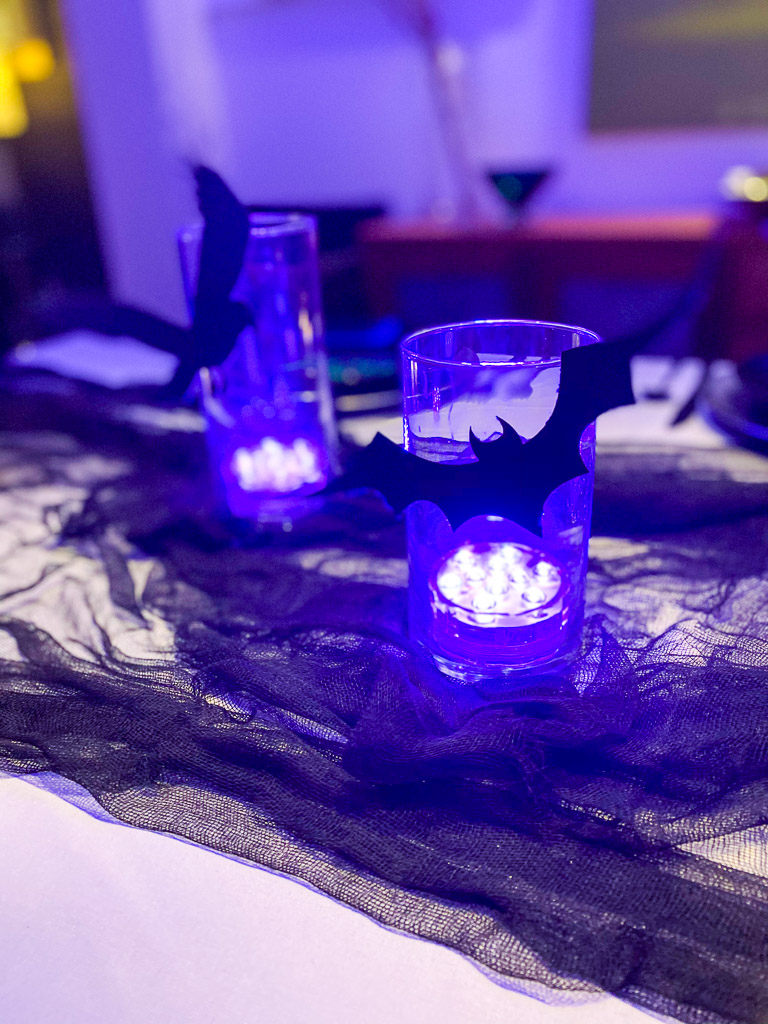 START WITH A FEW VASES OF VARYING HEIGHTS …
These cylinder vases are simply one of my favorite and easiest ways to create a dramatic, lighted effect.
I cannot even begin to tell you how many of our clients have saved thousands of dollars in florals by utilizing these vases throughout the years.
And in the end, they made a significantly bigger impact than an expensive centerpiece.
Plus they are reusable!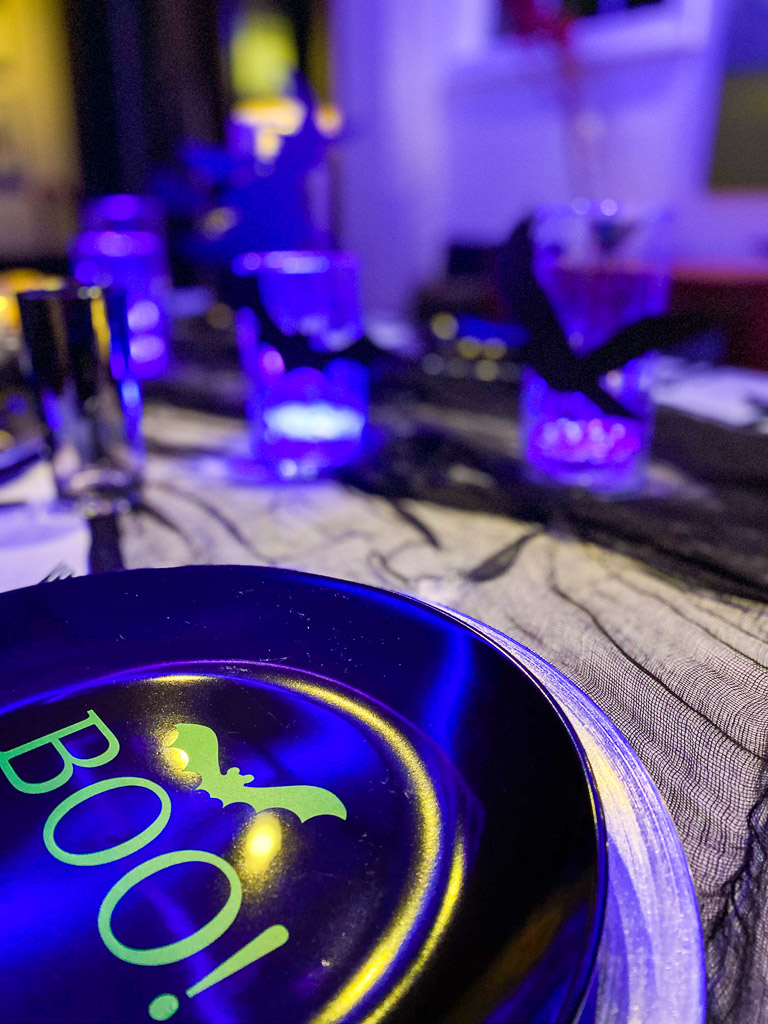 It is well worth the money to invest in multiple sizes of these functional glass pieces for home entertaining.
You will use them time and time again as floral vases (both for fresh and dried cut stems), to hold pillar candles, to hold vase filler, and even to create unique food displays.
The possibilities are truly endless!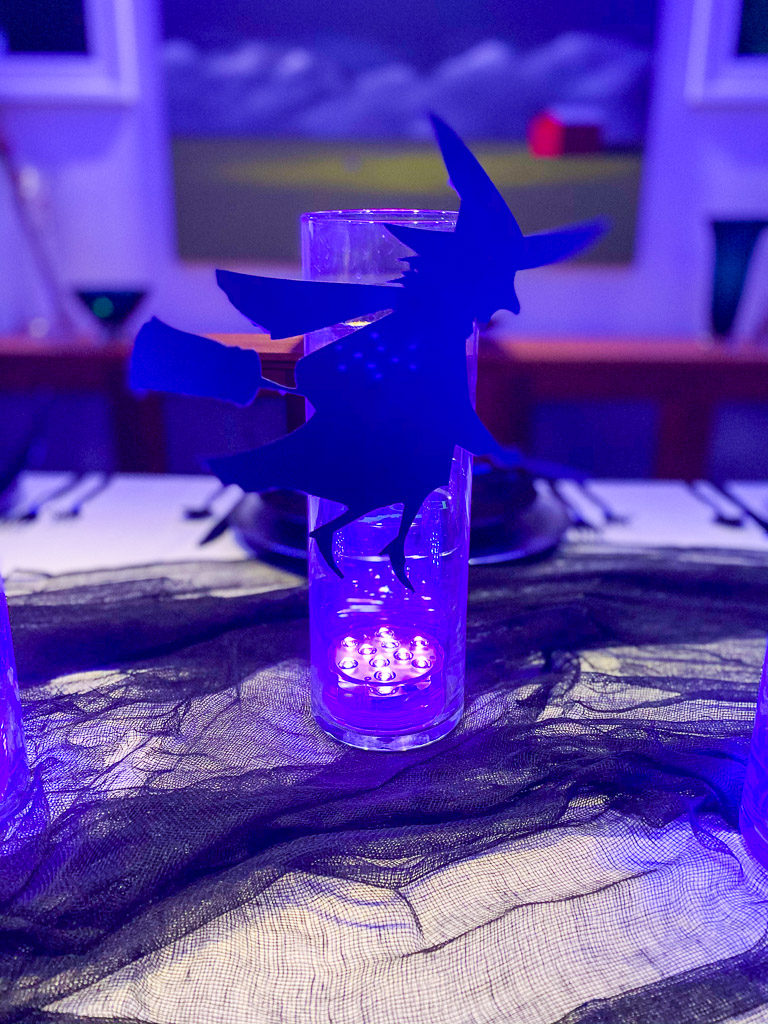 Posts on Make Every Day an Event may contain affiliate links which means we may earn a small commission on purchases at no extra cost to you. Please read our full disclosure here.
For this table, I used vases of three different sizes.
Creating the black witch, crow and bat silhouettes were so easy, using my Cricut Maker. Glue dots held the silhouettes onto each glass cylinder.
Finally I placed these round submersible lights into each vase and simply switched the remote control to purple. Bwahaha!!!
Our spooky scene was almost complete … we just needed a few more details!
This black creepy cloth was an ideal runner down the center of the table.
I layered two of the cloths, which allowed me to spread them out a bit and make them exactly the right width.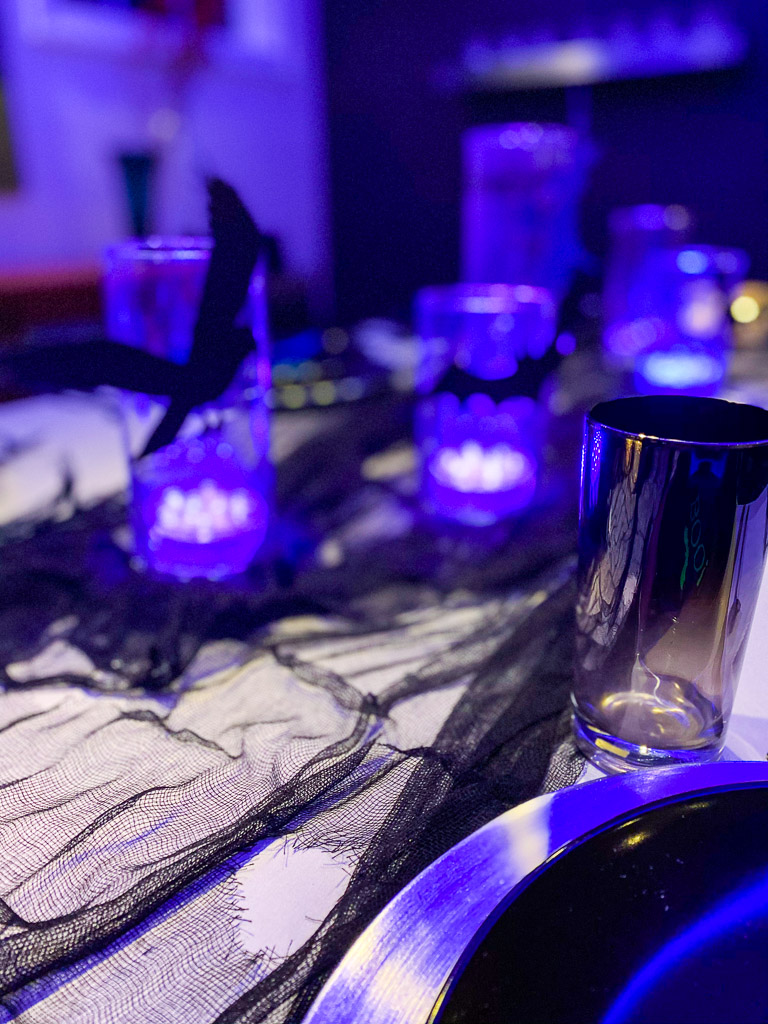 My go-to, favorite black plates from The Dollar Store were perfect to make into statement pieces at each place setting.
Using Design Space and my Cricut Maker, this green vinyl, "Boo" embellishment really popped!
They plates also reflect the purple lights in a spooky fashion!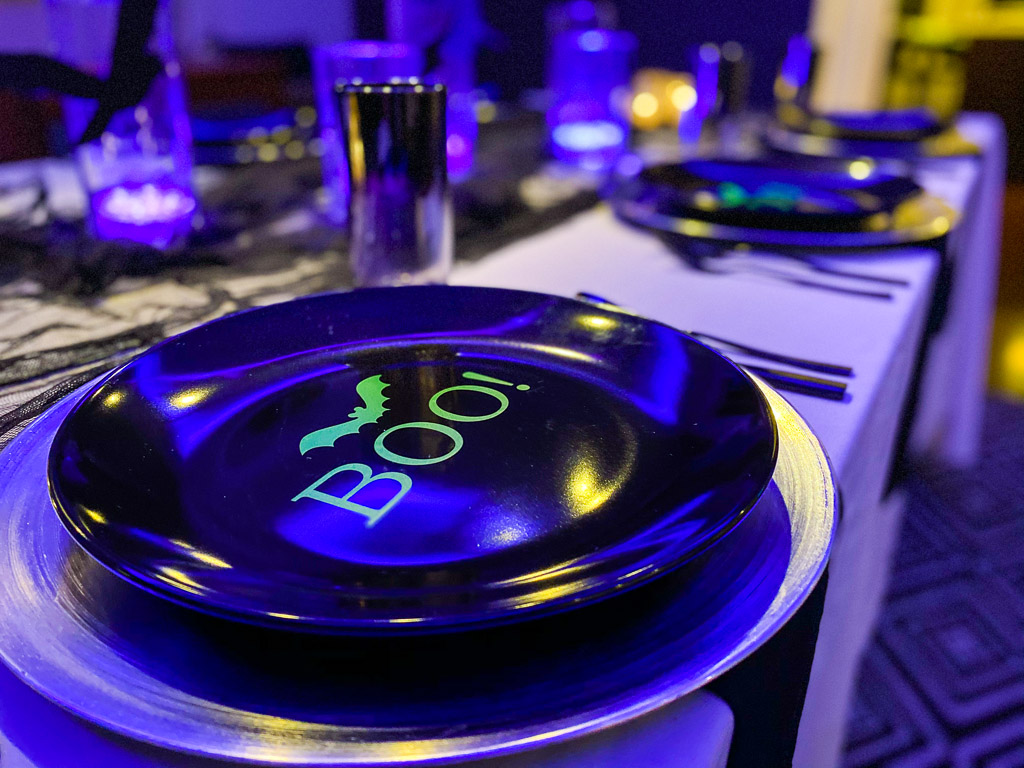 To complete the table, I placed silver chargers at each place setting, as well as these unique silver glasses, which belonged to Matt's grandma.
And, of course, I always love to utilize candlelight on every table.
These silver mercury glass votive holders were just perfect!
You may also be admiring the black flatware … !
I am so excited to add this option to my collection.
These utensils are just elegant and will be great to add a touch of modern flair to numerous tables for many seasons to come!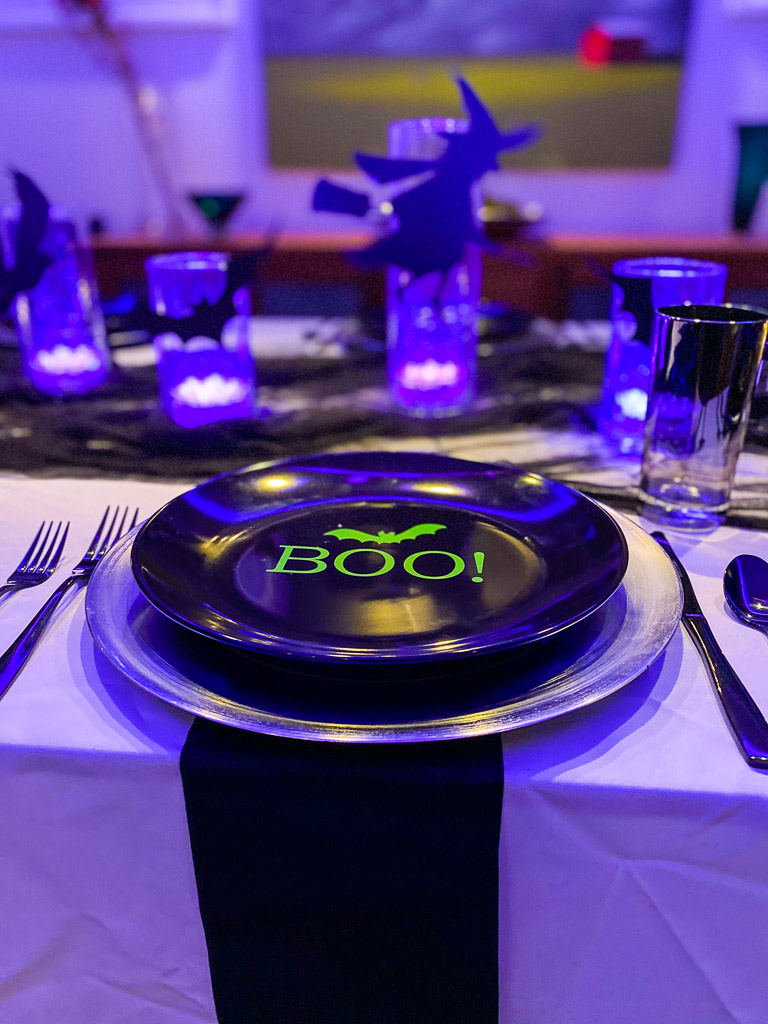 PRO TIP: To get the full effect of this lighting scheme, simply turn your house lights down. I can't tell you how many times we've walked into a party and every stinking light in the house is turned up as high as possible. Every can light, lamp and ceiling fixture. Yikes. It's a total mood killer. Less is usually more (a lot more), when it comes to lighting, especially for a dinner party. And especially a Halloween dinner party!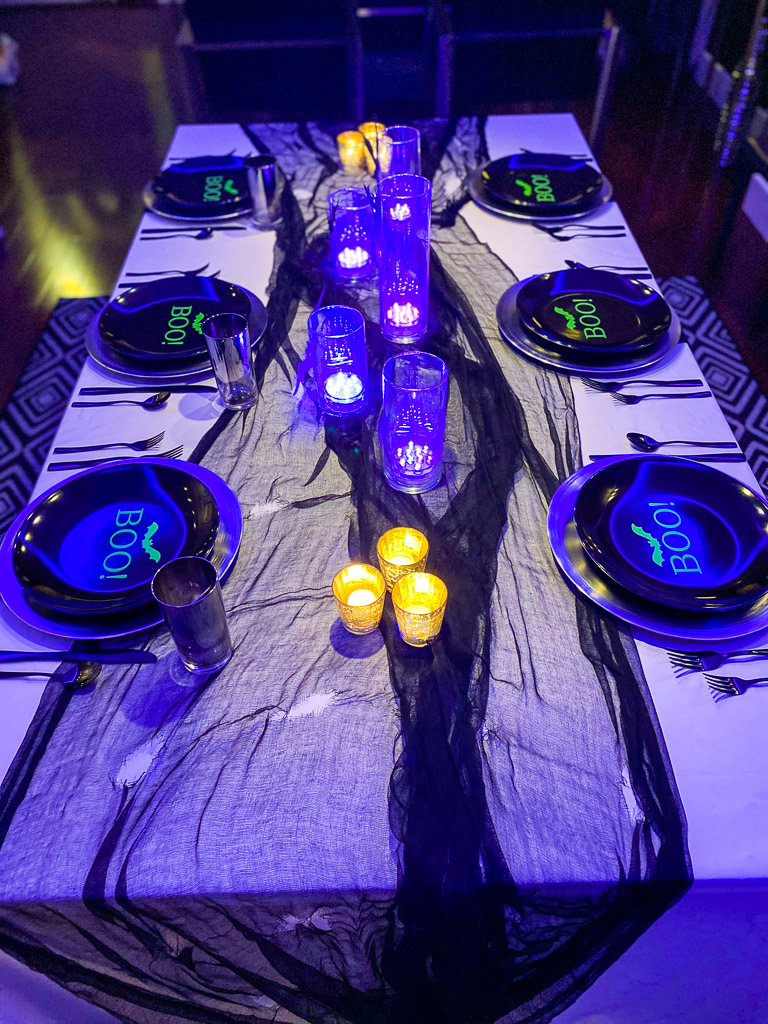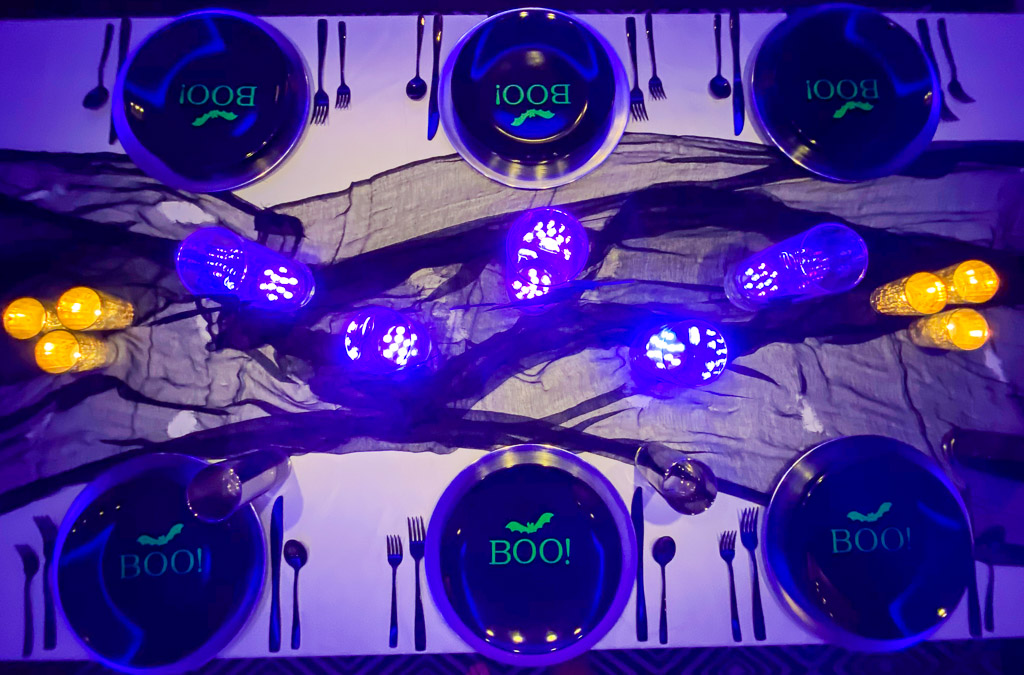 To discover more great ways to get in the seasonal spirit, check out:

Modern, Red and White Halloween Table Decorations

Easy Halloween Treats that Are Adorable and Fun!
Did you try this idea? Share it on Instagram with the hashtag #makeeverydayanevent and tag @makeeverydayanevent.
If you have any questions or suggestions, contact us or leave a comment!
Follow us on social media! You can find us on Instagram, Pinterest, and Facebook.