THE BEST CONCRETE PATIO LIGHTING IDEAS FOR YOUR OUTDOOR SPACE
These concrete patio lighting ideas will transform your space in five easy steps.
You'll look forward to all of the long summer evenings ahead!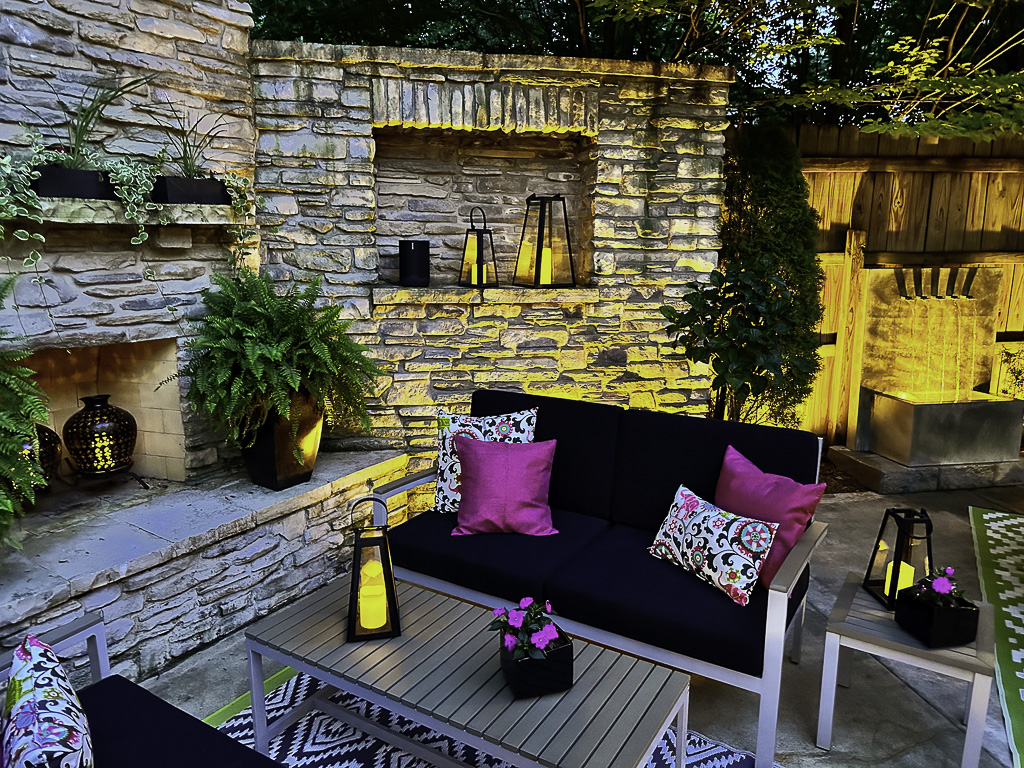 I've written countless times about how I love our summer nights on the outdoor patio.
It's the perfect outdoor space to relax with a cocktail, enjoy a fabulous meal and engage in great conversation, all while you watch the sunset and bask in the summer warmth.
But the fun doesn't need to end there.
I'm sure you'd agree, spending summer nights by the outdoor fireplace or fire pit is simply the best.
This year, I'm particularly excited for these nights because we've incorporated five great outdoor lighting ideas into the mix.
Lighting is one of the best ways to highlight the architectural elements of any patio space.
And I can't wait to share these lighting design ideas with you!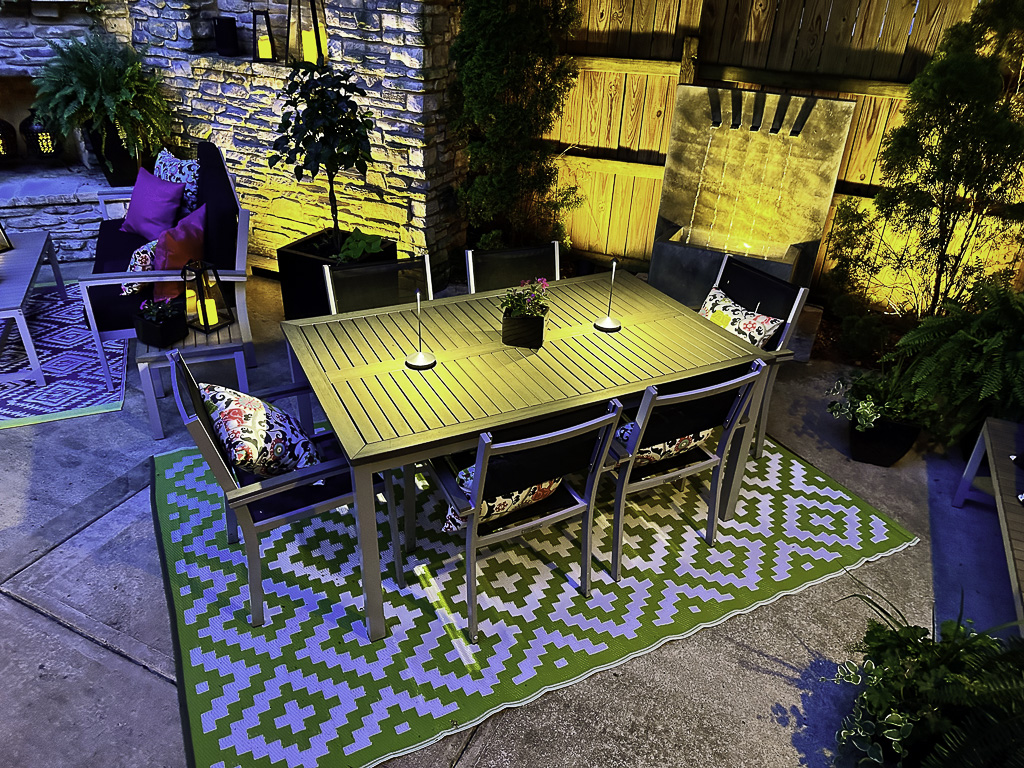 Summer fun is just the best.
But to be honest, the days will begin to get shorter after June 21.
Although that's the case, the fun doesn't need to end when the sun goes down.
Figuring out the right lighting fixtures is truly the key to any fantastic outdoor living space.
And to ensure the patio looked as pretty as a summer sunset, I utilized one of my favorite design principals, which involves layering light.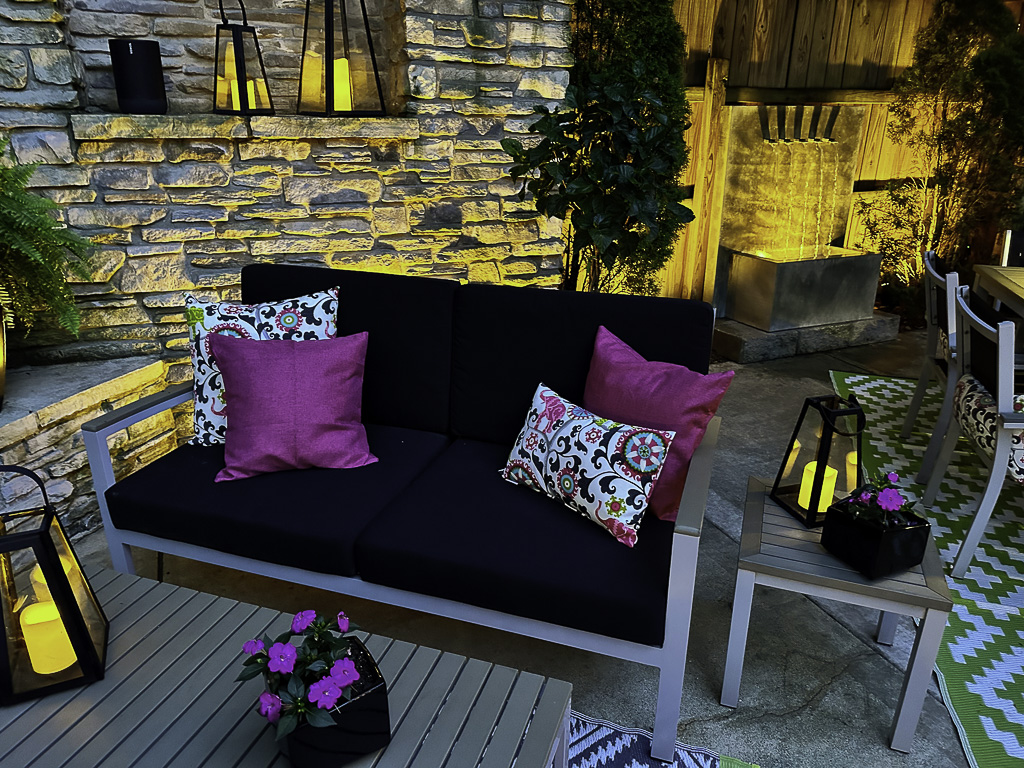 A well designed room typically has three different levels or layers of light.
These are ambient lighting, task lighting and accent lighting which will help you create your overall look.
So it only seemed natural to transfer this concept to our outdoor patio space when we were deciding on the lighting scheme.
As I've previously written about, I divided our small space into outdoor areas for specific uses (outdoor dining space, outdoor seating, etc.).
It was a great way to make it even easier to decide where to place certain types of landscape lights and patio lights to achieve a layered effect.
For the dining area, task lighting was the obvious choice for good reason.
We found the perfect accent light to make the walls of the patio come to life after dark and really create the mood we desired.
It truly creates a focal point.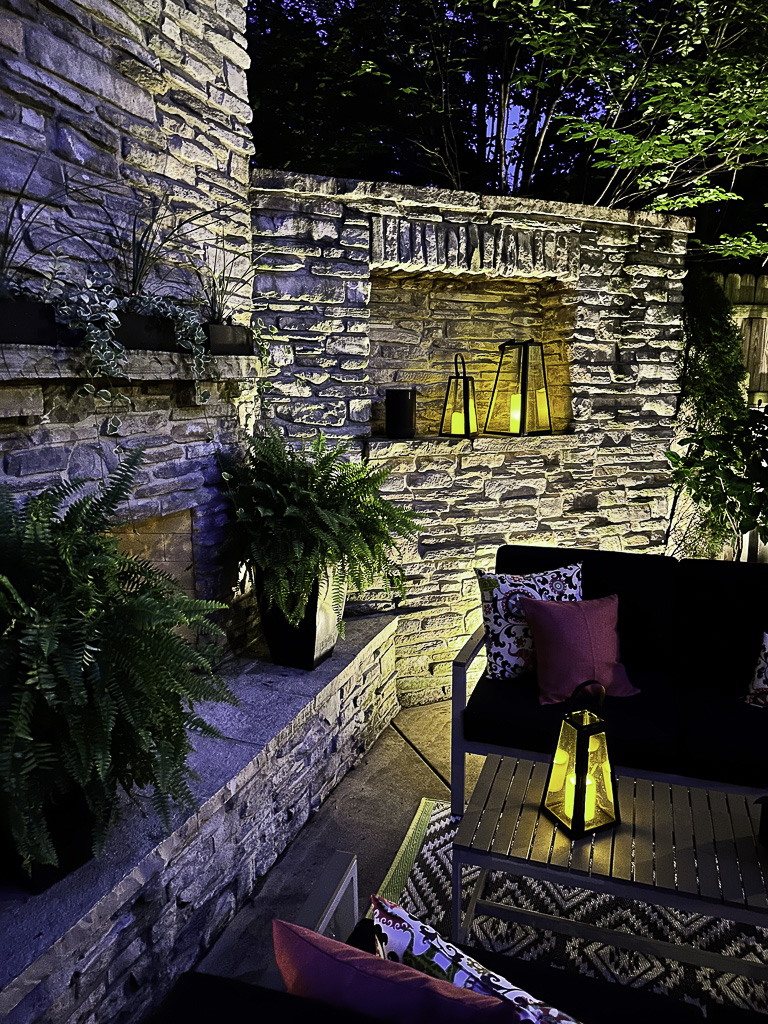 Finally a variety of ambient lighting choices created the third and final layer we needed to create a stunning patio scene that is the perfect setting for friends, family or just the two of us, on all of the wonderful summer nights ahead.
And here's how we pulled it together these great patio lighting ideas, step by step:
Posts on Make Every Day an Event may contain affiliate links which means we may earn a small commission on purchases at no extra cost to you. To learn more, please read our full disclosure here.
PATIO LANDSCAPE LIGHTING IDEA ONE: WALL WASHERS
We discovered Philips Hue lighting a while back and loved how it could instantly create the mood we wanted inside our home with just a few swipes, using the app.
And then, we realized we could transfer this same lighting magic to an outdoor setting.
It was a perfect patio lighting solution and all we had to do was plug it in.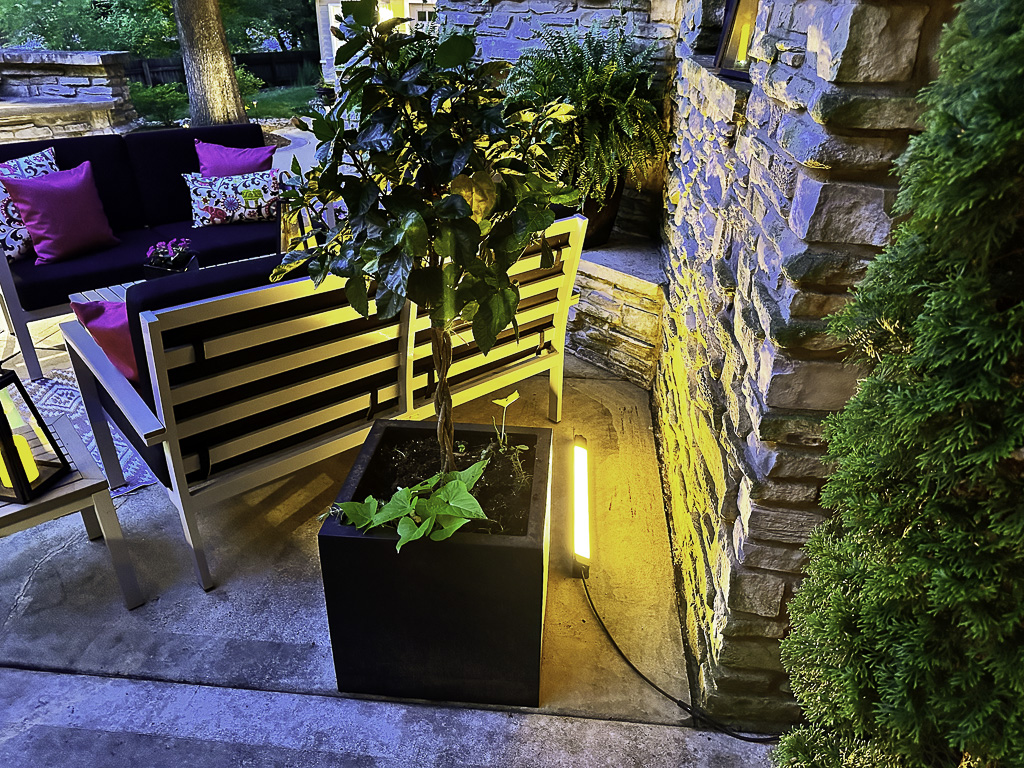 The Philips Hue Amarant Outdoor Light Bar Extension is an easy patio lighting idea that is great to illuminate walls or any hardscape spaces you may have, since it's designed for outdoor use.
Just look at how it instantly creates an inviting mood and warms our outdoor entertaining space with a truly unique look.
I love how the light bounces off of the natural stone. These light bars are one of the best concrete patio ideas I've found.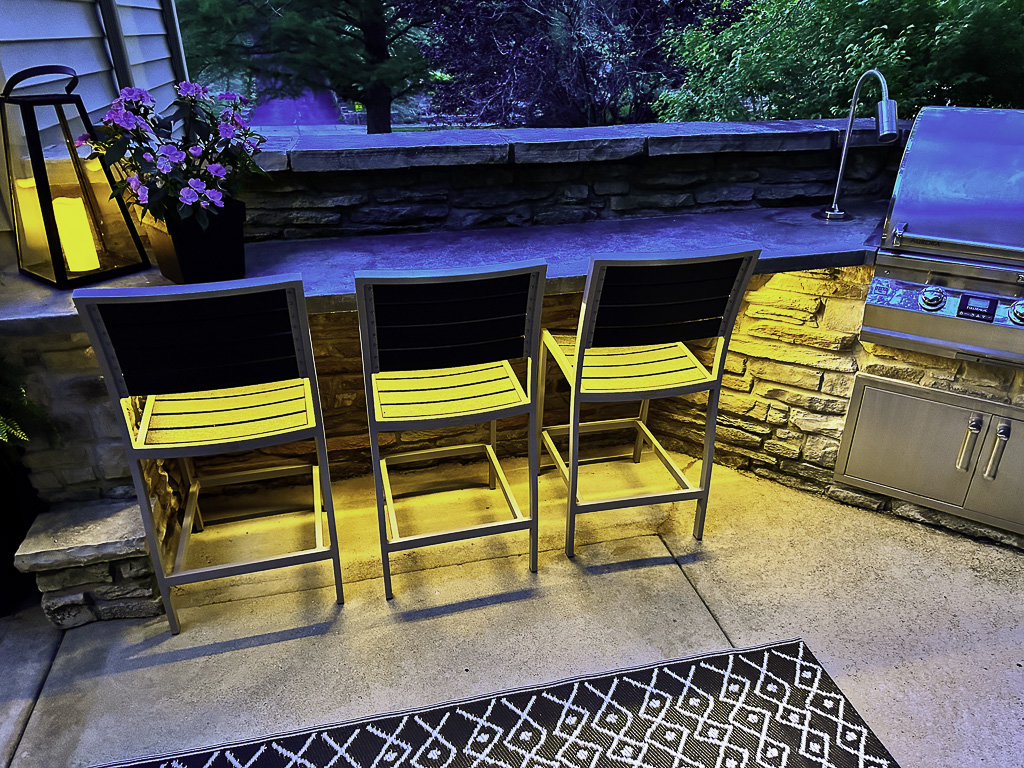 PATIO LANDSCAPE LIGHTING IDEA TWO: UNDER COUNTER STRIP LIGHTS
When considering outdoor lighting, it's important to decide which focal points you want to create.
Obviously the wall next to the fireplace was a logical choice to illuminate.
But we also realized we needed to create some ambiance on the opposite side of the space. So, undercounter lighting was crucial.
We also knew we wanted to stay within the Philips Hue family, so everything would match and work well together.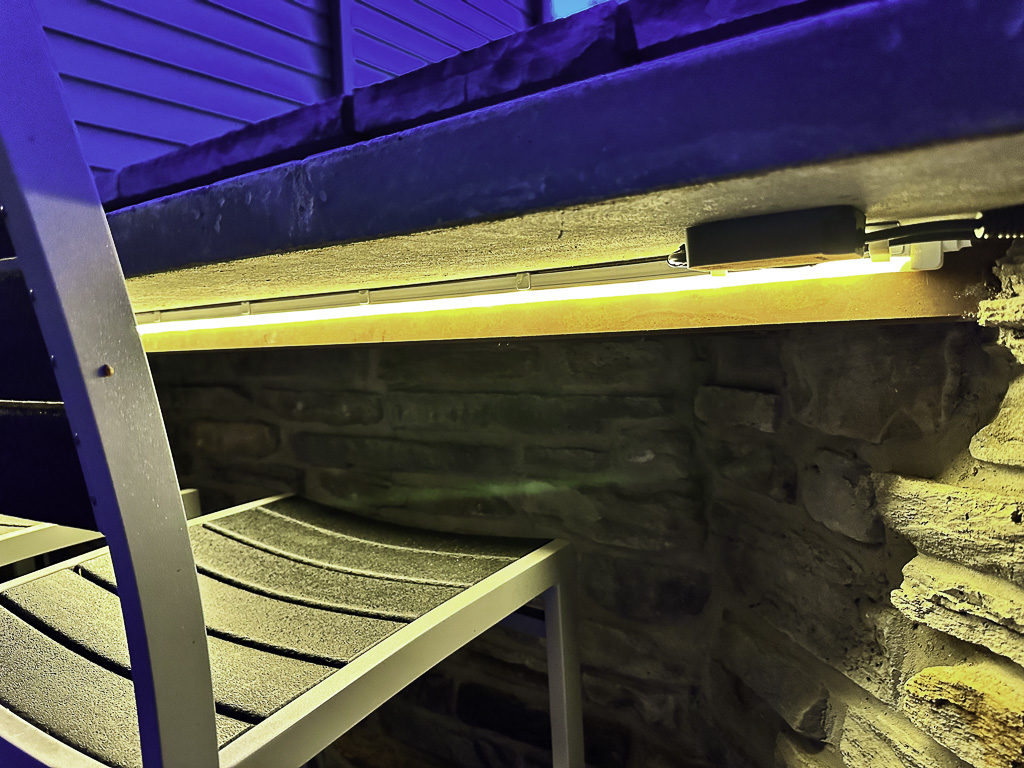 Strip lighting was the logical choice and the Philips Hue White and Color Ambiance Outdoor Light Strip was simply perfect.
I love how it lights the area underneath the counter in our outdoor kitchen and brightens that whole side of the patio.
It makes it one of our patio's architectural features. Plus, it was easy to install!
PATIO LANDSCAPE LIGHTING IDEA THREE: OUTDOOR SPOTLIGHTS AND LIGHT BULBS
Spotlights are always a staple in any outdoor lighting scenario. But Philips Hue spotlights take outdoor lighting to the next level.
Forget solar lights, These lights are one of the best backyard lighting ideas because they allow you to showcase specific areas of any outdoor setting.
And you'll be able to truly create and customize the vibe you want to bring to your entertaining space.
Similar to the other pieces of the Philips Hue lighting system, it's so easy to control the temperature and color of the light with the Hue app.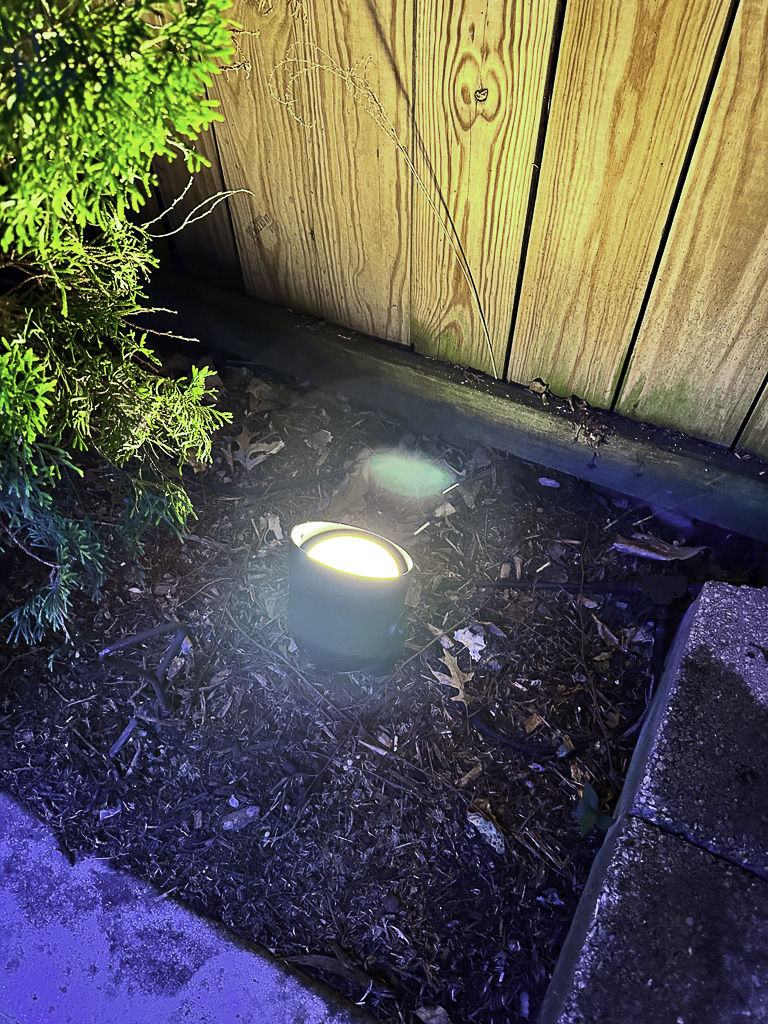 Outdoor spotlights are also great to use as path lights or to highlight water features. We've used them in our fountain, which is a great water feature we love.
Spotlights are also a great light source to illuminate flower beds, deck railings, concrete steps, step lights, or a wooden fence.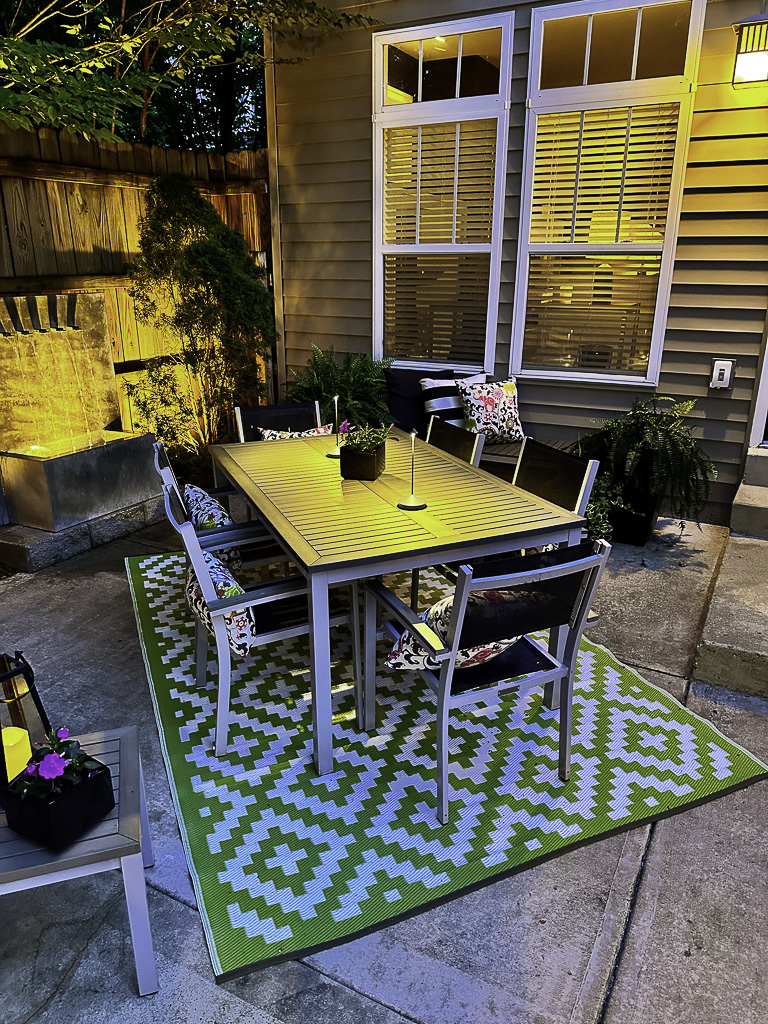 One of the easiest ways to upgrade your outdoor lighting is also the most simple.
Replacing the lightbulbs in your outdoor fixtures with Hue light bulbs is a simple way to ensure all of your outdoor lights are the exact color temperature you want.
We replaced the standard lightbulbs in our outdoor fixtures with the Philips Hue A21 E26 Smart bulbs.
You will be amazed at how big of a difference such a small change can make. I promise!
They are also a great option because they come in different sizes.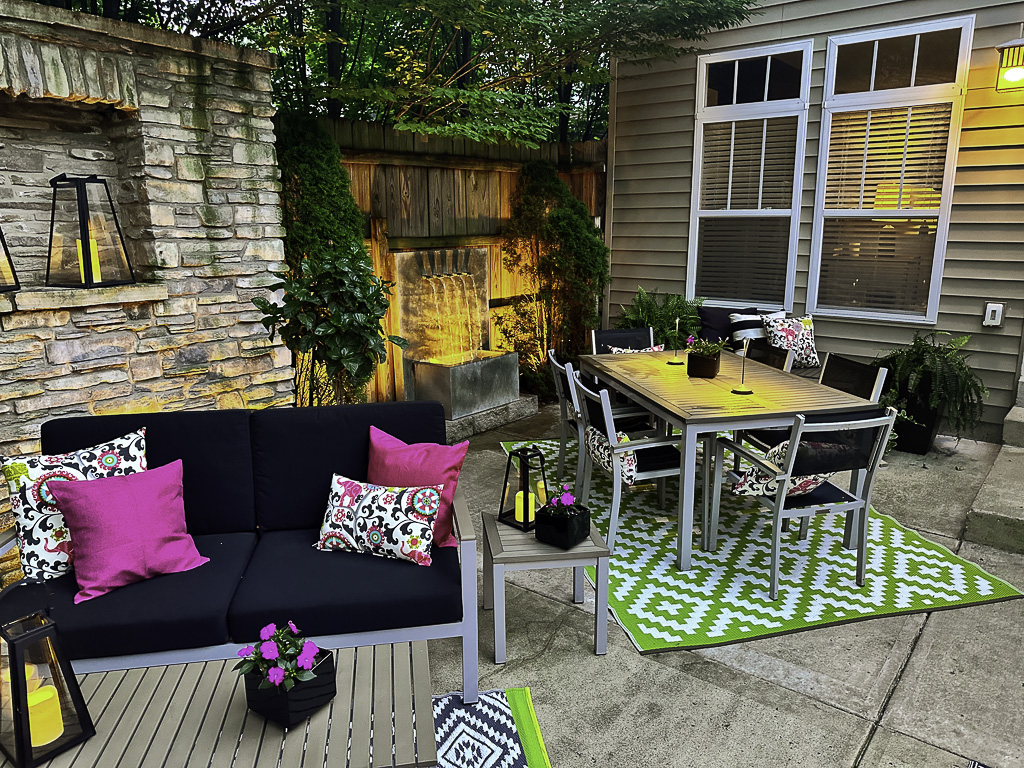 WHY IS THE PHILIPS HUE SYSTEM SO GREAT?
We love the Philips Hue Lighting system and have used them throughout our home. Why? Well, first, they are really well made, great lights that will last for years. In addition to their durability, the Philips Hue app makes them easy to use. You'll be able to create a mood choosing one of the hundreds of pre-set scenes such as Miami, Ibiza, Soho … or you can customize your own lighting combination to create the exact, curated mood you desire, right form your phone! To control your Philips Hue lights, you have to have a Philips Hue bridge. It's the only way to communicate with your lights. You can have up to 50 lights on one bridge.
PATIO LANDSCAPE LIGHTING IDEA FOUR: DINING TABLE LIGHTING
The Zafferano Pina Pro Cordless LED Table Lamps are one of the best décor items we have ever purchased for our house!
Let me say that again, these lamps are one of my absolute favorite items I have ever purchased for my house … or any of the houses I've lived in for that matter. whether inside or outside.
And I have bought a lot of home accessories over the years, so you know I don't say that lightly.
You will love these lights and find at least 1,000 uses for them.
They are so great, we even convinced our golf club to purchase them for their outdoor patio.
And I cannot believe how many compliments the staff has received about them.
Because, to be quite honest, they look amazing!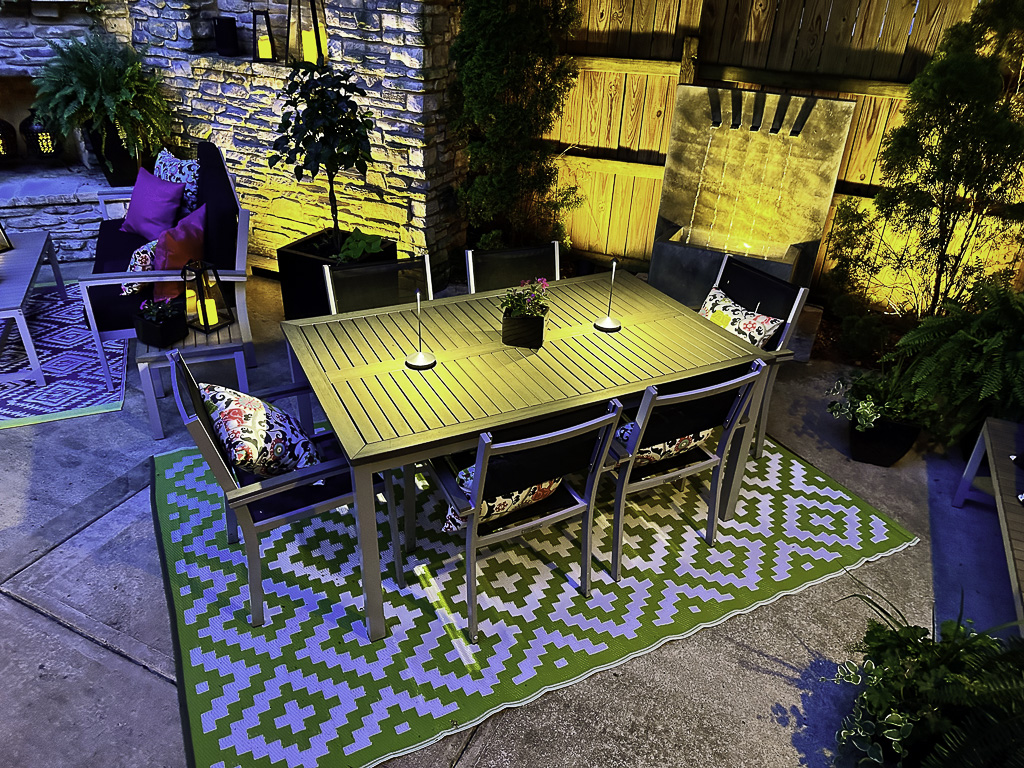 They are the perfect light for any outdoor dining area. Why?
Let me give you three specific reasons.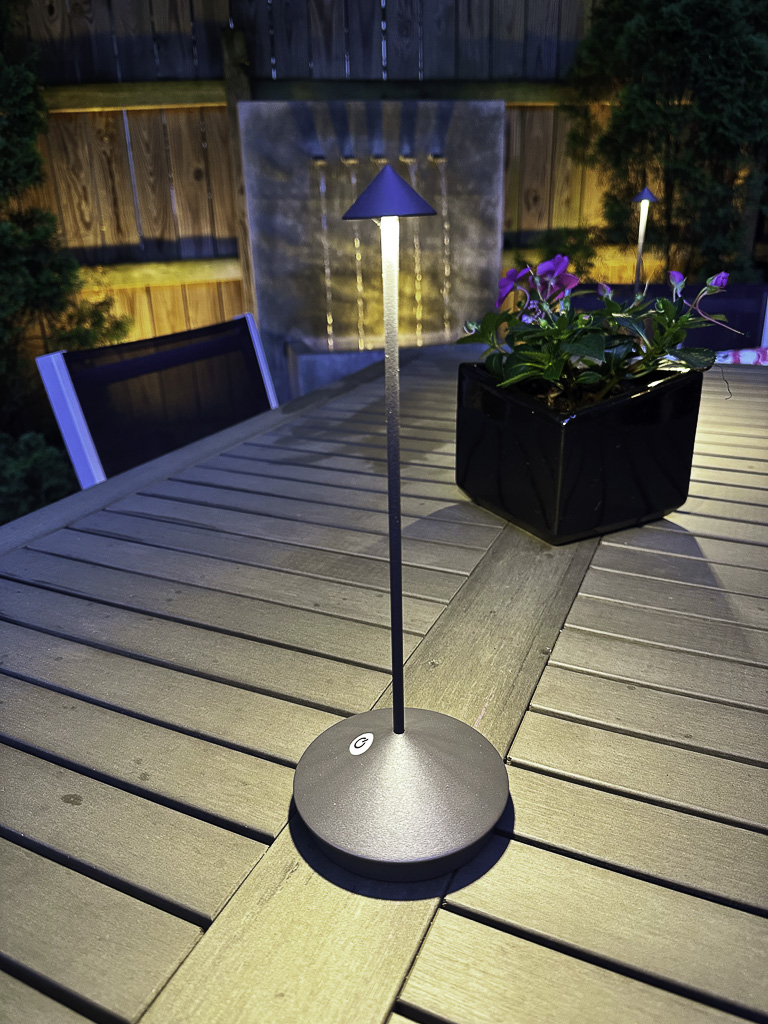 First, they are compact and don't take up a lot of room on the table.
Outdoor dining spaces tend to be a bit smaller than the indoor ones, so every little inch of space on the table is precious.
These little lights are small but mighty.
Second, you will not believe the amount of light they throw out on the table.
I love votive candles and the warmth they add to a tablescape. But these lights make me want to never again place any votive candles on my outdoor table.
The triangular shape at the top of the light spread the light out across the entire table. You'll be absolutely floored at just how much light this adorable little lamps throw out.
But the best part of these lights, they are also dimmable. Simply press and hold the button and you can adjust the light to set the mood you want to create.
Finally, these lights don't require batteries and are completely rechargeable.
They come with their own chargers and will hold that charge for almost eight hours.
These lights are an essential addition to any outdoor setting. You will love them! I can't recommend them enough!
PATIO LANDSCAPE LIGHTING IDEA FIVE: LANTERNS AND OUTDOOR CANDLES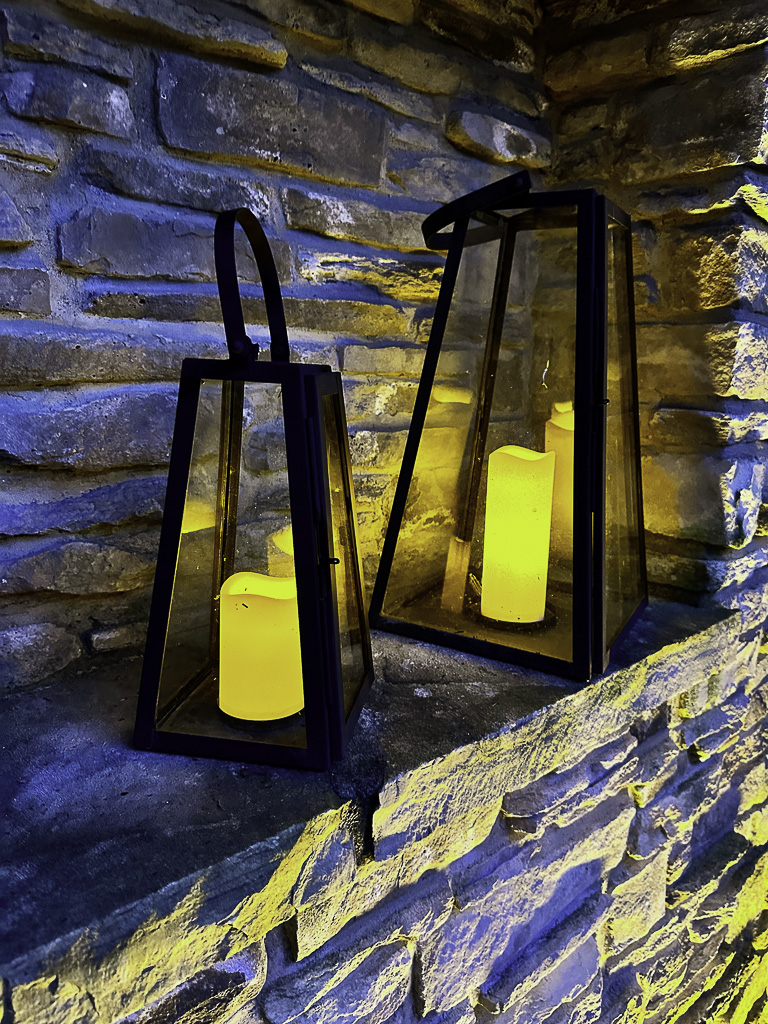 For years lanterns have been my go-to for easy lighting on our patio area.
Placing them around the patio simply makes the patio glow.
They look great on the side tables and nooks within our patio's structure.
And this year, I upgraded to battery operated and timed candles to make enjoying the lanterns every night even easier.
They are a fantastic addition to our permanent installations and I can't wait for them to turn on each night.
No power source needed! Our patio is just the perfect place for special occasions or any day of the week!
Here are a few great lantern options I love:
These black hurricane lanterns are just classic. I love the detail at the top.
Chrome lanterns are a perfect way to add some elegance to any outdoor space.
I love the sleek lines on these modern black lanterns.
Here are some great outdoor candles:
These candles are waterproof and come with a convenient remote.
The realistic flames on these candles create a great ambiance.
If you need a bundle, these candles are a great value.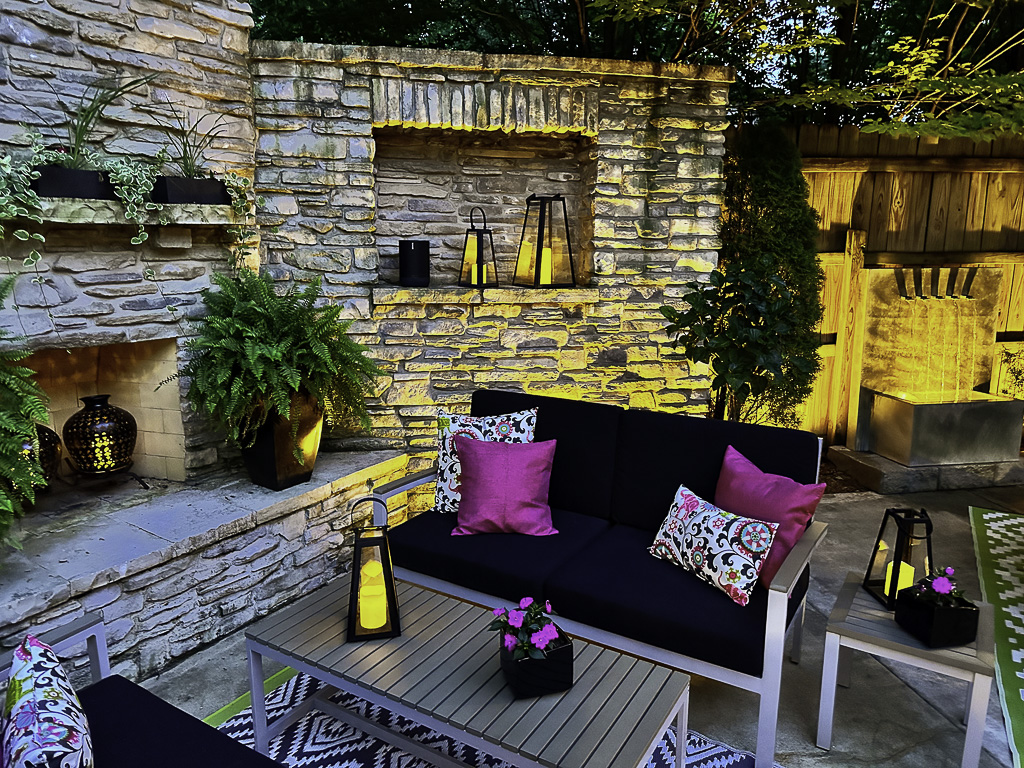 Did you try any of these concrete patio lighting ideas? Check out these additional summer entertaining tips that you don't want to miss:
Discover the Daiquiri … It's Not What You Think!
Rose All Day with These Rose Cocktails
A Fun, Easy and Adorable Dessert for the Fourth of July
If you have any questions or suggestions, contact us or leave a comment!
Follow us on social media! You can find us on Instagram, Pinterest, and Facebook.