CREATIVE, EASY IDEAS FOR A UNIQUE AND FUN SUPER HERO THEMED PARTY!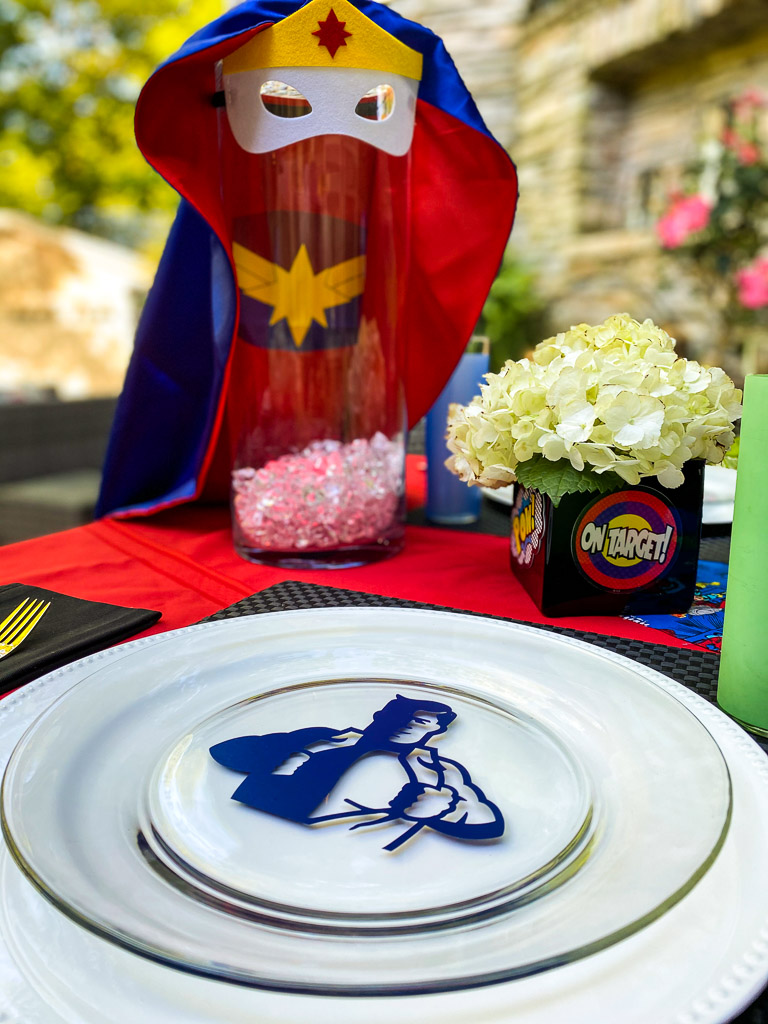 These creative super hero party ideas are fantastic for any occasion honoring someone outstanding. Because let's be honest … not all heroes wear capes. Some cut the grass, make sure you get to school on time and help you with your homework. Others simply listen when you need advice or tell great stories full of sage wisdom. Who is this person of outstanding character and strength that deserves a celebration of heroic proportion? Why it's Dad, of course. We've pulled together an adorable tablescape that's sure to make Father's Day even more special with these creative super hero party ideas. We show you how in five easy steps!
1. ADDING HEIGHT TO ANY TABLE MAKES IT EVEN MORE POWERFUL!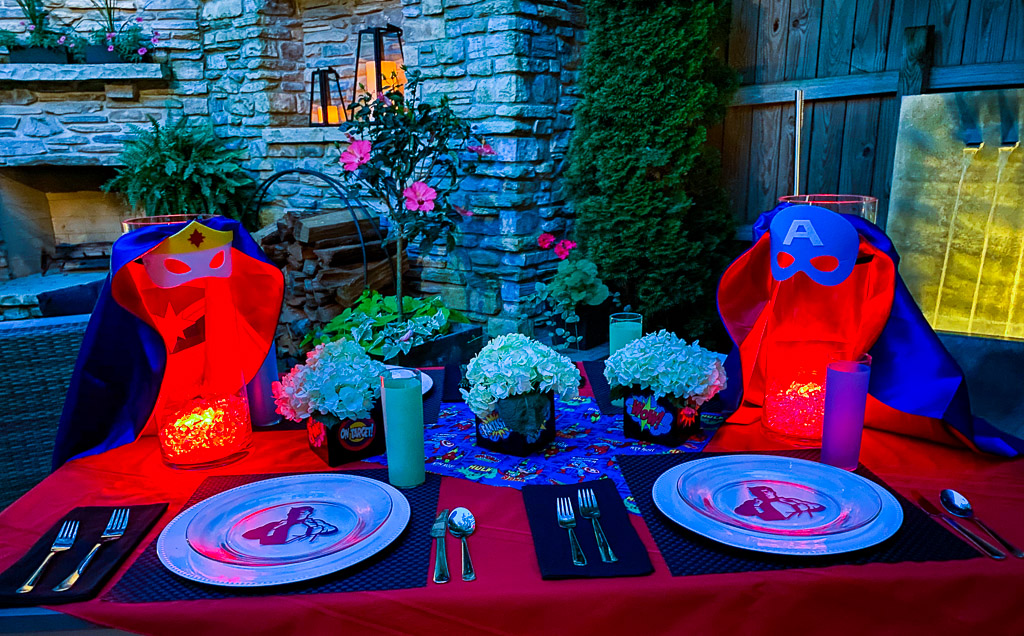 We love using these tall, glass cylindrical vases in many of our table designs. They are such a simple, easy way to add drama. For this theme, they are the perfect shape to help incorporate these adorable super hero capes and masks.
Placing the capes around the glass vases was easy. We held them in place with the mask's own elastic bands. To complete the look, we added our favorite submersible lights to the bottom of the vases and covered them with acrylic scatter. The resulting looking created a strong and dramatic statement. Two fundamental qualities of any super hero! Plus, as the evening goes on, they create a glowing effect that makes them stand out even more.
2. SET THE SCENE FOR A "SUPER" SUPPER …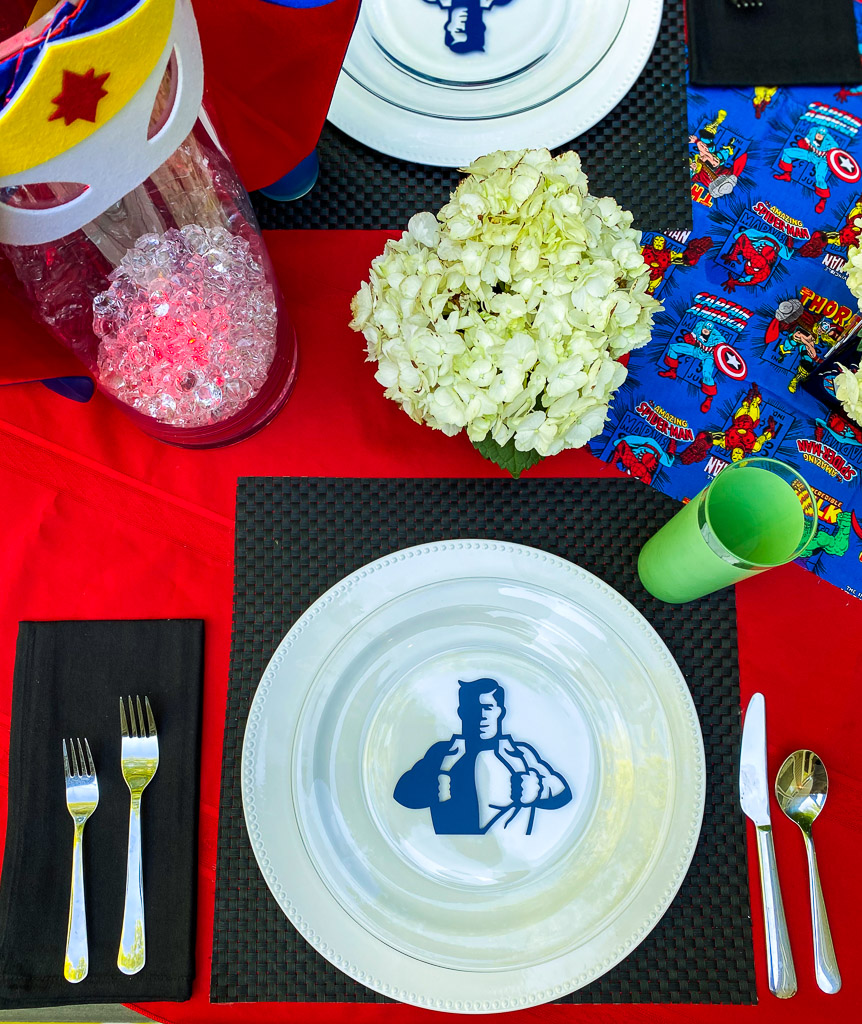 Let's face it. Superheroes are known for being clever and creative. Your table should be as well. Even better, you shouldn't have to spend a huge amount of money to have big impact. We took these affordable glass dinner plates and dressed them up for our superhero theme. It was easy, using the Cricut Maker and their adorable Superman design.
By placing the customized plates on top of these white chargers, we gave the table some depth and excitement, without breaking the bank.
3. DON'T FORGET THE SMALL DETAILS!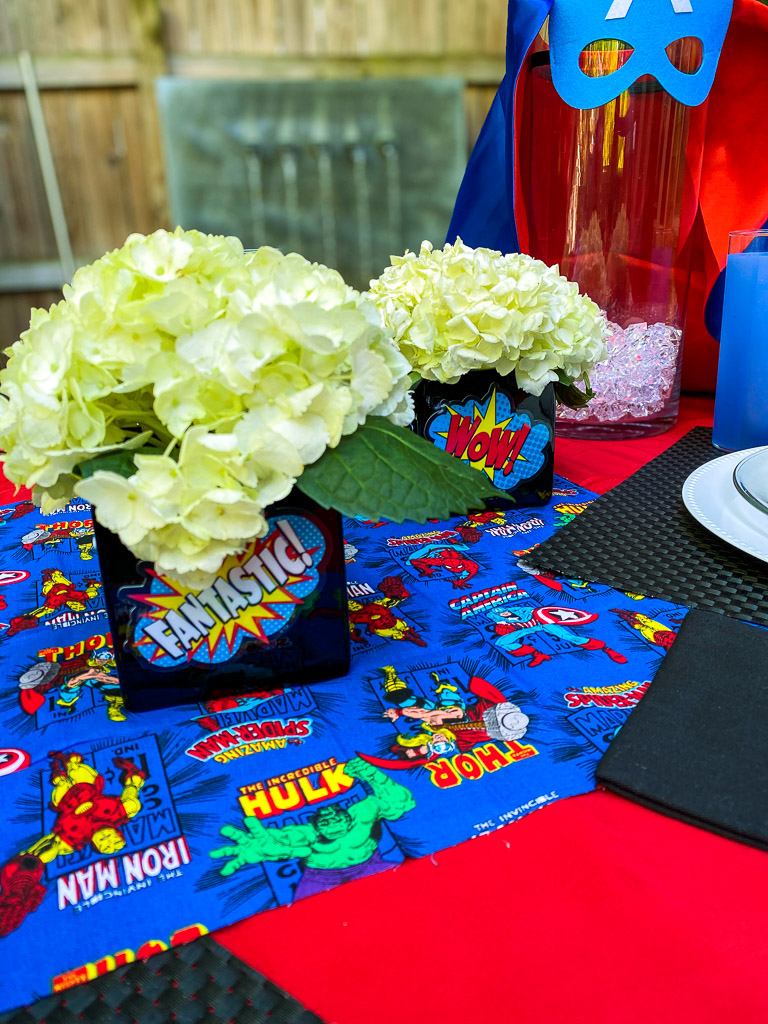 A few simple touches can make any tablescape go from ordinary to extraordinary. This super hero theme is no exception. I love being able to reuse certain décor items, time and time again. In particular, these black square vases can be dressed up or dressed down to create a variety of different moods. We've used them in for sophisticated tables, as well as fun ones.
For this theme, we found some clever and cute superhero clings. They perfect to attach to each side of the square vases to dress them up to fit the theme. It's a small detail that's easy to do. But it makes a big difference.
4. A GRAPHIC PRINT IS AN EASY AND AFFORDABLE WAY TO TIE INTO YOUR THEME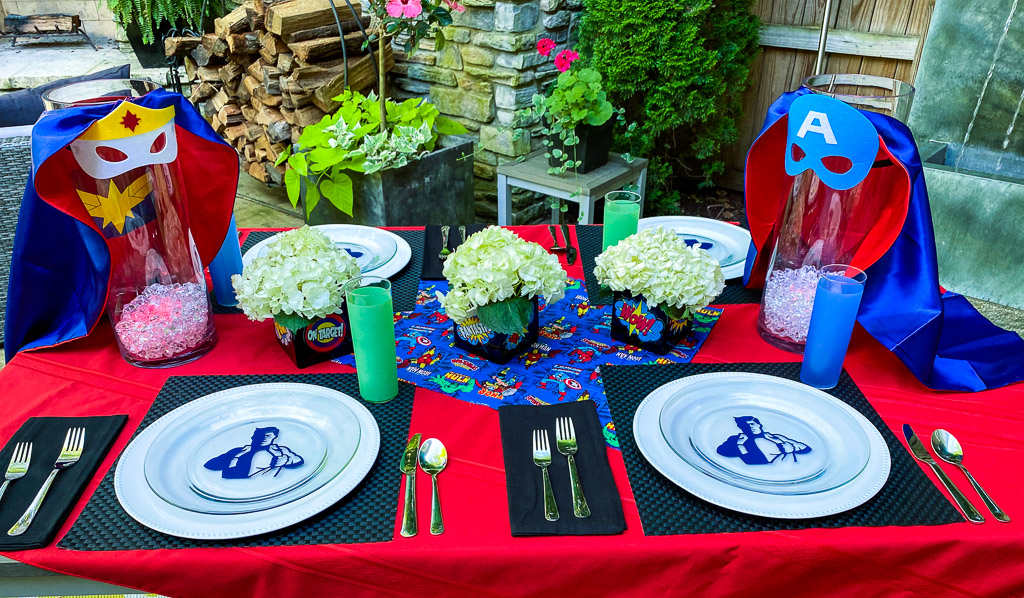 What's a quick and easy (as well as cheap) way to incorporate a theme into your table? Fabric remnants! This is one of my favorite tricks to use for table décor. This adorable, super-hero themed piece of fabric is perfect and ties everything together. They are normally packaged for quilters, but I love to use them as table toppers, runners and sometimes, napkins! Here is a similar pattern that is available on Amazon.
5. MAKE THE GLASSWARE AS FUN AS THE THEME …
This theme is well, super fun! And your glassware should be too. These glasses add one final pop of color to the table. While ours are vintage, you can find similarly colored ones here. Again, the wow is in the small details. And this is definitely one you don't want to overlook!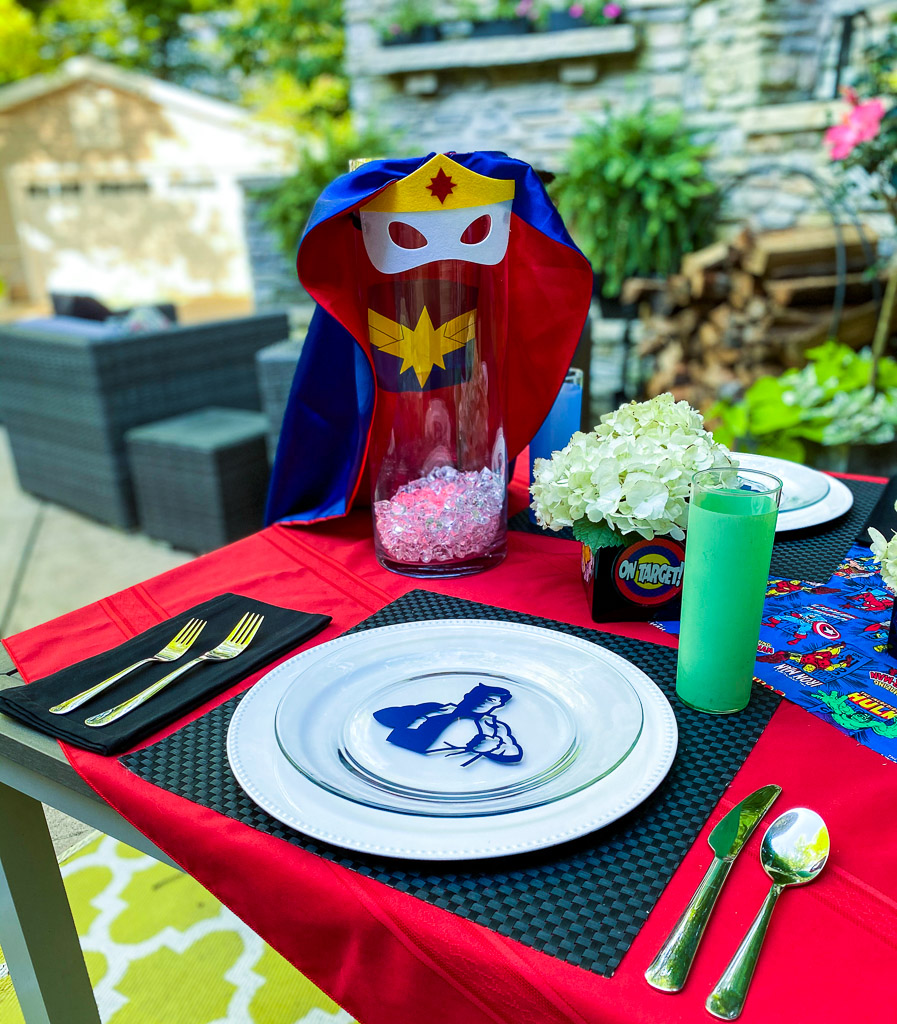 Did you try this idea? Share it on Instagram with the hashtag #makeeverydayanevent and tag @makeeverydayanevent! Looking for additional summer table setting ideas? Discover Five Great Summer Tablescape Ideas that Are Perfect for the Fourth!