EASY OUTDOOR MOVIE NIGHT IDEAS THAT WILL SCORE RAVE REVIEWS!
Here are some great ideas for outdoor movie night!
You'll get rave reviews from even the toughest critics with this adorable set up!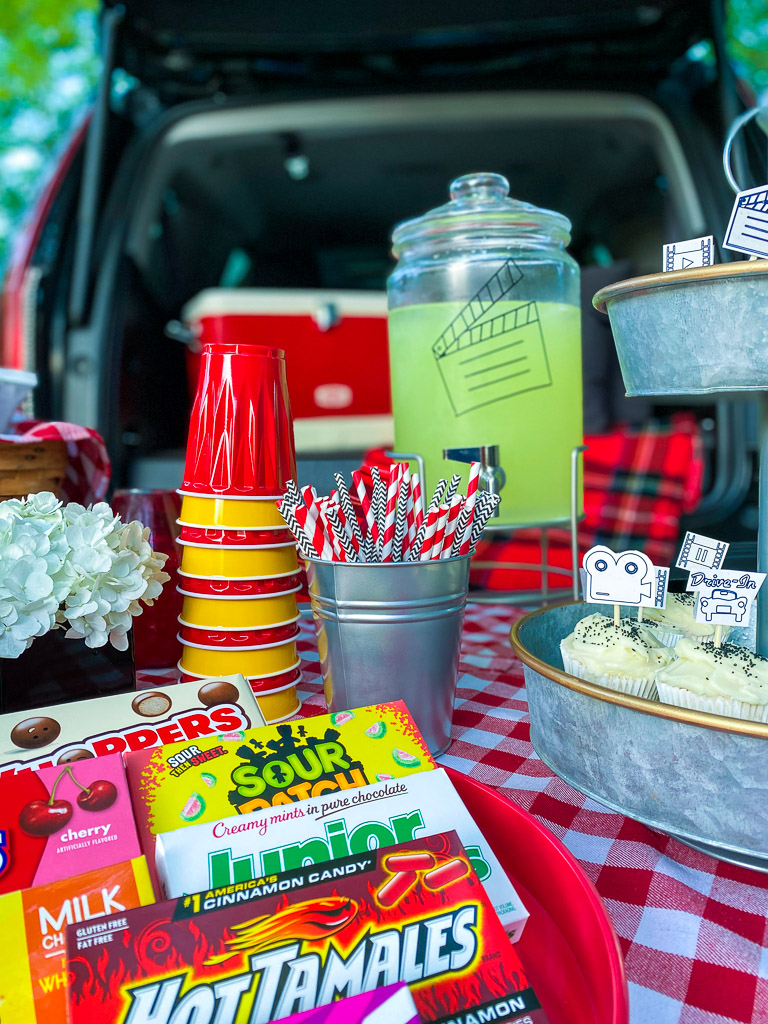 Here are some great ideas for a backyard or drive in movie night!
And I couldn't have been more thrilled to pull these together.
For years, I've yearned for the return of the drive-in movie theater.
The nostalgia associated with the drive-in is simply alluring … pack the kids in the back of the station wagon and head off to an evening of entertainment while noshing on candy and popcorn from the comfort of your car.
What could be more fun?
The answer, apparently, is the thousands of new, more interesting (and likely air conditioned) diversions that have been introduced over the years.
And let's be honest.
When is the last time you saw a station wagon on the road?
Who knew it would take a global pandemic to make this classic summer venue relevant again.
But thanks to our months in quarantine, outdoor movie watching has enjoyed a resurgence.
I couldn't be happier.
Here are some great backyard movie night ideas to create an unforgettable evening with family and friends.
FIRST, A LITTLE BIT OF HISTORY …
Today there are 300 drive In theaters across the U.S. That's a tiny percentage compared to the number of large multiplex, indoor theaters scattered across the land.
According to Indiewire, the first drive-in theater was built in Camden, New Jersey in 1933. Through the years, they became the standard for watching summer flicks.
But fast forward to the 1980s and their limitations become their Achilles heel. The popularity of the venues started to wane, as did their revenues. And they began to close.
Whether or not you have an open drive-in theater that's close enough to visit, there are plenty of backyard options that are both affordable and fun.
HERE ARE SOME CLEVER, EASY IDEAS TO GARNER RAVE REVIEWS: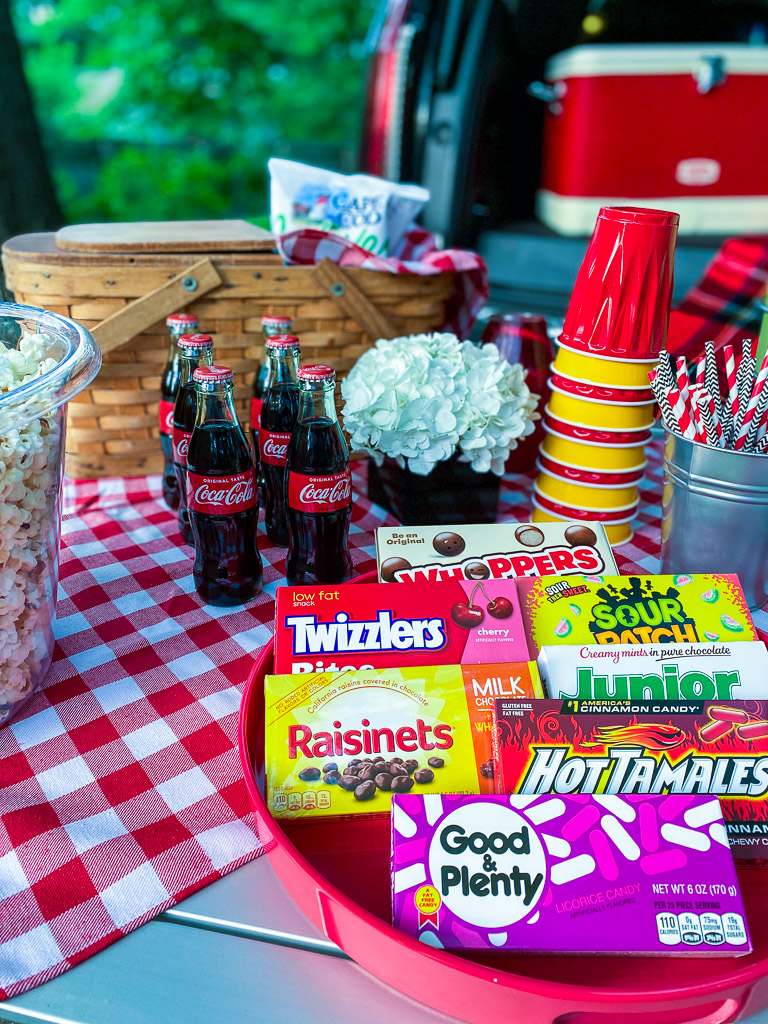 IT'S ALL ABOUT EMBRACING THE CLASSICS …
The drive in theater is all about nostalgia and your snacks should be too! Jumbo sized boxes of candy are a traditional movie treat (and it will be dark, so no one will judge your choices).
We bought a variety of our all-time favorites (in theatre size, of course!) like Good & Plenty, Sour Patch Kids, Twizzlers, Junior Mints, and Whoppers, as well as a few others (here is a link to a great movie theatre assortment variety pack).
In addition, you can't forget the popcorn. There is simply no easier snack to make (or to transport, even if it's to the backyard).
We also picked up some classic movie beverages, including cute mini bottles of Coca-Cola and lemonade with adorable red and white, as well as black and white, paper straws.
PRO TIP: If Amazon isn't your thing, you can find lots of theatre-sized candy at Dollar Tree.
DON'T FORGET ABOUT THE IMPORTANCE OF THE SMALL, BIT PARTS …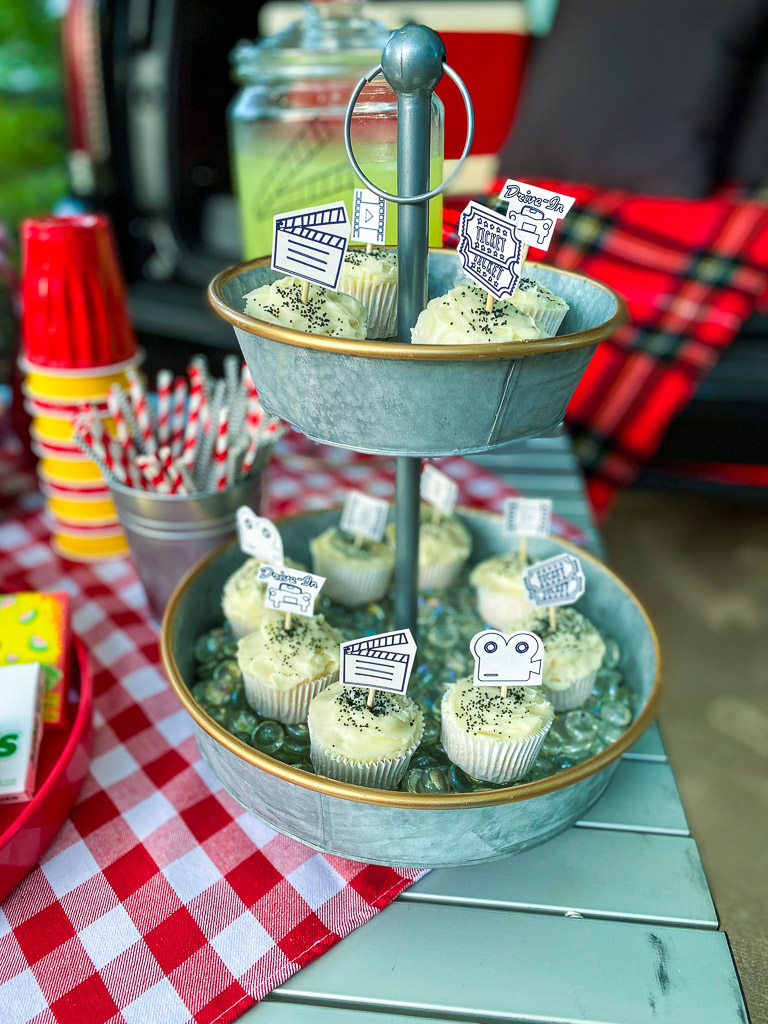 Just like the plot of a really good movie, you have to pay attention to the small details to make a masterpiece.
We loved playing with this theme to create some charming accents.
These cupcake toppers were really easy to craft using the Cricut maker. In addition, our popcorn bucket plays a standout role with its super cute drive-in decal.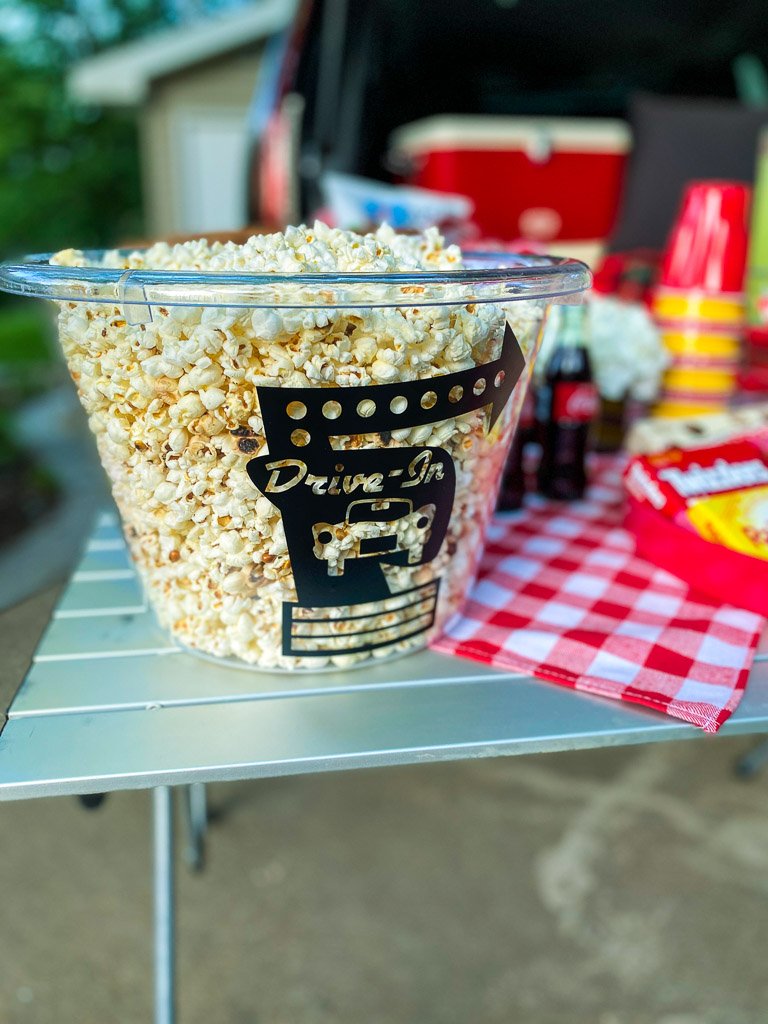 Finally, we dressed up our glass beverage dispenser with an adorable movie clapboard transfer sticker. It was easy, using the Cricut maker!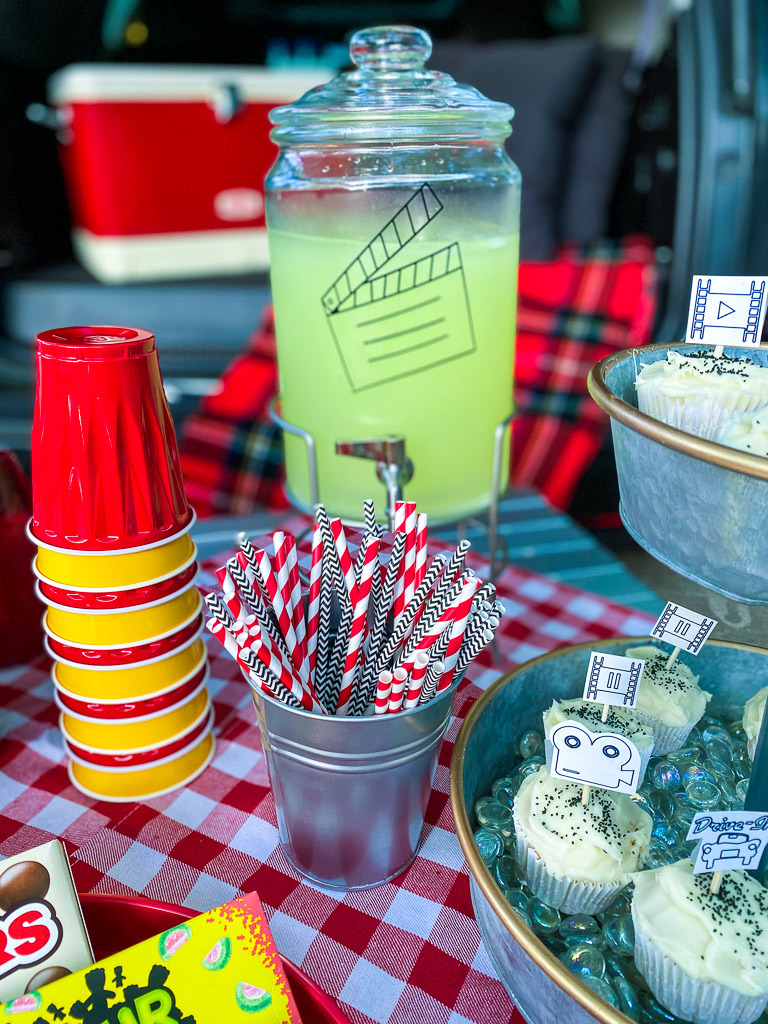 NOW JUST SETTLE IN AND ENJOY THE SHOW!
Lights, cameras, action … you've already set the scene for a great, memorable evening!
Now you just need to make sure everyone is comfortably seated.
To create a cozy set-up we brought along a few overstuffed pillows (these are stolen from our patio) and a darling plaid blanket.
Summer nights can get chilly! You'll want to be prepared.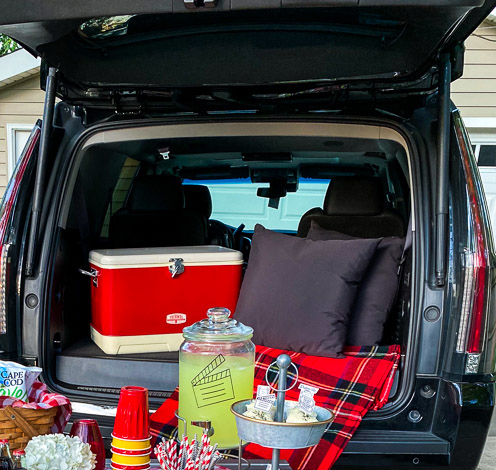 Did you try this idea? Share it on Instagram with the hashtag #makeeverydayanevent and tag @makeeverydayanevent!
Looking for some additional entertaining ideas that are perfect for the warm outdoor weather? Check out these cute picnic ideas and these romantic picnic ideas!
If you have any questions or suggestions, contact us or leave a comment!
Follow us on social media! You can find us on Instagram, Pinterest, and Facebook.