ONE TABLE THREE WAYS! STUNNING IDEAS TO SET A BEAUTIFUL SPRING TABLE!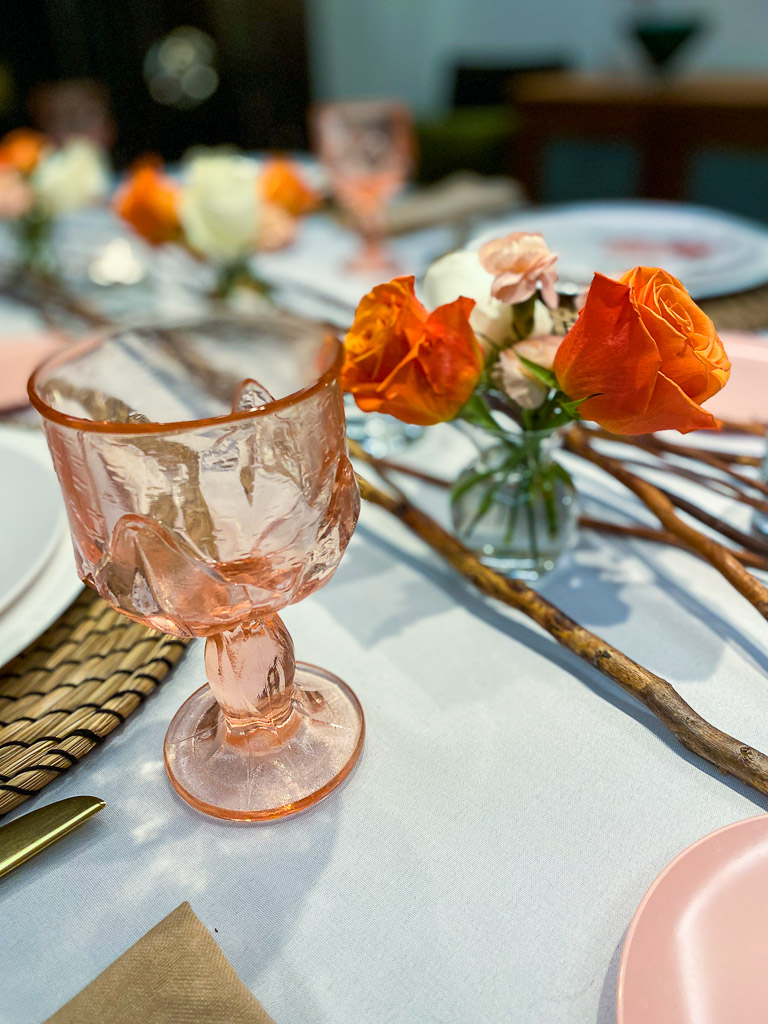 We've created three different tablescapes, each showcasing unique and interesting ways to dress up your springtime celebrations. While we pulled these together in honor of Mother's Day, each table has loads of ideas that are creative and perfect to incorporate into any and all of your spring time celebrations! It's one table, three ways! Enjoy!
TABLE ONE: EFFORTLESS ELEGANCE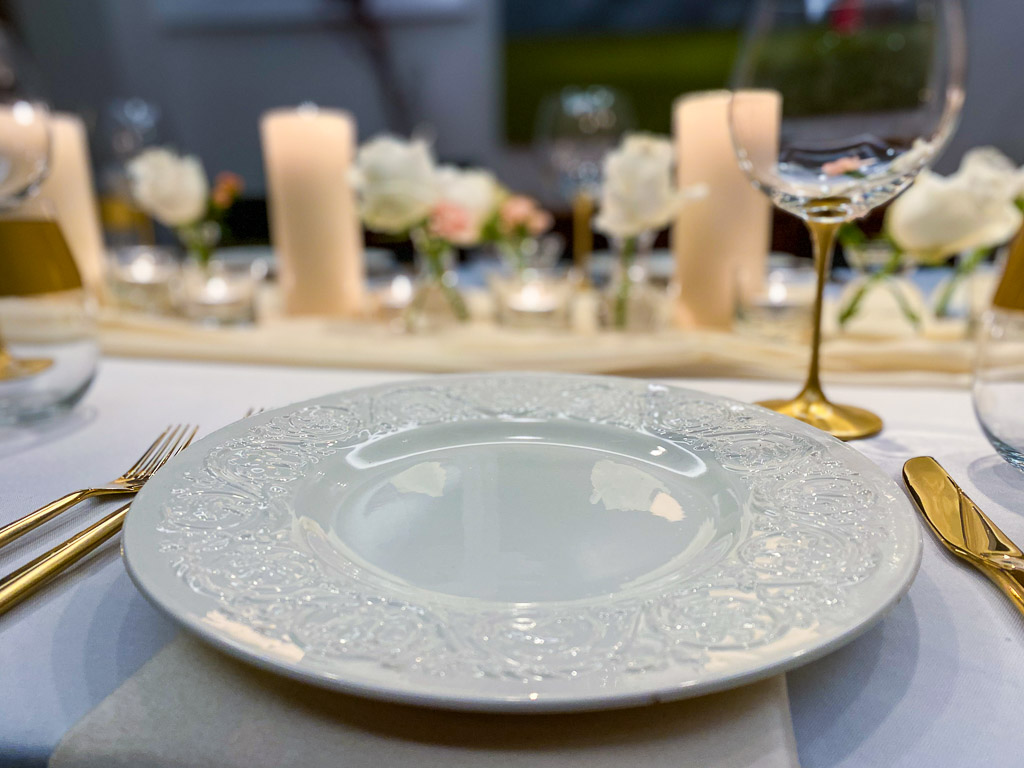 The monochromatic color palette of this table is what gives it sophistication and style. Soft ivory tones, repeated throughout the design with the accent linens, dinnerware, florals and candles, make this simplistic design feel modern and fresh. In addition, we used a bit of juxtaposition to give this table an element of surprise. Vintage Wedgewood china, a family heirloom passed down over two generations, is paired with gold flatware and wide, gold-rimmed drinkware. It's an elegant mix of old and new.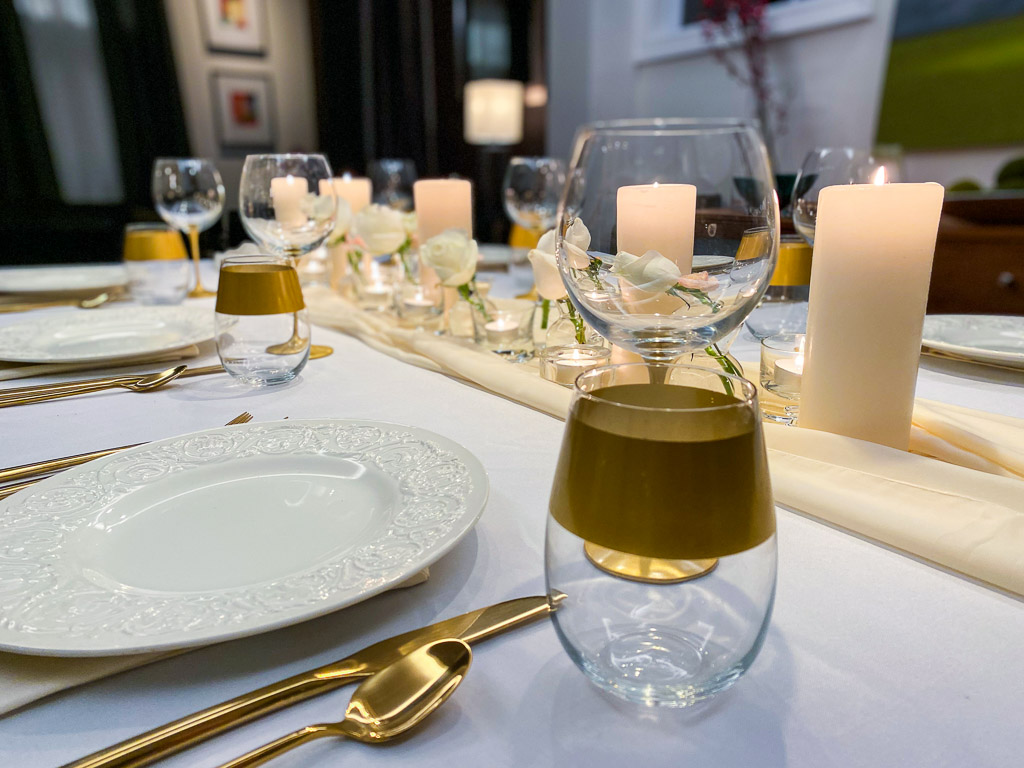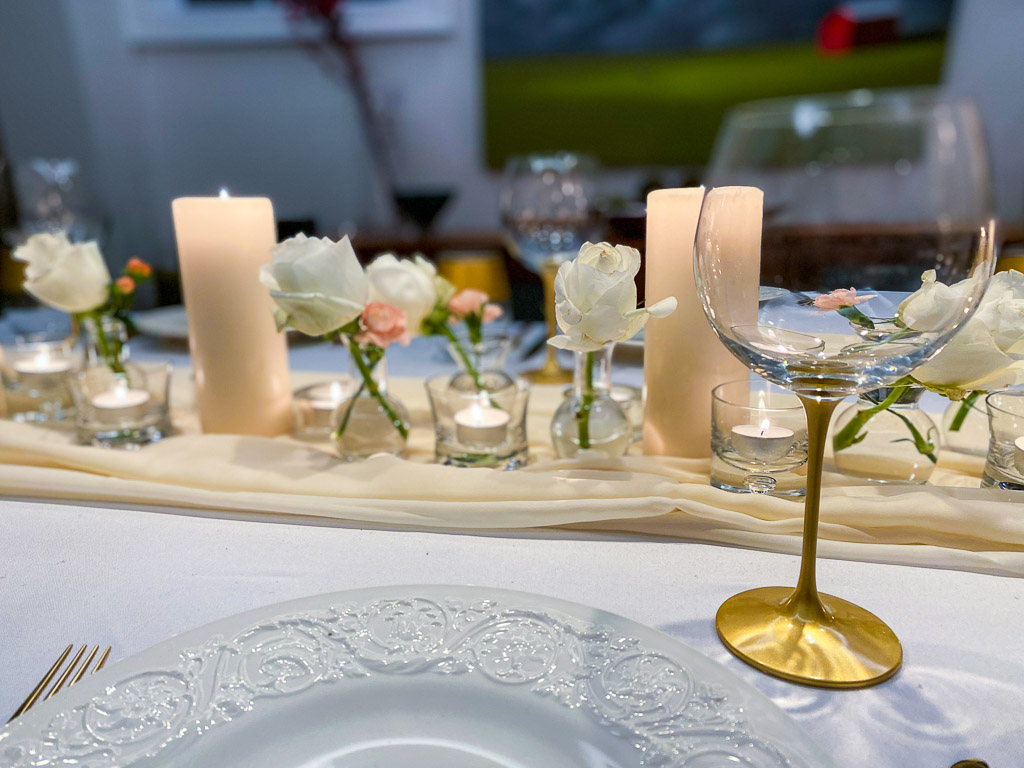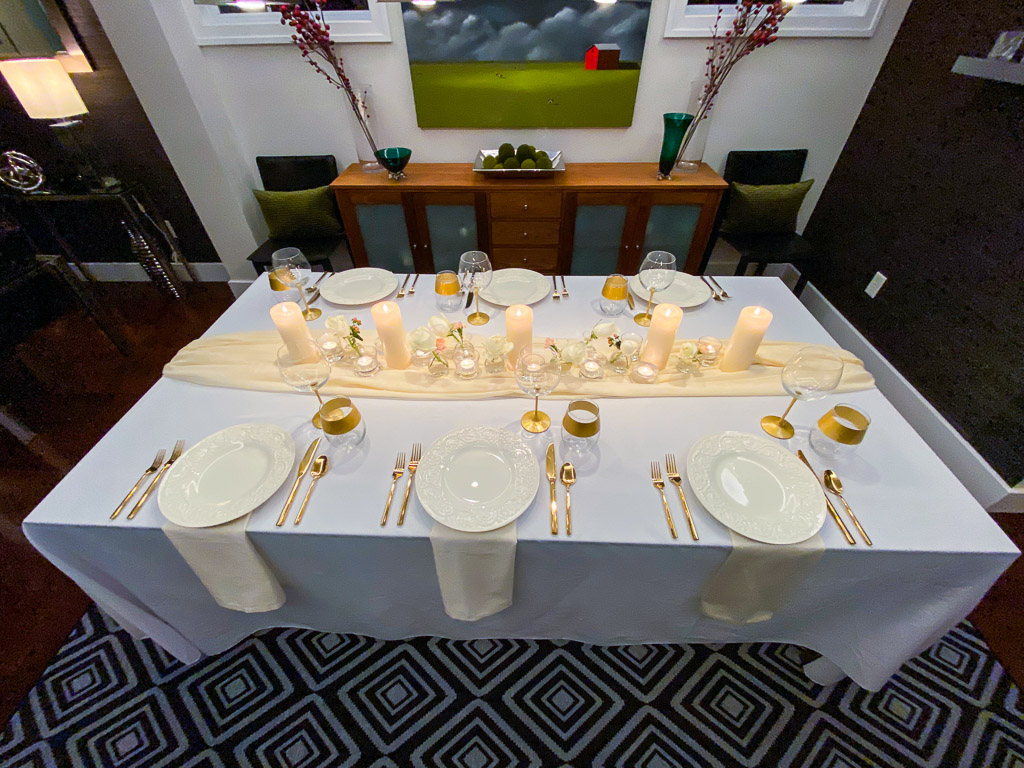 HOW WE PULLED IT TOGETHER:
We first placed these soft chiffon, ivory table runners in the center. The chiffon material is simply luxurious, creating soft folds. It lays the perfect foundation for this look.
The key to an elegant modern look is the repetition of a few, simple pieces. The tall ivory pillar candles nicely create this effect.
A polished table has elements of varying heights and sizes. We accomplished this by using small bud vases to hold full sized ivory roses, as well as smaller peach ones. They were a great complement to the large pillars. A pop of peach in several of the vases kept the décor from looking too "matchy matchy."
Gold flatware and drinkware are totally on trend this year. We love the modern flair each brings to this table.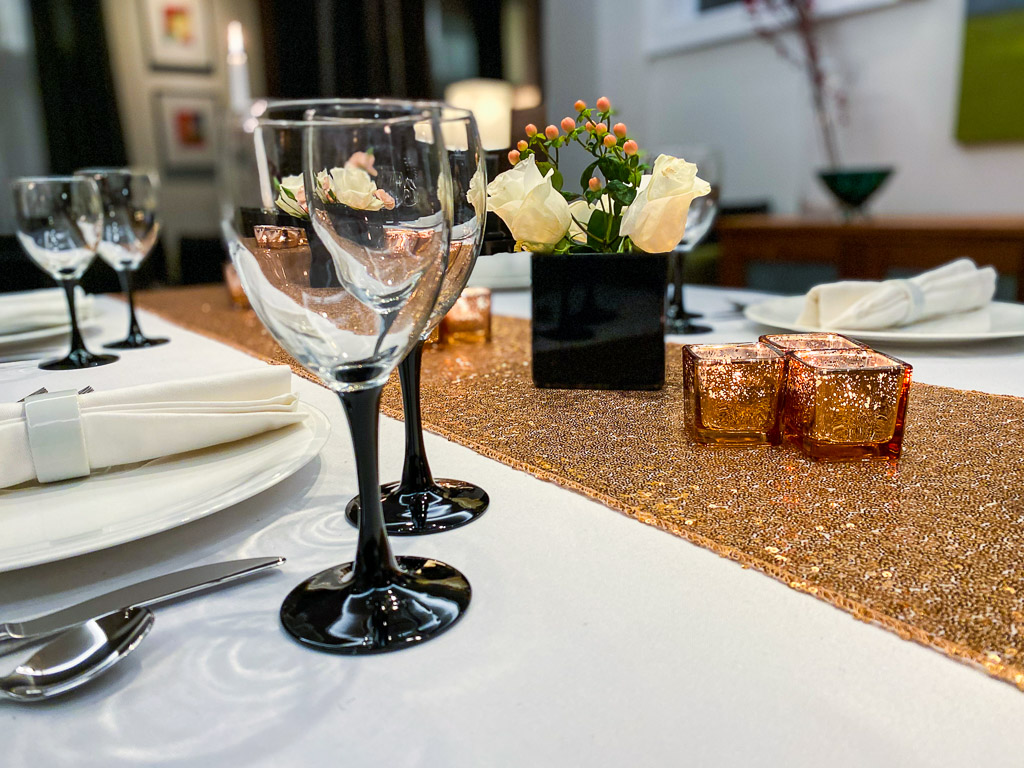 TABLE TWO: THE FIRST BLUSH OF SPRING
This table has a flair and drama that makes it ideal for an elegant spring dinner. The striking contrast between the rose gold accessories and the black accents elevates the refinement of this look. The trio of centerpieces are the true stars of this table. At first blush, they look identical. But if you take a closer look you'll see they don't perfectly match and adding interest to this modern, graceful design.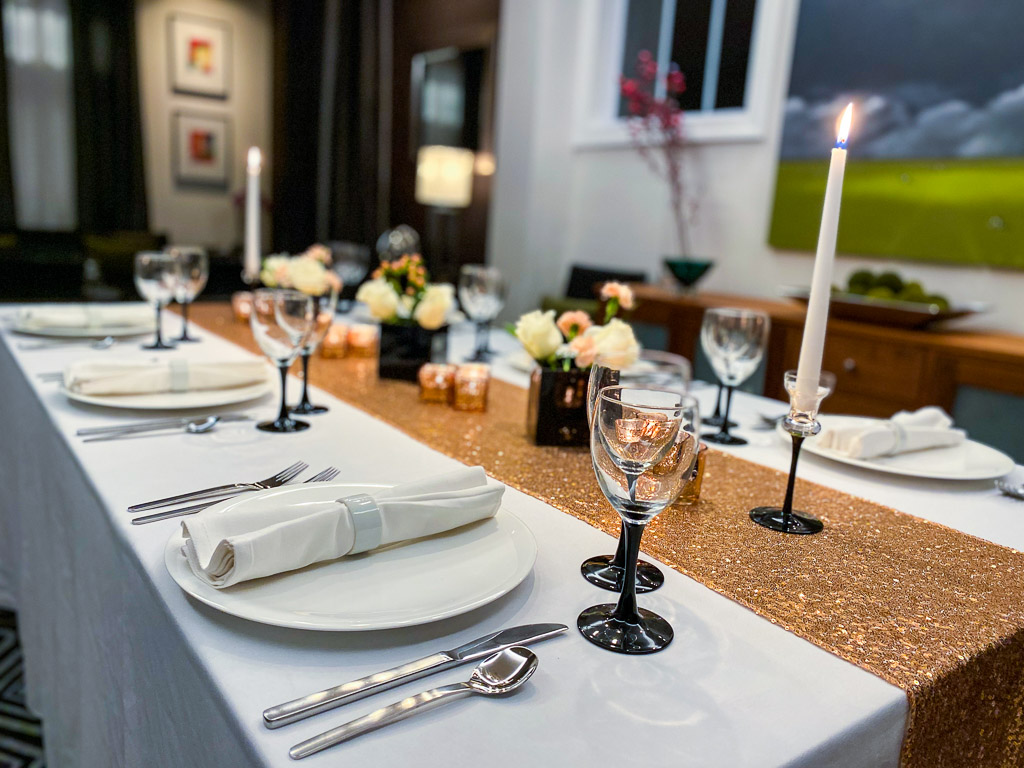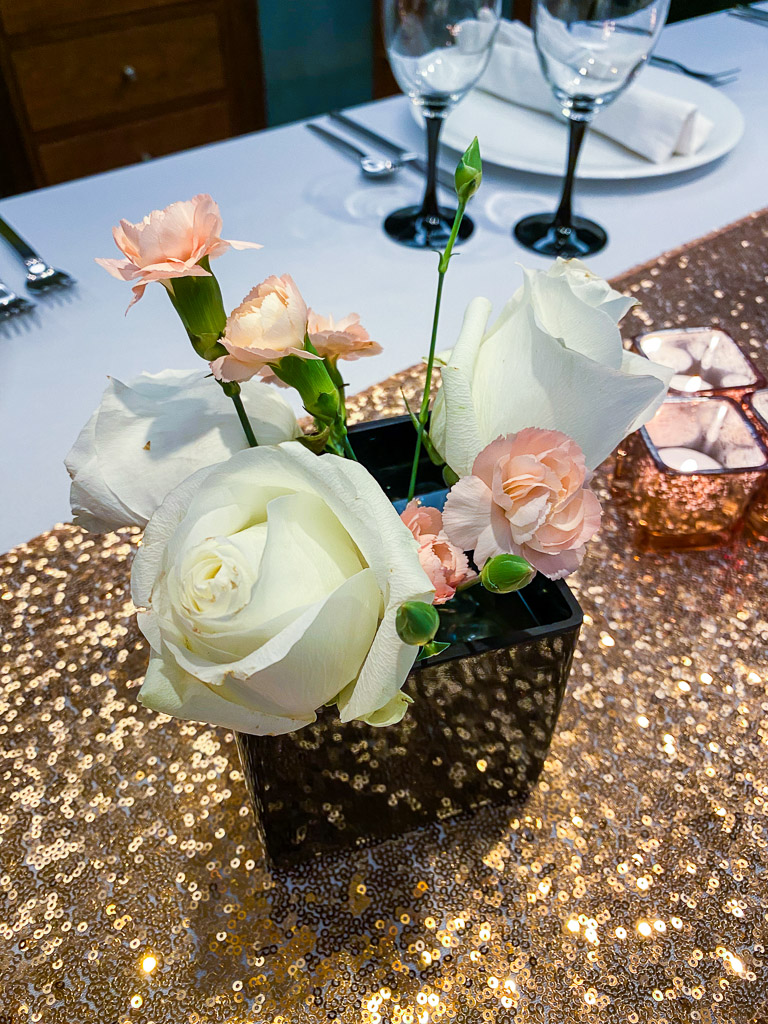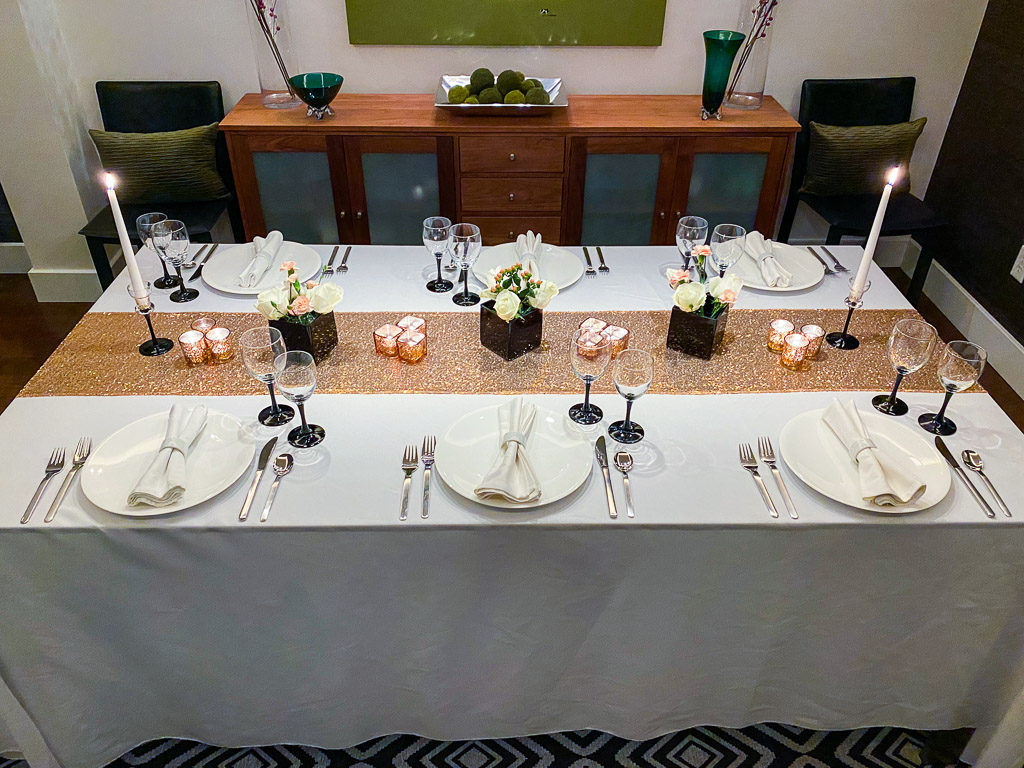 HOW WE PULLED IT TOGETHER:
A sequined, rose-colored table runner adds a bit of sparkle to this contemporary-chic look, while the black accessories provide balance and substance to the whimsical, showy nature of the sequins.
A rule to follow: one when element is bold, keep the rest simple. That's precisely what we've done with this table. The white dinnerware and white napkins recede into the white tablecloth, allowing the other pieces to pop, without being flashy or gaudy.
Look for florals that complement your color scheme, but don't feel the need to have everything match. We chose ivory roses and smaller blush accent roses. The pops of blush tie everything together without over doing it and create a refined elegance.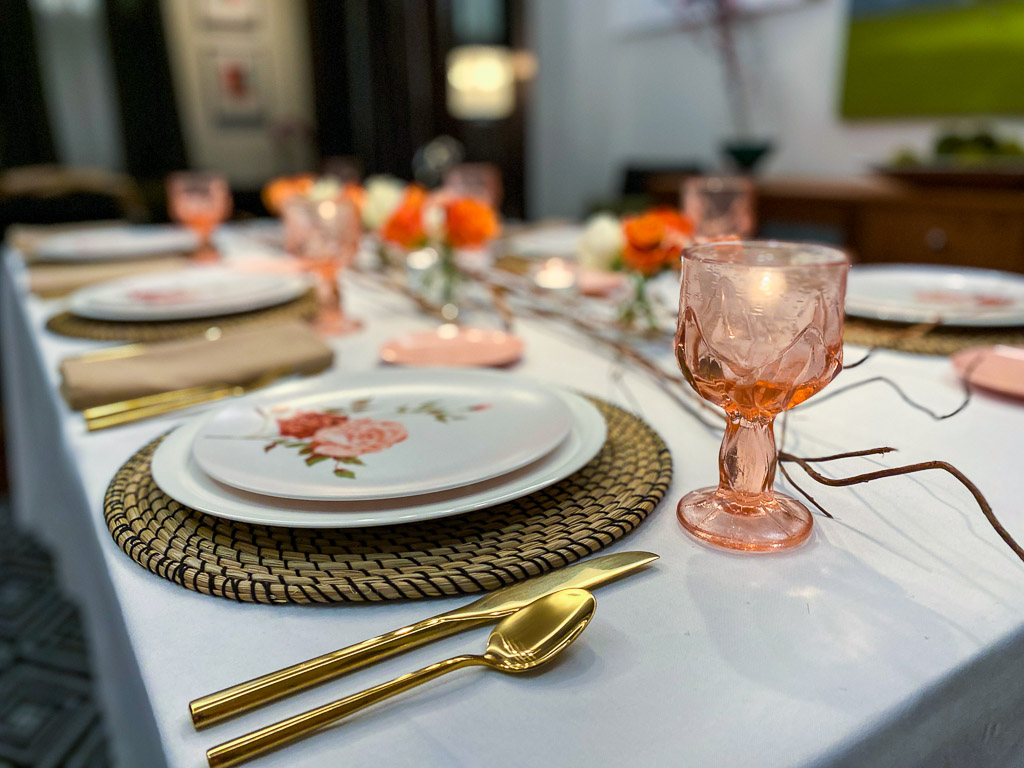 TABLE THREE: PIECES OF FAMILY HISTORY
For family celebrations, nothing is more beautiful than a table incorporating pieces with a family connection into your place settings. With this table, we did just that! From the vintage, melamine rose plates to the handblown, pink Tiffin glassware, as well as the cute pink bread and butter plates … this table is filled old memories and sets the stage to create new ones. It's amazing how you can find pieces that work perfectly with each other, from separate sides of the family. A perfect union!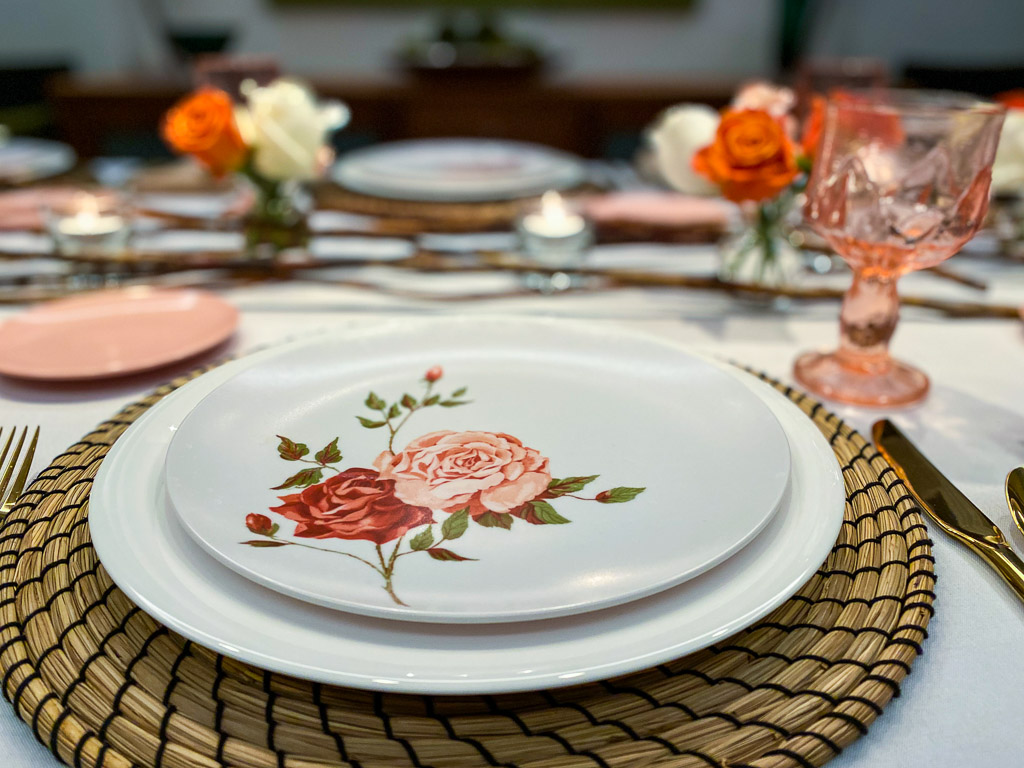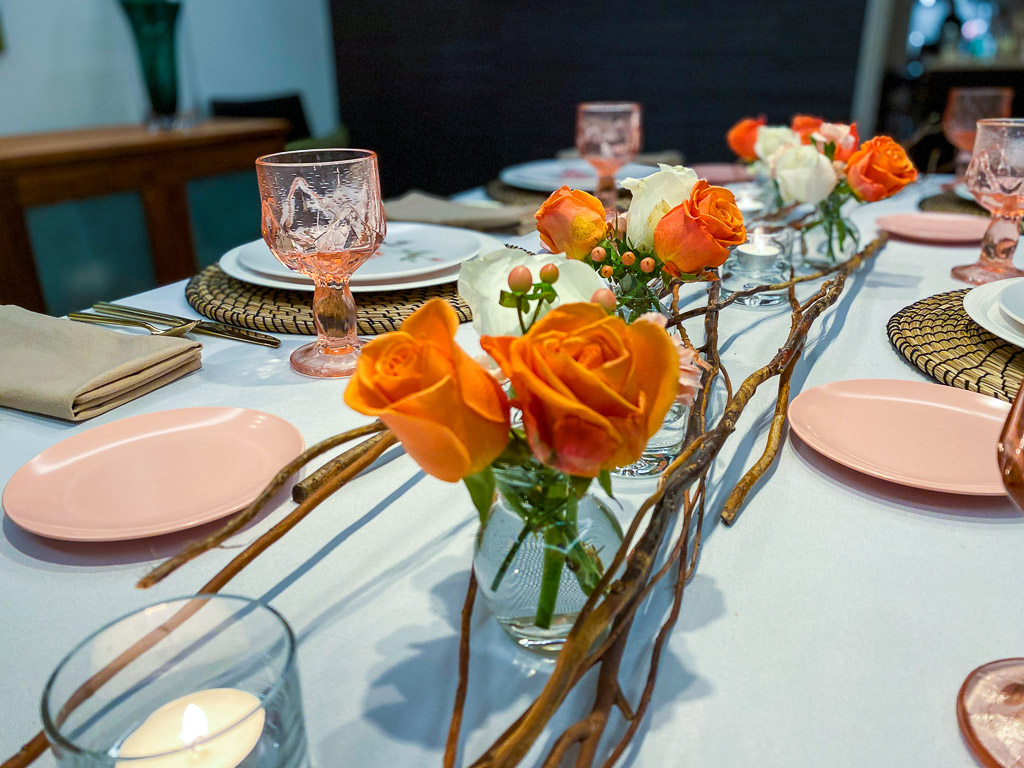 HOW WE PULLED IT TOGETHER:
The rose plates we chose for this table are at least 70 years old (and likely older). But what's old is new, and they are totally on trend this season. We pulled the color scheme for the rest of the table directly from the roses. While these are vintage, you can find replicas of these adorable pieces here.
The plates paired perfectly with vintage Tiffin glassware, handblown by Matt's great grandfather. Colored glassware is really enjoying a moment right now. If you don't have access to antique glassware, these glasses can help you create the same effect.
Spring doesn't have to mean overdone florals, quite the contrary. We found delightful coral and ivory roses that perfectly complemented our plates. We placed them in small bud vases, scattered down the center of the table. To finish the look, we situated clear votive candle holders in between simple long brown sticks. The result was a natural, organic centerpiece that makes a big impact but was simple to create.