THESE ADORABLE TRAVEL PARTY DECORATIONS ARE EASY AND SIMPLE!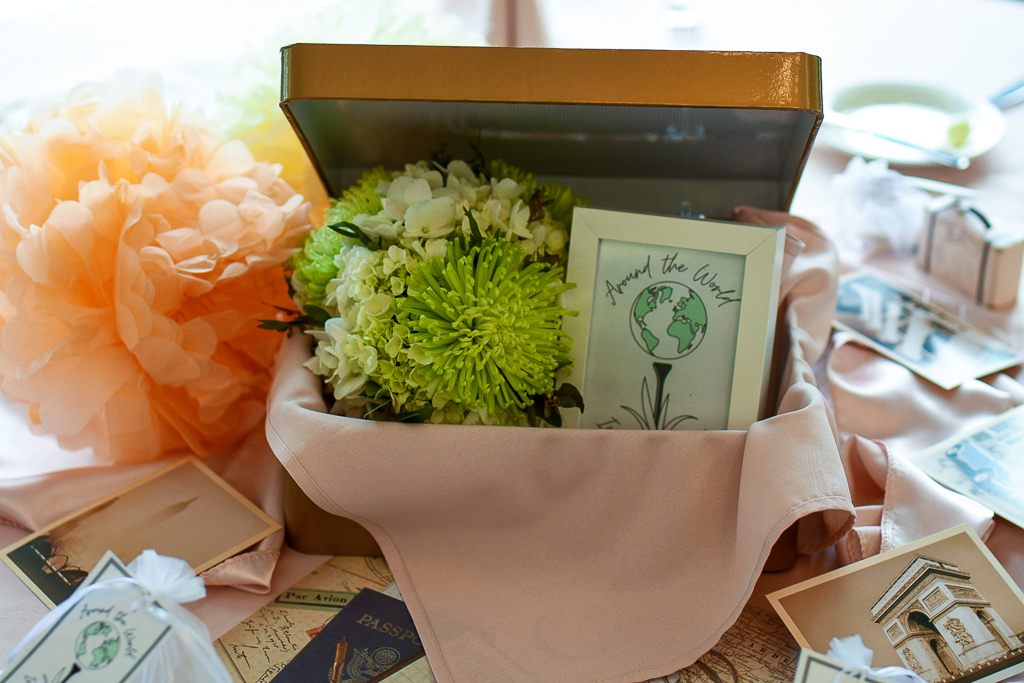 A travel party theme can work for so many different occasions.
And we've got some adorable travel theme decoration ideas to share with you.
Whether you're planning a graduation party, wedding shower, bachelorette parties, or in this case, a ladies' golf outing, a travel party can be a lot of fun!
In fact, what's the first thing we determine when Matt and I start planning an event either professionally or at home?
The theme.
A great theme not only makes any event more fun and interesting for your guests, it also provides a fantastic roadmap for your décor.
Following simple travel theme party decor ideas will make pulling your tablescape together a breeze!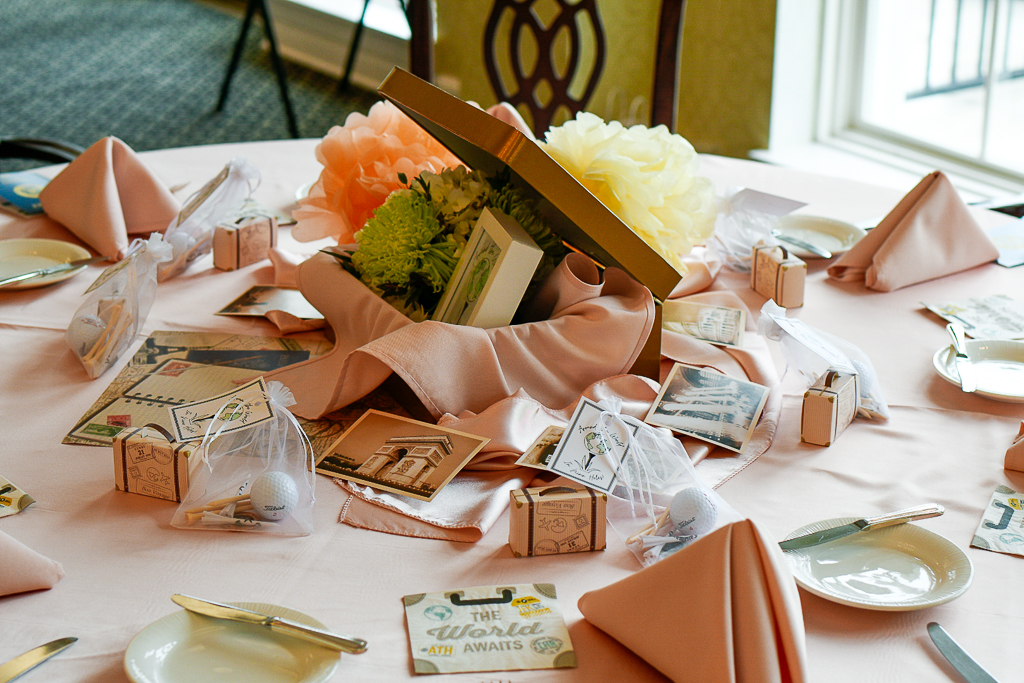 I recently curated these vintage travel party decorations for a ladies luncheon.
The mood they created was bright, cheerful and elegant … perfect for a great afternoon with friends.
Here's how I chose each of the elements of my travel theme party decor, step by step:
THE WORLD AWAITS!
These three words are perfect to introduce the travel theme to your guests.
It's fun and it's subtle … you don't want to beat people over the head with the theme.
I found these adorable cocktail napkins that were a perfect starting point.
They offered a delightful color palette from which to build the other elements of the décor.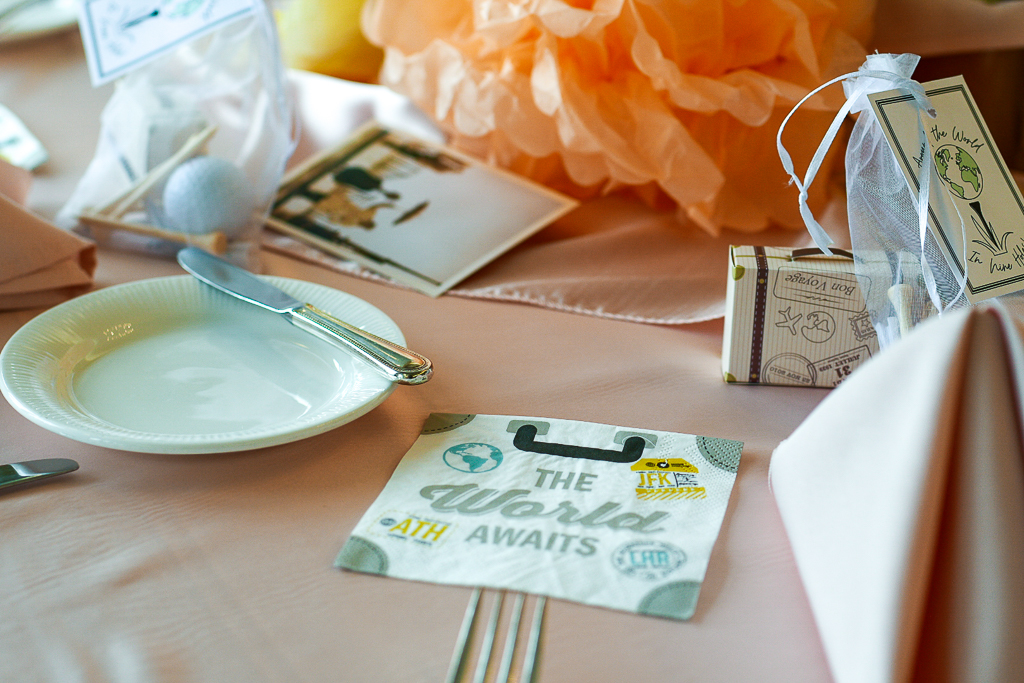 Muted pastel shades are so on trend right now. The cocktail napkins were simply ideal for this theme.
The khaki, teal, and yellow in the napkin works perfectly with the champagne and blush cloth table linens.
These colors have been on the runways for several seasons, so it's only logical they are now frequently making appearances on the "best-dressed" tabletops as well!
Remember, fashion always leads!
PACK YOUR BAGS …
You can't have a travel theme without a suitcase, right?
While these centerpieces took a little effort, they certainly made a big impact on the table.
And really, they weren't that difficult to pull together.
I started with the suitcases, of course, which come in a variety of colors.
For this celebration, I thought the gold really went best with the color palate and sophisticated mood I was trying to achieve.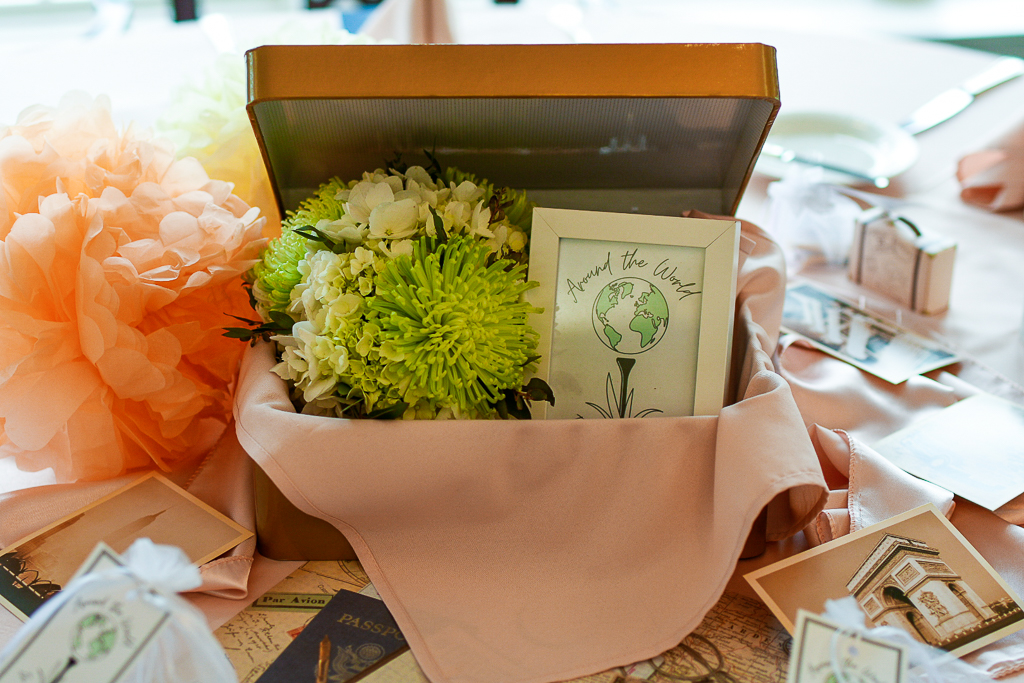 Fuji mums paired with ivory hydrangeas were a perfect flowers to fill these centerpieces.
Hydrangeas are my favorite workhorse for a wide variety of reasons. I turn to them time and time again.
Why do I love them? First, their blooms are large so you don't need a ton of them to make a nice, full arrangement. That also means you can make your floral dollars go further.
Second, they hold up for a really long time.
You don't have to worry about them wilting, especially if you care for them properly. Since they are big blooms, they need lots of water.
Finally, hydrangeas are forgiving. If you do screw up and they begin to wilt, you can rescue them with this easy trick.
EVERYONE NEEDS A SOUVENIR, RIGHT?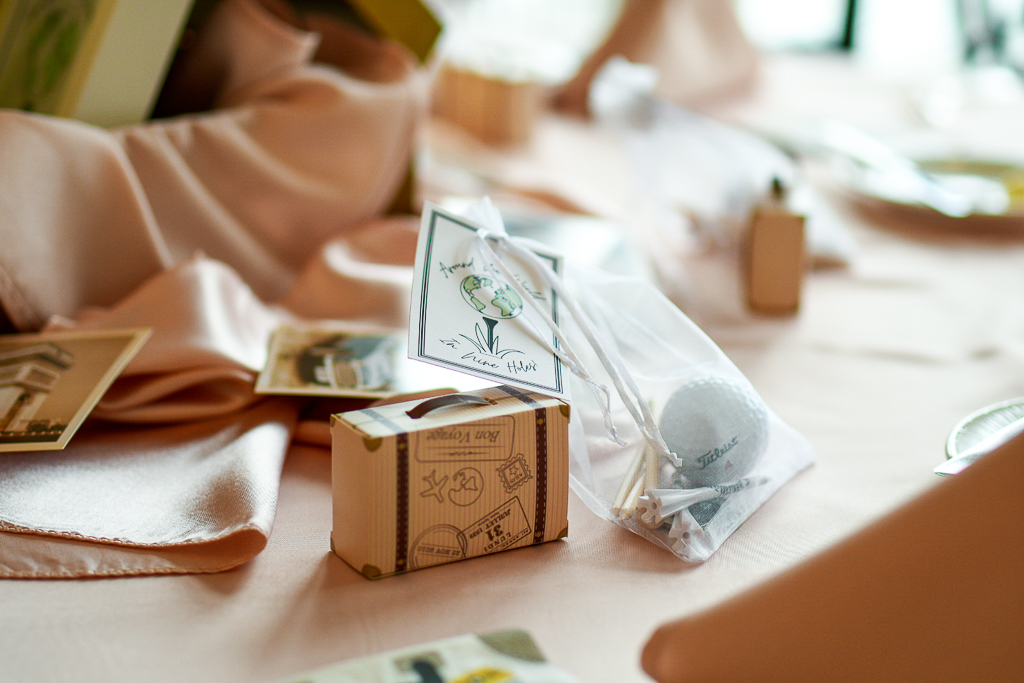 In addition to the centerpieces, I found these adorable suitcase favor boxes.
While we have begun to emerge from COVID and are more comfortable gathering together, a few things have permanently changed when it comes to events.
One of these is party favors.
Loose, unwrapped candies in bags or boxes are definitely a thing of the past.
Think about the assembly … yuck.
These suitcase gift boxes, which contained wrapped Hershey's kisses, were an ideal option.
PICK YOUR DESTINATION …
One of the easiest (and in this case cutest) ways to incorporate your theme is by simply dressing up your food.
These travel theme picks were the perfect choice for our desserts.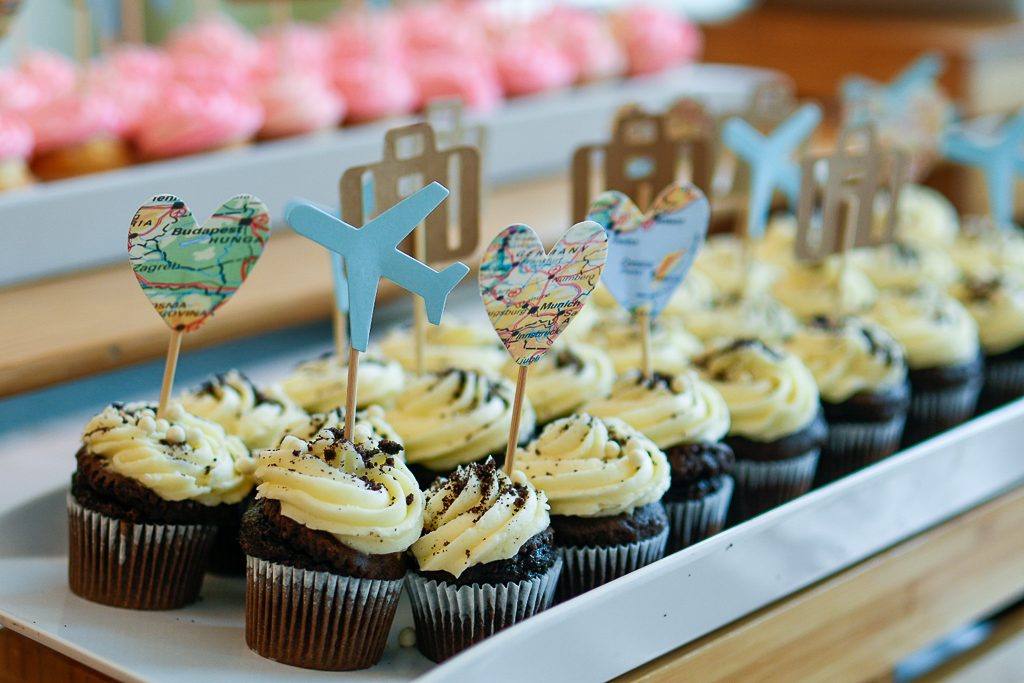 DON'T GO OVERBOARD.
The simple, monochromatic color palette of the table linens is by design.
There are a lot of things to look at on this tablescape.
If there were too many colors, it would be overwhelming.
I limited my linen color palette choices to blush and beige.
The napkins and the tablecloths were the same color, as were the satin accent cloths.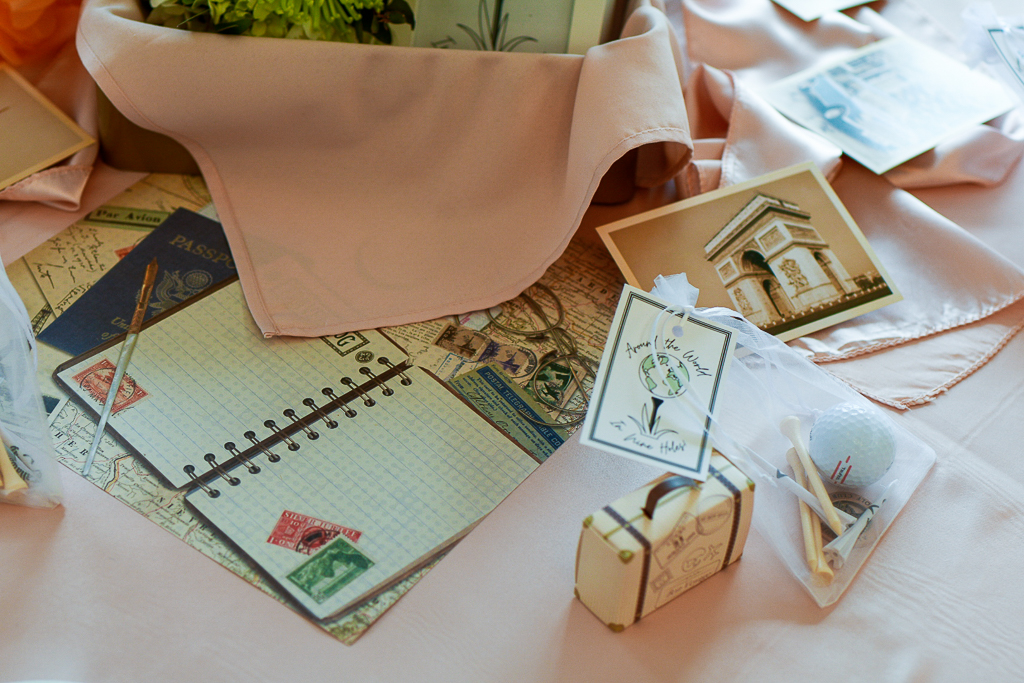 IT'S ALWAYS BEST TO TRAVEL IN LAYERS …
If I had a dime for every time my mother said that to me!
Not only is this great advice for travel attire, it's also one of my favorite rules when creating a gorgeous tablescape.
By layering décor and linens, you create excitement and interest on your tabletop.
Since this event was held at a country club, the tables were rather large and measured 72 inches in diameter.
Layering various décor items helped to create some cozy warmth.
In addition, it allowed guests to have something interesting to look at wherever they were seated at the table.
A few of the layering items on this table include:
ADDITIONAL LINENS
Instead of just plopping the centerpiece down on the table and calling it a day, consider softening the look.
One of my favorite tricks is to use a chair sash (yup, those fabric pieces that are typically around chairs at wedding receptions) to create a "nest" on which to place a centerpiece.
This trick also works to hide or conceal the ugly bottoms of candelabras.
Chair sashes are the ideal size and shape for this task! And they are usual cheap to rent!
In addition, extra square napkins were perfect to place inside the suitcase to dress up the flower arrangement.
Both of these additional linen options are really cost effective!
VINTAGE TRAVEL POSTCARDS
By scattering these around the centerpiece I was able to include various destinations from around the world in a cute fashion that stayed within the color palate and added to the theme.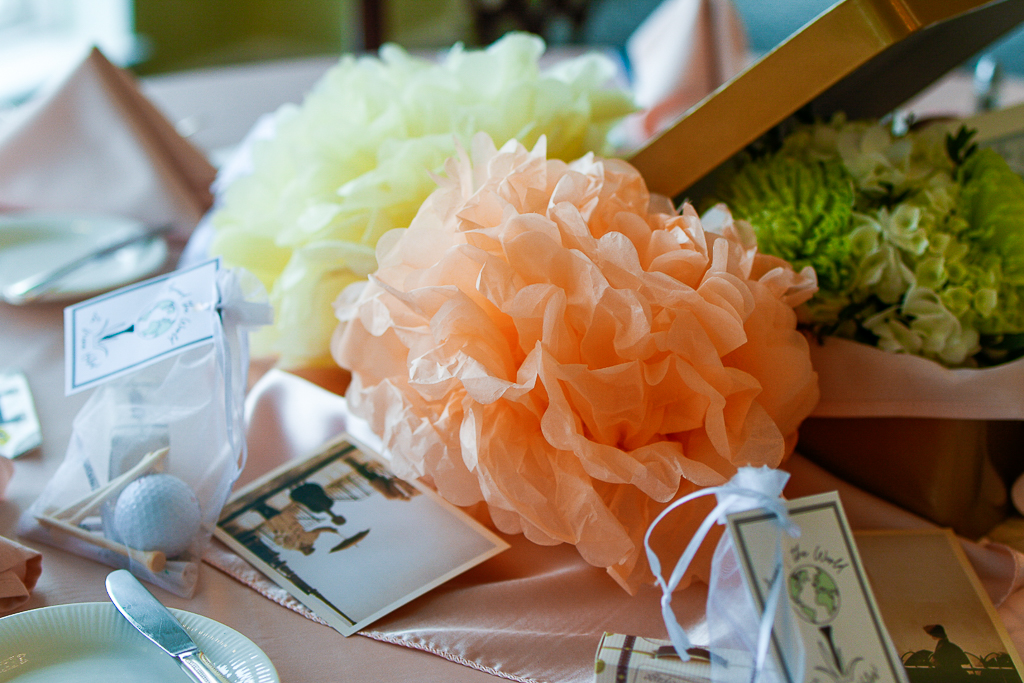 I had one worry on this table.
I didn't want someone to have to stare at the back of the suitcase centerpiece.
Tissue pom poms were the solution. In addition, they added height, texture and color to each of the tables. Perfection!
BASIC WHITE PICTURE FRAMES
I cannot tell you how many times I turn to these simple white picture frames.
Years ago, I picked up several dozen at IKEA and have subsequently used them countless times to hold table numbers, menus, drink recipes and even, well, photos!
Here are some similar frames that would be great for all of the uses I've just name. They are easy to store and definitely worth the investment.
SCRAPBOOK PAPER
As I was pulling together this table, I liked it, but thought it needed just a bit more interest.
I found some adorable travel themed scrapbook paper and knew it was just the right touch.
There are lots of super cute, really fun papers out there and they are affordable enough to use just once without any guilt.
They make perfect placemats or in this case, added just the right amount of punch to the center of the table.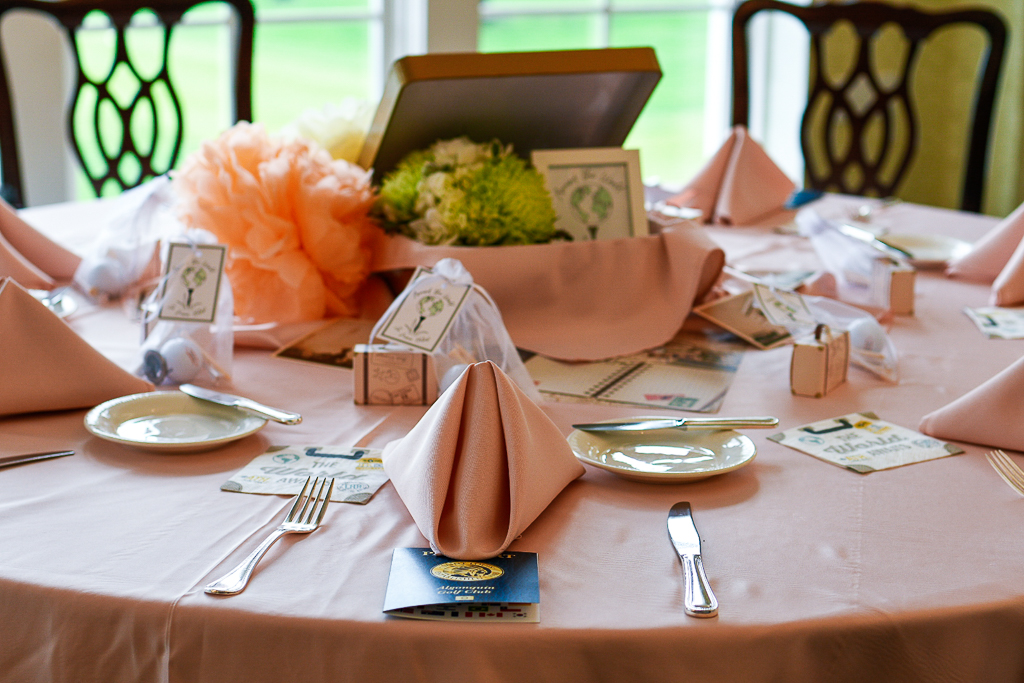 Did you try this idea? Share it on Instagram with the hashtag #makeeverydayanevent and tag @makeeverydayanevent! Looking for additional spring table setting ideas? Discover how you can create a beautiful spring table that incorporates the colored glassware trend in three easy steps!