FIVE SPRING INTERIOR DESIGN TRENDS YOU ARE GOING TO LOVE
These five spring interior design trends are hot, hot, hot!
And they are super easy to incorporate into your home. You are going to love them!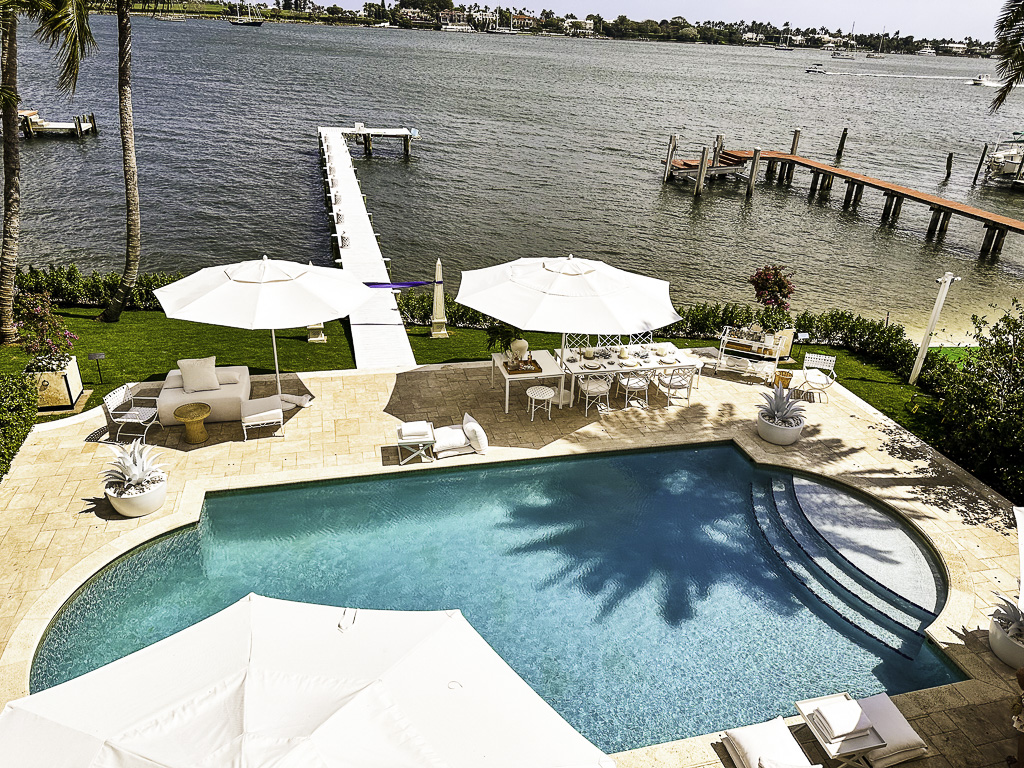 What did you do for spring break?
It seems like all of our friends went on a little getaway these past few weeks to enjoy some warmer weather, regardless of whether or not they had kids in school.
And Matt and I were no exception.
We cleared our schedules and decided to go on a bit of an adventure to Florida.
Think of it as a spring cleaning for your mind and spirit.
A respite, if you will …
It was just the perfect time to get away and forget the colder months.
In fact, this was our first beach vacation we'd ever taken together as a couple!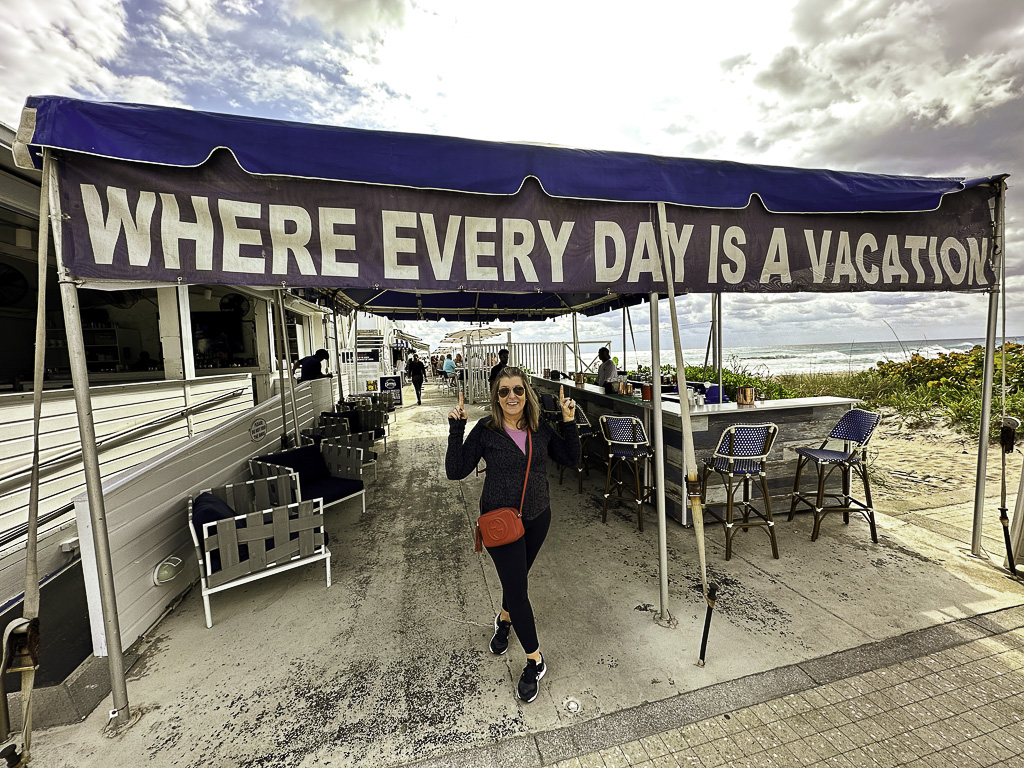 Posts on Make Every Day an Event may contain affiliate links which means we may earn a small commission on purchases at no extra cost to you. To learn more, please read our full disclosure here.
How is that possible after being married for nearly 15 years? Well … I'm not sure.
Since we go skiing almost every year, I guess it's safe to say we prefer our water frozen. LOL.
But I'm so glad we took the opportunity to be bold and have some fun in the Sunshine state.
It was a great way to start the spring season.
A BIT OF AN UNEXPECTED JOURNEY …
While I was expecting the warm weather, sunny skies, white sand and blue ocean, I wasn't expecting to find so much inspiration on our trip.
I came back full of ideas for decorating, outdoor entertaining and some fun additions to my summer wardrobe.
And I can't wait to share just a few of spring decorating trends I found with you.
One of the many highlights of our trip was the time we spend at the 2023 Kips Bay Decorator Show House Palm Beach.
More than 20 of the nation's top interior designers participated in this year's show home by decorating individual rooms within the large property, which was located in one of the most esteemed neighborhoods in West Palm Beach.
It was such a fun way to spend an afternoon and it even benefited a great cause.
The proceeds from the show home support the mission of the Kips Bay Boys & Girls Club and the Boys & Girls Club of Palm Beach County.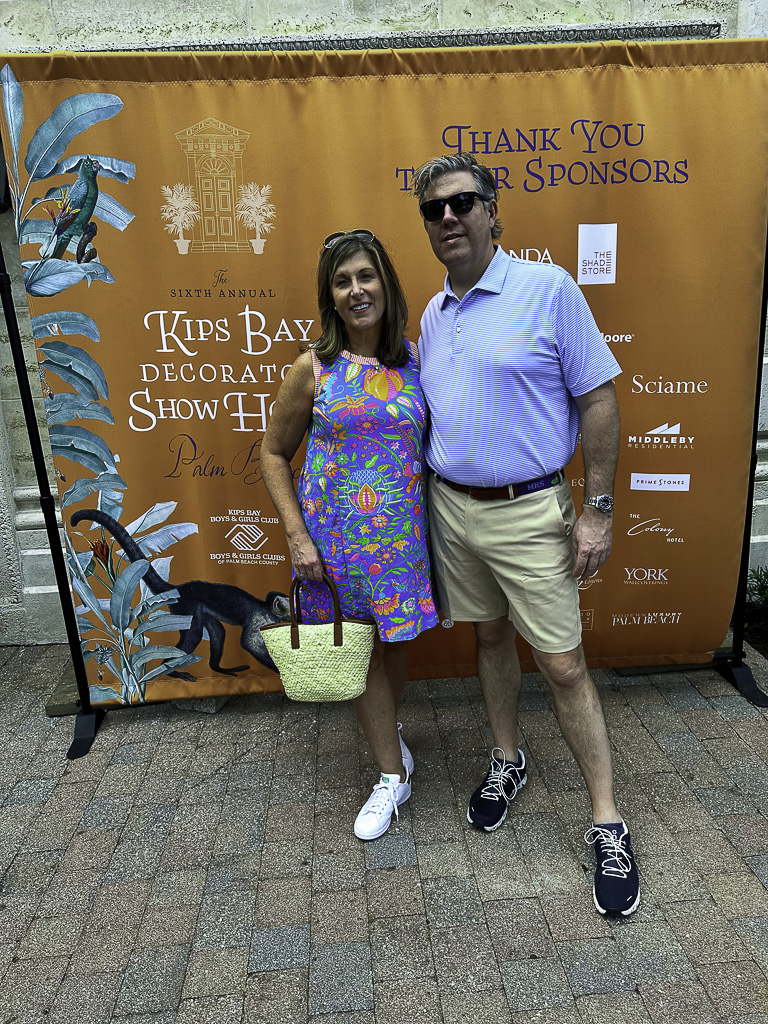 They are both great organizations whose work enriches and enhances the quality of life for young people ages 6 to 18.
The Boys & Girls Clubs provide educational and developmental programs to those who come from disadvantage or disenfranchised circumstances.
To date the show house, which is now in its sixth year, has raised more than $28 million for both organizations.
It was such a great afternoon to celebrate the new season that simply checked all the boxes:
Beautiful interior design to "ooh" and "aah" over – yes!
Tons of ideas to take back home – yes!
Supporting a great cause and advancing their mission – yes! And yes!
Honestly, what could be better? How about all of the ideas, inspiration and thoughts that I walked away from the house with? Here are just a few of the hottest design trends I spotted:
SPRING INTERIOR DESIGN TRENDS ONE: WALL STENCILS HAVE MADE A SERIOUS COMEBACK
As I mentioned previously, the house was designed by 20 or so designers who each took one of the various rooms within the home and made it their own.
And despite all of those individual, immensely creative minds, the house still seemed cohesive.
While I was wandering from room to room, awestruck, I was stopped straight in my tracks and found myself staring at one of the walls.
Were my eyes deceiving me? No, they were not.
I was looking at a stenciled wall!
And then I found several others.
I hadn't thought of stenciling anything in years.
But come to find out this painting technique is back in interior style.
It is a unique look and it was simply gorgeous!
SPRING INTERIOR DESIGN TRENDS TWO: GREEN, GREEN AND MORE GREEN
From the gorgeous, jewel tone of the green velvet sofa that was on full display in the home's library to the multiple shades of mint green that were present in the stunning great room, green was EVERYWHERE at the show home!
It clearly is a huge trend and is one of the many vibrant colors I saw during my tour.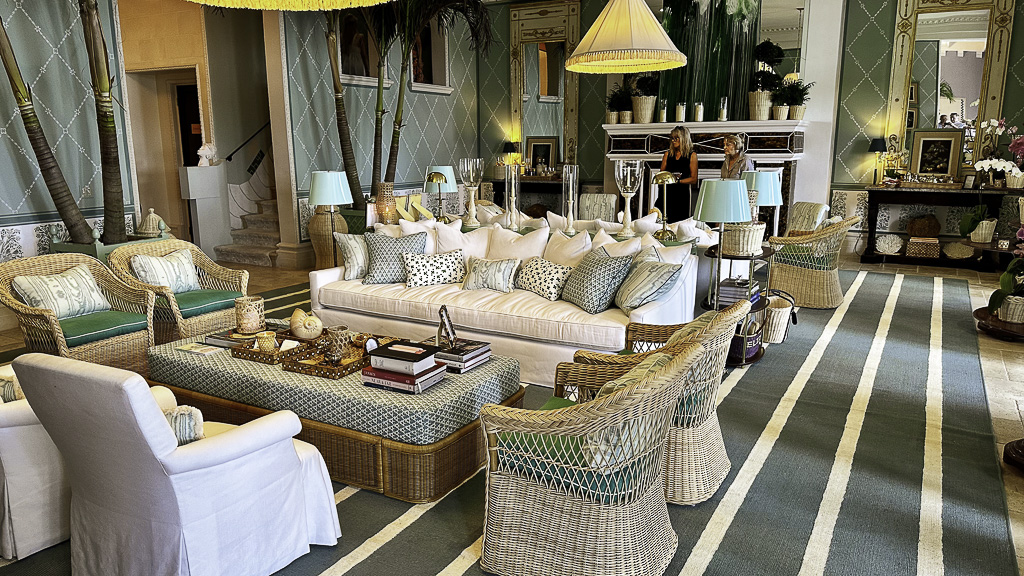 This hue is definitely having a moment and is one of the new interior design trends.
And I am down for it.
I am looking for ways to incorporate it into my own home.
The design style of bold colors and bright colors are certainly taking center stage in everyone's living space this spring.
Here are a few of the stunning green pieces I'm personally pondering for purchase:
These textured, moss green velvet pillows certainly have my eye and would look great in my living room. I LOVE the pin-tuck detail!
This cozy, chenille throw pairs perfectly with the pillows. Chenille adds such a rich texture to any room!
How much drama would these green hand-pressed water glasses bring to your dining room table? Swoon!
SPRING INTERIOR DESIGN TRENDS THREE: WALLPAPER IS STILL A POPULAR CHOICE
I grew up in a house filled with wallpaper. And truth be told, I was not sad to see it go.
A fresh coat of paint was always my best friend.
It was easy, it was beautiful and it was a commitment that didn't damage your walls.
But then, right before the pandemic hit about three years ago, I noticed a trend.
Wallpaper was creeping back into the high-end designs that I loved. I even strategically papered a few walls of my own home.
And I loved it!
Flash forward three years later and wallpaper is still immensely popular in interior design.
The rooms of the Kips Bay Show Home were no exception.
Bold, statement-making patterns seemed to be the choice du jour.
Wallpaper helped to create drama and style in so many of the gorgeous rooms. In addition, wallpaper is an easy way to bring natural materials and natural elements, as well as geometric patterns and geometric shapes to any room.
Luckily, today's papering techniques and materials are significantly more sophisticated than those of year's past.
So if you're thinking about wallpaper, don't worry. It's not the life-long commitment that it used to be, thanks to much friendlier application techniques.
It looks great on accent walls and is the perfect option if you are looking for some quick updates to a space.
I still love the wallpaper I chose for my home-office remodel last year.
SPRING INTERIOR DESIGN TRENDS FOUR: BAR CARTS ARE EVERYWHERE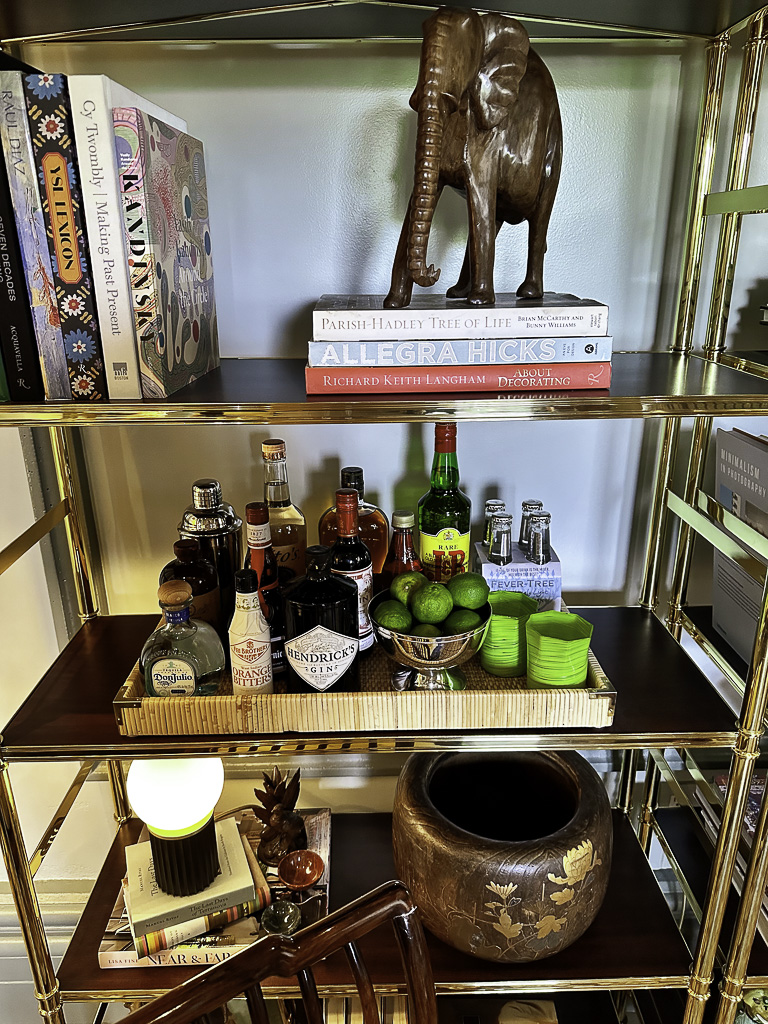 As I roamed from room to room, finding a ton of inspiration along the way, I stopped and began to count the number of rooms with bar carts.
And then I began to chuckle.
It seemed almost every interior designer involved in the show home had incorporated a bar cart into their space, in some form or fashion.
They were everywhere.
And while I love a great bar cart, I think there should be a limit as to how many one has in their home.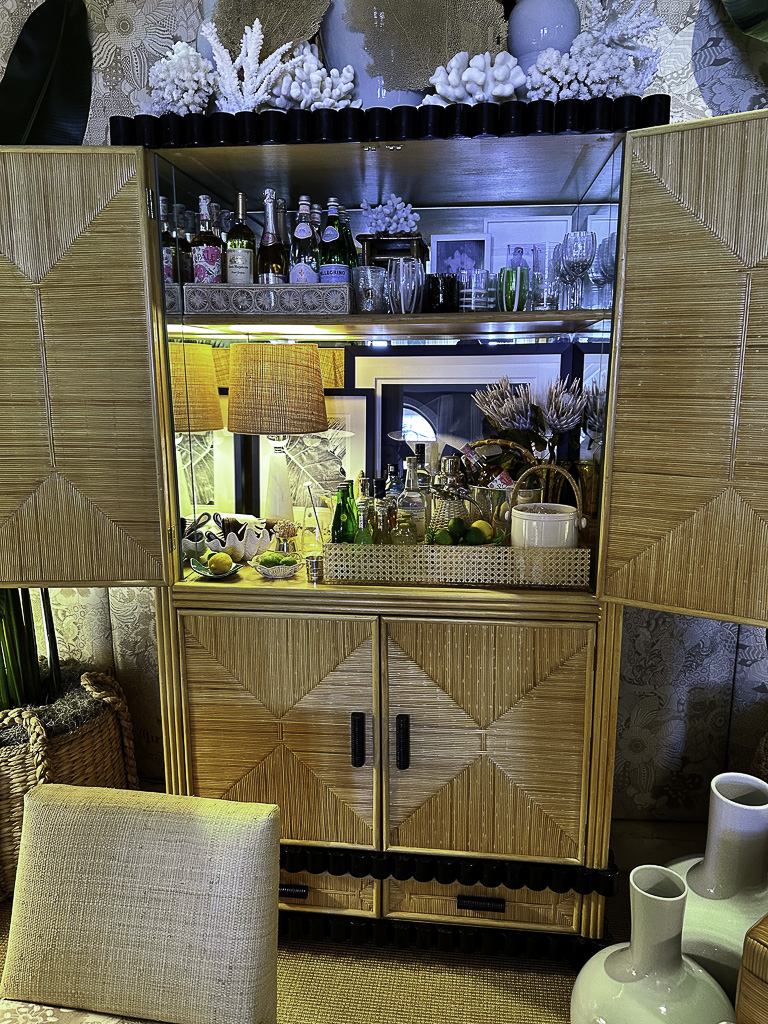 You don't want your house guests to begin to talk, do you? LOL.
But there is no denying they are functional furniture pieces that can bring new life to a space in a variety of ways.
I've featured bar carts previously and think they can be a great statement piece for a room.
Here are a few of my favorite bar carts that would look great in any room (or every room, if you so choose!). There are also some great vintage pieces you may want to explore at your local antique shop or thrift:
I purchased this gold bar cart for our study a while ago and haven't looked back … I love the sleek modern lines, it's such a great value!
This cart is absolutely perfect for smaller spaces!
The sleek, modern design of this acrylic bar cart makes it perfect for cocktails, as well as coffee!
SPRING INTERIOR DESIGN TRENDS FIVE: TRAVEL COFFEE TABLE BOOKS ARE HOT
Strolling through the designer showhouse and spotting the spring design trends was just the best way to spend the afternoon.
As I perused the more than 9,000 square feet of immaculately curated space, the number of bar carts I stumbled upon was pale in comparison to the amount Assouline coffee table books that I encountered.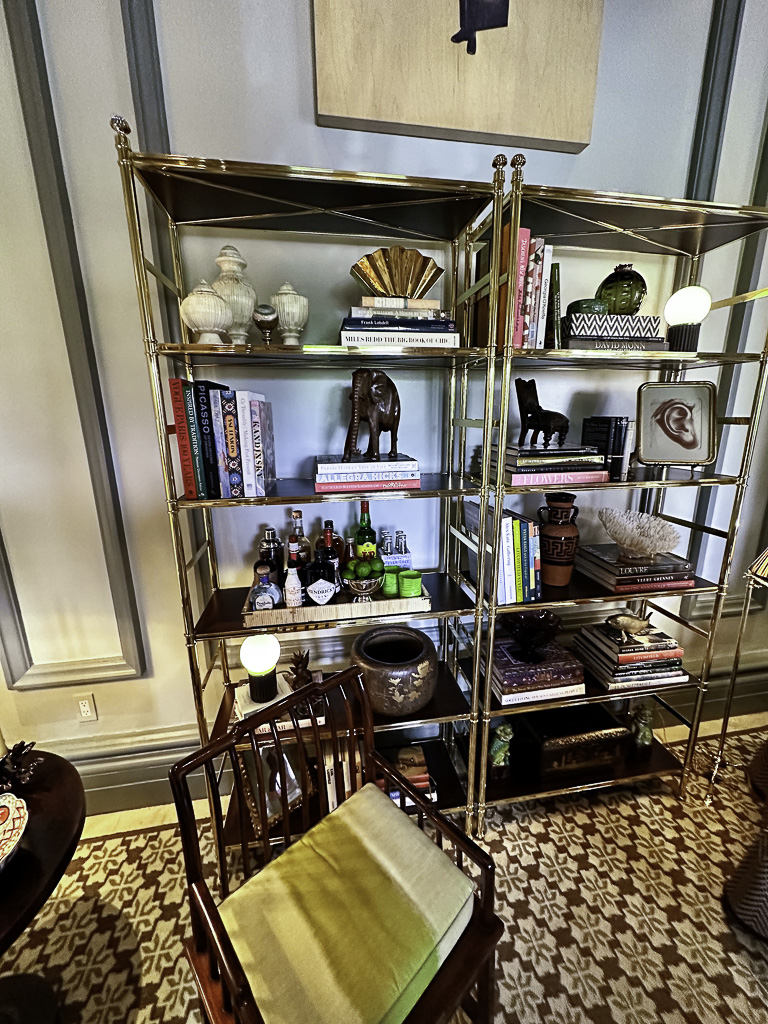 These books were on display in almost every room throughout the home.
It was impossible to not notice these books were clearly a favorite of all of the high-end designers who participated in pulling together the show home's décor.
When I say they were everywhere, I mean it. They were everywhere.
And I love the pop of color, as well as the stories they can bring to a space.
While these pieces are definitely a key trend, they can also serve as a great form of personal expression.
However, I would never suggest you just randomly start collecting the books.
Instead, I plan on beginning to incorporate a few of them, featuring destinations we've visited, on the shelves of our study.
They also a great option on side tables and coffee tables.
Check out some of these titles:
Aspen Style, also by Aerin Lauder
Did you enjoy these spring home decor trends? Here are some additional great spring interior design trends you'll want to explore:
How to Incorporate Colored Glassware on Your Spring Tablescape
Beautiful Outdoor Patio Decorating Ideas — Your Dream Space in Five Steps
If you have any questions or suggestions, contact us or leave a comment!
Follow us on social media! You can find us on Instagram, Pinterest, and Facebook.