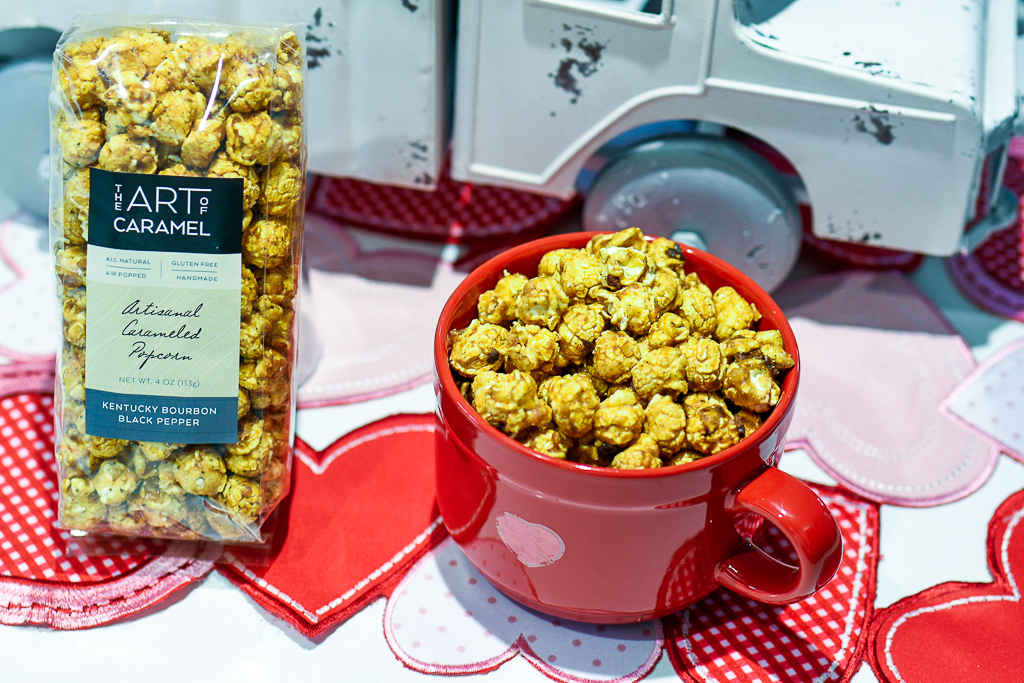 January 19 was National Popcorn Day! And we set out to find the best caramel popcorn. Did we accomplish our goal? Well … yes, we certainly did. In fact, we discovered some unique "adult" popcorn flavors that we now simply can't live without! These flavors are really, really good. And much more sophisticated than just your average cheddar out of a bag. Think classic cocktails meet popcorn. Intrigued? You should be! Flavors like Kentucky Bourbon Black Pepper, Bananas Foster with Dark Rum and Brandy Old Fashioned turned out to be the only way to celebrate National Popcorn Day. They're also a perfect Valentine's Day or Galentine's Day gift. And they would be an awesome hostess gift!
Since we're taking you along on our journey of discovering new and exciting adult flavors of popcorn, I also like to share a bit of research I did on this popular snack food. Come to find out, there were a few things I'd never really realized about popcorn or probably never thought about.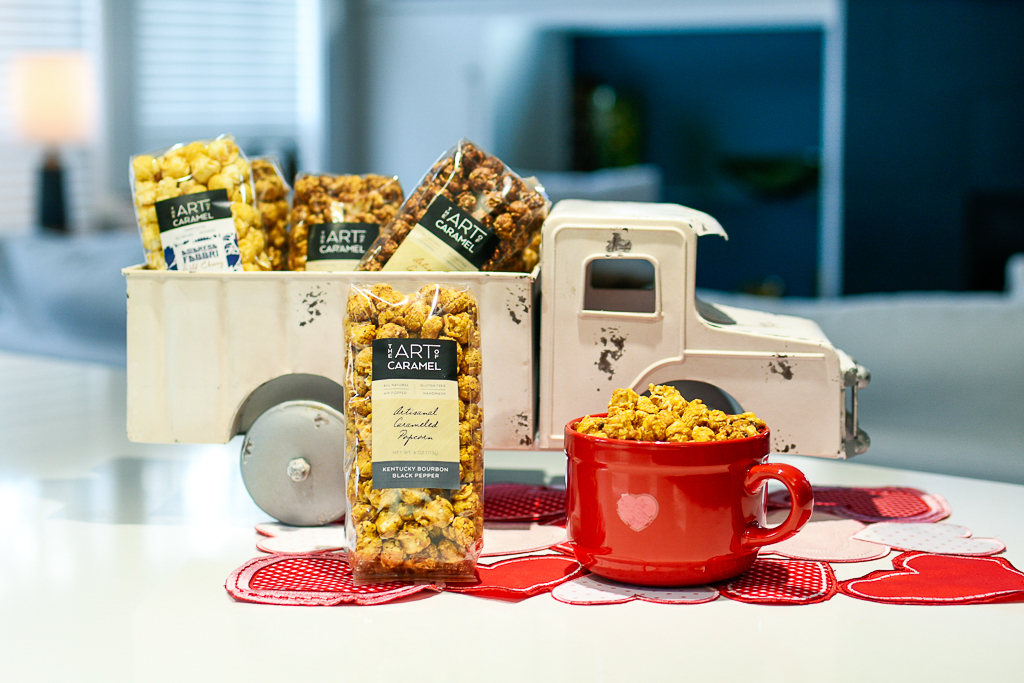 A FEW FUN POPCORN FACTS:
You know those annoying, unpopped kernels that get stuck on the pan and always wind up at the bottom of the bowl that everyone hates? Well they have a name … they're called old maids. I'm not sure who come up with that title, but doesn't it seem appropriate?
What makes popcorn pop? I always though heat. While that is kind of correct, the true answer is water. Apparently there is water within the kernels. When that heats up it produces steam, and the kernel goes pop!
The average American eats a lot of popcorn, like 38 quarts of the snack annually! And more than 17 billion quarts of popcorn consumed each year in the U.S. Think that's mostly done at the movies? Well, you'd be wrong. More than 70 percent of popcorn consumption happens at home.
For more fun facts you may or may not know about popcorn, check out this article.
HERE'S THE NEWS I CAN'T WAIT TO SHARE …
But here's what I really can't wait to share with you. I recently discovered this artisanal popcorn shop located in Pasadena, Ca. called The Art of Caramel. From the sophisticated nature of their flavors to the sleekness of their website, as well as their clean modern logo, the whole concept intrigued me. I suspected this place was different and National Popcorn Day seemed like the ideal time to give them a try. Boy. Was. I. Right.
I ordered a couple of selections off of their website (each containing four ounces of popcorn) and was thrilled when they arrived. Here's a rundown of the complex flavors we experienced (in no particular order, they were all terrific):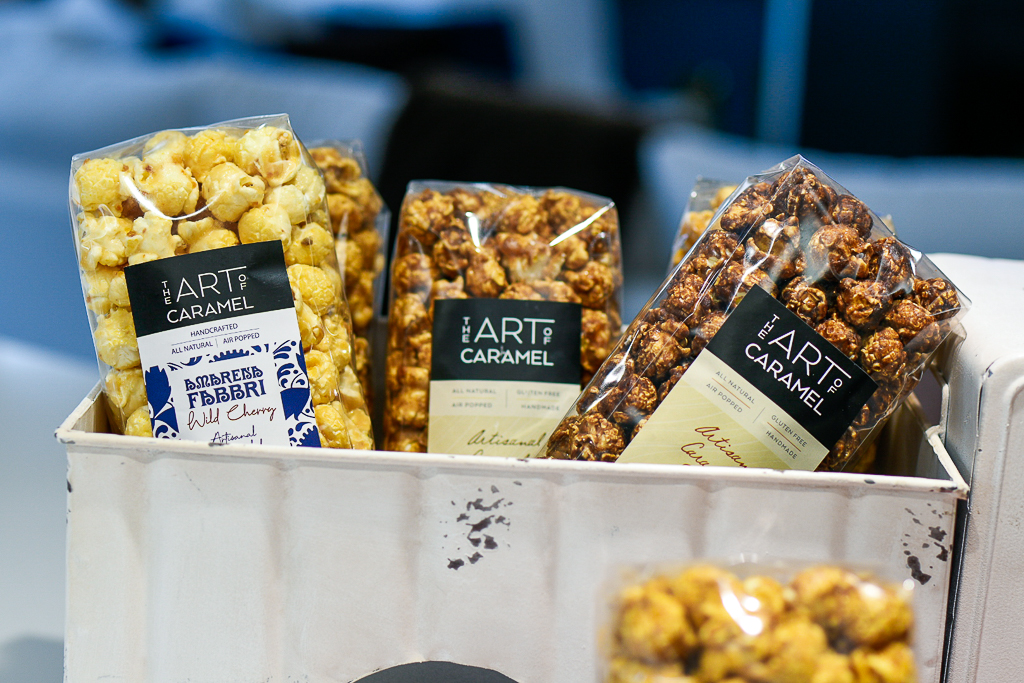 Fiori & Salt – Described at The Art of Caramel's take " on the classic salted caramel," this flavor contains a special mix of Ritrovo salt selections which are hand mixed with Italian dried flower petals from Puglia, Italy. Aromatic rose petals and flaky Maldon salt from Europe finish this delectable treat.
Italian Black Truffle Sea Salt – this blend is a special collaboration with Sabatino Truffle and is a unique combination of lightly sweet and crispy popcorn, heady Sabatino black truffle, and crunchy Maldon sea salt. It is pretty addictive!
Brandy Old Fashioned – a truly delightful flavor that features world famous Fabbri Amarena Cherries in syrup, real brandy, and a hint of fresh orange zest. We wanted to try it paired with its namesake cocktail but it didn't last that long! Here's our take on the classic old fashioned.
Kentucky Bourbon Black Pepper – the fresh ground black pepper gave this flavor a spicy yet fruity aroma and beautifully complimented the smoky Kentucky bourbon essence. One word: YUM! How perfect would this be in a gift basket?
Mayan Chili Chocolate — this surprising combination contained Savory Korint Ji cinnamon, Cocoa Barry extra brute cocoa powder, and a touch of spice from ground Cayenne pepper. It was a perfect afternoon snack!
Bananas Foster with Dark Rum — Savory and fragrant Korint Ji cinnamon and Bacardi dark rum make a perfect combination, with the clean taste of banana.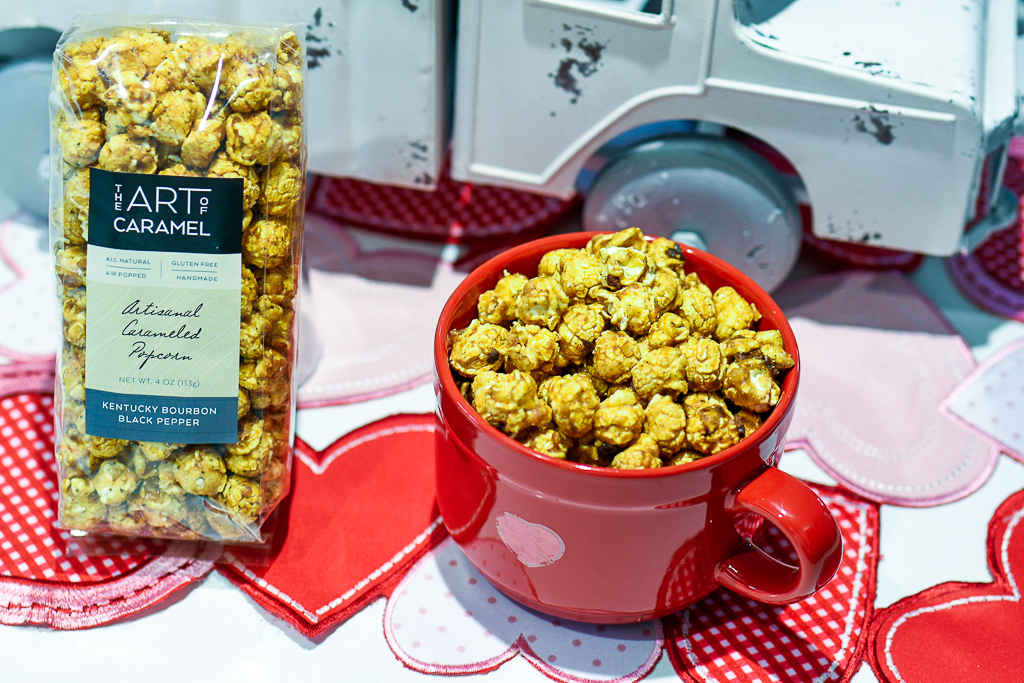 Did you try this idea? Share it on Instagram with the hashtag #makeeverydayanevent and tag @makeeverydayanevent! Looking for other unique entertaining ideas? Check out this build-your-own Bloody Mary bar!