SEVEN THINGS YOU NEED TO KNOW BEFORE YOU ATTEND THE TAYLOR SWIFT ERAS TOUR!
Seven things to know before you attend the Taylor Swift Eras tour.
From shoes to bags, to everything in between, you'll find it here.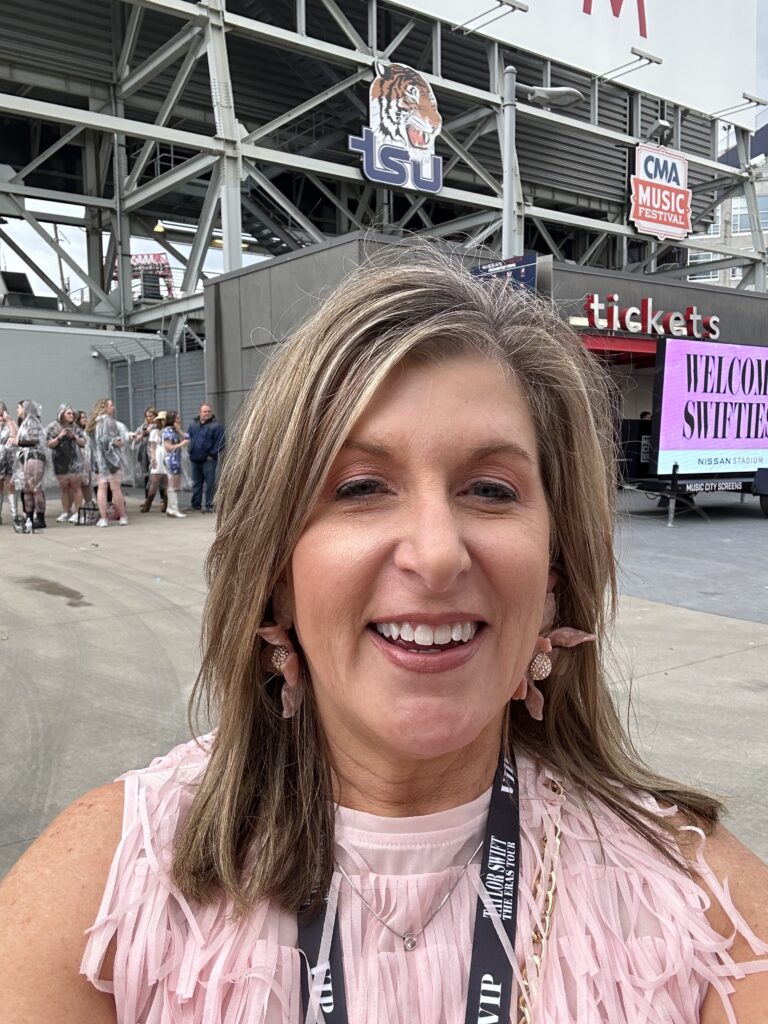 Last weekend I was bold …
I braved the elements and fought a rabid crowd.
I heard the screams of thousands and saw lightening crash, as I witnessed flames shooting into the sky.
People burst into tears in front of me.
I was complex. I was cool.
I was one of the 70,000 people at Nissan Stadium in Nashville until the wee hours of the morning to attend Taylor Swift's Eras Tour.
And I lived to talk about it.
Barely.
You're definitely going to want to keep reading …
A BOLD GIRLS TRIP ADVENTURE!
The adventure-filled girls trip I embarked on to Nashville, Tenn. was simply unforgettable.
I will truly remember it for the rest of my life.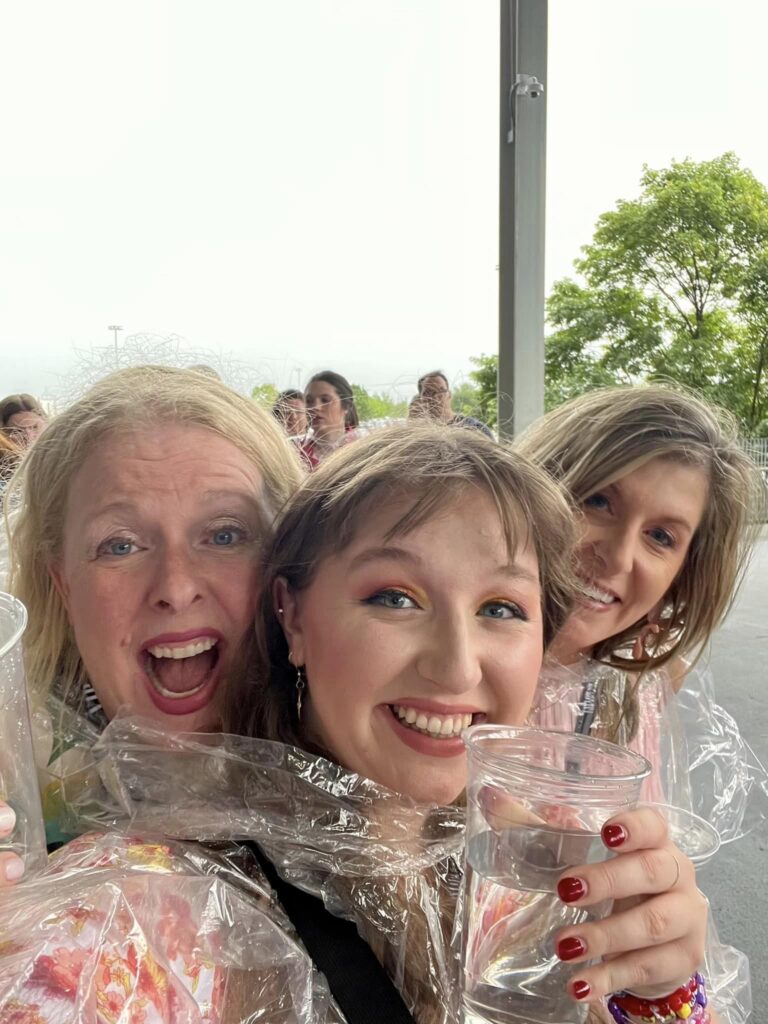 And at 2 a.m. in the morning it felt like I had been standing in the concert venue for my entire lifetime.
Because I almost had.
I was at Nissan Stadium for eleven hours (from 3 p.m. to 2 a.m. exactly), over the course of two days.
Plus it was soaking wet for the vast majority of that time.
Why?
I was one of the fortunate fans who were chosen by the rain gods to experience what diehard Swifties refer to as "A Rain Show."
It was definitely one for the history books.
One I'd never imagined, even in my wildest dreams.
And while Karma may be your boyfriend, rain is definitely your enemy at an outdoor concert.
But as Taylor Swift stated shortly after she took the stage, "a rain show only chooses a crowd that can handle a rain show."
The show she put on was absolutely fabulous.
In between the torrential downpours, I discovered seven things you need to know if you're attending the Taylor Swift Eras tour.
Plus I had a lot of fun.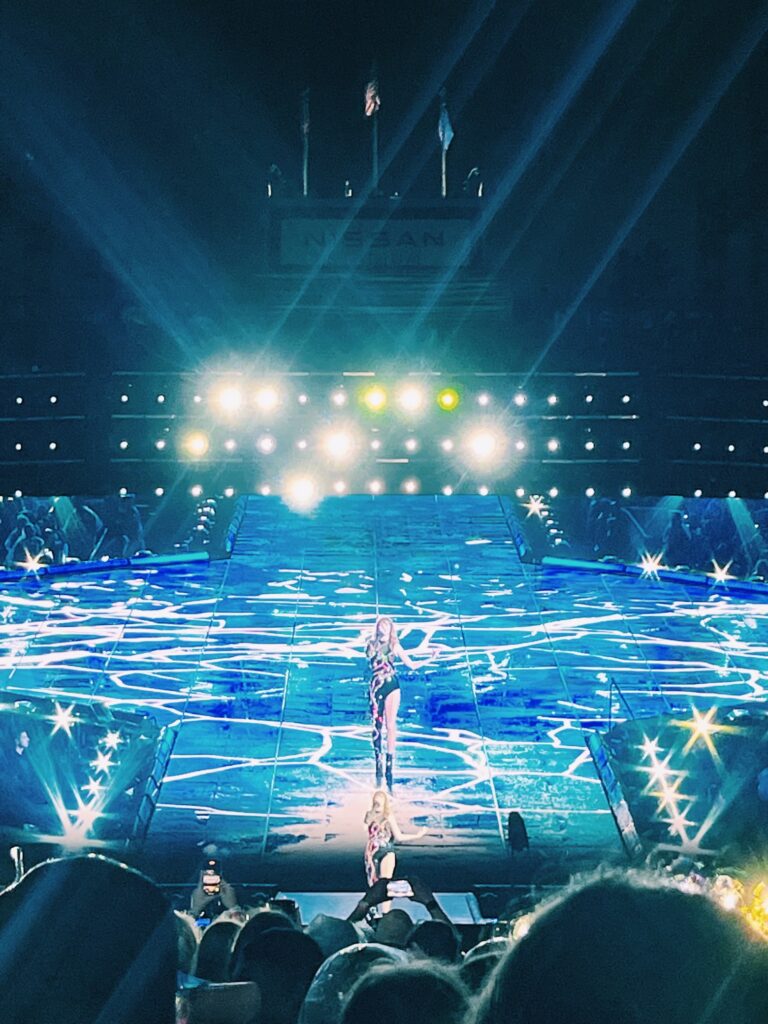 AM I A SWIFTIE … ?
But first, a confession. About 10 minutes into the Swift show, I realized while I am a Taylor Swift fan, I am not a Swiftie.
I love Taylor's music and singing along to my favorite songs.
However, I don't know every single word of every single deep track. My faves are primarily from her Lover and Reputation albums.
Some of the easter eggs she drops in each music video are lost on me.
And if you're in a similar boat, that's okay. Because the concert experience was still a great one.
My dear friend's daughter is huge Swiftie. And she did yeoman's work to get us our presale tickets last year.
It was so fun to see her completely in her element, enjoying every rain-soaked minute, including a 10-minute song entitled, "All Too Well."
But to me, that song felt more like 15 minutes.
Because I didn't know a single lyric. And it had begun to rain really, really hard, for like the third time.
A three minute version would have been just as good.
Oh, and did I mention it was 12:45 a.m.?
And we still had 22 more songs to go out of Taylor's set of 45 songs …
My friend thought I was either going to pass out when she told me we were only halfway done or that I might kill her.
She wasn't wrong.
But fortunately for her, I was too in awe of the incredible performance going on in front of me that I didn't want to risk getting thrown out of the long concert by inflicting bodily harm onto anyone.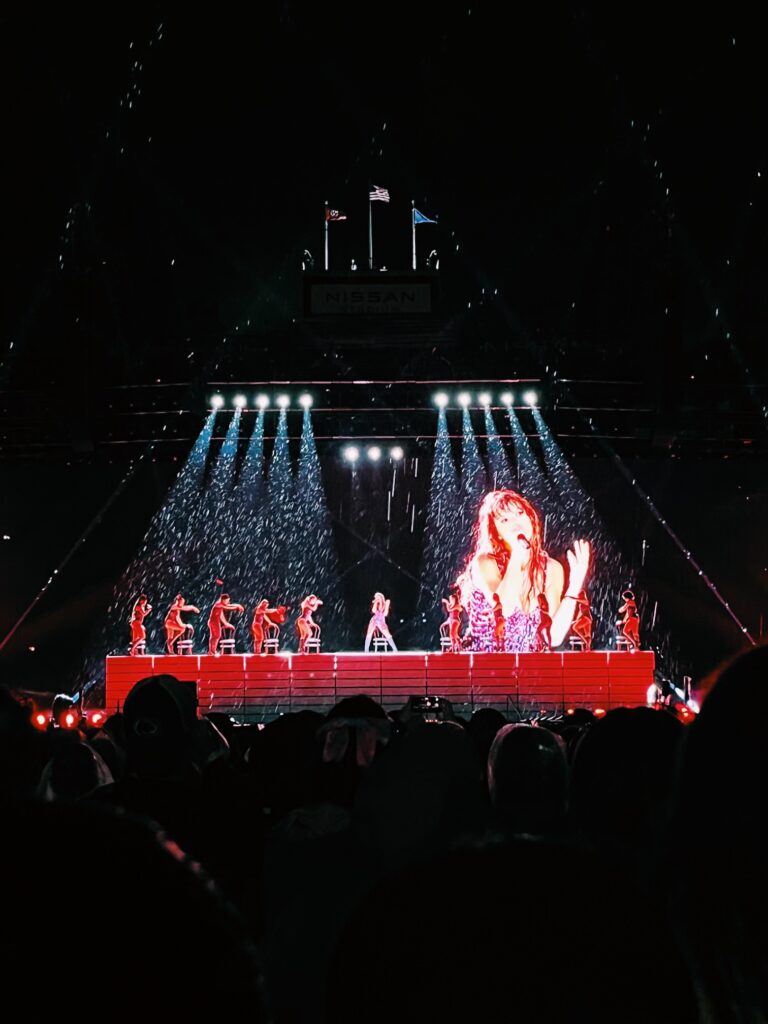 PREPARE YOURSELF FOR A FANTASTIC SHOW!
It sounds like I'm complaining. I am not.
I'm just pointing out the extreme nature of our adventure and how incredibly awesome the performance that Taylor Swift gave us truly was, especially in the pouring rain.
We had the best time.
That's truly what being bold and making every day an event is all about!
If you are as lucky as I was to get to see Taylor in person on one of the upcoming tour dates, here are seven tips to know before you attend the Taylor Swift Eras Tour:
1: GET TO THE CONCERT VENUE EARLY, EARLIER THAN YOU THINK YOU SHOULD
We arrived at the stadium around 3:15 p.m. And I was shocked at how many people were already there.
There were a lot of people.
Remember, the opening acts don't go on stage until 6:30 p.m.
As a general rule, I typically don't arrive to a concert three hours before it's supposed to start. But I was really glad we did.
The place got packed about an hour after we arrived.
The VIP entrances open at 3 p.m. And the general admission entrances open at 4 p.m. It seems ridiculously early, but it was well worth it.
Also, if possible, I'd walk to the stadium. Since we were staying at hotels in Downtown Nashville, we chose our accommodations based on their short walk to the venue.
It was really convenient to be able to walk and not have to worry about Ubers or parking lot headaches.
2: YOU WANT THE MERCH? RUN TO THE TOP FLOOR OF THE STADIUM IMMEDIATELY
My friend's daughter was really interested in a few specific pieces of high demand merchandise, but we weren't willing to sleep under a merch truck.
Luckily she was able to get them without a long wait, although it was a close call.
We'd forgotten a great tip we'd read and went immediately to one of the first merch lines we saw.
It's just kind of human nature stop at the first vendor you see.
What we should have done is gone to the very top of the stadium, avoiding some of the throng and increasing our odds at getting what we wanted at the less crowded merchandise vendors up there.
3: BE SURE TO COMPLY WITH THE VENUE'S BAG POLICY
The Taylor Swift Eras Tour is obviously a huge production.
It's no surprise the majority of the venues which will house the tour are NFL stadiums.
Therefore you need to make sure any sort of tote, purse or handbag that you bring into the stadium complies with the venue's bag policy which likely mirrors the NFL's clear bag policy.
In a nutshell, bags that are clear plastic, vinyl or PVC and do not exceed 12″ x 6″ x 12″ are acceptable.
Small clutch bags, which cannot exceed 4.5″ x 6.5″ in size, with or without a handle or strap can be taken into the stadium tucked into one of the clear plastic bags.
But I would just avoid anything that isn't clear, just to be safe!
I found a super cute Lilly Pulitzer clear, cross body bag that was just the perfect size to hold all of the essentials needed (cell phone, small wallet, lipstick, finishing spray, my favorite blotting papers, etc.).
Here are some other great options, including fanny packs (or slings):
This adorable fanny pack from Tuckernuck
A great sling/fanny pack that is versatile and quite the value
This gold crossbody that is slightly larger than mine, if you need all the things!
This elegant clear purse has great hardware, it's really pretty!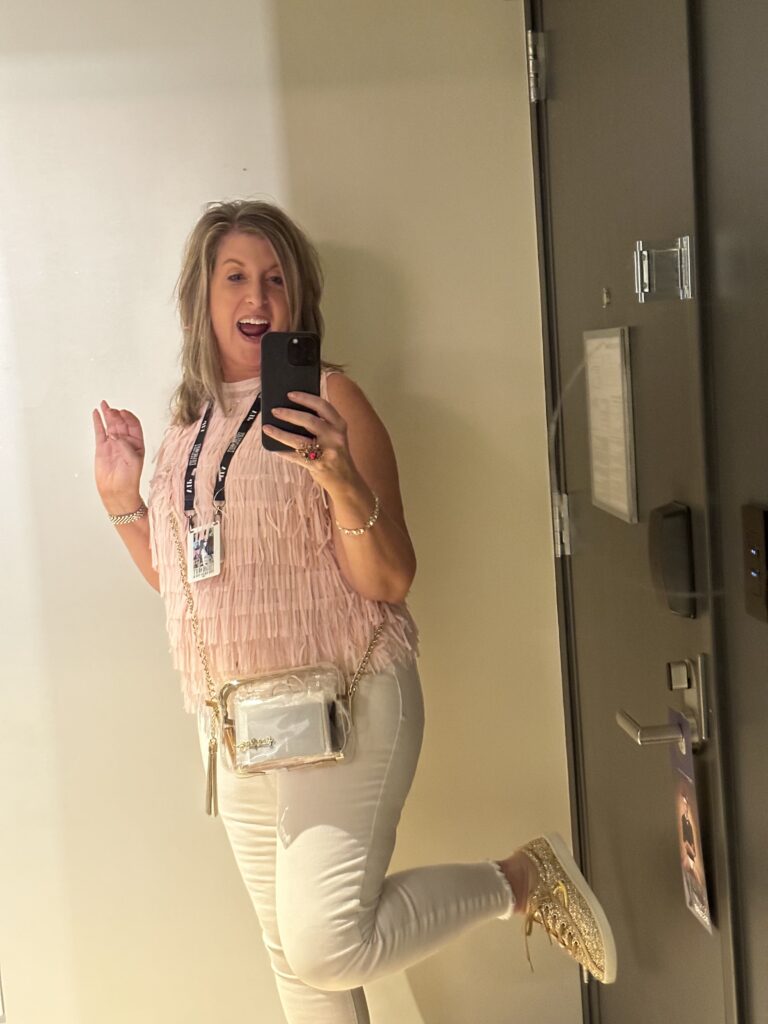 4: COMFORTABLE SHOES ARE AN ABSOLUTE MUST
It's all about the outfit or "fit" as the cool kids are calling it these days, right? And there were some darling (and daring) ensembles and outfit inspiration present at the concert.
As everyone knows, the shoes can make the look.
But I implore you … wear comfortable shoes.
Resist the platform, manmade, sequined, high-heel booties that I'm sure are the bomb.
Because your feet will be killing you by the end of the night. I saw an adorable young woman in crippling pain as we were walking out.
And I felt so sorry for her, as I breezed by, because I've been that girl before.
But you shouldn't be.
There are some really cute comfortable options. You want these.
I was thrilled to find these sparkly Tretorn gold nylite sneakers to wear. They were perfection and I can't wait to wear them again!
5: THE FRIENDSHIP BRACELET TRADING IS A HUGE THING AND IT'S SUPER FUN
A lyric from "You're on Your Own Kid" off of Taylor's Midnights album inspired Swifties to bring friendship bracelets to each of her concerts to trade.
Specifically the lyric is, "Everything you lose is a step you take, so make the friendship bracelets, take the moment and taste it."
Beaded stretch bracelets, featuring song titles or lyrics, are by far the most popular creation. Trading the bracelets with fellow Swifties occurred a lot before the concert.
It was fun to see everyone bond over the trading and it really brought the crowd together. Especially at our concert, since we had a lot of time just standing or sitting around the concourse during the rain delay.
Making the bracelets is an easy and fun craft. They typically utilize a 27 inch stretch string and approximately 30 beads. There are some great, inexpensive kits you can buy to create them:
Clay beads jewelry making kit
This 2,400 piece kit
A 12,000 piece kit — with so many possibilities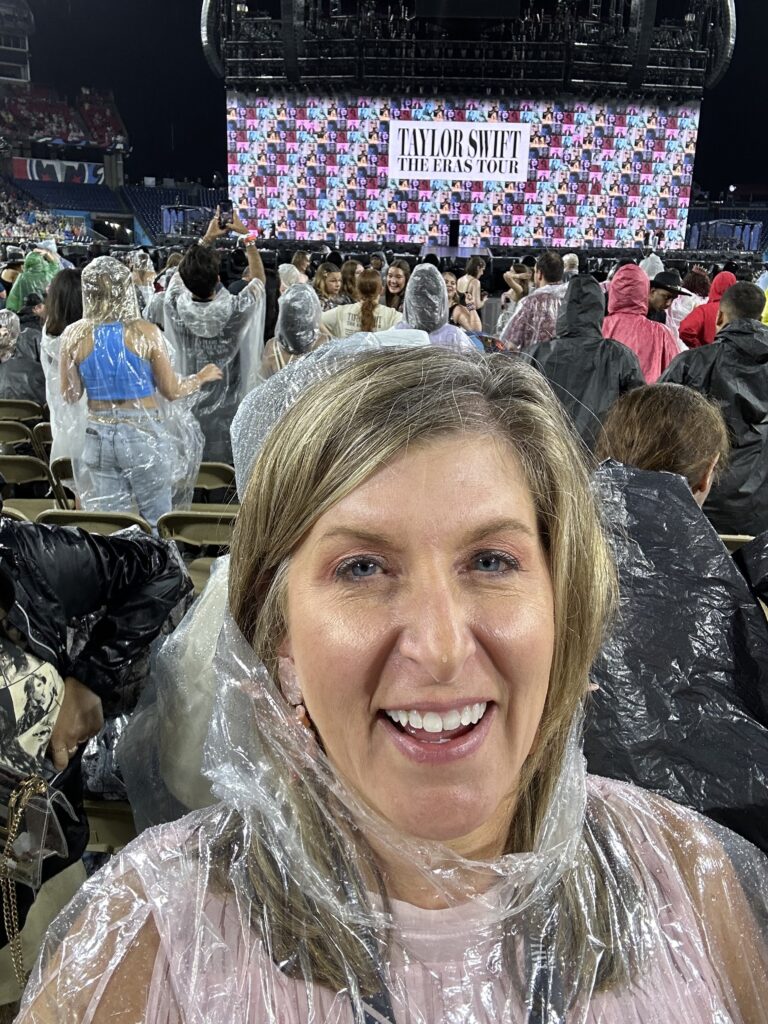 6: BRING A CLEAR PONCHO WITH YOU, REGARDLESS OF THE FORECAST
So we were watching the weather for weeks out. And we knew there was going to be rain around Nashville that weekend.
Earlier in the week it looked like we were going to be there on the pick night, the one with the smallest chance of rain. Lucky us!
Well … we were wrong. We were so very wrong.
Fortunately I had ordered these clear rain ponchos for each of us.
Because who wants some ugly rain poncho covering up the cute outfit you've worked weeks to pull perfectly together, right?
Secretly, I ordered the ponchos as a bit of an insurance policy that it wouldn't rain.
Yeah. That didn't work out so well.
But our ponchos did work well! And yes, that's a raindrop on my nose!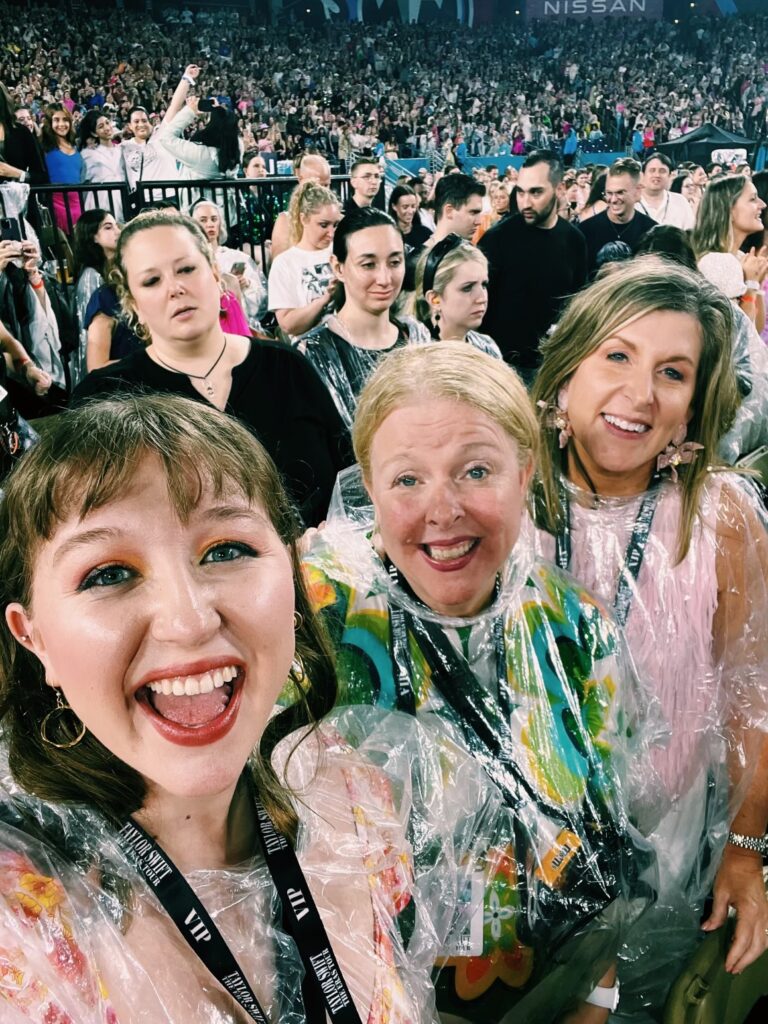 One additional tip … if possible, keep your arms inside the poncho (don't use the sleeves). I learned this trick at SEC football games.
If you move around with your arms in the sleeves, water tends to seep inside the poncho. Keeping your arms inside the poncho eliminates this risk.
I knew all of those tailgate Saturdays would pay off at some point!
7: BRING A PORTABLE CELL PHONE CHARGER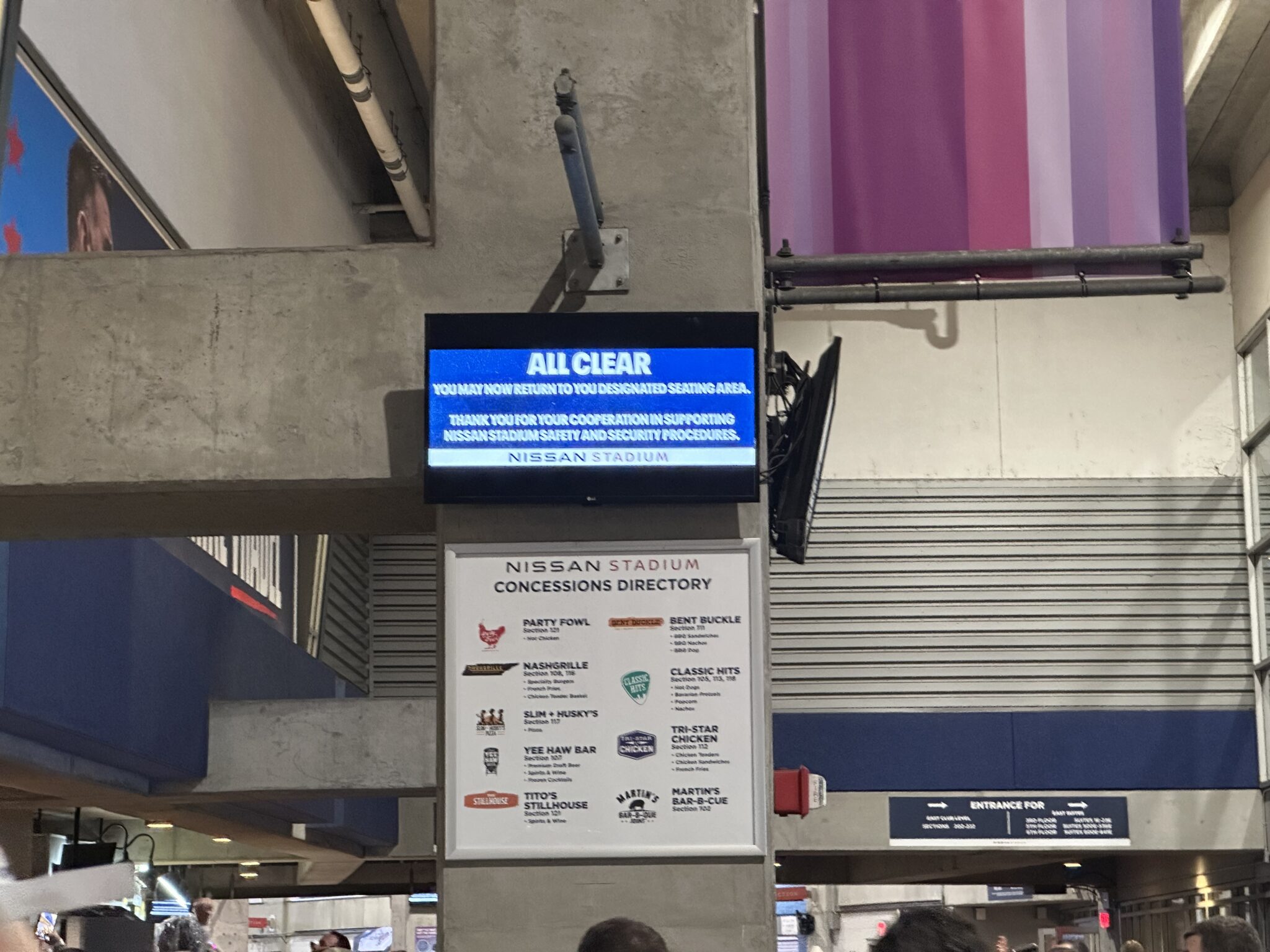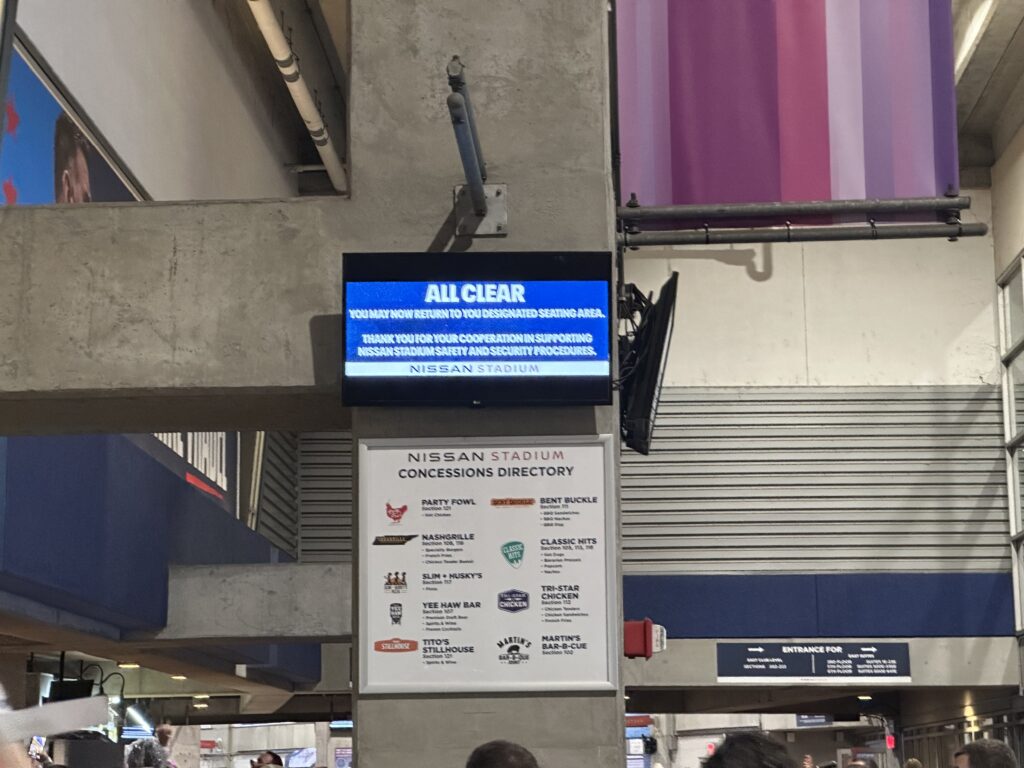 Selfies. Videos. Social media. Photos. Calls to my husband to check on the weather.
It all started to drain my cell phone battery. To prevent this a bit, one of the the first things you should do when you get to the stadium is to get on its Wi-fi network.
That will help save a bit of the precious battery power that you're going to want for the next few hours.
The other option, and one that I wish I'd done, is to bring a good, reliable portable phone charger. Here are some great portable chargers that I'm planning to invest in for future use:
Morenjoy Magnetic Wireless Portable Charger
This small portable charger is the perfect size
I love this slim and lightweight charger
Follow us on social media! You can find us on Instagram, Pinterest, and Facebook.
If you have any questions or suggestions, contact us or leave a comment!