THIS BUILD YOUR OWN BLOODY MARY BAR IS AN IDEA YOUR GUESTS WILL LOVE!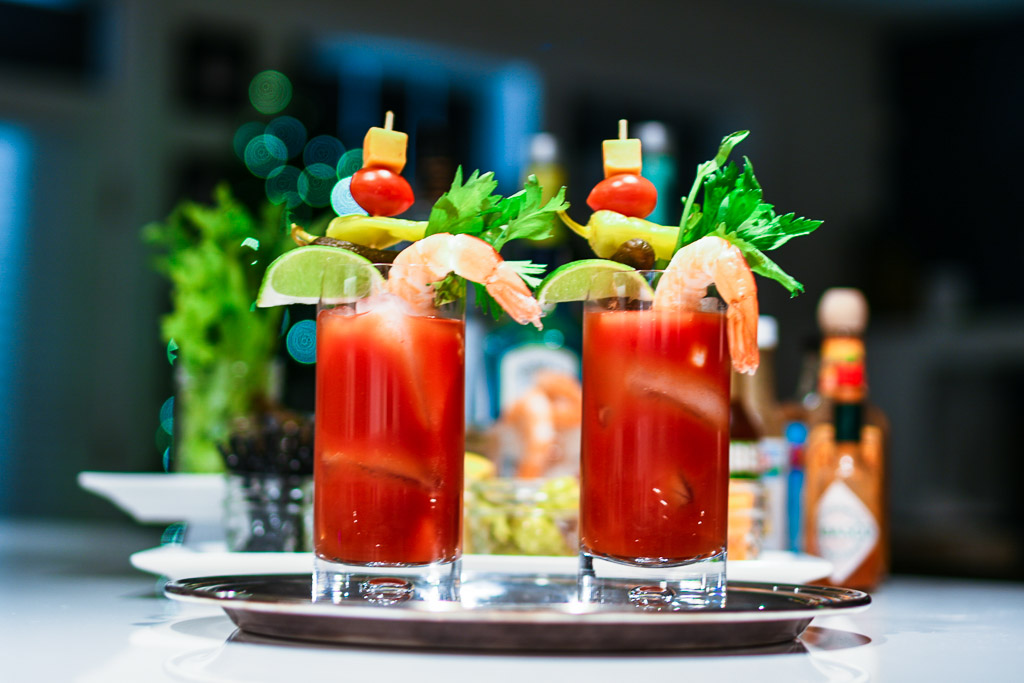 This build your own Bloody Mary bar is a great brunch addition. And let's be clear, vodka, tomato juice and hot sauce are just the beginning!
We're sharing five ideas and tips to help you make the ultimate, build your own Bloody Mary bar!
It's a great addition to your New Year's Day celebration (did you know January 1 is National Bloody Mary Day?) or an easy way to plus your brunch on any given Sunday.
It's also a wonderful way to "tailgate" as you settle in to watch one of the many college bowl games.
Enjoy!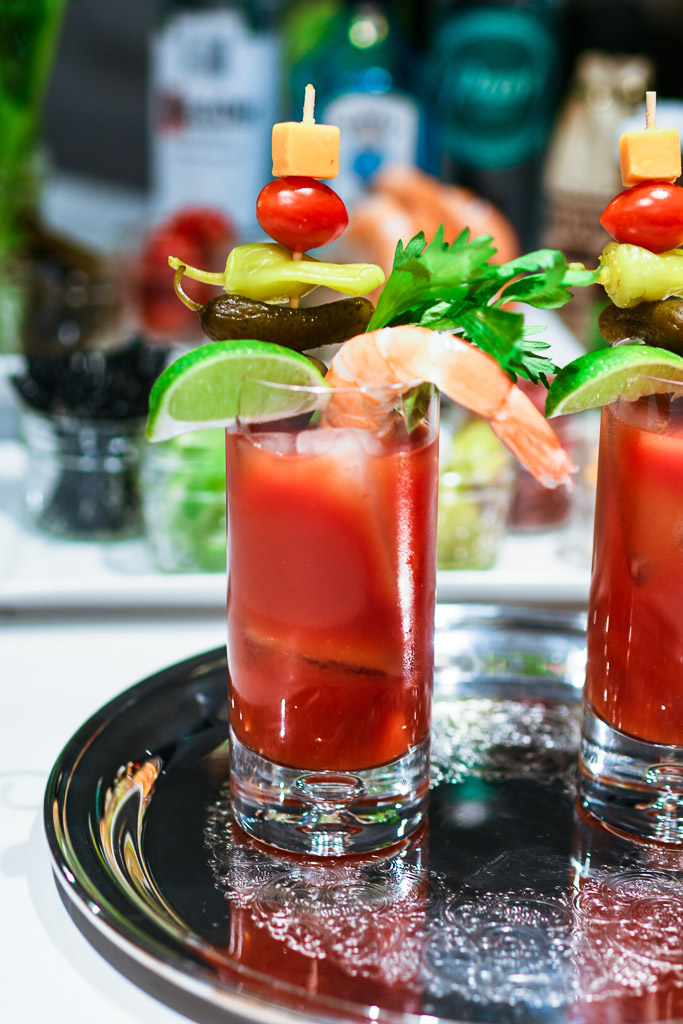 THE BEST TRADITIONAL BLOODY MARY RECIPE
The origin of the Bloody Mary is a bit fuzzy, not unlike the mornings on which it is often served.
Fernand "Pete" Petiot, a bartender in the King Cole Bar at the St. Regis Hotel in New York City, is credited with the concoction's creation.
According to Liquor.com, the original Bloody Mary contained seven ingredients: vodka, tomato juice, Worcestershire sauce, black pepper, celery salt, Tabasco and lemon juice.
Here is one of the best, basic Bloody Mary recipes that we've found (and don't worry, you'll add lots of goodies to make it your own):
1 cup ice cubes
1.5 ounces vodka
¾ cup spicy tomato juice
2 dashes Worcestershire sauce
1 dash hot pepper sauce
Salt and pepper to taste
Fill a tall glass with ice cubes.
In a cocktail shaker full of ice, combine the vodka, vegetable juice, Worcestershire sauce, hot pepper sauce, salt and pepper.
Shake vigorously and strain into the glass.
If you like a salted rim on your glass, pour one teaspoon salt onto a small plate.
Moisten the rim of the glass on a damp towel and press into the salt.
CONSIDER ADDING GIN AS AN ALTERNATIVE TO VODKA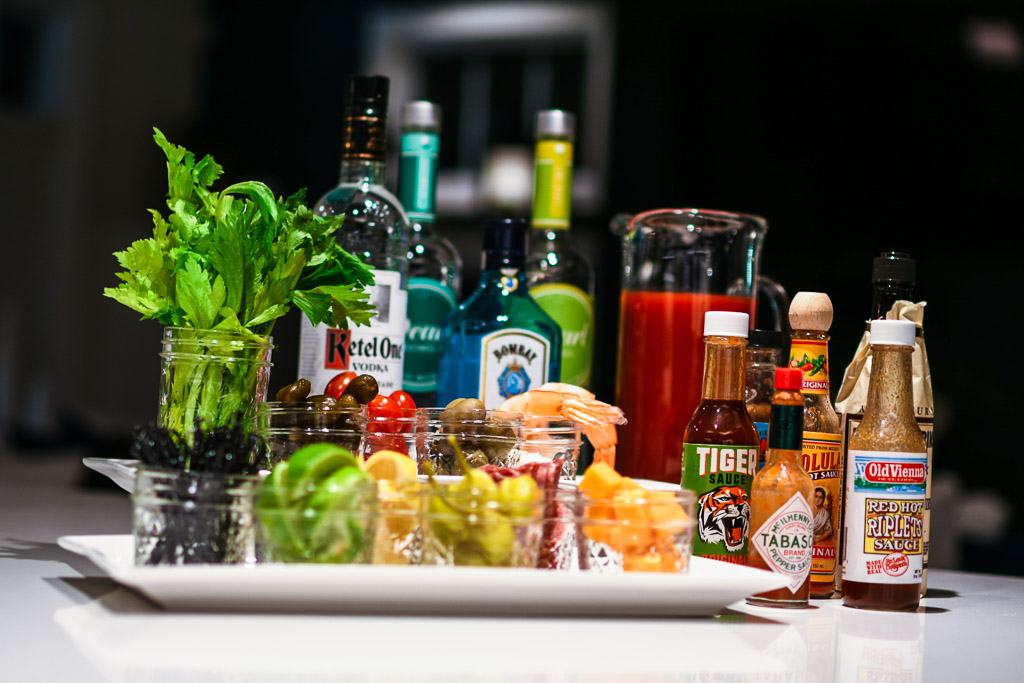 Several years ago Matt stumbled upon this option on a menu in Milwaukee.
Come to find out, it's really a thing! The Spicy Red Snapper is a Bloody Mary made with gin instead of vodka.
He couldn't stop raving about how good it was.
The Gin Foundry, who admittedly is likely bit biased, called the drink, "a quick-witted, articulate riposte if you will."
So we think it's a great add-on for New Year's Day (or really any Sunday) brunch.
LET THE FUN BEGIN … !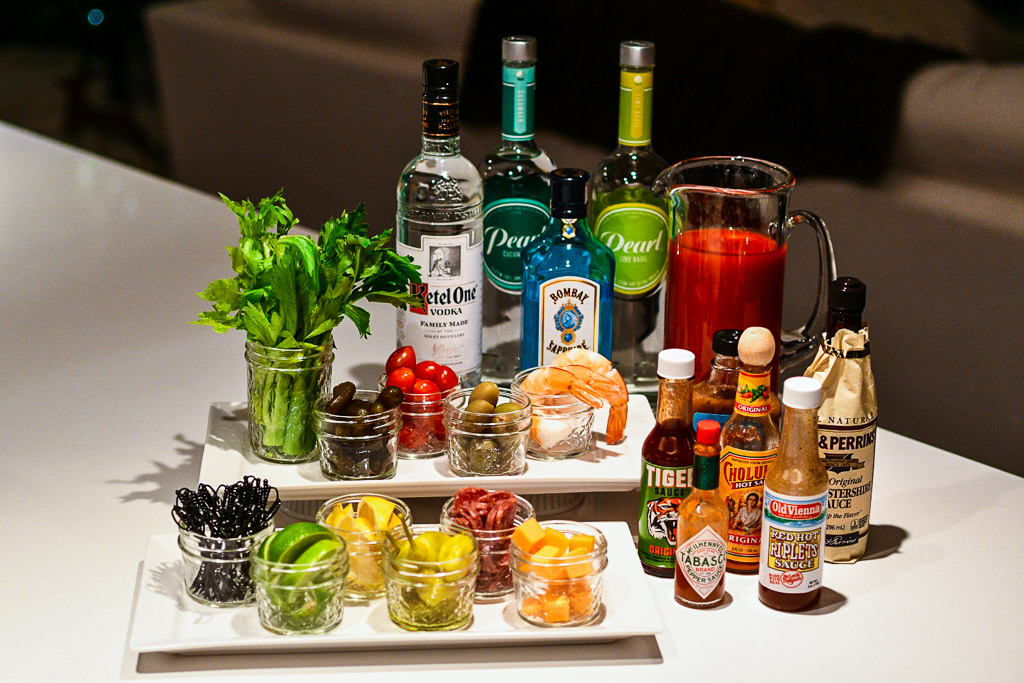 The options for garnishes to add to a make your own Bloody Mary are truly endless.
For our celebration of National Bloody Mary Day, we included some of our all-time favorites:
Celery
Lemons
Limes
Cheddar cheese cubes
Gherkins
Blue cheese stuffed olives
Cherry tomatoes
Pepperoncinis
Salami
Shrimp
A variety of hot sauces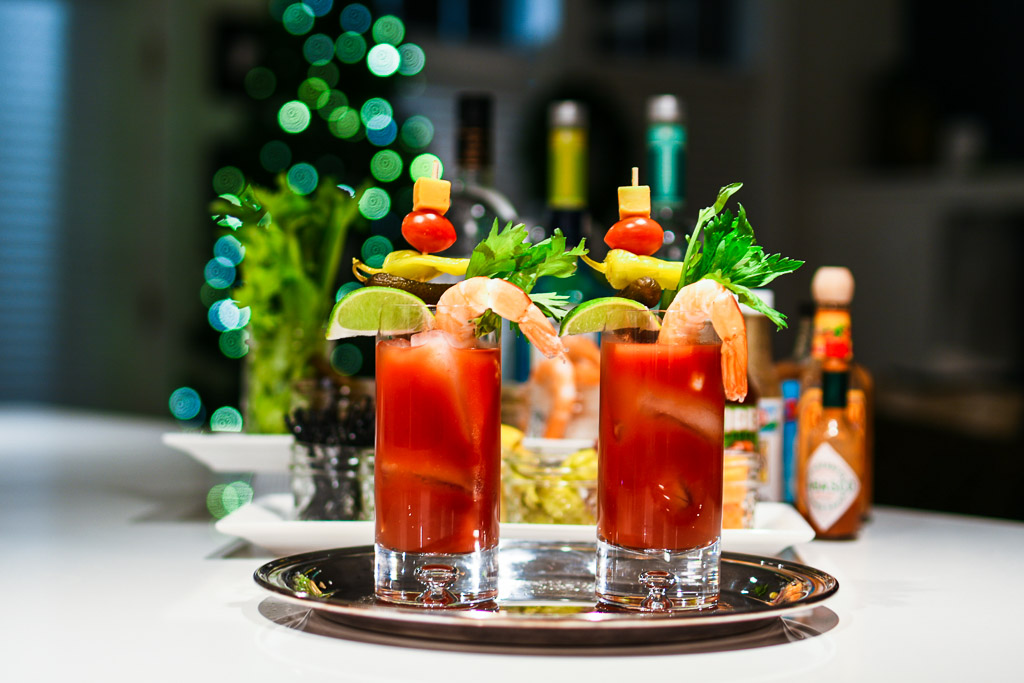 CREATE THE PERFECT DISPLAY
Posts on Make Every Day an Event may contain affiliate links which means we may earn a small commission on purchases at no extra cost to you. To learn more, please read our full disclosure here.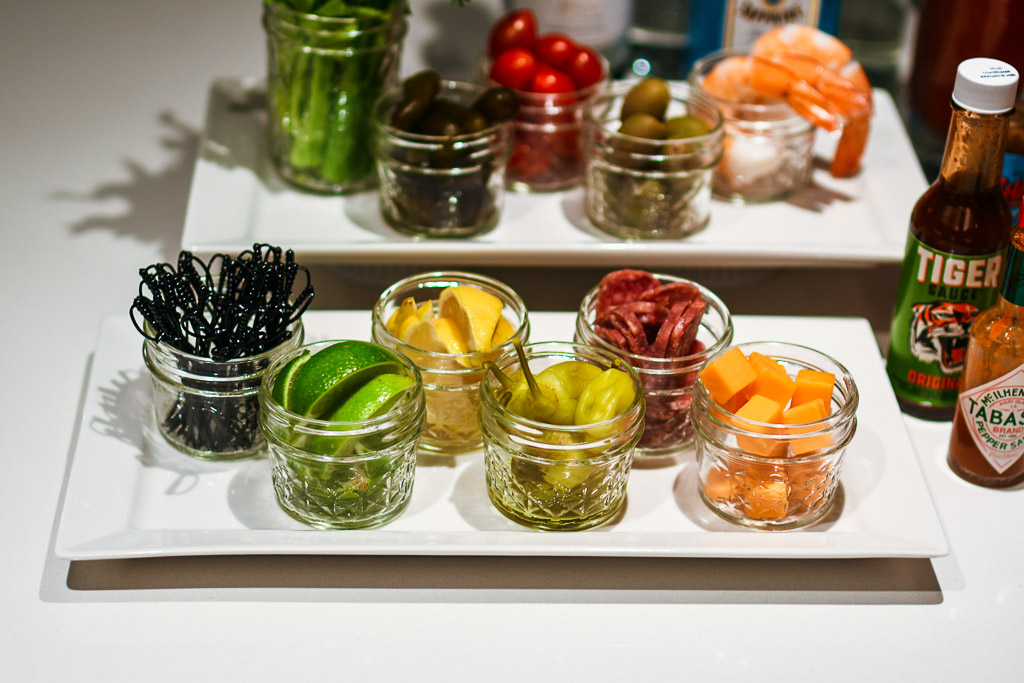 I love using these lidded mason jars for a variety of creative displays.
They work particularly well for this Bloody Mary bar.
First, their size is perfect for a small gathering.
Second, the ability to screw the lid on for any leftovers makes for easy storage in the refrigerator (plus they are stackable when lidded).
Their best feature, though? The quilted crystal pattern on the jars gives them a touch of elegance!
We also added some fun sword picks to the mix to make it easier to grab each of the toppings!
GET CREATIVE WITH YOUR HOT SAUCES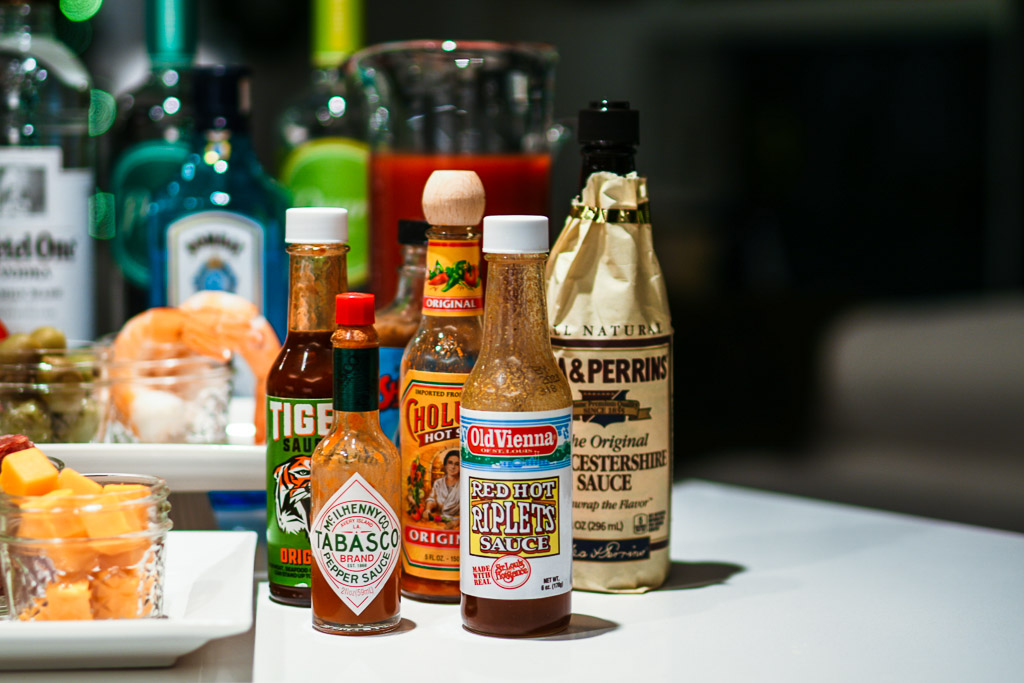 There are so many choices when it comes to hot sauce these days.
Frankly it can be overwhelming!
In addition to the traditional Tabasco, explore a few creative options.
Here are some of our favorites:
Old Vienna Red Hot Riplets Sauce
Cholula Hot Sauce
Tiger Sauce
Shark Attack Spicy Hot Sauce
Lea & Perrins Worcestershire Sauce
Like the Bloody Mary, the Corpse Reviver is another classic libation people often use as a pick me up the day after over indulging. Here is our take on the Corpse Reviver Number Two.
Cheers!
Looking for other great cocktail ideas? You'll find lots of great inspiration in these posts:
This Cocktail is a Great Idea for Your Ugly Christmas Sweater Party
The Paper Airplane is One of the Best Cocktails You Need to Check Out
James Bond Approves of this Excellent Martini Recipe
Did you sip any of these cocktail ideas?
Share them on Instagram with the hashtag #makeeverydayanevent and tag @makeeverydayanevent.
If you have any questions or suggestions, contact us or leave a comment!
Follow us on social media! You can find us on Instagram, Pinterest, and Facebook.